Looking for quick and affordable ways to update your kitchen? Giving your countertops a new lease of life can actually make all the difference. From something as simple as revarnishing them, to a total overhaul using contact paper, there are loads of things you can DIY to freshen up your countertops and potentially give your kitchen a whole new look.
So keep scrolling for our DIY countertop inspiration so you can crack on this weekend, and if you are after more inspiration and advice, make sure you head over to our kitchen ideas page too.
1. Revarnish your kitchen worktops
Yes, it's an obvious one, but if you have wooden kitchen worktops a new coat of varnish could be all they need to make your kitchen feel a bit fresher. You could switch up the varnish you usually use and go for something darker or spend the time sanding down your worktops and go in with lighter varnish.
2. Go for a marbled look with contact paper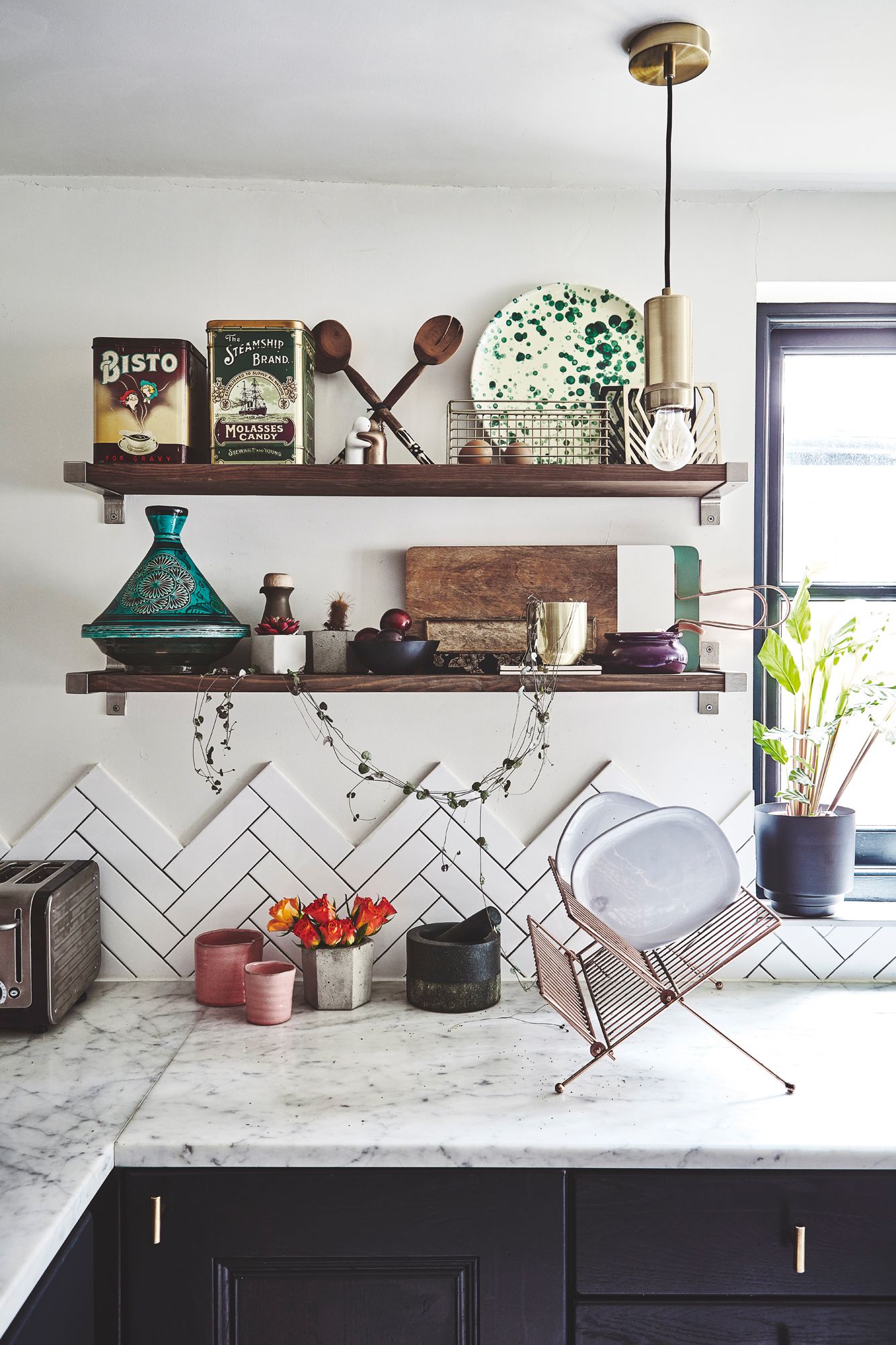 Another easy kitchen worktop update is to cover them in contact paper. There are loads of really lovely, realistic options on offer now, especially if you like the look of marble worktops but not so keen on the price. Wayfair sells a marble-effect self-adhesive film for just £8. You will need a wallpaper smoother and a fair bit of patience for the job but the result can be amazing.
3. Laminate your kitchen counters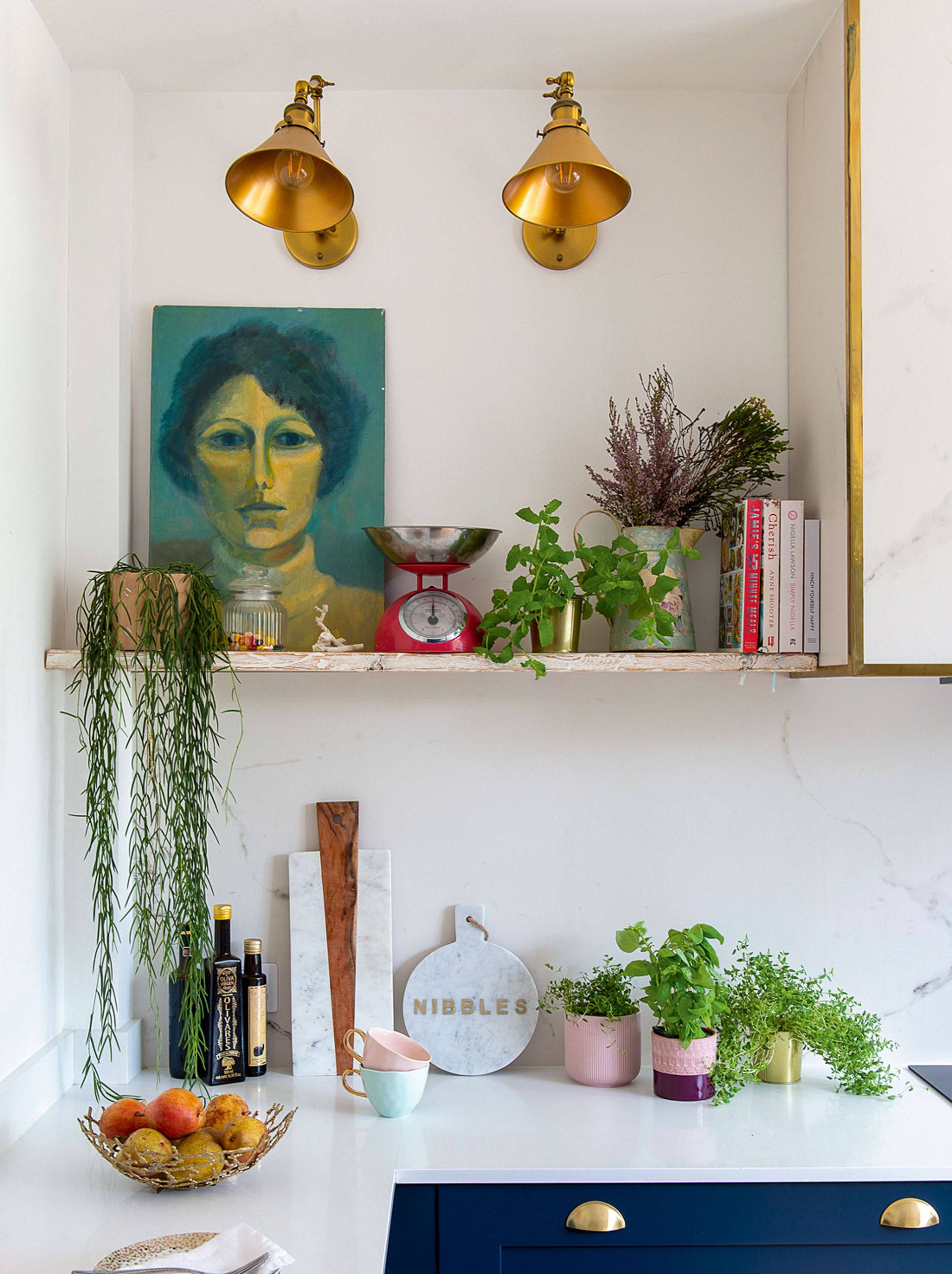 For a super clean and refreshed finish, you can laminate your kitchen counters. It's a great option if you're doing your kitchen on a budget and now there's a huge variety of colors to choose from too. While it might be tempting to get the cheapest one out there, we would recommend going for quality here as it will show!
4. Paint your kitchen worktops
Painting kitchen worktops will work best if your worktops are wooden, but if you are working with laminate don't worry, you can still paint them, you just need to be vigilant with the prep. We would recommend following our guide to how to paint kitchen cabinets as the steps and the prep are very similar to painting kitchen worktops.
5. Overlay your kitchen worktops
Who knew this was a thing? But you can buy thin pieces of material – usually quartz – that can be fitted over the top of your current worktops! Obviously, this is way cheaper than buying brand new solid quartz worktops but the result is just the same. Check out Dream Doors for lots of gorgeous options.
6. Give your countertops and industrial glow up
This one might be for more experience DIYers, only because it uses some more heavy duty materials and tools, but you can actually wrap you worktops in metal sheets. It works particularly well on a kitchen island and looks amazing if you use a hammered copper – look out for sheets in hardware stores or specialist shops.
7. Tile your kitchen countertop
We promise this is not as complicated as it sounds, it's just like tiling a splashback. This is a great DIY countertop idea if your worktops really are gross beyond repair as you can just cover them up with some nice tiles. Rather than tiling straight on top of your worktop, for the best result you are probably best tiling backer board to go over your current worktop. A Beautiful Mess have a fab tutorial and a beautiful before and after.
8. DIY an upstand
If you are painting or covering your countertop in a vinyl sheet, an upstand could be a cute extra addition to your kitchen. It could be as simple as painting or covering a wooden panel that stretches the length of your countertop and securing it to the wall behind.