Looking for kitchen ideas with bold color? Our kitchen color ideas will steer you in the right direction when planning your kitchen design.
Bringing color into your kitchen design can be transformative and can completely change the mood of your cooking space.
Splashes of red can add drama, a dash of yellow can feel uplifting, and green can symbolize freshness and harmony.
Ben Burbidge, Managing Director of Kitchen Makers explains, 'Color affects people in different ways, so choosing the perfect scheme for your home is an exceptionally personal decision where there are, strictly speaking, no rights and wrongs.'
'However, in our experience, certain shades and color combinations tend to work especially well together to deliver a contemporary, stylish finish in your kitchen.'
How do I choose the right color for my kitchen?
'Longevity is a priority for a new kitchen so you need to ensure your chosen kitchen color ideas are styles that you will love to live with for many years,' says Ben.
'A classic color tends to stand the test of time so deep blues, greens and grays are always a good choice if you worry about your kitchen dating. Wood cabinets can always be repainted if you want to refresh your scheme in the future.'
'When choosing your kitchen paint colour, the first thing to consider is your overall scheme. A concise palette creates a sophisticated look so choose a color for your cabinetry and complement it with one or two accents.'
One of the great things about incorporating color into a kitchen is that you can go wild or you can add just a hint of a hue.
If you have a neutral kitchen and you're not quite sure what colors to include, look around your home or even your closet for inspiration. More often than not, you will be surrounded by colors that you feel comfortable with so it is a good idea to follow those shades through in the kitchen.
'Making a decision about which colors to use in the kitchen is never simple, with endless options for not only the color of the walls, but also matching the cabinetry,' explains Lara Hughes, Kitchen Designer at Neptune. 'Lighter paint hues are a perfect tool for balancing tones in the kitchen and creating contrast.'
'One of the most popular routes to take is to have a coloured kitchen island. Using one color throughout creates serenity and can feel just as restful as soothing neutrals, whilst also making the room feel larger, too.'
Exactly just how bold you want to go and how many colors you want to bring in up to you, but our kitchen color ideas are such to leave you feeling inspired...
Kitchen color ideas
1. Emerald green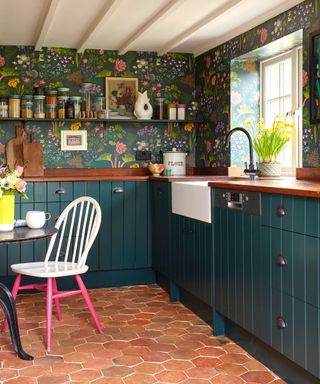 Green is a timeless shade and the color we associate with the natural world, breathing new life into any room in the home when used to its full potential.
Experts at Dulux explain, 'A green kitchen can sound intimidating, but the versatile shade is perfect for the busiest room of the house. and dark green kitchens add a dramatic feel to open plan spaces.
In TV presenter and color expert Sophie Robinson's kitchen, this deep emerald green is given added vibrancy by the floral Borastapeter wallpaper.
2. Sage green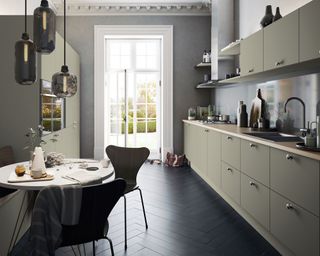 A pale sage green acts as a neutral in this kitchen by Optiplan.
Experts at Dulux explain, 'A sage green kitchen can add colour but keep design schemes neutral, while jewel-like green kitchen walls bring a touch of glam when paired with vintage brass handles.'
Paired with a slick charcoal on the floor and the dining area, it adds a chic spin to the hue. If you would rather inject an added pop of color, adding a dash of terracotta will create a Moroccan holiday vibe.
3. Mint green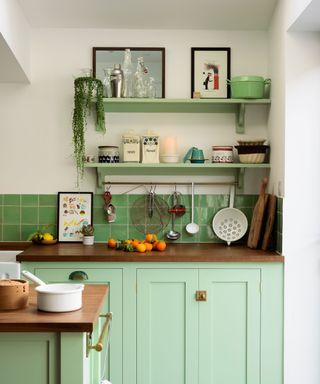 Invigorating, cheerful and fresh, mint green adds zing to a kitchen space. Paired with wood surfaces, complementary tiling and floating open shelving, blend seamlessly with the invigorating shade.
Dulux experts explain, 'Mint green kitchens provide a freshness when coupled with white cabinets.'
4. Bold white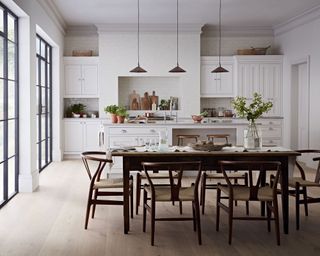 You might be surprised that white can make a bold statement and is particularly well-suited for a room where cleanliness is a must. Clean, crisp white can make a room feel larger, and paired with blond wood finishes and brass accents white is warmed up instantly.
If white sounds too sterile, don't fret there are many different shades of this classic kitchen hue and there's also many ways you can jazz it up – just admire these white kitchen ideas.
5. Teal and bronze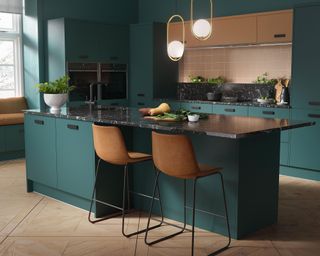 This interesting and earthy combination is one for those who like to stand out from the crowd. The bronze brings warmth, allowing this look to work in north or south-facing rooms. That said, we'd suggest thinking twice before replicating this look in a room starved of light.
Pale, sandy floor tiles do a good job of reflecting teh light and work beautifully with the darker tones.
6. Baby blue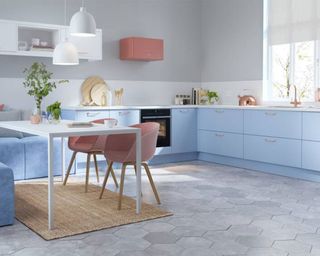 Soft, inviting and calming, baby blue is a great shade for both small and large kitchens. It may seem a little daunting to add such an eye-catching shade but you don't have to cover your entire kitchen in it to add personality.
If you have limited space, you could pick a corner with the accent color, or opt for cabinets in the shade in the island for example.
7. Dark blue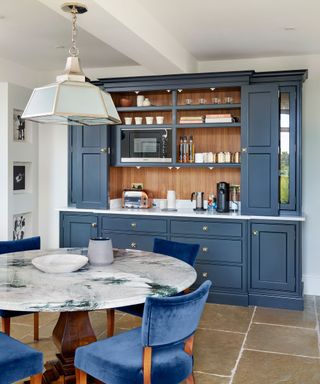 For a classic look which will stand the test of time, there's nothing like a dark blue, like this one from Martin Moore. Complementary to many colors and materials, dark blue can act as a neutral, opening up so many possibilities for exciting combinations.
Add darker countertops, fluted glass and go bold with walls that blend in.
8. Navy and brass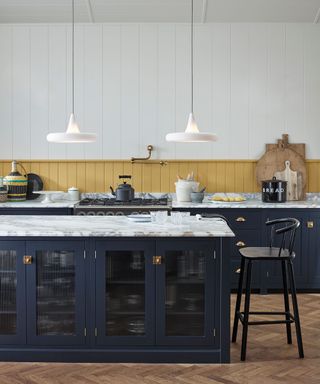 Is a blue and white combo a tad nautical for your liking, or is dark blue not quite your style? A deep navy blue is the rich tone you might find more appealing.
This rich tone will make your space feel super warm and classy. Team with gold accents, brass hardware, copper cookware, pops of yellow, white marble, exposed brick, bold patterns and so much more.
9. Charcoal gray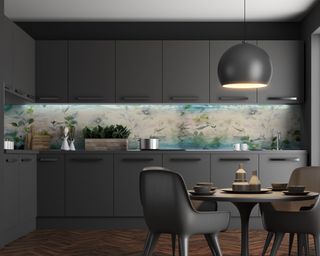 If you like to stay on the safe side color wise but love to make a statement, play with a more moody palette in the form of a dark gray charcoal hue.
Whether you opt for matte or gloss, dark gray will look super sophisticated. Balance it out with light worktops and wall cabinets so the room still feels airy, or break it up with a light backsplash.
10. Grey and yellow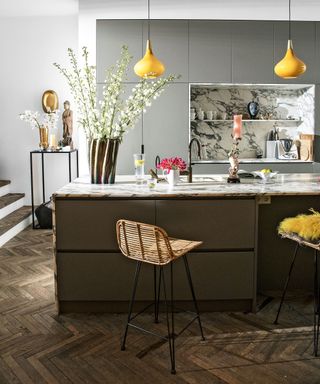 If dark grey feels far too dark, opt for a cabinetry in a cool and calming soft gray and keep the dark grey to the kitchen island.
This minimalist cooking space blends rattan, yellow statement lighting and marble backsplash to keep the look fresh, modern and fun.
11. Greige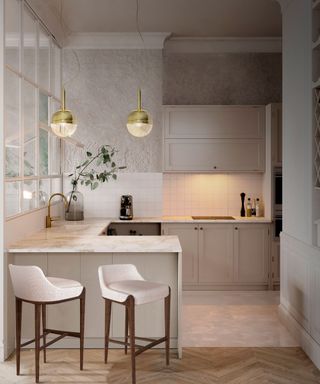 Fan of beige and gray but just can't decide which you'd prefer? Enter greige… a happy medium with the warmth of beige and the neutrality of gray.
Team with dark wood, brass statement lighting, a marble with similar shade veins and a light wood floor for a look that screams luxury.
12. Yellow and neutrals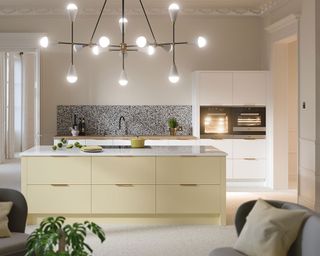 If sunshine yellow sounds like too much, a two-tone effect may work better for you.
Take a bold color to your lower units and balance it on top with a neutral shade or some open shelving so it doesn't feel overwhelming like this island from Wren.
13. Pink and green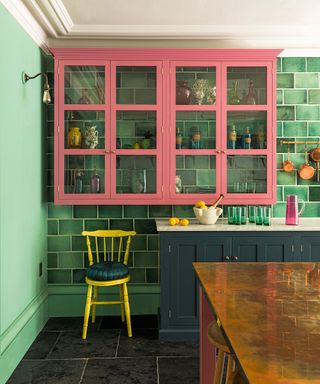 Pink wall cabinets against a tiled emerald green wall gives a striking effect but also feels energising and fun.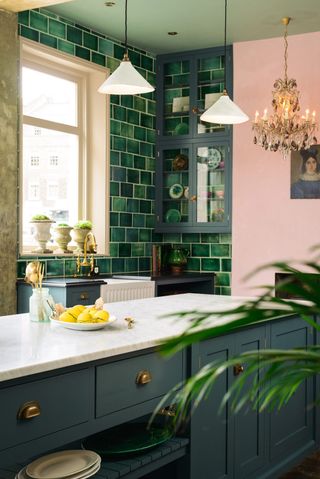 Adding some colorful patterned tiles can be a really quick way to create some focus in your kitchen. A splashback is the obvious place to inject some color but why not go bolder and copy this idea, tile a whole wall! Really practical, tiled walls are easy to clean and perfect for areas that get splashed a lot or get splattered while you're cooking, but they also can add so much interest and texture to a kitchen.
For more green kitchen ideas, check out our full gallery.
14. Red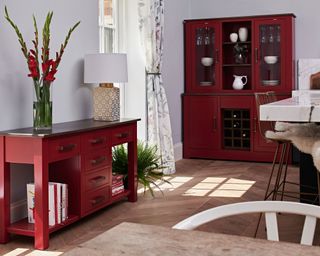 There are very few color schemes as striking as red and when used in a kitchen, the hue creates a warm, welcoming feeling. It might not work in other rooms, such as a bedroom, but the shade works really well in a kitchen, especially when paired with wood.
If bold crimson cabinets make you wince, you could opt for an aubergine shade for a more sophisticated look, or why not add a pop of red to your scheme in the form of a patterned backsplash or statement lighting.
15. Black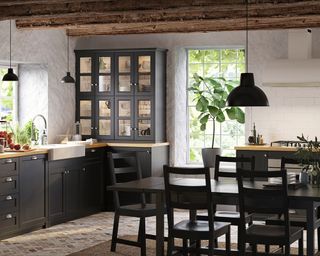 Gloss and matte black cabinet finishes look ultra modern but black will look good on both shaker and modern designs.
Add bright white features across worktops and wall cabinets to achieve the perfect balance between light and dark, which can work well in large or small kitchens.
And there's nothing we swoon more over than matte black cabinets paired with gold accents...
16. Multicolor lighting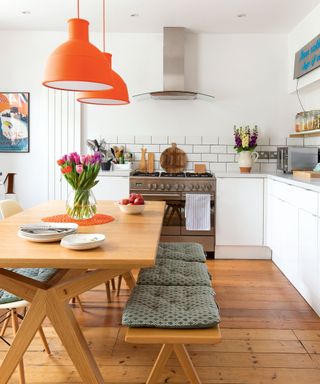 You can also play with other accessories like lighting to add color to your kitchen.
If your kitchen is otherwise white but you're not looking to change your cabinetry any time soon, bright pendant lights will bring warmth and cheer into an otherwise white kitchen.
17. Color contrasts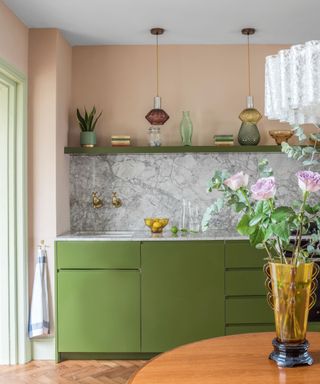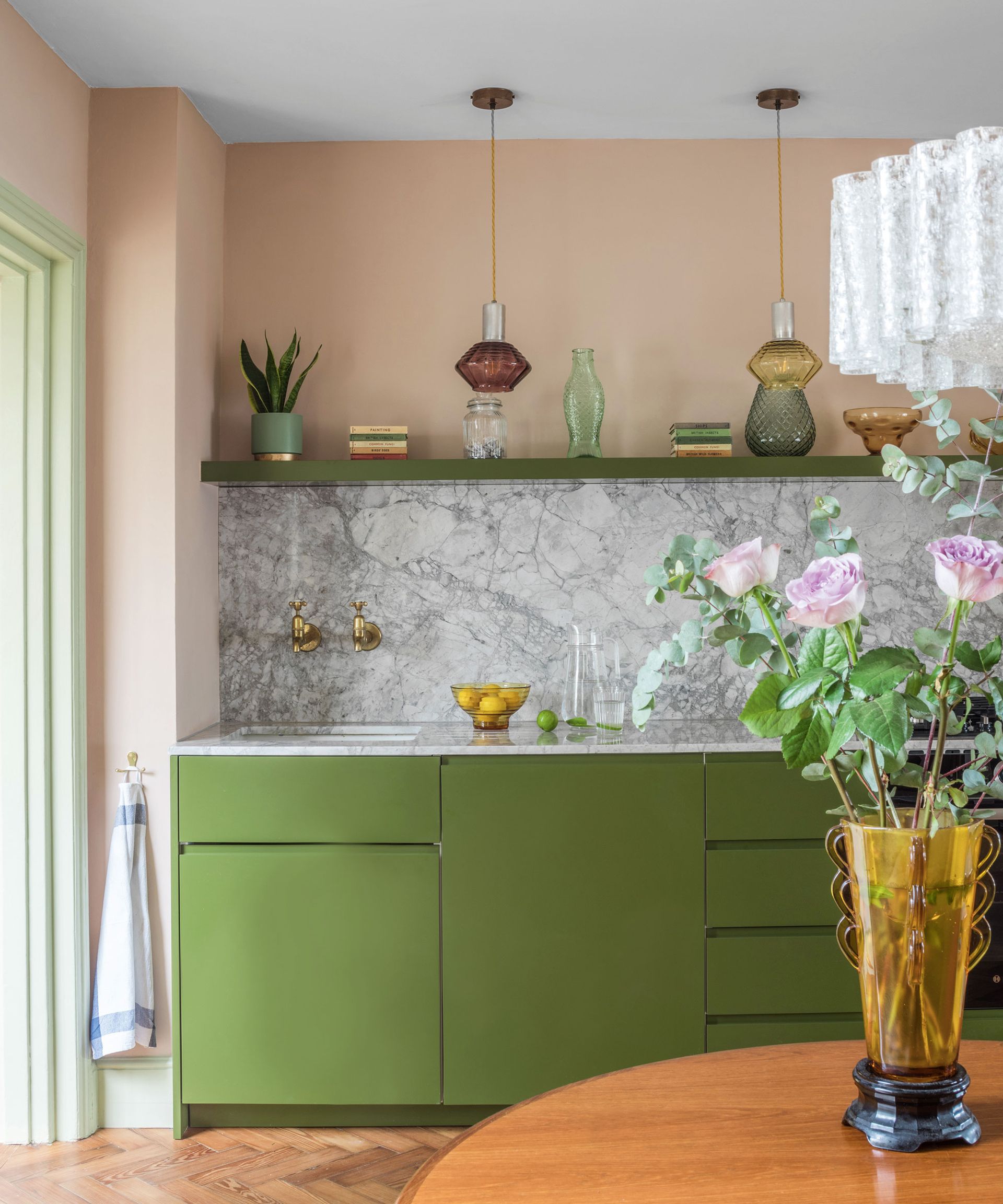 Another way to add colour is to play with contrasting colors for your walls and cabinetry.
By deliberately picking two shades that sit opposite each other on the color wheel you can easily create an eye-catching scheme which also feels harmonious.
18. Colorful blinds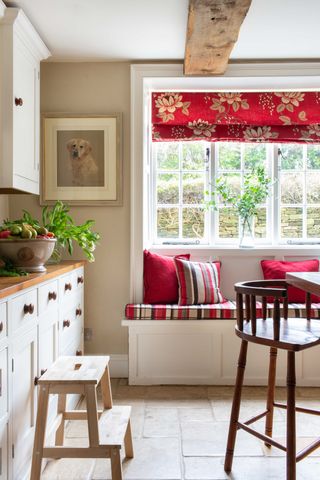 Adding a colorful blind or a bold freestanding cabinet is another easy win if you're not in for a whole kitchen remodel.
If you are certain you want to keep neutral cabinetry, how about painting inside your units a bold bright?
The pop of surprise will spark some joy every time you open a cabinet. It also adds a discreet but impactful element to a color scheme.
19. Merging walls and cabinets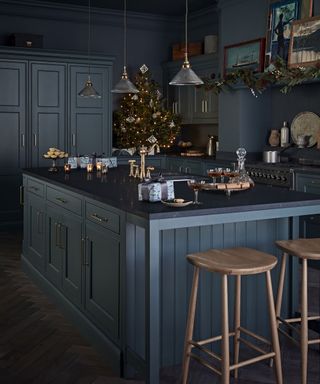 Instead of contrasting colours, painting the walls the same color as your cabinetry can trick the eye into making the kitchen look bigger.
Then you can add interest with a dramatic backsplash or worktop alongside select pieces of art.
20. An orange island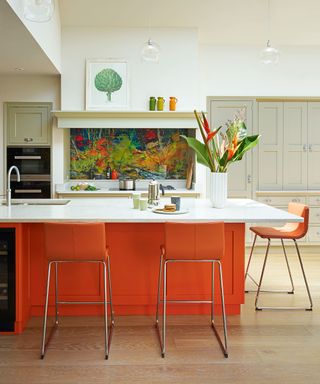 For a statement look, try a kitchen island in a bold shade. Having the island in a stand-out color like orange instantly elevates a neutral decor and the colour can be a springboard for artwork and other accessories.
21. Bright bar stools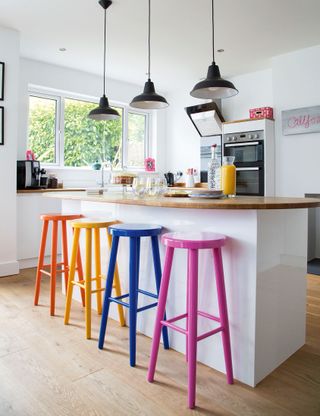 Not everyone wants a brightly colored kitchen, but that doesn't mean you can't introduce color to a neutral room with brightly painted furniture.
Bringing in high-contrast dining chairs or bar stools can add a fun element to your decor and completely energize the space. And because the rest of the space is kept so simple, they don't overwhelm the room.
You could recreate this look quickly in your own home by painting your current kitchen chairs – find out how to paint furniture in our step by step guide.
22. Turquoise and orange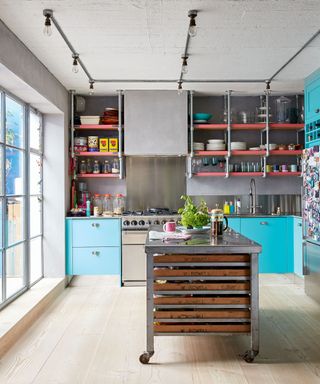 You can play with this contrast in other areas of the kitchen too, so try marrying soft turquoise cabinetry with an equally soft orange on the woodwork of the door and window frame, for instance.
If you are lucky to have a pantry or laundry room, it is the ideal place to try out a bold color.
It is not a room that you are likely to sit in for hours at a time so take the opportunity to experiment.
Painting the cabinetry pink for instance makes what could be a boring, functional room rather dynamic.
23. Statement floor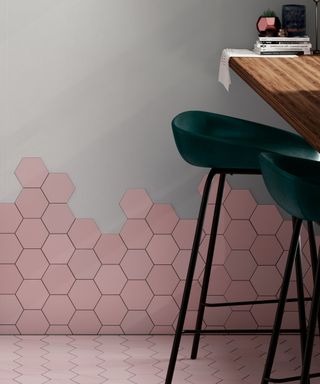 An easy way to add a dash of color is by introducing a pattern, in the form of wallpaper or patterned flooring. Choose shades that blend in and that add a dash of personality and introduce a color that you could perhaps match with accessories in your kitchen, such as bar stool, appliances and lighting.
Or why not do something different, and run your tiles up from wall to floor?
24. Wow-factor tiles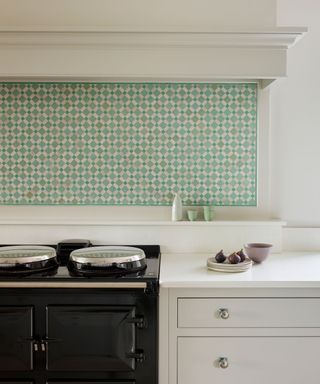 Avoiding anything that might jar, choose stylish patterned tiles that tone well with your existing space to add instant color.
If you have a Victorian style property, why not look for period tiles to add extra character, or if you have a super modern space, think about geometric patterns to make an style statement.
25. Retro blues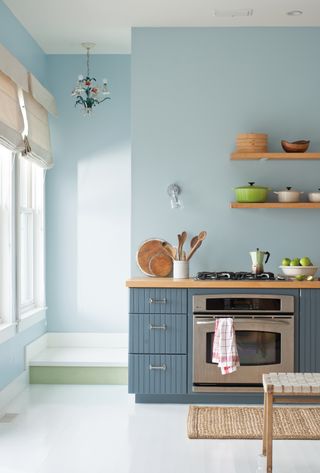 Retro kitchens are definitely making a comeback and a key part of the design trend is plenty of color. These simple kitchen cabinets have been painted with Benjamin Moore's Normandy – try combining this darker hue with candy colors and vintage kitchenware to recreate this look.
26. Petrol blue and gold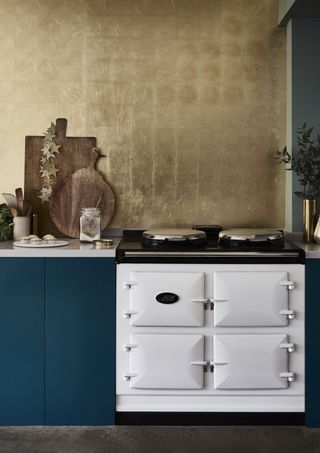 Choosing a palette of a just a few similar colors can still result in a standout kitchen. We love the blue and gold color scheme in this kitchen, it's a very simple design if you look closely but the colors prevent it from being plain.
Love the look of a high end kitchen? Don't miss our luxury kitchen ideas (that we'd copy if money were no object).
27. Yellow, black and red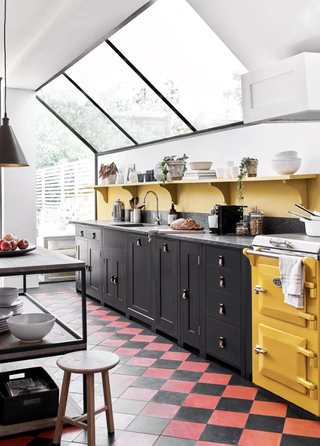 Who would have thought we would be drawn in by black and yellow?! There's even some red in there too in the terracotta floor tiles. It shouldn't work but it totally does. This black kitchen proves you can pair black with other bolder colors without the room looking too crazy.
The key is to stick to the more muted tones. The yellow here is still bold but it's more mustard than citrus and the same goes for the red, it's an earthy red rather than a vivid primary tone. There's plenty of light in this kitchen too which helps and white walls and ceilings balance out all the color going on.
Find more ways of getting the look with our favorite maximalist ideas.
28. Wood, white and green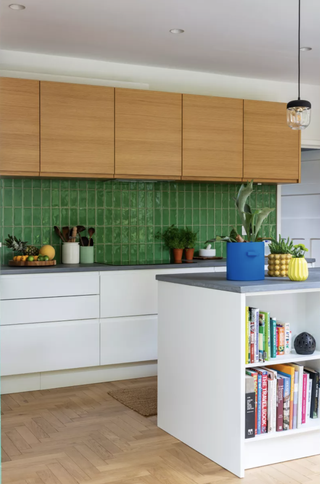 If you aren't ready to commit to a techno colored kitchen, or maybe you're renting so holding back from creating the colorful kitchen of your dreams, try adding just a touch of color with a splashback.
You can actually paint tiles if your tired looking splashback just needs a quick DIY update, or if you are looking for a lockdown project you could teach yourself how to tile a splashback.
29. Nautical blue and white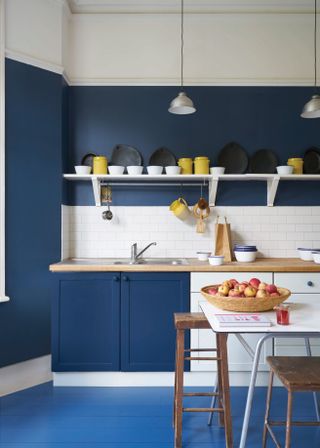 If you are doing up a kitchen on a budget and don't want to splash out on brightly colored kitchen cabinets, try painting your existing ones. Check out our guide to painting kitchen cupboards to get you started. These cabinets have been painted in Farrow and Ball's Stiffkey Blue, we love how it looks mixed with the contrasting yellow kitchen accessories.
30. Country pastels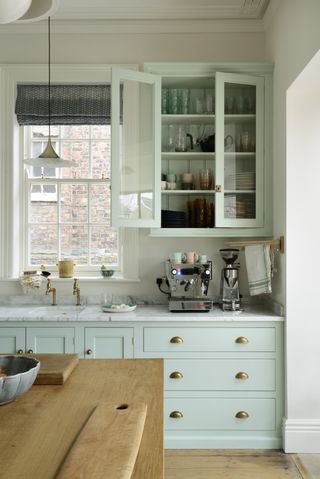 If you didn't think that a bold kitchen color scheme could work in a country-style kitchen, think again. The pastel hues of this Shaker kitchen by deVOL works perfectly in the more traditional space. Team these pale colors with a marble worktop and gold accessories to prevent it from looking too twee.
For more country kitchen ideas, check out our feature.
31. Mid grey with pop of red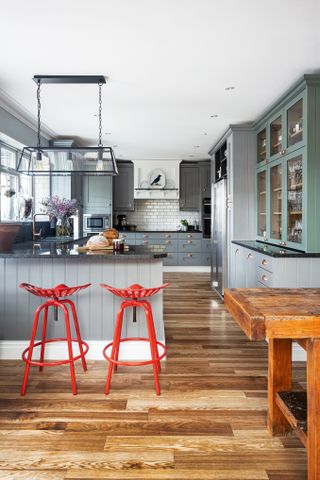 Grey counts as a color too right? Steal the idea from this kitchen and bring some color into a neutral scheme. We love the vivid pop of red brought in with the bar stools, but there's also that lovely, more subtle teal color from the single, glass front cabinets.
The look isn't anything crazy, but the colorful accents really lift this grey kitchen making it more of a fun space that feels less monotone.
32. Blue gray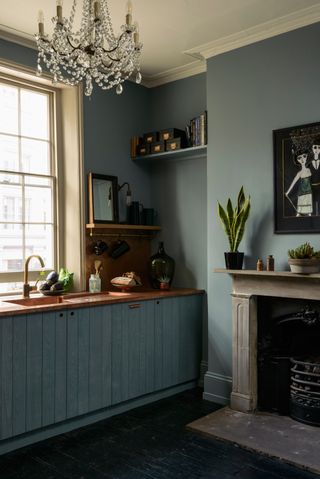 If you don't think crazy bold colors are going to suit your kitchen try picking out darker, more muted hues. We are still obsessed with dark, atmospheric interiors and we can't get enough of this dark teal Sebastian Cox kitchen by deVOL.
'Gone are the days where dark colors in the kitchen and living spaces are all 'doom and gloom'. Color completely alters the mood of a room. Used cleverly, darker shades give a side of sophistication and drama to the space, especially when dressed with statement metallic ironmongery and well positioned lighting.' explains Matt Baker, kitchen designer at Harvey Jones.
33. Lemon and blue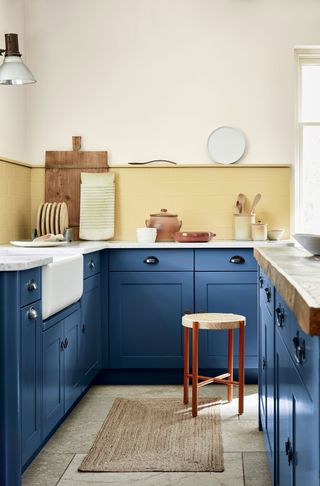 We have this tendency to play it safe in small spaces – all-white everything is going to make the space look bigger, right? Wrong! You can still be brave in a small kitchen, just look at this lovely blue kitchen with that lovely muted yellow to contrast. The space still feels light and airy but is full of personality too.
Big tip here – note the lack of wall cabinets, that really helps to make a smaller kitchen feel bigger, so if you can afford to stick to just floor cabinets.
We have loads more small kitchen ideas over in our gallery.
34. Rose pink and navy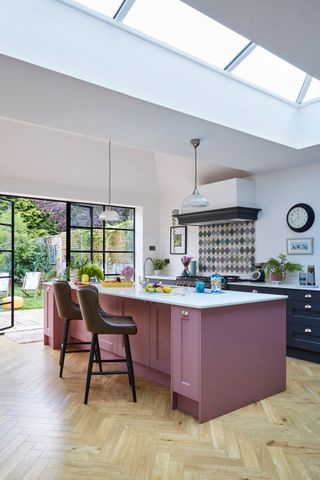 We are big fans of a kitchen island. They are a great way to add a bit of extra storage, more prep space and you can always use them to tag on some extra seating. But practicalities aside, they also give you the opportunity to be bolder in the finish or color you choose, or perhaps allow you to choose a more expensive worktop material that you wouldn't have dared to use for the whole kitchen.
Check out more kitchen island ideas in our dedicated gallery.
35. Forest green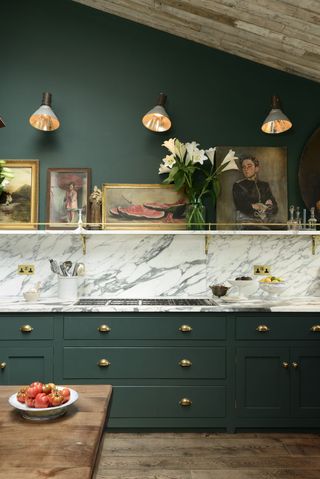 Want to add real oomph to a kitchen? Our answer is: a bold, vibrant green. A juicy green shade will really bring out the quality of your cabinets – and bring to life other details, such as lighting and handles.
This kitchen by deVOL makes a truly stunning case for going bold with color. We love the way the same color and finish has been applied to the walls and the cabinets, making the decorative elements of the kitchen stand out. The addition of marble completes the luxurious, eclectic look.
Find more green kitchen ideas in our gorgeous gallery.
36. Olive green with patterned wallpaper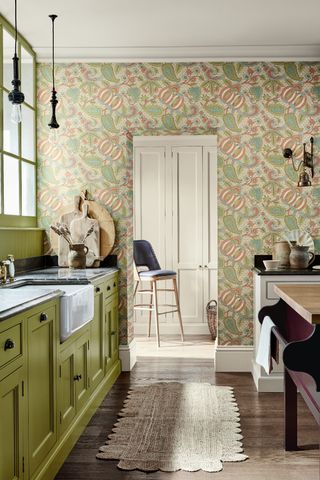 Like paint, kitchen wallpaper ideas can be a really easy way to subtly introduce color. We like how this wallpaper almost totally matches the green of the cabinets but still brings in that pink hue for contrast – another two-toned kitchen done beautifully.
37. Baby pink and pastel green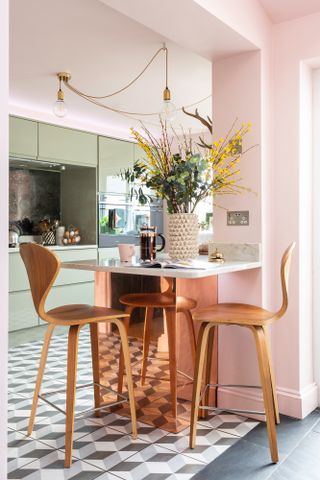 Does it get more dreamy than pale pink and sage green? Oh wait, yes, you throw in some copper too. You can recreate this combo by painting your kitchen cabinets and walls, but if your kitchen is already quite a neutral space, think about bringing in these two tones in a smaller, much easier way. Paint a pink feature wall and look out for sage green accessories and kitchen storage to create a similar vibe for just less effort.
'A warm and playful color, pink is a versatile shade to use in the kitchen. It can be toned down and balanced out with muted timber accents, paired with black or grey for an industrial feel or placed with contrasting, vibrant shades for a lively and dynamic design.' explains Jayne Everett, Design Director at Naked Kitchens.
If you love pink as much as we do, be sure to check out our pink room ideas gallery.
What are the best colors for a kitchen?
The best colors for kitchens totally comes down to your person tastes. That being said, if you are after a kitchen that has longevity you'll really have to think about what colors you can live with long term.
Classic colors like blue, green and grey are always a safe bet, but if you want to go bolder just make sure you order lots of swatches and samples, maybe even try painting a wall in your potential choices and seeing if it's liveable long term.
'The kitchen is the perfect environment for experimenting with color on both a large or small scale,' explains Leisha Norman, Kitchen Designer at Harvey Jones. 'When deciding on the shade of the cabinetry, make sure you consider your space first – kitchens with lots of light can take a bolder, darker color than a more enclosed room where bright white, soft cream or warm taupe cabinets will help create the illusion of a bigger space.'
'Generally we are seeing a lot of bold cabinetry colors – people seem to be braver than they used to. Shades of blue and green seem to be the most popular, especially teamed with the warmer taupe tones, moving away from cool grey.'
While Dennis Relojo-Howell, psychologist and founder of Psychreg.org says: 'Red is something you have probably seen a lot in advertising, and there is a good reason why. It is the color of fire, which conveys intensity and passion. Red is also the color that exudes exuberant energy, so you can also expect it to stimulate a frantic atmosphere in a kitchen. Not only that, red has been known to promote appetite, so it's not just for the kitchen, but also for the dining room.
'Blue has been known to promote soothing qualities that can transform busy spaces like the kitchen into a space with a more relaxed ambiance. You can also opt for pastel colors by combining white to most colors. This dual-tone palette can also give off a refreshing vibe.'
'Along with colors and the rich aroma from your recipe, features and decorative accessories can also promote a warm-hearted feeling that can make the kitchen even more unique from other spaces in your home.'
Best color ideas for small kitchens
When thinking about which color to go for in your kitchen, it's important to consider the size of your space as well as how much natural light that you have to play with. Small kitchens are advised to steer clear of dark colors as you run the risk of making the space smaller. Although, that's not to say that darker shades won't work for your space.
Experts at Wren Kitchens explain, 'If you have a small, narrow or low-ceilinged kitchen with little natural light, any dark shades will make the room feel oppressive and unwelcoming. Therefore, you should choose a color scheme that incorporates a light 'tint', as this introduces elements of white within the color, making it brighter, even when there are touches of darker shades included.'
Best color ideas for large kitchens
If you've got a larger space, there's a lot more freedom, whether it be injecting bold statements or introduce feature colors.
Wren Kitchens' experts say, 'Those with a large kitchen, which features lots of natural light and has a high ceiling, can experiment with darker shades, as the amount of light and space the kitchen has will ensure the room still feels airy.
In fact, applying too much white to a kitchen of this size may make it feel sparse, meaning light shades should be balanced with warmer and darker tones.'