In need of some winning kitchen tile ideas? Hands up if you've become a little bit tired of seeing your current kitchen scheme whilst waiting for the coffee machine to percolate your 78634th cup of jo?
Well, we've come up with some fabulous new kitchen tile designs that will give your walls and floors – and your whole kitchen – a brand new look. Swap the backsplash tiles, and the kitchen makeover is sorted.
'With open-plan kitchens still at the top of most homeowners' wish lists, large flooring tiles reign supreme,' says Abbas Youssefi, Managing Director of Porcelain Superstore.
'The beauty of large tiles is they create a unified feeling throughout open-plan rooms – giving an almost palatial feel. While kitchen flooring remains quite classic, the same cannot be said for the walls and we have seen an upturn in the number of homeowners who want to inject real character into their kitchens--color and texture are the big news in kitchen schemes.'
So, as well as being one of the most practical kitchen ideas, tiles really can be a bold or textural design statement. Have a look below for our best inspiration and advice.
1. Get graphic with mono tiles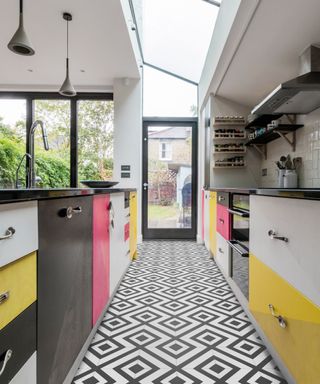 Sometimes it really is as simple as black and white…
Design experts at Avenue Floors say: 'It's no surprise that monochrome floors remain a popular choice for kitchen floor tile ideas. It's a clever pattern that can help draw the eye and make the most of a small space. When it comes to highlighting geometrics, monochrome floors can be paired beautifully with kitchen cabinet color ideas to emphasize their cubic form.'
'Take a look at this example that adds the fun element to a geometric design by using color blocking to make this kitchen stand out from the crowd. For that ultimate look, try salvaging vintage and retro fittings such as crittal-style doors and windows, or consider updating shelves with a fresh lick of black paint for that ultimate monochrome shelfie.'
Worried that this look may become overpowering? Soften up schemes by introducing plants to break up solid lines.
2. Create a sweet honeycomb effect with hexagons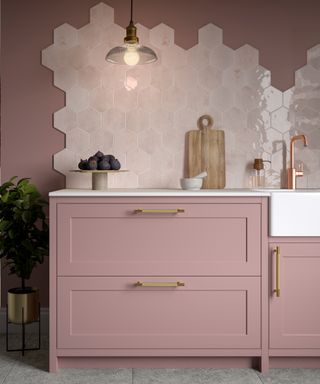 Think outside of the box (shape) with shapely designs that feature edgy shapes and formats. It's no wonder hexagonal tiles are flavor of the modern kitchen dream.
Jayne Adamson, marketing manager, Verona says: 'Hexagon tiles are ideal for homeowners who like the intricacy of small format and geometric design. A modern alternative to metro tiles, hexagons have the same uniform aesthetic but create maximum impact with their playful composition. They're also great for creating a feature wall or backsplash with a tessellated edge, which is all the rage in interior design right now.'
3. Achieve timeless style with versatile subway tiles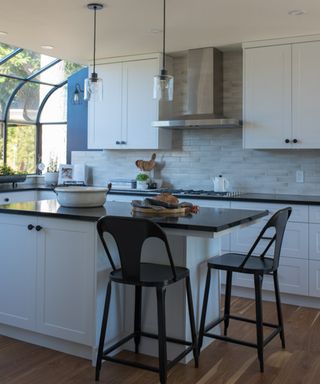 Paige Gray, lead designer and founder, Parker & Harlow believes that subway tiles are a great option for a kitchen:
'Subway tiles have proven themselves time and time again over the years to be a valuable and economical investment for kitchens. I love their versatility and low maintenance qualities, as well as their pairing traits with other hard surfaces in a multitude of color and texture options. I prefer for them to be a long-term investment, and thus keeping them simple, clean, and minimal while exploring trends in more replaceable surfaces such as paint or wallpapers.'
4. Try a trending DIY tiling idea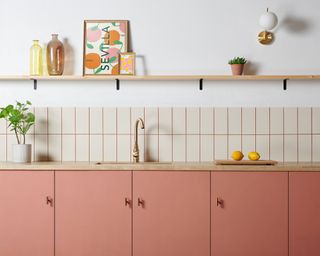 Wondering how to update your kitchen on a budget? Well, say bonjour to your next weekend DIY job and learn how to grout wall tiles in 5 easy steps.
In a study by Atlas Ceramics, DIY Tiling appeared in 64,000 Google searches and produced over 2 million hashtags on Instagram. While this DIY trend requires a little more time and effort, the outcomes can have a real impact. One of the most spectacular examples of this trend is tiles with contrasting color grout.
Common styles use large square tiles and a matching color grout to cover furniture from top to bottom. On Tiktok, there are 25.7M views for videos tagged #TileTable and there are 6.3M views under #DIYTiling.
While starting a DIY tiling project can seem daunting, there are some ways to make the process easier. Using large tiles and tile spacers can help to ensure even spacing, and colored grout can be made at home by adding a small drop of acrylic paint to the white grout. Alternatively, there is plenty of colored grout to choose from. It's always best to order more tiles than you think you might need, to avoid making a trip to the store in the middle of completing your project.
5. Zone an island with patterned tiles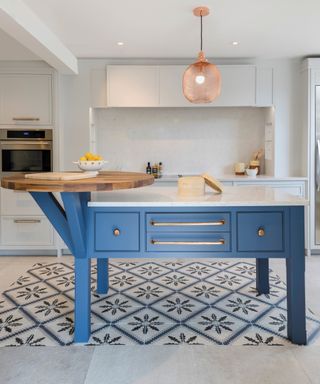 Want to make your kitchen island idea the dazzling star of the show (okay, scheme)? Amp up its 'flock and gather' status for cooking and socializing with feature tile patterns that create a practical rug effect, adding color and interest from below.
6. Add impact with geometric designs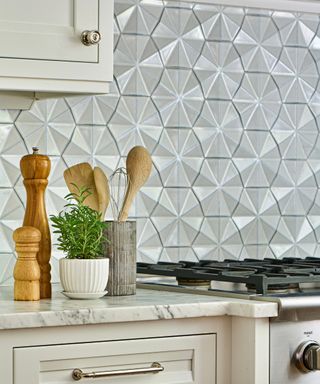 A top kitchen trend, geometric tiles add dynamic, yet reassuring pattern repeats wherever they go - in subtle or dynamic effect depending on design and preference. Create optical illusions with trompe l'oeil effects of depth and zone different task areas in an open plan kitchen.
Design experts at Avenue Floors say: 'Geometrics have always played a part in the structural part of interior design, but how we accentuate them has become a key element in many home décor trends.'
'Adding a signature floor inspired by geometric patterns works beautifully against a backdrop of plain walls and ceilings.'
7. Add wow factor with a two-tone scheme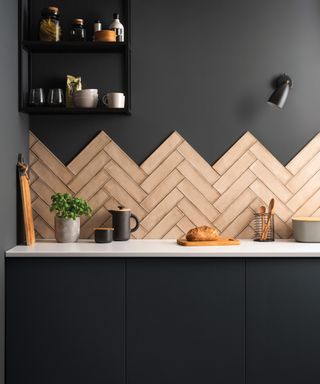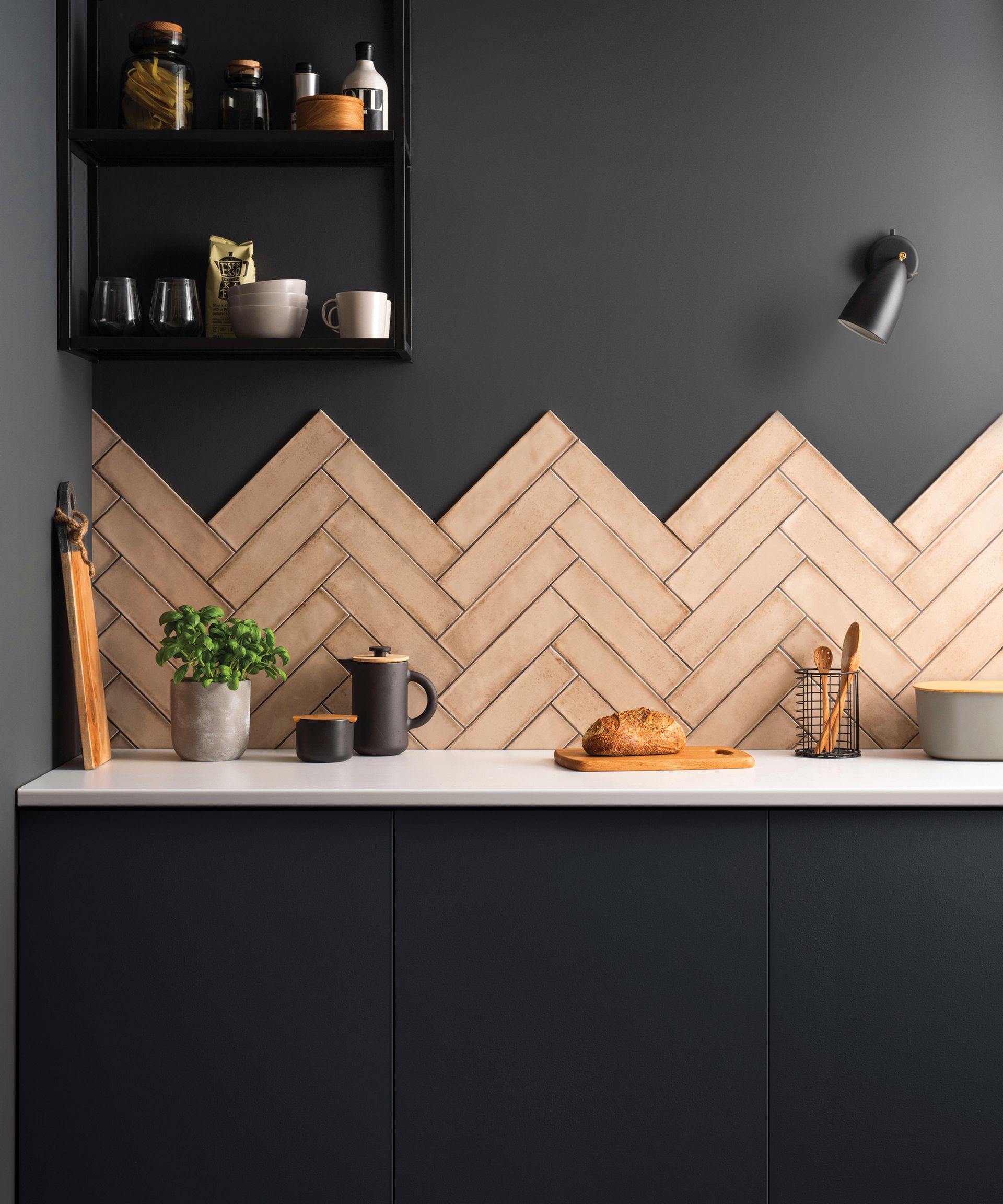 If you're on the hunt for a two-tone kitchen idea that packs a punch of drama, then max out your space with a striking two-tone color scheme.
As shown here in this black kitchen design, subway tiles in a taupe finish and zig-zag formation, creates dramatic contrast, resulting in a bold aesthetic that oozes a sassy urban attitude.
If you're smitten by what you see, then why not have a DIY go at tiling a kitchen backsplash - go on we have all the faith.
8. Get tactile with terracotta tiles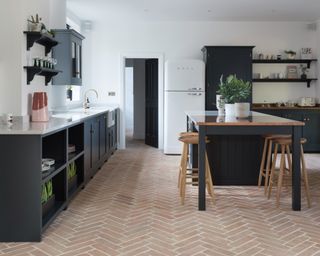 Evocative of sun-drenched lands, elevate your country kitchen with the earthy, baked goodness of distinctively pigmented terracotta tiles. This unique clay material is perfect for creating a tactile surface on floors and walls, abundant in welcoming warmth.
For a modern twist, try kit-tat-shaped mosaic styles, and embrace that holiday at home feeling whilst cooking up Mediterranean feasts - yum!
Find out how to clean terracotta floor tiles and restore them to their former glory with DIY expert Helaine Clare's step-by-step guide.
9. Calm your space with mint shades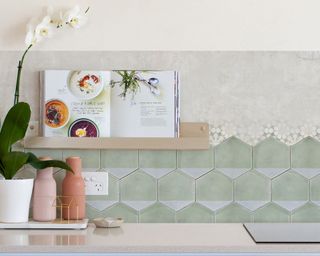 Craving a green kitchen design idea and zen space in which to cook up a storm? Take minty fresh and soothing sage inspirations from the herb garden and onto walls or floors with these nature-derived hues that calm the soul and feed the mind.
10. Small kitchen? Carry your tile color scheme through to make it look bigger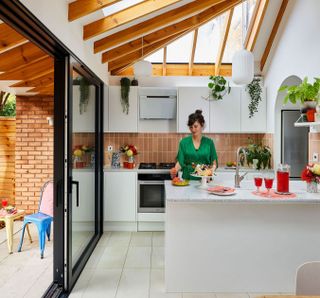 If you're looking for small kitchen tile ideas to make your space feel larger, one way to do so is to carry the color scheme through to the next space, whether the dining room, living room, or – as in the case of this gorgeous kitchen extension (which you can see more of in our feature) – through to the garden or backyard.
The inviting orange of the tiles matches the bricks perfectly, with the tiles turning lengthways for a subtle change in pattern.
11. Use textured kitchen tiles to create visual interest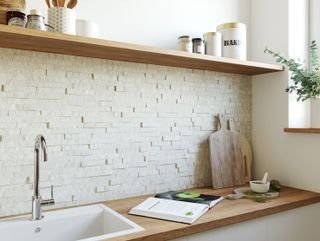 If color isn't your bag, then opt for a sophisticated textural tile, which can make a muted kitchen decor scheme much more interesting.
These by Tile Mountain add a 3D element due to their interlocking design, which works really well here in contrast to the walls which are a smooth crisp white – they also have a shimmering sparkle finish.
The wooden worktop and shelf bring out the natural shades of the tiles creating a calming, zen-like quality in this space. Keep accessories simple and in similar tones.
12. Match wall and floor tiles to create zoning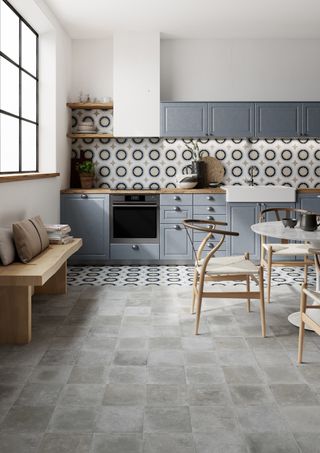 One way to create a unified scheme that works brilliantly in a larger, open-plan kitchen is by choosing a flooring design for the kitchen zone that matches the backsplash tiles but differs from the flooring in the rest of the space. And patterned tiles will make a larger kitchen feels cozier, and a small kitchen feel more coordinated.
For those pattern lovers amongst us, these are for you. They are called 'Swing' from Tons of Tiles; we love the circle design and how easy the colors are to accessorize.
Made from porcelain, they have a faux encaustic quality that ensures they are right on-trend. Team with blond wood and a pale grey as shown – one bonus is that you can use them on the floor too.
13. Super-size kitchen tiles for a subtle look in a boho space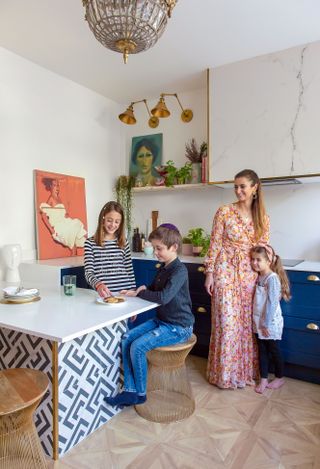 If yours is a boho style kitchen with lots of lovely detailing, it pays to keep your backsplash tiles as plain as possible – and that means as few grout lines as possible, too, so that everything has space to breathe (visually), and nothing has to fight for attention, with the result that the kitchen feels calm and uncluttered.
Here, supersized tiles cover the backsplash and cooker hood. The only caveat is that your walls (or floors) have to be as flat and even as a pancake to take tiles this size...
See the rest of this stylishly renovated home full of surprises.
14. Make the room feel taller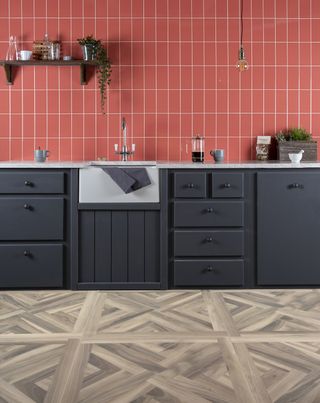 Taking your backsplash higher than usual is a great way to add a wall that oozes color and texture.
It works particularly well if you have a low ceiling and you want to create the illusion that it's higher – the linear quality and the way the tile is fixed vertically rather than horizontally will draw the eye up.
Plus, in a boxy, modern space with little character, it'll do the job of injecting personality for you.
Into red kitchens? Be brave. These tiles are similar to Pantone's Living Coral color from 2019. They will warm up a north-facing kitchen and create a colorful hub for the family to relax in.
15. Flat-fronted units and sleek appliances? Pick a small tile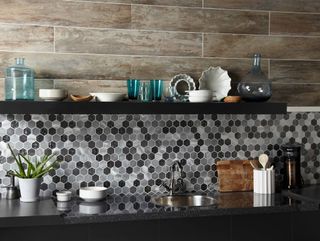 If your kitchen is all about simplicity and minimalism, pick a small tile to add pleasing detailing.
For a modern feel opt for this contemporary mosaic from CTD Tiles, they work fabulously well with black and white, and they feature distressed metal pieces in three tonal grey hues. So if you love metallic accessories these tiles are your perfect match.
16. Choose accessories to match your tiles for a co-ordinated look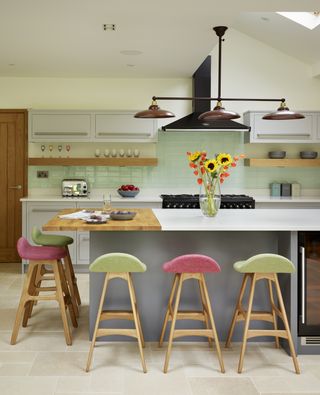 These pretty pale green tiles give a fresh feel to this kitchen from the Harvey Jones Linear range, whilst adding in a color that suits perfectly with the warm wood accents in the rest of the space.
We love how the kitchen stools are a similar tone, it brings the green out into the room and who doesn't love a splash of color? You can have fun shopping online for glasses, bowls, and storage jars in a similar shade to create a cohesive feel.
17. Go bespoke with mix and match tiling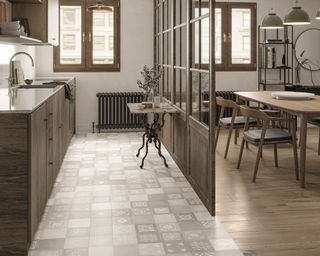 Mix and match tiles to create your very own statement in your kitchen. Variety is the spice of life after all and what better way to express your individuality than with a collage of tiles in different styles?
Youssefi explains: 'Bespoke finishes are always in demand, but often out of reach when it comes to cost. One of the biggest news in tiling in recent years has been the rise of the 'mixed' collection – a tile range comprising up to 70 individual tile designs and sold in boxes made up of 20 random tiles. It's very unlikely any two orders will be the same, so homeowners can be sure their finished layout will be completely unique to their home.'
18. Pair dark subway tiling with neutral decor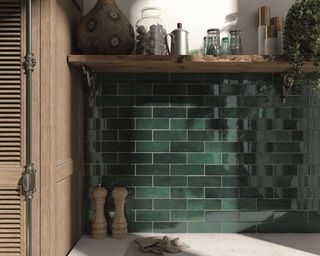 Try a darker subway tile which will contrast beautifully with more neutral décor and wood kitchen units.
'Muted shades are giving way to richer, deeper tones – particularly emerald greens and dark blues – as homeowners strive to show off their personalities,' explains Youssefi.
19. Play with color with a patterned tile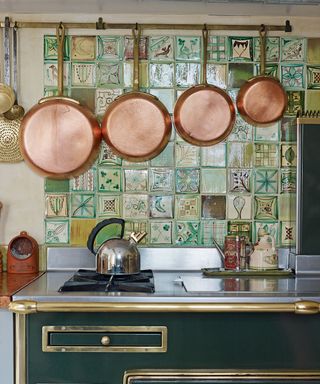 Another way to inject kitchen color ideas and add vibrancy is to go for a patterned tile which adds some playfulness.
The patterned green backsplash here echoes the color of the cooker and makes a great focal point within the kitchen.
20. Blend your worktop with your backsplash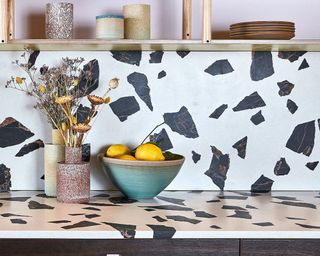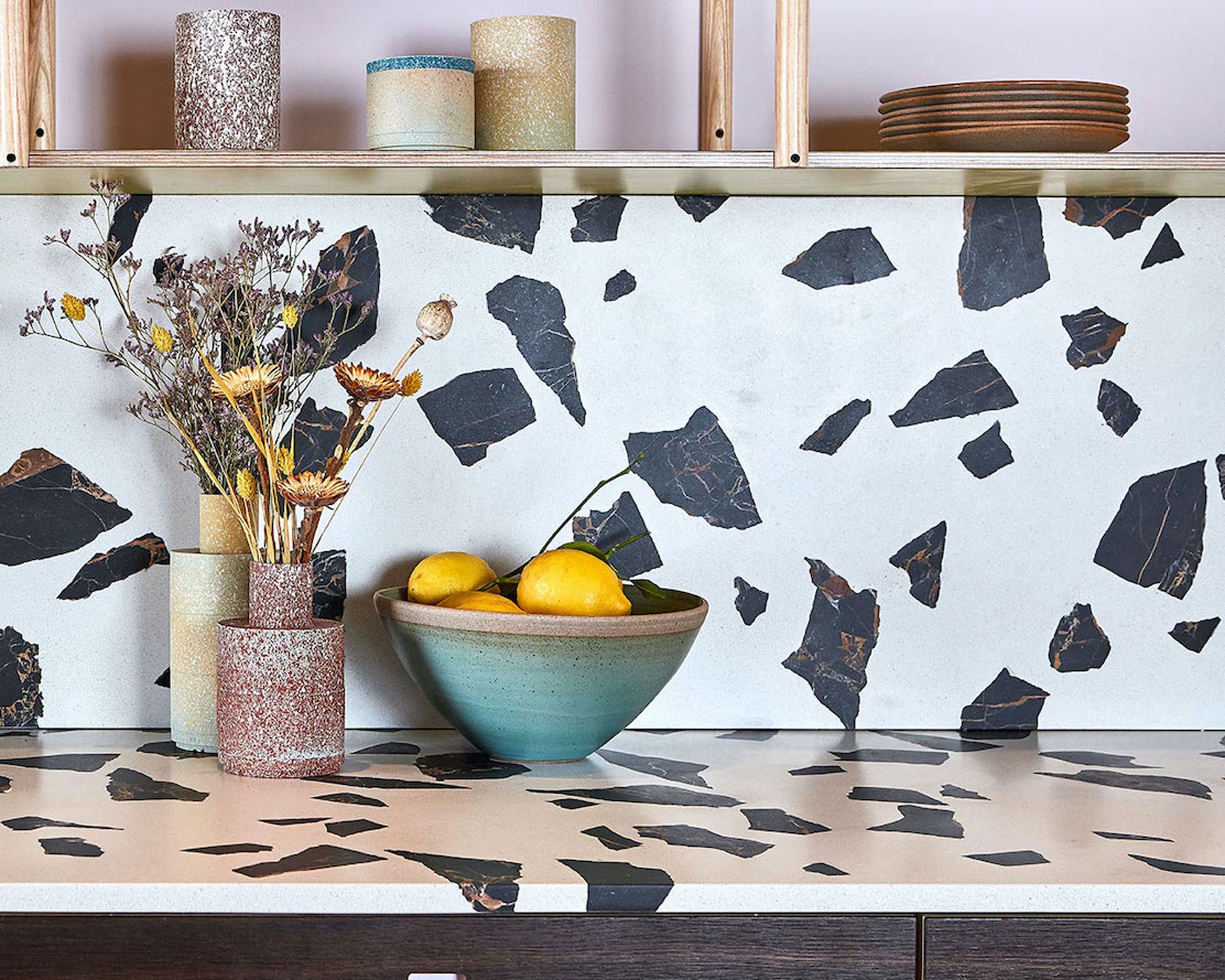 You can also carry through a pattern from your worktop to your kitchen backsplash idea like in this terrazzo-style one here.
This large-format terrazzo creates a striking but also seamless look that packs a punch.
21. Create a natural flow with floor to wall tiles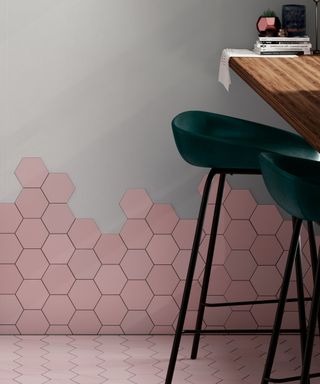 Follow suit by creating a flow from floor to walls with large format tiles in a vivid shade.
Not only will this make a statement but will protect your walls from wear and tear. Our other kitchen flooring ideas are sure to (ahem) floor you...
22. Create a feature wall with small terrazzo tiles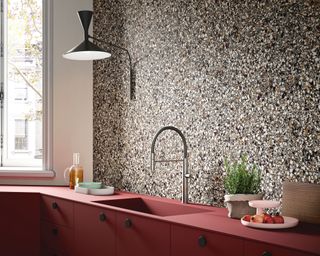 Make a statement in a vibrant kitchen with small worktop to ceiling terrazzo tiles.
Not only does this space look bigger, but the tiles create a feature wall design that adds interest and draws in the eye.
23. Learn how to choose kitchen tiles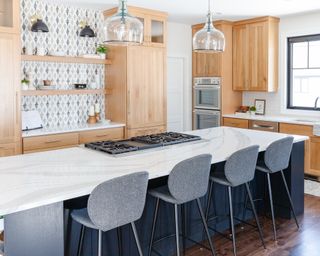 Choosing kitchen tiles is really important whether you're taking the plunge with a new kitchen design or updating an existing kitchen.
Whether you're looking for a new backsplash or kitchen flooring, find out more by visiting our guide on how to choose the best kitchen tiles.
What's the current design trend for kitchen floor and wall tiles?
David Talbot, head of specification, Craven Dunnill, says: 'The use of large format porcelain floor tiles linking the inside and outside spaces of homes has seen a dramatic increase over the last 12 to 18 months and continues to accelerate as more and more products become available in increasingly larger sizes and more varied designs.
'For kitchen walls there is return to smaller format and brick shaped ceramic and porcelain tiles with handmade styling.'
What's the best option for tiling kitchen countertops?
If you're looking to tile your countertops, Andrew Bendall, marketing manager, Craven Dunnill Jackfield advises: 'The areas of attention for domestic kitchen worktops are the tile joints and exposed edges.'
'Ensure that the surface to be tiled is rigid, suitable and prepared correctly to receive ceramic tiles. Use Porcelain Tiles wherever possible and we recommend not using crackle glaze or metallic effect tiles. It is also a good idea to try and minimize the number of tile joints and tile cuts. When grouting the tile joints, epoxy grout is best. To protect exposed tile edges, we recommend a metal tile trim.'