Not all of us fall in love with our homes on the first viewing, but that doesn't mean a property can't become ours over time. That is something Rosie has achieved by adding a conservatory-style extension to the flat she bought from her dad.
When she moved into the basement flat in south London, Rosie's first impressions were not positive: 'I didn't love it immediately,' she says. Based in a good neighbourhood, within walking distance of her workplace in Soho, it was in the cellar of an attractive Victorian mansion house. It sounds promising, but the reality was far less grand. 'The flat was pretty dingy, with no period features, which is why I went for a more contemporary look,' Rosie adds. 'I gave it a lick of paint, but my main beef was it was dark. You couldn't see the garden as there was a huge wall in the way, so the inside and out didn't feel at all integrated.'
Inspired to extend a home like Rosie has? We have masses of ideas and helpful advice on what to do and where to start.
Profile
The owners Rosie Rockel (@rosierockel), a TV producer
The property A three-bedroom basement flat in a Victorian conversion in Brixton, south London
Project cost £120,000
The solution was obvious, as the flat had a large side return ripe for extension. 'I was desperate for the garden to feel part of the flat, and I wanted a stepped design you could see from the house, but my planning application was rejected twice. Because it's a period property, the council would only accept a glass conservatory, which forced my hand.'
On the project checklist was to redo the bathroom and install a new kitchen, but more pressing issues had to be resolved first. 'I could never work out why the laminate floor was so uneven, until we took it up and realised there was just bare earth underneath,' Rosie says. 'We had to put down a concrete slab, and used the opportunity to dig the whole floor down by a foot to raise the ceiling height. It's not something you'd notice looking at the flat now, but it completely changed the proportions and made everything feel more airy. From there, the whole thing escalated and we ended up gutting the place.'
Rosie moved in with her dad for what they thought would be a three-month stay, but ended up being seven. 'The builders were great, but I still had to make a lot of decisions day-to-day,' Rosie says. 'I was away in the US filming a hip-hop documentary for some of it, so I had lots of stressful 3am phone calls about taps!'
When it came to sourcing the kitchen, Rosie knew she wanted wood cupboard fronts, but the companies she looked at weren't quite meeting her requirements – until she came across Pluck. 'They were still quite competitive against some companies that just sell the fronts with an Ikea carcass – but I'd get a higher quality kitchen overall,' she says. 'I'll probably outgrow the millennial pink eventually, but at the moment I love it. And I can always recover it in the future.'
The kitchen was one of the only brand-new elements of the flat; Rosie prefers to buy second-hand where she can. 'I rarely buy anything new at all – everything on Ebay (opens in new tab) is better quality and half the price!' she says. 'It's what I do at night when I'm sitting in bed. I love knick knacks and trinkets – and it's by far the most eco-friendly way to source things.' She also picks things up from her travels. 'I go away a lot, and wherever I go, I come back with something mad in my suitcase. A trip to Mexico was particularly fruitful – I had to buy a suitcase double the size of the one I'd taken to fit everything in! Wherever I go, I find the antiques market. I was in Japan just before the pandemic and visited the Tokyo flea market. I swear I had palpitations on entering!'
Rosie has renovated every part of her flat, from the wash room with its psychedelic encaustic pink bathroom tiles – 'I didn't think about the fact that they were also pink until I bought them!' – to the living room with its dark walls and cosy scheme. But her favourite room is the kitchen. 'I've spent more time in here than I ever dreamed I would over the past year, and it's really highlighted how grateful I am to have a nice space to live in,' she says. 'I love sitting in here at my desk, looking out onto the garden. I'm very lucky to have this.'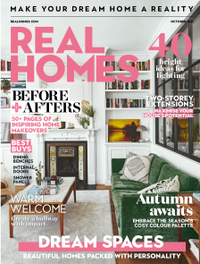 (opens in new tab)
Subscribe to Real Homes magazine (opens in new tab)
Want even more great ideas for your home from the expert team at Real Homes magazine? Subscribe to Real Homes magazine and get great content delivered straight to your door. From inspiring completed projects to the latest decorating trends and expert advice, you'll find everything you need to create your dream home inside each issue.