We all remember when painting one wall in an otherwise beige room was the go-to solution for creating a feature wall. But it's moved on – and some. With more imaginative finishes, textures and prints it is no longer limited to just paint. We are talking wall stickers, murals, houseplants, floating shelves and more…
So if you are feeling inspired to do more than just add a pop of colour, then check out these feature wall design ideas.
1. Get an industrial feel with exposed brick
A wall of exposed bricks has long been a seen as a holy grail of interiors, something that we are all desperate to have as a feature wall in our homes. For some lucky home owners stripping away old plaster will instantly reveal an expanse of beautiful brick, for others it's more a fake until you will make it situation, with the help of wallpaper or brick slips.
If you've revealed your bricks but are disappointed with the finish, you can draw attention to the wall by keeping the brick texture, but hide the mismatched or ugly colours with a freshly painted finish.
2. Add impact with a wall mural
Wall murals are definitely the new (more affordable) alternative to artwork. Why spend a fortune on an oversized piece of art when you could choose a print that covers an entire wall?
We love the dark and moody vibes of the floral mural in this living room, you can find really similar prints at Surface View.
3. Be on trend with colour blocking
We know we said feature walls were no longer just about paint, but bear with. Colour blocking has been a major trend this year and adds a load more interest than just a wall of one block colour.
We can't get enough of this fresh white and blue combination – perfect for a fresh finish in a light-starved living space.
4. Wall stickers aren't just for kids' rooms
Wall stickers may not seem like the most grown up solution for a feature wall, but we promise there are some really gorgeous designs out there. Plus if you are an interior design commitment phobe or renting your place, they are a pretty easy to remove.
Use one to make more of a focal wall – such as behind your sofa or at the head of your bed.
5. Create a living wall
We all love a house plant, so why limit yourself to just a single Monstera? Try adding plenty of plants to your shelves to create the look of a living wall or get yourself some hanging pots.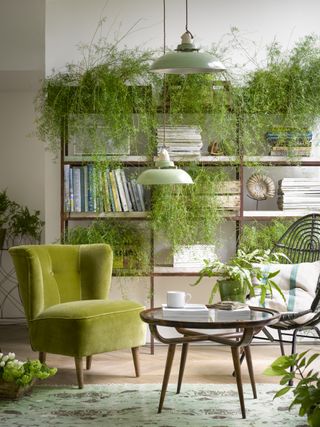 6. Design a gallery wall with photos and artwork
Got an ever expanding collection of much-loved art, family photos or favourite postcards? Try grouping them together to create a gallery wall. If symmetry is your thing, measure them carefully before hanging to get even spacing. If you like a more laid back approach, just work out your arrangement on the floor first prior to picking up your hammer.
Check out our tips for displaying pictures to get the best results first time.
7. Enhance space with a mirror wall
It's the oldest interior design trick in the book: a strategically placed mirror can make a room feel bigger. But rather than just hanging one large mirror, combine lots of mirrors in different shapes, sizes and styles to add extra interest.
8. Go for a statement wallpaper
Possibly even easier than just painting one wall, wallpaper is a super simple way to create a feature wall. If you are working with a small space or a narrow wall in a hallway, go for a large-scale, bold print, but keep the background light and bright.
9. DIY an ombre wall
It would seem that the ombre effect is a trend that's not going anywhere. It started on the catwalk, spread to our hair styles, and now the dip dye style has seeped into our homes.
The best thing about an ombre wall? It's actually super simple to do yourself, just check out our step-by-step guide.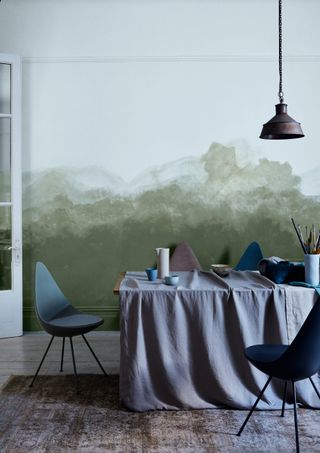 10. Use floating shelves for a quick and easy feature wall
Putting up a few floating shelves is possibly the easiest and most inexpensive way to create a feature wall. Ikea's Lack shelves are only a tenner and very straightforward to install. Copy the look below and layer up your photos and knick knacks just as you would with a gallery wall, but unlike a gallery wall, you can constantly switch up your display.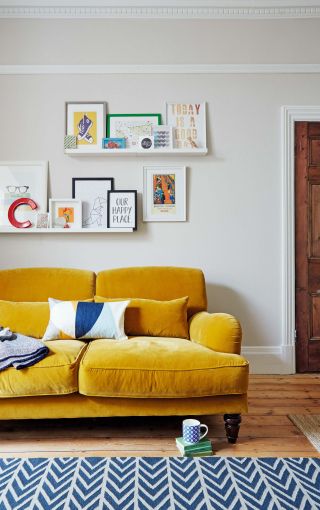 Looking for more decorating ideas?