If you're looking for kitchen ideas and more specifically, small kitchen ideas that are inspiring but actually realistic, we're here to help.
Don't get us wrong, we love a Pinterest-worthy, spacious, light-filled, as-big-as-the-whole-of-the-downstairs-of-our-home, kitchen as much as the next person, but they aren't the reality for most of us.
So what can you do with the small space you have?
Experts at B&Q explain, 'Minimal space doesn't mean having to settle for a gloomy kitchen. You may think that your small kitchen is the problem, however, the real problem is not utilizing the space you do have. Make smart decisions about your kitchen layout, appliances, and storage options.'
We've rounded up loads of ways to help you create your dream space in small square footage. And if you're thinking about a kitchen remodel? We've got the advice you need on how to design a small kitchen.
Whether you're looking for practical small space storage solutions or just need inspiration on which paint colors will give the illusion of space, we've listed our favorite ideas below to help make the most of a small kitchen.
1. Be savvy with storage in a small kitchen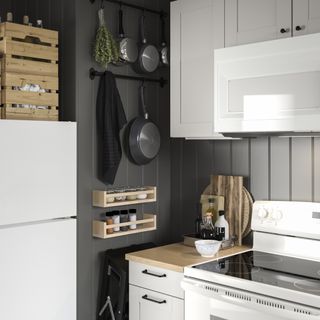 As with all small rooms, good storage that works hard is key, the last thing you want in a teeny kitchen is clutter.
Opting for a mix of open and closed kitchen storage is a fab idea for small kitchens, open shelving and glass cabinets double up as decoration and storage if you fill them with jars, crockery and your best kitchenware.
Experts at B&Q recommend the following:
'Neatly tuck your food, waste and cooking utensils away using integrated storage and bins. Create storage towers of different heights or configurations– it's essentially a cabinet filled with internal drawers, offering a huge amount of storage that you can tailor to meet your needs.'
Use the cupboards for the less aesthetically pleasing stuff and invest in under shelf baskets and cupboard organizers to make even more of your space.
2. Use bold colors to enhance the space you do have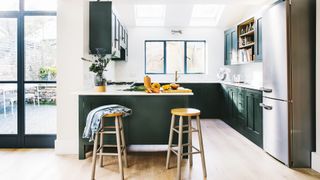 Looking for bold small kitchen ideas? We know that we always say that in small spaces you should keep everything white and bright and light, but sometimes contrasting colors can have a similar space-enhancing effect.
So if you are feeling bold, choosing a vivid color for your space can be a good idea for smaller kitchens. You don't have to fork out a lot to achieve this look either, you can try painting your kitchen cabinets; if it doesn't go well, just paint over them!
Make sure you pick the best kitchen cupboard paint though, you will find loads of options in our buying guide.
3. Add more surface space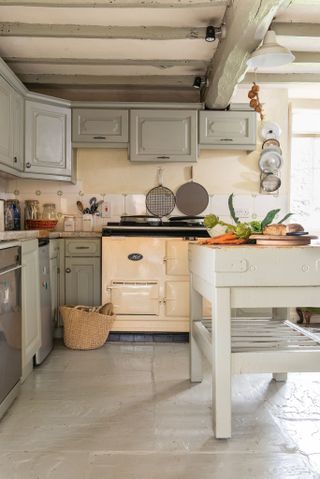 Think you didn't have room for a island in your small kitchen? Think again.
Sure many homes aren't roomy enough for a massive island, but if you love that flexible, freestanding look that an island brings to a space, you can always create a similar effect with a butcher's block or furniture island.
They are much more compact than an island but can still give you extra surface space and extra storage.
You'll find a few options that are suitable for small kitchens in our round up of the best kitchen trolleys so go and have a scroll through those. Or you could of course pick up a lovely reclaimed or secondhand one on eBay. Our advice? Keep it a light color – that way the room won't feel crowded.
4. Use lighting to create a focal point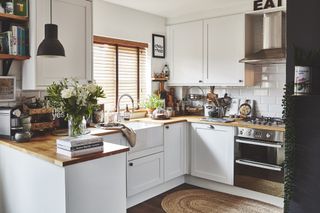 There are so many ideas for small kitchens that don't require an entire revamp.
Create a focal point with clever kitchen lighting as pendant lighting can be an effective way of detracting from a kitchen's diminutive size while adding a stylish and sophisticated feel to a space.
This task lighting is not only practical for when you're chopping veggies and the likes, but also perfect to make a statement. We love this dark grey Ikea pendant light which will stand out a treat, even in an awkward kitchen space.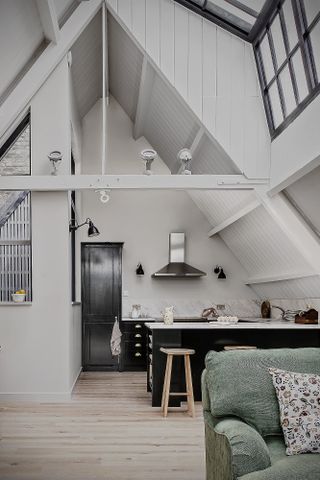 If you don't have the room to hang a large pendant light or if it's not the most practical option, think about using wall lights to create some interest instead.
Choose lights in a color to contrast with your walls so they stand out – this is one of the best open plan kitchen ideas, as it'll help to create zones within the space.
Steal this idea and create a cohesive look by matching them to your cabinets, or go bold and use your kitchen lighting to add a splash of color.
5. Open shelving is a must for a petite kitchen space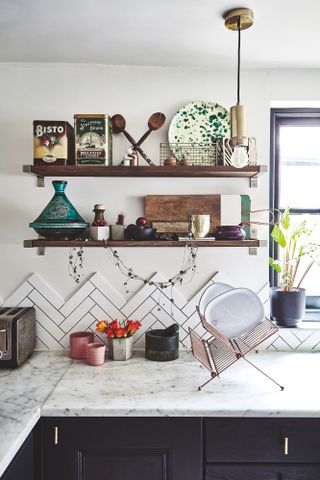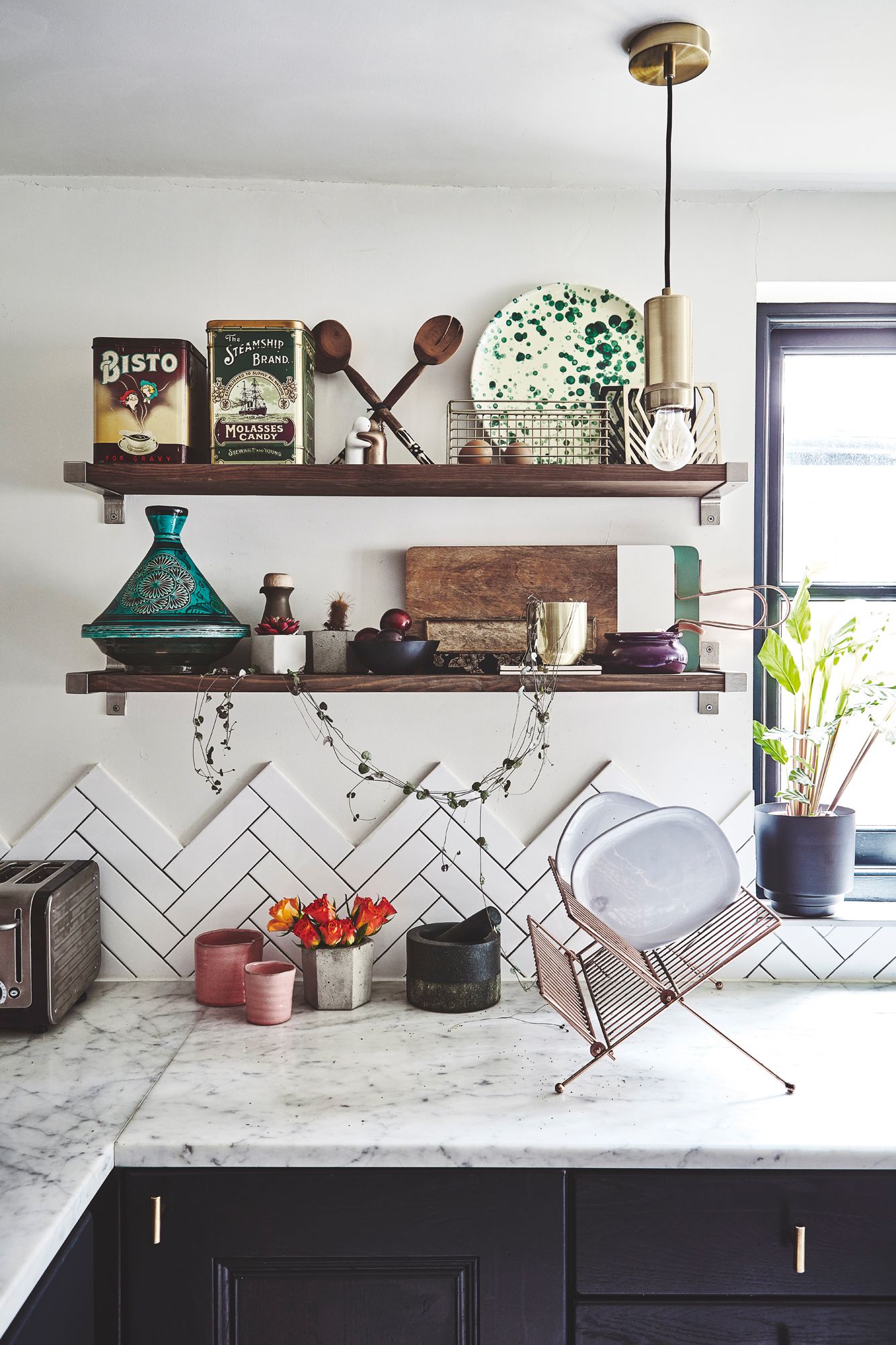 While floor to ceiling kitchen cabinets are a great option for maximizing small kitchen storage, in excess they can make small kitchens feel boxy.
Breaking up a space with open shelving is a great solution and can make an eye catching design feature if styled with pretty crockery and glassware.
6. Choose slimline appliances to save on space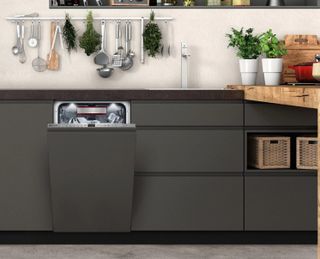 Of course, your kitchen design has to be practical, too. When it comes to choosing appliances for a small or even tiny kitchen, opting for slimline versions is a great solution to tight spaces.
Not only will you save on space but it will probably better suit your needs and decrease your energy use too.
Check out our pick of the best slimline dishwashers that will save you valuable space, and you might want to think about an under-counter fridge too, so go and have a look at those.
7. Choose bright and modern window treatments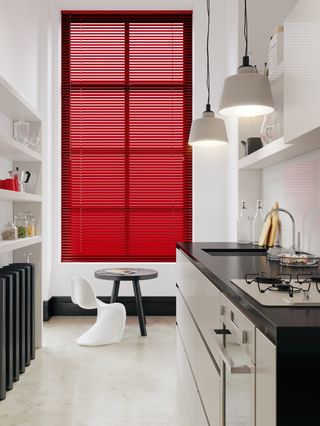 What a perfect way to add some energy into a small kitchen space.
You won't be using up any countertop space with your window treatment so you can go to town on choosing a gorgeously bright color when shopping around.
Why not recreate the look of this colorful kitchen and use a bright red blind to add a real pop of color to liven up an otherwise monochrome space kitchen space.
8. Plan your layout with natural light in mind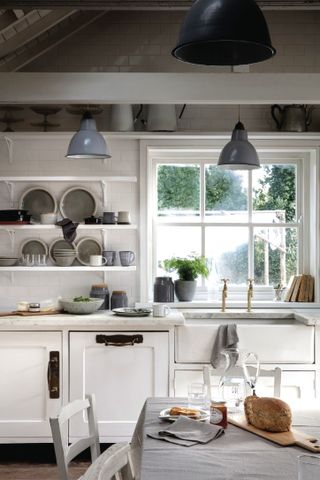 Prioritizing natural light is a must when you're working with any type of small space as it can well and truly maximize and enhance the feel of a room.
Boxy small fitted kitchens positioned around the window are sure to restrict light within the space, so opting for open shelving is an option worth considering.
Inserting a sink below a window is a go-to option, with a lovely view taking the pain out of washing up (if only slightly).
9. Go for a small custom kitchen in awkward spaces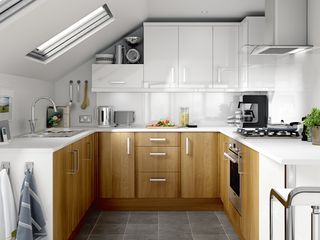 Finding the perfect small kitchen layout can be tricky, especially if the room is an unusual shape. Sometimes, custom is the way to go in this case. A made-for-your-space kitchen will help you use your space far better than something off the shelf.
Here, kitchen cabinets have been selected to work with this tricky sloped ceiling. What would otherwise be dead space is utilized with the addition of a utensil rack.
10. Draw attention to features you love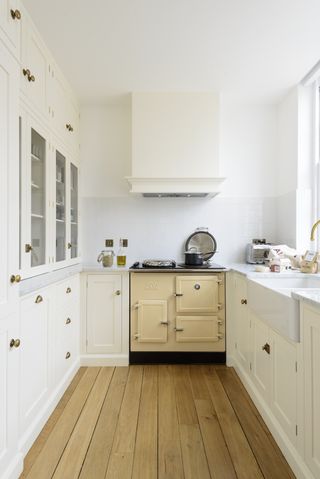 This small, but perfectly formed, Shaker-style kitchen is a great example of how having a small kitchen doesn't have to mean compromising on the features you love.
Designed to house a full size Esse Range Cooker, the space lost is made up with built in appliances and floor to ceiling cabinets for a high quality, considered small kitchen space.
11. Save space with a stylish breakfast bar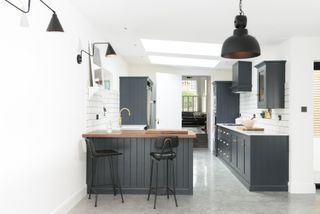 Don't have space for a kitchen table and chairs?
Consider this small kitchen idea and opt for an integrated breakfast bar and stools, instead of freestanding pieces.
Adaptable spaces, they're equally suited for food preparation as they are for entertaining guests.
12. Add interest to a small kitchen with floor tiles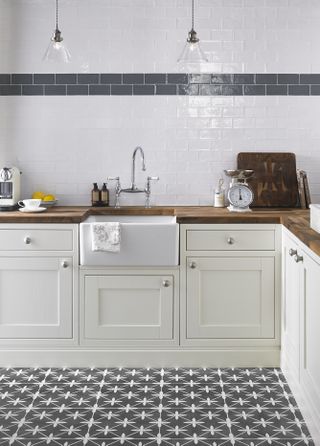 Adding bold patterns and colors into a small kitchen can be tricky and overwhelm the space.
So instead of spending ages trying to find kitchen wallpaper ideas that work or a paint color that isn't too much, look to the floor for adding pattern and color instead.
We love these Laura Ashley tiles from Tile Giant, but if you're after more ideas check out these stunning patterned floor tile designs or if patterned floors aren't your thing, we've plenty more kitchen flooring ideas.
13. Or... add interest to a smaller kitchen with a patterned backsplash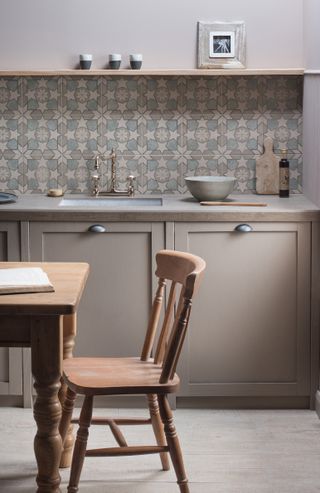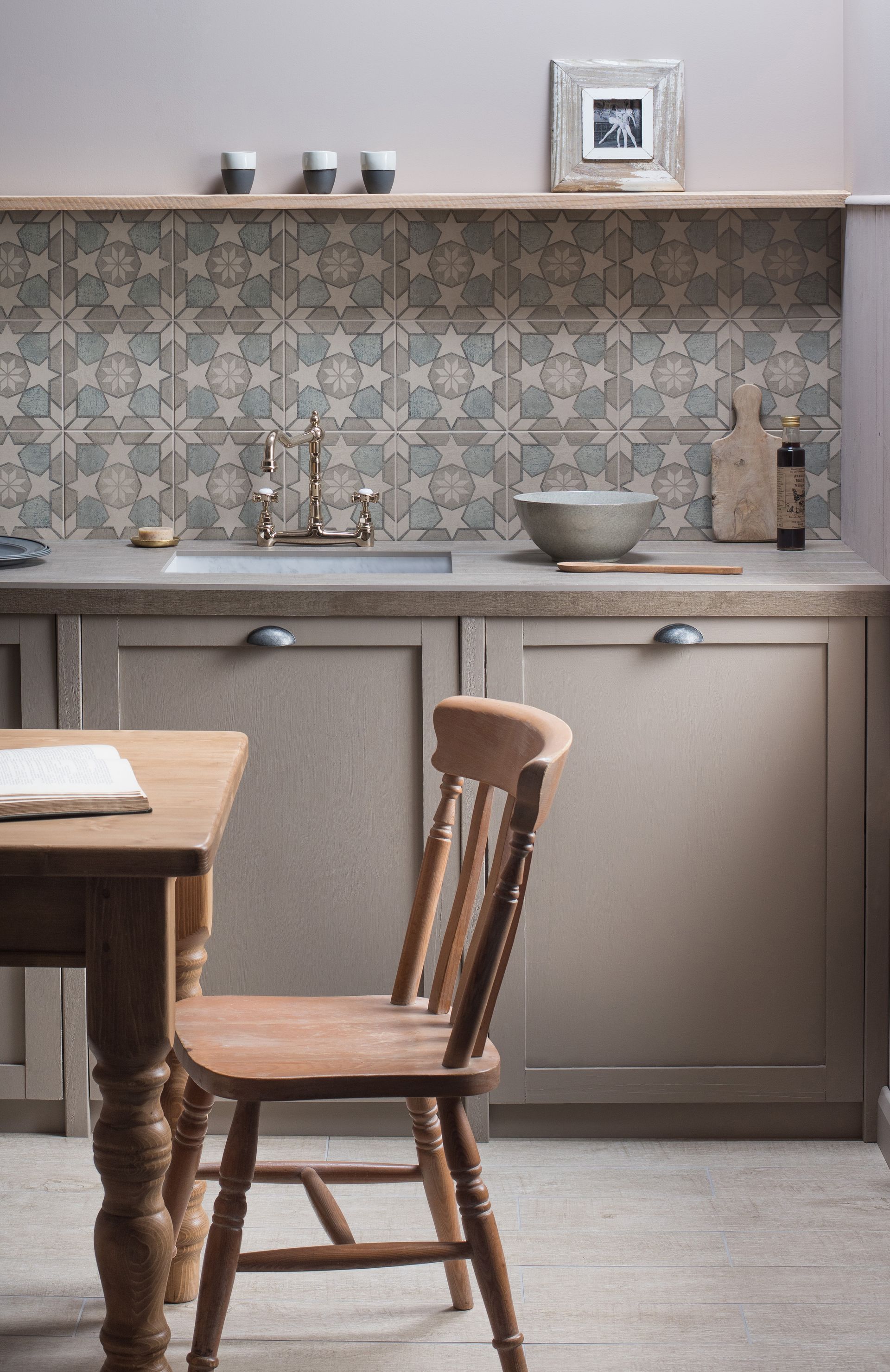 If you think tiling the whole floor might be too much, try tiling a backsplash instead.
The element of drama adds depth to even the smallest of kitchen counters – but make sure you choose your pattern wisely with these backsplash ideas.
14. Or... install a mirrored backsplash to double your space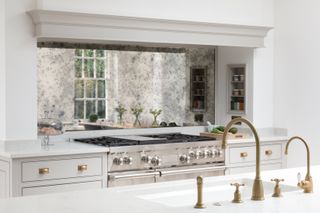 A mirrored backsplash is a fine idea for a small kitchen as the reflection will instantly give the illusion of a brighter and more spacious room.
Use antiqued glass for an easy-maintenance option in a period-style kitchen, or go for clear mirrored panels in a contemporary kitchen.
15. Add depth with dark cabinets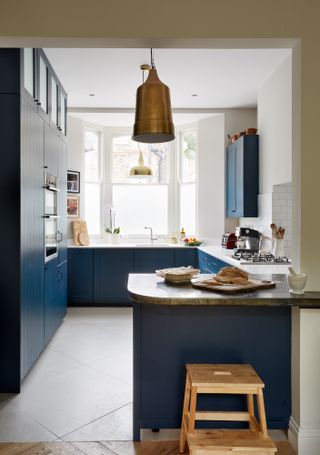 Think darker colors can't work in a small kitchen? Think again. Yes, yes we know that (much like everyone else giving advice on interiors) we've previously stated that small spaces = light colors.
And there is definitely truth to the fact that light colors are perfect if you want to create a light, airy space. But if you want that dark, cozy, cocoon-like vibe that's always very on trend, you can still achieve it in a small space.
If you want to test out the look without spending heaps of money, you could paint the cabinets yourself.
16. Freestanding kitchen appliances = the way forward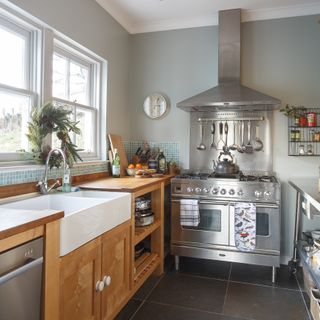 While a small fitted kitchen can be an efficient use of space, if you like a more relaxed look you can still go for a freestanding kitchen.
Just pick pieces that are as functional as they are good looking – go for a mix of open and closed storage and mix up the materials you choose to stop anything look too solid and blocky, as this will make your kitchen feel even smaller.
17. Go custom in an awkwardly shaped kitchen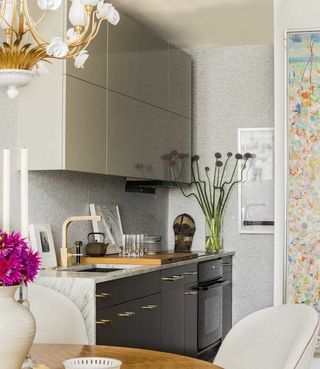 Finding the perfect small kitchen ideas for an oddly shaped space can be tricky, especially if the room is an unusual shape.
However, custom cabinetry, like the kind seen in the space above by US firms Venegas & Co. and Platemark Design can help you make the most of the room you do have.
While custom cabinets are more expensive than stock, the fact that you're working in such a small space can help keep costs down (and the expense may prove worth it if space if truly maximized).
18. Position a kitchen table strategically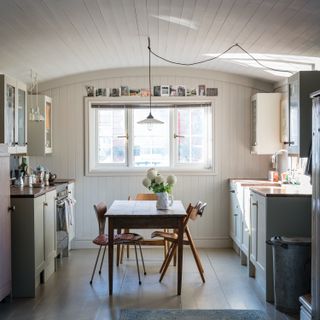 If you are after small kitchen ideas that incorporate a dining table, then take inspiration from the kitchen above.
You wouldn't think to stick a table in the middle of a small kitchen but actually it works and make the kitchen appear bigger, you can't really tell the proportions of the space – clever. Plus it can double up as an island too to prep food.
19. Don't be afraid of clutter in a small kitchen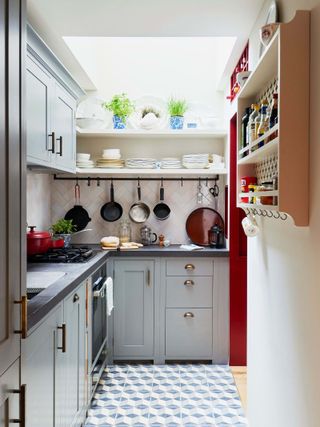 We have often said less is more in small spaces, but we think this kitchen proves that that might not always be the case.
Yes, clutter can make a space feel smaller but it can also add a ton of personality and make a small kitchen feel homey rather than overly busy.
Plus making use of wall space to have pots and pans and keep your crockery is a really practical storage solution and can look great too.
Want to mount a pan rack? We've got the how-to:
Pick your pot racks and plan your wall space out, figuring out where you want to put the rack.
Mark where your screws should go for the rack.
Drill your holes for your screws.
Hang pot racks.
Repeat the above for each rack.
Hang all your lovely pots and pans!
20. Paint walls and cabinetry the same color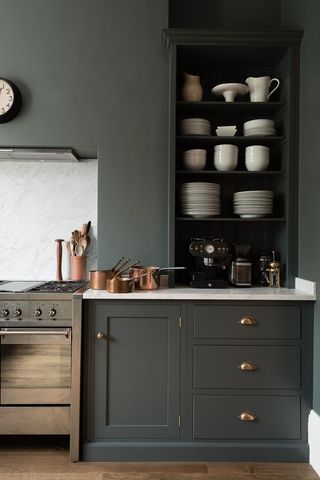 This is a great trick for creating the impression that your kitchen is bigger, and if you like dark, dramatic colors even better because these are the colors that work best.
Use the same color for your kitchen walls, cabinets and even shelving to blur the edges of the room and then lift the space with a lighter worktop, floor and accessories.
21. Go for a galley shape to make the most of space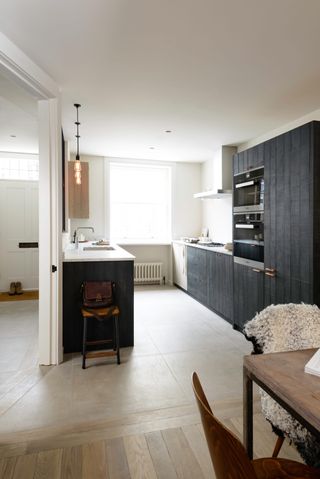 If you are designing a small kitchen from scratch, a galley kitchen shape should be our first recommendation.
Running two lots of cabinets down each side will give you the most storage space and the most surface space too.
We love the simple look of this DeVOL kitchen, the lack of hardware just gives it a seamless look that works so well in a smaller kitchen.
22. Mix in some glass-fronted cabinetry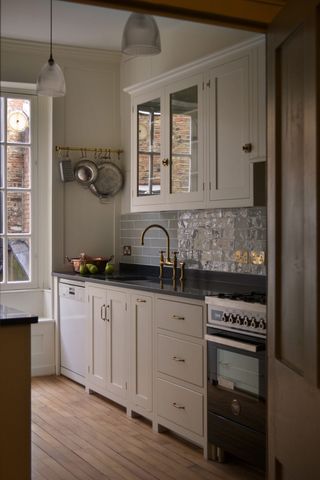 A full block of kitchen wall cabinetry can make a small kitchen feel cramped, but if you really need that storage, mix in some glass fronted cabinets to break up the row.
The glass with bounce light around the room too, especially if you light it from within – plus they look lovely filled with your nicest crockery and glassware. Or why not obscure what's in them with stylish fluted glass?
23. Add a tiny oven to your kitchen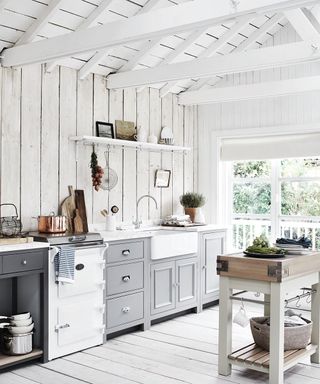 Think that a small kitchen means no gorgeous cast iron oven?
Think again, because you can still get all that farmhouse charm this style of oven brings just in miniature. Aga make an oven that's just 90cm wide. And there are loads of cute colors too.
24. Turn a countertop into a dining space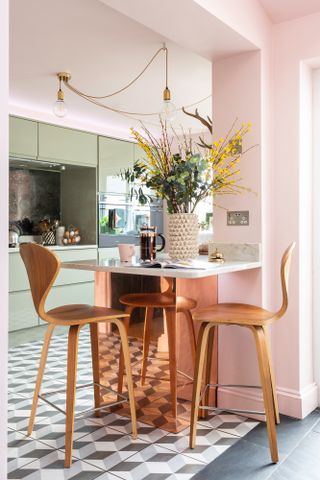 In a smaller kitchen, you might not have room to add in island or a breakfast bar, but you can cleverly create a similar thing on a smaller scale with your kitchen countertop.
Try continuing your kitchen surface around a corner as seen above, or you could just leave a gap underneath your worktop and replace a cabinet with something like this slimmer metallic unit.
The copper is a great choice too because it doesn't create a solid block in the room that could break up the space, making it feel smaller.
25. Switch cupboards for open shelving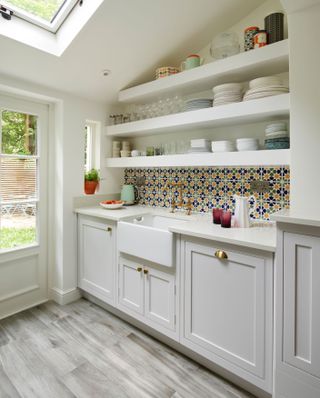 A great small kitchen idea is to totally get rid of your wall cabinets altogether – this will make the room feel so much bigger as nothing is going to be sticking out into the room or blocking the light.
Replace them with open wall shelves that run the length of the space so you still get in that storage just in a more small kitchen friendly way.
26. Go handleless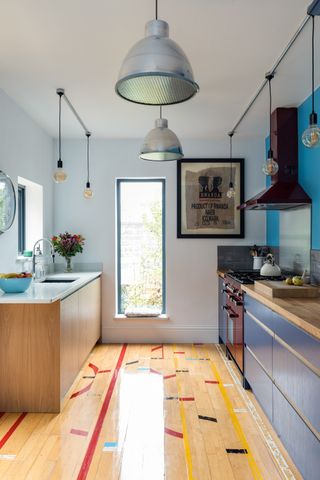 Handles might take up zero room, but not having them can make such a difference.
Stream-lined cupboards with nothing interrupting them can lengthen the space. Even if you like an eclectic space and worry a kitchen of this style will look too modern, you can add your own personality with prints and wall decor.
Check out Naked Kitchens if you love this space.
27. Cover ugly appliances with cafe curtains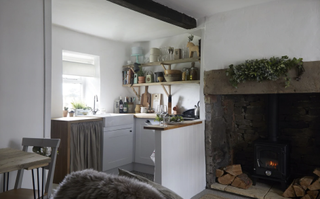 This hack is great for any kitchen but works particularly well in smaller kitchens.
If you don't have integrated appliances that can really stand out in a small space and become the focus, so covering them up with a café curtain is a cheap solution that looks lovely.
All you need to do it's secure a net curtain wire across the gap and hang a curtain from it – you might need to get a bit crafty and shorted the curtain.
28. Paint your kitchen cupboards with chalk paint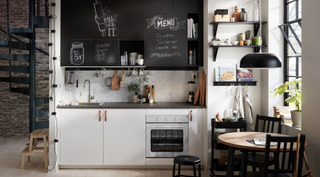 Again, a good idea for an sized kitchen but in a small kitchen where wall space is tight, using blackboard paint on your cupboards mean they can double up as wall decor too.
Let the kids go wild or spend your whole weekend drawing the perfect design – check out our gallery of chalkboard wall ideas for some cool designs to inspire you.
29. Throw down a kitchen rug for color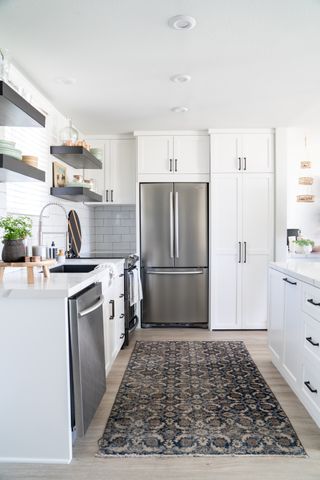 It can tricky to add personality, color and pattern into a small kitchen because they have to be such practical spaces and often you don't have much room to go hanging prints or adding a feature wall, but the floor?
That can be a great place to add some pattern. Kitchen rugs are bang on trend and the moment and are such an easy way to add a new focal point to your space.
30. Panel a small kitchen to give it height
We have talked a lot about making a kitchen feel wider or longer, but adding height to a small kitchen can make it feel bigger too.
You can create the illusion of a high ceiling by using vertical wall paneling – you could of course pick a striped kitchen wallpaper but paneling is so on trend at the moment and adds an instant rustic, farmhouse feel.