If you're looking to jazz up your cooking space, then looking to the best kitchen shelving ideas is a must. And, if you thought open shelving wasn't for you, it's time to think again. There are lots of upsides to open kitchen shelving, the obvious practical bonus being that you can see where everything is. No searching high and low for your favorite coffee cup because you can keep it front-and-center for your morning brew. Plus, if you have a pretty collection of kitchenware or dinner plates, open shelving doubles as a display...
It's an acquired taste, mainly because it takes a little more effort for it to work. Yep, you will need to keep your shelving looking good. The key to a stylish and organized kitchen after all, isn't just about decluttering what's hidden behind cabinet doors, so ensuring everything on your shelves is beautifully laid out and in stylish order, is a must.
Kitchen shelving ideas on display
Worried about the dust? We've found from experience that it's not an issue, because you are using your shelving every day, so there's no time for dust to settle and you can easily give them a wipe before putting back your pieces in the evening.
Experts at Ikea explain, 'With kitchen shelves, you can fit more into your space while keeping all your things easy to find (and grab). They make the most of your wall by giving you extra storage, and the right kitchen shelf, like wooden or metal kitchen shelves, can boost the style of your decor too.'
Lastly, it's relatively inexpensive, you can make your own if you are DIY-efficient, or look out for vintage shelves at charity shops and car boots, or invest in the ones below that we've found...
1. Show off your best pieces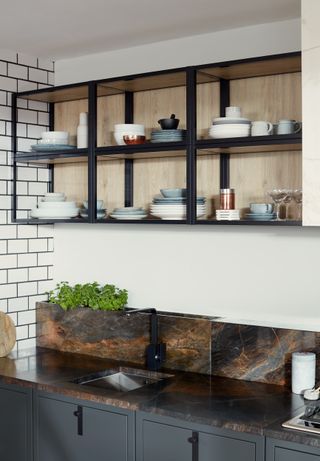 If you love the open plan kitchen look then consider these bespoke shelves from the Refined range at Life Kitchen.
Their kitchens always offer great storage solutions that are both relaxed in style and modern and keeping your tableware out on show can add a decorative touch to your space. The jet black metal looks great teamed with the blond wood back, and provides a neutral space for your plates and bowls to shine.
2. Fill awkward gaps creatively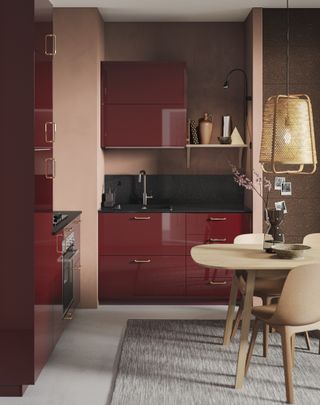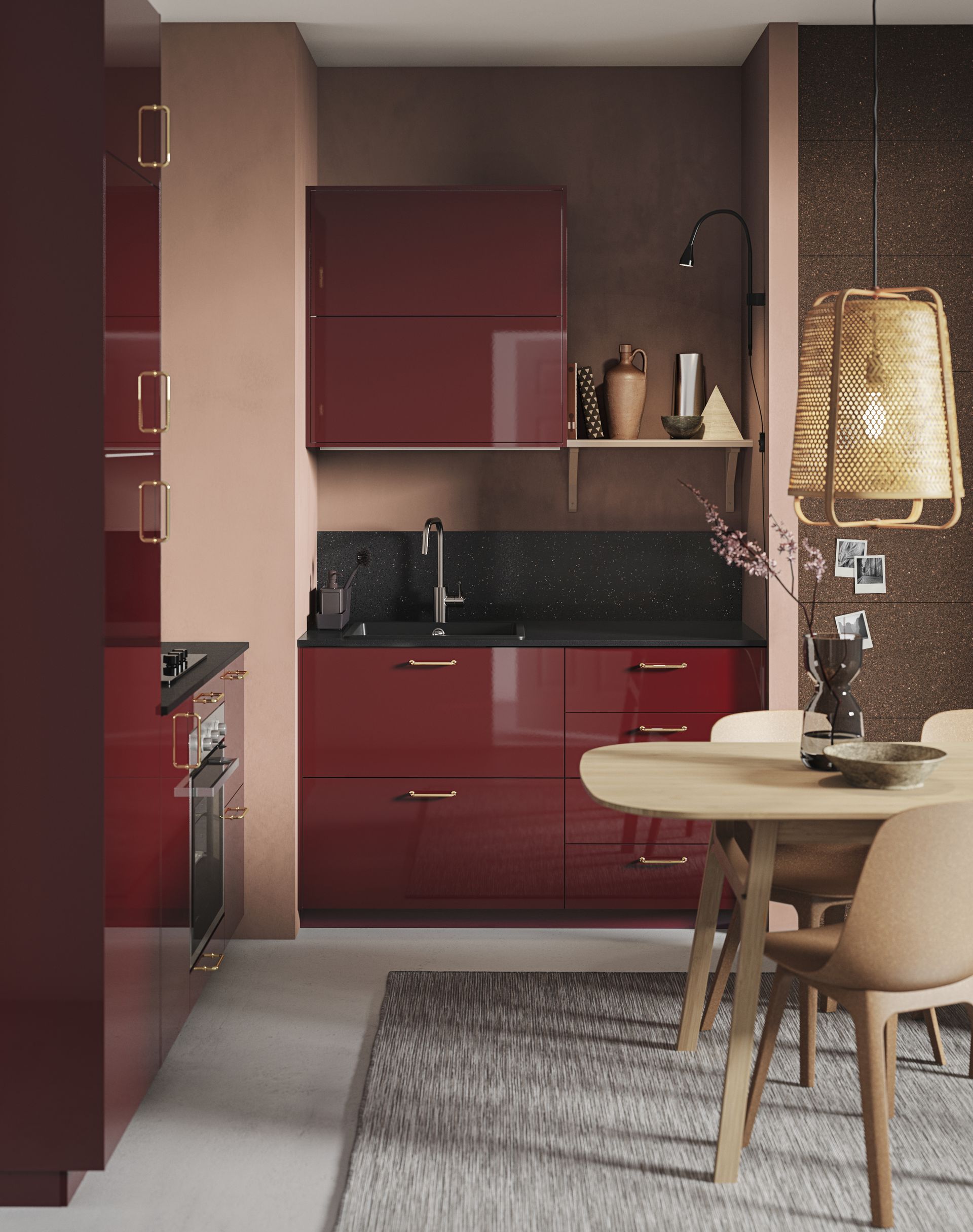 Sometimes – and this often happens in older properties that have wonky wall quirks – wall cabinet units don't fit the spaces we wish them to and there's that funny little gap left.
This is where you can pop in a wall shelf or two so you're maximizing your kitchen storage space and creating a break in the scheme a la IKEA's TRANHULT/SANDSHULT.
The unit on the left above the sink is nice and wide, but that's left a narrow space on the right. We love how they've added a task light to the wall which highlights the shelf, you can use it for recipe books and vases that aren't in use.
3. Pick minimalist kitchen shelving for a pared back look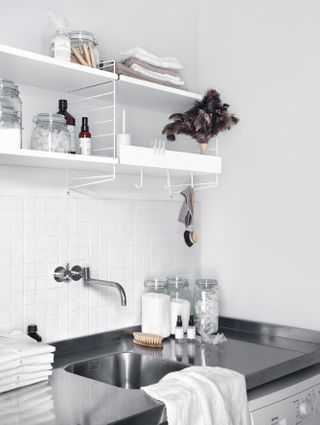 We've long been fans of String shelving and their practical shelving ideas; the Swedish designed system by Nils Strinning back in 1949 is super versatile and you can create your own configurations using the individual pieces.
Start with one component and then increase your shelving as you require more space – from top to bottom and from side to side – whatever suits your space and your needs.
Aside from the white metal, there's wooden and color finishes and some versions come pre-built so all you need to do is attach them to the wall in your chosen place – win win.
4. Match kitchen shelving to the wall behind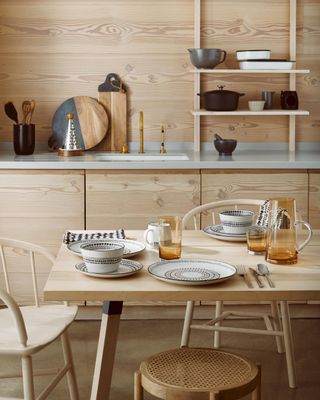 This has the effect of making the kitchen as a whole feel sleeker. We love this all-wooden kitchen which showcases Sainsbury's Nordic Spring tableware and secondly, whoever thought of putting a ladder style wall unit on the countertop is genius.
It's sleek and stylish with oozes Scandi style practicality – the nearest we've come up with to copy this idea is Next's Oakley wooden storage shelves – if you're handy with a drill you could easily fix this to the wall on the countertop or properly wall-mount it with this how-to.
Check the construction of the wall: Is it masonry or plaster, or drywall/plasterboard? This will dictate the weight of a shelf you can hang. Tip: Knock on the wall and if it sounds hollow, it's plasterboard or drywall.
Choose a suitable shelf style and fixture: If you're working with plasterboard or drywall, look for lightweight shelves and consider light things to keep on it.
Check your wall for pipes and cables: Before drilling any holes, use a digital detector to assess if there are any pipes or cables to worry about.
Mark out the position of your shelf: Hold up the shelf and eyeball the positioning, then mark the desired position with a pencil, making a small dot in each hole of the brackets too. Use a level to draw a line to the other bracket and mark the second.
Prepare the wall: Drill a shallow pilot hole to make it easier to drill in the screws.
Fasten the brackets to the wall with a screwdriver or drill and attach the shelf, checking all are secure.
5. Make run-of-the-mill kitchen accessories into a stylish display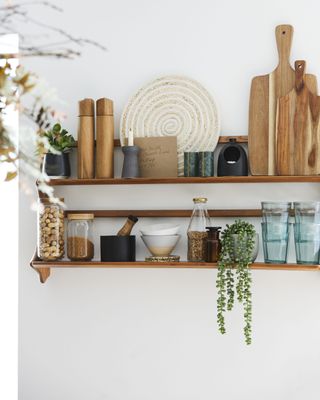 A useful thing about this kitchen shelving idea? It shows how easy it is to use everything from chopping boards, salt and pepper, tumblers for the kids' drinks to herbs and spices to create a display that's very good looking.
They can all be out on show when you use them daily – the bonus of popping them on the shelf is that it keeps your countertop clear and clutter-free. These lovely acacia wood bits and bobs are all from Dunelm.
6. Cheat a traditional look with paint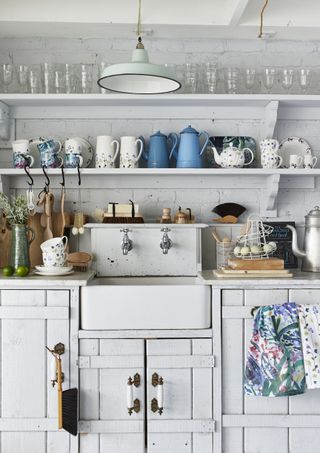 Have a traditional kitchen? These shelves are made with simple lengths of pine and wooden brackets, all painted in a stylish, period shade.
This is such a lovely rustic look, but putting shelves around or above a sink is really practical too. Everything is on show and in easy reach.
As you would paint kitchen cabinets, take it to your kitchen shelves. Don't be afraid to mix up you colors and patterns for a more bold look or copy this kitchen and opt for a subtle color palette.
7. Tiny space? This cute kitchen shelving idea is for you
If you are squeezed for storage space in your kitchen but don't have the room/don't want to add more cabinets, this kitchen shelving idea is a great solution.
You can stick it up in a space that would otherwise go unused like this little corner. This lovely set up has been created using cute bracket shelves (Ikea's Sandshult always look fab) and a rail for even more storage.
8. Run a single shelf the length of your kitchen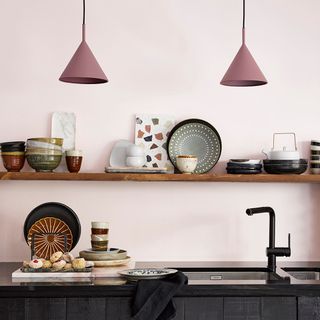 Want to keep your kitchen open shelves looking clean and clutter-free? Why not opt for a long single shelf the length of your kitchen wall? There will still be plenty of available storage but the look will be minimalist and modern.
Make use of the space by storing cookbooks, glasses and glass containers or create a feature shelf with your all-time favorite kitchen accessories and artwork.
9. Use open shelving as a #shelfie feature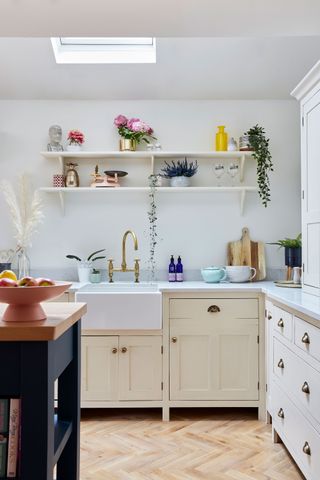 if you already have plenty of cupboards and are lucky enough to have wall space going spare, instead of opting for artwork, why not make a feature wall with open shelving?
These open shelves in this white shaker kitchen add personality to an otherwise pared back space, with trailing plants, vintage finds and colorful kitchen accessories.
10. Multifunctional open shelving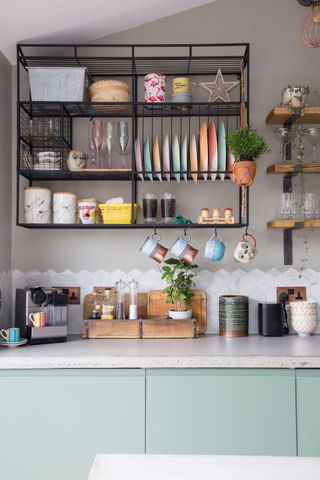 Organizing open kitchen shelving doesn't get much better than this, where everything has its place in this lovely unit. With an in-built plate rack, cup hooks and baskets for smaller items, this multifunctional shelving unit is a must have in any industrial-style kitchen.
11. Create bespoke shelving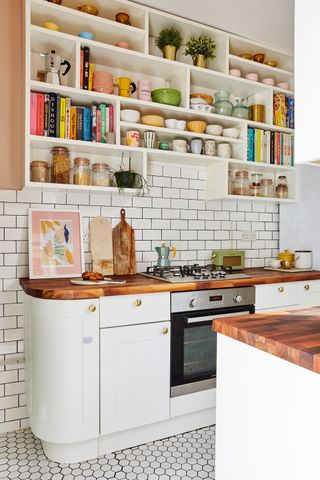 Go bespoke with your kitchen shelving ideas to create more design interest and added function. Make use of wall space and if you're one for cute trinkets, color co-ordinated cookery books and coffee cups, keep it all on display. Ensuring essentials like spices and dried herbs are within reach is a must while more decorative items can stay on that top shelf.
12. Barely-there shelves for the illusion of more space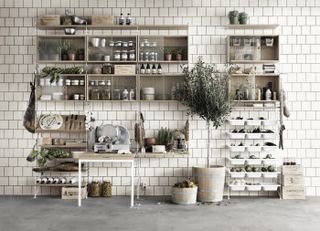 These full height shelves from String Furniture are minimal and discreet. This is especially useful for smaller kitchens, where chunkier shelving could overwhelm and darken the space. String furniture is modular, so you can design the shelving to suit your specific needs. We love the in-built trays and space for hanging utensils, making the space extra useful.
'When you cook a lot, you want to have a lot of open shelves. You don't want too many doors and cabinets. There is no need, everything on the shelves is used almost every day. And you want everything within reach. Hooks, hanger racks, and rods are a really good way to keep utensils and pans at the ready. Metal shelves are hardy and gives the kitchen a rustic touch. What I really like about String are the cork accessories such as the underlays, where you can put a hot pan to cool down - and of course the bottle tray for the wine!' says Michelin star chef Karim Khouani.
13. Hang up an enclosed bracket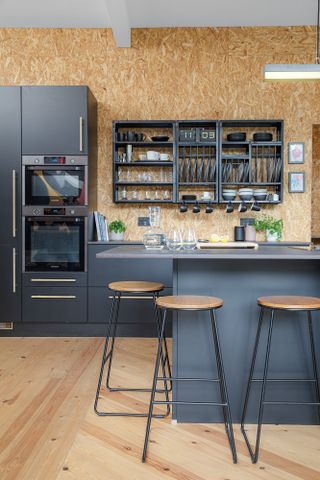 Rather than fixing multiple shelves to your kitchen wall, a simple, all-in-one bracket like this is an easy way to create ample extra shelf storage. A designated plate rack means that your plates are always close to hand and within easy reach.
'If space is tight, wall mounted open shelving can fit above appliances or countertops to utilise unused spaces. This will also give easy access to the items on the shelves and help you easily keep track of where things are in the kitchen. You can also make more of the shelves you do have with mesh under shelf baskets, so you're using space both above and below the shelf,' says Simon Glanville, managing director at A Place for Everything. We love how all these plates and glasses are matching for a contemporary, uniform look. But for something a little more traditional, go for a mish mash of plates and bowls in varying colors and styles.
14. Embrace the anti-kitchen trend for a relaxed look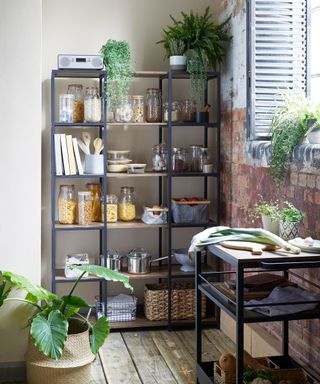 Go for the anti kitchen trend by using shelving in your kitchen which is fit for any other room too. Providing the relaxed, laid back look of a living room or dining room, these wooden and metal industrial style shelves add warmth and personality to the space. Display your jars of pasta, recipe books and fruit for a kitchen that beckons you to spend time in it.
15. Let glassware take centerstage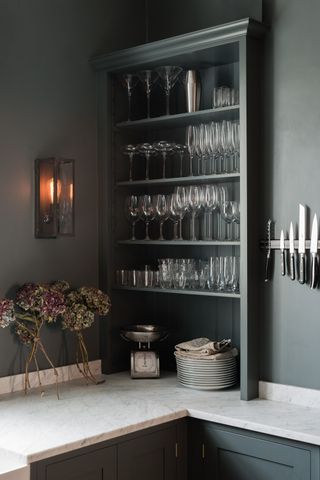 Painting your open shelving in the same color as the rest of your walls is a clever trick which works to make your space feel bigger. (Yes really, this reduces the amount of visual divides and so your room appears larger than it is!). This technique also allows whatever you choose to display on your shelves to steal the show. This elegant glassware stands loud and proud. Ensure you choose the best kitchen paint so that it'll look great and last.
How should you organize kitchen shelves?
'Our shelves should be a reflection of our personalities and exhibit the objects that we have collected throughout our lives. Sometimes selecting just a few beautiful pieces to display can make the most decorative impact and be the most sentimental. Coordinating different colors on your shelves is another simple and effortless way of making these pieces stand out and decoratively tie a room together. Many forget that storage can be part of the interior design scheme and by displaying and styling our objects, we can merge function with decoration,' says Peter Erlandsson, co-owner of String Furniture.