Kitchen peninsula vs. island – which one should you have in your kitchen? The difference between kitchen peninsula and islands is obvious – one is attached to a wall in your kitchen, the other is freestanding. Kitchen peninsula will often form a classic U shape together with your kitchen cabinetry. Kitchen islands typically sit in the center of your kitchen.
As far as kitchen layout ideas go, the kitchen peninsula vs. island question is an important one. Your choice will affect both how your move around your kitchen and how you'll be using it. We've asked kitchen design experts to weigh in with advice on making the decision.
Kitchen peninsula vs. Island: which is better and why?
As Jennifer Davis of Davis Interiors aptly summarizes, 'I don't think that one is necessarily better than the other. The space dictates what is best.' Firstly, you must consider your kitchen size – it 'will determine whether an island is a possible option for you.'
Without a doubt, kitchen island designs are seen as more appealing by the vast majority of people, and Davis believes that 'most homeowners and designers would choose an island over a peninsula. An island offers better traffic flow because it is accessible on all sides.'
The reality is, however, that 'many homes don't have the luxury of space that an island requires.' If installing a kitchen island will mean that you'll be constantly bumping into it, or, worse, trying to squeeze between it and a wall, choose a peninsula. L shaped kitchen designs also will benefit from a peninsula, because it can be built in line with the existing shape of the room.
However, if you have a small kitchen and are really keen to get rid of an existing peninsula, looking into small kitchen island ideas makes sense. Stephanie Lindsey, an interior designer with Etch Design Group believes that even in smaller kitchens, 'Islands definitely win the competition, hands down. There's an easy workflow created in the kitchen when you aren't blocked in by a peninsula, and the island creates a perfect traffic pattern.'
Still, there are situations when a kitchen peninsula will be preferable to a kitchen island. As Katie Simpson, Senior Interior Designer at Mackenzie Collier Interiors, explains, 'no matter the actual size of the island it's important to have between 42 and 48 inches around the perimeter for clearance. This allows ease of movement for multiple people using the kitchen.' If you don't quite have the space needed, a kitchen peninsula can look just as nice, and in some cases is even preferable.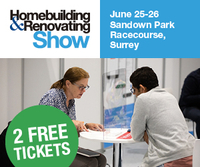 Get two free tickets to the Homebuilding & Renovating Show!
Visit the experts in home renovation for all the latest inspiration and industry updates, sure to kickstart your own home improvement project.
Plus, register online for entry for 2 people on 25 and 26 June 2022 at Sandown Park Racecourse, Surrey.*
*Terms & Conditions apply.
Are kitchen peninsulas outdated?
The answer is a reassuring 'no.' Simpson believes that 'peninsulas aren't outdated and they can really help you achieve the same function as an island in a smaller space. The only real difference is that a peninsula is an extension of the existing kitchen cabinets and counters, rather than a free-standing piece.'
JT Norman of Kitchen Magic, a remodeling company specializing in custom kitchen design and remodels with over 40 years in the business, agrees. While Norman acknowledges that 'the peninsula does originate from the 70s', he doesn't believe that it's outdated, 'especially if you make good use of it. One major perk of a peninsula is that it is a durable and cost-effective solution that is less complex and less labor-intensive.'
Jim Kabel, Owner and General Manager of Next Stage Design in San Jose, CA, admits that 'peninsulas are less common than islands in today's kitchens.' However, that doesn't mean that you can't or shouldn't have one – 'a kitchen peninsula will still give you added storage in most cases, including extra counter space to prep and serve as you'd like.' Kabel's main tip for making a kitchen peninsula look nicer is to make sure that 'any cabinets above the peninsula don't obstruct the view to the surrounding areas. This can make the kitchen feel more closed off from the rest of the home.'
What are the (dis)advantages of a kitchen peninsula?
For Simpson, 'the biggest advantage of a peninsula is that it works in smaller kitchens. They can provide additional storage on the back or the side and they offer an added surface area for eating and a place for counter stools.' Conversely, 'the biggest disadvantage of a peninsula is that it doesn't allow movement all the way around it, which can make them more prone to traffic jams.'
Norman adds that 'a peninsula is economical because it enables homeowners to enjoy virtually all the perks of the island concept without having to waste space or sacrifice comfort.'
Not to mention that a peninsula will in most cases be cheaper than what a typical kitchen island costs. This is partly because a peninsula is simply a continuation of your kitchen work surface and will use the same materials. Kitchen islands always have to be built separately, require more labor and time to build and install, all which translates into higher costs. Kitchen islands also often require the sink to be relocated, which costs even more.