If you're looking for inspiring kitchen floor tile ideas, you've come to the right place.
These days our kitchens are at the heart of the home, and are an important space for cooking, socializing, working and entertaining.
It goes without saying that kitchen flooring ideas need to look great, but also need to be durable, hardwearing and easy to clean. And floor tiles tick all the boxes.
David Snazel, Buyer at Carpetright explains more, 'Kitchens are at the heart of most homes and usually see a lot of traffic, so it's best to opt for high quality, durable flooring that is low maintenance and will stand the test of time.'
'It is likely there will be spills and splashes from food and drinks so choosing a material that is easy to clean is essential, particularly for busy households.'
And Abbas Youssefi, Managing Director at Porcelain Superstore adds, 'Material is key when it comes to choosing kitchen floor tiles.'
'Fuss-free formats inspired by natural materials are always a popular choice, and you can see why – they create a lovely warm, neutral backdrop for the heart of the home. Plus, in a room prone to spills, porcelain tiles are super easy to keep clean.'
So without further ado, take a glance through these tile ideas for your kitchen floor that'll not only withstand heavy footfall but will also look stylish to boot.
1. Match your floors to your backsplash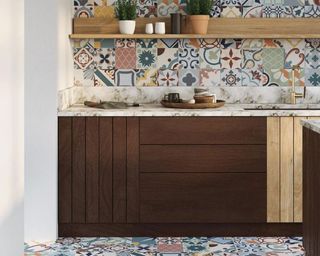 Need to add a splash of color to your neutral kitchen? Why not opt for patchwork patterned tiles and match your backsplash to your floor?
These Moroccan style tiles create a rustic feel in a wood kitchen, tying together the marble countertop dark wood cabinetry and open shelving.
2. Create a unique pattern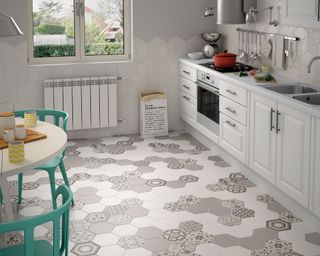 Variety is the spice of life and what better way to make a statement than with floor tiles laid in an organic format.
Screw convention and randomly place tiles to create a pattern all of your own.
In a monotone mix of whites, greys and blacks, these patterned hexagon tiles from Walls and Floors are made from durable porcelain, they can be used on both walls and floors.
3. Classic monochrome tiles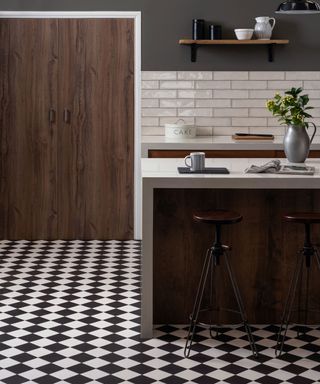 Opt for classic Victorian style with these black and white checkered floor tiles from Original Style.
Pairing with white subway tiles in an industrial style kitchen brings the look bang up to date.
4. Mix up patterns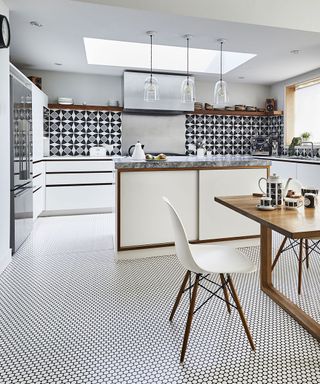 Just because you have a pattern tiled backsplash, doesn't mean you have to keep your kitchen floor plain and neutral.
Choose a patterned floor tile that complements your backsplash without it jarring by picking out the key colorway and playing with different sized patterns.
In this idea from Carpetright, they've picked out the black and white color palette and chosen a small dot pattern for the floor so as to not overpower the large patterned tiled backsplash.
5. Use different tiles for your floors and walls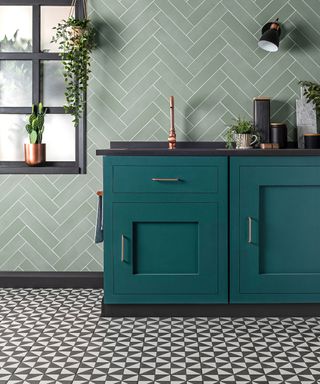 Like to make a statement? Get a medal for bravery and opt to mix tiling patterns. Here, Walls and Floors pair a sage green subway tile in a herringbone pattern with a black and white geometric tiled floor.
The mix of bold colors, patterns and finishes isn't for the fainthearted but the result adds a fresh, unique look to a kitchen.
6. Opt for wood effect tiles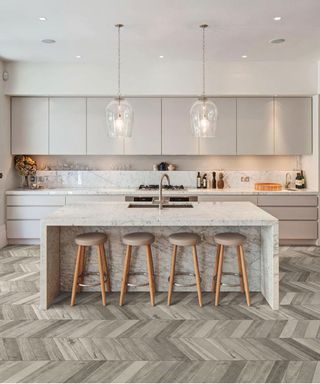 Maybe you don't like the look of tiles but love the practicality of them. Why not choose wood effect tiles to create a parquet style floor in your kitchen?
You'll get the easy to clean properties of tiling but with a softer look of wood. These ash wood effect tiles from Porcelain Superstore look sleek in this greige kitchen color scheme.
Abbas Youssefi, Director at Porcelain Superstore explains, 'Concrete, wood and slate-inspired porcelain tiles, look just as great the real thing but boast all the benefits of a modern tile; meaning they require minimal maintenance, are easily installed and are compatible with underfloor heating.'
7. Large format terrazzo tiles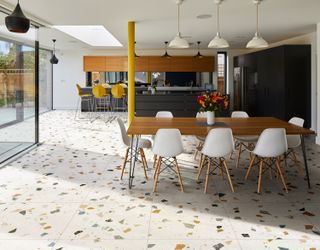 Love the look of terrazzo but don't fancy the effect small chips in the terrazzo create on the floor.
Keep your look bold with large format tiles with larger marble chips. These tiles from Ca'Pietra make an impact in a contemporary open plan space.
8. Large polished stone floor tiles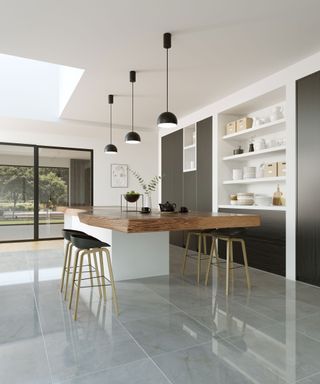 Patterned tiles not your thing? Why not opt for a classic look in an open plan kitchen with slick polished large format tiles?
Abbas Youssefi, Managing Director of Porcelain Superstore says, '
"The beauty of a large tile is they create a unified feeling throughout open plan rooms – giving an almost palatial feel.'
9. Use floor tiling to define a space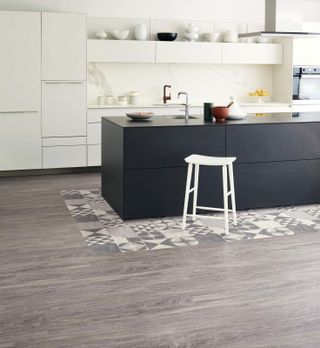 If you're looking to define an area or create a focal point in your kitchen, place bold patterned tiles in your area of choice and configure within standard planks or neutral tiles.
This contemporary mid century pattern makes this matt black kitchen island the star of the show and complements the kitchen with cool greys and creams.
10. Matt black floor tiles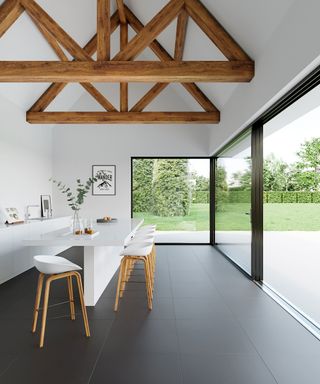 Looking for an slick tile idea for your modern kitchen? These large format matt tiles will pack a punch in a minimalist space.
The black flooring paired with a crisp white kitchen gives the matt texture of the flooring extra pop.
11. Match your floor tiles to your kitchen cabinets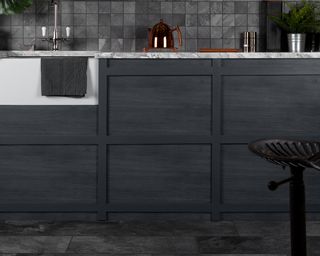 Looking at black kitchens and wondering what flooring to pair with it? If you're a brave soul, make a real impact with black floor tiles to match your cabinetry.
These charcoal slate effect tiles from Walls and Floors add richness to the matt black kitchen cabinets and picks up whites, greys and silvers in the overall scheme.
12. Terracotta floor tiles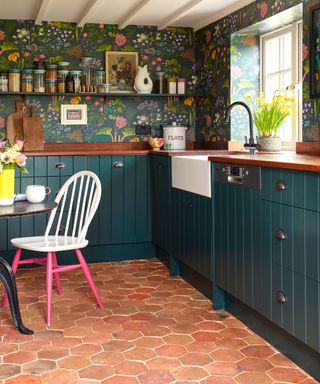 If you have a country kitchen and need a more rustic looking flooring idea, enter terracotta. In an unglazed finish, terracotta floor tiles add more warmth than slate or stone, yet are timeless classic.
With an enduring appeal and improving with age, they look fantastic in Sophie Robinson's blue kitchen and tie in with her kitchen wallpaper.
13. Patterned runner tiles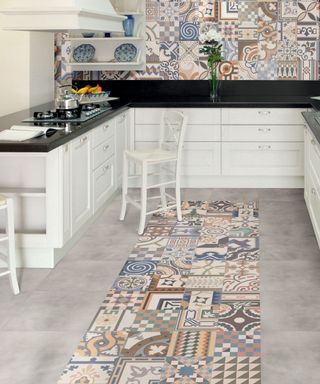 Create a feature floor in a plain white kitchen with real mix of patterns and colors; from brown floral-esque motifs, through to blue geometric designs and grey decorative scrolls.
The tiles from Walls and Floors in a carpet runner effect adds pizazz to the kitchen space, without the floor being overpowering with the matching backsplash.
14. Blend your floor tiles to your walls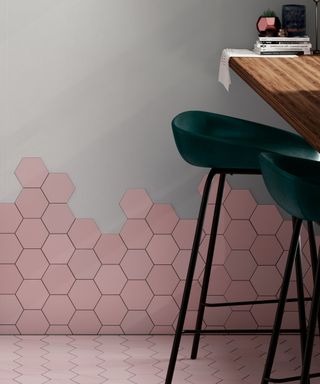 Run floor tiles organically up the kitchen walls to create a cascading effect that'll really make an impact.
Keep the look natural by keeping edges raw for striking juxtaposition.
15. Create a polka dot pattern with black and white tiles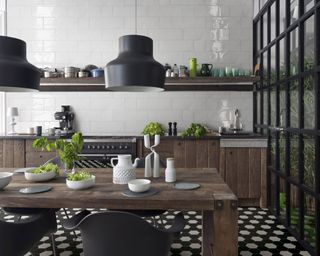 These small hexagon tiles from Original Style are super versatile. You can create multiple pattern variations with simple black and white.
Here, they've created a contemporary polka dot look in an industrial style kitchen. They add a playfulness paired with stripped back wood, matt black framed windows and statement lighting.
16. Vintage tiles with a contemporary spin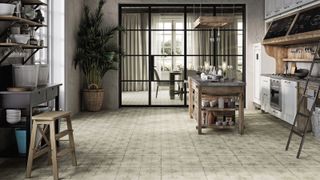 Looking to create a vintage vibe in your kitchen?
Inspired by Spanish encaustic tiles, these Porcelain Superstore Heritage Star tiles with a worn-in style, will look right at home in a kitchen with freestanding kitchen furniture in rustic finishes.