When it comes to renovating a house, sometimes it's not what you know, it's who. If it takes a village to raise a child, it can take a small army of friends and relatives to help you tackle the daunting list of makeover tasks, happy to bring experience and, ideally, the right tools.
When Anneka and Stephen Broomfield bought a rundown 1930s terraced house on the River Gipping in Suffolk, Stephen's former job as a carpenter meant he had lots of contacts in different trades. They pitched in to do the few jobs the couple didn't have the time or specific expertise to do themselves. This invaluable help meant Anneka and Stephen have been able to transform a house in such disrepair that it had a hole in the living room floor, into a characterful home that cocoons you in colour for under £5,000. Anneka reveals how they did it.
If you're planning your own makeover, we have lots of ideas and advice in our feature on house renovation.
Profile
The owners Anneka Broomfield (@83renovation), a hair stylist, and her husband, Stephen, who manages a tool hire company
The property A 1930s two-bed end-of-terrace house on the River Gipping, Suffolk
Project cost £4,593
'We'd found a Victorian house initially, but it took six months waiting to get it. We were like, "s** this, let's find something else". This house was up for sale and was in an absolute state! It'd been owned by a housing association and rented out for years. By the time the last people moved out, I think they thought it'd need too much work doing to rent it out again; we managed to get it really cheaply.

'It was larger than the houses we were looking at, and we felt this was the chance for us to get something bigger with more opportunity to be really good after we had done it up, so we went for it. It's also quite close to my family, so it was a good area for us.'
'There was no flooring anywhere – it was bare wood because everything had been ripped up. There was a big hole in the living room floor where damp had got into it. The kitchen had old tiles on the floor and every single one of them was cracked – you could pick them up with your hands. The walls were covered in gross stuff – there was grease and grime. And the bathroom was from the '90s.

'Buying the house went really quickly. From putting the offer in to moving in was only six weeks. But we had to move into it filthy because everything had been capped off, so we couldn't even fill it with buckets of water to wipe things down. There was no gas, no electric. Luckily we have friends in different trades; they all came over and managed to get things sorted out for us.'
Keep reading: 65 kitchen ideas - pictures, decor, and inspiration for your net makeover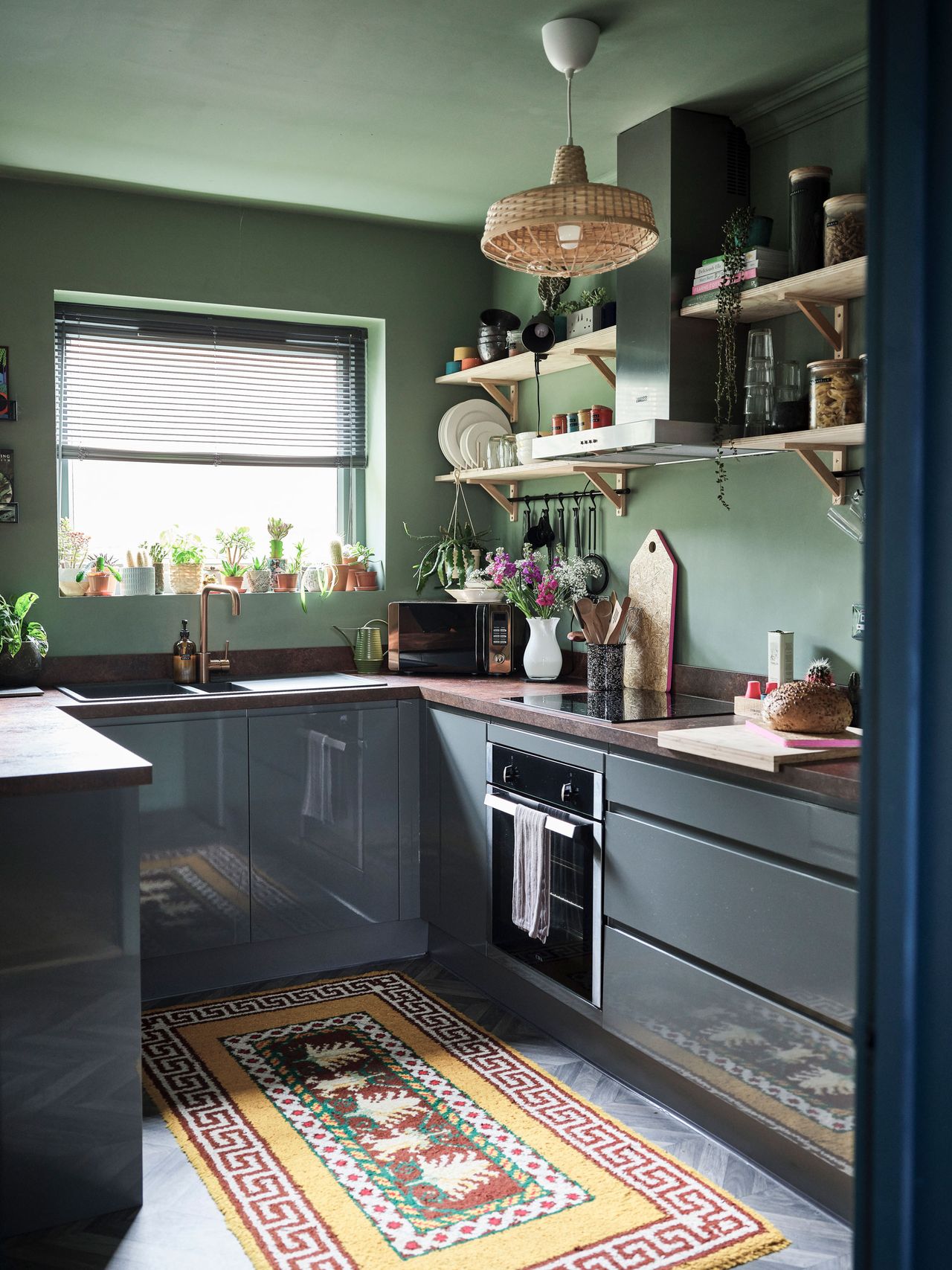 'The kitchen was so disgusting that we ripped it out. We moved in without an oven – I said I wouldn't buy one if we were going to redo the kitchen, so we didn't. We set up temporary tables, had a halogen oven, a microwave and gas hob, and lived like that for 10 months. In the living room we ripped out the floor, sorted the damp out and put new flooring down. We stripped the walls and redecorated. The spare bedroom was painted and we slept on mattresses on pallets.

'We got the kitchen from Wren. I had in my head what I wanted, and we booked the week off work so we could get it fitted, but it turned up and was the wrong kitchen! It was going to take two weeks and a redelivery charge for it to come again, but after having words with them, they sent it out two days later. Stephen was going to fit it himself but because it came late in the week, he didn't have time. Luckily, his friend fits kitchens and he literally did it in a day. He was a lifesaver.'

'Stephen was a carpenter, and we have a lot of friends who are plasterers, carpenters, plumbers, electricians; we've been really lucky. They were able to help with anything. A friend did the kitchen flooring for us and we made a lot ourselves, like the shelves and table. Renovating was new to us – we learnt as we went along.'
'We were looking for kitchen tiles and my husband stumbled across some pink tiles. I thought they were amazing. He said, 'You should get them for the bathroom'. I was like, 'You're really going to let me have a pink bathroom?' He said, 'Definitely, I love them'. I bought them there and then so he couldn't go back on his word. I wanted to make it a bit more masculine so I went for off-black paint above the tiles and black hardware. I also like an industrial edge, so we picked the concrete flooring and Crittall-style shower doors. '
'I like rich, warm, inky colours, and I personally think there's something a bit weird when the ceiling is white and the walls are a different colour – I like it to be like a cocoon, really. I love artwork – I've got a lot of my sister's up and my stepdad's. She's an art teacher and he's a gamekeeper, but he painted in his spare time. Some pieces are mine. It's nice to have friends and family's artwork up around the house – it's more personal.'
'In the living room the flooring is OSB. We talked about things we'd want before we even bought a house, and we were going to make the kitchen out of OSB. When we needed a floor for the living room, I was like, 'Oh my gosh, can we have OSB flooring?' Stephen said, 'Yeah, let's do it'. We got this resin that we poured on top to protect it and it's worked out really well. We layer rugs over it to make it feel warmer.'
'I think we will stay in this house a little while before we sell it and move on. I literally live in the kitchen – it's my favourite room. It's a good social space. We managed to have a couple of good parties before the lockdowns, but all the people who helped us have got to come round. It's crazy – I can't believe how the house looks now, but we're loving living in what we have created.'