The best white kitchen ideas can freshen up your space as if by miracle. And, whether you go all-white or simply highlight a more colorful kitchen with white cabinets, countertops or even small appliances, white kitchens are now a pretty classic and reliable look.
Available in both gloss and matt finishes, white kitchens cater to different interior tastes and trends. Far from being stark and clinical, a design-led white kitchen with considered elements can feel stylish and modern but still inviting. As far as kitchen color ideas go, choosing white schemes can deliver some of the most uplifting looks. Plus, a neutral kitchen is one of the top things buyers look for when you're selling...
White kitchen ideas for a breath of fresh air
'It's no secret that white is the epitome of cleanliness and perhaps this is the prime reason many of us dream of a pristine, all-white kitchen,' says Marianne Shillingford, creative director, Dulux.
'It also provides the ideal blank canvas for decorating in a way that suits your personality, while enhancing the atmosphere you love to cook, eat and socialize in. When trends change or boredom creeps in, simple tweaks to accents and accessories can transform the entire effect. As a backdrop, an all-white kitchen truly is timeless and forever adaptable.'
1. Be playful with chalkboard wall décor
White kitchens can sometimes lack that 'je ne sais quoi' factor, but if you want something cool and creative that doesn't cost a lot – choose chalkboard kitchen wall decor.
So easy and effective, add a bit of character to your kitchen-diner with a personalized message. As a fun family-friendly idea, you could write the week's shopping list or menu onto the blackboard or pencil in important social events as a polite reminder for the whole household.
2. Pick the right white for the light
Not all white paints are alike and that's because of the different undertones or pigments that they have in them. Depending on the location of your kitchen, you'll want to design it using an emulsion that'll be compatible with where the sunlight comes in, or when you are likely to use this space.
'White or off-white kitchens feel light, airy and clean,' says Emma Sims-Hilditch, creative founder, Neptune.
'They're popular because they're so versatile, working with any floor and work surface, and you can always add color through accessories. But which white to choose? A clean – but not brilliant – white like Snow will feel fresh, though its warm undertones will stop the room feeling clinical.'
'Off-whites like Salt have a creaminess to them (without straying into clotted territory) so will work well with warm woods or even red-based colors such as Pink Peppercorn or Paprika.'
3. Create a soft coastal vibe with pale blue
'Blue covers so many moods, from sunny coastal vibes with shades like Flax Blue to sophisticated depth in colors like Ink,' says Sims-Hilditch.
'Blue and white feels crisp and clean in a kitchen and mixes well with brass handles and a lighter work surface, while a blue-green shade such as Aqua Blue will energize a space and work with woods, leathers and black-bronze hardware.'
4. Soften a clinical white kitchen with pastel pink
Pink kitchens can often be an all-or-nothing affair. If you've looked at the likes of Instagram and Pinterest, influencers get enthusiastic with the paintbrush and go go all-out maximalist with the ornaments. But don't be deterred to use this color in conjunction with your white kitchen ideas.
Here, a tiled kitchen backsplash provides the perfect pastel accent and is an idyllic starting point to soften clinically white kitchen décor. As you become braver, venture out with breakfast bar seating around your kitchen island and incorporate scallop armchairs in an open plan living layout.
5. Add window seating for an (almost) alfresco setup
Aside from the odd Indian summer day, it can be hard to eat alfresco in the garden or outdoor space in the latter part of the year. But if you are blessed with sunny weather(with a only a slight chill in the air), take advantage of this by setting up a cozy seating area.
As a white dining room idea, this shiplap bench is softened with a long cushion for comfort and we love how it curves around the bay window, paying respect to the house's architecture.
6. Add interest with a cluster of statement light fixtures
If you're wondering how to make a small kitchen feel bigger, include features which help to draw the eye up towards the ceiling. One way to do this, is to make sure your kitchen lighting fixtures are on-point.
Although these pendants range in size, color and shape, the boho chic theme runs strong through these rattan ceiling lights. Adding a pop of color and texture to white kitchens will stop them looking a little too minimalist.
But, we just love how these shades sit centrally and in view of the wonderful wall arch in this galley kitchen with pretty petal floor tiling.
5. Layer pattern and texture
What's better than a little textural variation in an interiors scheme? Lots and lots of it. From the monochrome checkered floor, to the statement Terrazzo kitchen island and the grey painted window frame, this space has been filled to the brim with lots of different finishes proving white kitchens don't have to be boring.
'The use of texture in an all-white kitchen is the key to creating that welcoming vibe the heart of your home deserves,' says Shillingford.
'Best of all, accessories and furnishings let your personality shine through without having to splash too much color throughout the design - unless you want to, of course.'

Speaking of accessories, we love the way the Plant Box by Ferm Living has been used as been repurposed as a storage container for wine, herbs, condiments and recipe books. So handy.
8. Fake a real marble floor with tiles
If you want to make your white kitchen look expensive: just look down. Your kitchen flooring can be one of the furnishings that can add the most wow-factor.
But, it doesn't have to be uber-expensive – you've just got to know how to shop. For example, if you're looking for budget-friendly alternatives to real marble, consider marble-effect tiling. Not only is it easy to install but you'll get the look for a fraction of the price of the quarried stone.
9. Go back to basics with black and white décor
'A monochromatic scheme is sophisticated, precise and clean, but how you balance the percentages of black and white will push the look further,' says Sims-Hilditch.
'Lots of white with dashes of black looks smart and crisp; an even balance of black and white feels harmonious; while more black will look strong but you'll need plenty of natural light to stop it feeling gloomy (unless, that is, you want to embrace the gloom).'
'Rather than going for a pure black and white combo which might feel a tad harsh, try mixing Snow with chalky, off-black Charcoal.'
10. Add a touch of red with an accent wall
When it comes to making a statement, painting one wall a different color from the others is the perfect place to start. An accent wall is the easiest way to add a pop of personality into an otherwise plain white kitchen, and will make decorating the area a lot more fun.
How about using red kitchen decor to define the hob area? As red has connotations with heat, it can signal to children to stay away from this area. It can also accentuate the kitchen from the dining area, or a living room wall accent to differentiate the family room from the kitchen.
Adding an accent wall to a room with paint is a quick and inexpensive way to update a space without re-painting the whole cooking space. Avoid putting a color-blocked wall in an already-busy room as this will just create a sense of chaos instead of calm.
Hot Paprika 3 is a warming orange-red shade that'll definitely add some spice to your white kitchen.
11. Nail your interior style first
Consider whether you favor modern kitchen ideas or a more traditional family kitchen. Timeless designs include Shaker kitchens, with paneled doors and in-frame options, while handleless or recessed handles give contemporary slab furniture a flowing, uninterrupted finish.
Once you determine the style of cabinetry, think about the worksurfaces – do you want complementary or contrast – and then the finishing touches such as wall tiles, backsplashes, flooring, appliances and accessories.
Wood tones and matt black accents inject a touch of Scandi style to the room while metallics and raw, unfinished materials enhance industrial-style kitchens. Monochrome is modern and stylish while pops of vibrant color keep it playful and fun.
12. Create a rustic Scandi look in an all white kitchen
Nope, white kitchens don't have to be stark and minimalist, you can create a lovely cozy, inviting space and still have the all white kitchen of your dreams.
You just have to pick the right kitchen styles. Take some tips from the Scandi-inspired space and warm things up using wooden accents and house plants. The curtains over the cabinets instead of doors is a fab idea you could easily DIY for cheap too.
13. Add leafy greens to bring the kitchen to life
Bring the outside in with plenty of greenery in the form of hanging plants, succulents and fresh herbs – our handy guide to common houseplants will help you choose the right ones for your home.
A quick, easy and inexpensive way of adding fresh natural color to a white room scheme, this is shown beautifully in deVOL's bespoke Classic English Kitchen, features glazed cabinets, porcelain pendant lights and pale crackle metro tiles along with Carrara marble sink and brass hanging rails.
14. Use accents of wood and black
Create a calming atmosphere by opting for a Scandinavian-influenced design complete with white cabinetry, worktops and wall tiles, furnished with black built-in appliances, pendant lights and cookware alongside blonde wooden dining furniture.
And if you're struggling with how to choose the best dining room furniture, we lay all of our cards on the table.
15. Invest in layered lighting
You can inject plenty of warmth into a cool white space with layers of lighting. As well as the all-important task lights to highlight working areas such as worktops, the hob and sink, you can also have feature lights underneath wall cabinets, on top of tall units and around the perimeter of a kitchen island. Lights on dimmers will also help you create different moods at different times of the day.
We've put the spotlight on some of the best kitchen lighting covering pendants, spotlights and more.
16. Keep surfaces clear with savvy storage
White kitchens look even better when they are clutter-free. Whether you're going bespoke or off-the-peg, most furniture companies will offer a wide range of kitchen storage storage, from pocket doors that slide back to reveal the contents inside to pull-out larder units, cutlery drawer dividers and deep pan drawers for pots, pans and crockery.
17. Give a modern twist to classic cabinets
By choosing an off-white shade, you can give a contemporary twist to traditional timber furniture. Pale greys, pebble shades and chalk tones are ideal for adding a warmer feel to a cool white scheme, especially one with natural stone flooring and doors leading on to the garden.
If you are doing up your kitchen on a budget and don't fancy pulling out your whole kitchen just to nail this all-white color scheme, then you can always paint your kitchen cabinets. Coincidentally, we have a handy guide to painting kitchen cabinets to help you out.
18. Pick patterned flooring to add interest underfoot
When you furnish the kitchen with white walls and white cabinetry, it can be tempting to stick with a neutral color for the flooring, too, but why not be bold and go for a checkered tile design. This rustic look brings loads of texture into this simple white kitchen and contrasted the sleek, contemporary cabinets perfectly.
If you still need some guidance picking out the best kitchen flooring – we can help.
19. Accessorize regularly to keep it fresh
If you've had a simple white scheme for some time and you just want to give it a swish new look, choose a selection of new accessories, gadgets, small appliances, seating or lighting to inject glamour or a pop of color.
These boho style rattan pendants look stunning hung by themselves or in a row of three over the island unit. Plus, when the evening draws to a close, this shade will reflect a beautiful effect onto the vinyl kitchen flooring.
20. Go all out with white appliances
White appliances are having something of a renaissance right now, with many manufacturers introducing just the right shade of white to their large and small appliance collections.
This Genesi 90 range cooker from Steel has cast iron pan supports, an electronic oven programmer and a triple glazed door.
21. Create a focal point with a colorful cooker
Add your own touch to a simple white scheme with splashes of your favourite color. This tongue-and-groove paneled kitchen design is cute and country in style but is given a modern update thanks to a pastel green induction range cooker from Smeg (P.S Find out more in our guide to the best range cookers).
22. Add texture with tiles
If you want to keep to an all-white kitchen scheme, there are some clever ways of adding interest without detracting from the clean, crisp look.
Think of walls as a way to add texture with a ridged or surface patterned tile – our guide to choosing the best kitchen tiles provides plenty of inspiration.
23. Paint a feature wall in a white kitchen
Offset a seamless white scheme by covering an entire wall with a contrasting color or patterned wallcovering design. We love this khaki green kitchen shiplap décor, but if you don't want to use paint, our pick of the best kitchen wallpaper ideas is a great starting point for inspiration.
This works especially well in an open-plan kitchen diner and living spaces, where the change in décor can help create zones for cooking, dining and relaxing.
24. Swap marble for an affordable lookalike quartz
Designing a stylish kitchen on a budget? For a luxe look for less, choose a quartz material for worktops, backsplashes or island cladding.
Durable, hard-wearing and seamless thanks to invisible joins, it's a great way of getting the natural stone style without splashing out. Discover more kitchen worktop ideas and find out what material would work best for you.
25. Create a calm, all-white breakfast room
An all-white kitchen does seem to be synonymous with clean, modern design, but the country kitchen in this renovated farmhouse proves that white kitchens can work in a traditional home, too.
The owners of this home updated a plain pine table with a coat of Annie Sloan's Paris Grey to match the cabinetry and filled the space with accessories to make the room look homely.
26. Break up an all-white kitchen with a wooden island
White and light wood are basically a match made in Instagram heaven. Stop an all-white kitchen from becoming too clinical by adding in elements of natural, textured wood.
If you've got the space you could add an unfinished wooden island. But if you don't have copious amounts of room you could put up some open wooden shelves for a similar effect, or perhaps invest in the best wooden flooring you can afford.
27. Add some wall paneling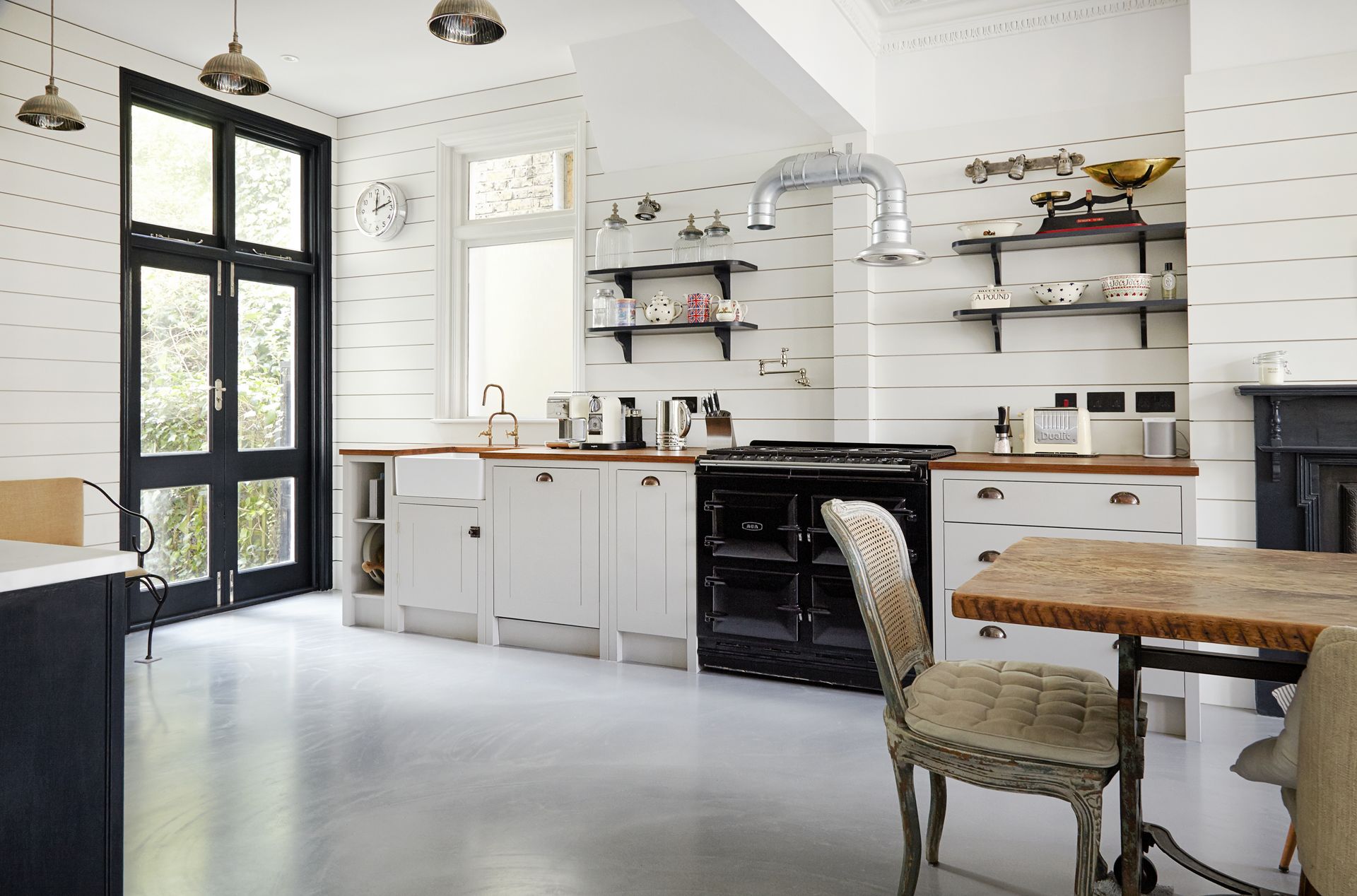 The balance of white and black, Shaker style and industrial feel in this kitchen is masterful. The wooden worktops and table add texture and warmth that's much needed as a contrast to the smooth, pale grey floor.
We're loving the wall paneling, too, which contributes yet more texture to the space.
28. Mix white kitchen accessories with wood
A quick way to add some white into your kitchen is with accessories and to stop it all looking a bit flat, mix in some wooden elements too.
If you have any open kitchen shelving, this is a really easy place to copy this look, but windowsills, counters or islands can also be an easy place to decorate.
29. Create an industrial feel with an exposed brick wall
We love the very laid back feel of this white kitchen. It feels clean and fresh but the exposed brick wall feature makes it feel more rustic and undone in contrast to very simple white cabinetry.
The dark colors on the far wall and around the windows just ground the space and create a nice cohesive feel with the colors of the furniture in the living space too.
30. Add touches of copper to warm the space
Copper kitchen accessories in white kitchens are a classic combo. Plus it works with so many different styles – pick statement copper pendant for a modern look or add a brass rail for a more country, rustic feel.
You could even just bring in some of those warm metallic tones with some cute pans or utensils.
31. Break up all-white cabinetry
While we love the very sleek look of a wall of white cabinetry, if you plan to keep the rest of your space minimal and neutral too, it can look a bit too simple.
We would recommend breaking up your cabinets with sections of open cabinetry. Pick a contrasting color or go for a more subtle look with wood and fill them with houseplants, prints and cookbooks.
32. Create a sunny scheme with yellow decor
If your white kitchen is positioned next to the garden, and you have space that light pour into, maximize this sunny look and feel with pops of yellow decor. It doesn't have to be garish or overwhelming either.
These yellow pendant lights over the island are just enough to add interest without causing a color-induced headache.
33. Add pops of color with dining chairs
Bring some more of your style and personality into a white kitchen but adding accents of your fave colors. White is such a versatile color you really can mix it with any other shades you fancy, make it as bold or as subtle as you like.
While white is still very much the dominant color in this kitchen, the space is made way more interesting with the pop of color from the dining chairs and the fabulous window seat.
The best dining sets for this space will be lightweight with chairs that can be stacked away to create more space as and when needed.
34. Create a focal point with wallpaper
Hanging wallpaper is a really quick and easy way to create a focal point in an all-white kitchen. There's sooo much to love about this gorgeous space, but for us, it's how the pretty busy wallpaper idea works with the very simple cabinets.
The warm neutral colors are perfect too as they stop the space from feeling cold and bare and helps to link the very contemporary design with the rustic wooden floorboards.
35. Hang open shelving
Ditching wall cabinets is a huge kitchen trend for 2021. If you can afford to lose the storage space, replace them with long wall shelves instead. This look works particularly well in a white kitchen and you can create a balance and go for something more busy on your walls.
You can't go wrong with a wooden open shelving idea to bring some warmth and texture, and of course, a jungle of houseplants tumbling down is always going to look on-trend. Use it to store your crockery too so it still works as a practical storage space.
How do I stop a white kitchen looking 'cold'?
'If you're worried about a bland or clinical feel, one of the great benefits of white is its ability to either warm up or cool down space.' explains Shillingford.
'When your kitchen receives a lot of sunlight, coat the walls in Ultra White to neutralize the light. For darker rooms, use a warm tone like White Mist, with hints of yellow for coziness. Combine white walls with rich, creamy accents around door frames, trim and features to add depth and interest.'
What color goes with a white kitchen?
The main reason white is so popular in kitchens is because it's the perfect background for any other colors you want to throw at it.
While a totally white scheme does risk looking blank and clinical, bringing a couple of other hues won't interfere with that fresh look. Instead it will add some interest and personality, so don't shy away from adding a few accent colors.
If you want to go for a bold contrast, obviously strong, primary colors are going to be your best bet. Vivid blues, reds, and yellows are easy to bring in the form of accessories, appliances (a cute red kettle? Yes please!), and lighting.
'When you can't do without color, adds splashes of your favorite hues with wall clocks, painted shelves, colorful kitchenware, artwork and potted plants.' explains Shillingford.
For a softer, more subtle vibe, tonal and pastel colors will work in an all-white kitchen too. You can add more of these colors than the primary ones, so rather than sticking to small accents in your kitchen, why not paint a wall in a dusky pink or a sage green? You could even paint your cabinets too – two tone kitchens are bang on trend at the moment so could be a quick way to update your all-white kitchen.
Are white kitchens still in style?
Of course! White kitchens are a classic that are never going to go out of style. If you are worried about your kitchen dating, white is in fact the best color to go for because it's such a blank canvas. You can keep your kitchen cabinets really simple and then change up how you accessories the room as your tastes and style changes.
For example, handleless kitchens are so sleek, creating a streamlined, minimalist effect for the room. But, if you like a little detail, metallic handles can add a chic, but subtle depth to the color scheme, while cup handles are a great choice if you want a vintage or rustic touch. You could add more warmth also by adding leather strap handles for more of a Scandi finish.
What countertops go best with white cabinets?
This totally depends on the look you want to create. For very chic, minimalist kitchens you might want to keep the all-white vibe by choosing a marble or marble effect kitchen countertop. If you prefer a more rustic, classic look wooden countertops always work with a white kitchen and is a look that will never date.