Spice rack ideas might sound a bit niche, but how often do you reach into the depths of your cupboards for cinnamon, only to come out with paprika? It's time to get your spices organized to making cooking easy and to prevent any future cinnamon rolls from having a slight... spice to them.
Choose a rack that suits your needs - could be wall-mounted, in a drawer or a neat design that fits on your worktop. We cover all the options right here! For more kitchen storage ideas, make sure you check out our guide too.
1. Choose a built in spice rack
If you adore cooking and using spices, then it's worth having a purpose built spice rack incorporated into the wall at the design stage of your kitchen. It will become a seamless part of your kitchen and you will easily be able to see what you have, when you need it. Look out for cute little Kilner jars to keep your spices in.
2. Pick a freestanding option if cupboard space is tight
If your drawers are already full of useful kitchen paraphernalia and you love to have a large range of spices, then look for a freestanding rack that holds as many as possible, and some even come with a turning mechanism - what a fabulous idea!
3. Store spices on the back of a door
Having a spice unit hung on the back of your door is a great solution if you don't have room in your drawers and you don't want to clutter up your worktop. Keep them super organised and place the ones you use the most in the middle of the rack for ease of use.
4. Keep all your spices in easy reach
This handy little number will keep your spice jars neat and tidy in your cupboard ready for when you need them, or if you have room on your worktop then keep them on there. There's enough space for at least twelve of your favorites.
5. Pick up the ever-popular Ikea spice rack
If you love scandi style look out for a design that's made from birch wood, it will work well in a pared back style kitchen. Having a spice rack that can be fixed to the wall is a great space saving option, it frees up drawers and worktops. If you have a big collection of spices then simply invest in two or three and make a feature of them.
6. Add a touch of industrial style
There's something to be said for mixing up kitchen styles and we love this metal spice rack that sits on an exposed wall next to a Shaker style unit! The three generously sized shelves will give you plenty of room for your spices and wall-mounted is also a great option - keep your worktops clear is our motto!
7. An under shelf spice rack? Yes please
This clever design from Joseph Joseph fits under your shelf so it will free up storage space on your worktop, shelves and cupboards. It fits neatly to the underside and holds up to 7 standard sized spice jars on their sides. You simply pull out the compartment when you need to retrieve your spices.
8. Make the most of your wall units
We love a bit of integration and this spice rack end unit is one of our favourites! The smart finish ensures that the spice jars fit in with the rest of the scheme and are held in place with the matt chrome metal bars that match the fixtures and fittings in the rest of the kitchen.
9. Pick up a spice caddy
This charming little spice holder ensures you can keep your spices together but have them to hand when you need them. They can sit on a windowsill or neatly on a shelf when not in use – and easy to carry with the wooden handle to boot!
10. Make your base units work harder
Okay, so this is similar to the one we mentioned above that's integrated into the wall unit, but this one is a base unit – different enough right? We like this idea as the shelves are quite deep so you can keep larger items on them alongside your spices.
11. Think outside the box
Baskets and wooden crates are useful pieces to have in a kitchen, they can store and hide all manner of things, including spice jars! If you don't fancy the usual spice jar rack and like more of a freestanding feel then consider buying a few of these wooden crates to keep them in instead.
12. Make everything accessible
This stylish spice rack comes with the spices included – you get all the main ones like parsley, oregano, fennel and ground cinnamon and it has rose gold screw lids that are fixed so you simply reattach them after use. There are 16 jars altogether and the rack rotates so you can spin it round to find the ones you want.
13. Pick a spice rack you can leave on display
You can keep this spice rack out on the side as it's so beautifully designed. Made with a cork base, the five glass jars also have matching cork lids that will keep their contents super fresh until their next outing. We love the use of cork as it's sustainable and definitely a material that is seeing a resurgence in interiors.
14. Use the back of your door
If you like to keep your spices hidden out of sight when not in use then consider this wall mounted spice rack. It can go on a wall or you can fix it to the back of a door as shown here - just make sure the door can still close once it's fitted with the jars in place. The rack holds 16 jars and has a metal finish.
15. Use a spice rack as practical decor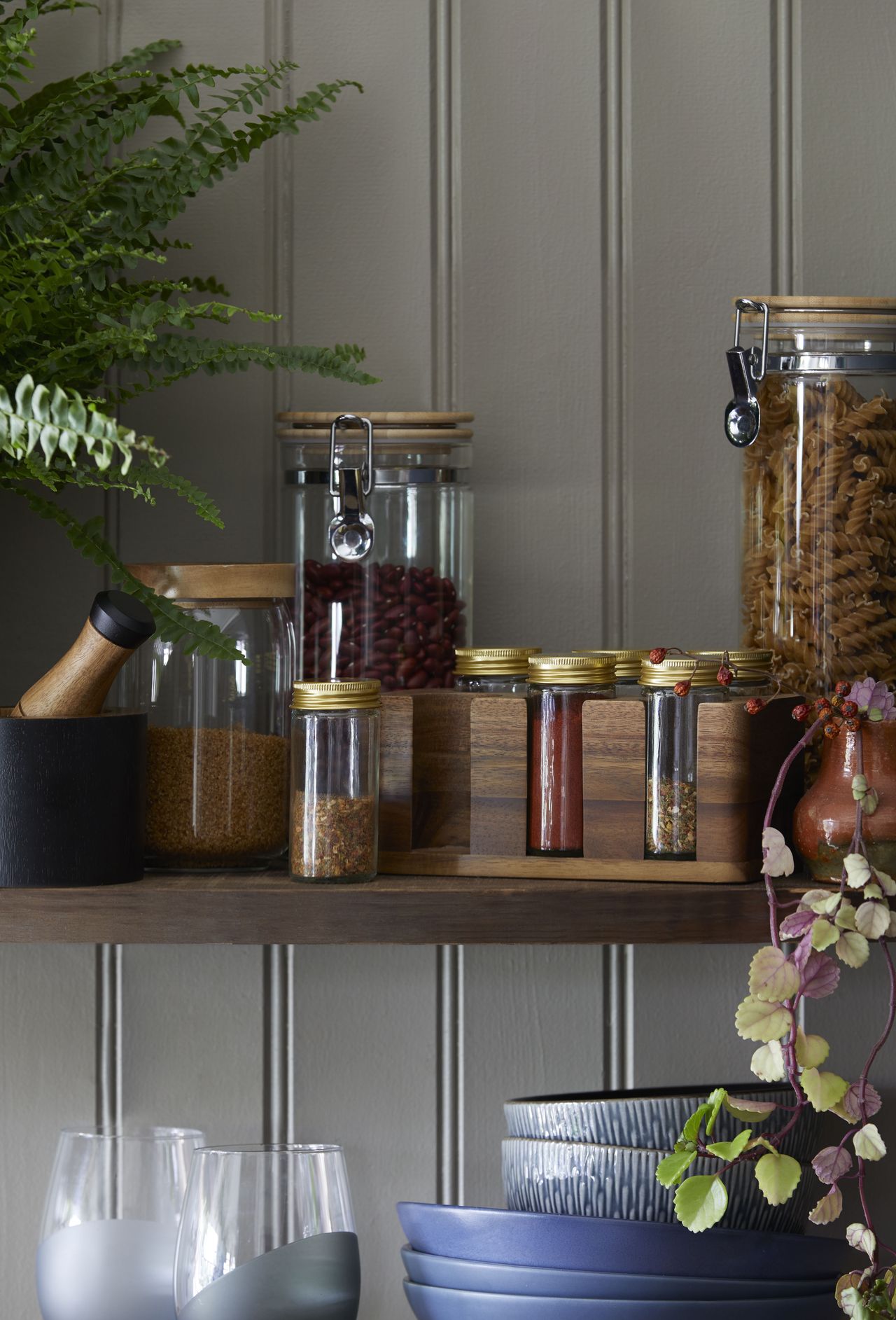 You can be stylish even with the most mundane of items – which is why we like the look of this acacia wood spice rack that looks like it has a walnut veneer. It holds up to six bottles and can easily be wiped clean if it gets splashed during cooking. Another bonus is that it can be stored vertically and horizontally on your worktop or shelf.