If you have a small kitchen but a big love for coffee, these coffee bar ideas for small spaces will certainly appeal. As with any room in the home, size doesn't matter, it's what you do with it that counts. And while you may have been browsing dream coffee stations that take up a whole countertop, there are plenty of smart coffee bar ideas for much more petite areas.
These small coffee bar ideas will inspire you to think creatively and we're sure you'll be able to squeeze in a nook that's dedicated to your favorite beverage.
Once you've bagged yourself the best coffee maker, think about what else you need to make your coffee – pretty coffee cups, sugar, fancy spoons, or even chocolate sprinkles, and ensure they've got a stylish home nearby, too.
1. Create impact with a simple color palette
Create a coffee bar that's small but perfectly formed by sticking to a single color. This gorgeous little corner by @bris_prettylife (opens in new tab) uses matt black everything – from the coffee cups to the flowers – for a serene scene that's easy to navigate before you've had your morning coffee.
'A coffee bar does not have to be extravagant. It can be both simple and lovely, and when working with a smaller space, a simple scheme can often work to make your space feel larger than it is,' says Robin Antill, director at Leisure Buildings (opens in new tab).
2. Save space with a peg board wall
Space saving solutions are a must in smaller kitchens. If you think you haven't got enough countertop space for all your necessary coffee paraphernalia, think again! A pegboard wall like this from Amazon (opens in new tab) is the perfect way to hang utensils, milk jugs, and small coffee cups for an easy DIY coffee bar. You can even position small shelves to house your mugs too. As well as being undoubtedly practical, they bring a cool, quirky, and somewhat utilitarian feel to a space too.
3. Build a coffee bar drawer into your cabinetry
If you're lucky enough to be installing a new kitchen, consider your caffeine needs right from the start of the planning process. Just as you can build in your oven or fridge, you can also build in a coffee bar!
'Integrated appliances will create a streamlined appearance for your space, helping it flow seamlessly rather than be broken up by bulkier appliances,' says Graeme Smith, head of retail and commercial design at Life Kitchens (opens in new tab).
This clever modern kitchen design includes a built-in coffee maker, a pull-out countertop drawer, and cup storage above, so you can craft your coffee with ease and then simply push the drawer out of sight – genius!
4. Choose matching jars and jugs to create a feature of even the smallest spaces
If you've not got a lot of space, keep your coffee bar area succinct and organized by matching up your jugs, jars, cannisters and coffee cups. This sweet design by @craftylittlemarket (opens in new tab) creates a twee and traditional feel with it matching ceramics.
5. Use your breakfast bar as a coffee station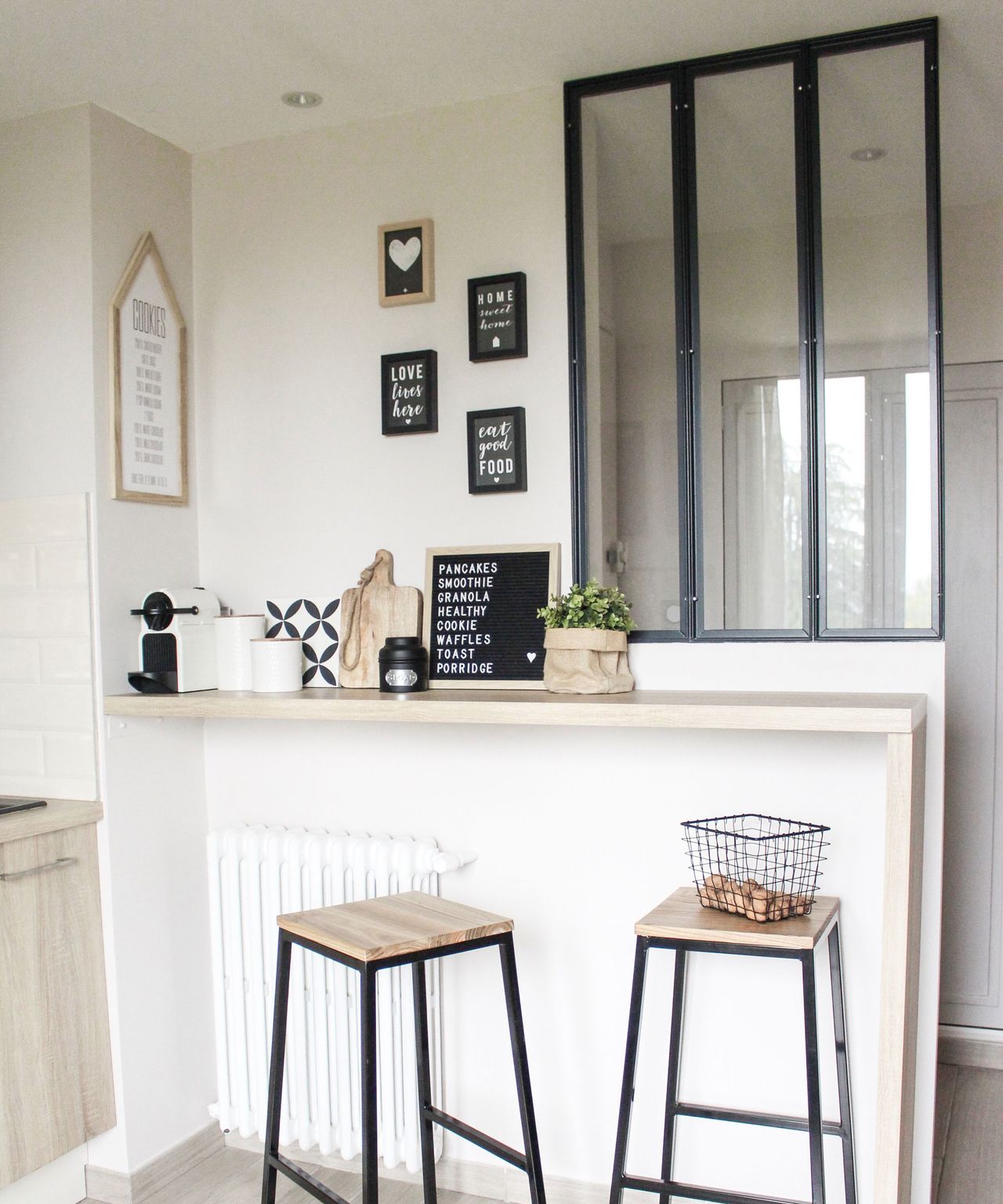 'Where possible, it's a good choice to keep your coffee machine on a worktop away from other appliances to create a dedicated zone for that all-important morning coffee,' says Ruth Lavender, design expert at Benchmarx (opens in new tab).
This slimline breakfast bar is such a clever use of space in itself, but position a small single serve coffee maker and some jars and these two planks of wood are given a whole new purpose. We love how you can make your coffee whilst sitting on the stool too, making those early mornings a whole lot easier.
6. Designate your coffee bar with a neon sign
If you don't have the space to go all out with a coffee maker and put your coffee paraphernalia out on show, look to other ways to curate a dedicated coffee-making spot. A sign like this from Custom Neon (opens in new tab) is a simple way to add fun and quirky vibes to your room, while taking up absolutely no space at all. You could simply positon this above your tea kettle or French press-spot to bring those cafe feels to literally any size space.
For a ready made choice, there are loads of neon coffee signs on Amazon (opens in new tab).
7. Make space for a coffee bar with a portable unit
If there is simply no room left on your countertop, a slim floor standing shelving unit could transform the way you use your space. This kitchen cart from Wayfair (opens in new tab) is the ideal height to line up with your kitchen worktop or sit neatly beneath your window and is the ideal size for a small coffee machine. You can store everything else you need for the perfect beverage in the shelves beneath too.
8. Keep it simple with a wooden coffee tray
Sometimes the simplest ideas are the best. Zone your kitchen with a simple tray that can work to designate you coffee-making zone. Be it in the corner of your kitchen or on your kitchen island, a wooden tray (see a few choices on Amazon (opens in new tab)) can work wonders to not only be a practical and protective addition to your space, but to visually create depth and add interest in your room.
9. Maximize light and space with metallic tiles behind your coffee bar
If your coffee bar is feeling dark and cramped, lighten things up with some shiny metallics. High shine kitchen tiles work to bounce light around the room, which can make a space feel both bigger and brighter.
10. No space in the kitchen? Take your coffee bar into another room
Sometimes your space simply isn't big enough to house everything you'd like it to, but a tiny kitchen doesn't necessarily mean a coffee bar is a no go. If you're a true coffee fan, steal some space from another room and make that into your little at-home cafe. This slimline sideboard from Wayfair (opens in new tab) is perfect for housing everything you need for a coffee bar and then some – why not combine this space with a wine cabinet so all your best beverages can live together.
11. Hang shelves above your coffee machine to keep your coffee essentials in order
'Incorporate open shelves to house your mugs, cups, cookbooks, and other glassware. This clears the counters of clutter and offers you extra prep space,' says Antill.
When space is at a premium, wall-hung shelves are your answer, and that applies to your small coffee bar too. These simple industrial style shelves sit directly above the coffee maker and, adorned with colorful and patterned jars, is perfect for hosting everything from your coffee beans to your essential biscuits.
How do you organize a coffee bar?
How you organize your coffee bar depends on the kind of space you're working with. As a general rule, the less clutter on your countertop the better, so where possible it's alway a good idea to store jars on shelves or in cupboards. Think about exactly what you need to make your coffees – do you need syrups, sprinkles, special spoons, milk jugs, and ensure all of these things are close to hand. A pegboard wall is a great way to keep everything all in one place, but if you don't love the idea of having everything out on show, cupboards or shelves with decorative jars could be your answer.