Faced with the blank, magnolia shell of a new build, Geri Alessi wasn't sure where to begin. 'I've always lived in older properties, and there are always pre-existing features or styles you can work with,' she says. 'It's harder trying to bring character to a brand new house. I've changed the living room alone five times in the years we've lived here!'
Geri and her husband Andrew bought their home in 2012, when their oldest daughter Emilia was a baby. 'We liked the outside of the property,' says Geri. 'It had a traditional look – symmetrical windows, a big door – but when you walked in, it was very apparent it was a new house. It was totally plain, except for an awful red carpet that wasn't what we'd asked for.' Still, the rooms were spacious, and the couple could see the potential…
Looking to tackle your own project? We have masses of ideas and helpful advice on what to do and where to start in our feature on house renovation.
Profile
The owners Geri Alessi, a wedding stationer (@overatno18; gerilovesemi.com), her husband Andrew, who works in Formula One, and their daughters Emilia and Luisa
The property A five-bed detached new build in Milton Keynes
Project cost £123,500
Once they had moved in, Geri tackled Emilia's room – 'it was important to us that she could settle in straight away' – before taking on the living room, dining room and master bedroom. The kitchen had to wait while the couple saved up. It was small for a five-bedroom house, so an extension was at the forefront of our minds,' says Geri.
Five years later, and now with a second daughter, Luisa, the couple began planning the kitchen, bringing in an architectural design firm to help perfect their ideas. 'We were looking at an L-shaped extension,' says Geri. 'But our designer encouraged us to knock through to the existing utility room to create a rectangular box, and use part of the old kitchen as the new utility. It would give us a bigger kitchen and utility – which makes a huge difference . We have a space to dry our clothes!'
From start to finish, the process took a year, thanks to delays to the planning application process and waiting for their builder to be free to do the work. Once it all kicked off, though, everything was smooth-sailing. 'We were lucky in that our old kitchen was functioning until the very end, so we never had to do without,' says Geri. 'While it was a total state looking out of the window, it never intruded into our daily lives.'
The kitchen is a little more pared-back than the other rooms in the house, but it by no means lacks personality. 'We played the design safe because it was expensive, and while we wanted to put our stamp on it, we didn't want to do anything we might regret later on,' says Geri. 'We went for a classic Shaker style, then added things like the statement wallpaper on one wall.' The couple maximised light with the large roof lantern and bi-fold doors, and by opting for open shelving rather than wall units.
The resulting space is a bright room where the family can cook and eat together – very different from the living room, which is Geri and Andrew's chill-out space. 'We did worry that the living room would become defunct once the kitchen was in place, but it's still the place we retreat to at the end of the day,' says Geri. The finished look is the result of plenty of trial and error. 'Because it's such a big, narrow room, getting that cosy look was difficult,' she adds. 'We had a large, curved sofa that stopped everything from coming together. We only got rid of it last year, and suddenly everything else worked.'
Geri's creative, colourful style flows through the house, from the bold wallpaper in the master bedroom and the home office – 'I've always been obsessed with botanicals' – to the unique paint effects in Emilia and Luisa's room.
'They share at the moment, but Luisa will have her own room soon, so I wanted Emilia's scheme to be something she can grow into,' Geri says. 'The girls inspired the decor. Luisa is a bit of a firecracker, so I wanted to make sure I had something of her in there, but I wanted it to tie in with Emilia's style. I'm a big fan of combining florals and abstract patterns – as long as you find colours that work together, you can't go wrong.'
Have there been any design regrets along the way? 'Nothing is permanent in interiors, so unless you're investing huge amounts of money – like we did with our kitchen – you can't possibly regret it, because you can change it without it costing the earth,' says Geri.
'I feel like everything is coming together now, and I'm at a place where I can enjoy all the rooms – but our kitchen is my favourite space. I didn't realise the importance of having somewhere we could congregate as a family until we did it. We practically live in there, particularly in the past year – we've had the doors wide open when the weather's been good. It's the best decision we made.'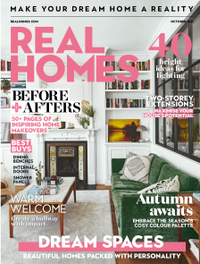 Subscribe to Real Homes magazine
Want even more great ideas for your home from the expert team at Real Homes magazine? Subscribe to Real Homes magazine and get great content delivered straight to your door. From inspiring completed projects to the latest decorating trends and expert advice, you'll find everything you need to create your dream home inside each issue.