There are lots of ways to make the most of metro tile patterns in a bathroom, kitchen or another area of your home. Metro tiles (also known as subway tiles) are a popular option – and for good reason. Stylish and versatile, it's easy to create a look with metro wall tiles that suits both your home decor taste and space. From contemporary kitchens to traditional bathrooms, minimalist spaces, maximalist rooms and everything in between, there will be a metro wall tile design to suit you!
Whether you're looking for wall tiles for bathroom to help with a new design, wanting to use metro tiles in your kitchen or even to tile a fireplace, find inspiration with a selection of our favourite metro tile designs below.
If you are after more bathroom ideas, make sure you head over to our design feature too.
1. Stop white metro tiles from feeling clinical
If you're concerned that white, floor-to-ceiling metro tiles will make your bathroom feel a little clinical, consider design solutions that adds colour and interest to your space.
We love this addition of a row of dark grey metro tiles at the height of a dado rail, which breaks up an otherwise white scheme. Style with a sunny yellow chair to further dispel the clinical feel. Recreate this look with metro tiles from Topps Tiles.
2. Design a luxurious bathroom with deep-toned metro tiles
For a unique take on a luxurious bathroom, consider opting for deep toned metro tiles – dark blues and greens are lovely options. To define each tile, opt for white grout; this also prevents a small bathroom from feeling overwhelmed by a dark shade. Style with complementary brass fittings and delicate house plants.
We love these Metro Deep Blue Tiles from Topps Tiles, positioned vertically to create the illusion of height in a small space.
Love the look of this glamorous bathroom? We have plenty more similar ideas in our luxury bathroom design feature.
3. Create a stylish herringbone design with marble-effect metro tiles
Marble effect metro tiles – particularly in white and grey tones – make a stylish addition to a contemporary bathroom when laid in a herringbone design. This look is particularly worth thinking about if you're designing a wet room.
We love the unique effect created by these Ador Marble Effect Tiles from Walls and Floors.
4. Brighten up a space with bold metro tiles
Brightly coloured metro tiles are a lovely option if you're looking to inject a little personality (and happiness) into a space.
While these Carnival Oro Tiles from Fired Earth would look lovely as part of an otherwise white scheme, we also love the idea of choosing a complementary botanical wallpaper.
5. Conjure up an elegant look with white metro tiles
For an understated elegant look, position white metro tiles in a herringbone design. Style with natural materials – particularly light woods – for a minimalist, Scandi-inspired bathroom.
Find similar tiles at Fired Earth.
6. Add colour to a small kitchen with metro tiles
Creating a striking focal point, metro tiles as a splashback make a lovely design addition to a small kitchen design and can be a great option if you're looking to inject colour into a space without it feeling overwhelmed. For more inspiration, check out our kitchen splashback ideas.
Find these Metro Berry Tiles at Topps Tiles.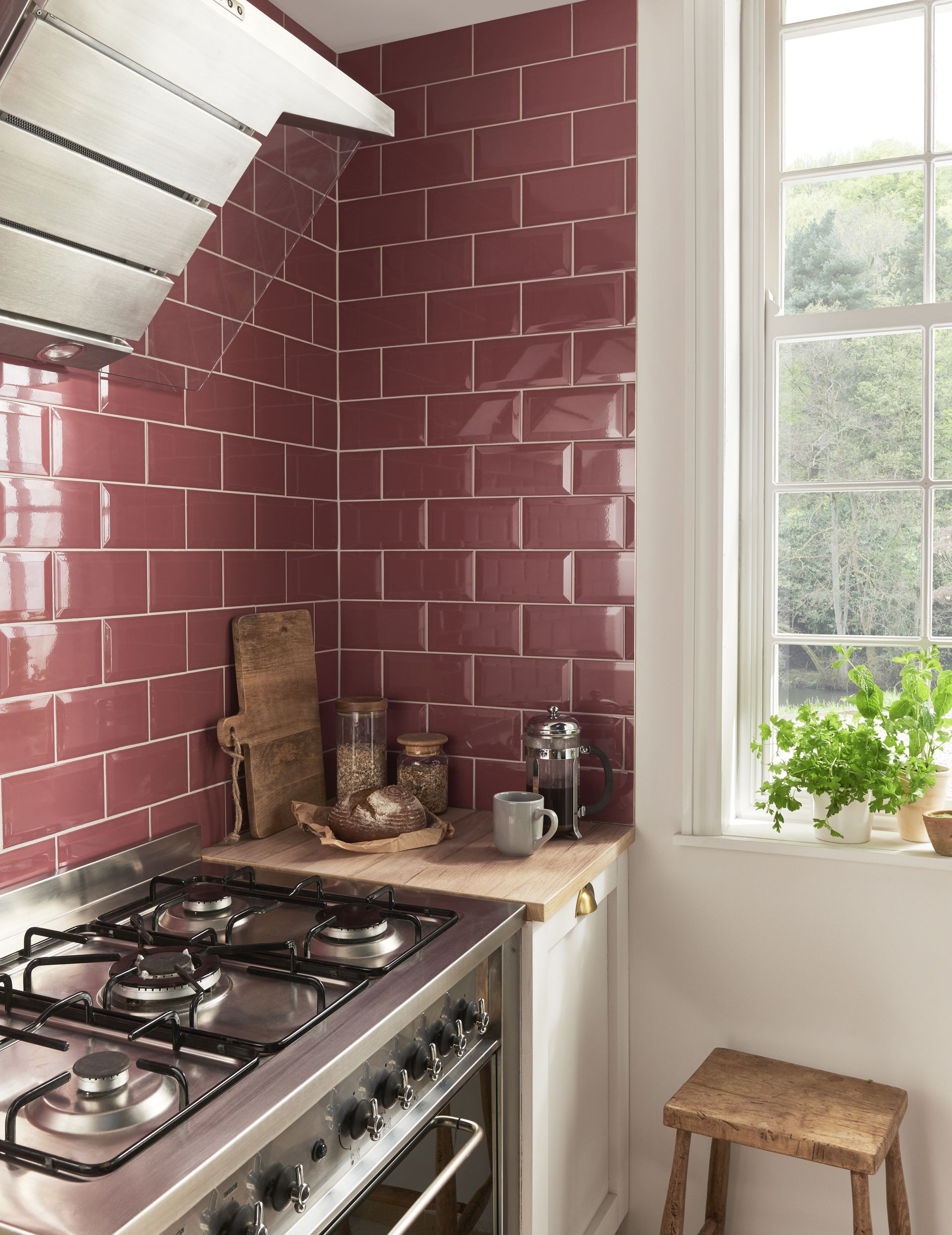 7. Keep it simple with monochrome metro tile patterns
While many shy away from the idea of black tiles, if styled well they can make an easy, sophisticated addition to a kitchen (or bathroom) with a monochrome scheme.
In this instance, white grout enhances the effect of these Sloe Tiles from The Winchester Tile Company, create a striking design feature.
8. Opt for muted tones in a traditional kitchen
If you want to incorporate metro tiles into a traditional kitchen, consider opting for more muted tones and subtle grout work. Deep creams and mint green tones are lovely options and a pearlescent finish like this will reflect light, too.
Find these Mint Tiles at The Winchester Tile Company.
9. Use metro tiles to break up a colourful scheme
If you've opted for a bold or bright kitchen paint, consider breaking it up with the addition of simple, white metro tiles.
We love these Vintage White Brick Tiles from Original Style paired with mint green walls and dark wood furnishings.
Play around with the positioning of the tiles too. Here tiles have been laid in a herringbone pattern, to create a striking feature wall that works perfectly against the bold blue paint.
10. Pair simple metro tiles with patterned floor tiles
If you've designed a bathroom with statement patterned floor tiles, consider pairing with metro tiles that draw out a particular shade or tone for a cohesive and on-trend look.
We like how these Mint Tiles echo similar tones in the floor tiles. Find them both at Walls and Floors.
11. Use high-gloss metro tiles to reflect light
Streamlined and stylish in a dusky pink tone, metro tiles positioned vertically effectively enhance smaller spaces, such as bathrooms or utility rooms, giving the appearance of a larger space.
If you've chosen a dark paint colour for your walls – don't avoid darker shades in small spaces, they can make them feel characterful – high-gloss tiles can help reflect light around the room and stop the bolder hues from becoming too overpowering.
Find these masculine, yet feminine, Haban Rose Metro Wall Tiles at Tile Flair.
Looking for more tile advice and inspiration?