L-shaped kitchen designs are ideal, whether you're planning a kitchen in its own right, or as part of a larger, open-plan space, they perfectly strike the balance between stylish and space-efficient.
Encouraging an efficient flow of movement, L-shaped kitchen designs are also suited to having a dining table or a coveted kitchen island right at their heart. However you plan to build on the basics of your L-shaped kitchen, our design ideas will help you make the most of your kitchen's L-shaped layout.
Need more kitchen advice? Discover everything you need to know over on our kitchen ideas page and if you are designing your kitchen totally from stratch check out our kitchen design feature.
1. Flood your L-shaped kitchen with light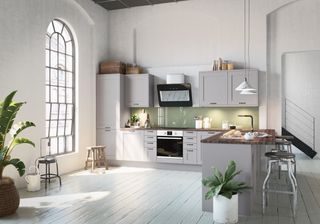 Positioning your L-shaped kitchen design around a window or set of doors – we love the look of aluminium frames – is a great choice if you want your space to be flooded with light.
Using one side of the L to create a breakfast bar will give you plenty of added dining space, and will effectively divide the kitchen and dining or living spaces, too. If you do opt for a breakfast bar you are going to want to pick the right seating too, see make sure you check out our pick of the best kitchen island seating.
2. Channel the trend for pretty pastels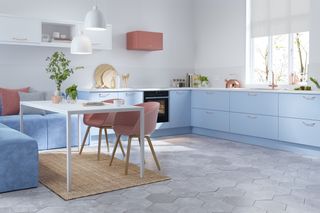 Love colourful kitchens? Combining pastel pinks and light blues, this L-shaped kitchen hits the trend for powdery tones on the nose – pale shades are easier to live with than bolder colours, too.
Crisp white walls and a grey stone floor tiles make the perfect base for this pretty colour pallette. Find this Contour Ermine Kitchen in Jelly Bean Matt at Wren Kitchens.
We've got a whole gallery dedicated to colourful kitchen design ideas, so if you are feeling inspired by this kitchen go and have a read of that too.
3. Include a kitchen island in your L-shaped layout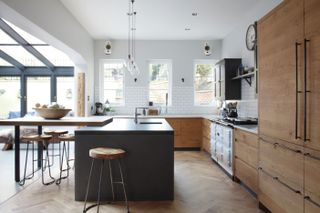 Kitchen islands are a coveted addition to a modern kitchen, providing extra preparation and storage space, plus a focal feature that's perfect for socialising if paired with stylish bar stools as part of a clever island seating solution.
Because they're positioned around the edge of a room, L-shaped kitchens are the ideal layout for the addition of a kitchen island, however expansive or small. Dial up the style by picking out a different worktop or cabinetry finish for the kitchen island to that of the rest of the kitchen.
Check out more stylish kitchen island design ideas.
4. Experiment with on-trend colour schemes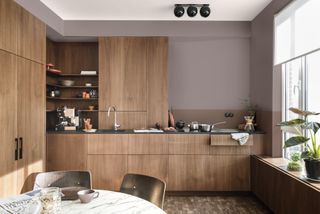 Opting for classic kitchen cabinets that will transcend interiors trends leaves plenty of space for experimenting with paint colours.
We love this use of the on-trend Heartwood Emulsion from Dulux (and the fact it can easily be painted over when the trend passes.) Our guide to kitchen paint ideas will talk you through the latest looks.
You know what else we like about this kitchen? The open shelving in the corner. It breaks up the solid run of doors to add visual interest to the room.
5. Build an L-shape kitchen design around a table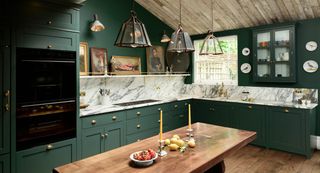 When you're designing a kitchen, including the position and proportions of the table at an early stage is a wise move. If you're having a table within your L-shaped kitchen design, you'll need to leave a gap of at least 1.25m between the table and the cabinetry, bearing in mind that, with the chairs nearest the cabinetry occupied, movement around prep areas will be somewhat restricted. In other words, save that chair for the cook, so it can remain pushed in until the food is on the table – or make the gap between the cabinetry and the table wider.
6. Paint kitchen cabinets to reflect colour trends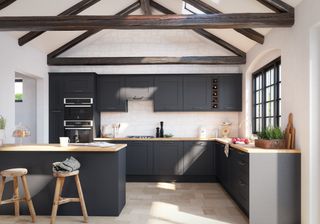 If you've opted for wooden kitchen cabinets, you've created a great basis for experimenting with interiors trends as they can be painted (and repainted) easily – our handy guide to painting kitchen cabinets explains just how simple it really is.
We're loving the dark and moody interiors trends, especially for the kitchen. This Winchester Midnight Kitchen from Magnet is a great example.
7. Opt for open shelving for a spacious L-shaped kitchen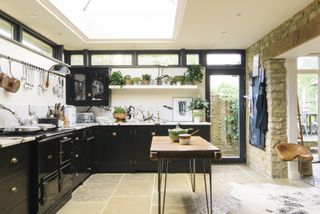 If designing a kitchen that feels bright, open and spacious is at the core of your vision, you can't go wrong with open shelving. It successfully opens up a space and can be a great means of injecting colour – think of all those cookbooks – or personality into a space.
Remember, however, that you don't have to opt exclusively for open shelving. Combining open shelving with closed cupboards is often a more realistic solution (especially if your collection of Tupperware is as extensive as ours).
For more handy kitchen storage ideas make sure you have a read of our feature.
8. Find flooring that makes an L-shaped kitchen feel larger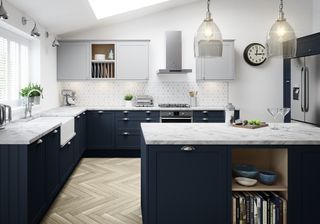 If you want to make your L-shaped kitchen feel larger (and who wouldn't?), your choice of kitchen flooring is worth a second thought.
Opting for light wood flooring in a herringbone design tricks the eye into seeing a space as larger than it really is and has the added benefit of looking fantastic. We love herringbone flooring as an addition to the gorgeous Durham Midnight Kitchen from Magnet.
And if you love a modern kitchen look be sure to check out our feature.
9. Add a dining table to your L-shaped kitchen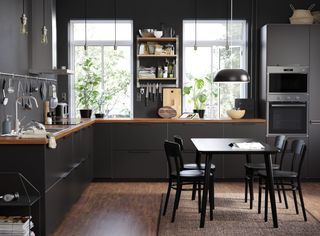 If your kitchen is required to function as your dining room too, an L-shaped layout is a good option. By positioning kitchen cabinets around the edge of your space, there should be room left in the centre for a dining set – even if it's just a two seater.
Opting for a table in the same hue as your kitchen cabinets – we love this dark finish – can also help it blend into the space, thus making the room feel larger.
10. Enhance your kitchen's size with a one-colour scheme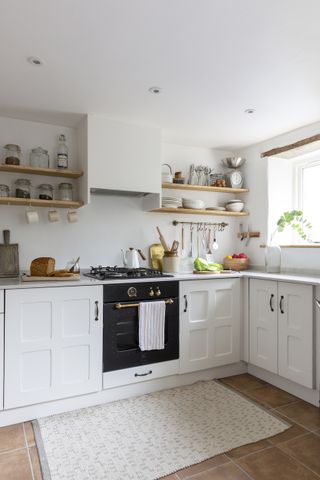 If you like the idea of a smart, uniform look in your kitchen, this is easily achieved by choosing a base colour (and then sticking to it). That means choosing paint, floor and wall tiles, kitchen cabinets and even appliances with a similar hue.
Pale grey and white kitchen schemes are a popular option, as they have the added benefit of making a space look larger.
11. Create texture and interest with varying cabinet finishes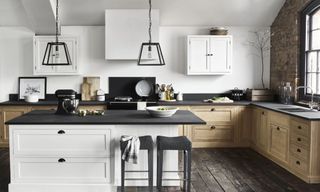 If you have decided to incorporate a kitchen island into your L-shaped kitchen design, opting for a finish that differs from that of your kitchen cabinets can be a great way to add interest and texture to a space. In fact two-toned kitchen cabinets is looking to be a huge kitchen trend this year.
We love this combination of a painted white wood kitchen with a more industrial feeling wood finish. Achieve this look with the versatile Henley Oak Kitchen from Neptune.
Want even more kitchen inspo?