If you are designing an open plan kitchen or even just in the planning stages and weighing up whether to go open plan or not, you are in the right place. Our ultimate guide will take you through everything you need to know about open plan kitchen design, plus plenty of inspiring spaces to help you make some decisions.
From where to start and what to consider in the design stages such as zoning and where to put your best dining table – to decor ideas that will show you just how gorgeous open plan can be, plus practical tips on budgeting and employing the right people for the job. Yep, we're going to take you through everything from A–Z, so just keep on reading...
For more expert kitchen ideas and advice, you can also look to our feature.
So what exactly is an open plan kitchen?
Open plan kitchens are one of the most sought after features of a modern family home, thanks to their light, spacious feel and versatile design. They usually combine the kitchen and dining area of a home, while you can also include a lounge setting as part of yours. They are in fact completely versatile which is, quite frankly, the reason why we love them so.
How do you create an open plan kitchen?
The first step when it comes to designing an open plan kitchen, is considering the layout of the kitchen and how it functions with the rest of the zones of an open-plan arrangement is vital, especially if you're thinking about creating a practical family kitchen, which needs careful planning.
We also have plenty of tips on how to create a family kitchen, should you need them.
Bear in mind that once a kitchen is part of an open space it will impact on every other area – there's no closing the door on noisy appliances and clutter left on worktops after preparing a meal. Likewise, the cabinetry will be in plain view all of the time, so it needs to look stylish.
Getting it right needn't be tricky, though. Whether you're working with a kitchen designer, architect or builder (our guides are designed to help you source each) use this guide to create a stylish, open plan kitchen and living space. We start with all the practical stuff up top, and then move onto inspiring ideas to get you excited about your project.
What are the pros and cons of an open plan kitchen?
PROS
One of the biggest pros is that open plan kitchens really do bring the whole family together and therefore reinforces that the kitchen is the heart of the home. They also create a spacious feel, as there are no barriers visually which allows the room to flow. If you love entertaining they're a great option - you can be cooking and still talk to your guests - less walls make for a more sociable space.
Kitchen islands with breakfast bars become the hub where homework can be done whilst catching up with the day's news. Or if you have young ones, they can be watching TV from the sofa whilst you're in the kitchen, and the open plan area allows you to keep an eye on them all the time.
CONS
They can be pricey initially if walls need to be knocked down, however on the flip side they can then add value to your home - so a bit of a pro and con in one! Because there are no individual rooms, storage can be an issue so it's worth considering how you might want to tackle that - ideas can include shelving units, extra wall units, sofas with storage underneath and sideboards.
Due to the kitchen, dining and living areas all becoming one, noise can be an issue – for example, there's no room to relax if the kids are being noisy in the living space! Also, sometimes in an open plan kitchen the mess can spread easily – and if you're relaxing on the sofa you may well be able to see the dirty pots and pans that need washing up.
32 open plan kitchen ideas
1. Choose the right open plan kitchen design and layout
Take time to think about how people will move through the open-plan room. Circulation space between zones needs to be unimpeded by furniture and it's also vital for safety's sake that people aren't going to pass through the work area of the kitchen to get from one zone to another.
Is the kitchen zone far enough away from the seating area? Watching TV or talking may be difficult against the background noise of clattering pans and worktop appliances, so think about the distance between these zones.
Think too about whether you want appliances like washing machines and dryers to be part of the kitchen. Remember that noisy spin cycles will do nothing for the atmosphere of the room. You may wish to plan cupboards or a separate utility room in which these can be kept. Artificial light will suffice for a utility space so this closed-off zone can be located at the center of an open-plan floorplan. For tips on planning and designing a utility room, check out our handy guide.
Top tip: Visualising an open-plan space as a series of rooms can help you plan the space effectively.
2. Choose a simple kitchen design in an open plan space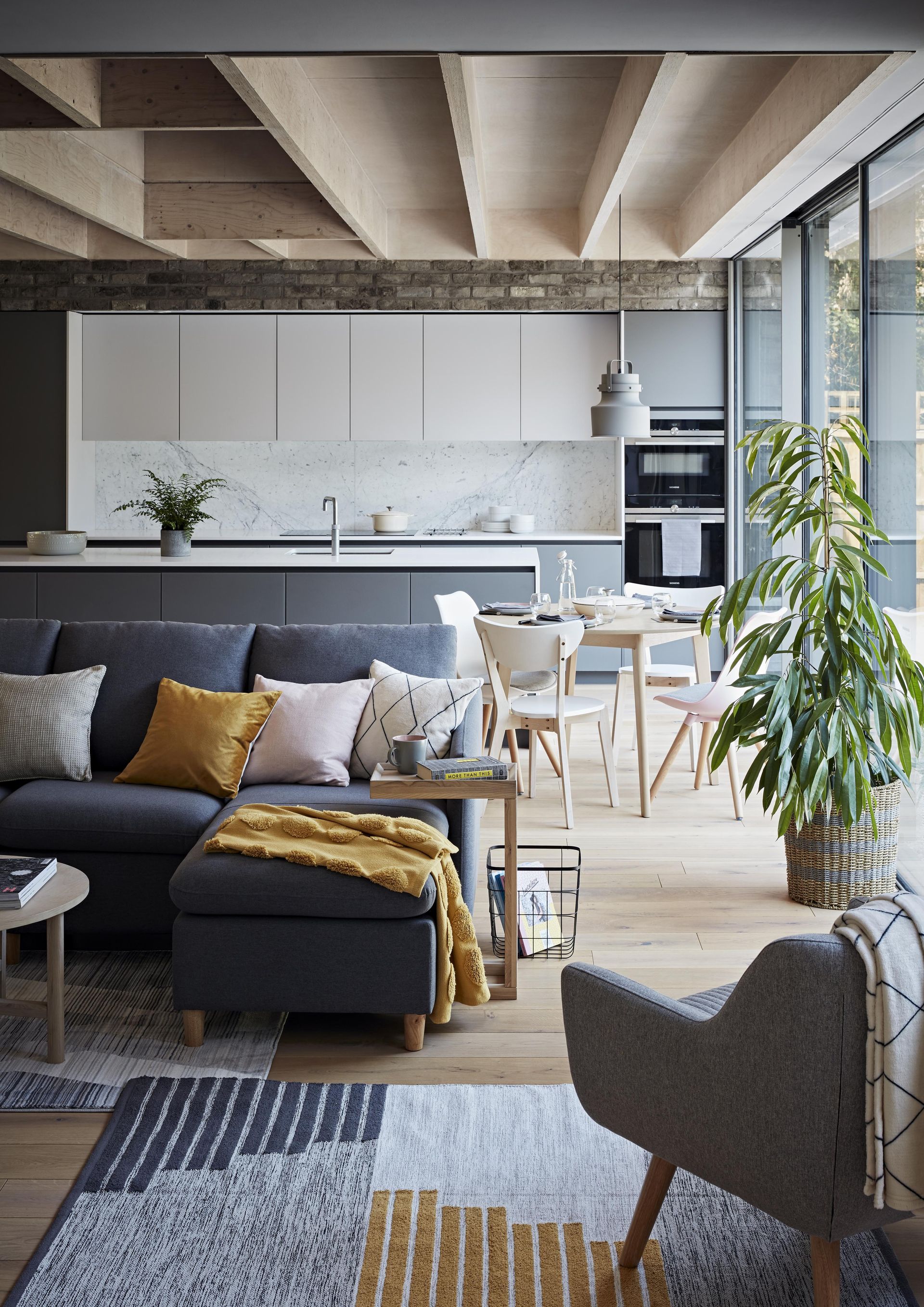 When you look across your open-plan space, you want it to have a flow, and for it to be cohesive. This living area works well as the kitchen is very sleek and simple, and the Skandi table and Harlow chairs – due to their light oak design – also work in the same way. They visually balance out the dark gray sofa and armchair in the living area, and the rug and cushions pull through the mid-gray and pale pinks from the kitchen and dining space. The turmeric cushion, throw and rug are the accent colors that set the living space apart from the rest.
3. Zone your open plan kitchen, diner and living space
An open-plan, live-in kitchen diner needs to have defined areas – seating, dining, cooking – even if they're open to one another, so start by planning which zone the kitchen will occupy.
Although not essential, locating the kitchen by an external wall is convenient for both waste water and ducting for an extractor fan, and is more budget-friendly. An external wall is also useful in the kitchen zone for locating base and wall units against, as well as kitchen appliances.
You should also consider where the dining table will be positioned. Bear in mind that you won't want a long walk from preparation and cooking areas to take food to the table, so kitchen and dining zones need to be thought of together.
How about a garden view from the kitchen? If that's on your list of priorities, your kitchen will need to occupy an area of the room near to windows or bi-folding or sliding doors. You may prefer to create immediate views from the dining and seating areas instead, though – in which case the kitchen can be located further back.
4. Create a broken-plan layout
Apparently, 'broken-plan' living is the new 'open-plan' living. It's about creating distinct zones within an open-plan layout with different floor finishes, split-level flooring and partitions, such as half-walls, bookcases, glazed doors or screens.
What's the benefit of broken-plan kitchen, diners and living spaces? Visually, you can keep a spacious, bright, sociable feel for your room, but also create a definite impression of separation between the various zones.
From a practical point of view, it means that a messy kitchen can be quickly screened from a dining area; or a noisy kitchen diner can be separated from the lounging space.
5. Devise an open-plan kitchen floorplan
Once you know in which zone of an open-plan area the kitchen is to be located, it's time to plan the kitchen itself. For this, your kitchen designer or architect can make scale drawings, or you can create your own using graph paper.
A scale drawing can help you focus on what the space offers in terms of walls against which you can position base and wall units and appliances. You can note the position of windows and any external doors that lead from the kitchen zone, too.
6. Choose the best open-plan kitchen layout
When it comes to the layout of an open-plan space, there are plenty of options available to you. These include:
Galley kitchens
This layout can work effectively in an open-plan space, maximizing use of an exterior wall for the sink, base and wall units and appliances.
Linear layouts are often teamed with a kitchen island directly opposite. This can visually and physically mark off the kitchen zone from the rest of the room and helps keep the work area safely apart.
An island can incorporate a breakfast bar, leaving kids or guests in contact with the cook, but away from preparation and cooking space. Plan in space on the dining side for kitchen island seating to be pulled in and out.
Browse our clever kitchen island design ideas for inspiration. You may be interested in our kitchen island seating ideas, too.
In a small open-plan kitchen layout, the dining table could be positioned opposite the linear run of units to perform the same separation function. Get a better idea of what's possible with our beautiful small kitchen ideas guide.
Alternatively, consider incorporating a peninsula to create a more closed-in preparation area. Find out more about galley kitchen ideas in our guide.
L-shaped kitchens
Using the corner of an open-plan floorplan can maximize space as well kitchen storage potential. L-shapes can also be combined with an island.
Find inspiration with our L-shaped kitchen ideas.
U-shaped kitchens
This is another option available if maximum separation without losing the open layout is required.
Explore more of our U-shaped kitchen ideas.
Be prepared to tell your designer or architect your ideas, but take their advice on combining the kitchen layout with the rest of the zones – and on how the preparation and cooking spaces, storage and sink are positioned within the kitchen.
7. Decide on what to include in an open-plan kitchen
Put together a list of all the must-have elements of the new kitchen so nothing gets missed from the design. Now's the time to check that all that's required will fit into the zone:
Kitchen base units
Glazed kitchen display units
Open kitchen shelving
Kitchen larder units
Kitchen peninsular unit
Breakfast bar
Extractor fan
8. Pick an open-plan kitchen style
Once you've decided on the elements your open-plan kitchen should include, think about the style of cabinetry and the materials both units and worktop are made from.
You can find guidance with our expert advice on the best kitchen worktops, including everything from granite, quartz and marble, to laminate, glass and wood.
In an open-plan layout, your worktops and cabinetry will be on display all the time and will be set alongside the dining table and chairs and sofas and armchairs. With this in mind, you'll need to consider how the individual furniture choices you make for each zone work together.
When it comes to the style of your kitchen, there are a number of options available to you.
Contemporary kitchens
If the aim for the overall look of your open-plan layout is contemporary – sleek, flat-fronted kitchen units can be a winner, complementing the fuss-free lines of sofas and dining furniture.
Browse our contemporary kitchen ideas for inspiration.
Traditional kitchens
If your furniture has a more classic or country feel, go for cabinetry that continues the vibe. Shaker kitchens are perfect in this instance, though they work equally well in a kitchen with more of a contemporary feel, too. Our flexible freestanding kitchen ideas may be of interest, too.
It's important to think about your unit finish during this stage, too. High-gloss cabinetry can maximize light while painted kitchen cabinets are easy to update if you think you may want to change the color in the future, making them a cost-effective choice.
9. Yes, open plan living works in small spaces too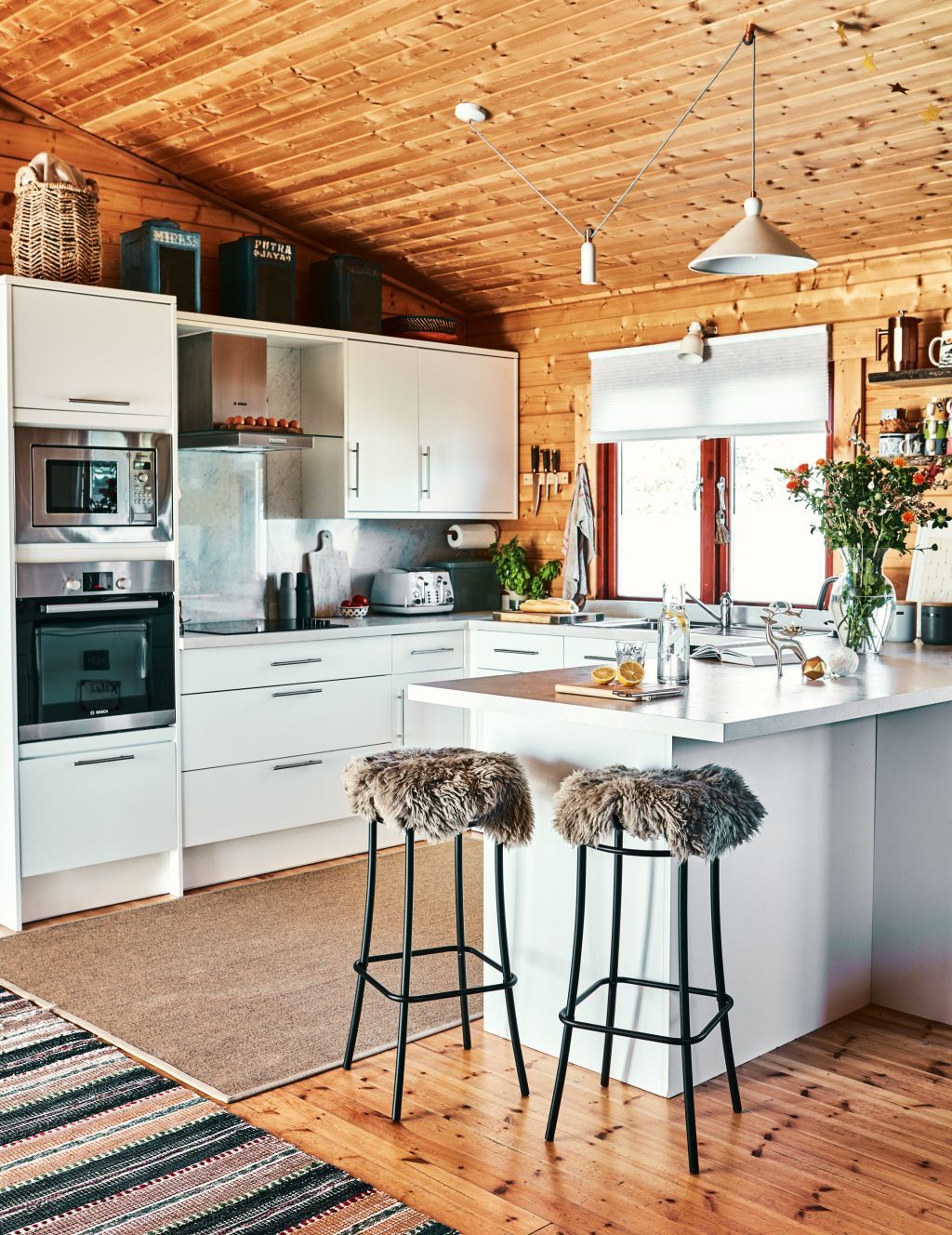 If you don't believe that open-plan can work in a small space, you need to check out this new-build log cabin. The main room in the cabin is the living room, kitchen and dining room but it's been designed so cleverly and stylishly it all works and doesn't feel too cramped.
10. Think about the small details in an open plan kitchen
You'll want to keep the following design tips and tricks in mind if you're wondering how to design an open-plan kitchen, as it's these small details that will make the difference between a nice kitchen and the kitchen of your dreams.
Think about the style of extractor you choose if you're positioning a hob on an island. An island hood may compromise views across the room. Would a ceiling extractor be better?
A breakfast bar or peninsula with a raised side can provide an effective screen between a seating or dining area and the kitchen so the remnants of meal preparation aren't on show.
Look at the noise levels of appliances when you're buying. Even if it's in a utility room, a louder washing machine might be heard, and a dishwasher could be intrusive, too, if it's not designed to be quiet.
Half walls, changes of level and banks of kitchen storage can help to zone the kitchen area further from the rest of the space if you like the idea of extra privacy without losing the benefits of a 21st century layout.
Some kitchen companies offer storage furniture for living areas in the same style as kitchen cabinetry, which can create a cohesive feel.
11. Select the right color for your open-plan kitchen
Choosing the right color for cabinetry can help distinguish the kitchen as a zone within the open-plan layout, so don't be afraid to choose stand-out hues such as blue or green for units.
This can be repeated in accessories or soft furnishings in other zones to create a subtle link across the open-plan space.
Our kitchen paint ideas provide an inspiring overview of the options, if you're not sure what you're looking for. Alternatively, read on for our favorite options.
White kitchens
White's a popular choice in an open-plan layout, reflecting light to keep the overall impression airy and spacious. If you're worried it's too cool, try adding in wood finishes – for example for wall cabinetry, or on a kitchen island unit or bar stools.
Our white kitchen design ideas provide all the inspiration you could ever need.
Gray kitchens
Gray is as popular for open-plan kitchens as it is in other kitchens, and can be toned with gray upholstery in the seating area. Gray makes a great alternative to white if you like the idea of a light, spacious feeling kitchen but are concerned about it getting dirty.
Take a look at our gray kitchen ideas for more inspiration.
Cream and off-white kitchens
These tones can look softer than white in classic and modern country-style homes, making them a popular option.
Black and dark, atmospheric kitchens
Black, black and white or inky-toned units can make a striking impression if you want an on-trend, atmospheric kitchen.
Find plenty of inspiration in our black kitchen ideas.
12. Opt for the right open-plan kitchen worktop
Choosing the right kitchen worktop is an important stage when designing a kitchen, open plan or otherwise.
The whole gamut of worktop materials are available from economical laminate through to natural stone, manufactured composites and wood, together with other materials such as stainless steel and concrete. Bear in mind that each has its own maintenance requirements as well as qualities.
Once again, the important point to note is that the open-plan layout means the worktop is on permanent show and is also set against other surfaces across dining and living spaces, so consider the aesthetic qualities alongside the room's other materials as well as thinking of the look of the kitchen.
13. Get the right window dressings for open-plan kitchens
When dressing windows for an open-plan kitchen, diner and living space, you need to find a solution that suits and complements all zones in the room. They might also need, for example, to be fitted to a bay window at one end of the room and folding sliding doors at the other.
This makes window shutters or kitchen blinds an obvious choice. They come in various styles, can be color-matched to suit your scheme, are easy to keep clean and needn't cost a fortune if you opt for DIY-fit designs. If you want to add a softer touch to your scheme, café-style shutters look wonderful matched with curtains at a bay window, for example.
Find inspiration with our kitchen window treatment ideas. You can also peruse tips on how to choose shutters, as well as kitchen blind ideas, should you go for either of these options.
14. Plan open-plan kitchen lighting carefully
Kitchen lighting should be planned for individual zones in an open-plan space and operable on a separate circuit. This way, when you've moved away from the kitchen to the dining area the lights won't be shining brightly on the accumulated cooking dishes and pans.
Light the zone just as you would light a kitchen elsewhere: task lighting is necessary to provide good light for work areas, and there should be effective overall ambient light, too. What about hanging pendant lights above a breakfast bar as well? They can create a fantastic focal point.
Our guide to how to plan kitchen lighting will talk you through the steps and ensure you get your lighting right first time.
15. Pick open-plan kitchen flooring that suits all zones
Most often the flooring in an open-plan layout extends across all areas to emphasize the proportions of the space and help it feel unified. Kitchen flooring needs to stand up to floor traffic, splashes, and dropped items, so make sure the floor you choose across the whole space meets its demands.
Another alternative is to mark the kitchen zone with a change of flooring – for example patterned tiles that introduce a more decorative element to a work area. If you're taking this route, make sure there's a style or color link with other features in the open-plan space.
For expert tips, take a look at our guide to how to choose the best kitchen flooring.
16. Maximize natural light for an open plan kitchen that feels open and spacious
For those designing a modern open plan kitchen, it's often the prospect of a space flooded with natural light that appeals the most.
The use of skylights, roof lights, clerestory and glazed doors is the easiest way to flood a space with natural light, though it's worth considering suitable window treatments if your kitchen diner is south facing and you want to prevent it feeling like a greenhouse during the warmer months.
17. Make the most of open plan design tricks in a small kitchen
While 'open plan' often conjures up images of large, airy kitchens, it is possible to achieve similar outcomes in a smaller space by applying slightly adapted design tricks.
As mentioned, you'll want to make the most of natural light and might also consider opting for a light scheme in order to make your kitchen feel as spacious as possible.
In terms of incorporating the dining aspect, it's best to opt for a table in a similar shade and finish to your kitchen cabinets, which will help it blend into the scheme effectively. Alternatively, round tables or glass tables are go-to options for smaller kitchen-diners.
For more design tips, we'd recommend making use of our guide to small kitchen ideas feature.
18. Embrace the dark and atmospheric interiors trend in an open plan kitchen
Despite everything we've said about using light shades for a bright and spacious open plan kitchen diner, you shouldn't write off the dark and atmospheric interiors trend as good open plan kitchen ideas altogether.
Designed as part of a scheme with plenty of natural light, darker, moodier shades can make a stylish addition to an open plan kitchen diner, and is an on-trend option at the moment.
19. Create a laid-back, unfitted feel with open shelving
For an open plan kitchen idea with a laid back, or unfitted, family feel, you might consider turning to Scandi-inspired spaces for inspiration.
Incorporating features such as open shelving or freestanding kitchen units and intentionally mis-matching materials is an easy way to make a space feel lived in, without compromising on style.
20. Invest in contemporary bi-fold doors and bring the outdoors in
A popular addition to contemporary open plan kitchen ideas – and in particular those designed as part of a larger kitchen extension – bi-fold doors make for a stylish design feature that draws the eye, effectively creating flow between the kitchen and the outdoors.
While bi-fold or sliding doors tend to be more expensive additions, they're worth the investment if you have budget to spare and want to add a standout feature to your dream kitchen diner.
Use our guide to bi-fold and sliding doors if you're considering either as an option.
21. Or opt for stylish metal windows and doors
If you love the idea of bi-fold or sliding doors to flood your kitchen diner with light and give it a distinctly contemporary feel, but don't have the budget to invest in such a standout feature, it's worth considering floor-to-ceiling metal windows and doors as an alternative.
They're equally stylish, have the same effect light-wise and, while not to be considered cheap, make a much more affordable alternative. Use our guide to metal doors and windows for more practical advice and information.
22. Use pendant lighting to create a focal point in an open plan kitchen diner
Positioning pendant lighting above a kitchen island is an easy design technique that can be used to create a striking (or understated) focal point within an open plan kitchen diner, and can be effective in helping to zone a space.
Watch our guide to styling and zoning a large room if you're looking for tips on how to define different sections of your open-plan scheme effectively.
23. Design your open plan kitchen diner around an island
If you plan on using your open plan kitchen diner as a location for socializing and entertaining guests, it's worth considering incorporating a kitchen island into your scheme.
Teamed with stylish bar stools, they're the perfect open plan kitchen idea for creating that social hub while you cook dinner or enjoying a laid back breakfast on a Sunday morning.
Prepare your dream set-up using our kitchen island seating ideas, too.
24. Create an open plan kitchen diner that works in a flat
Similarly to small homes, it's possible to implement an open plan scheme to create a spacious-feeling kitchen diner in a flat.
It's worth minimizing the number of kitchen cabinets to what's absolutely necessary and opting for slimline appliances, in order to maximize space. Open shelving will prevent the space from feeling boxy and can make an attractive addition if styled with only the prettiest of accessories.
25. Or an open plan kitchen that works in a loft space
How gorgeous is this open plan kitchen? if you are lucky enough to live in a loft space (these New York-style digs are becoming more popular over here) then take some inspiration from this Plain English kitchen. The actual kitchen space may be small but because of high ceilings and open plan design, the space doesn't look cramped or shoehorned into the corner. Plus by adding some stools to the other side of the kitchen cabinets, a kind of breakfast bar has been created too, a great way to save space.
26. Use furniture to create cohesion throughout your open plan space
If you want to create some consistency in your open plan kitchen diner, you'll need to choose furniture that's similar in style and finish, but not too matchy.
This might be achieved by opting for furniture in similar wood finishes – in this kitchen-diner the bar stools and dining table complement one another – or through the use of an accent shade incorporated subtly throughout a space.
27. Create an industrial feel by combining dark shades and exposed brick
Exposed bricks walls make for a statement open plan kitchen idea, creating a distinctly industrial feel when paired with darker, more atmospheric shades. Renovating a period property? Exposed brick can be used to hint at the history of a space while still working as part of a more contemporary interiors scheme.
Use our guide to exposed brick walls for more expert advice and information.
28. Design an open plan kitchen with rustic appeal
Looking for rustic open plan kitchen ideas? If designed effectively, they can have all the functions of a contemporary space without sacrificing its country appeal.
The trick is designing the space with a muted or neutral color palette and opting for furniture with more traditional appeal – we're thinking a Shaker style kitchen design and country-style dining tables.
29. Add comfort to your open plan kitchen design with a living room
An open plan kitchen doesn't need to end at a kitchen and dining room – if you have the space, why not incorporate a small living area too? We aren't talking a whole set of sofs and a 75in inch TV here; just a small sofa and a coffee table, or even just a statement armchair could create a chill-out area. Pop down a rug to add comfort and to break up the space, and there you go, a mini living room in your kitchen.
30. Warm up an open plan kitchen
We love the feel of this spacious light and bright open plan kitchen space. It's easy on the eye and the white color scheme is sleek and modern. But how do you prevent this kind of look from becoming visually cold? Firstly, add in some wood. There's the walnut style breakfast bar on the right and the warm toned wooden table on the left.
Then consider painting some key areas like the storage unit at the back of the kitchen – the mid gray color anchors the whole kitchen and adds depth. Finally, add in some accessories like cozy cushions and throws on the sofa, and some patterned jugs and vases for a decoration.
31. Make a compact space work
We don't all have oodles of square meters in which to design our dream open plan kitchens spaces do we? Often it could actually be the opposite - trying to get it to work in an oh-so-small room!
This is where clever design comes into play and having the kitchen units along one wall is the first key idea - note the storage unit on the left, ideal if you can't get in all the base units you require.
Then pop in your table, if your space is super tight then opt for a round table rather than square or rectangular - you can flow around a circle better than angled corners. Finally, this idea of matching sofas opposite each other is a great one - and it allows for a small coffee table too.
32. Use color to zone an open plan kitchen
Creating contrasts within a space also helps to define the various roles of the open plan area. Here, the bottle green kitchen area is clearly marked and we love the way the color is carried through to the painted dining chairs.
The dark shade also contrasts beautifully with the plywood island and lime washed floorboards and as a result you get a really light and bright space for cooking, relaxing and eating in.
What does a new open-plan kitchen cost?
Before you start getting down to the specifics of how to design an open plan kitchen, you'll likely want to consider the costs.
Prices start from around £3,000 for good quality units for an average sized kitchen. Add in worktops, which will cost from £100, and appliances and fitting, which can vary from a few hundred pounds to more than £2,000, depending on the kitchen design.
Bear in mind that an open-plan space tends to be larger than the average kitchen, and includes more elements that need to co-ordinate for a cohesive feel; this means the cost of refurnishing and accessorizing the room will be incrementally greater.
However, there are clever ways to cut the cost of a new kitchen to help you keep to your budget.
Will you need planning permission for an open-plan kitchen?
Demolishing walls to create an open-plan layout doesn't usually require planning permission.
If you're extending to create an open-plan layout, this can often be achieved under the permitted development regime. However, you should check with your local authority's planning department to verify that this applies in your case.
Structural changes will require the input of a structural engineer, and the building regulations will apply to aspects of the work, too.
Find our more about planning permission in our beginners guide. We've covered everything you need to know about permitted development rights, too.
Who can fit an open-plan kitchen?
If you're working with a kitchen company, they may provide a fitting service, and kitchen designers can also take charge of the entire process from design to final fit out, managing the trades involved.
It's also possible to find a reliable builder yourself to install the kitchen, or even take on some aspects of the work yourself if you are a competent DIYer.
Use our guide if you want to know how to find a good builder.