Period houses have such charm from the outside, their façades promising high ceilings and ornate features beyond the front door. But the Victorians lived differently to us. The family wouldn't inhabit the kitchen as much, especially if they had a cook, nor would they need the space for the vast amount of helpful modern appliances.
When Rachael Ball fell for a Victorian house on a leafy street in Worcester, she knew it could be an 'amazing' place to live – but only once she and husband Adam had turned the dark, dingy kitchen, which was so cold they'd eat breakfast in the living room rather than linger there.
Rachael reveals the love/hate journey they took to create their dream kitchen, and the perfect space for her and daughter Darcey to make their favourite bakes in.
If you're tackling your own project, we have have lots of ideas and helpful advice on extending your house.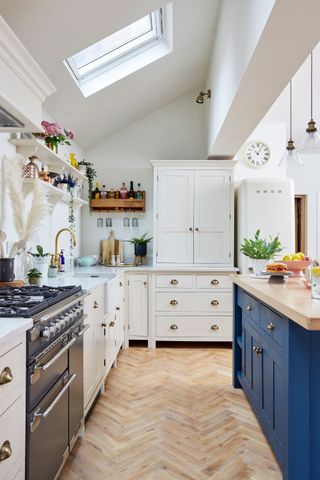 'We've lived here since October 2016. We lived in Stourport and Kidderminster and used to come here a lot – we loved the city. It was a good location for my husband's work and I had a new job teaching at the high school up the road.'
Profile
The owners Rachael Ball (@renovating.no.66), an art/photography teacher, and husband Adam, a laser service manager, live here with daughter Darcey and Ella the cockapoo
The property A five-bedroom Victorian semi built in 1899, in Worcester
Project cost £45,000
'Our previous houses were 1930s and 1970s houses, but in Worcester I was desperate for a Victorian house. I love their character and style, and I liked this house's location; the road is lined with trees and has beautiful Victorian houses, so it's very picturesque. It's a road that people really want to live on, and there's a real community feel. During the first lockdown, everybody was messaging each other or putting letters through doors, offering help.'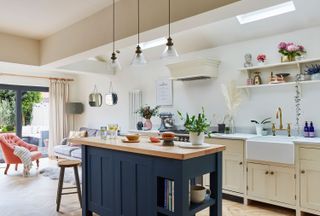 'The renovation journey has had its ups and downs. When we first looked round I thought it could be amazing, but it was going to be a lot of work. There were times I felt we'd bitten off more than we could chew. I'd started a new job and Adam was working away, so I was project managing, juggling a career and looking after a young child.
'We lived in it for a year before starting the extension in September 2017. It had such a dingy kitchen – long, thin, dark and freezing. We'd put the gas hob on to heat it up in the morning. The upstairs of the house is big but the downstairs felt cramped. To extend, to have this space, was a must for us.

'This is our third house renovation and we do as much as we can ourselves to save costs. Adam used a software programme to draw the plans and submitted them to planning, which went through smoothly. He also painted the kitchen walls, did all the flooring, fitted the radiators and skirting boards. I did a lot of research for the kitchen design and décor.'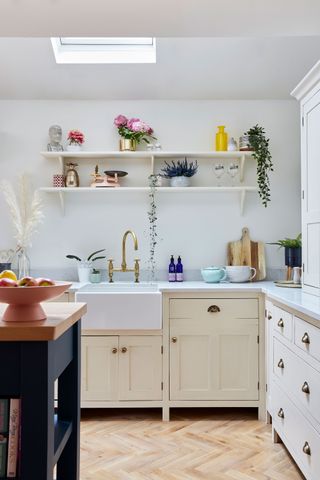 'During the build, Adam made us a kitchen in the playroom with the old units, plumbing in the washing machine and a sink. I had a microwave with hob on top to cook on. It was primitive, but we had a table so we could eat together.
'Our plumber, Russell, the father of a former student, recommended Mitch, our builder. We had lots of snow during the build and were constantly battling the weather, so things ran over. It could get quite overwhelming, but he put my mind at ease. I found Jeff Spencer, who handmade our kitchen with his son, through his Ebay site. I wanted a country style with dark blue units, but he said it would show every mark, especially with a young child, and suggested light units and to change the colour of the island.
'We had the worktops fitted on 22 December, making Christmas by the skin of our teeth. We had a long table right down the middle of the kitchen for our first full family Christmas together.'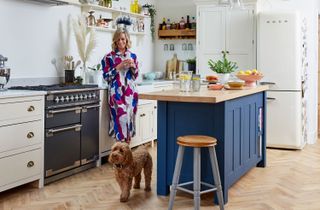 'The extension has massively changed how we live in the house. The garden was at different levels, so when he did the extension, Mitch took out lots of soil to lay a patio. It's lovely to sit there with friends with children running about.
'One of my favourite things is to sit round the island, talking with friends, or making Sunday lunch while Adam and Darcey do Lego or crafts. Before, we were in separate rooms when I was cooking and they were at the front of the house. Darcey and I can also bake together. The space is much more pleasant for us as a family.
'You hear horror stories of builds, and it was stressful. I was very hands on, making sure things ran smoothly. But it was worth it – it's the hub of our home.'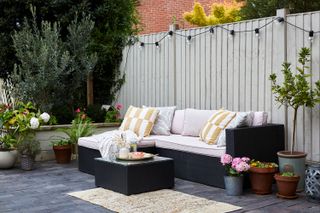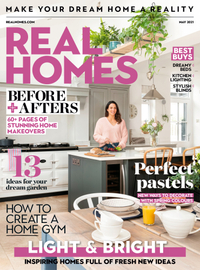 Subscribe to Real Homes magazine
Want even more great ideas for your home from the expert team at Real Homes magazine? Subscribe to Real Homes magazine and get great content delivered straight to your door. From inspiring completed projects to the latest decorating trends and expert advice, you'll find everything you need to create your dream home inside each issue.