For weeks, Chloe and Nick scrolled past the Gatehouse in the property listings because they'd always imagined their family home to be Victorian or Georgian in style, with high ceilings and full of original features. But after months of searching, the couple decided they needed to broaden their criteria and started to look at almost every property within their price range, which included this modern townhouse.
'Never before was the saying, "Don't judge a book by its cover" more prominent,' says Chloe. 'From the outside I'd never given it so much as a second glance, but the inside told a whole different story.' The house had so many quirky features that they couldn't resist a viewing. 'We were drawn in by the balcony space and remote-controlled garage parking, but the ultimate selling point was the roof terrace.'
Inspired to tackle your own project? We have masses of ideas and helpful advice on what to do and where to start in our feature on how to prepare your house for renovation.
Profile
The owners Chloe Spillett, a children's spaces designer (chloegetscreative.com), lives with her husband, Nick, and daughters Esme and Heidi
The property A four-bed townhouse in Rochford, Essex
Project cost £15,000
The previous homeowner had a traditional approach to decorating – there was lots of floral wallpaper as well as pink and purple hues. But Chloe has crafted a more original look. 'I wanted to give each room in our home its own unique twist as a nod to the quirkiness of this property,' she says. 'I love creating spaces that are great talking points – something a bit different or unexpected. I'm also a sucker for an upcycled project and antiques. I've always loved the idea of having items that have had a past life and a tale to tell. I don't always know what it is but I like to imagine the possibilities.'
Soon after moving in, the couple embarked on the redesign, taking on most of the DIY projects themselves, partly due to budget but mostly due to self-determination. 'I love picking up new skills but most of all it's the sense of achievement that really does it for me.' says Chloe. 'My husband and my dad get roped in with the heavy lifting and are usually happy to muck in.' Inspiration came from the home's industrial surroundings, but Chloe loves to mix things up a bit, too. 'I love nature, so there are lots of outside-in elements to our home, such as the reclaimed wood and expanding plant collection.'
The redecoration began with the open-plan first floor space, comprising kitchen, diner and lounge. Since they didn't have a huge budget, they decided to make use of the existing fixtures and fittings where they could. 'Luckily the kitchen units and surfaces were newly installed.' says Chloe. 'Solid wood worktop and plain white-fronted Ikea cabinets – there wasn't too much to protest about there. But the tiles weren't working for us, so we decided on a white subway with grey grout as the main change. I also fixed reclaimed floorboards to the back wall, adorned with lots of bohemian and quirky finds.
The dining space was where Chloe's love of repurposing materials was born. She continued the wooden rustic element with floorboards to the wall covering boxed-in pipes. 'The table was made by bracing scaffold boards together with lengths of 4x2 and fixing hairpin legs from B&Q,' she says. 'We added pendant hangings above to finish the industrial look.'
In the lounge, the previous homeowners had left behind some of their existing furniture, including the high gloss veneered media centre. 'This posed a bit of a predicament, because it isn't really the sort of thing we'd go out and buy, but it fits really well in the space, and the storage it provides is much needed,' says Chloe. 'I had to get my thinking cap on and figure out a way to revamp it.'
The solution ties in with Chloe's love of industrial and natural design. 'The original unit came with glass shelves and a glass backing. I decided to bring in the reclaimed elements to link everything together. I clad the back board of the unit with pallet wood and fitted three hanging hammered copper light shades from the overhanging top units. I'm so pleased with how it all came together – the unit doesn't look at all out of place now and the transformation cost me the price of the shades and an electrician to fit them.'
In the bedroom design, Chloe wanted to achieve a space that was tranquil, cosy and relaxing but also gave a sense of 'get up and go' when the couple woke each morning. The end result fits the bill perfectly. 'We opted for very natural green tones and white furnishings combined with raw reclaimed materials including scaffold boards and pallet wood,' she explains. 'It's a really lovely room and a great space to start and end each day in.'
In her daughter Esme's bedroom, Chloe gave an Ikea chest of drawers a facelift with paint, and she hand crocheted a few blankets. 'I also made her some toys, such as the wooden camera and amigurumi crocheted pear. The Kallax unit was upcycled by adding hairpin legs, and I used a lino printing technique to add an ice cream print to her blind. Delicious!'
The bathroom is yet to be redesigned, but Chloe has given it a quick mini makeover. 'I haven't yet made any final decisions on what I want to do with our bathroom,' she says. 'It may be a while before we can justify it. In the meantime, I painted the shelved section and added some accessories.'
The ground-floor playroom features handpainted murals and plenty of handmade items, such as the teepee. 'The tree stump pouffe actually houses an old tyre,' Chloe says. 'I topped it with MDF and foam and covered with an old velvet curtain I found in a charity shop and some felt. I also repurposed some Ikea spice racks to make the girl's bookshelves, and the high-gloss cabinet that houses our boiler was also given an update. I replaced the doors with OSB and now it doubles up as a memo board. The girls can pin their favourite things and artwork to it.'
As the flat roof needed a new waterproof membrane fitted, the couple decided to go the whole hog and make it a roof terrace, part tiled with click-together tiles from Ikea and part laid with artificial lawn. The property has a pretty small garden, but since the couple have the roof terrace as their 'adult' zone, that space is definitely the girls' territory.
Chloe's favourite rooms in the house are the children's, which are full of colour and energy. 'I love the way they make us feel – they're playful and a bit whimsical,' she says. 'They remind me to not take life too seriously and to let loose and have fun from time to time. The girls are always giggling and being silly and their rooms reflect their vibrant personalities. I loved the design process and creating the girls' rooms – it felt great to reconnect with my inner child!'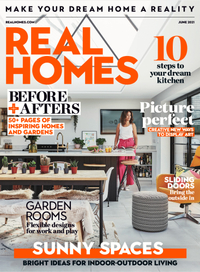 Subscribe to Real Homes magazine
Want even more great ideas for your home from the expert team at Real Homes magazine? Subscribe to Real Homes magazine and get great content delivered straight to your door. From inspiring completed projects to the latest decorating trends and expert advice, you'll find everything you need to create your dream home inside each issue.
More reading