Modern kitchens have evolved into multifunctional hubs where anything and everything happens – and we mean everything – so only the best kitchen ideas will make the cut. Whether you want to see big or small changes in your cooking space, you've got to play to your decorative taste, household needs and budget too. Thankfully there are lots of different ways to upgrade your kitchen, without going in for a full remodel.
From carving out an early bird's home cafe station on a new island, to designing a family-friendly spot for feasting, food prepping and/or doing homework, the kitchen sees all the action – blood, sweat and (onion chopping) tears – so how can you make yours beautiful while you make the best use of your space and budget too?
Kitchen ideas that impress on all levels
Consider the following a style 'recipe book' of favorite and inspiring kitchen designs and ideas, with dollops of expert decor advice stirred in for good measure. Whether you're on the hide and seek for simple storage to achieve pantry perfection, or yearning to learn how to fathom logistical layout mazes, or perhaps pondering the effects of different colors on your cabinetry, there's a kitchen idea and solution to season every space and serve up the sauce style!
Bob Bakes, co-founder and head of design at Bakes & Kropp, comments on kitchen upgrades: 'When our clients are looking to treat themselves to a kitchen upgrade, their wishes fall under three categories: visual upgrades, mechanic upgrades, and activity center upgrades.'
He continues: 'Visual upgrades impact the way that people feel in a space. To visually upgrade your kitchen, consider elevating the color content in the space by using a bold new paint color on the cabinetry. You might also consider substantially upgrading your kitchen island, by adding a furniture-like piece to your space. If you don't want to go through an extensive renovation, you can still increase the visual impact of how the island presents itself by installing a different countertop material or combination of countertop materials. Mechanic or equipment upgrades are a way to add a bit of excitement to your kitchen. You might choose to incorporate a steam oven, a speed oven, a coffee center, or a wine chiller—just to name a few. These upgrades add an extra use to the kitchen space. Activity center upgrades will increase the overall usability and community function of the kitchen space. Think about adding a desk and study area to your kitchen, or perhaps a coffee center or wine storage area.'
1. Update your kitchen cabinets with paint
If you like the current layout of your kitchen and the 'bones' of your cabinets are perfectly fine, but you just aren't keen on the color or finish, painting them is the answer. Painting kitchen cabinets is the quickest and cheapest way to make an old kitchen feel like a totally new space. You can do it yourself too – just follow our guide to painting kitchen cabinets. Make sure you use the best paint for kitchen cabinets too.
2. Go for a bold color and simple cabinets
We encourage you to be bold in your color choices too! We love the Mid-century vibe of this kitchen – the oranges and yellows are have a retro feel that just makes the space feel sunny and fresh. Keep the walls and floors light and it's doesn't overwhelm the space at all, in fact it looks really fresh in this Mid-century kitchen.
3. Add color and texture with a tiled wall
Something else you can do to your current kitchen or plan into your new kitchen design, is a completely tiled wall. Really practical in a kitchen, tiled walls are easy to clean and perfect for areas that get splashed a lot or get splattered while you're cooking, but they also can add so much interest and texture to a kitchen. See them as feature walls – to bring color and even pattern into the room.
We love these green tiles and how each one is unique, you can find similar ones at Tiles Direct, and if you want any more tips on how to choose kitchen tiles, head over to our guide.
4. Retile a backsplash for a pop of color
If a whole tiled wall doesn't take your fancy, why not just make a change by retiling your backsplash? Again it's a job you can do yourself too if you want to keep costs down, and will only take an afternoon. Just check out our guide to how to tile a backsplash for practical steps.
Since a splashback is usually such a small area you could be bold with your choice of tiles too. Choose a color or a pattern that could start a whole new color scheme in your kitchen. We love how this blush pink works with the sage green – a color combo we will definitely be trying out ourselves.
5. Mix and match unexpected colors
Blue and green should never be seen right? (or is red and green? Pink and green?) Anyway, it's all wrong! We love combining the sea-like hues to add depth to a room. They work particularly well in this light and bright kitchen extension – bringing color and texture into what would otherwise be quite a traditional kitchen.
6. Wallpaper a kitchen backsplash
Yep, it's a think and a great way to change the look of your kitchen on a budget. Obviously we wouldn't recommend you wallpaper an area that's going to get constantly wet – say behind a sink, but to add some color and pattern behind a worktop it works really well. Just make sure you have sealed it properly.
7. Create an exposed brick wall in your kitchen
Now if you are lucky, you will find beautiful bricks under your plaster and it can be a straightforward, if not slightly messy, DIY project to expose. We have a guide to how to create an exposed brick wall if you want a step by step, but it basically goes like this: strip back layers of plaster until your get to the original brick; once you've got to that and it's in good condition you can do what you like with it; leave it bare (but coat it with a suitable clear finish to stop it shedding), paint it, hang shelves on it.
8. Panel your kitchen walls
This kind of shiplap style paneling is bang on trend at the moment – it's a subtle way to add interest into your kitchen and a bit of a rustic feel too. If you are experienced with DIY you can actually create this look yourself with cladding or get a joiner to help you out. And of course, you can always cheat the look with a panel effect wallpaper.
9. Paint your kitchen walls for a fresh new look
Want a less messy kitchen idea? Just paint your kitchen walls with a new fresh coat. Pick a different kitchen paint color to your current walls to make the space feel new and add some hints of the new color to the rest of the room to create a whole new feel.
10. Hang wallpaper to add pattern and texture
Wallpaper is a great idea for a kitchen if you want some pattern and don't want to spend too much money. Chances are in a kitchen you won't want to cover all your walls with wallpaper, as most walls will be covered in cabinets anyway. That means you could just add a feature wall, treat yourself to a couple of rolls of your dream kitchen wallpaper and hang it yourself. An update for under £100!
If you want to learn how to wallpaper just head to our guide.
11. Mix traditional wallpaper into a contemporary kitchen
When your kitchen is predominantly white and sleek to boot, choosing a wallpaper is actually a dream. Why? Because a white kitchen is a blank canvas and therefore pretty much anything goes. What we love about this kitchen is that the chosen wallpaper – Gable by Farrow & Ball– shows village and farmhouse scenes which at first thought may not match due to being quite trad, yet the stylized design works really well in this modern kitchen.
12. Throw down a kitchen rug
Kitchen floors looking tired? A rug can cover many a sticky lino sin. And before you go thinking rugs aren't practical in a kitchen, they can be, you just have to choose the right fabric, color and pattern. Top choice for us would be a hardwearing jute rug that will hide scuffs and stains. You could also go for a rug that's already 'worn' – you know the ones that already look they have been in someon's home for decades. Check out Wayfair for loads of affordable options.
13. Put up prints for a quick kitchen makeover
Even the small things can make a big difference. Hanging up some prints in your kitchen will bring in color and pattern plus fill a blank space that's just going unused. Depending on your space you could have just one large prints – this always looks very cool in a small kitchen when you don't want too much fuss – or you could create a gallery wall.
14. Create simple displays using your kitchen utensils
You all have utensils right? Well, then you have decoration. You see this in lots of Scandinavian kitchens, mostly because it's practical, but it's a bonus this display looks cute too. All you need is a peg rail to hang your nicest spoons, pans and very stylish string shopping bags from and there you have it – a quick Scandi-style update.
Take a tour of the rest of this Victorian country cottage for more ideas, it has loads of lovely Scandi elements.
15. Or go overboard on the displays to create a country feel
Be sure to fill up shelves with lots of lovely knick knacks – crockery, cookware, jugs, flowers, plants, prints, anything and everything that looks pretty. It's these kinds of eclectic displays that will instantly add a rustic kitchen feel. Again, look out for decor in charity shops – our go-to place for weird but wonderful things to decorate your open shelves with.
16. Mix in plenty of textures for a kitchen filled with personality
How glorious is this rustic kitchen?! And you can get a similar look in your kitchen – the key is textures! Adding baskets is a really simple way to do that, plus they mean extra storage too. If you can find them second hand on Ebay or Etsy you'll get the most rustic look, but Amazon sell some cute baskets too for fab prices.
17. Got spare floor space? Add a pantry for plenty of extra storage
Adding pantry storage into your existing kitchen or your new kitchen design is great if you have the space. Not only do pantries look lovely, but they are also really practical if you need plenty of storage and your kitchen cupboards just can't hack the amount of stuff you have.
You don't need totally start from scratch to a pantry either, just see if there is anywhere in your current layout you could put up a stud wall or maybe you have a laundry room or garage that could double up as a pantry. You could also invest in a pantry cupboard so no building work would be needed – just check out the Cotswold Company for plenty of lovely options.
18. Incorporate an island to add surface space and seating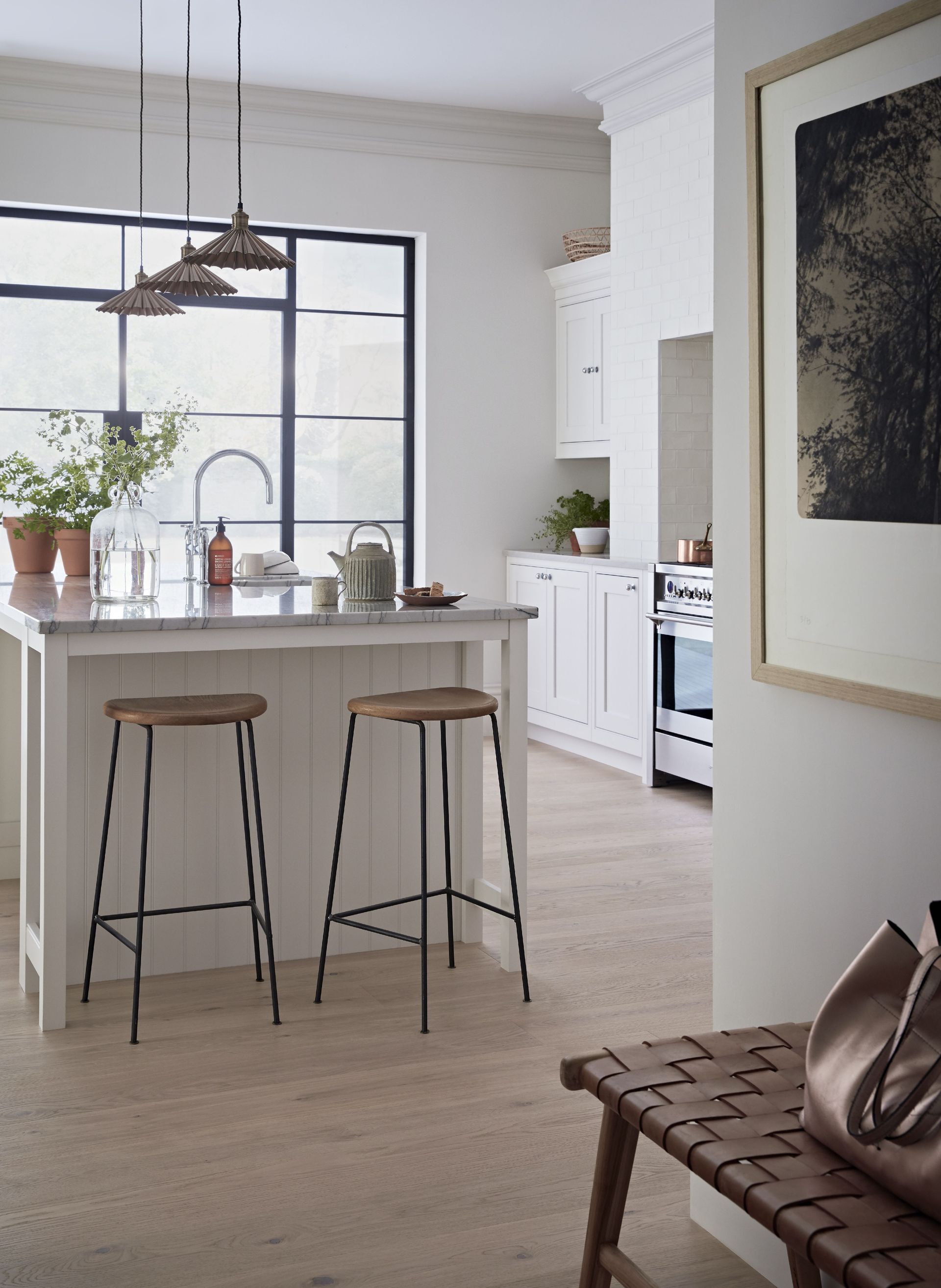 A kitchen island is another great kitchen idea, and again you don't have to be buying a whole new kitchen to add one to your current space. You can buy a kitchen island separately or even pick up something like a butcher's block secondhand for a similar effect.
19. Make your kitchen island be the main part of your space
When it comes to kitchen ideas, we do tend to think of traditional wall and floor cabinets as being a must, but what if in fact all your space needed was a sizable kitchen island? Keep the walls and floors at the edges of your room free of furniture and just have a kitchen island in the center – sink, oven, and storage all built-in! Perfect if you have an open-plan space.
20. Or add an instant DIY kitchen island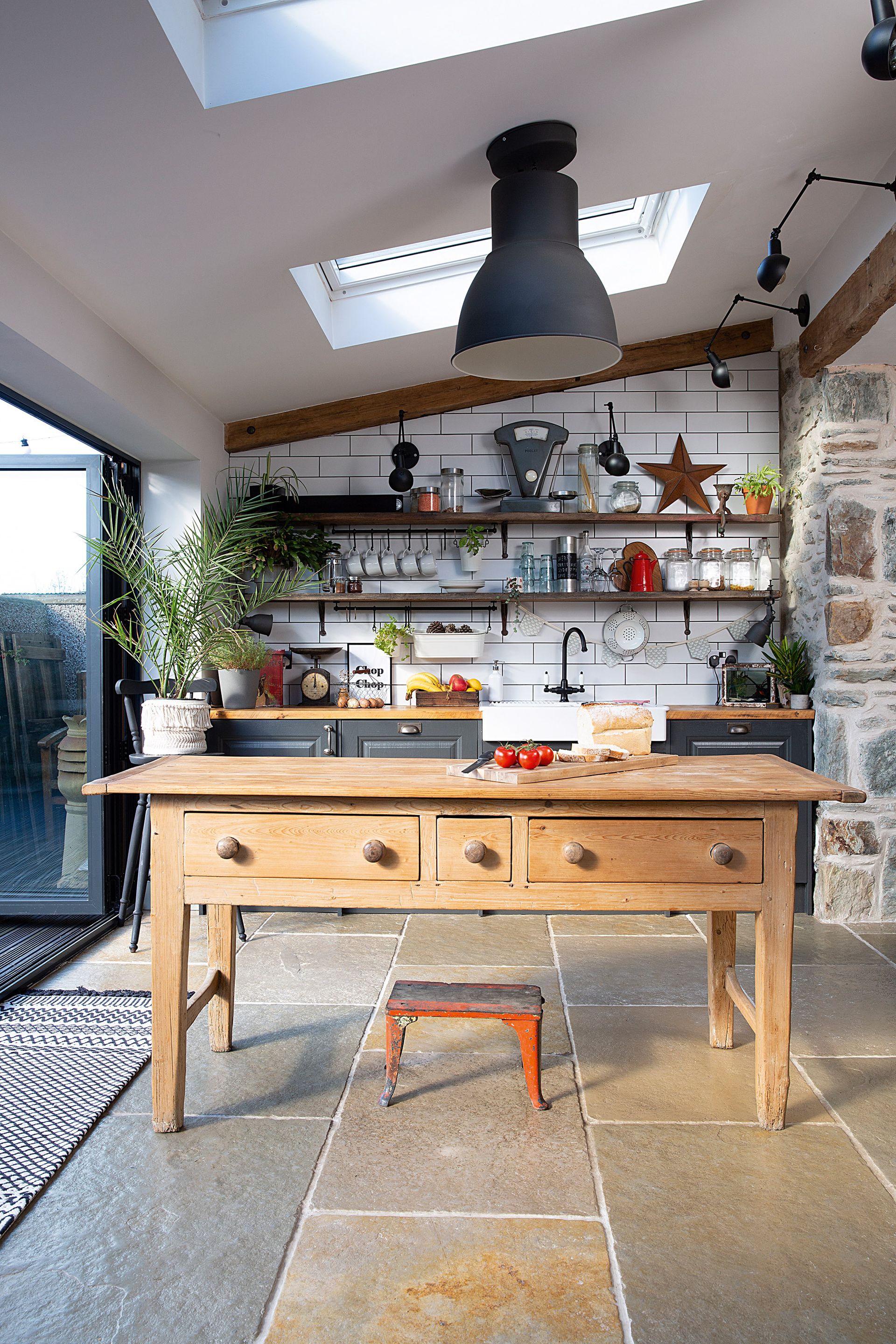 In case you didn't already notice, this isn't an island. Surprise! It's actually just a vintage find, a table or a desk, that has been popped in the middle of the kitchen, giving an instant island. Very clever!
Kitchen islands are really practical addition, but there's no denying they can be expensive, and sometimes you even need a kitchen fitter to install one. However, buying a cute second-hand piece of furniture and positioning it correctly, can give you a very similar effect. Have a look out on eBay for a bargain buy that will add style and plenty of extra storage and surface space to your kitchen.
21. Tile your island to add pattern and texture
You can make a kitchen island even more of a feature in your space by simply tiling it. It's an easy DIY job, but can make an amazing difference. You could make this even easier (and cheaper) by using tile stickers. Check out all the options of Etsy, they even have this exact pattern...
22. Add a metallic finish your kitchen island
A all gold kitchen might a little much (but hey you do you) but a gold island? The perfect amount of metallic without going overboard. A textured, almost worn gold works well with so many colors too – deep blues, greens, grey, black and this of course this gorgeous coral.
23. Create interest with open shelving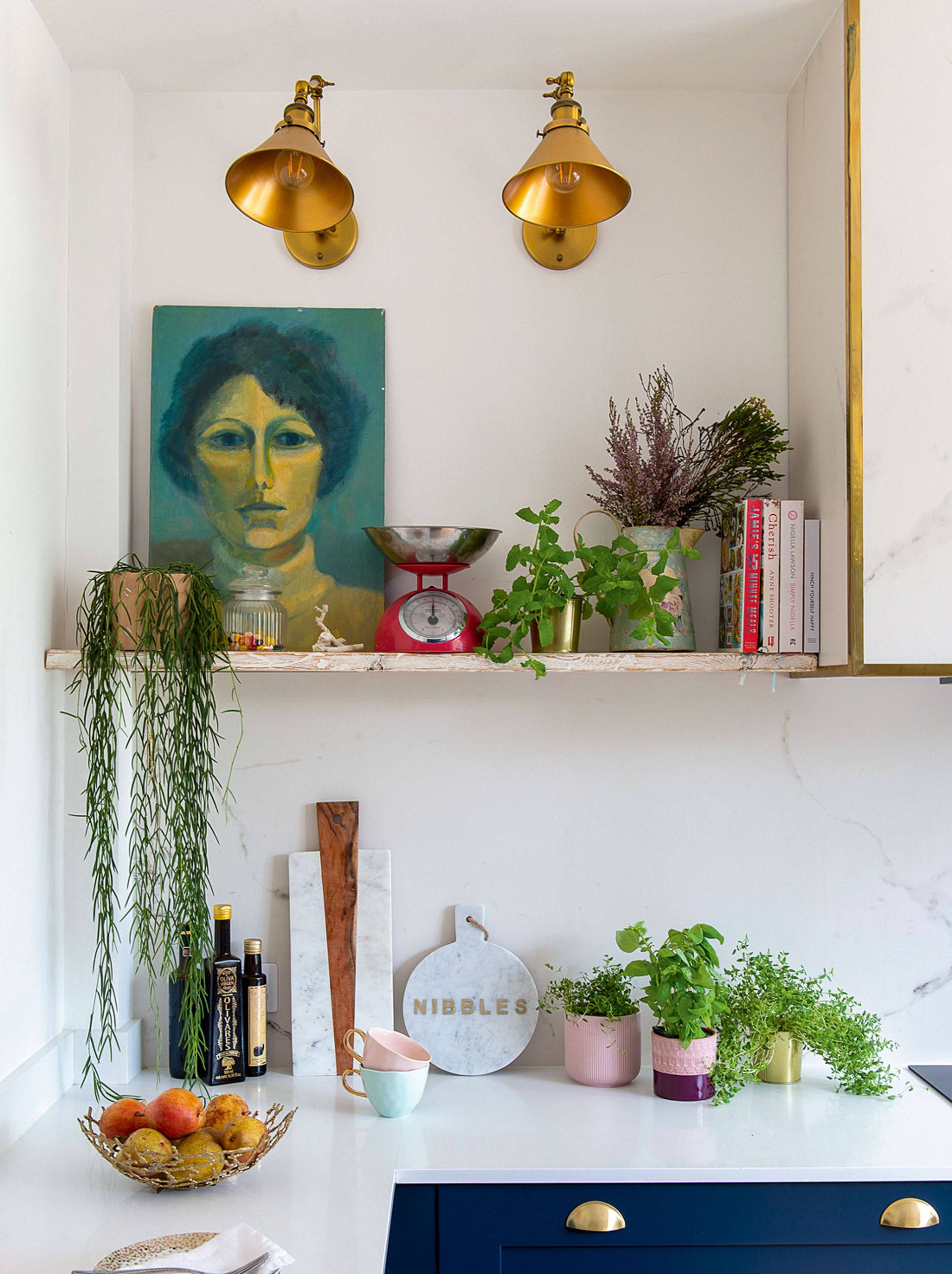 We love open shelving as a kitchen idea. They add texture and interest and personality to a space that can otherwise be quite void of stuff that isn't, well... kitchen-related. Use open shelving ideas to display your nicest crockery, but add prints and photos and house plants too. Maybe pick a few key colors and use them to start a new color scheme in your kitchen – it could be all your kitchen needs to feel refreshed.
24. Or hang a wall unit to display crockery
See how much color this shelving unit adds to this space? For such a quick and cheap kitchen idea, it can really give your space a good revamp. We love the light, industrial feel of this wall unit, and, you can find really similar designs at Cox and Cox , while Etsy has some nice options too.
Check out more of this lovely, colorful family home.
25. Bring a bookshelf into your kitchen
Loving the vibrant colors in this kitchen, the space looks so bright and cheerful. But actually, the core of the kitchen is very neutral and what brings in that color is simply books and a few accessories. We have always said if you have books you have decoration and that applies to decorating your kitchen too. A freestanding bookshelf is not only a practical addition, it can add instant color and personality to your space.
26. Add an industrial edge (and save space) with butcher's hooks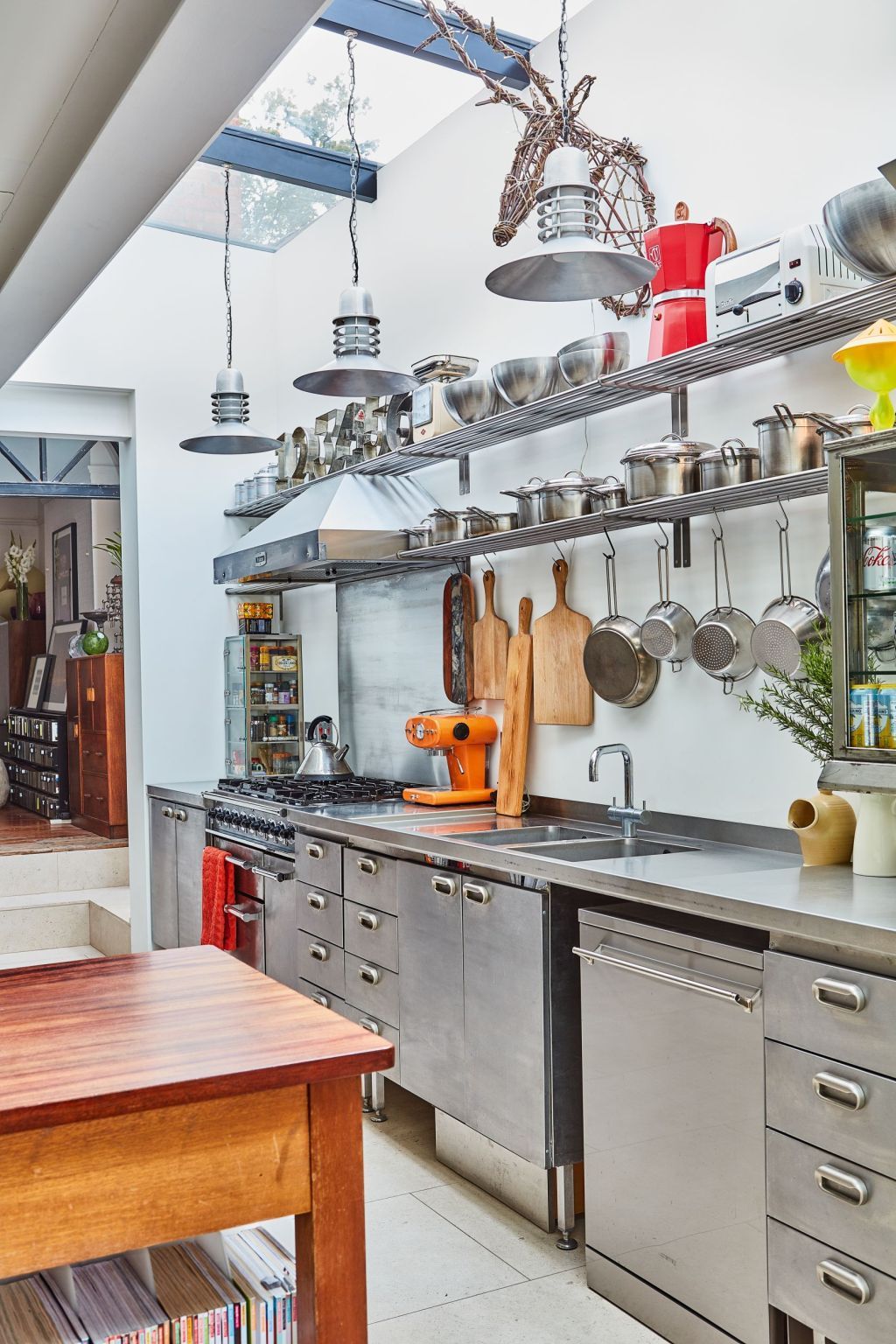 Suspending a rail above your worktop is a fast, easy and cost effective kitchen storage idea. This is the perfect way to hang those awkward pots, pans, measuring cups and sieves that often clutter up your cupboards. The slated shelves in this kitchen have butchers hooks hanging from them, doubling up the storage. It frees up the kitchen drawers and makes a feature of practical items. Nifty!
27. Add plenty of quirky displays for a rustic retro look
Fill up shelves with lots of lovely knick knacks – crockery, cookware, jugs, flowers, plants, prints, anything and everything that looks pretty. It's these kinds of ramshackle displays that will instantly add a rustic country kitchen feel. Loving the slightly retro feel of this color scheme too.
28. Swap kitchen doors for curtains
Love Scandi interiors? This a kitchen idea for you. The Scandinavians are really clever at balancing the hard surfaces in their homes (think wood flooring) by adding layers of fabrics. In a Scandi kitchen, it's typical – and rather lovely – to have cushions on dining chairs and curtains instead of base cabinet doors.
It's an easy update too and you can make curtains for your kitchen doors yourself. Simply pick out a fabric, measure it to fit your cabinet, allowing for a bit extra so it pleats and hangs nicely and then sew a fold at the top of the piece. Thread through a curtain wire and there you go.
29. Use slimline units to maximise space
If an extra run of units down one side of your kitchen would leave you with barely enough room to squeeze through, Jo at @cloud_nine_interiors has a clever trick for you: reduce the depth of the cabinets down one side of the room. You'll keep a decent amount of floor space while gaining extra worktop and storage space – it's a win win.
30. Add don't be afraid of clutter
In smaller kitchens, you tend to be afraid of 'clutter' and honestly we have given the advice of 'less is more' in a small kitchen many times, but sometimes stuff is exactly what a small kitchen needs. Hang pots and pans on show for a pretty but practical storage solution, fill your walls with shelves to display your crockery, add plants and prints too – bring personality into your space no matter what the size.
31. Choose freestanding furniture for a flexible kitchen
We all love the look of freestanding kitchens – they are so lovely and personal. They are also relatively cheap to create, too, so if you are doing up a kitchen on a budget it could be a good option. You can find lots of pieces secondhand in reclamation yards, charity shops, and Ebay. You could also add freestanding elements to your current kitchen with dressers, islands and shelving units.
32. Shop your own home for freestanding furniture
Fell in love with a piece of vintage furniture but just can't make it work in its current space? See if you can repurpose it in the kitchen. You would be surprised what you can make work – use a chest of drawers to store pans, an old shelving unit for cookbooks, or a console table for your best crockery.
33. Mix and match your freestanding kitchen units
Because a freestanding kitchen does away with the 'matchy matchy' element, you can invest in beautiful bespoke pieces that will fit into those awkward spaces that normal sized units won't. It's worth checking out specialist companies as they will happily create a masterpiece like this stunning dresser to complement the rest of your kitchen design – and we love how it matches the range cooker!
34. Go freestanding even in a small kitchen
While a small fitted kitchen can be an efficient use of space in a smaller kitchen, if you like a more relaxed look you can mix in some freestanding units too. Just pick pieces that are as functional as they are good looking and avoid really solid pieces that will close in the space – pick pieces with shelves and open backs so light can still get around the room.
35. Add a butler sink for an instant rustic feel
Another update for your current kitchen, or to consider in your new kitchen design, is switching up the sink. A new sink style, plus a few decorating tweaks, can totally change the feel of a kitchen. Butler sinks are popular at the moment for adding a rustic country feel to a space, so have a look and see if you could replace your current sink with one – they are quite deep so you may need to replace that entire unit to make it work.
If you want more advice on how to choose a kitchen sink, head over to our advice page next.
36. Pick handle-less cabinets for a contemporary look
If you are after kitchen ideas that will create a clean, contemporary feel, choosing handless cabinets is a guaranteed way to get that look. If you aren't buying a new kitchen, you can switch out your cabinet doors for something more modern. A lot of sizes are standard so you could easily find replacements. Also, check out companies who make door fronts like Plykea and Naked Doors.
37. Or change up your current hardware
Replace all the knobs and handles, easy peasy. You would be surprised how much of a difference it can make; if you are after a more modern look, pick out simple T-bar handles (black is super on trend right now) and for a more traditional vibe switch your handles to a cupped style. We love John Lewis and Anthropologie for hardware, and just think, new handles are way cheaper than a new kitchen – so, go on, treat yourself to handles you really love.
38. Choose a classic all white kitchen that'll never date
Let's talk about kitchen colors. As we said earlier, you can change the color of your kitchen cupboards using just paint, but do put some thought into the overall feel and look you want to go for. What is the natural light like in your kitchen? What is the color of your existing furniture and decorations?
All white kitchens are bang on trend at the moment and they are classic, they won't date and they give you a nice blank canvas to change up the overall look as styles come and go. If you are the kind of person who likes to change their home often with the trends, a white kitchen would be the way to go.
39. Contrast your white kitchen with a deeper color
And to ground your all-white kitchen and to create a focal point, add in a deeper more dramatic color like a dark blue, green, or black. Here the island provides the contrast but if you don't have an island you could paint a feature wall, choose a dark colors floor or tile a splashback in a darker hue.
40. Pick a grey kitchen for a classic look
Grey is of course always a popular kitchen color choice and is definitely more practical than white – something you might want to consider if you have young children or pets. They are also so many hues and shades of grey you could go for, from light cool tones to really dark and dramatic colors.
Like white, grey is great backdrop color that you can easily pair with other colors to create new looks. We have a whole gallery of grey kitchen ideas if you want more inspiration and to see how different grey tones look in a space.
41. Or go for bang on trend dark kitchen ideas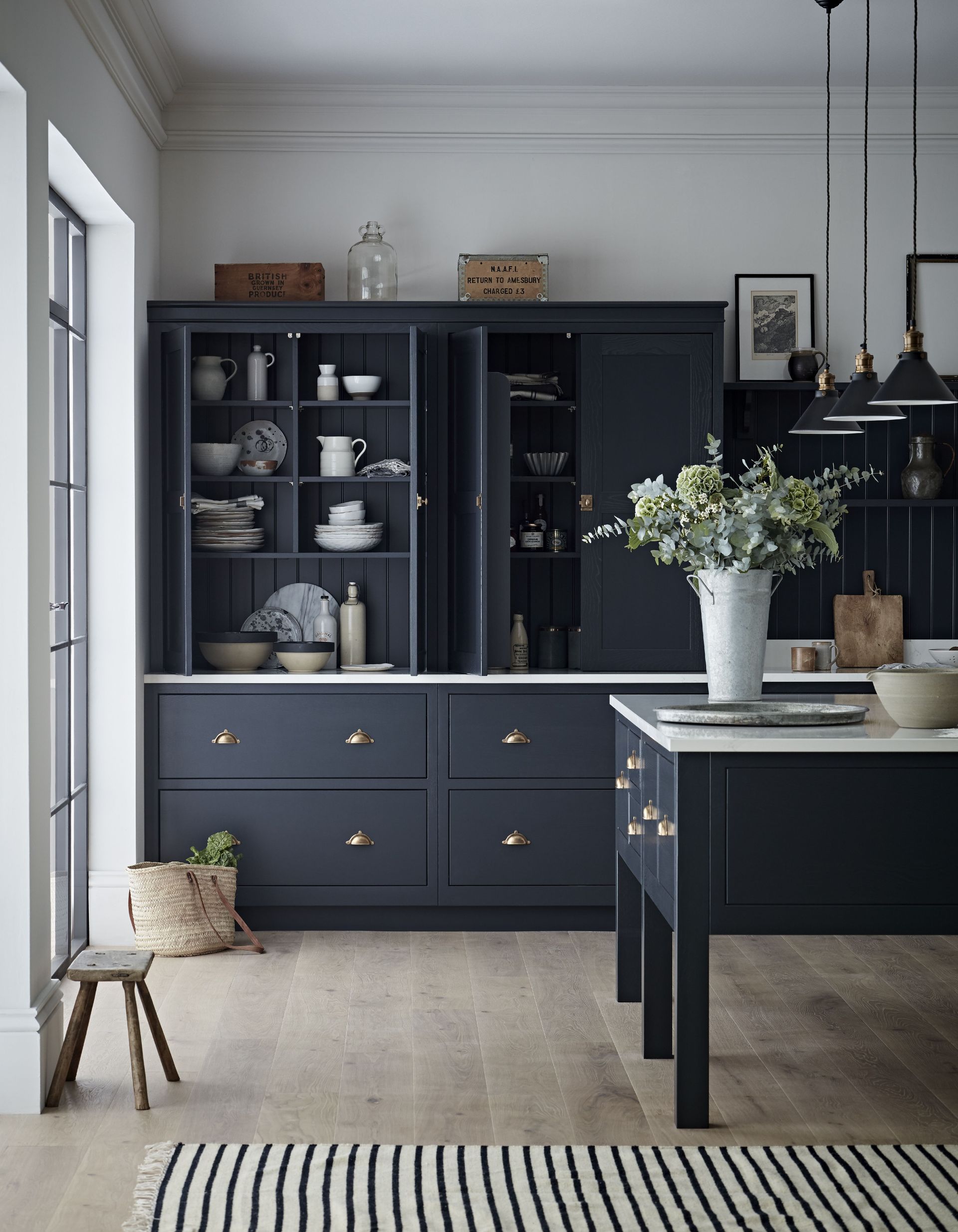 If you want kitchen ideas that will add some drama, choose a dark color for your cabinets would do that instantly. When we first saw dark or even black kitchens increasing in popularity, we were sure they would date within a year, but they have been going strong for years now. A dark blue kitchen is as popular as a grey kitchen nowadays.
42. Be bold and choose a colorful kitchen
And at the other end of the spectrum, choose bright kitchen cabinets! Best thing about being able to paint kitchen cabinets is that if you tire of a color you can always paint over it. We love this bright sunny yellow, but we've been seeing green kitchens popping up on Instagram more frequently and even pink ones! Check out more colorful kitchens in our gallery.
43. Mix and match your kitchen cabinets
Can't decide on one color or finish for your kitchen cabinets? Just mix and match! Bare wooden cabinets look lovely combined with painted ones, and different colors work well too. If you do go for the two-tone look, just take some inspiration from this kitchen idea and keep the rest of the room quite simple and minimal – let the cabinets be the focus.
44. Keep walls free of cabinetry
This is where practicality and design clash a little... but IF you can do without all that extra wall space, it's worth the sacrifice because it will make your room look wider and larger and lighter. Can't do without wall storage? Pick cabinets with glass fronts to create an impression of depth, and display your nicest looking kitchenware in them – we're talking glasses, plates, crockery. Think you're a neat-freak? Open shelving with an artful display of kitchen must-haves can open the room out even more. See more of this renovated Victorian terrace in our feature.
45. Create a cool Mid-century feel with simple wooden cabinetry
Mid-century design is a classic, and our love for this retro look isn't going anywhere so bring some of this vibe into your kitchen. Deep, walnut woods are synonymous with the era and look amazing when used for simple, cabinet doors. Combine the darker wood with bright yellows and oranges to lift the space and give it even more or that retro feel. Check our Ikea's Voxtrop doors for an affordable option.
46. Choose a cottage kitchen feel with wooden features
Cottage kitchens always look lovely. There's something just irresistibly cozy and homely about them. If you have been blessed with an abundance of original features in your kitchen you won't have to do much to create that rustic feel. If you live in a modern home and still want that cottage look, we think the easy way is to add plenty of texture and wooden accents. Choose a wooden farmhouse table, put up wooden shelves and decorate with nice traditional pieces, such as vintage crockery and cookware.
47. Or create a rustic vibe in a modern kitchen
Because a rustic kitchen doesn't have to mean traditional and cottagey, there is the side of rustic style that's more boho and would suit modern kitchens. Again it's just about adding texture – look at this kitchen, nice simple cabinetry that keeps the space contemporary and then the plants, the wooden shelves and the mix of chairs give it a more unfinished, rustic edge.
48. Choose a Shaker kitchen for a timeless style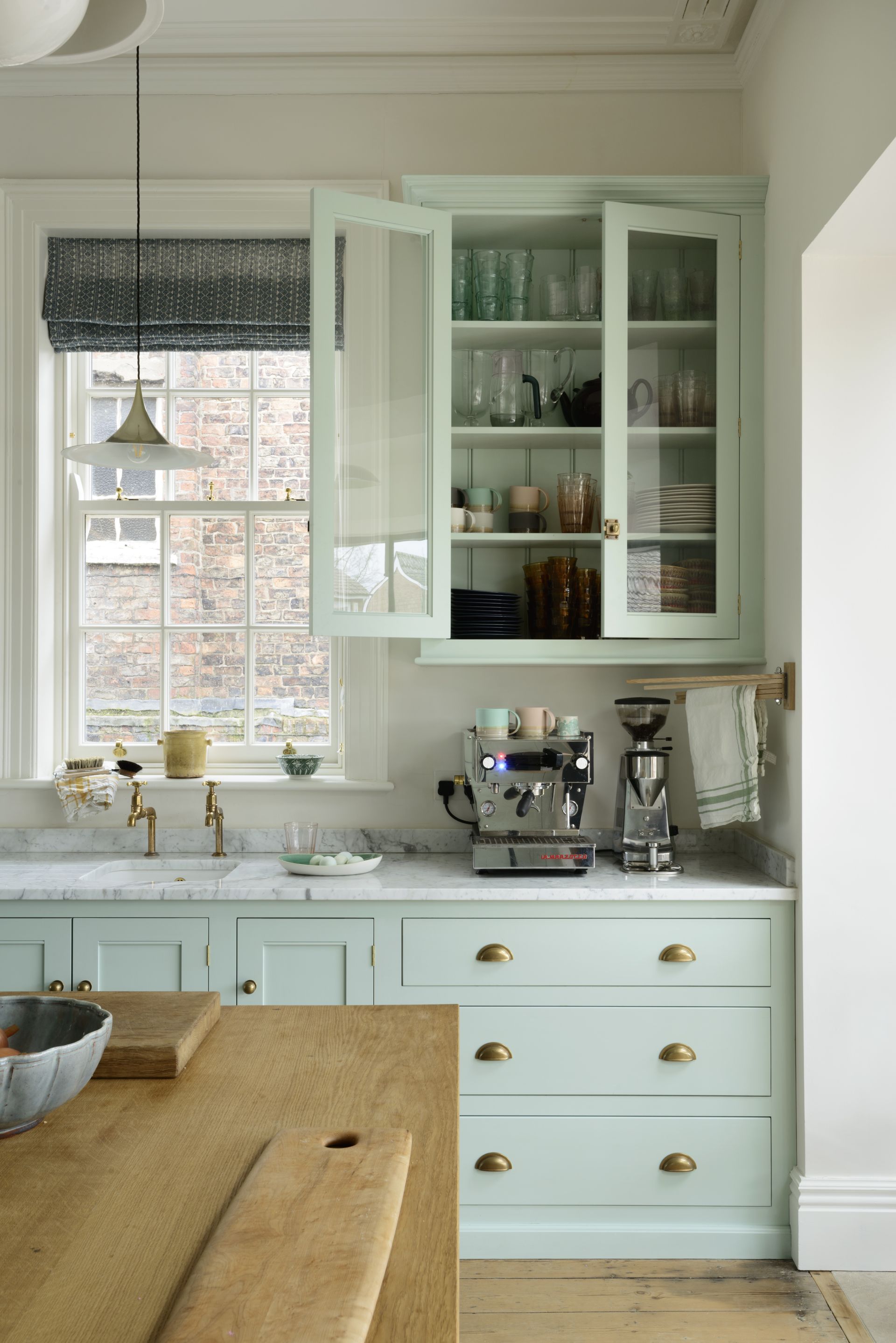 If you are after kitchen ideas that are never going to date, a Shaker design is just that. Simple, chic and really adaptable a Shaker kitchen will work in modern or traditional homes and because they are so plain, you can really add your own style and personality.
49. Use design tricks to make a small kitchen feel bigger
After small kitchen ideas? Well we have plenty over in our small kitchen gallery, but our top tip would be to keep things light and airy. We know it's nothing groundbreaking, but paler colors do make a small space feel bigger – it's interior design 101.
You can add color with decoration but keep the bones of the kitchen nice and neutral. Opting for pale flooring and walls will, of course, help too.
50. Install practical wooden kitchen flooring
Speaking of flooring, this is also a key part of your kitchen design and something you can do to update your current kitchen. You have to make practical choices in your kitchen – something that is hardwearing and easy to clean. That means hard flooring is the best option – wood flooring, vinyl, tiles, and so on. Herringbone flooring is very on trend at the moment, and it adds a subtle hint of pattern, which we like. If you are looking for a budget-friendly way to get this look, they are loads of really authentic-looking vinyl options our there that will achieve a very similar look.
We have a whole guide to kitchen flooring to help you make some decisions.
51. Add subtle pattern to your kitchen with floor tiles
As we mentioned, tiles are a pretty and practical choice for kitchen flooring. The floor is a great place to add bolder patterns, as they won't overwhelm the room as they might if they were on the walls. There are lots of different types of tiles you could go for, from stone to luxury vinyl, so head to our feature on patterned floor tiles next to see all the options.
52. Invest in natural stone kitchen flooring for lasting looks
Stone can be an investment –but it will last as long as your kitchen does, longer in fact and brings such a lovely farmhouse feel to the space. There are loads of colors and tones to choose from too, from a dark grey to something like this warm beige. You can lay them how you like too, make more a feature of them by laying different sized slabs or keeping it simple with a square pattern.
53. Change up your kitchen flooring with paint
Got floorboards in your kitchen? Paint them! This was a massive trend last year and looks like it will continue to be into 2020. White is an obvious choice for a sleek, modern look, but you could be brave and go for a dark moody color or even whack out the stencils. We've put together loads of ideas as well as a step-by-step on how to paint floorboards in our guide, so go and check that out.
54. Change the worktops in your current kitchen for a new look
If your old kitchen worktops have seen better days you can usually replace them without having to rip out your whole kitchen. You could replace with like for like, but we think if you want your kitchen to feel like it's had a proper refresh, choose a different material.
We talk you through the pros and cons of all the different types of kitchen worktops in our guide so have a read through that to see what would be best for your space.
55. Switch out your kitchen lighting
A well-lit kitchen can make all the difference, so make sure your kitchen lighting is considered really early on in your design process. You will need different layers of lights and different types for different tasks.
Pay attention to how you use each part of the space to decide which kitchen lights you need where. The overall look of your kitchen lighting should complement the kitchen's style, too obviously.
If you aren't designing your kitchen from scratch, switching out your kitchen lighting to something more statement or even just something more effective could make all the difference.
56. Use your kitchen lighting to zone your space
As well as bringing style into your kitchen, lighting can also zone your space – something that's particularly important if you have an open plan kitchen.
You'll need strong task lights above surfaces and islands (note the low hanging pendants here) but something softer and more design led than practical for any living spaces you might have in your kitchen.
57. Pick pretty but practical kitchen window dressings
Kitchen window treatments, of course, need to look stylish but firstly they need to be practical. Curtains, for example, just aren't going to work – you need something that doesn't take up too much room, are easy to clean and can cope with the odd splash of water.
For that reason, our top choice would be shutters, they obviously look gorgeous too, are long-lasting and, in our opinion, worth the investment.
If, however, you are after a cheaper option, kitchen blinds do just as good a job.
58. Think about the positioning of a kitchen table
If you have, or are planning to have, a kitchen table in your space, think about where it would fit best and plan your design around that. For example, if you have a bay window in your kitchen, that would be an obvious choice as it's not somewhere you would be building cabinets anyway.
Don't be afraid to push a table up against a wall either: this will save you on space and you can always pull it out if you need to seat more people.
59. Add light to your kitchen with a wall of windows
How gorgeous is this kitchen? And it's made all the more gorgeous by it being so light and airy. That's obviously thanks to the wall of black metal-framed, Crittal-style windows (very stylish) running along the outer side of this space.
Speak to your builder to see if this would be a possibility in your current kitchen. While, if you're planning a kitchen extension we would recommend large windows and doors every time.
60. Go bold even in a small kitchen
Looking for kitchen ideas that make an impact even in a small space? We know that we always say that in small spaces you should keep everything white and bright and light, but sometimes contrasting colors can have a similar space-enhancing effect.
We love the blue and yellow combo used in this kitchen. And note the rug on the floor, it's tiny but makes the floor space look much bigger than it is.
61. Go for a Scandi look with pale wood and sage green
For the quintessentially Scandi style kitchen, look no further than this beauty from Ikea. It's part of the METOD system which is really flexible and we love how it is styled with the LISABO/RÖNNINGE table and chairs with their ash veneer/birch finish and the KNIXHULT bamboo pendant.
The marble effect splashback looks great with the soft green units and teamed with the wood you get an all round natural feel from this kitchen.
62. Embrace the cottagecore trend in your kitchen
So what exactly is cottagecore? In short, cottagecore is an aesthetic that started life on social media. It's all very wholesome, pastoral and based around rural life. It's definitely a result of us all spending more time at home this year and wanted to be out in nature more.
When it comes to kitchens, cottagecore is basically just like a country kitchen – a bit cluttered, full of cute china in French dressers, neutral creamy colors and jars of foliage on every surface. For more country kitchen ideas check out our gallery.
63. Add interest a neutral kitchen with textures
This gorgeous kitchen by deVOL is a neutral lovers dream. However, despite the limited, monochrome color pallet the space is still soft and rustic because of the wood panelled doors the creamy walls and the mix of woods.
The texture of the wood is really clear too thanks to all the natural catching on the wood – lovely lovely stuff! Plus the simple, un fussy design works perfectly with the galley shape in this smaller space.
64. Combine grey and marble for a luxury touch
Want your new kitchen to instantly feel more luxurious? A classic mid-grey and plenty of marble is sure to do. And if budget is tight, go with a laminate 'marble' worktop which is a quarter of the price and you can pick up some really convincing ones now too.
65. Create a seamless look with a single color
Painting your kitchen all one color – walls, cabinets, shelving, the lot can work really well if your kitchen is on the smaller side. Using a single, bold color blurs the edges of your room, alluding to more space. You have to then add interest and contrast with crockery, lighting and hardwear.
66. Add personality and soul with kitchen essentials in organic forms
The kitchen is the heart and soul of the home, where households and families congregate, cook, socialise and share mealtimes and happy moments together. Create a welcoming space, full of cozy flock-and-gather appeal with usable kitchen essentials that exude character and tactile appeal.
Styling tips from the experts at Bloomingville include: 'Store cutting boards in various organic forms on the kitchen wall and enjoy their beauty, even when not in use. Store beautiful ceramic mugs, unique small bowls, and other significant kitchen accessories in the open shelves. When the shelves are decorated with cups in different colors and glazes, so much charm and personality are added to the room.'
67. Inject Mid-century character with colorful brights and striking silhouettes
Create a beautiful and stylish space for cooking with clean lines and sprinkles of graphic color. Mid-century modern kitchen ideas are reimagined in a breezy palette of summery brights and painted furniture. A color-contrast block painted wall creates a bold focal point, enlivened further by fresh plants and flowers for a revitalising feel. Choose a striking multi-shade pendant light to reflect (pun intended) the retro flair dare.
68. Maximize integrated storage in small kitchens
'Intelligent storage is the key to maximizing kitchens of all sizes. We often integrate pull-outs, inserts, and dividers in our cabinetry to create the optimal amount of storage for our clients. For example, if you don't have the square footage for a walk-in pantry, pull-out pantry storage built into the cabinetry will provide a great deal of space for dry goods,' says Bob Bakes, co-founder and head of design, Bakes & Kropp.
69. Experiment with mixed materials for a modern-industrial style with a tactile edge
Industrial style kitchens have evolved from the somewhat urban and cold mono color palette to explore richer pastures new with warm earthy touches and perfectly-imperfect textures. Matt black accents, aged brass hardware and crittall doors mingle with exposed brick walls, raw patinas, unique artisanal pieces and relaxed patterns to create a softened aesthetic, rich in contrast and authenticity.
'Reclaimed wooden flooring works perfectly to complete the look in this style of home, as the natural character and inherent marks shine through to contribute to the edgy, rustic surface appeal,' says Alex Main, director of The Main Company.
70. Serve-up home baked cottage pie with a dollop of cottage core style
Bring the outdoors in, embrace sustainability and celebrate a return to artisanal skills like foraging and home baking with a kitchen scheme bursting with natural inspirations, homespun wholesomeness and cottage core ideas.
'The cottage core trend is the epitome of The Good Life, drawing inspiration from the countryside with its sprawling meadows and wildflowers. It harnesses the look and charm of an idyllic country cottage through embracing familiar floral prints and patterns, chalk painted surfaces, organic textures and woods - creating a pastoral and mindful rural vibe,' says Claire O'Brien, head of design, Splashback.
She continues: 'A quick and easy way to introduce Cottage Core into your kitchen space is to install a floral backsplash, bringing the ambience of nature indoors. For that chalky feel, opt for matt finishes – like a matt black splashback paired with a matt black tap.
71. Get creative with your backsplash for a cohesive look
'It's an ideal space for adding or defining personality, so a clever combination of colors, textures, and patterns can create a luxurious look that defines the room. In this case, our team had fun using the Cambria countertop material not only for the countertops, but also up the wall for the backsplash. We brought it to the ceiling for an elegant and sophisticated look that brings the space together,' says Natalie Zirbel, ASID, lead interior designer, Zirbel Architect.
72. Integrate multi-functioning storage into your dresser
Today's bespoke kitchen storage solutions allow you to create a design that's uniquely tailored to how you live and use your space. To utilize every inch of crucial space, consider integrating everyday design elements such as open plan shelving and wine storage with clever kitchen organizing tricks, to create a functional yet seamless aesthetic that becomes a stylish feature and focal point in its own right.
Graeme Smith, head of retail and commercial design at Life Kitchens, comments on general kitchen ideas: 'To ensure a kitchen is not overwhelmed by an accent bold color paint the rest of the room a white or muted pastel shade to contrast. Look at using more natural materials for the floor like a timber which creates interest to draw away from a dark color.'
73. Cocoon your space in buttery smooth curve appeal
Right now, it's all about embracing a softer approach to living…
'We will see more rounded shapes adding elegant and beautiful corners to the kitchen. Softer forms are alluring and appealing because they exude luxury and sophistication. They are also more ergonomic and feel more natural to use, whilst aesthetically every view is taken care of, rather than creating abrupt stops,' says Emma Cowburn, kitchen designer, Harvey Jones.
74. Go playfully luxe with midas-touch functional designs
Who ever said that storage is boring, or that function cancels out any fun factor?! Think again with a quirky twist or two! For a simple DIY storage decorating idea, spray paint jar lids and animal figurines in metallic or colored shades, adhere together with glue, and fill with all sorts of scrumptious treats or dried goods. And voila - 'shelfie' worthy storage jars with playful, eye-catching allure.
75. Channel the lean green, well-being look
Forever a color hero, verdant shades of green are growing outdoor-in goodness into every interior space, and green kitchen ideas are all the sage rage. From calming olive, to energizing mint and rich emerald, there's a revitalising green to suit all palette cleansing tastes and spaces.
'Green kitchens are having something of a moment right now. As a color we associate primarily with nature, this grounding shade has an incredible way of reconnecting us with our surroundings, creating moments of calm and positivity,' says Tom Howley, design director, Tom Howley. 'Serpentine, our striking olive green, is a stunning color with earthiness and depth that leaves you feeling nourished and full of life, perfect for kitchen environments. This bold color may pack a punch, but you have a scheme with undeniable appeal when combined with burnished brass hardware and Caesarstone Organic White worktops.'
What is the most versatile kitchen layout?
Really think about how you use your space and what you need to get out of it, in order to utilize every precious inch. Consider incorporating multifunctional pieces and designs with built-in storage to maximize efficiency and functionality, whilst maintaining a streamlined aesthetic.
'Kitchen layout should be determined fundamentally by the activity centers. We like to use the framework of the 'working triangle,' which consists of areas for preparation, storage, and cooking. One example of this approach is to arrange the sink and prep area, range, and refrigerator in a triangle. With that said, standardization takes over all too often. Every kitchen layout will be different depending on the space. We also must take into account that the modern kitchen layout has expanded in ways. Now there are secondary dishwashers and secondary sinks, coffee makers, and secondary cooking positions. Most kitchens have some kind of significant seating area or congregation area as well. There's a lot more that goes into a kitchen than there used to be. Pay attention to simple symmetry to create balance,' says Bob Bakes, co-founder and head of design at Bakes & Kropp.
How can I make my kitchen stunning?
Incorporate natural materials and mineral elements like marble and wood to display perfectly imperfect patterns, accentuated with metallic details for a luxurious and striking overall aesthetic.
'Elegant, tactile and organic, marble is making a comeback as the most popular choice for splashbacks and work surfaces. Richly veined varieties are a great way to make a statement if you are not looking to use bold color or pattern and can look particularly luxurious when paired with metallic lighting and hardware,' says Adrian Bergman, design manager, British Standard.
How do you decorate an awkwardly shaped kitchen?
Small kitchens or awkward spaces can definitely pack a punch of wow factor. Consider the mood enhancing effects of color to bring a compact kitchen's personality to life.
'In a small kitchen there are so many factors to consider such as lighting whether natural or artificial which all influence the space. Generally speaking, due to the small expanse of space, a lighter shade will work best for a small kitchen. However, a bold darker color or deep, rich hue will give the impression of a cozier environment. Lighter colors will draw in natural light, illuminating dark corners can make the space seem quite larger than it might be. Go for warm earthy tones or pastels if you still want to incorporate color into a small kitchen as a more subtle approach to color will bring interest into the space without making the kitchen feel enclosed,' says Graeme Smith, head of retail and commercial design at Life Kitchens.