Finding room divider ideas that are as stylish as they are functional, is often easier said than done.
But, if you live in an open place space, maybe it's a studio apartment or perhaps you have a multifunctional kitchen and living room in one situation going on, you will know the importance of creating 'zones' (rooms within rooms). And the best way to identify boundaries is by means of a partition, whether DIY room divider ideas or store-bought designs.
Mark Cutler and Nichole Schulze, cofounders of cutlerschulze, say: 'A room divider is a great way to help break up a room into zones, it can make a large, open-plan space much more intimate.'
There are oodles of chic, affordable, and super easy ways to separate your space or living room idea almost instantly, just keep scrolling to get in the 'zone.'
1. Create a DIY room divider idea
Any excuse to add to the plant babies' brood. For a fun, easy, and cost-effective DIY wall divider idea, hang plants, ribbons, or pom-pom and flower garlands on a transportable rail. And voila, a unique 'wall' that can be switched up whenever the flight of fancy occurs.
Why not try a DIY plant stand to complement this idea?
2. Add interest with mixed materials
As demonstrated here, mix-it-up room dividers provide a clever way to successfully link your indoor-outdoor living spaces.
Interior designer, Kim Gordon, says: 'By using organic materials like plants, string, and reclaimed wood, you can delineate spaces without building barriers between them. Room dividers represent a huge opportunity to make an almost art-like, large-scale statement from a variety of materials.'
3. Add form and function with a bookcase divider
When considering living room layouts, utilize book storage as a fact-or-fiction, useful room divider with a vertical or horizontal, freestanding design (depending on preference and layout), that features open shelving to make an attractive display of treasured tomes.
Robin Antill, director, Leisure Buildings, says: 'A striking bookcase moved away from the window in the style of a library, separates an open space.'
Shown here, this style-conscious artist helped her teen daughter create separate spaces for sleeping and hanging out using these bookshelf units. A fantastic shared bedroom idea to divide and conquer a shared space too.
4. Get creative with paint on 'wall dividers'
Think outside the color wheel, and use creative paint ideas like color blocking to define different areas in a multifunctional space or apartment living room design.
James Greenwood, interiors expert, Graham & Brown, comments: 'Using two contrasting paint shades you can create zones within the home. We love using a pop of color around archways to create a transition from one area to another. As our homes become increasingly multifunctional, this technique is useful at creating division between spaces for work and rest.'
5. Choose a light filtering design
Max out on natural daylight to keep your open plan living room airy and bright with a light-filtering design made from glass, or that features adjustable slats, or intricate cut-out details.
Mark Cutler and Nichole Schulze, cofounders of Cutlerschulze, say: 'Room dividers can sometimes be a cool way to filter a view through a window where the view is not so special. In this situation using multicolored glass that will illuminate the room can be a fun and cool idea.'
Grace Baena, interiors curator of Kaiyo, says: 'My favorite style of room dividers are those that allow a room to feel open and alive, while still providing a degree of privacy and separation. I love folding dividers featuring frosted glass and elegant, colorful designs, that still allow the transfer of natural light. Another favorite is using bead curtains when privacy is less of a concern. They can provide a gorgeous accent to a room while also serving as a divider.'
6. Stay focused with an acoustic screen
Does your living room or kitchen double up as a modern home office idea? Add meeting room worthy privacy with an acoustical screen and room divider, like the designs from Muffle, that control sound levels and reduce reverberations whilst adding a unique design element to your space.
7. Make a focal point with a colored or patterned design
Why blend in when you can stand out from the crowd?! Exactly - so take note, and choose a high-impact design that makes a bold statement, changes up the dynamic, and adds a dimension of interest and contrast to your overall scheme.
Get lost in a verdant display of tropical leaves with the Negron panel folding room divider by Bay Isle Home at Wayfair.
Yvonne Keal, Senior Product Manager at Hillarys, says: 'Room dividers don't always have to be neutral colored. Opt for a bright color to spruce up the room and make it stand out. Royal blues and turquoise work particularly well in the modern living room to catch the eye.'
8. Turn your space into a zen den with a natural design
Add natural texture, tactility, and warmth with a room divider made from rustic, natural materials. The perfect addition for a relaxed, boho bedroom or boho living room idea.
Richard Petrie, home expert, Thomas Sanderson, says: 'Feng shui your bedroom dividers. If you choose a wooden or bamboo room divider, your bedroom can be transformed into a botanical-like haven when accompanied by houseplants and a light color scheme.'
9. Zone a multifunctional space with rugs
Room dividers don't have to be vertical. In small living room layouts, zone different areas with living room rug ideas to prevent a boxy look and feel. Choose shades that contrast flooring to define boundaries and specific task areas.
Aaron, interior designer, Juliei Salone, says: 'Rugs are more than just comfortable and visually appealing; you can also use them to separate different areas. They can be used to separate a living room and dining room in an open floor plan. They can be used as a visual cue to distinguish a study area in a bedroom without needing a traditional room divider.'
10. Use shelving as a room divider idea
We reckon this is the easiest room divider idea – use a shelving system or shelving idea to create the illusion of a wall. And in fact, this is way more practical than just having a wall. Can a wall double up as book storage?
Can a wall display all your cute knick-knacks? Can a wall be personalized to perfectly fit your space and your storage needs? No didn't think so, but a shelving unit can.
11. Hang a curtain as a room divider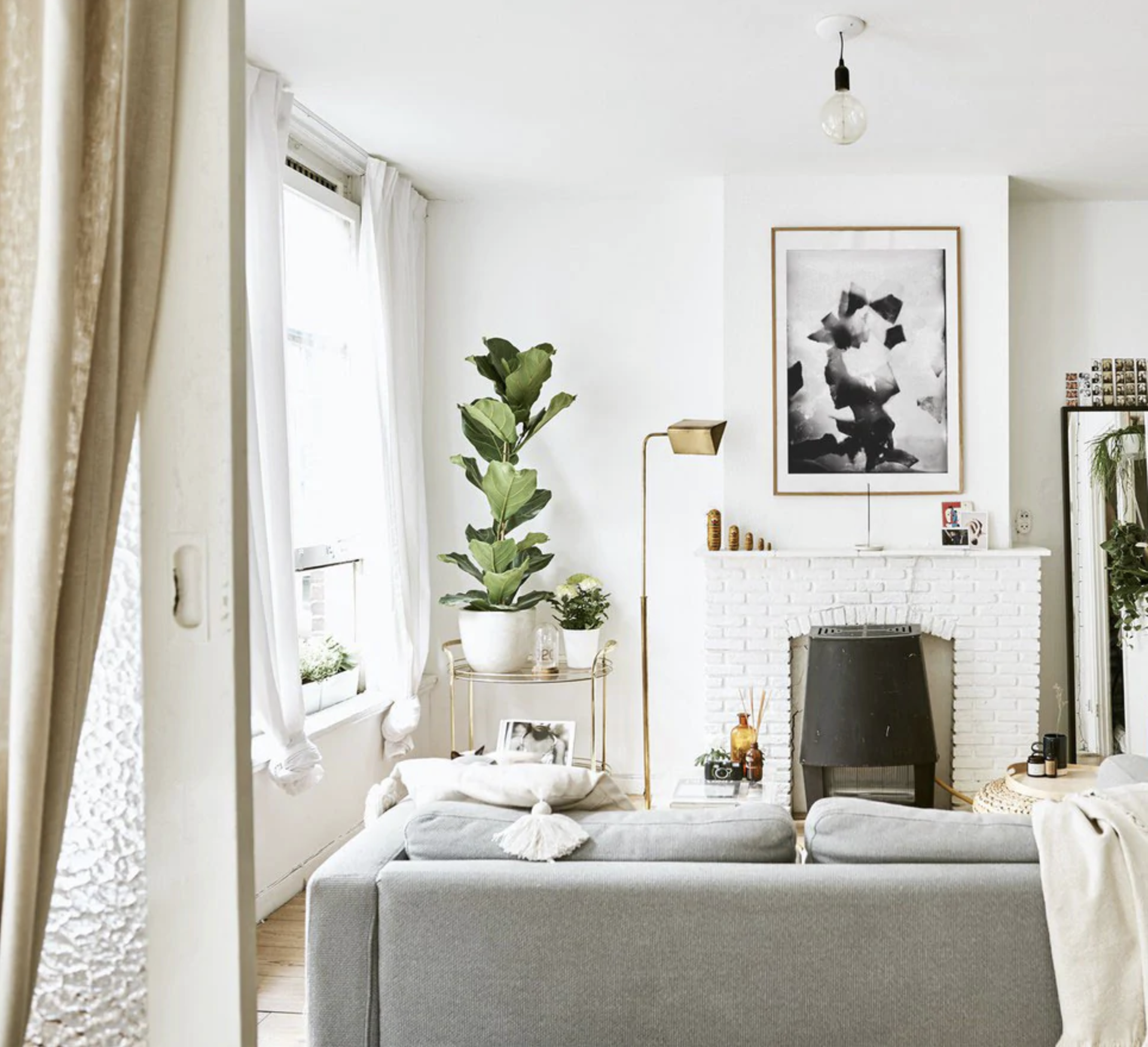 If you want something softer looking to work in the bedroom or even around your bed area if you live in a studio flat, curtains are your best bet. IKEA sells a curtain rail that you can mount to the ceiling and create a track that completely wraps around your bed. Pick out a soft, slightly sheer curtain to create a really gorgeous relaxing sleep space that's separate from the rest of the room.
12. Create a DIY wall with wooden beams
This room divider idea is a bit of a DIY project (or you could get a joiner to help out), but the overall effect looks so fab.
In this studio apartment, the homeowners have created a divide with reclaimed wooden beams, it clearly separates the rustic living room from the kitchen, but doesn't block off any light so the space still feels light and airy.
13. Simply put up a screen to divide your 'rooms'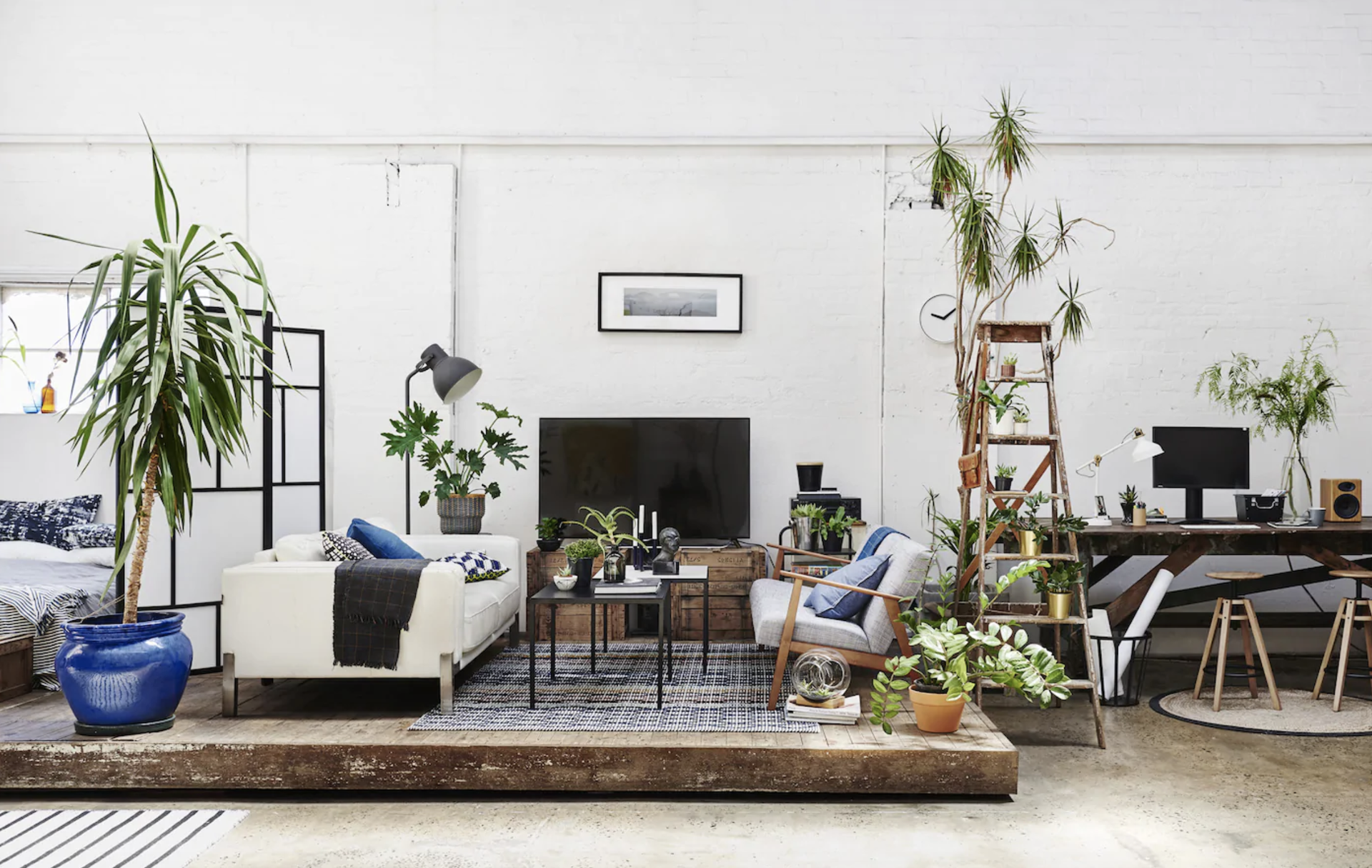 How gorgeous is this apartment? And you can take quite a few room divider ideas from it actually – by far the easiest is the screen between the living room and bedroom.
Pick on that's semi-transparent if you still want the light to flow around the space and basically go unnoticed. You can find similar room dividers over on Wayfair.
The collection of large house plants and the vintage ladder work as a 'wall' on the other side and the living space being slightly raised only helps encourage that feeling of separate rooms. Find our picks of the best indoor plants to help your space thrive with air purifying goodness.
14. Rearrange your layout to create a natural room divider
You might find you don't even have to buy any new room dividers and you can make the furniture you already have work for you. We have a habit when deciding on our living room layouts of pushing everything to the edges, but if you have a larger open-plan space, then all you are left with is a big empty space in the middle of the room.
We like how here the sleeper sofa has been placed in the middle of the room, acting as a room divider. By adding the storage unit against the headboard, it's only created more of a feel of these separate zones, making the room feel cozier and clearly zoned.
15. Create a DIY 'green wall'
This would work as a DIY living wall idea in any room – it's used here in a bedroom but we think it would look so cool in a kitchen. This is just a Rigga clothes hanger from Ikea with some hanging plants and a few pots popped at the bottom. Easy peasy.
16. Design your kitchen to be a room divider
The shape of your kitchen can easily be the starting point for dividing up and creating zones in your open plan kitchen space. If you want the kitchen to feel slightly separated, design a kitchen with a breakfast bar or add a kitchen island to divide the cooking area from the dining and living area.
17. Keep the open plan feel with glass doors
And if totally open plan isn't quite working in your home, you can create that effortless flow between rooms using glass doors. In this 1930s house, opting for more traditional internal French doors looks lovely – they are a real feature of the space. If you are after something more modern, the ever-popular Crittall style doors would do the trick.
18. Try a glass door in an unexpected room
How dreamy is this cozy bedroom idea? We love the Crittall-style metal doors that separate the sleeping part of the room from the rest of the space. A full glass wall won't break up the space either, or stop the light flowing around the space, it will just zone off that part making it feel more cozy, private, and luxurious. You could always hang a curtain too if you want the area to feel even more separate.
What are the best creative room divider ideas?
Robin Antill, director at Leisure Buildings, says:
1. Furniture-Stylized Nooks.
This budget-friendly room divider design is a terrific way to create comfortable retreats. To create a secluded area, place a bookcase or box next to your sofa, then design it with a few items of floor décor. A luxuriant plant and an arched coffee table create a visual separation between rooms here.
2. Make use of a bookshelf.
3. Make a living wall out of plants.
A plant wall is an excellent way to divide a room and provide extra solitude. A shelving unit closes off the sleeping area while simultaneously serving as a style statement and workspace in this artsy loft. What a resourceful individual!
4. Create a multipurpose space that is separated from the rest of the house.
5. A rug can be used to divide an area.
What are the cheapest room divider ideas?
Budget-friendly room dividers include:
1. Hanging plants and potted plants on a clothes rack.
2. DIY pallet or timber screens.
3. Bookshelves - freestanding or flexible.
4. Hanging beaded panels or curtains.
5. Utilising furniture layouts to separate zones.