After living in a Victorian property on a busy street, Anna and Sam struck gold in their search for the perfect family home when they viewed their 1930s semi. Despite its London postcode, the property sits on a cul-de-sac behind a green and overlooks Epping Forest. The décor had been untouched since the 1950s, so needed totally gutting, but thanks to its connection to nature and well-proportioned rooms, interior designer Anna could visualise their forever home.
During a six-month renovation they transformed the space by adding two extensions – the first a stunning vaulted open-plan kitchen-diner, and the second a two-bedroom loft extension with a bird's-eye view of the forest. Anna's design honours the house's Modernist beginnings while giving a nod to her beloved Scandi style. She used colours and materials in warm, earthy tones, inspired by its natural outlook.
Anna's own expressive watercolour paintings are displayed in gallery walls, which add confident flourishes of colour throughout. Living in the property during lockdown allowed her to identify how to best use the space, moving around furniture and finishing touches to give the home that all-important feeling of hygge. With her background in design, Anna has created a home as harmonious in layout as it is with its surroundings.
Inspired to tackle your own project? We have masses of ideas and helpful advice on what to do and where to start in our feature on extending a house (opens in new tab).
Profile
The owners Anna Lea-Wilson, an interior designer who runs Fern House London (opens in new tab), her husband, Sam Silverman, a lawyer, plus their three children, Austin, Leo and Sadie, and cats, Betty and Barry
The property A five-bedroom detached 1930s house in Upper Walthamstow, London
Project cost £190,000
'The kitchen-diner has completely changed how we live – we finally have space to live and breathe,' says Anna. 'I always knew that I wanted to add a vaulted roof extension for the kitchen, but we used an architect to do the planning as we were adding a huge 4.5 metre extension and wanted to ensure it would be approved under permitted development. We changed the plans slightly by adding a triangular window to maximise natural light, which I love as it makes the room feel almost celestial. I changed the location of the kitchen a few times before settling on the perfect spot.
'We went with a Wren kitchen as it came in a modern design and the exact shade of green I wanted. We added oversized open shelves, which are actually timber window boards from loveskirting.com held up with Ferm Living brackets. The quartz composite worktops were last to be installed and we ended up moving in before the finished pieces were delivered.
'Having three children at home for five months during lockdown was intense, but this space allowed us to be together while all doing separate activities. I can cook or work at the kitchen island while the children draw together on the table. The open-plan layout is perfect for play, and at the end of the day their toys can be put back in their place. I added hidden cupboards behind the breakfast bar and bought lockers on their level from Sklum to make it easier to keep things tidy.
'I'm obsessed with our dining chairs; they complete the room. They were an Ebay find from a restaurant that was closing down, by Italian brand L'abatte. They were an absolute steal and the colour and shape of them works so perfectly with the design scheme. We also use the two accent chairs, which were given to me by a friend, every day. They sat unused for so long, but I decided to spray the frames in matte black Rust-Oleum paint and then upholstered them in a neutral bouclé fabric from Ebay.
'The big garden was a huge draw when I viewed the property. Adding the bi-folds has been amazing as they provide a seamless connection into the garden. It feels like we live outside a lot of the time, which is perfect in spring and summer. We can't wait to have dinner parties and barbecues out on the deck in summer with friends again.
'We spend most of our time in the kitchen-diner, but I love having the option of retreating into the front room when it all gets too much in there! I chose the colour scheme for the whole house at the same time, and opted for a bold feature wall in Saxe Blue by Craig Rose to give this room a cosy feel.
'It took me ages to choose a picture to hang above the fireplace as I wanted something that would tone down some of the other elements in the room. We brought in pieces from our old home in various colours, and there are lots of textures from the sofas, wall hanging and rattan cupboard doors. Eventually I found this piece by Maggie Stephenson – I adore its simplicity.
'Our builder had to gut and replaster the whole house in order to update the electrics and pipes for heating as the house had been empty for 17 years. When we added new carpentry we wanted it to honour the period of the house, so we chose 1930s-style doors, as we had to change them to adhere to fire regulations. We also had new stepped skirting and architraves made to match the originals. We were lucky the stained glass windows were still intact and added a new front door to complement them.
'We decided to put the kids' bedrooms on the first floor so that they could be close by when we were busy downstairs. I hoped that giving them the largest rooms would encourage them to use them as playrooms. The yellow and pink colour palette in my daughter's room is a nod to my own childhood obsession with these colours. To get the kids to tidy I added lots of storage like the pink locker. I chose leather and brass handles to update the original built-in wardrobe.
'I'm proud of the bathroom because I fought hard for my design choices. Sam hated everything I'd selected, but I knew he just needed to have faith and now he's a fan. It feels like a sanctuary, which is hard to achieve in a house with three kids. In order to have a free-standing bath and separate shower, our builder took extra square footage from the old airing cupboard. The textured picture windows were delayed by six weeks, holding up the project as plastering couldn't begin until they were installed.
'When selecting furniture I tried to choose items that have mid-century shapes and features, mixing these with modern touches. In our bedroom, I wanted a feature wall behind the bed to ground the space, and picked a bed and lighting in light woods to give a nod to the forest, which you can look out over from the huge window in here.
'I create prints inspired by what I want to see in my home. They look great as part of a gallery wall, but I also have some displayed on the oversized shelves, which are hung throughout the house. They contain playful forms and shapes in a dusty colour palette to match the scheme I chose for the whole house.'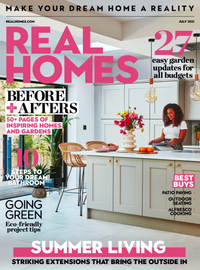 (opens in new tab)
Subscribe to Real Homes magazine (opens in new tab)
Want even more great ideas for your home from the expert team at Real Homes magazine? Subscribe to Real Homes magazine and get great content delivered straight to your door. From inspiring completed projects to the latest decorating trends and expert advice, you'll find everything you need to create your dream home inside each issue.