Two-toned kitchens are a trend that is taking over our cooking spaces. After all, one of life's hardest decisions has surely got to be what color to go for in your kitchen. Okay, maybe not the hardest decision, but it is a pretty tricky interior decision.
But it's made all the more simple when you can choose two colors rather than one, hence why we are all about the two-tone kitchen style that's been on the rise.
We no longer have to choose between bold or neutral, sage green or blush pink, muted grey or sandy beige, because it's officially a look to mix both! Plus this duo kitchen color scheme is actually a classic look that is sure to stand the test of time. So choose the perfect combo for optimum style and you might find yourself feeling a less frequent need to redecorate...
Always a bonus. Plus, it's a look that you can very easily incorporate into your current space – without the need to rip out and remodel your entire kitchen. To help you out, we've rounded up some inspiring two tone kitchens to convince you two colors are better than one. Perfect for galley formats, open-plan areas, L-shaped, G-shaped and 'U-shaped layouts. Whatever way round your kitchen is – we can help.
Two-tone kitchens that look tasty
'While it may have been de rigueur to match your upper and lower cupboards in years past, the newest kitchen looks incorporate a two-toned design, with the tops and bottom rows of cabinets in contrasting or complementary colours,' says
Kimberly Duran, social media and content marketing editor at Oak Furniture Land.
'This really opens up a world of possibilities and allows the kitchen to be treated just like any other area of the home with a focus on integrating it into the usual living spaces – treating the cupboards more like furniture than simply utilitarian storage.'
1. Go retro with primary colors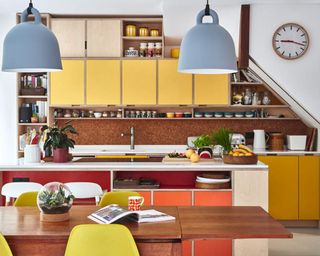 OK.. so this isn't two-tone, it's more like six-tone kitchen idea – but you get the gist. This yellow, orange, and red kitchen give us retro Bauhaus vibes. Yes, orange is a secondary color – and this trend is all about the primaries... But that's where the pale blue bell-shaped light fixtures come in.
You see, it's not just about the cabinets and island furniture. Have fun with your seating (budget, lightweight stackable chairs do the job), and pick up some colorful kitchen accessories from your fave homewares store or thrift shop for some vintage bargains.
2. Create a Nordic-inspired, two-tone effect with wood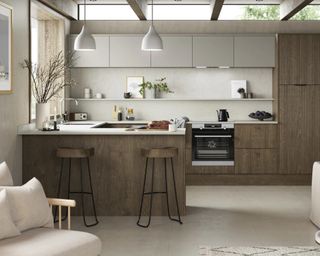 Now, you don't necessarily have to go to your hardware store or select swatches to create a two-tone kitchen. You can, simply look outside and turn to nature, creating a mental mood board of how you'd like to design your two-tone kitchen. Creams, browns, and beige room ideas all dominate this Scandinavian-inspired scheme.
'Dual-toned kitchens are perfect for those who wish to experiment with color, without completely straying from their love of sophisticated styling,' says Hayley Simmons, director of commercial range at Magnet.
'Choose a neutral tone and beautifully balance it with natural textures such as Nordic oak to create a contemporary, Scandi-inspired concept. Opt for darker statements shades for base units and use softer tones for your wall and tower units as this clever design trick creates the optical illusion of larger kitchen.'

And Tori Summers, director of design, product and innovation, Howdens adds: 'A sound piece of advice for any part of life – less is more – is also a great principle to keep in mind for your two-tone kitchen design,'
'Take a subtle approach on this trend by choosing our oak-trim cupboards, which have a wood grain pattern along the top that creates a contrast of both tone and texture against the white front. Combine this style with pale integrated handle doors to keep everything looking soft and streamlined.'
And Duran says: 'With natural wood adding warmth to any kitchen, it mixes with just about any color you can think of.'
3. Start with a blank canvas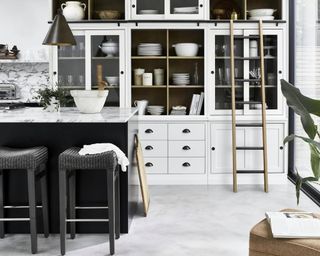 Both classic and classy, a monochromatic kitchen in black and white is tasteful and trendy. By choosing this color combo you're playing things safe, but in a stylish way. Add brass faucet fixtures to make this space look uber expensive.
'Offering timeless appeal and versatility, white kitchen cupboards give you a neutral starting point where you can begin to build your two-tone scheme,' says Summers.
'This means you can be bolder with other elements of your design, and introduce trending textures, like concrete, for an urban feel. The contrast of the colors and patterns also add depth to the room, preventing it from looking flat – great for open layouts.'
4. Refine your kitchen space with shine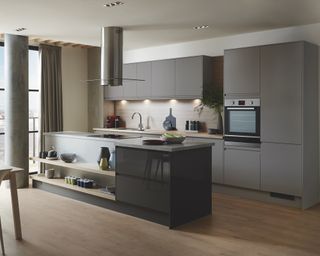 Are you team matt or high gloss when it comes to your worksurfaces? Well, if you're sitting scratching your head over that difficult question, know that there no longer has to be two divisive and creative camps... As you can incorporate both finishes.

'Add extra visual interest to your two-tone design by choosing different textures for your cupboard doors to create a chic, layered effect,' says Summers.
'Gloss finishes are great for softening the look of bolder colors like dark-grey and will bounce light around a room for a brighter and more open feel. This reflective surface is also easy to clean, making it a practical choice for busy kitchen island units or breakfast areas.'
5. Play with rustic colors and textures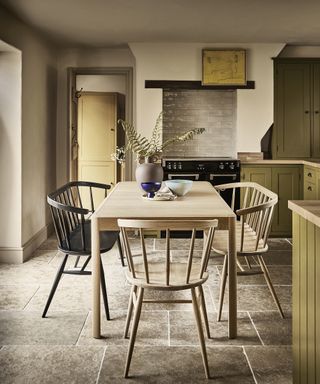 Yellow kitchens aren't usually the plat du jour when it comes to serving up an eating space that's appetizing for everyone. However, when you switch a run-of-the-mill yellow with mustard, and generic green for olive – these earthy ingredients can create an appealing two-toned kitchen. If you're struggling to pick up a particular shade or finish at your local hardware store, these best kitchen paints are perfect for worktops, walls, and more.
In keeping with this rustic kitchen, contrast painted and pale wooden chairs (how gorge are these Heritage loveseat benches from ercol), and for a stripped-back finish, stone flooring adds an effortless element of country charm.
6. Smarten your scheme with metallic accents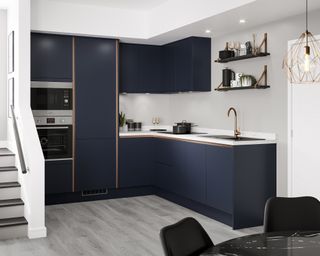 If you want a smart and sleek kitchen that isn't black and white, a blue kitchen can be elevated with a few metallic elements. If copper is too industrial for you, glam up your two-tone kitchen with warm brass or cool chrome.
'Make your profiles work twice as hard by using them to introduce on-trend metallic accents to a space, as well as emphasizing architectural features in a linear layout,' says Summer.
'Once installed, they will create a striking contrast with your cupboard doors and inject pops of metallic glamour for a luxurious look. They are available in a selection of colors, including copper and brass, which replicate the look of precious metals for a high-end feel.'
7. Choose two shades of the same palette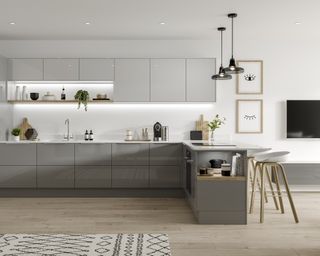 Classy and contemporary, grey kitchens are the perfect go-to schemes to set your eyes on. So, if it ain't broke, don't fix it right? Well... You can make your space look so much better by using multiple hues to create a subtle but sophisticated impact.

'If you are stuck between two shades of the same color, like grey, why not go for both and create a simple and sophisticated design?' says Summers.
'Opt for a lighter tone on wall cupboards to keep a room feeling bright and open. A darker hue on floor units will help to define the layout in a multi-zone space, whilst minimizing the appearance of marks and fingerprints to keep everything looking clean and hygienic.'
Similarly, Duran explains: 'With the color grey being simply everywhere at the minute, the kitchen is the perfect place to adopt this most loved neutral,'
'Keeping the lower cabinets in a lighter shade and the uppers in a darker shade (and yes, there are far more than 50 shades to choose from!), there is a beautiful tonal quality created.'
8. Create a soft two-toned scheme with cream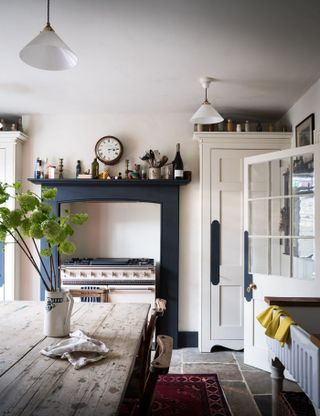 Whether it's full cream milk in your latte or an expensive piece of furniture, the color cream is so rich and decadent. And a sure reason why a cream kitchen should be a base for your two-tone kitchen... If you needed convincing.
'For a two-tone kitchen idea that has a softer feel, choose a cream for your cupboard doors.' says Summers.
Thanks to its warm, neutral tone, this color is versatile, making it a cozier and more comforting alternative to white. This also makes it a natural choice for emphasizing the honeyed hues of wood grain materials that are often found in rustic decors or for accentuating period features to add charm.'
9. Create a dramatic two-toned kitchen with dark hues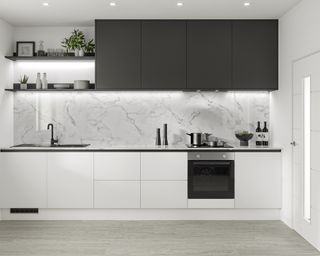 'Although darker tones may seem intense, they are a great way to add drama to a paler scheme,' says Summer.
'Black kitchen cupboards can be added into an all-white layout to create a stylish monochrome look. These timeless colors also mean that you can be more creative with introducing on-trend textures, like marble, or when adding linear details – proving that this scheme can be more than just black and white.'
10. Spice up grey storage with orange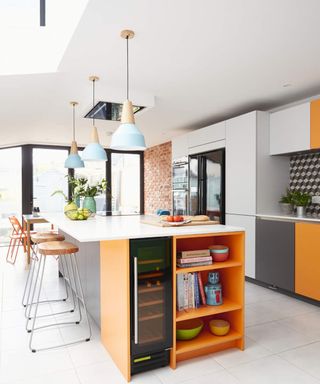 If you find grey kitchens a little dull, create a zesty and juicy kitchen with a splash of orange. This vibrant hue doesn't need to overwhelm the space – you literally just need to add an accent. And, what better way to do this than with your kitchen storage. This island-cum-wine-storage-and-shelf is the perfect space to add some emulsion. As are the cupboard doors in the background to add interest.
11. Paint a kitchen island to contrast cabinets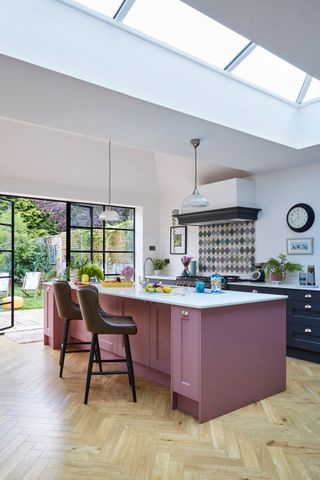 If you have been blessed with a kitchen large enough for an island, why not use it to bring in a second color to your kitchen? An island is already such a focus in a kitchen so why not make it stand out even more by painting it in a contrasting color to your cabinets.
Pink and navy blue are the color combination right now, and although on paper it looks like a bold scheme, as you can see in this kitchen it's actually a really liveable look. It's colorful without being overwhelming and isn't so bold you can't bring in other colors too.
You don't have to paint a whole island if you think the work might be too overwhelming. Cabinetry can be a cheap and more time-efficient task and we've lots of expert advice on how to paint kitchen cupboards.
12. Freshen up colorful cabinets with white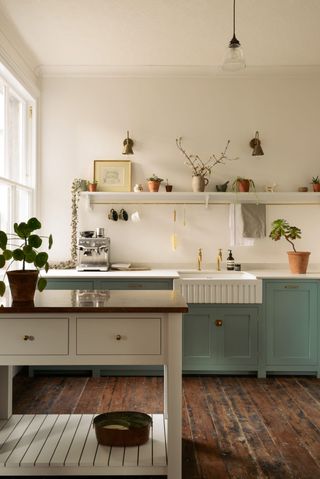 If you want to dabble with colorful kitchens but still want your space to have a neutral feeling overall, consider doing one row of colorful kitchen cabinets and then keeping the rest of the room cream or white.
We love this stoney, muted, duck egg blue. It's such a classic kitchen color that's both elegant and inviting. The terracotta pots are a subtle addition, but they really pop against the blue plus add a touch of warmth to the space.
13. Pair bright kitchen cupboards with neutral walls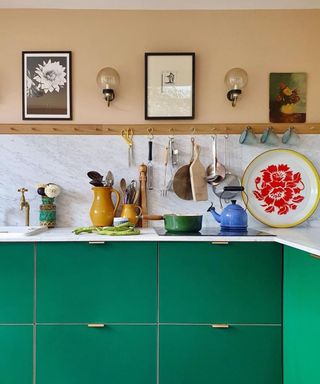 When it comes to creating a two-toned kitchen, paint is going to be your friend. Painting kitchen cupboards and walls and even floors are the easiest way to create a new color scheme in your space.
We love how the cabinets in this kitchen have been painted a really vivid green (Verdigris Green by Farrow & Ball) and the walls have been kept a simple orange-toned neutral. There's enough color in that wall color to create a contrast and give the two-toned effect in this predominantly green kitchen, while it doesn't overwhelm the rest of the space.
14. Be playful with purple and pink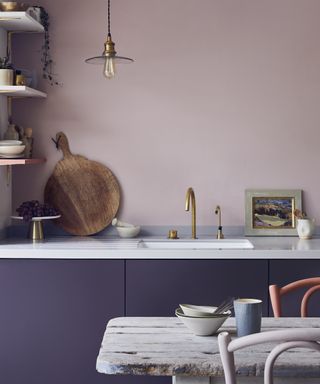 British artist, color expert, and author, Annie Sloan painted this two-toned kitchen in an unusual color palette of soft pink and deep aubergine. The finished effect is soft, pretty, and modern. Her top tip for best results on cupboards, shelving, and tables is to apply her Chalk Paint® Wax or Lacquer and allow it to cure completely.
Here, Sloan mixed Emperor's Silk (a bright pure red) with Aubusson Blue (a dark teal) to create a bespoke and beautiful purple to use in this contemporary two-toned kitchen.
15. Hang wallpaper to introduce another shade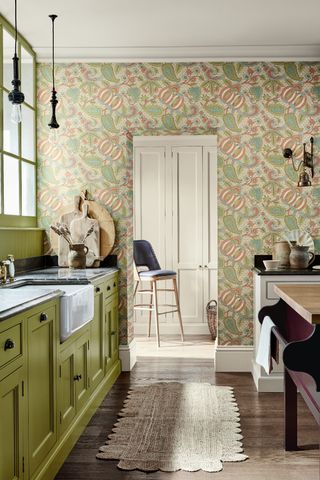 Like paint, wallpaper can be a really easy way to subtly introduce a second color into your kitchen. We like how this kitchen wallpaper design almost totally matches the green of the cabinets but still brings in that pink hue for contrast – another two toned kitchen done beautifully.
16. Mix unexpected colors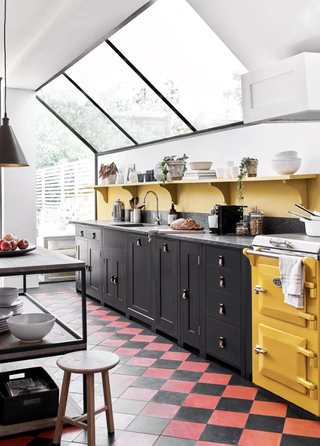 Who would have thought we would be drawn in by black and yellow?! It shouldn't work but it totally does. This bold kitchen proves you can pair black with other bolder colors without the room looking too crazy.
The key is to stick to the more muted tones. The yellow on the walls and shelves here is still bold but it's more mustard than citrus and there's plenty of light in this kitchen too which helps and white walls and ceilings balance out all the color going on.
Of course – where you do want to show off – ehem, (hello best oven ever) – you can afford to be a bit more statement.
And... did we mention the checkered black and red kitchen floor? Essy peasy way to introduce a bit of rouge into the space.
17. Bring your floor into a two-toned design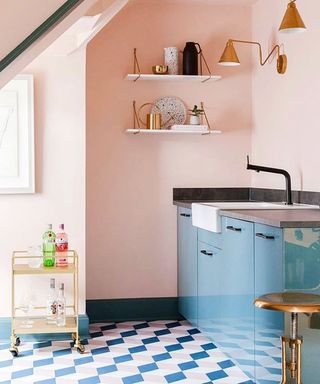 Oooh, this kitchen is so color coordinated and we love it! The floor has exactly the same two colors as the cabinets and the walls which just adds to the overall two-toned look. Dark blue and pink is also a classic, high contrast combo that is bang on trend right now – plus it can work in both traditional and modern kitchens alike as it won't be going out of style any time soon.
If you're having second thoughts, just know that this two-toned kitchen was designed by 2LG Studio who are absolutely legendary in the interiors industry. Recreate this high-contrast look by using Pink Ground and Inchyra Blue, both available at Farrow & Ball.
18. Create a soft look with pastel tones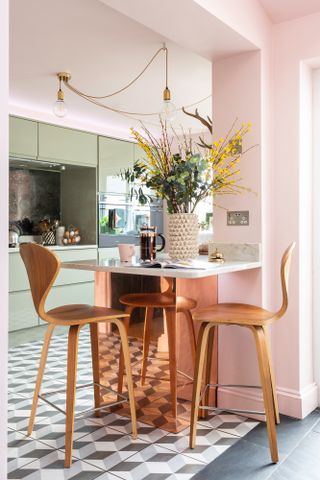 Does it get more dreamy than this pale pink and sage green kitchen? Oh, wait, yes, you throw in some copper too. You can recreate this combo by painting your kitchen cabinets and walls, but if your kitchen is already quite a neutral space, think about bringing in these two tones in a smaller, much easier way.
Paint a pink feature wall and look out for sage green accessories and kitchen storage to create a similar pastel kitchen vibe for just less effort.
19. Contrast your backsplash with your cabinets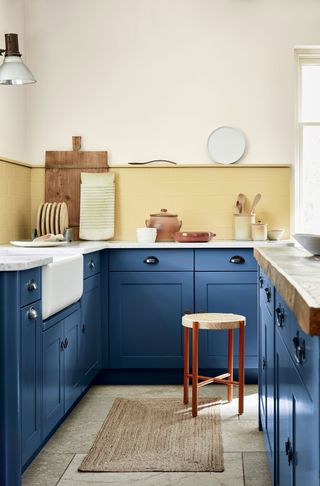 Got a tired-looking kitchen backsplash? You can actually paint over it if you know how to paint tiles. This blue and yellow kitchen combo strikes the perfect balance between bold and subtle – contrast, yet soft and muted tones – so that the overall effect isn't too loud at all.
20. Go for a classic monochrome scheme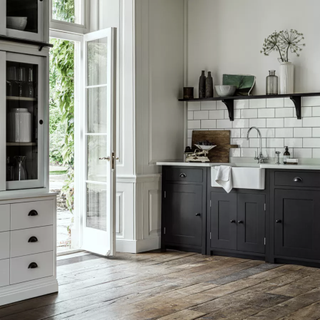 Ah, a classic monochrome kitchen you just can't fault them. We love the idea of having an all-black kitchen and then adding in one statement white piece like a dresser or an island. In this kitchen, nothing strays from the theme, the tiles, the shelving, the hardware all work towards such a cohesive look. It's warmed up by the wooden flooring so there's still some softness there too – just lovely.
'This is what I've chosen for my own kitchen – black lowers and white uppers,' says Duran.
'The black mimics the striking tuxedo or the classic LLB and combining it with white keeps the main areas bright whilst the bottom half of the kitchen has a very sophisticated edge. Combine with shiny brass hardware and stainless steel appliances for a classic look that never dates.'
21. Tone down candy shades with darker hues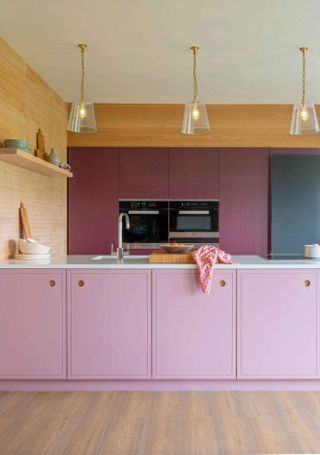 Pink kitchens are everywhere right now, and while they might seem like a trend that resides in the squares of Instagram and Pinterest, they become a whole lot more liveable when you pair them with a deeper, more muted shade.
Look how in this kitchen, the very bold pink is taken down a notch or two by the darker purple kitchen cabinets behind, it just results in a much more grown up look.
22. Create a cocooning space with concrete and wood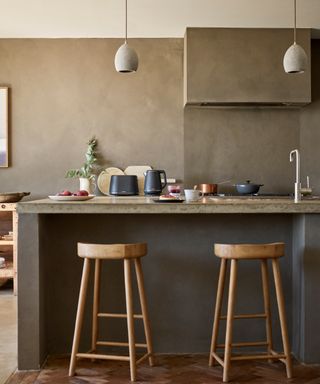 If you want something different from a traditional kitchen or modern high-gloss worksurfaces – choose matt materials like concrete and wood.
This cozy brown kitchen design uses taupe brown chalk paint, with a grey concrete island, wooden bar stools and Herringbone-style flooring for an industrial style kitchen look, exceptionally subtle two-tone finish. Off-white ceiling paint adds contrast and respite from the dark palette.
Are two tones kitchens in style?
Yes, two toned kitchens are in style! They have definitely increased in popularity over the last year but that's not to say they aren't a timeless look. They have longevity too, because you can be more experimental in your color choices, but you won't tired of them as quickly as if you'd gone for one single shade.
Why should you choose a two-tone kitchen?
'Your kitchen doesn't have to stay as one color. By using two shades, not only does it give you opportunity to reference two colours from your palette, but it lets you change the pace of your scheme.' says Emma Sims-Hilditch, co-founder, Neptune.
What color cabinets never go out of style?
'Another darling of interior designers everywhere, navy blue is being hailed as a new neutral so we'll leave this as a transition into the brighter side of the spectrum,' says Duran.
'Reminiscent of warmer climates, it looks stunning contrasted against crisp white upper cabinets and creates a real style statement – one that will surely be a talking point with any guests you may invite round for your next dinner party.'