Kitty and Kieran both grew up in West Sussex and had always been fond of Southwick, a small town on the Sussex coastline. 'It's centred around a large, leafy village green and with its ancient Saxon churches and traditional high street, you feel like you've been transported back in time,' says Kitty. 'There's also easy access to both the Sussex Downs and the sea, which provide a constant source of inspiration for my artwork.'
Living in a smaller property nearby with their daughter Orla, the couple were on the hunt to buy a larger family home locally when this late Victorian property came up directly on the green. 'We knew instantly it was the one for us,' Kitty says.
If you have plans to add on to a period home, see our advice on extending a house.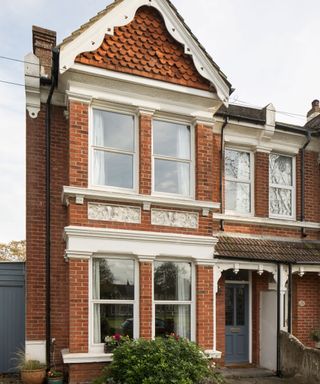 Profile
The owners Kitty McCurdy, an artist (@kittymccurdyart; kittymccurdyart.co.uk), lives here with husband Kieran, a chartered accountant, and their three children, Orla, Osheen and Rory
The property A late-Victorian five-bed semi in Southwick, West Sussex
Project cost£132,000
The property looked impressive from the façade but hadn't been decorated for a long time. Many of the original features had been stripped away and the whole house was covered in swirls of Artex. It was tired but spacious with a beautiful back garden, and with the potential to eventually extend, Kitty and Kieran knew they could turn it into their perfect family home.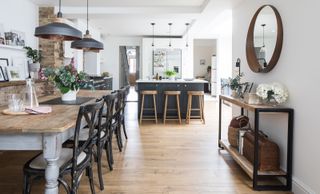 'We were a busy household over the next few years,' says Kitty. 'Osheen and Rory were born and any big plans we had for the house took a back seat as we focused on our young family. We landscaped the front and back garden just after we moved in but slowly worked our way through the house when we found the time, skimming over the Artex-covered walls and reinstating period features like fireplaces, ceiling roses, coving, high skirting boards and dado rails.'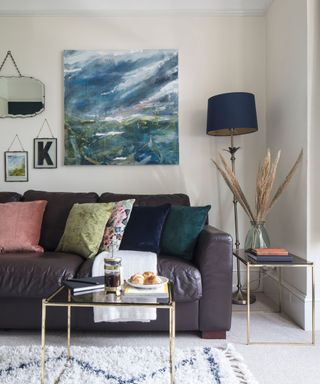 When the chaos of sharing one bathroom became too much, the couple reconfigured their master bedroom, adding a much needed en suite. 'We knocked down a stud wall where a dressing room had been, replacing it with our existing Ikea Pax wardrobe units that our carpenter cleverly adapted, creating built in wardrobes and a new dividing wall for the bathroom,' says Kitty. 'We gained storage space, our own bathroom, and we wake up every morning now with beautiful views of the village green!'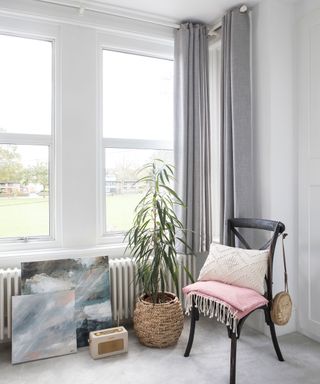 The original kitchen was functional but small, with an adjacent playroom and a downstairs toilet. Beyond that was the garden, which could only be accessed from the side. 'Everything felt closed off and we had no sight of the children if they were in the playroom or messing around outside,' says Kitty. 'We wanted to extend out and open up the whole area, offering the same functionality but allowing the spaces to flow and work better for us a family.'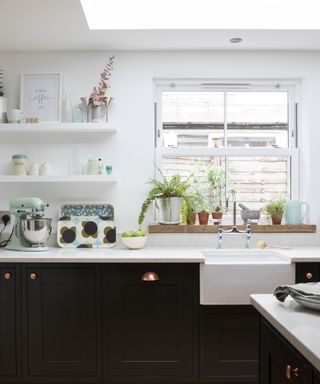 When work finally began, Kitty and Kieran knew exactly what they wanted to achieve from the renovation. 'Darren from LCE Architects was completely on board with our vision and drew up perfect plans that our builder and his team were able to skilfully interpret,' says Kitty. Over the course of five months, the kitchen and playroom were extended out two metres to the width of the main house. With steel supports in place, the kitchen, playroom and downstairs toilet were all knocked through and the back rebuilt to accommodate new bi-fold doors. 'We stayed in the house during the renovation, which was a bit makeshift at times, but quite an adventure. It made us think about day-to-day living in a different way, eating countless take outs and washing dishes in the bath. It was exciting watching the space evolve.'
A new kitchen was installed with a large central island – perfect for socialising. 'It was higher spec than originally planned and took us slightly over budget, but being a key area of the house, we felt the extra the money was worth spending,' Kitty explains. 'We built a new utility in the space, which helped divide the area into three zones – kitchen, dining and living. We also had it soundproofed to stop the noise of the washing machine creeping into the living areas.' Along with a new boiler and underfloor heating, smart technology was fitted throughout. Kieran's late father, Laughlin, did all the new plumbing, and they also cut costs by doing a lot of the snagging and decorating themselves.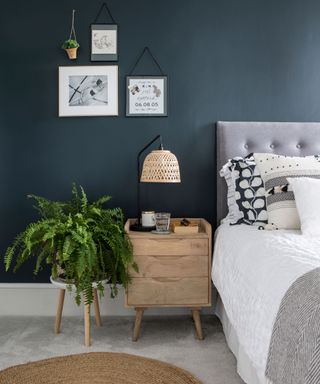 There's a lovely flow to these areas now, which continues through the rest of the house. 'Although we're a family of five, it never feels overcrowded,' Kitty says. The garden has become an essential part of the new layout, with easy access from the living space through floor-to-ceiling bi-fold doors. The icing on the cake is Kitty's studio, an outhouse constructed in the side return using corrugated Perspex for the roof and the old patio doors. 'It gives me space away from the children to create and keeps the new extension free of clutter,' says Kitty. 'Ten years on and we are delighted with our home – it's exactly how we want it to be. We've been patient and planned everything around the needs of our family, and the result is a joy to be in.'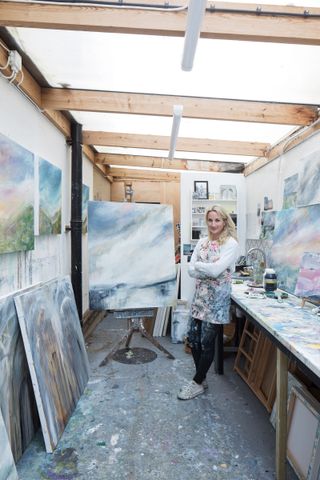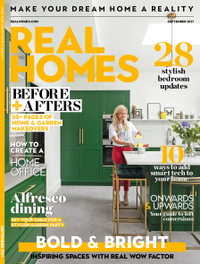 Subscribe to Real Homes magazine
Want even more great ideas for your home from the expert team at Real Homes magazine? Subscribe to Real Homes magazine and get great content delivered straight to your door. From inspiring completed projects to the latest decorating trends and expert advice, you'll find everything you need to create your dream home inside each issue.