Looking for some gorgeous living room ideas to update your space for spring? Well, you are in the right place because living room decor just happens to be our favorite topic. Don't get us wrong, we love a kitchen remodel and a bathroom update as much as the next person, but living rooms are by far the easiest rooms to redecorate. You can even do it yourself in just a weekend, making them by far the cheapest rooms to revamp too.
So, whether you're working with a small, big or downright awkward living room, we've endless lounge decor tips and tricks to help you out below. We've picked out living room designs that will suit all styles, sizes and budgets. So keep scrolling for our edit of all the latest looks, achievable trends and color schemes for 2021.
1. Plan your living room layout
Before we get into all those lovely living room decor ideas, lets just focus on the practical stuff quickly. The layout of your living room. Whether you are starting totally from scratch in a new room or want to update your existing space, deciding on a layout can dictate your decor choices.
There's this tendency when it comes to living rooms to push everything up against walls, stick a coffee table in the middle and make sure everything is angled towards the TV. But we say get more creative than that, pull furniture away from walls, give it some breathing space and you'll usually find it makes the room feel airer.
2. Let your dream sofa decide the color scheme
After layout, you're going to want to start thinking colors. If you are unsure to start, we'd always say base a scheme around the largest piece of furniture in the room – your sofa.
If you've always dreamed of a colorful sofa, use that as the basis for the rest of the room. We love this velvet coral number, and despite it being a bold choice it doesn't overwhelm the room because the floors and walls have been kept fresh and neutral, with just pops of color from the room's accessories. Take a look at our guide to the best sofas of the year for some seating inspiration.
3. Get your living room lighting spot on
You might think lighting can come later with your living room decor, but in fact, you should be thinking about your lighting scheme early on. Good lighting can really make a living room so it's worth taking some time to plan what lighting you need in your space and where it's going to work in your layout.
'Living rooms, more than any other space within the home, are the place where you want to promote a sense of familiarity, relaxation and coziness – all of which can be enhanced by how you use lighting.' explains Rohan Blacker, founder of Pooky.com.
'Rather than strong overhead lights, try using more localized lamps to highlight a particular part of the room, use a dimmer to give you options for different occasions. Wall lights are a great option in a living room as they are unobtrusive, pretty and very efficient with space if you aren't spoiled for it. The more sources of light you have, the more moods you can create. Clustering a few small lamps is a great way to add impact to an alcove or mantelpiece.'
4. Disguise your TV
How to hide a TV is a question we get asked allll the time. And we get it, you want a TV to binge-watch Bridgerton (yes, again) but you don't like the fact there is this big black hole in the middle of your living room. Tech kills the vibe. Well, there are plenty of ways to disguise it, ranging from painting the wall behind in dark color to doing something like this where you hide the TV behind shutters.
For loads more ideas check out our living room TV ideas.
5. Pick multifunctional furniture
You never want a living room to feel too full of furniture, so it's important when making your choices to pick pieces that are really functional. Furniture that doubles up as something else like an ottoman or a stool are ideal as they will save you on space. Nested furniture too, like these lovely coffee tables in this living room, are great for adding extra surface space when you need it but don't take up the entire room.
6. Don't shy away from a sectional
Thank goodness, large sofas are making a comeback! For a while, it felt like a sofa was only considered trendy if it had a slimline frame and a button back, neither of which lend themselves to lounging. But it would seem after almost a year spent in our homes, comfort rules all and big sofas are back.
'Having spent prolonged periods of time at home with the whole family, we've certainly seen a shift away from occasional seating, to much more expansive comfort. Large scale corner formats and softer fillings are taking center stage, now that we're lounging more than ever.' explains Ruth Wassermann, Design Director at MADE.COM.
'These larger, softer sofas are just one example of how people are looking to create more calming and cocooning spaces within their home. We've also seen a rise in demand for natural materials like linen, or textural boucles and corduroys, all of which add to the sense of sanctuary that we're all craving.'
7. Choose beige for a fresh update
Yes, you read that right beige. It's everyone's favorite living room color at the moment and we are definitely up for giving this once shunned hue a try. It's much warmer than white so creates a more inviting space but one that still feels fresh and bright. Beige actually looks lovely paired with white as a contrast and to bring in some cleaner tones, so try complimenting beige soft furnishings with crisp white walls for a soft but contemporary look.
8. Build in a window seat
A window seat is a thing of beauty, so if you have the space to add one into your living room do so. Pop a cushion covered bench into the nook of your window to create extra seating and storage too. You could always fake the look if you don't want to invest in something built in, a clever positioned armchair or love seat can create a really similar effect.
9. Pair modern interiors with a traditional space
This rustic lounge, complete with gorgeous beams, is brought to life by modern living room additions. The white walls keep it bright, as does the choice of sofa, while the patterned rug alongside the mixture of textures and materials going on adds plenty of charisma to this contemporary lounge.
10. Add character with green walls
A really quick and easy way to decorate a living room is to get experimental with paint. And when we say 'experimental', we mean anything from painting the room a cleaner shade of white to painting polka dots all over the ceiling. Whatever your style, paint can transform a room really quickly.
We love this green living room, it's such a cool, unusual color that looks fab with the pops of blue and orange – a colorful space in a very not-too-much kind of way.
'Often associated with health and rejuvenation, green paint is an uplifting choice for any room of the home. It's unmatched in its ability to bring life to any space, representing the balanced tones of nature and promoting a feeling of wellness and vigor.' says Patrick O'Donnell Farrow & Ball Brand Ambassador.
'If you're using green paint in your living room, pinks (another supremely popular shade) respond beautifully to green for accessories and accent choices, as do mid-tone brown-based neutrals, yellow-based neutrals, and blues.'
11. Nod to dark living room trends
'The living room is a space for socializing and relaxing with family and friends and so it's important to opt for a color scheme that fits with the mood or atmosphere you're looking to create as well as establishing your signature style.' explains Helen Shaw, Director at Benjamin Moore. 'Over the last year, we've seen homeowners opting for dark and moody colors in their living rooms to add ambiance and character to the room.'
You can always use paint to live out your dark living room dreams. And we love this lounge space because, yes, the walls are very dark, but the room itself, doesn't feel dark at all – the light floors and bright high ceilings (made to look even higher because the dark color only goes up to the picture rail), keep the space light and airy.
12. Or keep things light with a Scandi-style living room
Not tempted by the dark side just yet? Keep things really light in your lounge with an all-white living room. You can add interest with textures rather than colors and different neutral hues.
Obviously, this color palette is an especially great small living room idea as choosing lighter and brighter colors is only going to expand the space.
13. Mix and match contrasting colors alongside texture
If you are after living room decor ideas that are instantly going to add something different to your space, choosing a couple of colors to repeat together is a great place to start. We love the repetition of green and pink in this lounge decor as it draws the eye across the room, and, the colors work perfectly together.
14. Get inspired by neutral living room ideas
How lovely and cozy does this traditional living room look? It's an easy style to copy too, just keep everything very muted and soft. Eyeing up that wall paneling too? It is a nice way to add another pale color to the room and add to that rustic feel. You can actually DIY paneling if your home hasn't got any originals – next weekend project sorted.
15. Add texture with an exposed brick wall
Now if you are lucky, you will find beautiful bricks under your plaster and it can be a straightforward, if not slightly messy, DIY project to expose them. We love this living room look as it's cozy and nods a little to the industrial trend too.
We have a guide to how to create an exposed brick wall if you want a step by step.
16. Go for a simple, Mid-century modern living room
Another simple living room idea, what could be more inviting than a Mid-century modern inspired lounge? From low-key furniture to clean-cut storage, muted colors and really subtle decor, this is a trend that isn't going away in a hurry, and it is the perfect way to create a sophisticated space.
17. Embrace the comeback of shabby chic
The old version of shabby chic was all about a very cluttered look with plenty of colors and patterns all crammed into one space. The new more contemporary version still has plenty of pattern and there's well-curated clutter too, it's just more simple and pared back. The big difference is the colors, which are lighter, brighter and more neutral.
18. Add personality and color with a bookcase
Most of us have a books in our living rooms, but your bookshelves can always be more than just a storage space if styled right. You don't need to pack every single book in because gaps are good. And, if you make space for trinkets to be interwoven amongst the books, such as small pictures in decorative frames, boxes, plants, statues and whatever other aesthetic pieces you may have tucked away, you'll add much more personality.
19. Decorate with house plants
A quick and cheap living room idea to add life (literally) and greenery to your space is to add plenty of house plants. Invest in a mixture of small and large indoor plants and then dot them around the room over shelves, sideboards and mantlepieces. The plants you choose will add to the style of your living room too – a palm will add an exotic boho feel, while a bonsai will add a polished and more structured look.
Find the best indoor plants in our guide.
20. Create a coastal feel with shiplap panelling
Coastal interiors are such a classic, and the beachy look works so well in living room decor because it's clean and bright, but really inviting and cozy, too. To get this look, start with a blank canvas, paint the whole room white, cream or a lovely pale blue Then you can add the details and accessories; soft muted colored furnishing, add the occasional striped thrown in for a proper coastal look.
21. Or DIY your own lounge wall panelling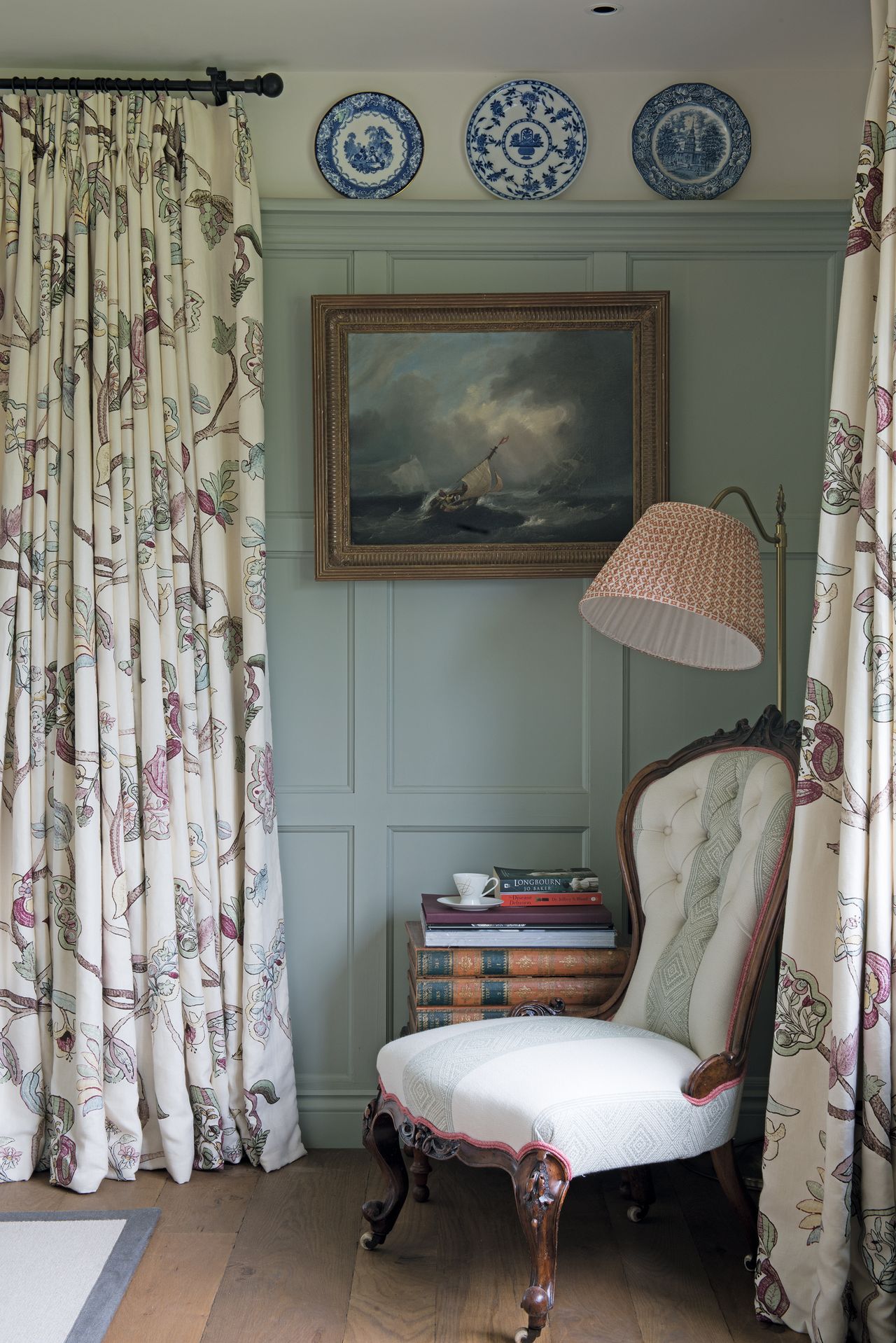 And if shiplap is a bit too beach house vibes for you, DIY some traditional wall paneling using beading. This living room might have original paneling but you can achieve a very similar look just check out our guide to DIY wall paneling.
22. Mix modern furniture with vintage finds
We love living room designs that mix old and new, it just makes them so much more... liveable. A velvet-upholstered 18th-century French chaise longue might look wonderful but you can't get comfy on that to binge watch Netflix, now can you? So choosing new pieces, like a sofa, and mixing them with your original vintage finds, not only looks fab but is practical, too. (P.S. put the chaise longue in the hallway...)
23. Add colour and pattern with a gallery wall
A gallery wall is a brilliant way to add personality, via colour, pattern and memories to your living room setting. Choose photo frames that complement the surrounding soft furnishings – especially if you're working on a white wall – and you'll really make this backdrop pop.
For help when curating yours, look to our gallery wall ideas feature.
24. Or lean your pictures for a more laid back look
Decorating a living room needn't be hard work, especially if you're renting or really really stuck for time. And, leaning a combination of prints, paintings and frames against a wall can have just as much impact.
Choose a color theme that's not too chaotic, pick frames of different sizes and leave some space between the pieces. Here, the tiny splashes of yellow and pink add a whole new accent color to this neutral living room.
25. Add gilded touches for a luxury living room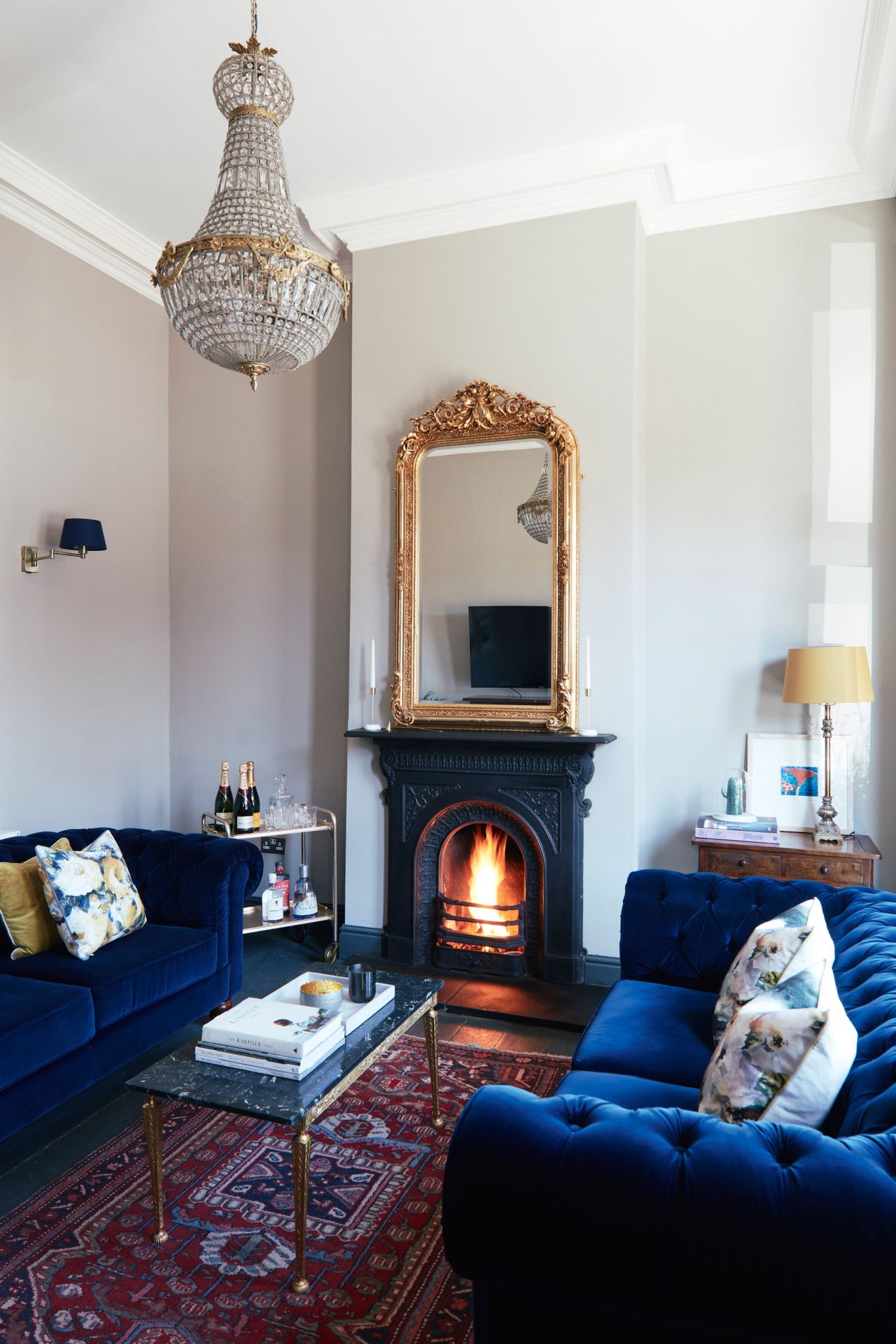 A luxury living room is always a joy to be in. The gilded mirror above the fireplace, and the chandelier, makes this lounge space feel elegant and sophisticated. Yes, you can go far with just a touch of gold.
26. Hang a mirror to create the illusion of space
For a living room idea that is going to add light and space, mirrors are always going to work. It may be Interior Design 101, but if you have a small living room, or a dark living room, adding a mirror is only going to help things by expanding the space and bring in more light. Magic, we know.
27. Go big with beautiful living room storage
It might not be as fun as painting your living room, but getting your living room storage sorted can be just as effective. Totally decluttering your room will not only give you more space to get decorating, it will obviously make your living room feel bigger too as there won't be stuff covering every surface.
You can also make storage a key feature of your living room design. Floating shelves, bookcases, sideboards, all of these can be decorated beautifully. See, storage isn't so boring...
28. Layer texture to emphasize coziness
Before we go on to talk about the many amazing living room ideas going on in this space, can we just appreciate the artful layering in this living room? That's how it's done, people!
Along with the masterful layering that adds so much coziness to this small living room, the mural also works towards adding texture. Murals are also a fab option if you are decorating a rented home, because you can choose to hang a mural rather than paste it permanently to your wall. The use of a mural also expands the space as it stops an expanse of white wall making the room feel boxy.
29. Create interest with a feature wall or mural
One up from wallpaper, a mural will create even more of a feature wall. Yes we know, murals don't always get the best rap but you can find some really cool ones that will add style to your room rather than a wall of snowy mountains or a New York skyline.
30. Go chic with your living room window treatments
Choosing the best living room window dressing can be tricky, because you want both the softness of curtains and the privacy of blinds – especially if your living room is at the front of the house. We have found what works best is a combination of the two. Layering a curtain over a blind. We have a whole guide on choosing living room curtains so if you want more advice be sure to check that out.
But, of course, we can never resist the look of shutters and if you are after a clean, simple look, cafe shutters like the ones above, are a great option for living rooms too.
31. Use an area rug to lift a tired floor
If your current carpet is looking a bit worse for wear, a super easy living room idea is to cover it up with a massive area rug. And we mean massive – pick one that's going to go at least slightly under your furniture too so it looks almost like the rug is the carpet.
'A rug can add the perfect finishing touch to your living room.' says Jen and Mar from Interior Fox. 'It pulls the scheme together and helps to zone a space when working with a larger room. And don't be afraid to maximize: the bigger the rug, the better in our opinion. A large rug will create maximum comfort underfoot while adding warmth and texture to wooden floors. Our best design tip: make sure to place the rug underneath the front of the sofa; this will bring your key furniture pieces together. To avoid the room feeling overcrowded, give the rug enough space from the wall, ensuring the sides of the floor are exposed.'
We think jute rugs look best as area rugs and they are great for layering too, so you can pop a patterned rug over the top to add some texture.
32. Pick versitile seating options
Investing in new furniture is always going to give your living room a bit of lift and if you are on the lookout for a new sofa, or a new armchair, it's a great opportunity to find something funkier.
Pick a piece you can move around the room, too, for practicality more than anything else, but also because moving furniture around can be an easy way to keep a space feeling fresh.
33. Create interest with patterned wallpaper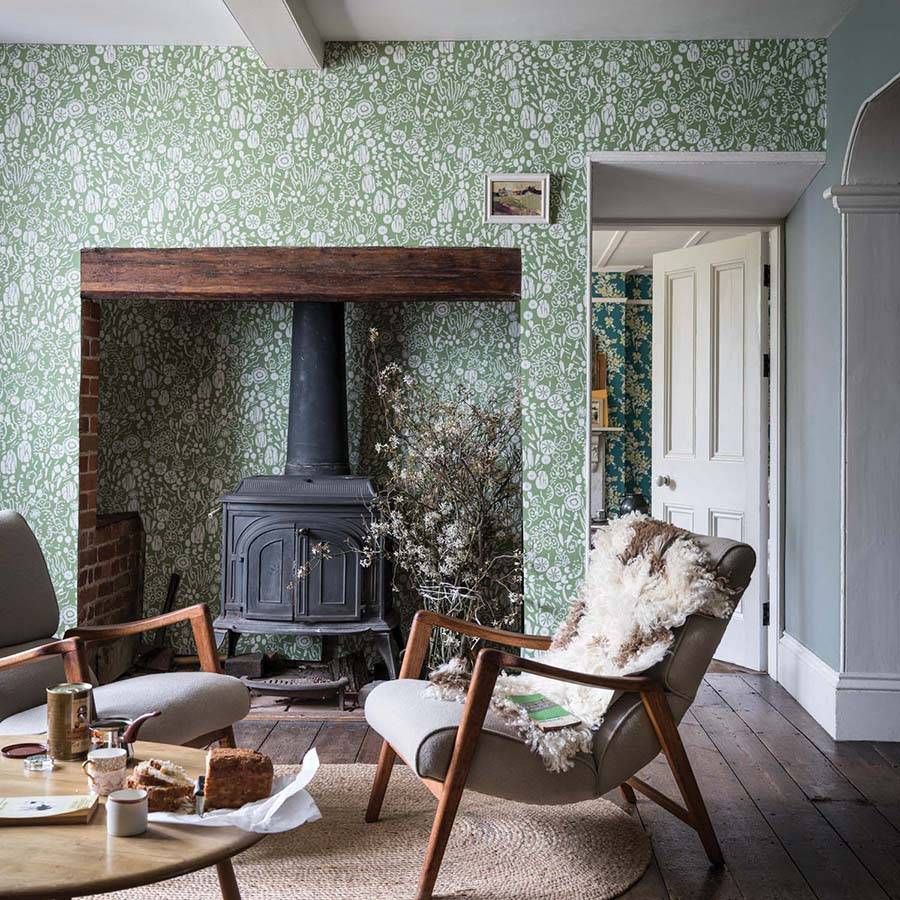 Second only to paint, we think wallpaper is one of the easiest living room ideas out there. Just one roll of wallpaper could totally change the style of your space. Wallpaper can look great on every wall, but we love it as just a feature wall – stops the space being too busy and gives the room a focus. That means you could just add a feature wall, treat yourself to a couple of rolls of your dream wallpaper and hang it yourself. An update for under £100!
34. Embrace maximalism
Start with one roll of wallpaper, and it might lead to something bigger... We love this maximalist space: color on every wall, including the floor! But it really doesn't look too much, the white walls and relatively neutral sofa color keep the room looking fresh and not too full.
35. Use lighting to create impact
Living room lighting isn't just about the ambient, the task and the accent lighting (although that's a must to sort when designing a living room lighting scheme), it's also about the impact of the fittings. While pendant lighting in a living room should be used with caution (overhead fittings used alone will make the space feel soulless and bland), they should definitely be chosen and positioned for maximum effect. Loving how these are positioned over a coffee table to create a real focal point around the social zone of the space. And the lit glass cabinets are a real bonus...
36. Switch out your cushions for a quick update
Cushions are king. You've heard us say this before – never underestimate the power of changing your cushions and throws. These small changes can make a huge difference to the look of your living room. A new print – we like the polka – a bold colour or simply a new texture can instantly update your sofa and chairs.
37. Be bang on trend with living room floor tiles
An option you might not normally consider for a living room. is decorative floor tiles – yes, they are beginning to be seen in rooms other than bathrooms, hallways and kitchens. Practical, easy to clean and great in modern spaces, you can pull out the colors in them to accessorize the rest of your scheme.
'For years tiles have been the go-to floor option for consumers in kitchens, bathrooms and traffic-heavy hallways. We are now seeing a rise in tiles being used in living rooms as well - as they can be an incredibly convincing alternative to wood and natural stone, as well as kinder to budgets.' says Kamila Chalfin, Marketing and Brand Manager at Tile Giant.
There's something very Mediterranean feeling about a tiled living room floor, but if you are worried about it feeling cold just throw down a large rug, you can always take it back up again in the warmer months.
38. Bring a second color into your living room decor
If you're tired of your living room's look but love the main color you've used, why not just add a new accent color to the scheme to pep it up? You could paint your walls in a color that contrasts your sofa as you can see in this amazing living room, or if you are after something a tad more subtle, just introduce a second color by painting a portion of your walls.
39. Go for a modern rustic living room
Modern rustic living rooms are everywhere at the moment. Clean lines, contemporary furniture, modern shapes, but then somewhere a nod to a more country, rustic style. The simplest way to get the look is to mix some natural textures in with all those modern pieces and to add plenty of throw pillows and blankets to your seating to soften up the space.
Oh, and a cute log burner wouldn't go amiss either. We are loving this super sleek design. You can find loads of fireplace ideas over in our gallery.
40. Create a cozy vibe with low slung furniture
This is the perfect cozy living room idea for smaller spaces – choose furniture that's close to the ground to not only create a lovely laid-back cozy feeling but also to create the allusion the space is bigger and taller. All the different textures and warm colors turn this small living room in a modern home, into a gorgeous farmhouse-style snug.
How do you design a living room?
When it comes to design a living room from scratch, we think the best place to start is by drawing up a plan of your living room. There are loads of great apps and websites that can help you do this, or just could just go old school with some graph paper and a pencil. Then make a list of everything you need/want in the space – seating, storage, decor, lighting. And start planning where it will go in the room, test out different layouts on your plan.
When it comes to decor, if you aren't sure on a style, start by creating a mood board. Use Pinterest and rip pages out of magazines of living rooms you like the look of and you will start to see trends/colors/shapes pop up more frequently. Do think about the style of your home too and what decor will work with the period of your home.
What colors are best for a living room?
The best living room colors will of course depend on your style and the look you want to create. But there are a few general rules if you are struggling to decide on a color scheme. Rule of thumb is if you living room is on the smaller side, keep your colors light and bright – stick to white or something close to white on the walls and ceiling. Of course, if space is tight you don't have to rule out dark colors all together, going for darker walls in say navy or deep green will enhance the coziness of a smaller room and can make it feel really inviting.
As welll as size, lighting is something to think about when choosing colors for your living room. If your space gets lots of natural light then lucky you, most colors will work. However, if your living room is North facing and therefor might lack natural light you will want to warm up the space with warmer tones and avoid anything too cool toned.
Just make sure to always order swatches so you can see what your choice looks like in your exact space.