Pretty but still practical living room window treatment ideas, will really make a difference to your space – whether it's the final touch to your newly decorated lounge or dining room or just a quick way to update your open plan space.
First think about what's on your list of requirements for your living room window treatment ideas. Does it need to create a focal point? Keep the inside of your home private? Stop sunlight damaging furniture and flooring? All of the above? With an exacting list of specifications, and whether you're planning to roll out all new window dressings or to simply swap in new drapes or even curtainless options for your windows, you have options.
1. Choose easy-update roller blinds
If you are looking to change up your living room ideas with the seasons, check out these roller blinds. The original fabric can be hooked off and replaced with a new one while the blind system itself stays in place. The blind pelmets are changeable, too.
These Fabric Changer designs are Woodland Burst Blackout pelmet roller blind (left) are all from Bloc Blinds.
2. Floral folie drapes
Bring a little joie de vivre to your living room window treatment ideas with a bold floral print. For classic types of window treatments you'll want to keep it cohesive with a simple color duo like pink and navy here to let the pattern stand out tastefully.
3. Floor to ceiling pleat dining room curtains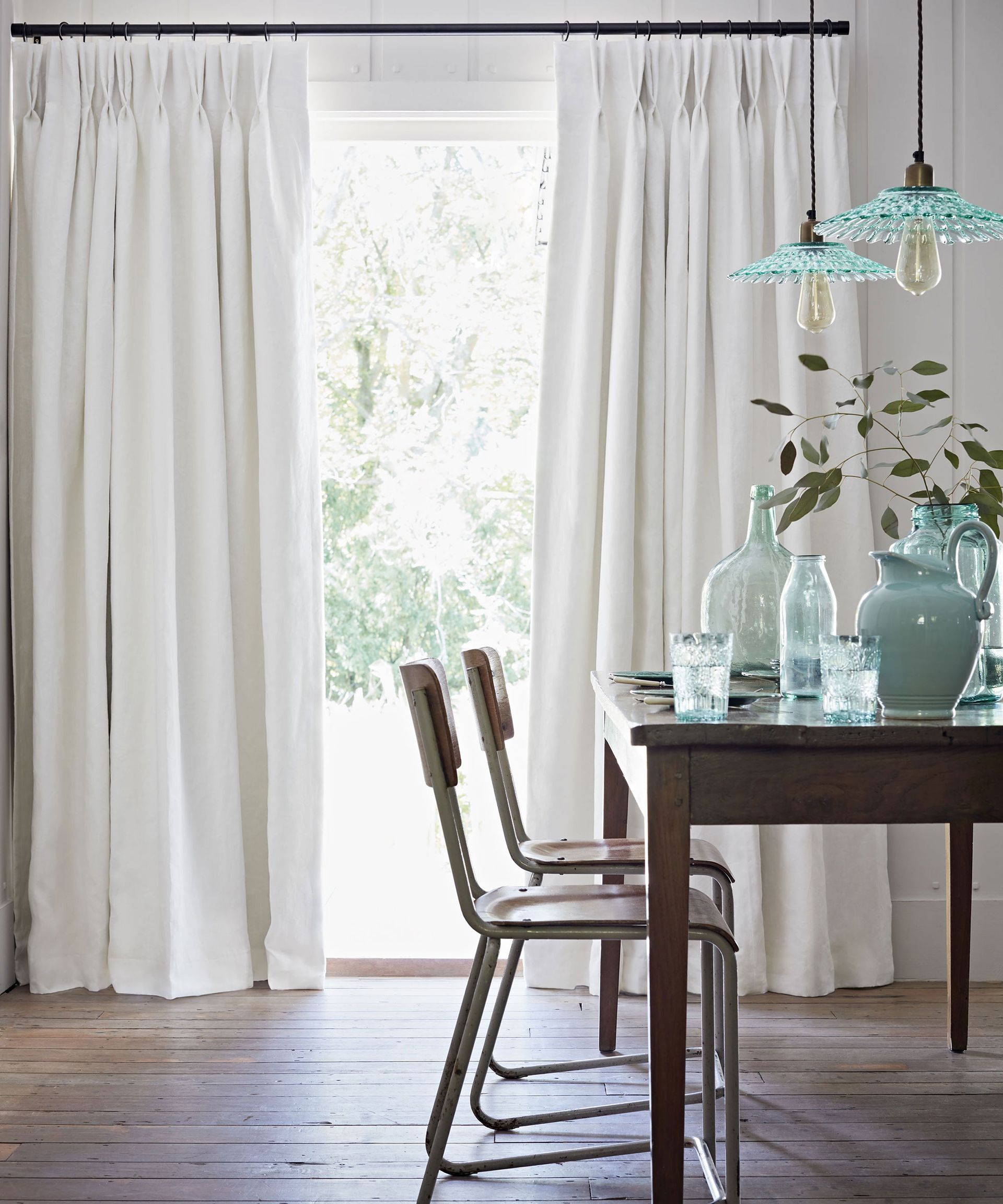 Fresh and clean cut, these pleat curtains will make you feel like it's springtime all year round. Perfect for a picture window or even to dress sliding doors, when you choose one color, you can afford to go for length with your window treatment ideas.
4. Denim textures
Fabric is everything when finding the best window treatments to bring your living room ideas to life. We love the Koala material from Loom & Last which is a gray linen/viscose mix that leaves a soft, vintage almost denim look and feel to the product. Perfect on roman blinds. Harry Cole, Founder of Loom & Last adds 'If the fabric or pattern is a key part of your design scheme, Roman blinds are the best option. The header rail allows visibility of your fabric pattern whether the blind is up or down while the traditional pleats are a stylish addition that make a feature out of your window.' Adding more texture is one of the best kitchen window ideas also.
5. Showcase pattern with panel curtains
Make a focal point of the window – or distract from a view that leaves much to be desired – with a patterned window treatment. Flat panels put maximum focus on the motif itself as there are no fabric folds, and look contemporary to boot.
6. Flexible living room window treatment ideas
Street-facing living rooms can leave you feeling on show when you're trying to relax. To avoid the goldfish-bowl sensation, consider tier-on-tier picks of the best shutters. The stacked panels allow you to cover the pedestrian-height portion of the window and fully open the top, or screen all of the glass, while the slats mean fine control of privacy but will let light in during the day.
These two tone blue shutters come in custom colors from Shutterly Fabulous..
7. Save space with a Roman blind
Small living room but like the softness of a window dressing made from fabric? Choosing the best Roman blinds will create a generous effect with pleats of fabric apparent when it's pulled up, but as it fits neatly and hangs down flat it won't take up space alongside the window or create bulk against the wall.
This Orla Kiely Rosebud Orange Vintage Roman blinds are from English Blinds.
8. Protective window treatment ideas
The best bi-fold door ideas along with generous glazing create a fabulous connection between indoors and out but the sun can cause furniture and wood flooring to change color over time. Choosing window treatment ideas that come with built-in UV protection can make this less of a challenge day-to-day. Blinds that are designed to stop UV light damage will also make screens easier to see on bright days. Older home with traditional windows? They fit sashes, too.
A made-to-measure blind starts from around £150 from Duette.
9. Combine window dressing ideas for a practical solution
To keep natural light flowing into a living space and obscure the view of the curious, window film proves a simple and effective solution. Doesn't feel dressed up enough for the space? Team it with curtains for a more opulent window treatment. Letting the curtain fabric pool on the floor, as here, will make the look more luxurious.
This is MissPrint Ditsy Dandelion film is from The Window Film Company.
10. Choose a modern take on net curtains
A blind that maximises natural light while foiling attempts from neighbors to spy on your interiors is a 21st century solution to a problem of urban living, and discreet window dressing ideas are the way to go. It'll do the same job at night, too, when it can be completely closed.
This silhouette shade is from Luxaflex.
11. Stop streetlights intruding with blackout blinds
Prevent the glare from street lamps disrupting the carefully created ambience of your living room in the evenings with the best blackout curtains or blinds.
These Hive Cellular blinds have a pleated structure that's also designed to absorb sound to keep that element of the outside out, too. From Style Studio.
12. Give drapes the luxury factor
Velvet's a huge trend for sofa upholstery and it's just as appealing used for living room curtains too. It looks and feels soft and, of course, drapes beautifully. Try dark shades for a contemporary effect and add brighter jewel tones as accents to the scheme.
13. Dress up a bay with the right window dressings
A shutter and curtain combination is an ideal way to draw attention to the lovely lines of a bay window. Here, café-style shutters mean the room's kept private, while floor length curtains frame the attractive feature. Once night-time comes attention's focused on the sumptuous drape of fabric.
Richmond café-style shutters and Astro Steel curtains for W127cm x D137cm, both Hillarys
14. Go for a combination of curtains and blinds
If you want a relaxed, informal look in your living room, choosing curtain and roman or roller blind fabrics that complement each other but don't match is the way to go. Picking designs from the same collection is an easy option. Fabrics by Vanessa Arbuthnott.
15. Choose honeycomb blinds for a soft light
Blinds that have a honeycomb structure are perfect for living rooms if you want to also keep heat in during the cooler months. They look nice and subtle, you could even layer with a curtain, but actually they are such a practical choice and can drawn to and from as necessary to adjust the light, sound, temperature and privacy.
These blinds are from Ikea and are a total bargain of course.
16. Frame a bay window with wooden blinds
Window dressing ideas for living rooms don't have to be overly complicated, especially if you're working with bay windows which are beautiful in design by default. Create simple but effective cohesion by installing wooden window blinds. The neutral color helps anchor the room in a subtle way and nods to the modern look of sustainability also.
You can find these made to measure blinds and similar at English Blinds.
17. Project natural light where you need it
These blinds lift the focus area of this living room, that gorgeous gallery wall, in a way that curtains or other window dressing ideas may not be able to so successfully. Aluminum Venetian blinds give you a simple look where you can control the amount of natural light you let into the room.
18. A simple pencil pleat
'Folds of fabric are gathered tightly together that resemble the size of a pencil, hence the name. This type has small discreet hooks attached to the back on the curtain which is then hooked to the curtain pole.' Says Cole. Simple and refined, this style of window dressing wraps the room's decor up perfectly especially if you prefer pared back living room layout ideas.
19. Fake the look of stained glass with window film
If you're afraid that curtains will make your lounge feel dark, play to the dramatic space and up the vampy, gothic vibes with a stained glass effect film. It's a budget-friendly buy that costs less than drapes, so is the perfect purchase for renters.
'Rooms which are exposed to little sunlight require creative thinking and decorative interest. If you find yourself deterred from spending time in a certain room due to the lack of light, consider choosing a bold patterned window film,' says Joanna Baumard, co-founder, Purfrost.
'Botanical and brightly-colored designs reflect the summer season, lift your mood and elevate unused dark spaces.'
How to choose living room window dressings
Dressing a living room window provides the opportunity to impress, or use a more understated treatment that quietly solves the problems it has to. If it's a separate room, you won't need to think about the window dressing in relation to others, but in an open-plan kitchen diner and living space, consider repeating colours from a kitchen window treatment to pull the whole space together.
A living room might include bi-fold or sliding doors or more traditional French windows, a shapely bay, or casement windows, and blinds, shutters, curtains and panels might all prove good-looking treatments that could inject color and – when it comes to Roman blinds, curtains and panels – pattern, too. Roman blinds and curtains will also add to the balance of softer elements in a living room scheme, and the latter can look especially luxurious with generously draped fabric. Other treatments have a simpler, contemporary effect.
However, it's not only the aesthetic of the window dressing that's a factor. Light control to reduce glare on screens and protect upholstery from fading may be vitally important, depending on the room's orientation. Street-facing rooms, meanwhile, need a treatment that brings privacy without making them gloomy, and here specially designed blinds, shutters and window film can come to your aid.
What can I use instead of curtains?
If you're not into light curtains, or heavier drapes you can of course opt for blinds, shutters or other types of window treatments. These do come up a little more expensive and if it's costs that you're trying to keep low with your window treatment ideas, you can choose either shades or even window films. Shades give you less control over how much light you let in however you will enjoy privacy, The same goes with window film as they let lit in when it's light outside so they are probably best kept in a living room space where no one is (usually) sleeping. Both are available in tons of designs to suit your decor scheme too, we especially like Home Depot's stylish options.
'From frosted to vibrant patterns, window films can either blend seamlessly into the background or create a real design statement,' says Baumard.
'If you're looking to add a real wow factor, consider framing your film by painting the surrounding window edge in a contrasting color. This quick trick will instantly elevate the space and draw your eye to the window, making the room appear much brighter and larger.'
And for more plush designs, Loom Decor always has gorgeous window treatments for living rooms and the rest of the home in different beautiful fabrics.