The most brilliant mirror ideas can brighten up minimalist spaces and tame maximalist rooms alike. It's all about choosing the perfect size, frame, shape and of course, much of the finished look will come from how you mirrors are displayed.
Modern buys will give off contemporary vibes while you can't beat an antique or vintage find from a flea market to add character to your living room, kitchen or bedroom space... A great way to enhance existing wall decor, not forgetting that mirrors come with many practical uses that go beyond checking out your (beautiful) reflection.
Mirror ideas to marvel at
Mirrors are both decorative and functional when it comes to interior design. They can help to bounce light around the room meaning that when well placed, mirrors can actually create the illusion of space in smaller settings. Not to mention if you've got any damage on the walls, it's nothing that you can't cover by hanging a mirror.
'A decorator's secret weapon, mirrors are more than a practical object in which to check your own reflection,' says Belinda creative brand director,OKA.
'In the right hands, a beautiful mirror can be used to amplify light, add drama, create interesting reflections and frame views.'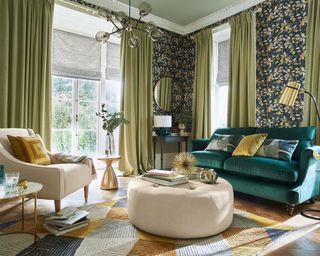 In a large living room space, you don't have to make your mirror the center of attention. Instead, move yours over into an otherwise hidden corner to add character. This will also encourage the eye to move across and better appreciate the rest of your interior design scheme.
Showing an appreciation of shapes and geometry, this Cade round mirror from John Lewis is styled with a diamond color blocked rug, square motif cushions and a gorgeous bulbous light fixture. And those green curtains are the perfect window treatment for a hotel feel.
2. Use multiple mirrors in a dark living room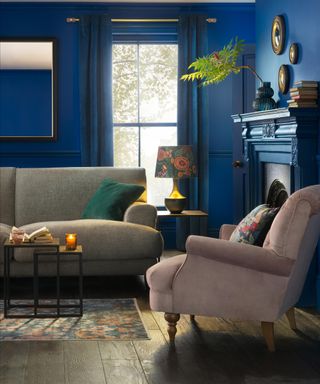 If you've used a dark wall paint, you may have to work a little harder to allow light to come through. Don't be discouraged by deeper hues though – this can easily be remedied by lots of mirror ideas placed strategically around the room.
The combination of the black square-framed mirror and trio of round mini mirrors above the mantelpiece are the perfect antidote to dramatic paint shades.
'Mirrors have long been used by interior designers to subtly transform spaces through clever tricks of light and space,' says Andrew Tanner, design manager, Habitat.
'Placed adjacent or opposite windows, mirrors maximise luminosity, reflecting daylight around the room. Don't be restricted to just one! Incorporating multiple designs balances a space, significantly brightening dark schemes and making intimate rooms appear larger.
3. Place your mirror near your windows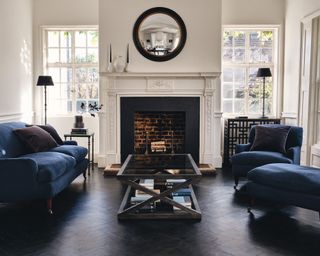 'To increase the amount of natural light cast around a room, simply place a mirror opposite or beside a window; no matter how gloomy the sky is outside, it will harness any available daylight. The bigger the mirror, the brighter and larger the space will feel,' says White.
4. Open up a green garden lounge with a round mirror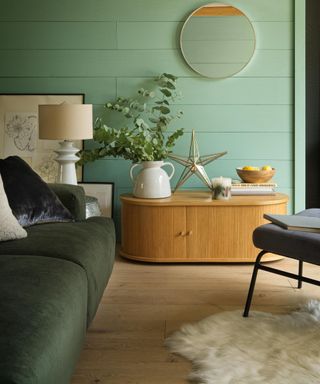 Bringing the outside in can be as easy as creating a green living room scheme. Sage green wall panels that look like your shed exterior is an excellent place to start and a forest green velvet sofa suits this space better than garden chairs we think you'd agree. And, this round mirror is the perfect touch to make this garden lounge go on forever.
Fresh lemons in a fruit bowl add a zesty feel, while foilage in a vase and framed floral art reinforce this greenhouse like atmosphere.
'Not merely functional, mirrors can be used as a decorative focal point in interiors, making a great alternative to wall art,' says Tanner.
'Round designs have been increasingly popular in the last few years, providing a contemporary look that has a softening effect on angular schemes. A key consideration when hanging a statement mirror is placement, make sure to take into account what will be reflected.'
5. Glam up your mantel with a gold framed mirror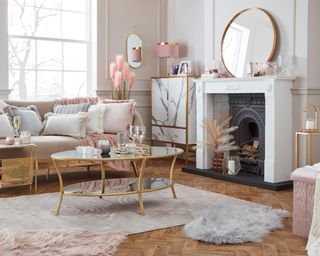 Pink pampas, gold furniture, faux fur and a marble unit make this space fun and feminine – the perfect place to host. Make your mirror the star of the show by placing it center stage on your mantel.
'Over mantle mirrors make a great addition and look best when they are hung just above the mantle. Positioning a mirror too high means it could be reflecting the ceiling or a doorway which will ruin the effect.' says Debbie Leigh, design manager, ILIV.
Give it some company by styling the top of your fireplace as you would a 'shelfie' – display glass candles, ornaments and ceramic trinkets to show off your personality.
6. Use a full-length mirror horizontally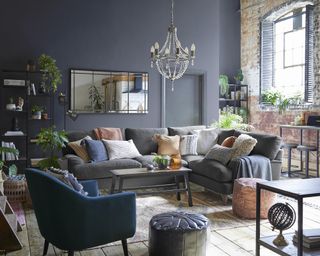 Traditionally standing tall, full-length mirrors are usually positioned in an upright, vertical position so you can see yourself in all your beauty, from head to toe. But, in this industrial boho living room by Dunelm, their Apartment Full Length Black Mirror has been flipped so that four (or more faces) can get a look in. Little kids will love to stand on the L-shaped sofa and pull faces at this reflective rectangular surface.
7. Place a mirror on a wallpapered wall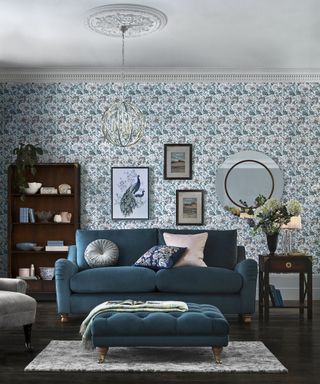 'Mirrors are a great way of reflecting light, colour, and pattern around the room to help brighten up any sized space. The right mirror placed in the perfect location can definitely change the atmosphere and feel of any home,' says Helen Ashmore, head of design at Laura Ashley.
'The beautiful Evie Mirror has a decorative clear glass frame, giving the illusion that the style is floating. This design feature means it works great over wallpaper, allowing the print to look as though it's built into the design of the mirror, creating an even more stylish look.
'It is just right for brightening up any small space. Strategically place the Evie mirror in a smaller room with narrow windows or little natural lighting to bounce the restricted amount of light into another direction. The room will appear instantly larger than it actually is.'
8. Bring the outside in with a window-shaped mirror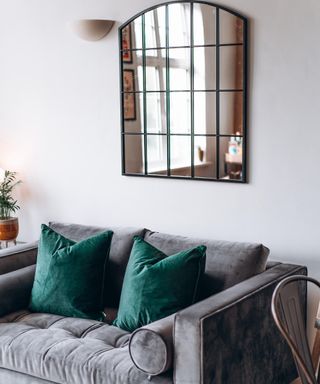 A timeless design, black framed mirror ideas will never fall out of style. The curved top and rustic metal finish of this Brompton wall mirror by Cult Furniture will bring a touch of industrial chic to your modern living spaces.
To style, we'd hang it vertical on a wall, above your sofa, or for a laid-back look, prop it up and use a full length leaner mirror in your dressing room or bedroom.
Designed to look like a large window, the metal grid frame work is enchanting and gives the impression of space as it reflects and bounces light across the room.
9. Style a mirror in a shabby-chic maximalist scheme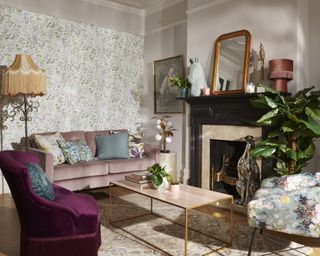 Living rooms don't have to look coordinated: your space, your style after all! So don't feel inclined to match a three piece suite with a love chair if you don't want to.
Here a hodgepodge of motifs and materials creates a grannycore scheme that fashionable moms and those with eclectic interior style will love. Though the wallpaper pattern is different to the rug – familiar florals and themes we've seen before give this space an unusual cozyness.
Alongside a dusty pink fringed lampshade is a brass framed mirror idea that sits on top of a traditional fireplace. Its period look ties into the ornate detail of the hearth and the framed art on the wall.
10. Soften a cool living room with a rainbow mirror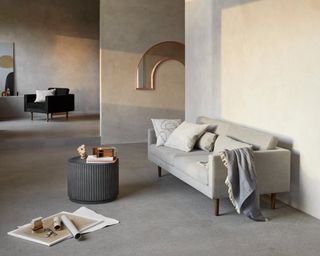 Grey living rooms can often need a little 'something something' to make them stand out. Though this shade shan't go out of style for a while, mirror ideas are one way to make them stand out from the rest if you choose not to accent with color.
Child-friendly and cheerful, this rainbow arch-shaped mirror from Folk Furniture softens the cool grey shade of concrete paint. The Scandi-chic graphic cushions, on-trend greige sofa, tasselled throw and fluted detail footstool add interest and lots of texture.
11. Go for an Art Deco-inspired living room design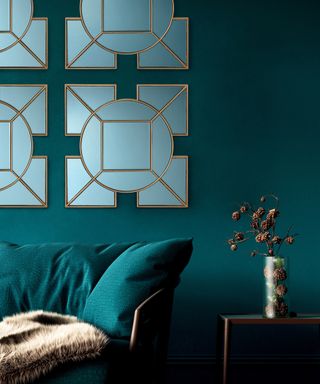 The roaring twenties was all about, glitz, glamour, clinking glasses and having a good old time. So, in an era that was perfect for partying, you can be sure that the interiors were full of reflective surfaces and lots of marvellously metallic furniture.
The Art Deco-inspired Lyshia mirror by där lighting features a beautiful design with four squares surrounding the central round mirror.
Complete with foil detail, this striking decorative mirror that will add a warming touch to your living room. Alternatively, this'd look amazing in a teal bedroom too. Opt for a singular mirror or stack them as shown.
12. Choose a mirrored backsplash in the kitchen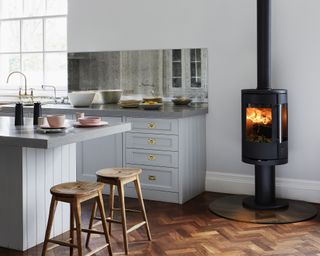 You may be thinking: 'Why on earth would I include a mirror in my kitchen?' but it's actually a really functional tool. You don't want spinach in your teeth on a child-free date night after all, right?
This backsplash with a reflective finish is one genius way to go about adding mirror ideas in your kitchen without looking vain. It's also makes washing up more interesting if your basin is not directly in front of a window. Using the reflection, you can see if the kids are up to any mischief or talk to guests after dinner – even with your back turned.
Plus... prime position next to that gorgeous Morso modern fireplace idea? Sign us up for drying duties!
13. Opt for mirrored furniture instead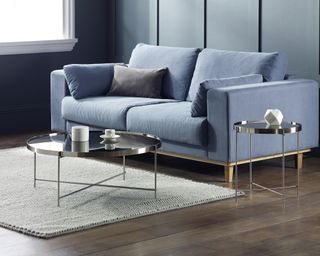 If you're dealing with a small space where your walls are premium real estate, consider investing in mirrored furniture instead. Not just a glamorous fixture, they will have a secondary role of bouncing light around the room – giving the illusion of a larger space.
'In a bedroom, for instance, a mirror is the perfect piece of furniture to make the space feel lighter and more open – especially when placed above a mirrored chest of drawers. Reflect on that for a second,' says Olsson.
'It's not just natural light that can be manipulated in this way, however; mirrors effectively emphasize the output from other light sources too. If you're tasked with decorating a cavernous space or a dark corner, placing a mirror near a table lamp can make all the difference.'
A mirrored screen divider is also a great shout as a closet organization idea or pop-up dressing space for guests.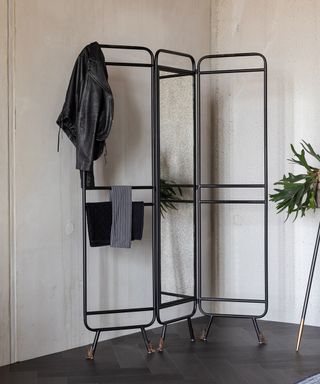 14. Go for a multi-purpose mirrored radiator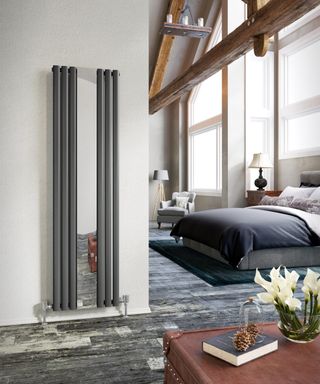 Life is full of little surprises, like dresses with pockets or finding dollars you didn't realize you had. So how about this 2-in-1 radiator and mirror idea that's great for cozying up with a cup of tea and book (or magazine) in your reading nook. Or, alternatively in the bedroom – especially during the colder months.
A full length mirror built into a stylish tubular radiator makes this Arcadia mirror radiator an asset in every room in your home.
15. Create a frameless display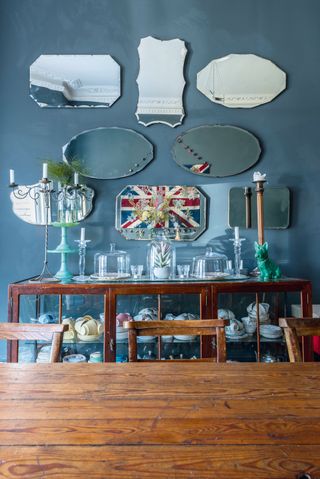 Mirrors make the perfect addition to an on-trend gallery wall and can help give the appearance of a larger and lighter space – especially helpful if you're using a dark paint shade as the basis for your gallery wall.
This vintage-style room proves that aesthetic appeal and practicality can join hands to form a stylish yet functional gallery wall inspired space.
16. Lighten a dark hallway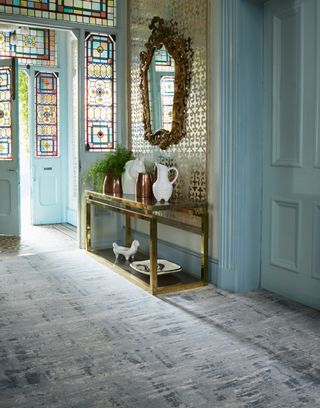 A dark hallway is always a good spot for a mirror as they make the ideal accessory to help when brightening a dark room. If you're a lover of vintage or period style, look for one with an ornate frame that will create a real impact on the decor of the hall. Here, a gold-framed mirror is matched with reflective wallpaper to add a brightening effect.
17. Create a display of mirror frames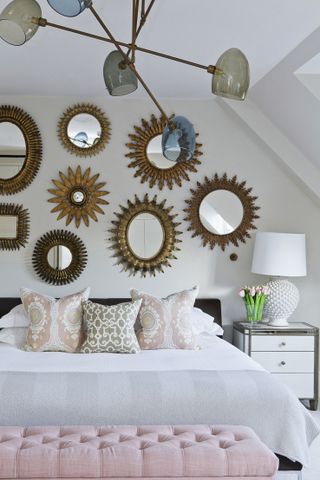 An accent wall devoted entirely to mirrors doesn't just brighten and enlarge a space visually; it also creates a visually striking focal point, and is effective at opening up a space. This bedroom is the perfect example of one of our favorite mirror design ideas.
18. Mismatch mirrors for success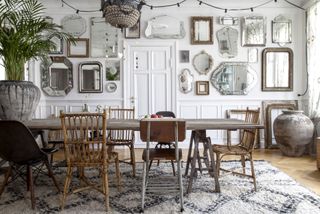 We like this mirror idea if you have a collection of slightly mismatching, antique mirrors. The key to success? Don't position your mirrors too uniformly or too far apart, and avoid perfect symmetry – laying them out on the floor first can be the best way to get a feel of what works best where.
19. Position long mirrors horizontally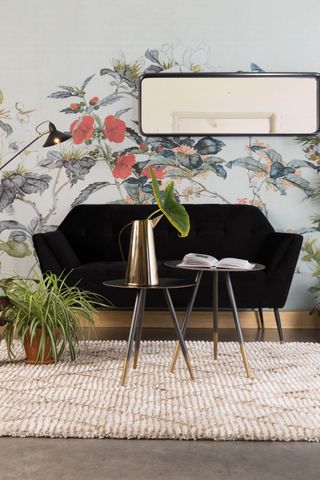 Hanging mirrors horizontally on the narrowest wall of a room – at around head height – is ideal if you're trying to achieve the effect of a wider space. This design trick works particularly well if mirrors aren't perfectly aligned with furniture – an effect which also adds interest to a space.
Opt for a mirror with a slightly softer, rounded edge if you're designing a room with a Mid-century or vintage inspired feel.
20. Mix and match mirrors and pictures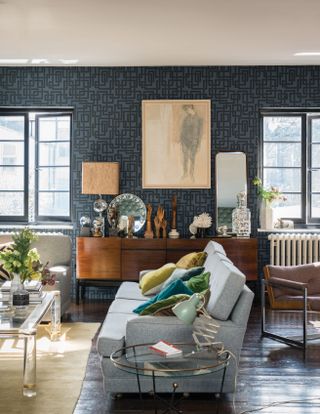 Mirrors with softly rounded edges make the perfect addition to a Mid-century inspired space and are particularly desirable when designed as part of a picture-led wall.
We love the brightening effect of pairing a mirror with this teal green wallpaper from Farrow & Ball.
21. Pair a statement gold mirror with a sunny scheme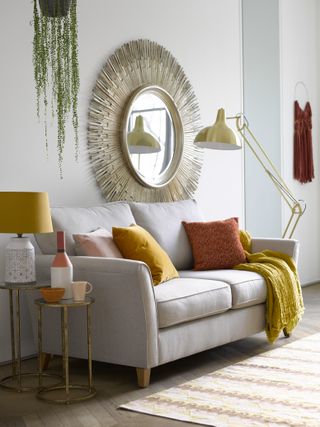 If you're working with a warm-toned metal mirror, for example something that's copper or gold, consider this mirror idea and pair it with similarly sunny yellow and orange shades.
In addition to making a space more welcoming, research suggests this combination of warm, sunny tones has the ability to enhance the mood of a room.
22. Create a minimalist feature with a frameless mirror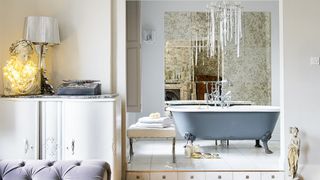 If you're looking for mirrors that will create a unique feature, but don't want to sacrifice your distinctly minimalist style, consider going frameless. In a luxury bathroom with a more sophisticated feel, antiqued glass is perfect for adding character.
23. Choose vintage frames for a rustic finish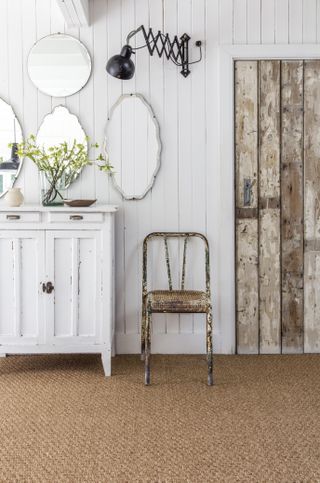 Opting for vintage frames effectively complements the laid-back feel of minimalist or rustic living room schemes, adding subtle interest to a space and further enhancing the light and bright feel synonymous with this interior style.
24. Maximize the light-enhancing properties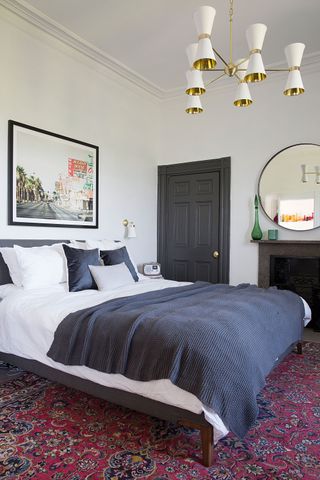 If your priority is to design a space that feels larger and lighter than it really is, you need a large, round mirror in your life. Position it so that it can been seen on entry to a space effectively draws the eye and creates the feel of a larger and lighter space.
Opt for a model with a slim frame if you're a fan of understated, minimalist interiors and position above a similarly elegant console table for a hallway that feels spacious and welcoming to guests.
25. Create a focal point above the fireplace with mirrors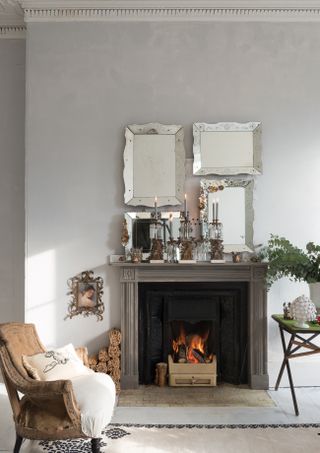 Positioning a statement mirror (or collection of mirrors) above a fireplace draws the eye, creating a focal point within a space and is one of our favorite mirror design ideas. The taller the mirror – or collection of mirrors – the greater the impression of a high ceiling in the room.
Styling a grey stone fireplace with antiqued silver mirrors and other glass accessories creates a strikingly subtle finish. The odd well-placed, house plant is a welcome addition to an otherwise cool toned, silvery-grey living room scheme.
26. Open up a trad home with an understated design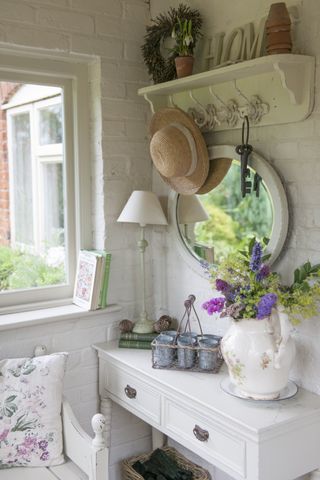 If your interiors taste is more traditional, opt for this understated mirror idea as part of your scheme. Pairing a white frame with a white scheme is a particularly subtle approach that will effectively open up a small space.
Pair with an unfitted, freestanding unit and open shelving to create the perfect, welcoming separate mudroom or small foyer.
27. Source antique mirror-doors for a boho feel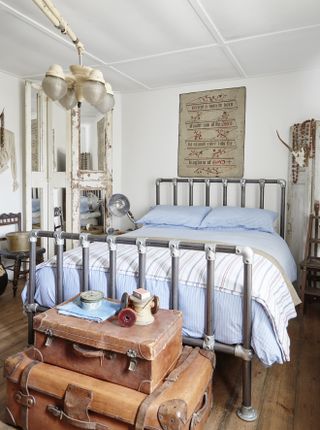 Stylishly complementing a boho inspired space, we love the idea of sourcing antique mirror-doors, which can be propped in a corner to enlarge a space. You could also DIY your own version of this mirror by sourcing a reclaimed door or shutter and mounting on a mirror.
If you fancy a DIY project, revamp an existing piece of furniture to give it a vintage look.
28. Lean a large, antique-style mirror against a wall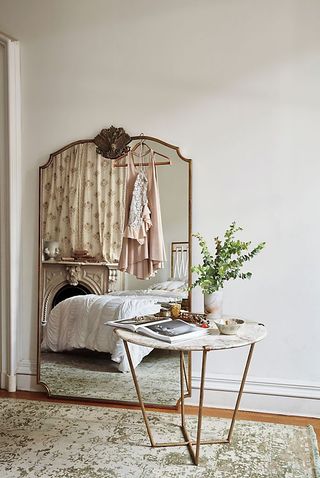 If you're designing a space with a laid back, unfitted feel, leaning a large, antique-style mirror against a wall can be an effective way to display mirrors. It will expand the space instantly plus give a traditional vibe to any room.
29. Display a collection of small, ornate mirrors
Using a large, frameless mirror as a base, we love the idea of creating a display using a collection of small, ornate mirrors, as well as prints and other ornaments. This technique creates a stunningly intricate focal point, which is enhanced by the reflection from the large mirror.
30. Channel brightly decorated ceramic frames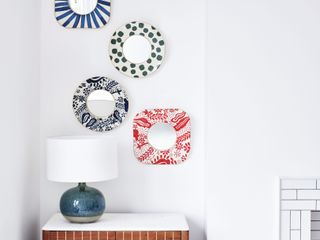 Using ceramic plates to create a stylish wall display has been a popular trend over the past couple of years. With this trend mind, we like the idea of channeling the look with a display of patterned ceramic mirrors.
31. Get showy with a window mirror in the hallway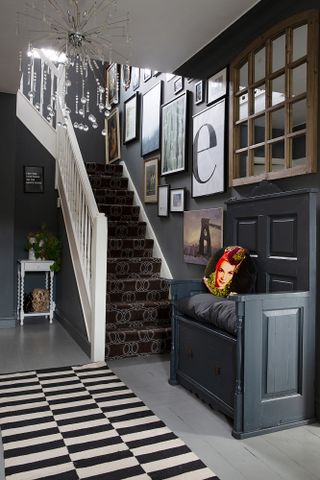 Brilliant in larger rooms and hallways, a window mirror is the best of both worlds: practical, so you can quickly check your lippy before you head out for the day, but also beautiful. Choose from wooden and metal versions for a stand-out piece with an industrial edge – and they work well as part of a collection of pieces, as you can see in this homeowner's maximalist abode.
32. Bring a luxury vibe into a bathroom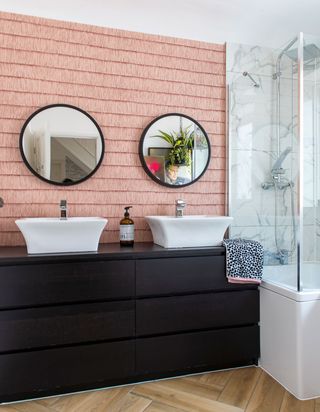 Lucky enough to have a couples bathroom? Make it count by placing two mirrors next to each other so you and your significant other can get ready in the morning – with no space-related arguments! Only one sink to share? The multiple mirror effect still works elsewhere in the house: try hanging two or three identical mirrors in a line in your hallway or dining room.
Psst – this interior designer's home has plenty of other decorating ideas to steal, too.
33. Create shapes with statement mirrors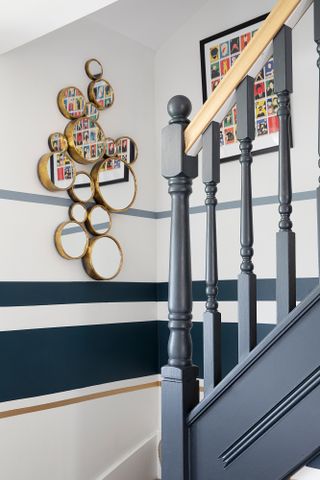 There are so many creative designs out there that it'd be rude not to experiment with something a bit more 'out there'. If you're looking for an investment piece, push the boat out and go for an unusual mirror like this retro bubble design. Hexagonal, octagonal, diamond, square: the mirror design world's your oyster if you're willing to have a look around.
34. Go A-list with a bespoke dressing room mirror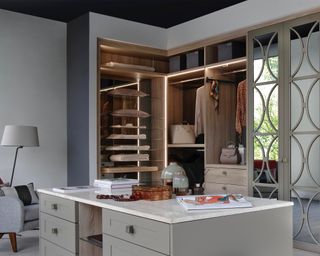 Whether you've got a walk-in closet or just want to spruce up an existing wardrobe, you can't beat bespoke mirror ideas for their made-to-measure fit.
'When designing a dressing room, it's important to think about lighting and light-reflecting surfaces to make a windowless or smaller room come to life, making it a beautiful place to spend time in,' says Philipp Nagel, Director of Neatsmith.
'Including warm recessed LEDs, bespoke mirrored door designs and decorative glass finishes helps to maximize light and a sense of space within a walk-in wardrobe or dressing room.
How can I incorporate mirrors into my home?
'70's inspired interiors are back with a bang and as we move towards the party season consider adding some much needed celebratory glam into your home with gleaming mirrored furniture,' says Nadia McCowan-Hill, resident style advisor, Wayfair.
'This retro revival brings a grown-up luxe touch to your interior style and has more to it than aesthetics alone. Mirrored side tables and cabinets are great for those smaller spaces as they bounce light around the room.'
'Pair them with bright vases, filled with rich winter blooms that can be wonderfully reflected in the mirrored surface.'
'Refresh this trend with a contemporary twist by opting for clean designs set in brass frames, or go for something more decorative with ornate furniture with a bevelled finish.'
How do you display mirrors?
'Hanging a mirror just a few inches above the mantle keeps it at a useable height and helps to reflect decorative items stood in front of it. Soft furnishings are the perfect way to add country style comfort to a room without having to completely redecorate.' says Leigh.