TBT to when checkered Vans were the shoes of the year. Well, this pattern is back, but this time in the form of a checkered rug. In fact, it's starting to dominate homes in quite a few areas. I've seen everything from checkered bath towels to throw blankets, and even lampshades all over my feeds recently. I mean, it's a smart way to incorporate some pattern (and texture) into your space.
Though plenty of decor items are receiving the checkered treatment, it's rugs I've noticed the most when scrolling. Shaggy, colorful, tasseled, you name it, it's on trend right now. So here's your sign to bring your bedroom, living room, or kitchen into the year 2023, and buy a rug like the ones I've handpicked below. I'm tempted to buy one of these rugs for my entryway to pull all my decor together and replace my current rug that's a little dated.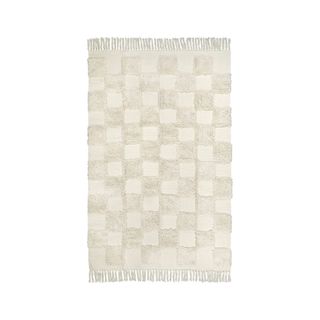 Sizes: 2' x 3' / 3' x 5' / 4' x 6'
This Amazon rug is complete with tassels.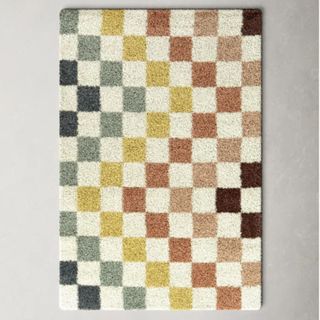 Florence-Graham Checkered Rainbow Colored Shag Area Rug
Sizes: 7'10" x 10' and 5'3" x 7'
Inject some color into your floors.
What to look for when buying a rug?
Why you can trust Real Homes Our expert reviewers spend hours testing and comparing products and services so you can choose the best for you. Find out more about how we test.
Size
It goes without saying, but you will want to double-check (or even triple-check) that the new rug you are buying fits inside your space. You never want to buy a rug that's too big as it will drown out a room. Rugs that are too small may make your furniture look bizarre in comparison.
Material
This is completely down to your preference, but the most popular rugs are usually constructed of 100% wool. This is for both your comfort and the durability of the rug. Otherwise, rugs are also made of polypropylene, which is a cheaper wool-like alternative. You could opt for a jute rug as well, which is incredibly hard-wearing and perfect for dealing with lots of footfall (say in a hallway).
It would be smart to consider where your rug will live when choosing a material. Go for something washable or with a low pile if you have pets or children and if it's going to live in a busy room. For an area like your home office or bedroom, you can opt for something a little more delicate since a rug placed inside one of these rooms won't be around food and drink as much. Nor will it be stood on hundreds of times a day.
Backing
Check to see if your new rug has an anti-slip backing. If not, you can buy a thin underlay to roll out underneath your rug to ensure that it sticks to your floor. Otherwise, your rug could become a safety hazard and it might slip and slide around your room. This will also keep your new rug right where it is supposed to be without relying on your furniture to maintain its place.
Cleaning
Thanks to the likes of Ruggable and Boutique Rugs, you can now buy machine-washable rugs for your home. These come with a cushioned underlayer to allow the rug to be thin enough to be squeezed into your machine. Otherwise, you might need to invest in a decent upholstery cleaner — or take it to a dry cleaner to make it look brand new.