When the days get shorter, and the temperature starts to dip, our minds go straight to all the cozy ways we can update our living rooms. The warmer tones, the fur rugs, the log piles, oh it's all just so inviting! So we thought we would actually put our daydreaming to good use and create a gallery of rustic living room ideas that are perfect for fall and winter.
As per, all our rustic ideas are super simple and can be incorporated into your current living room quickly and affordably. Keep scrolling to get inspired and feel all the warm and fuzzies, and for more styles check out our living room ideas feature.
1. Warm up your color palette
A super easy way to create a more rustic feel to your living room is to warm up your color scheme. Switch out your cushions, throw down a new rug, you could even get the paint out – note how these walls have been painted halfway up with a, now very trendy, beige. Keep things looking fresher by adding in plenty of white or lighter colors too, you don't want the space to become too gloomy and plenty of contrast will prevent this.
If you are after more fall color schemes to inspire you living room makeover check out our guide.
2. Add texture with exposed brick
Exposed brick and rustic interiors go hand in hand as they instantly bring that textured, unfinished look to a room. Now if you haven't been blessed with raw bricks in your home, you can actually expose them yourself, just be warned it can be a messy job and you might want to get a pro in to help you. Alternatively, there are some really realistic brick wallpapers floating around the internet that you could hang instead. Check out Wayfair for some top picks.
If you want any advice or more ideas on exposed brick walls, head over to our full guide.
3. Create a classic rustic living room with warm wood walls
Cladding and shiplap are everywhere at the moment, everyone seems to be having a go at DIYing this classic look. It is a really lovely way to create a warm, rustic feel to your living room, and you don't have to go all out and plank the walls and ceilings, even one paneled feature wall would work.
For more wall paneling ideas head over to our feature.
4. Go for a lighter take on rustic interiors
We know so far we have focused on the warmer, more traditional take on rustic living rooms, but if you prefer a lighter more contemporary look you can still bring those cozy vibes into your space. Check out this living room, the colors are light, almost cool toned but the worn leather furniture, the logs and the textured rug all give it that rustic feel.
Check out all our living room paint ideas for more inspo.
5. Look out for salvaged furniture
Slightly worn, vintage furniture will instantly 'age' your living room and bring in that rustic style. Keep an eye out for pieces you can upcycle on eBay, antique stores, or even thrift shops. Remember they needn't be perfect when you buy them, look for shapes and styles that you love rather than say, what they have been upholstered with or what color they have been stained – you can always change these features.
The chair in this rustic living room actually has had the upholstery fabric removed to reveal the old base cloth – we love the unfinished look!
6. Mix traditional and rustic for an elegant look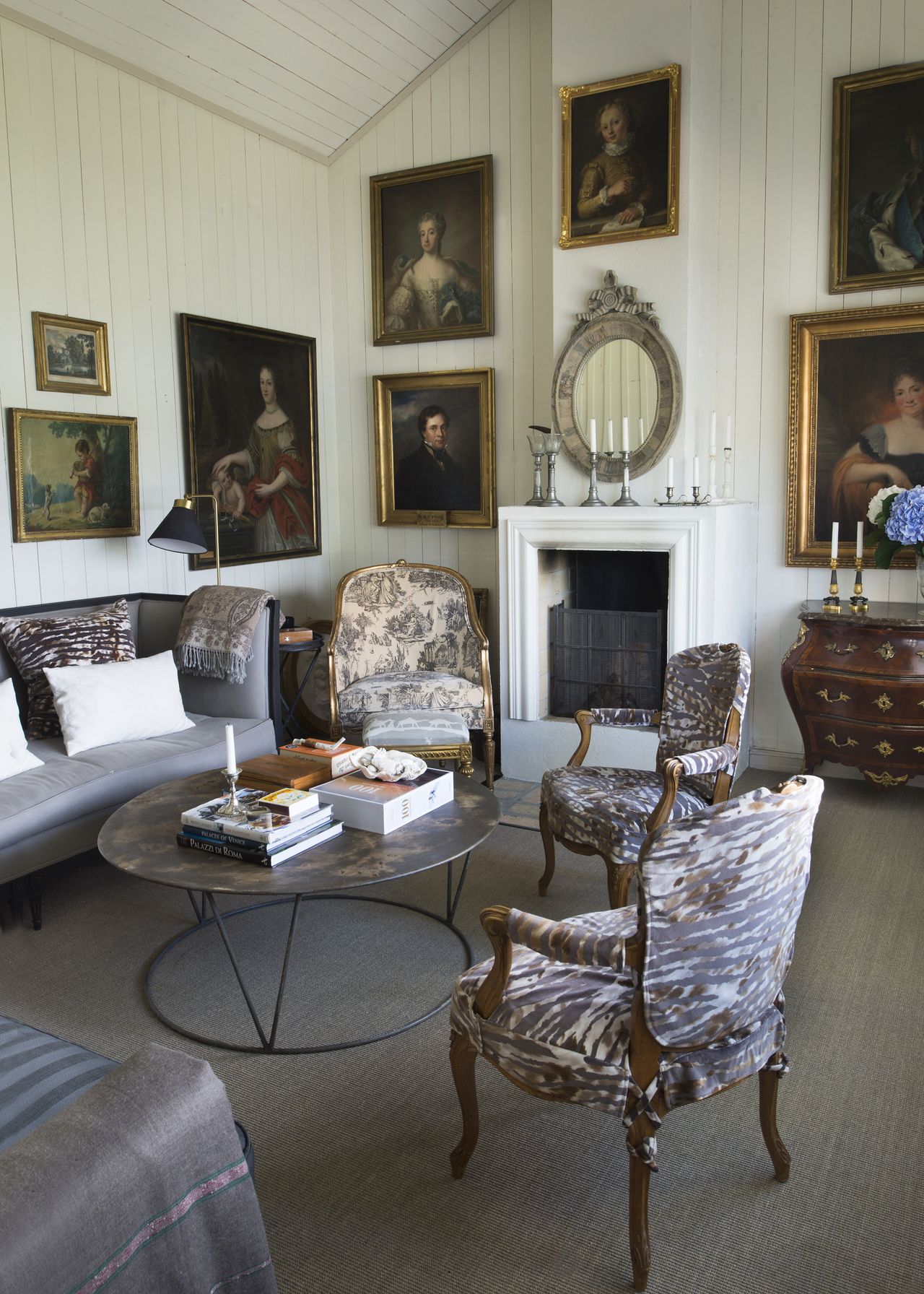 Don't be afraid to mix rustic elements with other styles, just check out this living room! How cool is the mix-matched, not quite sure what style is going on here, feel? There are definitely rustic elements with the clad walls, the sloping ceilings and the cozy fireplace – plus the furniture and picture frames have a rustic feel too – but it's so elegant and traditional.
This rustic hybrid style is shown throughout the rest of this gorgeous Swedish lake house so make sure you take a tour.
7. Create rustic displays in your living room
Another very simple, yet really effective way to create a rustic living room is with displays. That can be anything from a gallery wall to a collection of dried flowers, whatever adds texture and personality to your space. The colors here are perfect for creating that cozy vibe, but what we like most is the 'pile' on books almost floating on the wall that adds a 3D element to this wall display.
If you need more tips or gallery wall ideas, don't miss our feature.
8. Add in hints of color
Rustic living rooms are traditionally pretty void of much color, but you can, of course, bring color into your space! Just keep them on the more muted side – think dusky pinks, mustard yellows and olive greens
9. Add pattern to a rustic living room with wallpaper
How dreamy is this living room? We love the subtle green tones and all that lovely rustic furniture. Sandberg have so many gorgeous prints that all fit in perfectly with the rustic aesthetic so be sure to make that your first point of call when picking a new wallpaper
You'll find plenty more living room wallpaper ideas over in our gallery so be sure to check that out too.
10. If in doubt pile up the logs
And of course, don't forget to bring some of the outside in and add a log pile to your living room. Hey, so what if you don't actually have a log burner, they make a cute feature and bring in some of that natural texture that rustic living rooms are all about.