On the hunt for living room rug ideas? Well good, you are in the right place, because we are about to prove to you just how space-changing a humble living room rug can be.
Seriously, don't underestimate the power of a rug. Throw down an area a rug over a sad, stained carpet in your rental flat and voila, fresh new space. Pick out a stylish vintage Persian number and there you have a whole new vibe going on. Layer up a couple of patterned pieces and just see a new color palette emerge. Rugs are the key living room accessory, and there are so many gorgeous ways to style them to suit your space.
So whether your living room needs a quick spring refresh, or if you are starting from scratch and looking for inspiration, we have loads of fun living room rugs ideas for you to peruse.
1. Layer up your living room rugs
Because why settle for one rug when you can have two? Or three? Or even four depending on the size of your space. Layering rugs is such an easy way to bring in some textures and patterns to your living room, plus piling up your rugs can solve many a decorating woe too.
Our top tip for layering your rugs is to first pick out one large area rug that will ground however many more you put on top. We'd say keep this one pretty neutral, in a natural material like jute as this is going to be the most hardwearing. Then add in your pattern with either a single small rug in the center or numerous rugs overlapping.
2. Use rugs to zone your space
If you are dealing with a larger living room, or one that is part of an open-plan space, you can use rugs to create 'zones'. Basically, instead of walls, you throw down a different rug with a different vibe for each space. So say for example your living room is in the same open-plan space as your kitchen and dining table, make the living room feel like more of a separate space by adding in a rug to form all your furniture around.
You could add rugs throughout the rest of the room to highlight the different spaces – a low pile runner in the kitchen, an area rug under your dining table. Your space just remains open and airy but rugs give them more of a separate feeling.
3. Pick an area rug to work with your layout
When choosing an area rug, think about how it's going to work with the layout of your furniture. Or are you going to base the layout of your furniture around the rug? We'd suggest doing the latter as an area rug is a great starting point for coming up with a living room layout.
You could use your rug as the 'walls' of your living room and float your furniture around that, rather than pushing everything against the edges. Give your pieces a bit of breathing room, allowing more light to flow around the space.
Just make sure you choosing something big enough so that your furniture can sit on top, or partially on top of the rug. And make sure it's centered too, with the same amount of floor space visible under each edge.
4. Create a 'nook' with a corner sofa and a rug
Again, another great setup if your living room is in an open plan space. Positioning a corner sofa on top of a rug that's just ever so slightly bigger, instantly gives the effect that this is its own nook within the larger room. It feels cozy and inviting, almost like a small room in itself. Pop a small coffee table in the center to complete this mini living room look.
5. Let a living room rug decide on a color scheme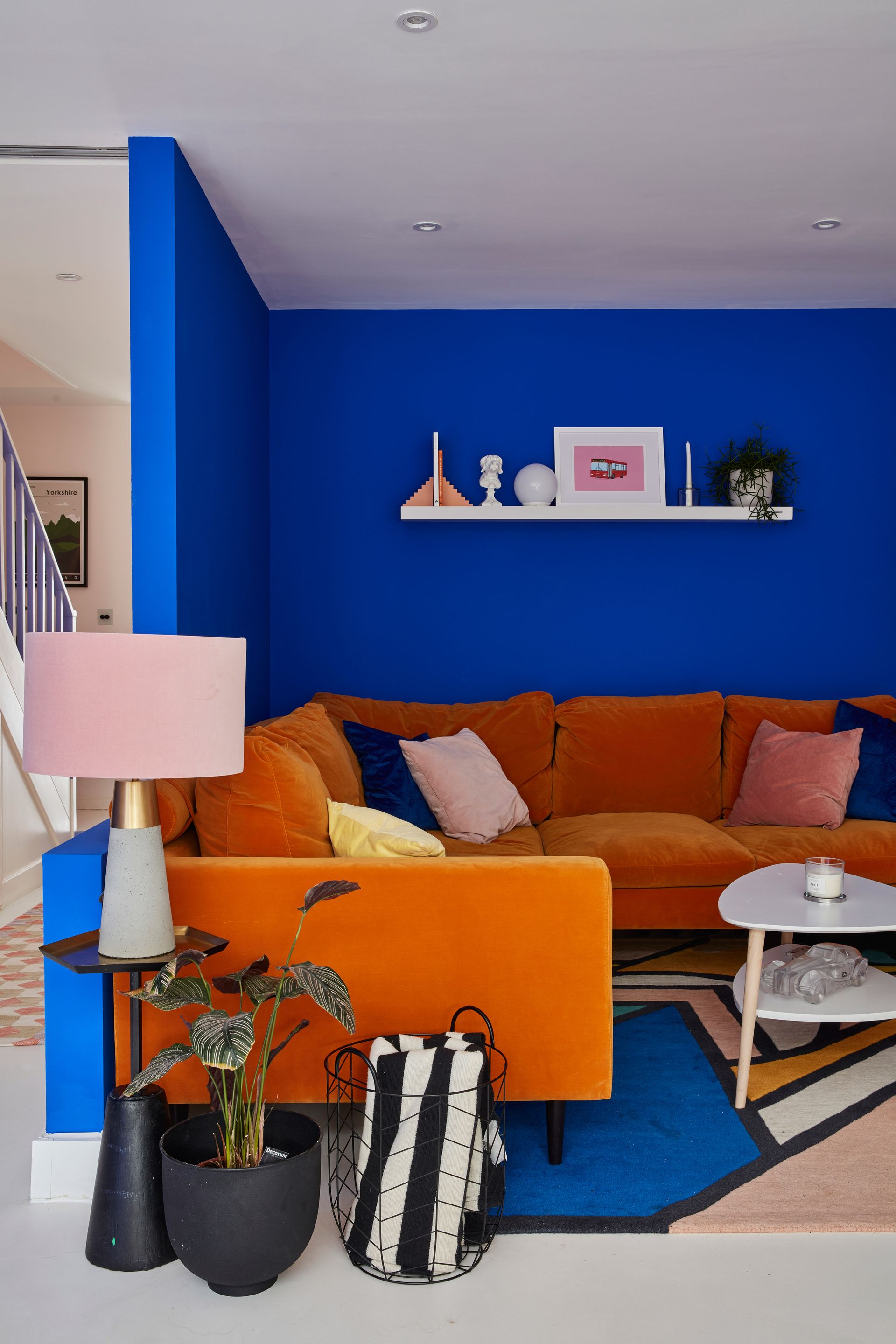 Yep, that's a bold living room. But actually, despite the super vivid contrasting colors going on here, it actually doesn't feel too overwhelming, does it? And that's all thanks to the rug, well it's thanks to the very minimal and cohesive color palette, but that started with the rug. Look how the blues and oranges of rug perfectly match the wall and the sofa, even that small pop of blush pink is continued through with the lampshade and the cushions.
So if you've got your eye on a colorful rug, go for it and let it decide on the color scheme for the rest of the space too.
6. Choose vintage for a unique look
There's definitely a trend for vintage or vintage-style rugs at the moment. If it doesn't look like it's been walked over for decades we want nothing to do with it.
Vintage rugs look great in both modern and more traditional living rooms. A mix of new and old gives your living room personality that doesn't feel ordered straight out a catalog. A neutral striped Kilim rug will work with any aesthetic, or opt for a tribal pattern for a boho vibe. Persian rugs have a way of elevating traditional decor, or distressed styles are great for creating a more laid-back feel in more contemporary spaces.
7. Totally cover your living room floor
Rugs can be a renters best friend. They can cover a multitude of sins, and are ideal for disguising ugly carpets or manky vinyl flooring. Go big and invest in a rug that's as big as your whole room – no one then need know what horrific flooring lies beneath and you can get on with creating a lovely modern rustic vibe like you see in this gorgeous space.
8. Pick a patterned rug to add to a neutral scheme
if you are a neutral lover that just wants to bring in a hint of pattern in a living room then a rug is a great way to do so. It's going to be less of a focal point than say a wallpaper or a bold-colored feature wall but will add interest to a simply decorated space.
We love how this statement monochrome rug (it's everyone's fave Ikea Stockholm rug) lifts this traditional living room. Giving it a more contemporary feel and also filling the large floor space with some pattern.
9. Go for bold animal print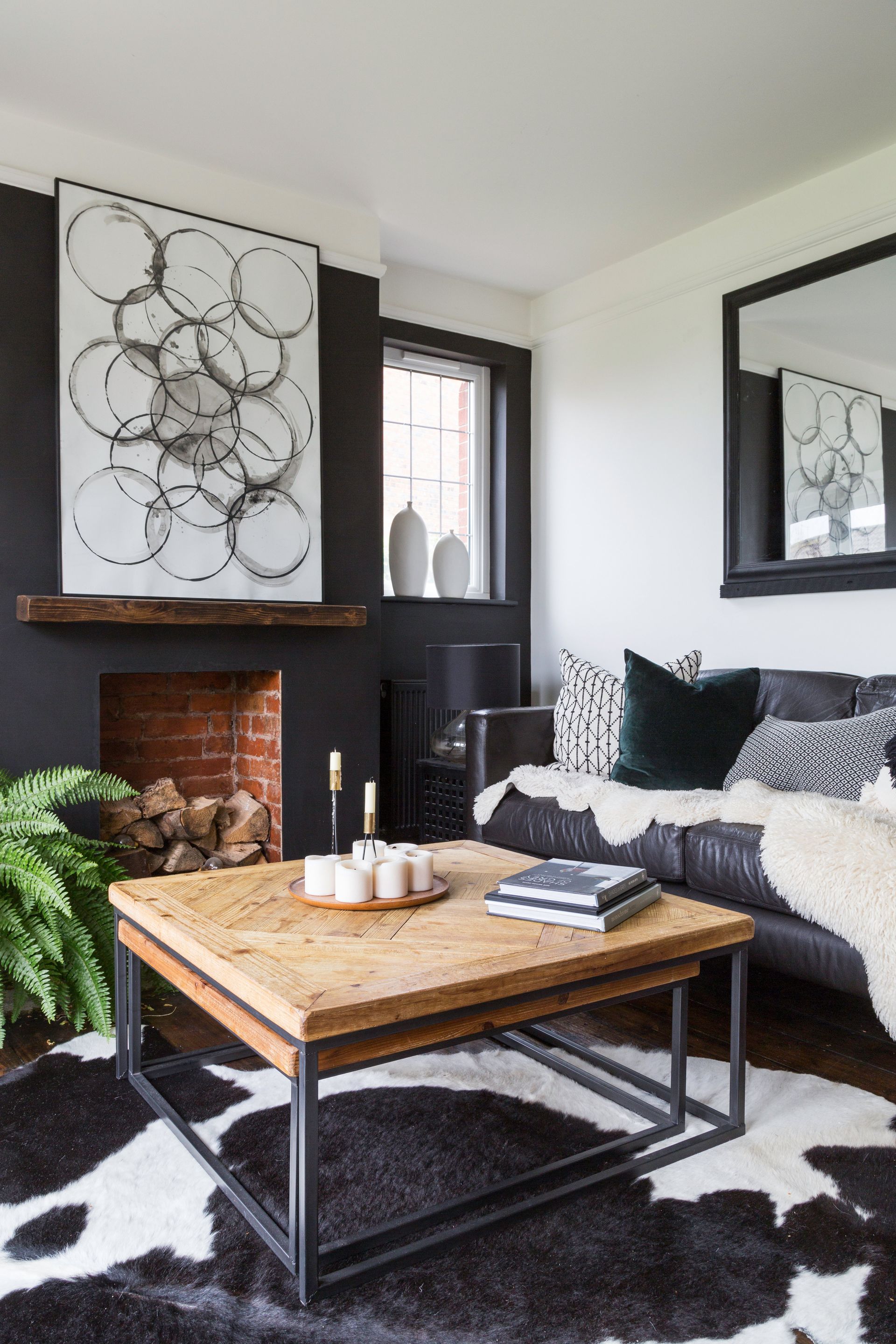 Cowhide, or faux cowhide rugs, are a bit like the marmite of the interior world, you either love them or hate them. Honestly, we used to be in the latter camp, but recently we've seen them creeping back in a very chic, very stylish way.
We love how to the organic shape brings an effortlessly cool feeling into a living room. Cowhide rugs instantly give that laid back, relaxed vibe even no matter how you have decorated the rest of the space. Plus they are a practical choice too as they are short pile and surprisingly stain resistant too – perfect for high traffic areas like a living room.
10. Pick a long pile rug to add coziness
If your living room is on the smaller side, or even if you just want to enhance the coziness, a long pile rug is the way to go. Treat your feet with an utterly soft, plushy rug underfoot – we love a Berber style rug as it keeps this softer, relaxed look, modern with a boho vibe. Pair with an inviting brown leather sofa and plenty of throw pillows for a warm, layered feel in a neutral color palette.
What type of rug is best for your living room?
The best type of rug to go for depends on where you want to place your rug and how much wear and tear it's going to have to face. If you looking for a smallish rug to fit neatly under a coffee table, you can go for a longer pile, but if it's an ares rug you are after to cover the majority of your living room floor, a shorter pile rug would suit best. Look out for rugs made from jute or something flat weave that can deal with high traffic and won't show scuffs and stains, plus they are much easier to keep clean.
Where should an area rug be placed in a living room?
The best position for an area rug in a living room is in the centre of the space. You'll want to make sure there is an equal amount of flooring visible at each edge. Make sure your area rug is positioned so that your furniture sits at least partial on top and and ensure that all high area traffic areas or walk ways are covered by the rug.