Living room layout ideas can totally transform a space and there are many reasons why you should consider switching things up. Perhaps you've just moved into a rental that doesn't use a pocket of space effectively as it could. Or, maybe you don't want to move from your forever home – in which case, a switch-up is a simple (and much more cost-effective) solution to selling.
Whatever your motive for tackling your living room layout, it's the room you probably spend the most time in – so getting it right is vital. The perfect living room ideas are those that suit the way that you live, whether you want an area for entertaining, a quiet and isolated room to withdraw to, or a multi-functional space that can be adapted to whatever the situation needs. You'd be surprised how many different ways you can set up your lounge.
There's much more beyond pushing all your furniture up against walls and angling them towards sofas, and these spaces prove it. So go on, be a bit bolder in your living room configuration and fire up the Feng Shui when designing a living room layout.
And it's not just our opinion. We reached out to the home experts to get their professional thoughts on designing a living room layout. And here's what one style specialist had to say:
'No matter how beautiful the living room ideas you have going on may be, if they are part of an awkward small space or a large room that's oddly put together, you're not going to get the most out of them,' says Emma Sims-Hilditch, founder, Neptune.
'Ensuring the layout is spot on in terms of style and function is key to success. 'Living rooms are often one of the trickiest rooms in the home to design because they're usually the one that multi-tasks the most.'
'Somewhere to watch TV, somewhere to relax, somewhere to entertain friends, somewhere to store all sorts of paraphernalia, and even somewhere to eat and work depending on your setup.'
'Paint color, fabric choice, and flooring aside, what to put in your sitting room and where to position it all are two of your main considerations.'
1. Use technology to help plan your dream design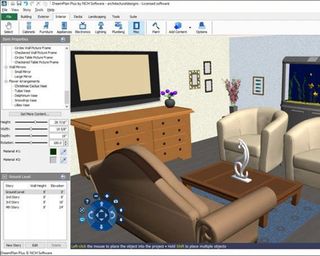 Furniture can be heavy to lift, so before doing yourself an injury, or waste time – plan through your living room layout ideas first. Once upon a time, it was only architects and interior designers who had exclusive access to computer-aided design (or CAD for short).
But with the likes of DreamPlan, Virtual Architect, and Home Designer Pro/Chief Architect (available on Amazon), you can go about virtually designing a living room layout without lifting a finger.
2. Break down barriers with barn doors and bi-folds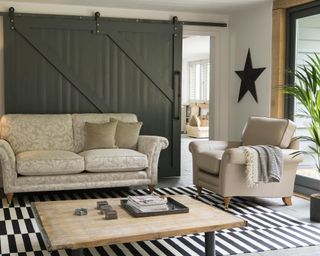 While a conventional living room consists of four walls – it doesn't always have to be this way. Our modern way of living often means we're travelling from room to room and using these spaces in different ways.
So rather than having a concrete or plasterboard wall, swap one in for a barn door that you can slide open to fuse two rooms together. Alternatively, if your living room is situated next to your garden, pop a sofa next to your bi-fold door for a biophilic backdrop. Modern living room idea with a touch of farmhouse? You asked and we delivered.
3. Use a sculptural staircase as a stylish backdrop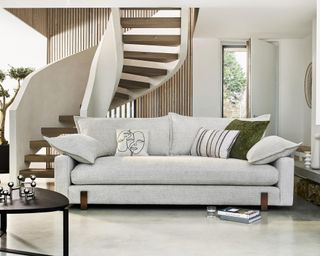 Staircase ideas can take all sorts of forms. From sleek straight-flight stairs, to stylish spiral cases, half-turn hallway steps and bifurcated banisters which make a statement. So if you have a chic stairwell show it off.
You can do this by popping your sofa in front of it, so that the eye is drawn to the back of the room. Just be sure to touch up the paint on your treads and risers if they look a bit tired. Luckily we've got a guide on how to paint a staircase if you're finding it a tall ask.
4. Create rooms within rooms with clever furnishings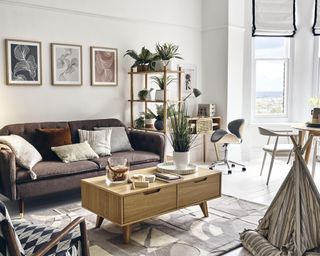 How many 'rooms' within this living room can you see? We spot four. A living room (of course), a home office idea in the corner, to your right, an intimate dining area, and on the floor, a small play area.

You see the open shelving acts as a barrier between work and play, and the round dining table hugs around the bay windows to provide a light-flooded space to sit and eat. So you don't need four separate spaces to sit and relax with the family.
5. Play with different levels of height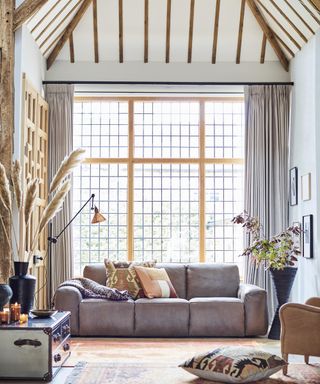 When designing a living room layout, it's a good either to have an interesting feature on every level of the room. DFS demonstrate this perfectly here. Aside from the wooden beams giving this space a gorgeous rustic living room appeal, we've Aztec-inspired cushions providing warmth and exotic interest, a vintage trunk used as a coffee table alternative, slubby furniture to add comfort and vases full of fresh and dried foliage reaching up towards the ceiling.
This strategy of adding stylish pieces to your sitting room adds depth and dimension and can be implemented whatever the size of your space.
6. Blend your living room theme into other spaces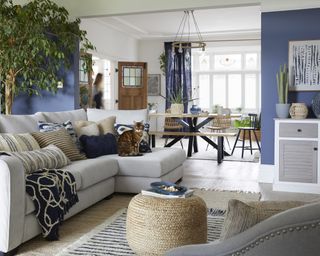 Drop the formality and need to create a different aesthetic theme in every room. If you've got an open-plan living room and dining area (or through-lounge), keep your style the same from the start to the end of the room.
Over time the space will be easier to evolve and curate with a coordinated set of living and dining accessories with two 'rooms' intertwining and working in harmony with one another.
7. Go for a balanced layout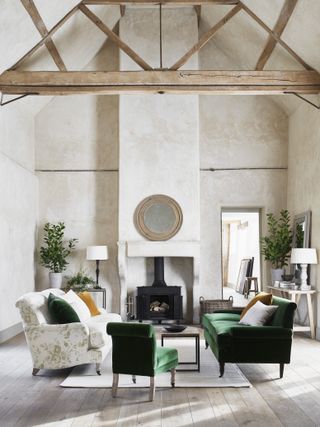 If you are after a more formal living room layout – symmetry is the way to go. It's very visually satisfying and does work particularly well in small living room layouts where it's important to give your furniture room to breathe to avoid a cluttered feeling.
You can create this look either with two sofas and a coffee table in between or slightly off balance it with a sofa facing two armchairs. You are best then mounting a TV so it can be seen from both sides of the room, but bear in mind you'll have to turn to watch, so this layout might be suited best to a room where the TV doesn't have the be the focus.
8. Introduce light into a dark living room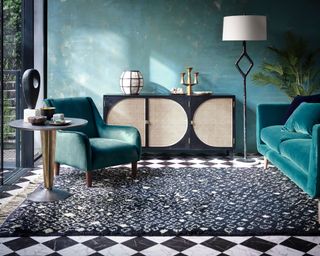 If you can't decide between a green or blue living room – choosing an Art Deco-inspired teal lounge with a marble checkered floor is a classy and elegant option.
But, if you're scared that the space might look a tad on the dark side, choose a spot that's near the garden or place furniture near large windows. That way, you can layer natural sunlight with multiple living room lighting ideas to balance out light and dark.
The addition of metallic surfaces such as the brass table and candlestick holder on the black and rattan cabinet will help to reflect light.
9. Turn your living room into a guest room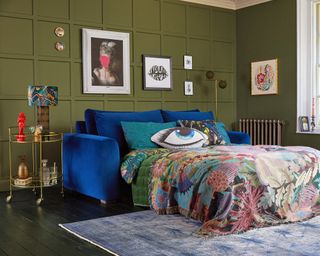 As the price of real estate increases, you may find that your money doesn't stretch as far as you'd hoped with the number or size of rooms you wanted.
For example, if your savings don't allow you to have a guest room, or if box bedroom is too tiny – the best sofa beds function as a cozy seating and sleep space. So rather than remodelling your house to accommodate for sleepovers, invest in this dual-purpose piece of furniture.
10. Open up your kitchen and living room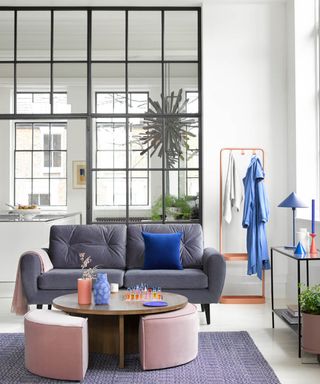 Having a space that's warm and visually-appealing is great for entertaining guests. Opening up a sitting room adjacent to the the kitchen is perfect for letting mouth-watering aromas of a home-cooked meal permeate into the space.
When thinking about how to design the perfect living room, approach it like a private dining experience. Here, you can also peer into the black-framed, Crittall-style pocket doors and feel as though you're at the chef's table – without disrupting the cook's culinary output.
11. Zone seating around a fireplace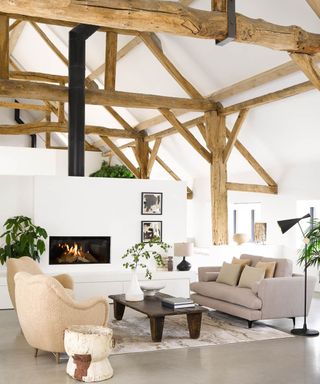 Not just for cozying up around Christmas, living room fireplace ideas are the perfect appliance to base your lounge layout around. With traditional, wood burning stoves, you can reinforce them as a feature with a mirror or artwork over the mantelpiece.
This is especially effective in a room where you don't really have any technology. If your living room is for relaxing, reading, or listening to music, then having a focal point like a fireplace will add to the calming feel.
Modern cassette models on the other hand, are ideal for space-saving. Even during the warmer months, some electric fires have an ability to let you experience the visual effects of the LED 'embers' without actually heating up the room.
12. Use a room divider to zone the space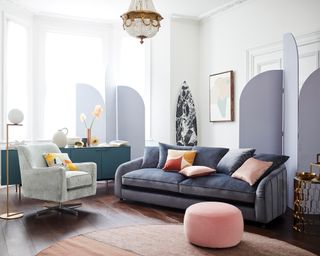 Room divider ideas are a really affordable option to zone a living room layout. Whether you're renting, or a non-committal decorator, dividers can be folded away when not in use.
We love these plain lilac ones that blend seamlessly into the living room with the other pastel accessories. You wouldn't even know they were there... well, sort of.
13. Choose between open-plan, broken-plan or living room only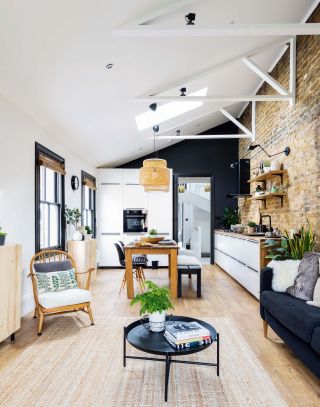 If you're looking to remodel your home, it might be that your living room will be at least partly open to other rooms. This requires a certain amount of self-analysis, so think about how you are going to live in the room, and to what extent you want a separate sanctuary to escape from household life.
You may wish to isolate the room for other people. For example, the separate room may be a space where teenagers can watch TV and play computer games with their friends while the adults remain reasonably undisturbed in the kitchen-diner.
On the other hand, you may want to create a more seamless layout where an open-plan kitchen, dining area and lounge space overlap. This living room layout idea often allows for more family interaction and can have the benefit of making the entire space seem larger.
Often, the solution is a combination of both, where rooms have been linked by knocking them through, but still have a defined living space. Double doors, folding doors or even large sliding doors can provide the option to link or close off areas.
14. Find your living room's focal point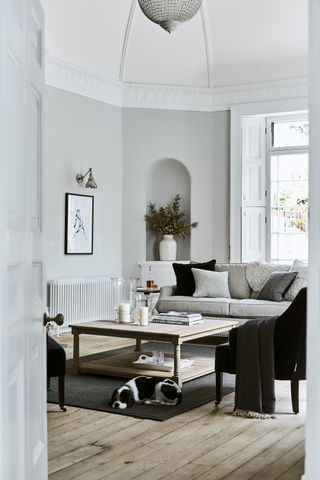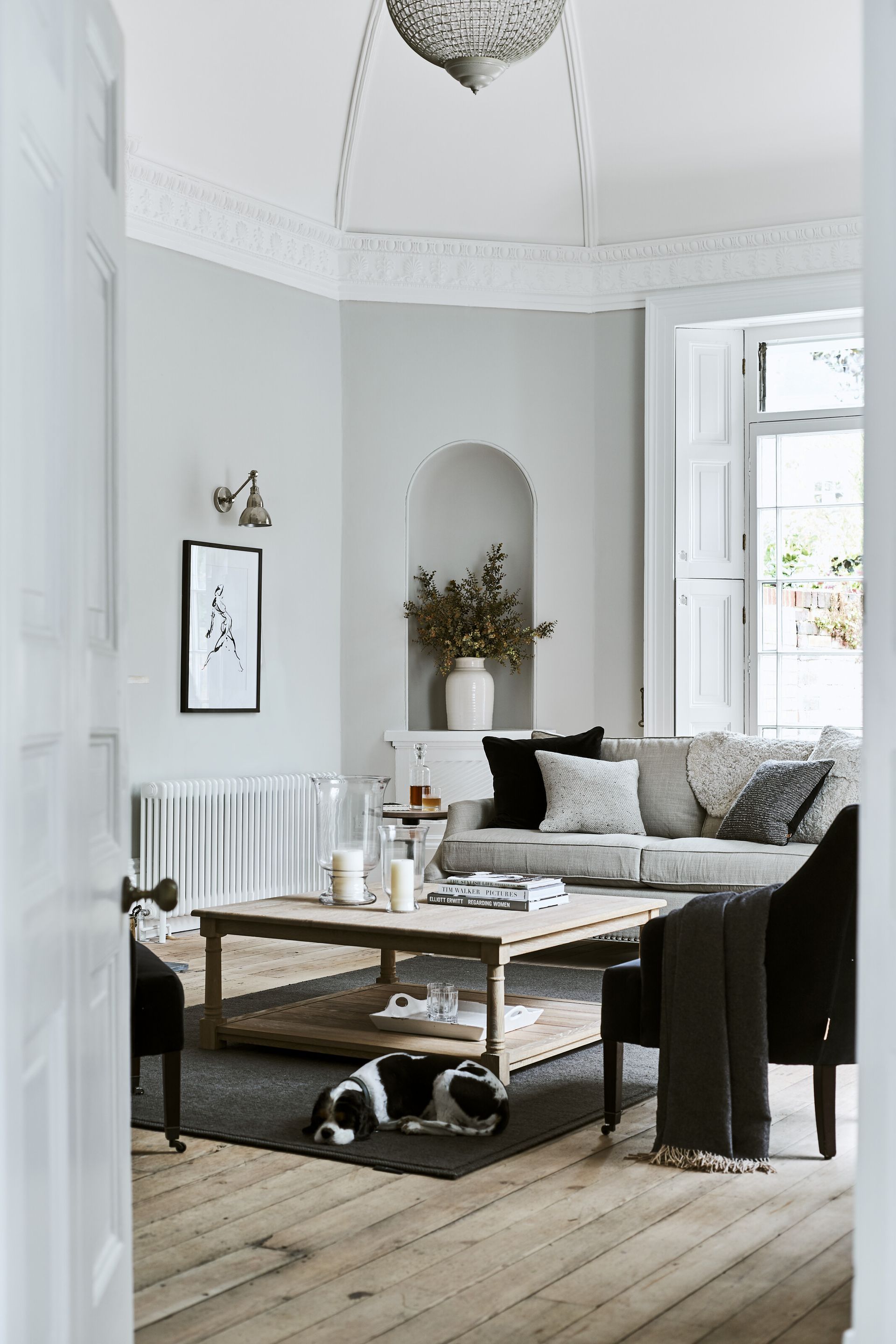 How you want to use your living room will dictate what its focal point will be. The living room layout is usually dictated by where the TV is placed, but often you don't want it to be the central focus, unless that is what the room is primarily for.
Quite often, these rooms double as a home cinema space, so if that's what you're looking for, it's best to look at some genius living room tv ideas.
15. Or go for something more flexible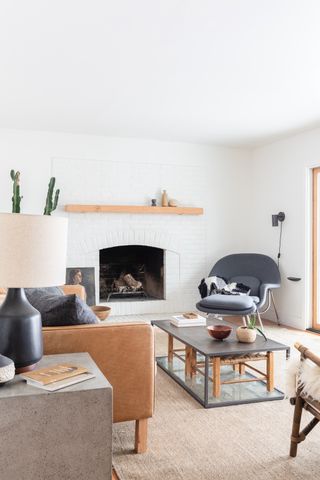 You can create a more relaxed, laidback living room by avoiding a symmetrical look and dotting your furniture slightly more randomly around the space.
Have your sofa lengthways with the coffee table in front, because that just makes sense, but then dot mismatching chairs, stool and even small tables in the space opposite.
16. Look at the natural light when picking a living room layout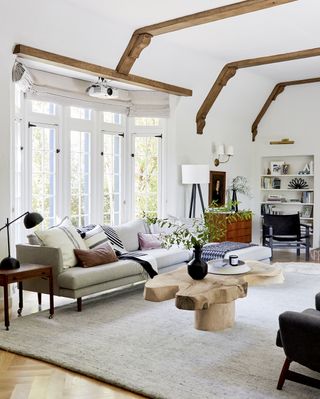 If you have great views from your windows, then turning these into the focus of the room is a brilliant solution. This is a great idea for rooms used for relaxing and more formal gatherings. It's also a good option if your living room is in an open plan extension, and you have windows flooding the space with light.
Where you position furniture will also depend on your choice of focal point. If a large window looking out onto the garden is the main focal point, the seating should be placed to take in the view, thus creating a comfortable space to relax in.
17. Let your furniture be the focus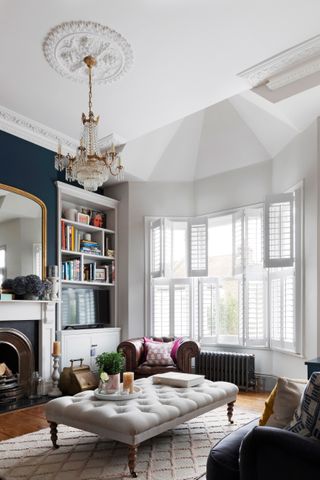 If you're hashtag blessed with a large living room layout, invest in beautiful statement furniture to make them the focal point. Configure the furniture in a way that promotes conversation with family and guests.
One way to do this is to designate a well-lit corner for your perfect armchair or one of the best sofas on the Real Homes team's radar, perhaps in a statement colorway or luxe upholstery fabric that will become the focus of the room.
18. Don't just push everything against walls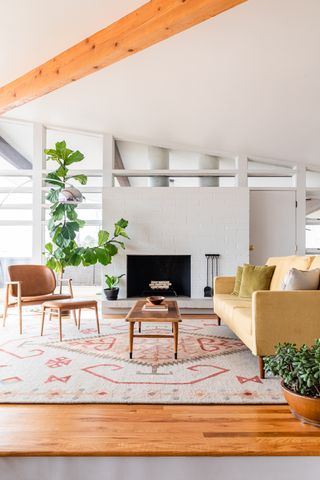 There is a common tendency, when designing a living room layout, to shove all your furnishings up against walls. But this attempt to claim back those precious few inches can often have an adverse effect.
Instead, copy this look and pull your furniture away from the wall a tad, creating space around the outside of the room, and group around a central coffee table.
'If your living room's on the smaller side, it's tempting to put all of the furniture against the wall to make it feel bigger,' says Sims-Hilditch.
'This actually just creates an empty space in the middle which isn't as usable as you might think and leaves your room feeling off-balance. Instead, in any size room, build your layout from the centre to make it feel more intimate and welcoming.'
19. Think about how will you move about the space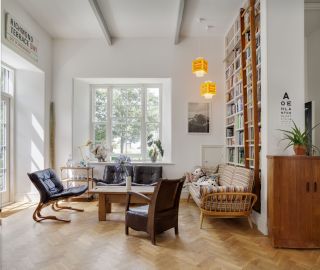 Once you have identified the functional needs and focus of the room, you can think about your living room layout's functionality. How will people move in, out and within the space? This will help you decide where it's best to place the furniture.
If the room doubles up as the main route through to the garden or is a space in which people will travel between the kitchen and dining room, you can use open shelving or storage units as screens to provide partial separation.
Or, why not consider zoning the room (using the position of the furniture) to define a circulation route that does not run through the seating or TV area? For example, in an open-plan living room, you may choose to use furniture to delineate the living room area. Sofas, especially if they are L-shaped, can be used effectively to mark out the boundaries of a living room.
20. Plan storage into your layout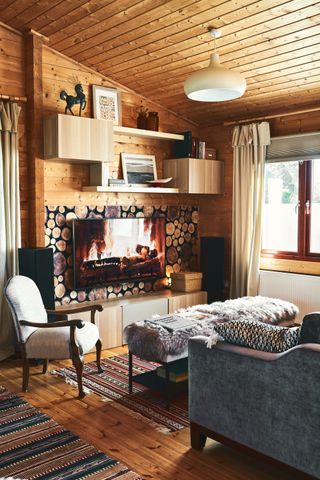 Remember to consider living room storage ideas in your design. Bench or banquette seating along one wall of your living room can incorporate storage for DVDs and home entertainment gadgets, while providing additional seating.
If you want to create a contemporary design in a Victorian or Edwardian house look to this idea. Add a stone-topped plinth about 45cm above floor level across the whole of the fireplace wall, and incorporate storage beneath for logs and kindling to act as the hearth for a contemporary recessed fireplace.
21. Consider living room lighting too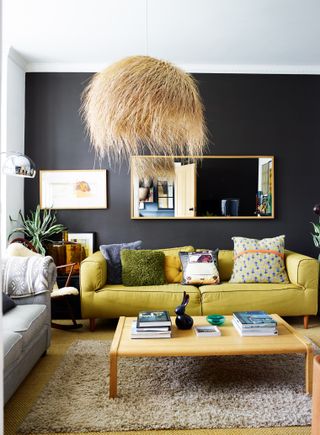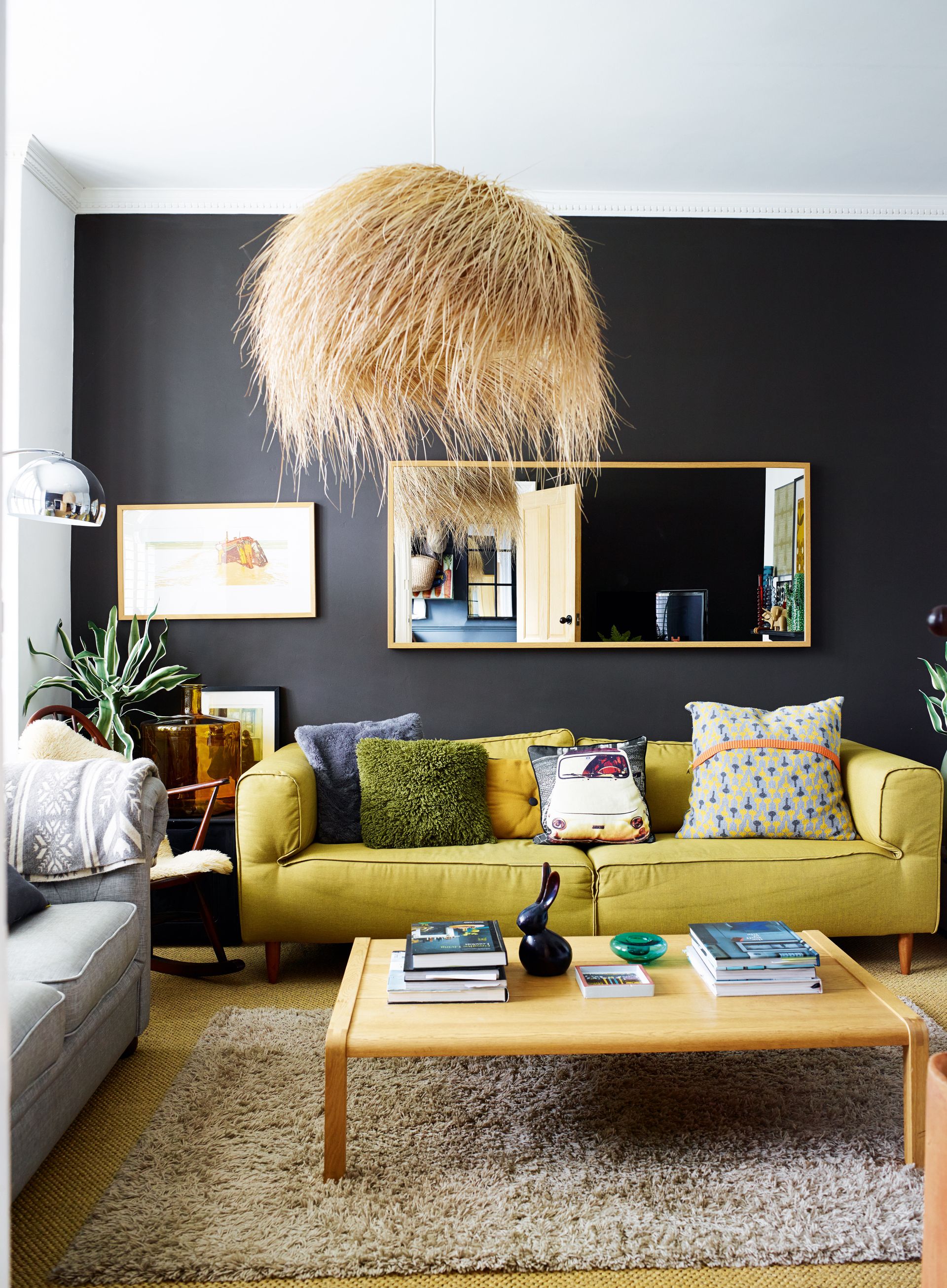 A living room can have many different functions, so the key to good living room lighting is variety and variability. With artificial lighting, for example, it is often useful to have several different sources of light. Controlling many of these on a dimmer switch or lighting system will enable you to set the appropriate task or mood lighting in the different zones.
Using a 5A ring circuit (which will require 5A pin sockets, designed for small round pins) can allow you to operate several table lamps and floor standing lamps around the room from the light switch or dimmer, which can be effective and efficient.
Lights can be very stylish design features. A pendant light can look striking in a traditionally symmetrical room with a chimney breast, while a long-stemmed arching floor standing lamp can be a visual feature and have flexibility of position. Also, look to wall lights or sconces if you want to concentrate light or a highlight a feature in a living room corner.
22. Factor mirrors into a small living room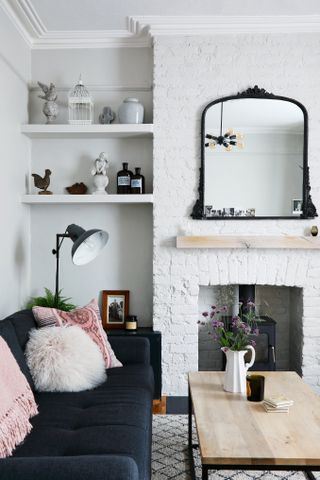 Surprise, surprise, mirrors make small spaces feel bigger, so when designing the layout of a small living room make sure you factor them in.
In fact, make mirrors a key focus of your plans. We recommend starting with a large mirror on the wall that hangs opposite the windows as this will bounce more light around and create the illusion that the room is bigger.
If your windows are on the smaller side or you don't want to rely on natural light, try placing a tall mirror idea behind furniture or lighting instead to create the visual trick of another room opening up beyond.
How do I set up my living room?
'It's important to divide the space according to function and give meaning to all areas. For instance, you may want a more formal arrangement in front of a fireplace as opposed to a more relaxed arrangement for watching TV,' explains Jiin Kim-Inoue, design director, Finchatton.
'If you have a window overlooking a garden, it could be a great space for a comfortable seating with a foot stool or a small writing desk. I would consider outlook and lighting in giving a space purpose and meaning.'
'Other examples of popular living room zones are a reading nook, a craft or hobby area, a games area or an intimate eating area.'
How do you build a zone in a living room?
'Room dividers, in all of their forms, have the ability to visually break up a space making them a great feature to use when decorating a large living room,' explains Linda Holmes, interior director at LuxDeco.
'Dividers range from non-permanent pieces like a chic center table, as mentioned before, and beautiful coromandel screens to dividing bookcases and built-in shelving units. Both have their pros.'
'Something like a center table, low bookcase or screen can be easily moved around the space, opening up the space for larger gatherings, or moved to another room if needed.'
'A tall bookcase is a good middle-of-the-road solution – it provides quite a lot of separation (although an open bookcase will still allow for some interaction between the spaces) but can, technically, be moved if needed.'
'A floor-to-ceiling built-in shelving unit is something which would be an architectural feature inherent to your room's design. It would be a permanent feature of the space which would certainly break up a large living room.'
Alternatively, living room rug ideas can function in the same way as British designer, Benji Lewis explains.
He says: 'A statement rug can pull a room together, adding a bright and cozy warmth to a space, especially needed as the darker evenings and colder weather sets in. These woven delights – from sheepskin to North African are also an effective way to zone dedicated areas, in a room that serves various purposes.'