Looking to buy a new sofa? Let's guess. You have visions of yourself sprawled on a magenta pink velvet number, or maybe sat with your morning coffee on an olive green chaise longue? Who are you kidding? While we may all have visions of finally investing in a bold, colourful sofa, we all know what you really want. It's grey, it's always been grey. So in full acknowledgement that we will never get over our love affair with this insanely versatile neutral, we've rounded up our favourite grey sofas for every style and budget. Go on, have a look and just try and not be tempted by these cool toned beauties...
Need more tips on what to look out for when buying a sofa? Check out our expert guide. And find 18 gorgeous grey living room ideas in our design gallery.
1. Always be on trend with a velvet grey sofa
Just in case you are new around here, the Real Homes team are BIG fans of velvet sofas, and as hard as we try to be more adventurous in our interiors we also all love a grey colour scheme. So it should come as no surprise that a velvet grey sofa is at the top of our lust list.
We have a particular soft spot for the Made Scott sofa. The sleek silhouette clean and square lines give a subtle nod to Mid-century design that's bang on-trend, plus everyone on Instagram has it, so naturally, we want.
Check out more of our favourite statement velvet sofas and be sure to check out more of Made's grey sofas (they are all beaut).
2. Pick out a stylish grey sofa for under £500
Re-doing your living room on a budget? You don't have to fork out a small fortune for a gorgeous grey sofa. This roomy three seater grey sofa is only £399.99 from Argos ! With its tapered wooden legs and classic saddle arms, we reckon it's a bit of a steal.
For more sofas under £500 check out our buying guide and head over to Argos for more budget friendly grey sofas.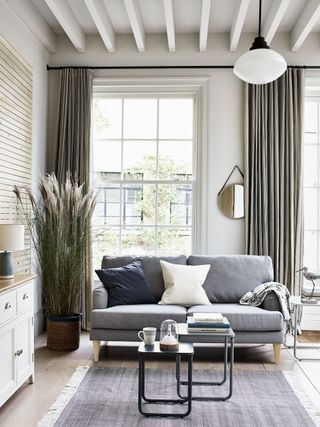 3. CHOOSE A LOW SHAPE FOR A MODERN VIBE
Love a Mid-century look in your living room? Invest in a grey sofa that fits with the vibe. Think slim legs, low slung and button back. This style doesn't need to break the bank either, this three seater from Dunelm is only £349. Pair it with some funky '70s vibe print cushions and a few touches of macramé and no one need know this grey sofa isn't a one off retro piece you picked up from some quirky antique store.
There's a whole load more where that came from in our Mid-century inspired living room ideas. Check out more stylish (and budget friendly) grey sofas from Dunelm.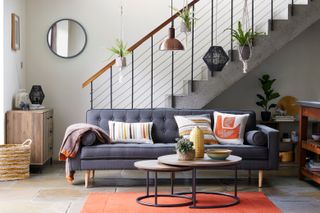 4. Need plenty of room? Go for a grey corner sofa
If your family resembles the Von Trapps (without the matching outfits), finding a sofa that will hold you all and that also looks relatively stylish can be tricky. But we think this grey corner sofa from Oak Furniture Land manages to be both large-family-friendly and looks pretty cool, too. It comes as either a right hand or left hand corner sofa so you can pick the version that suits your space. It's also available in other colours, but honestly they are basically all just different shades of grey.
5. Tight on space? Pick a compact grey sofa
If you would have a bit of difficulty squeezing a full-sized corner sofa into your limited square footage, fear not, there are loads of gorgeous small grey sofas out there. Take the Wes sofa from Made (named after Wes Anderson so you know it's going to be painfully cool) is just 155cm wide and still manages to pack in a whole load of Scandi style.
if you have been #blessed with a small living room, go and have check out more small sofas in our buying guide.
6. Combine a light grey sofa with rich blue
Grey pretty much works with any colour scheme, it's why we all love it so much. But since you are playing it safe with a grey sofa, you can afford to be a little braver throughout the rest of your living room. Combine pale greys and pastel shades with a deep rich blue wall colour for a very on-trend look – we promise, we have looked into our crystal ball of future interior trends and blue rooms are set to be massive this year.
Go and check out these living room colour schemes for more inspiring ideas. Oh, and this grey sofa is from John Lewis.
7. Or go for the classic grey and pink combo
A match made in Pinterest heaven – grey and pink have been going strong for a while now so if you are thinking of investing in a grey sofa why not embrace the trend and paint the living room walls pink or just add a few pastel hues. A darker grey sofa like this one from Park Knoll will ground a sugary pink, making it feel more grown up and less... pink.
For more pink decorating ideas, go and check out our ideas features.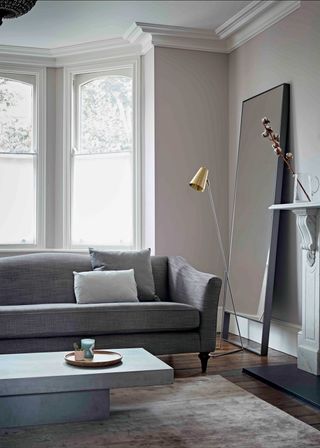 8. Add a grey sofa to an all white living room
Into stripped back and simple white schemes? So are we – they're so easy to live with and even easier to update. So if you are thinking about switching up your white living room scheme, why not make a grey sofa the new focal point of the space? This charcoal beauty from Sweet Pea & Willow is super simple yet still stands out in this all-white living room.
If you love this living room, you are going to love our white living room design ideas feature too.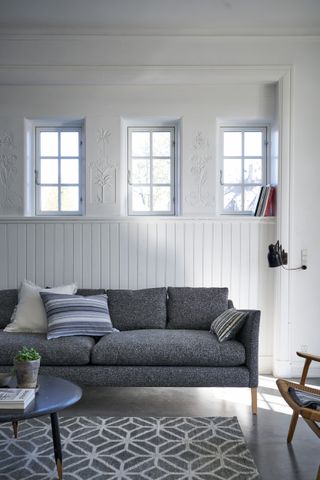 9. Invest in a grey day bed
If your home conveniently turns into a hotel most weekends, investing in a sofa bed or an elegant day bed seems like a smart choice. The Douglas sofa bed from Sofa.com, would look great pushed underneath a window to create a kind of window seat effect, or, if you have got the room, in the hallway. Imagine, literally open your front door, take a quick nap on the day bed.
Find more great guest bed ideas in our buyer's guide.
10. Be optimistic with a grey outdoor sofa
Although it may feel like the sun will never shine again, summer will eventually arrive, we promise. So why not invest in an outdoor sofa? They were huge last year, literally, we saw them all over Instagram, and they make such a cool edition to a garden or even a balcony if it's spacious enough. String up some fairy lights, pull out a spare coffee table and you can easily create an outdoor living room to spend those balmy summer evenings. We can taste the Aperol Spritz already.
This outdoor sofa is from John Lewis.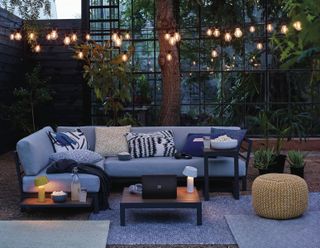 Read more...