Cozy living room ideas don't have an expiry date. After all, we all like to be warm and comfortable when we're in our lounge. Because at the end of a hard day's work, we all want to relax in a space that takes care of us a little too.
The more cozy of living room ideas are perfect for winter of course, but will also work throughout the year by swapping in different decorative accessories that nod to each season. From creating an ambient autumnal aesthetic, or fresh look for spring, know that cozy living room decor is multidimensional.
Cozy living room ideas
From scented candles to fill your nose with gentle and nostalgic fragrance, the fab crackle of logs burning, or the tactile feel of a throw, we've got the goods for you to feel snug as a bug in a rug.
'The first and most key element to consider when decorating your living room is the atmosphere you want to create; this is a good grounding point to start with and will help you build your desired living room,' says Paula Taylor, head stylist and trend specialist at Graham & Brown.
'If you're looking to create a calming haven or a warming cozy snug, select colors which are easy-living and add warmth to your room this will make you feel cozy and calm. Repetitive patterns are aesthetically pleasing which also bring harmony and balance.'
1. Bask in a bohemian scheme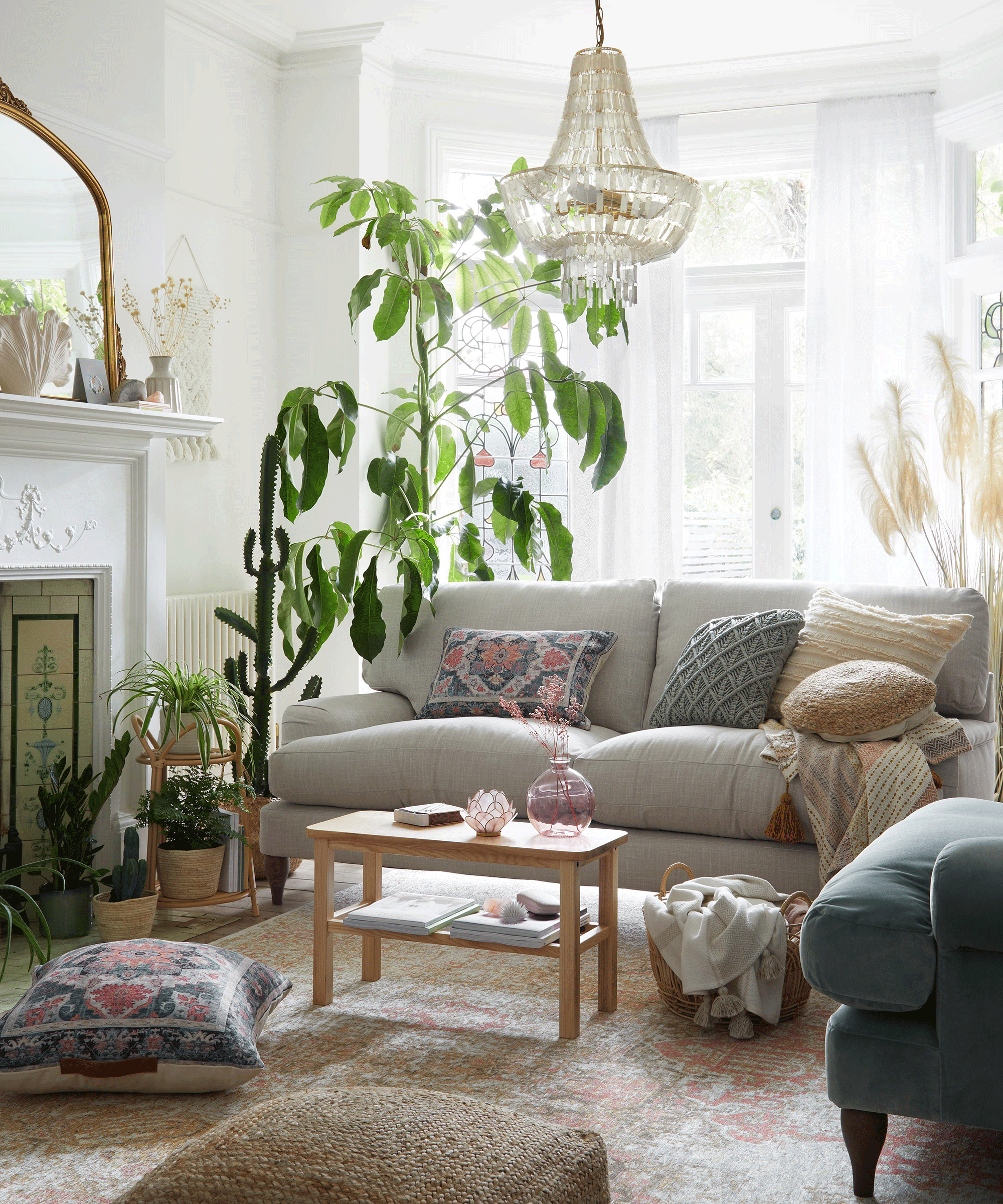 If you're looking for cozy living room ideas that are aligned with nature, therefore abundant with texture, and that mix old with new, boho is the way to go. Lay down the foundations with the Mila traditional rug, available from Dunelm, and the best sofa this season for sustainability and eco-cred: Darwin Slub cotton blend 3 seater sofa.
This snuggly seat is all about peace and love when it comes to looking after our planet and the environment. The fabric is made from 61% recycled polyester and 39% cotton, the seat filling is made from recycled plastic, and after its 25-year frame guarantee is up, the solid wood frames and feet can be recycled at the end of their life.
'A great way to make your living room feel and look cozy is with a large rug that stretches out underneath the furniture – so there are no draughts and your toes only touch soft tactile surfaces,' says Debbie Drake, head of design at Dunelm.
'The room will automatically sound cozier too, with fewer hard surfaces to create an echo. Dress your sofas in cuddly cushions and throws which can be swapped out for cooler fabrics in the spring. Lighting is key – make sure you have soft ambient lighting dotted around the room for evenings and ideally a dimmer switch on your main ceiling fitting'.
2. Create a relaxed scheme with texture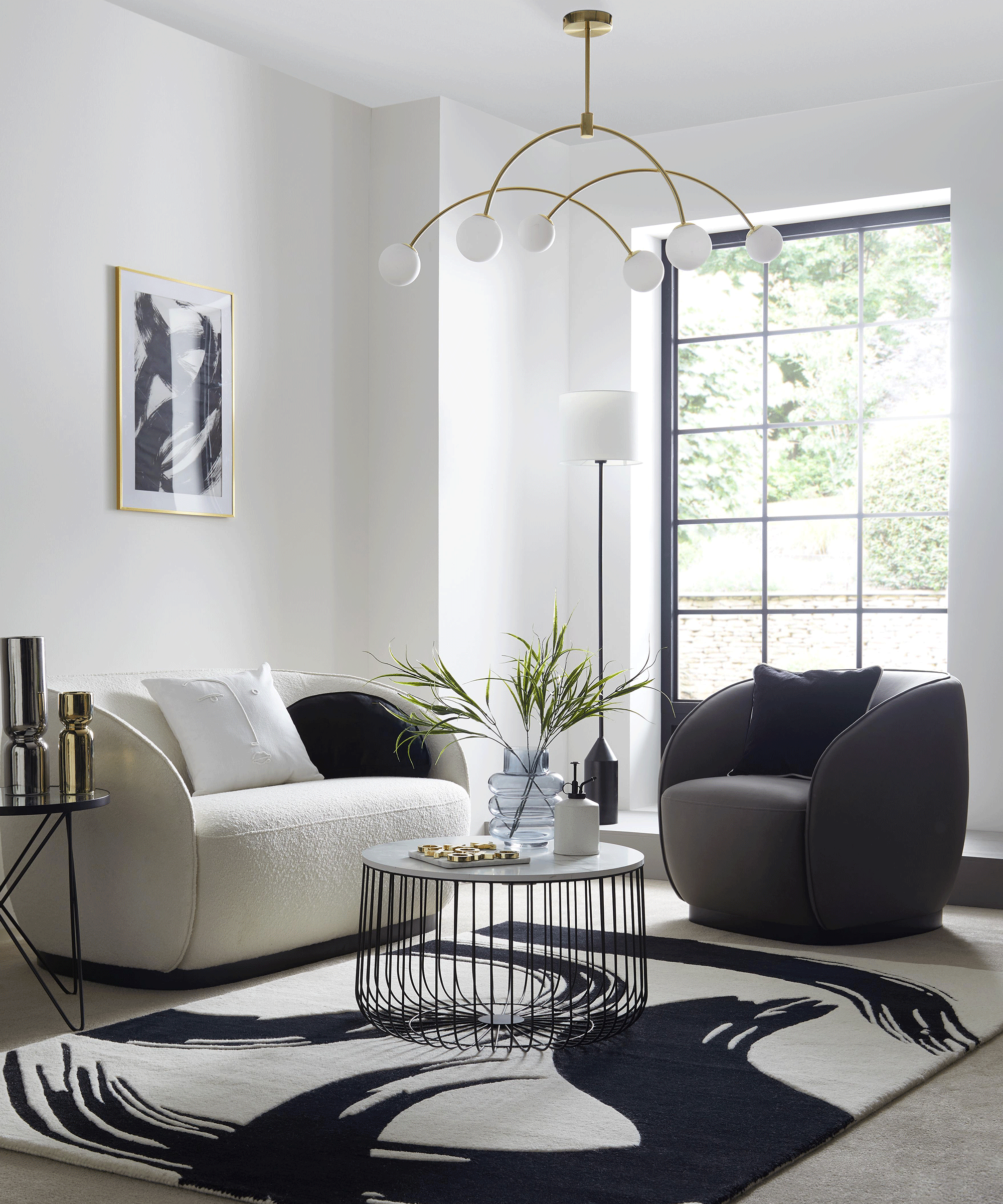 The criteria for how to choose living room furniture has changed somewhat over the decades. No longer is our lounge a formal space exclusively used to entertain guests. If anything, working from home and binging on Netflix series has meant that our schemes have had to work much harder to offer comfort and security in times of uncertainty.
But coziness doesn't necessarily mean familial heirlooms and florals. Contemporary lounges can still be cozy and classy with a cream, black, and gold scheme. Create an unfussy but chic look with abstract paint stroke motifs, curved silhouettes, and strokably-soft velour.
'Just because pieces are abstract, it doesn't make them less cozy. Hard lines are becoming more fluid and curvaceous which provides a more cossetting feel,' says Drake.
And, if you take a closer look, you'll see a noughts and crosses set on faux marble. So swap rainy days with dogeared cardboard board games for something far more sophisticated.
3. Create softness underfoot with carpet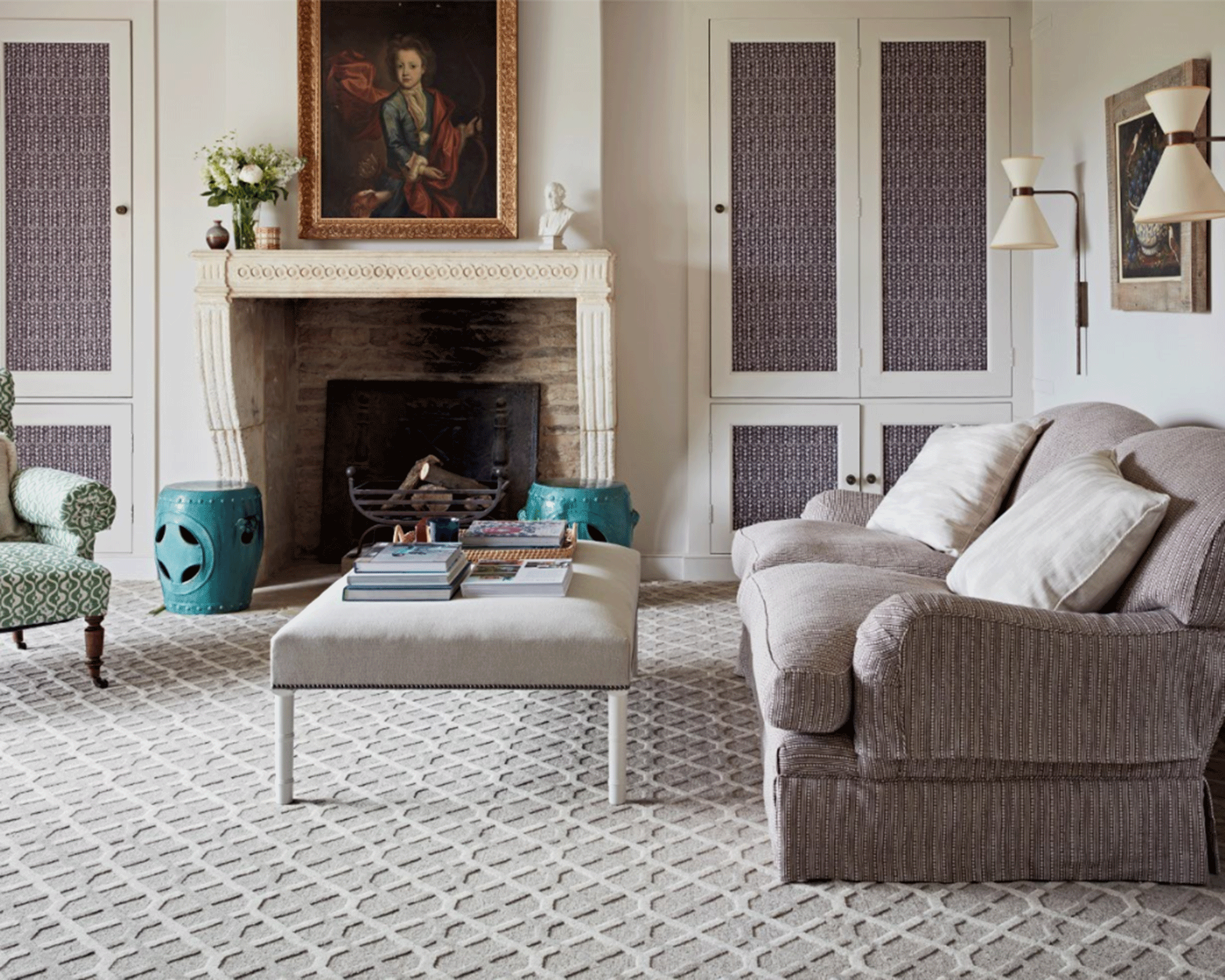 Living room flooring can very quickly make or break an interior scheme. Trust us when we say it pays dividends to invest in a material that won't make you shriek first thing in the morning (hello cold tiles, we're talking to you!). So, you'll be pleased to know that in both contemporary and traditional living rooms, carpet is a cost-effective, cozy living room idea that comes in a range of colorways, patterns, and pile options.
'Your carpet is the perfect place to start when creating a cozy living space,' says Jodie Hatton, residential design manager at Brintons.
'The texture of wool underfoot coupled with warm color or welcoming pattern makes it the perfect base upon which to shape a comfortable and inviting interior scheme.'
'Not only is wool on trend right now but it comes with the added bonus that it is a fantastic sustainable choice for flooring. It insulates your home, is easily recyclable and biodegradable, plus shearing sheep is essential for their welfare.'
'Wool has hypoallergenic and anti-bacterial properties so using it on the floor makes the air that we breathe cleaner and better. It provides luxury underfoot and helps to insulate your home for warmth and comfort. It absorbs sound to give a sense of calm and tranquillity. It is naturally fire-resistant and fall-friendly for little ones.'
4. Neutralize your work from home space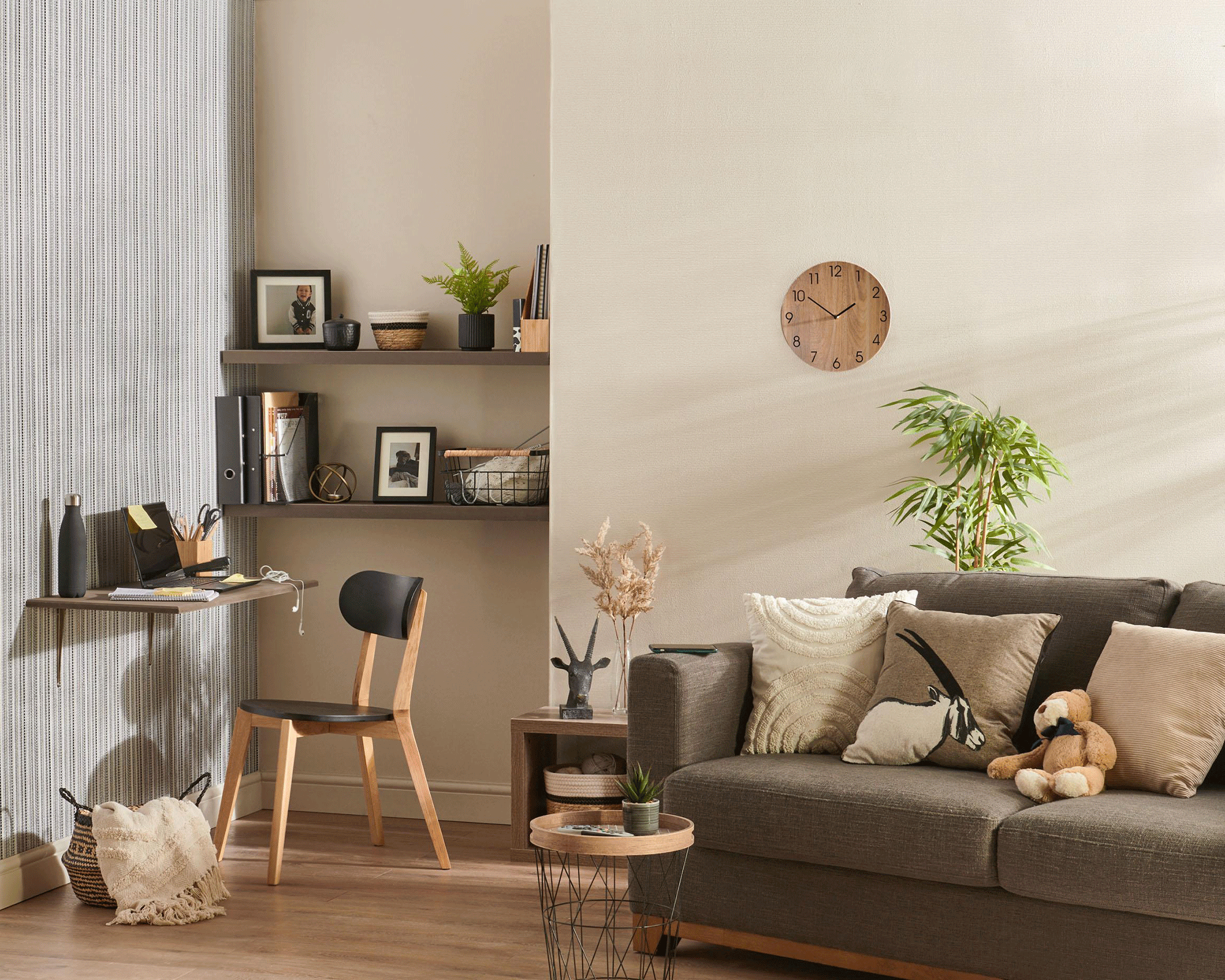 While the corporate office space you usually commute to might not be the most aesthetically-pleasing environment to get the job done, creating a cozy living room as a WFH setup can help you be more productive in your professional role. Grey and brown living rooms are a stark contrast from the harsh white and brightly-lit business bases we're familiar with, and so this soothingly warm scheme full of earthy hues and nature-inspired textures will help you stay calm when working to the tightest of deadlines.
The key to making the office space work is to mirror what's already in the living room. For example, the wire storage with tray works with the wire basket on the shelf, and the larger woven seagrass basket tucked away in the living room, coordinates with the smaller version on the shelving.
5. Drench a small space in dark hues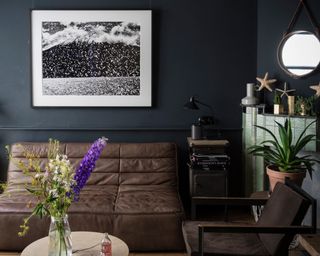 'Contrary to common belief, making the most of a small living room doesn't necessarily mean painting it white,' explains Joa Studholme, color curator, Farrow & Ball.
'In fact, one of our favorite methods in any room is to embrace its diminutive proportions with an inviting, enveloping deep shade on walls. In this stylish living room, inky Black Blue creates the perfect conditions for intimate get-togethers, impromptu movie nights, or reading into the small hours – for maximum effect, take your chosen deep shade over the dado rail and skirting boards too.'
6. Camouflage from the outside with khaki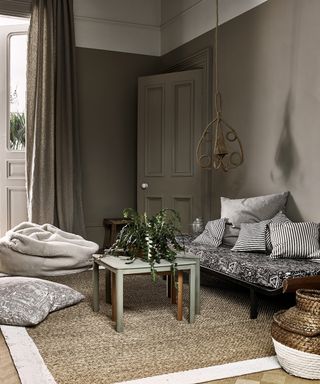 When the world outside seems a little strange, and the news on the TV is all a bit too much, you'll want a cozy living room that you can cocoon and immerse yourself in. Where sage, pistachio, or mint green can feel too fresh, and the wrong brown a bit too old-fashioned – compromise with khaki.
'Choose grey-greens and warm neutrals,' instructs Abbey Hesketh, assistant brand manager, Graham & Brown.
'When toned down enough, green can be just as neutral as beige, without being boring. Green has calming properties as it so closely emulates nature, so it is ideal for a living room, creating an environment you can relax and unwind in.'
7. Trust nature with tranquil shades and materials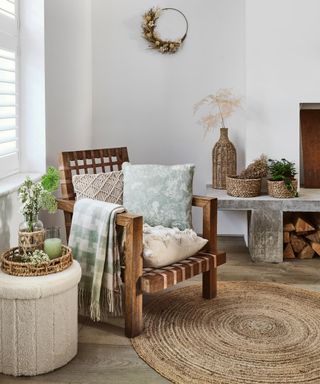 If there's something that'll never fall out of fashion when it comes to creating a cozy living room setup – it's nature-inspired interiors. Instead of looking at short-term styles, intended only for here and now, opt for a classic and timeless take on whimsical woodlands by filling your space with wooden furniture and verdant-hued homewares. While the walls in this room have been painted white, maximize this theme to its full potential by creating an enchanting indoor forest in a green living room.
'New beginnings is a contemporary and pared-back trend which plays on bringing the indoors in and maximizing our outdoor space to create a real flow of indoor/outdoor living,' says Julie Varma, senior design director, George Home.
'Hues of green are mixed with natural materials, with added textures including fringing and macrame, and soft furnishings covered in ditsy foliage prints.'
8. Decorate with dried flowers for a romantic feel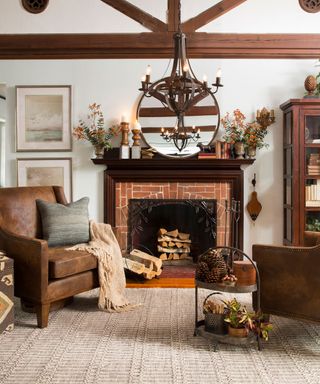 'There are a number of simple ways you can add some warmth to your living space, making it the perfect place to curl up in your favorite spot,' says Nadia McCowan-Hill, resident style advisor, Wayfair.
'The texture of throws and cushions will make a big difference to the overall comfort factor. Choose chunky knits and supersoft fleece throws to wrap yourself up in on the sofa. A neutral color palette of calming creams, taupe and sandy stone will help to create a calm yet cozy feel.'
'Chunky pillar candles will illuminate a dull corner, casting an ambient glow. Display foraged dried flowers in vases on your mantelpiece to bring a touch of the outdoors in. Seasonal greenery will lift the mood of the room, helping to avoid spaces looking bare after decorations have been taken down.'
9. Be a little beige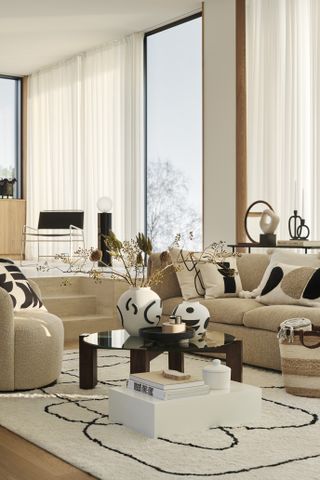 Yep cream and beige room ideas are back, and they are the perfect hues for creating soft, cozy, but still light-filled spaces. Boucle is super on-trend right now and is perfect for adding extra texture and make sure to add in some dark colors too to create a contrast for a really contemporary look.
Turn a 'blah' base into something statement by adding geometric patterns and lines to add interest. It doesn't have to be expensive either as most of these budget living room accessories can be found at main street stores like H&M!
10. Add in a fireplace for the ultimate cozy vibes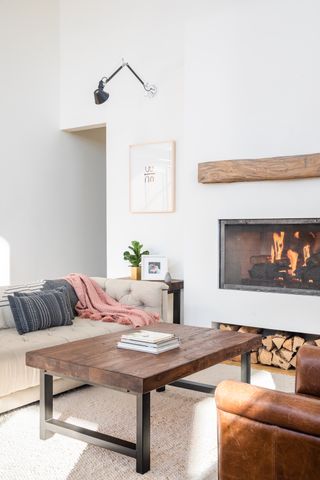 Nothing says cozy, comfy, and warm like fireplace ideas, so if you have the room and budget, they can be the perfect addition to a living room. As well as obviously adding warmth, they instantly become the focal of the room and you can create one that fits perfectly with your style – we love this more contemporary look with the cassette fireplace installed into the wall, and the wood for burning nestled below.
11. Pile up the logs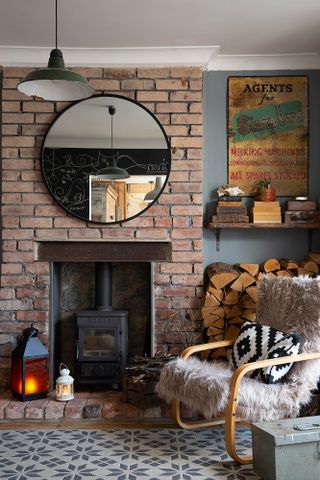 If you haven't got dedicated space to store logs for your woodburning stove, pile them up high to add a rustic living room touch. You know what, even if you don't have a fire, a log pile can just be lovely decor on a shelf, fill in an unused fireplace or add interest to an alcove.
12. Mix rusty tones and velvety textures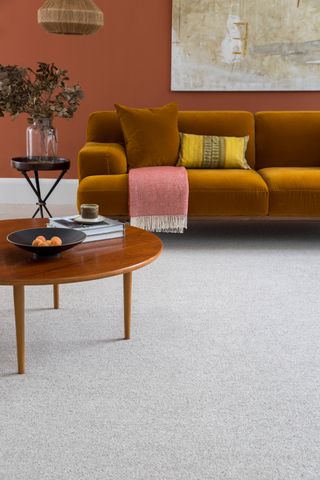 A cozy living room scheme can be created purely from the colors you choose. This rusty-colored wall and dark mustard velvet sofa together create the most perfect warming color palette, especially in an apartment living room where you might need to work a little harder to differentiate yours from your neighbor's.
This is your starting point and you can then go on to add tactile cushions and throws – as many as you fancy - and dark wood furniture to create contrast. Abstract artwork in pale textures ties in with the pale carpet and they help to balance the scheme and prevent it from becoming too dark.
13. Nod to rustic elements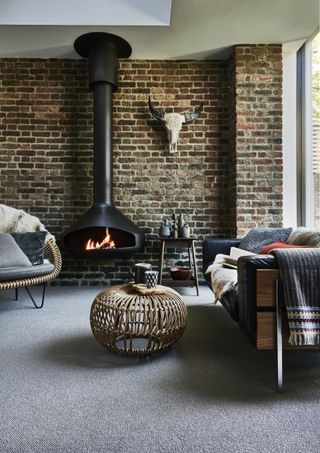 You can make any living room cozy whatever your style. This modern rustic-looking room has all the key textures to make for a cozy Sunday afternoon relaxing in front of the log burner.
You can never have too many cushions for a start, and adding in a sheepskin or two will increase your coziness to optimum levels! The exposed brick wall gives both character and a tactile quality and pattern is added with the fringed throw and rattan coffee table.
14. Layer your lighting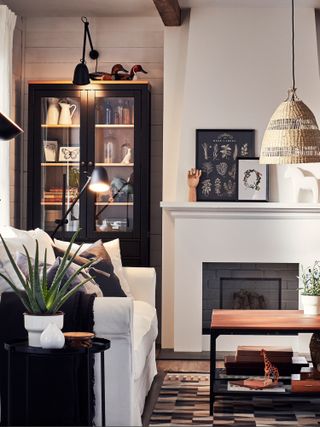 So you have your cozy textures in the form of a velvet sofa or two, tactile rug, and super soft cushions, and now you need to set the scene with your living room lighting. This can be 'layered' and you can do this by having your main ceiling pendant light, as usual, then another layer that will be table lamps and or wall lights, some of which can be angled to illuminate key areas like a reading nook. Finish the look with some candlelight, it's the ultimate in relaxing light - that gentle flickering is mesmerizing!
'Cozy living rooms and the 'big light' are a bit like oil and water,' explains Eleanor Cording-Booth, interiors writer, John Lewis & Partners.
'You're not going to feel truly snuggly on the sofa if you're being blinded by a ceiling light as bright as the North Star. For the best mood lighting, resist the temptation to stick the overhead light on and instead, use table lamps with shades to diffuse the light and your mood.'
'The Scandi trick is to position your lamps only in the areas of the room where you need them, to create inviting, peaceful zones for reading and relaxing. Choose warm 40W bulbs and combine floor and living room wall lighting with your table lamps for a soft, layered look.'
15. Remember light and airy can still be cozy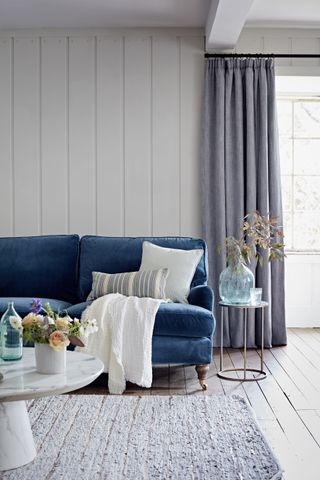 Fall and winter are not the only times of year we yearn to be cozy and a beautiful light and airy space whatever the season can tick the relaxation box for you to chill in.
Cozy living room decor is created by pulling together numerous textures - in this white and blue living room, you'll see a lovely slubby rug, muslin throw, and thick blackout-lined pleated denim curtains. The plush velvet sofa and accompanying cushions are super squishy, all you need is a good book and a scented candle to complete the scheme.
16. Go for a minimalist take on a cozy living room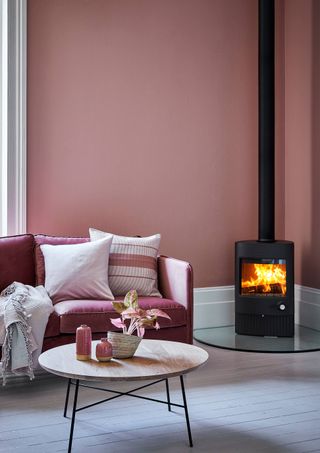 What? You can be a minimalist and have a cozy living room? Of course! Clutter is not conducive to relaxation and creating a cozy scheme is all about making your space fulfill your needs and if a modern scheme is your thing then cozy it will be. A log burner obviously creates coziness in an instant and a warming pink room scheme that consists of various shades of pink will give your living room an instant glow.
17. Switch up your color palette with the seasons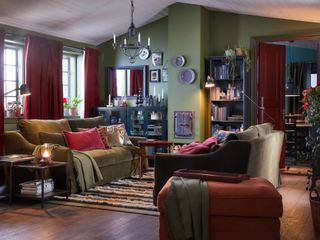 It's actually quite easy to change the color scheme in a living room to make it cozier. All it could take to changing up a few cushions, throwing down a rug, you could even paint a wall (we love this olive green). This fall color scheme is particularly perfect for when the weather changes and you want a cheap seasonal switch-up.
18. Create displays with books and prints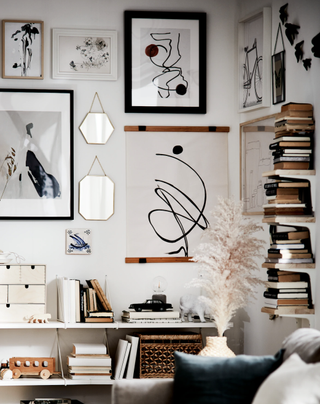 A very quick and easy cozy living room idea is to add personality with prints and books. You almost want the room to feel cluttered, but in a good way – so curate an accent corner or full on gallery wall, picking color schemes and planning where everything is going to go. We love the relaxed look here and the neutral colors help keep the overall finish balanced and perfectly styled.
19. Add in touches of tartan for cozy traditional feel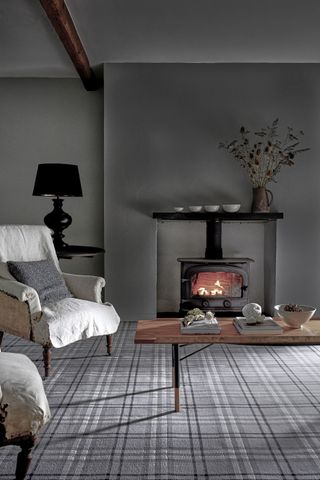 This kind of Highland heritage look always comes back, especially during the colder months, in slightly different forms. We are seeing it seep into the homes of Instagram and Pinterest too. It's all about taking inspiration from rugged northern landscapes, with muted, natural colors and textures.
Obviously, you can't forget tartan too – this classic plaid print is a bit of a love/hate thing, but personally, we think in the right situation and in the right shades it can really cozy up your living room.
This modern take on the motif, from Carpetright, is much more versatile than the original red/green colorway if you're a tad timid with bold hues, and would look stunning in a grey living room.
How do you decorate a cozy living room?
'Adding depth of color or a bold print to your walls can have a big impact on how characterful and cozy a living room feels,' says Cording-Booth.
'You could research color psychology (darker hues are said to make us feel more enveloped in a space) or just take a punt on the shades and patterns that you're most drawn to. If redecorating is a step too far, simply fill the walls with artwork that you love.'
'Art can be taken with you if you move, or changed-up throughout the year for a different look. You don't have to spend a fortune on original paintings either – create an eclectic gallery wall of framed prints by your favorite artists, exhibition posters, vintage finds, and the kids' masterpieces from school.'
How can I make my living room cozy without a fireplace?
'Scented candles are a two-fold win for your senses,' explains Cording-Booth.
'Flickering candlelight is instantly calming and creates an atmosphere of warmth – especially if you don't have the glow of a working fireplace to bathe in. If you do nothing else to swaddle up your living room for winter, invest in some scented candles – they're such an effective way to get into a snuggly state of mind. Go for a rich, smoky or woody fragrance with notes of leather, orange or spices. The nostalgic scent of a cozy winter's night will smell incredible when it's icy outside.'
How do I make a room homey?
'Cushions are the oldest cozy-trick in the book and for good reason – they're one of the most underrated and most impactful buys to quickly change the appeal of a space,' says Cording-Booth.
'Add a selection of cushions in varying sizes to your sofa or armchairs (with plump feather cushion pads) and get ready to dive in. A simple way to re-style a room and pull a design scheme together, cushions also help to visually soften the angles of a sofa, making it look less formal and more irresistibly squishy. Choose tactile textures such as sheepskin or velvet for the most luxurious feel against your skin.'