Whether you are investing in new curtains a living room or a bedroom, taking the time to measure your space is a must if you want to get the perfect fit. We've put together a handy guide to help you get those important dimensions right…
1. Measure the curtain track or pole
We recommend installing your curtain pole or track before measuring for curtains. The pole or track should extend approximately 15-30cm past either side of the window and 12-15cm above the top of the window. This will help minimise the light when curtains are closed and also allow for curtains to be gathered either side of the window when open.
Always measure the curtain track or pole width, not the window, to calculate your curtain width. With a curtain pole, measure the pole length not including the finials. For a curtain track, simply measure the full width.
If you are working with curtain tracks that have an overlap, to find the right curtain width, measure the full width of both tracks separately and then add them together.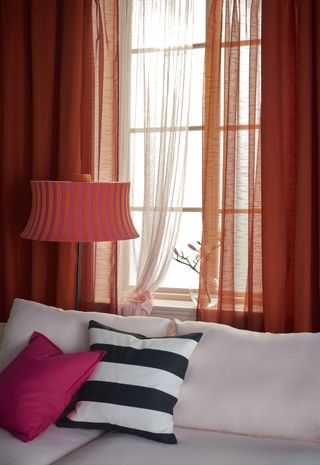 2. Calculate your curtain width
To get a soft gathered look when your curtains are closed, use your pole or track measurements as a starting point and multiply it as follows (depending on your chosen curtain type):
Eyelet curtains: Pole or track width x 2
Pleated curtains: Pole or track width x 2
Tab top curtains: Pole or track width x 1.5
Add another 2.5cm to your measurement to allow the curtains to overlap when closed.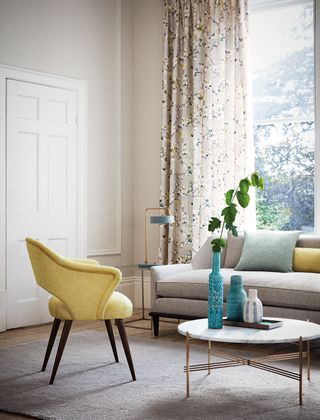 3. Measure the correct curtain length
Curtains can be hung either to the floor, to a sill or to below the sill. As a general rule, we recommend either ending 1.25 cm above the window sill, ending 15 cm below the window sill or ending 1.25 cm above the floor.
Always measure in at least 3 positions across the track or pole as floors and sills are rarely level. To avoid curtains dragging across the floor or sill we recommend you use the shortest of these 3 measurements.
Looking for more decorating advice?