White living room ideas are classic, and this neutral look that's going nowhere. Given their space and light-enhancing properties, as well as their versatility it's hardly surprising. Easy to update with the seasons and as your tastes or trends change, an all-white living room is a great place to start if you have just moved into a home or looking to give your current space a makeover but not totally sure what style you want to go for.
Whether your taste is for muted, minimalist spaces or you like using white as a base for a scheme enhanced by varied textures and tones, our white living room design ideas provide plenty of inspiration. So just keep scrolling to get inspired...
'Living with white needn't be dull and there are many ways to add personality and flair to minimal schemes.' explains David Snazel at Carpetright. 'The natural lightness offered by a white scheme can help to evoke a sense of summer even after the nights start to draw in.'
'To achieve this effortlessly cool look it's best to start with a plain base on walls and floors, and then layer textures, shapes and accent colors to add interest and warmth. Crisp blues work well, as do vivid greens or sunset shades such as yellow, orange and red and adding a selection of flora and fauna will keep the summery feel year-round. Keep flooring minimal and in line with your scheme, whitewashed boards, marble-inspired luxury vinyl or bright white carpets could all work well.'
How do you style a white living room?
There are so many ways to style a white living room, it's why it's such a popular color palette. How you make a white living room your own will depend on your own personal tastes, but they always lend themselves to modern, minimalists styles with striking, Scandi vibe furniture.
"Decorating with white is one of the easiest way to create a fresh and cohesive look. It helps to open up a space, making it appear much lighter and bigger.' says Ben Stokes, Founder of KAGU Interiors. 'To avoid a room feeling washed out, incorporate different textures of linen textiles, wicker lighting or incorporating to occasional antique finds to add character and interest.'
If you like a more period-style a white scheme can work with that too. Pairing white walls and soft furnishings in soft pastels and florals is a classic look for more traditional tastes.
We will talk you through plenty more ways to style a white living room, so you're sure to find inspiration whatever your tastes.
Is white a good color for a living room?
Yes! White is a good color for living rooms. While for some it may seem impractical, there are ways around that – wipeable paint, for example, avoiding white on the floors or on the most used furniture. You can still work with a white color palette and create a practical family room.
White is also super versatile, making it a great option if you like to frequently switch up your decor. You have a neutral backdrop to work with so can bring in different trends without having to totally redecorate.
It's just about picking the right tone of white for your space as that will suit your style and space. You don't want to go too cold in a north-facing room for example, or too yellow if you like a more contemporary look.
'The way we interpret whites now is very different from the idea of pure white.' explains Patrick O'Donnell, brand ambassador at Farrow & Ball. 'They can vary from chalky to cool, icy blue right through to sludgy but wonderful green/ greys whites. The best way to select your white is by finding the undertone that best suits your style and home, and most importantly, the light aspect of your living room.'
How do you make a white living room feel cozy?
To make a white living room feel cozy you need texture. White can be quite a stark color, which can totally work in a more modern space, but if you want your living room to be more... liveable, you are going to want to tone down that cool feeling.
Layering up soft furnishings like rugs, cushions and throws is the easiest way to do this. And introduce some warmer neutrals like beige and cream to soften up the freshness of the white.
'It's all about layering the textures and keeping it fresh.Go for lots of white linen on very relaxed sofas with warm natural wood, seagrass flooring, raffia rugs, a wicker basket full of logs' says David Harris Design Director at Andrew Martin.
'Storm lanterns, glassware, ceramic pots and candles all add to the fresh look whilst some warmer and brighter textured Andean cushions really add a splash of color and warmth. This way you get the best of both worlds, cool fresh vibes in the summer and warmer and cozy on longer winter evenings.'
1. Pick the right white for your space
If you have any experience with buying white paint, you will know there's not just one white. White comes in so many different forms and if you are going for a white living room it's important to pick the right shade for your space.
'White paint is probably the most misunderstood shade of them all. White paints can feel differently depending on the type and orientation of the light that hits it and of course dependant on whether it has been tinted.' explains Helen Shaw, Director at Benjamin Moore.
'Simple, clean and classic, the best white paint colors stand easily on their own as a design element. Whites are versatile, timeless and have the power to make a room feel spacious and fresh. However, the wrong white can look stark, drab or can have undertones that simply don't work with your chosen wall color. Remember that red and yellows harmonize with warmer whites, while greens, greys and blues synch with cooler white paint colors.'
'It's also important to understand how the appearance of colors tends to shift throughout the day with the changing tones in natural daylight, as well as with different artificial light sources. White paint colors are especially prone to taking on different tonalities from morning to evening.'
Our advice is to always order samples and test out your potentials in situ before buying your paints.
2. Warm up with with brown tones
Yep, you read that right brown tones. Brown isn't a color you see in home decor all that much, but with a rise in 70s style and trends leaning more towards creating more cozy space, brown is making a bit of a comeback.
Obviously, there is a way to do it right, and mixed it into a cool color scheme in a living room can really work and warm up the space. Pair clean white walls with a chic retro brown leather sofa or a statement hide rug like you see here. Add in texture with rattan if you want a more boho feel.
3. Add texture with multiple rugs
Because why have one rug when you can have two (or three)? It can be tricky to make all white living rooms feel cozy, but rugs instantly add warmth and make a space feel softer. Layering rugs is the only way we are doing rugs right now and we love the effect you get when you mix different materials, patterns and colors. Plus, a collection of rugs in a neutral living room gives the space a focal point.
4. Mix white and beige
Beige used to get a bit of a bad rap in the world of interiors, but this year it seems to be everyone's favorite color to decorate with. It's soft, inviting and super versatile, so don't let its magnolia-blah past put you off using it in your living room.
Pairing it with plenty of white gives it the lift and a more contemporary edge. Stick to a crisp white on your walls and then bring in those softer beige hues with your soft furnishings.
5. Add color with books
Is there anything more satisfying than a really full bookshelf? Books are actually a really great home accessory – if you've got books you've got decor. They can bring in just the right amount of color into an otherwise pretty neutral living room scheme and because you never get one block of single color the effect is quite subtle too.
6. Pair a white sofa with rustic textiles
White sofas are things that only dreams are made of – really who's lifestyle can handle a white sofa? But there are ways to get around their impracticality, plus soften them up a bit because they can look quite stark. Rustic patterns and textures are always going to give a more worn feel, so throw on a few boho-style cushions and used a couple of throws to protect your glorious white sofa.
7. Use statement art as a focal point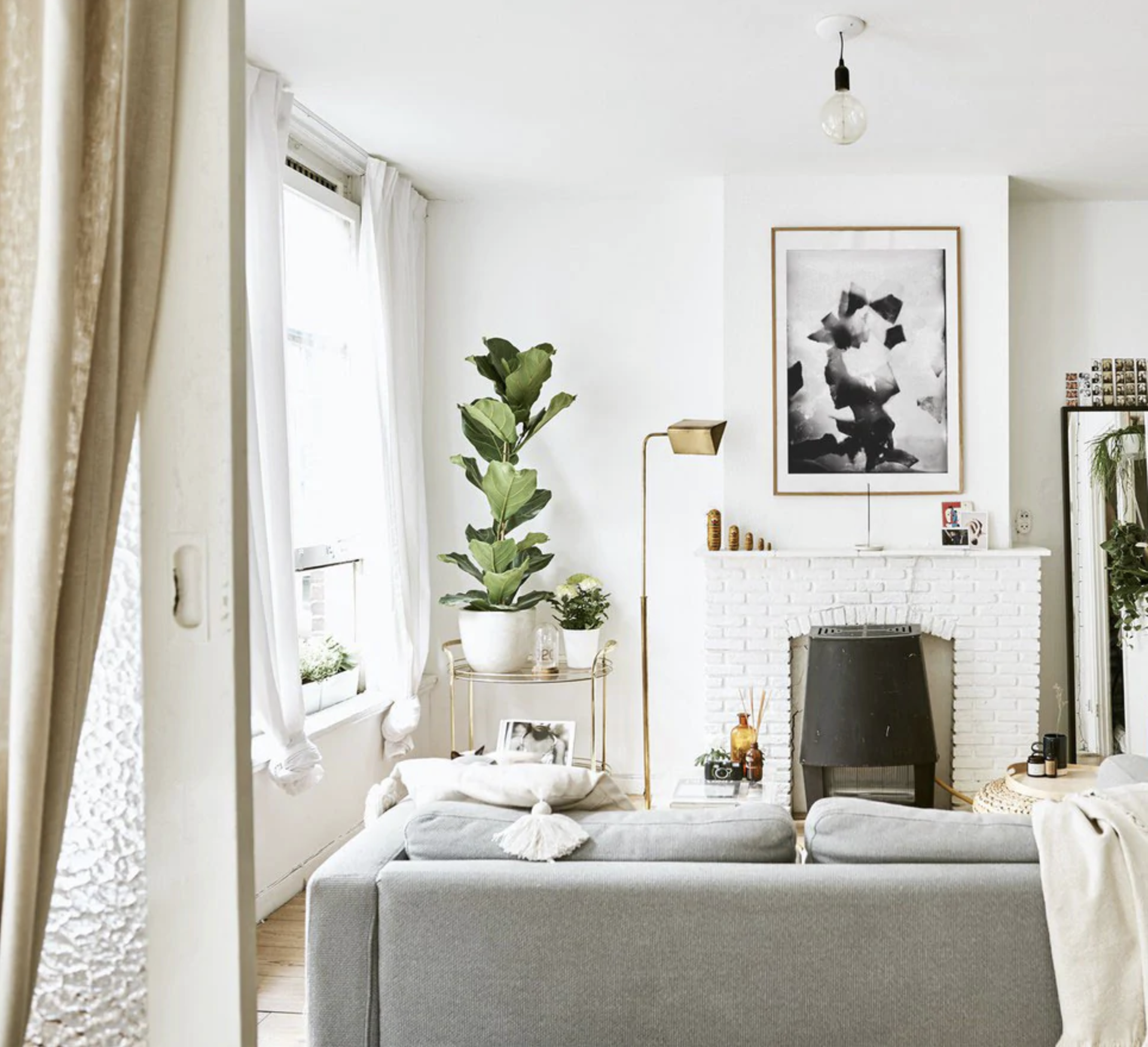 In an all-white scheme, it's good to have a clear focal point so your room isn't just a sea of white. Artwork is the simplest way to do this. Pick something oversized that's really going to draw the eye. Don't worry colorphobes that doesn't mean you have to go ruining your neutral scheme, a print in a darker color will have the same effect as rainbow colors as you can see in this gorgeous living room.
8. Opt for a stand out sofa to contrast
A bright and bold sofa can also make a stylish addition to a white living room, creating a dynamic focal point. Why not consider opting for a trending color? We are obsessed with the 60s vibe of this velvet coral sofa.
'Decorating with white helps to create a timeless and understated scheme, however it is important to strike a balance between being simply sophisticated and just simple.' says Suzy McMahon of Sofology.
'One way to ensure your scheme isn't dull is to inject color. If you're opting for white walls and floors, contrast with a bright or patterned sofa or accent chair for a statement burst of color. Alternatively, pairing a white sofa with colorful textured walls adds a contemporary touch.'
9. Create a laid back beach vibe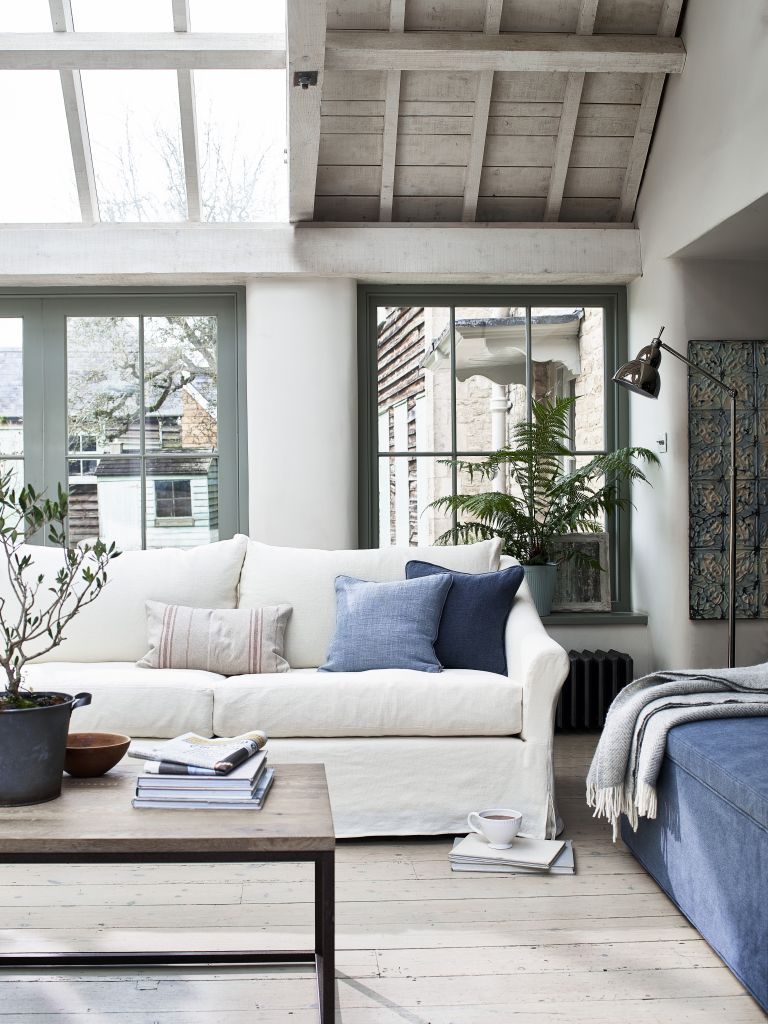 White lends itself so well to creating that laid-back, beach house feel. And we aren't talking 'Life's better at the beach', jars of shells everywhere, vibes, we mean stylish, chic, light-filled spaces that just have a very subtle nautical feel to them.
Recreate this look by mixing white with greys and lots of slubby material like linen. White-washed wood will bring in some lovely texture and a couple of large house plants will add in some more color.
10. Paint an exposed brick wall white
A coat of white paint can enhance an exposed brick wall, adding a light, bright and contemporary feel to a living room, as well as understated interest and texture.
To complement the laid-back feel achieved by exposed brick, pick out fittings in raw wood, and layer natural colors and tones against it, as with these house plants and the grouping of pendant lighting.
Looking for tips on how to create an exposed brick wall? Just head to our guide and if your space doesn't come with an exposed brick wall, consider opting for brick slips or wallpaper with the same effect.
11. Use a white scheme as a base for a gallery wall
If you're a fan of the gallery wall trend, consider opting for white as a base that you can build on. Mismatching frames, prints, clocks and other forms of wall art is the easiest way to create a personal and unique finish plus add a bit of pattern to a white living room. Don't be afraid to make adjustments until you reach a combination you're satisfied with.
Like the idea of a gallery wall but don't know where to start? There's lots of inspiration in our gallery wall design ideas.
12. Prop artwork against the wall for a relaxed finish
If you like the idea of a gallery wall, but not the idea of hammering tons of tiny pins into the wall (renters, am I right?), prop and layer large prints against the wall. Opting for prints in tones that match your white living room scheme creates understated interest, though a pop of color can make a nice addition, too.
13. Introduce pattern and metallics for a luxurious finish
If you want white living room ideas with a slightly more luxurious feel, introducing more texture through patterned wallpaper into your scheme is the way to go. Combining a monotone wallpaper with shimmering metallic lighting and rich colors in the rug is a great start. Add in soft green velvet upholstery and a wooden floor for a richer, warmer finish.
14. Go for a wooden floor in a white living room
Wooden flooring, particularly in a stylish herringbone design, makes a classic addition to a white living room. Which finish to choose? It doesn't just depend on taste, but also on how much natural daylight your room gets, too.
The darker the tones of the wood, the more formal or traditional your room will feel – but in a north-facing room it may feel cold; the lighter the wood, the more laid back and Scandi-looking it will be – although you may want to tone it down a little in a bright, south-facing room; the more honey-toned the wood, the warmer the room will feel, perfect in a room that only gets cool, north- or east-facing light.
15. Accessorise a white living room for a Scandi look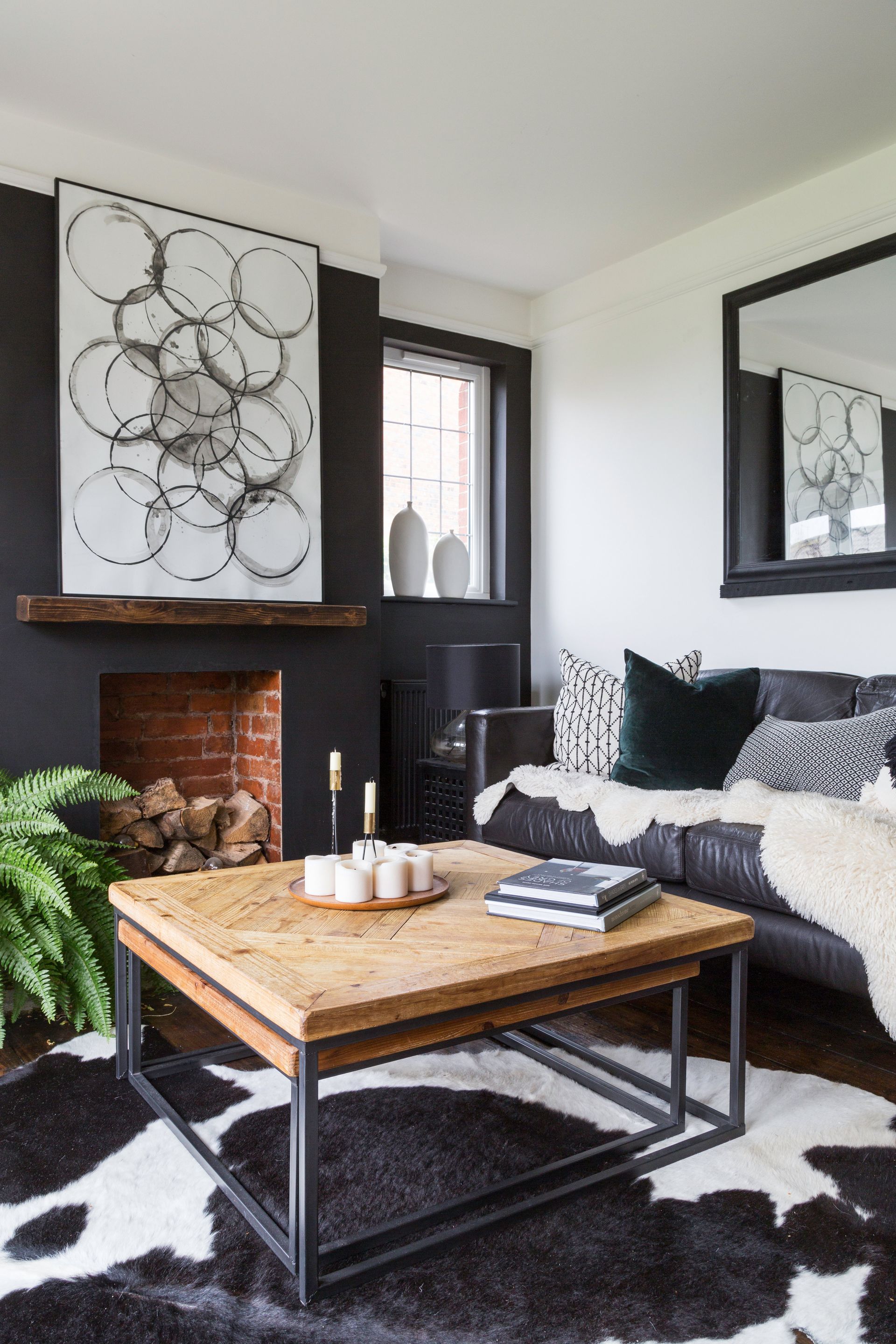 If you're looking for a slightly edgier take on a white living room, consider pairing with black accessories to achieve a modern, Scandi look. Slouchy, inky velvet sofas, statement wall art and standout light fittings make stylish additions. Style with house plants to soften the stark contrasts of a monochrome scheme.
16. Opt for wood and wicker in a boho-inspired space
If your style is more boho-inspired, choosing furniture and home accessories in wood, wicker and other natural materials is the easiest way to achieve the desired outcome.
Less is definitely more in a boho-inspired space, so keep color, furniture and other possessions to a minimum. House plants make a stylish addition, however, so don't be afraid to buy an abundance.
Not sure which house plants will suit your space? Our guide to everything you need to know about common house plants talks you through the options.
17. Add in a touch of industrial style to a white living room
We also love combining industrial and boho styles to create a striking scheme. Pairing a low-slung sofa with reclaimed furniture is the easiest way to achieve this look. White walls and wood floors make the perfect backdrop. Add a neutral-toned, patterned rug for added interest.
18. Make the most of natural light with lighter curtains
One of the main draws of a white living room is the light and bright feeling it evokes. This can (and should) be enhanced by maximizing natural light within a space.
An easy way to maximize light is opting for curtains in natural tones that don't overwhelm the space, and can be pulled right back beyond the window frame so that they don't dramatically block out light when drawn. Incorporating mirrors into a scheme is another option for making a space feel lighter and brighter.
19. Pick out white shutters for a streamlined look
If you're blessed with large windows that naturally flood a room with light, consider foregoing curtains altogether. Shutters make a stylish alternative in a white living room and can simply be folded away – or the louvers tilted – without restricting light to a space.
20. Experiment with statement lighting
Statement lighting – or light fittings arranged in grouping of pretty pieces (see below) – is a stylish way to create a focal point in a white living room that's still subtle, understated and doesn't overwhelm a space.
Choose your bulb color carefully in a white living room – cold white halogens will make the room feel cool at night; warmer-toned bulbs will make it feel more welcoming.
21. Go for a traditional vibe in a white living room
If you live in a period property, consider how to draw attention to distinct and stylish architectural features that really enhance a white living room. We love how a display of artworks and finds make a focal point of this original fireplace; the just off-white chimney breast wall and warm-toned upholstery make for an inviting space, too.
22. Incorporate pink into your white living room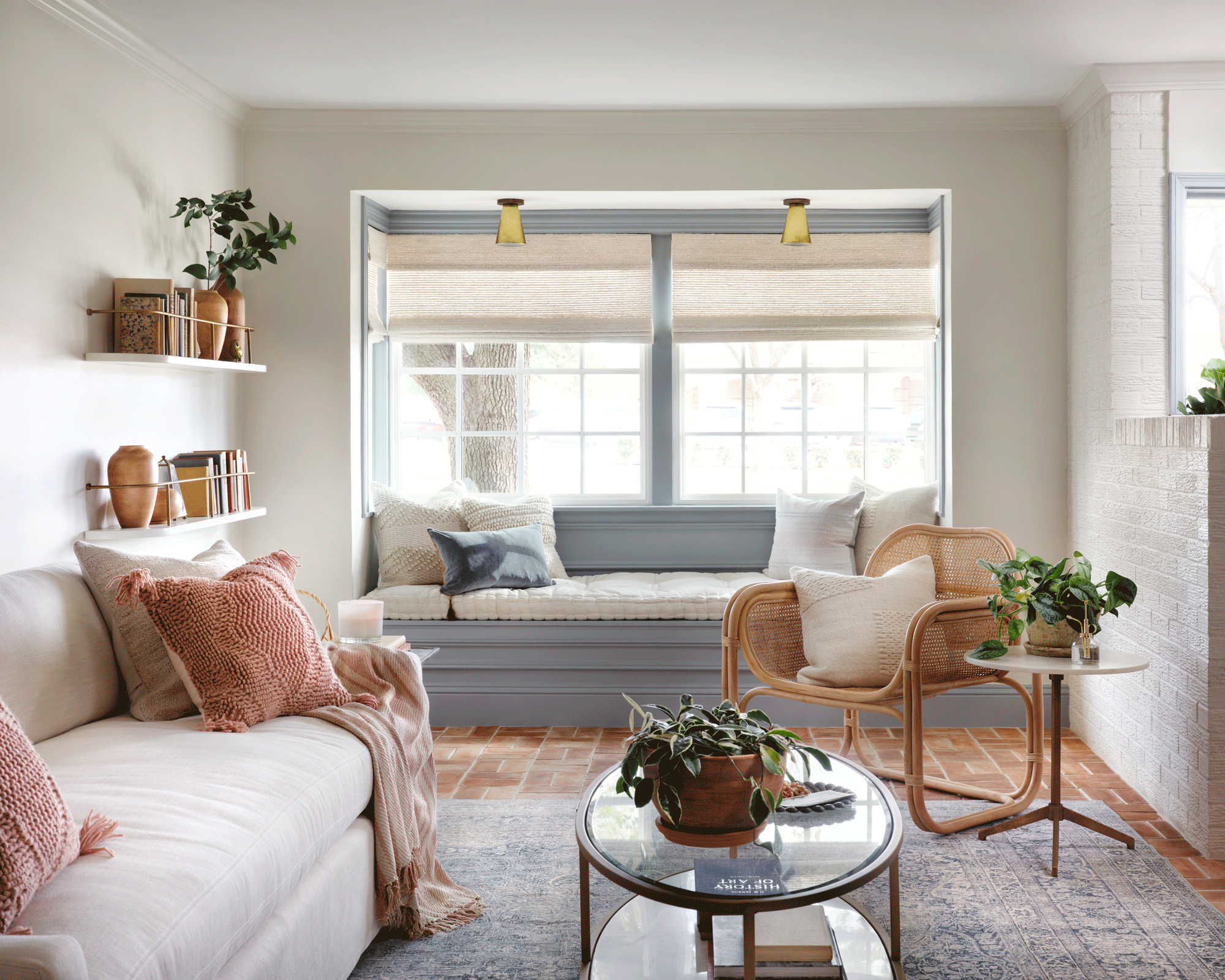 The beauty of a white living room is how easily it can be accessorized (and therefore totally redesigned) in accordance with changes in your taste or interiors trends.
Using upholstery to give a white living room a totally new look and to incorporate the trend for pink is one way to go. Of course, you needn't go as far as this with your room – a scattering of smoky pink cushions on a pale grey sofa; a single throw on a neutral-toned chair or even a pile of books with pink spines piled on a coffee table will do the trick.
23. Create a warm focal point with a stove
Just because your interior taste is stripped back and simple, it doesn't mean it can't be warm and welcoming.
We love the idea of including a statement wood-burning stove in a simple white living room scheme, creating a stunning focal point that commands attention. Browse our pick of the best wood-burning and multi-fuel stoves.
24. Break up a white scheme with coloured accents
Incorporating color is the easiest way to break up an all white scheme and creates a space with greater depth and interest. We love the pairing of this white living room with bold blue accents in the shelving and artwork on the walls.
25. Furnish a small white living room to enhance space
Looking for white living room design ideas that stretch space? It's not all in the decor: picking furniture designed for a small space will make a big difference, too. If space allows, opt for a small corner sofa to maximize both space and that cozy feeling, but pick low-slung pieces that don't take up space (visually) and that allows light to bounce around the room more freely.
26. Mix white and deep green for a fresh look
Mix white, off-white and a deep forest green for a really fresh, clean look. Add in some elements of light wood just to soften the look and you're golden. We also love how this rich velvet green chair sits in this sun-filled nook, the perfect use of an awkward alcove.