There is no shortage of modern living room ideas out there when you do a quick search. But with so much choice and so much variety over what is deemed 'modern' it can be a bit overwhelming to browse.
That is why we thought we would gather all of our favorite contemporary living room looks in one place to help get you inspired.
From the get-go we would like to say don't equate the word 'modern' with 'stark'; modern living room ideas may lack some of the frills and fuss of traditional living room designs, but that doesn't mean they can't still be warm and inviting, as these rooms we've handpicked demonstrate.
So, what are we looking for in a modern living space?
Camille Styles, lifestyle blogger, says: 'A well-designed living room complements your life and bolsters your wellbeing. The concept of a formal living room is outdated. A living room should serve the actual name it's been given: a place to just live.'
Lucy Small, owner, State and Season, says: 'The modern living room feels clean, open and cozy, As more and more people learn that modern doesn't mean cold and utilitarian, they are leaning toward comfortable rooms that maximize space for families while facilitating staying neat and orderly. What function means to your family or space is going to be largely personal.'
Take a peek below, and get excited about switching things up and putting some laidback love into your multifunctional space.
1. Create a mindful sanctuary of calm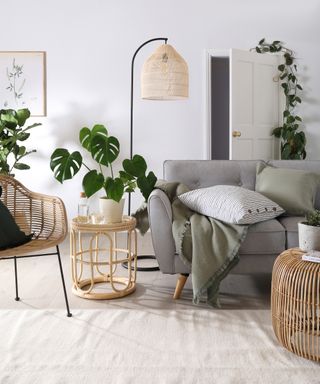 Busy bee lives ever more make us cherish our homes as sanctuaries of calm to rest and restore. Transform your lounge into a quiet space that tunes into all the senses and nurtures the soul with a calming palette, natural materials, and comforting textures. Creating a mindful space is not about what it looks like, but how it makes you feel – and there are simple steps you can take to improve your home's wellbeing.
Lisa Kahn at Finding Sanctuary by Lisa Kahn Designs, says: 'The pandemic has urged us to start seeking sanctuary in every corner of our homes, and the living room is the ideal spot to serve as a safe haven to nurture our own well-being as well as that of our loved ones. This room is no longer the outpost that only gets used on a holiday or a special/formal occasion. After all, the living room is for living, and specifically, living in a way that enhances one's mental and physical health.
'To facilitate quality bonding time between loved ones, deeper, more comfortable seating – some rounded with soft edges – should be used to encourage conversation, snuggling, and closeness.'
As shown, if you want a grounding feel, opt for beige living room ideas. They come with great color choices like stone, taupe, tan, ecru, and fawn. These versatile, earthy shades will create a harmonious and relaxing space.
2. Transform your living room into a multifunctional hub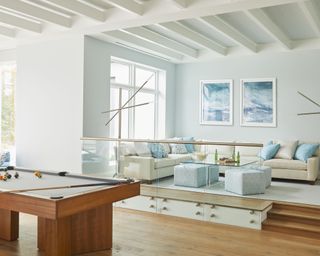 From lounging to laughing, home working to working out, how we use our living spaces has evolved. Max-out your open plan lounge with double-duty furniture like coffee table ottomans that save space whilst providing functional extras for storage and tasks.
Kahn says: 'We are expanding the ways we use our living rooms these days. What used to be an entertaining space mainly for adults to gather can now be a quiet getaway for individuals of all ages to enjoy some reading or other contemplative practices like writing or meditation. These activities drive a fresh approach to furnishing living rooms, encouraging the addition of pieces like a library table with a pull-up chair, instead of a console table behind a sofa. This table can be used as a writing desk or for other activities like assembling a puzzle.'
Styles says: 'I'm a big fan of adaptable furnishings that optimize your space and make it more functional. An ottoman or a pouf is a great multi-purpose piece to include – they're easily movable and can serve as a footrest, side table, or extra seating.'
3. Bounce the light with mirrors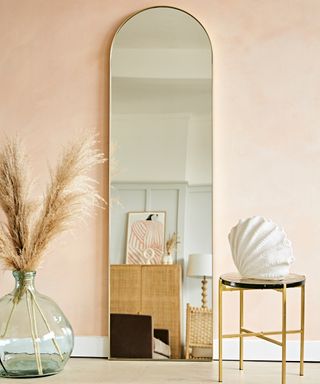 The most stylish mirror ideas will enhance the size, brightness, and look in modern small living rooms.
Styles says: 'An oversized mirror is a great trick to open up the energy of a space. The key to finding one for your living room is to think of it as a piece of art. Pro tip: a mirror hung opposite will capture more natural light to open the room up even more. This Hearth & Hand mirror is a great affordable option.'
4. Choose big furniture that's light on its feet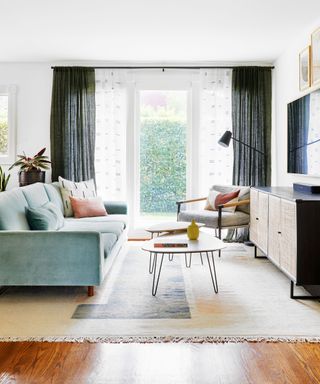 In apartment living rooms, prevent weighing down your space with bulky 'blocks' of furniture, but instead enhance the sense of floor area and flow with pieces on legs – yes that includes you, plant pots on legs!
Small says: 'Comfortable spaces mean sofas with deep seating, chaises, and accent chairs you can curl up in – but a modern space also needs to feel light. The best way to accomplish that is to have furniture that's on feet. Avoiding furniture that runs all the way to the ground will make the pieces themselves seem lighter and will make your room feel bigger... A good rule of thumb is if you can reach the back of it. If you can't – it's too low to the ground. Keep your biggest, bulkiest furniture on legs will ensure your space remains feeling clean and modern.'
5. Zone your seating area with a feature coffee table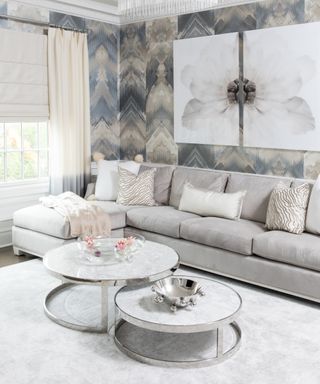 Don't leave that void space between your sofa and the remainder space hanging! Anchor your scheme with a defining coffee table styled with modern coffee table decor ideas to create an eye-catching centerpiece.
Small says: 'In the spirit of an accent coffee table – whether a rustic block of wood or a marble coffee table to add modern glamor – you can forget the previous point about feet if you really fall in love with an accent piece. Because coffee tables are small, they give us that freedom. An accent piece should be on the palette but unique – so if your room is rustic, go for refined (i.e wood-clad walls = a marble coffee table) and the opposite is true (i.e. sheetrock and wainscoting on walls = rustic wood coffee table).'
And you can always forgo conventional lounge furniture and opt for a quirky coffee table alternative instead.
6. Layer-up textured neutrals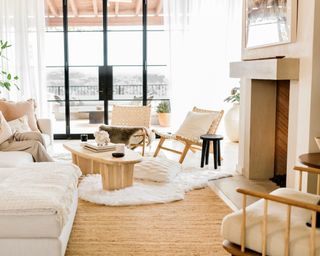 Contrary to belief, you don't always have to choose a maximalist patterned rug to be the hero of the living room show. Sometimes it pays to keep things simple and let the texture do the talking with subtle living room rug ideas that add a dimension of tactility and subtle color contrast.
Small says: 'The neutral rug is a modern touch – especially when coupled with some geometric design or pattern. Save the colors for your accents and form a solid, minimalist base for your room with a neutral rug. If you're worried it'll be too boring don't forget that neutral doesn't mean plain! You can dress up neutral with weaves, texture, or high pile.'
7. Add a personal touch without over cluttering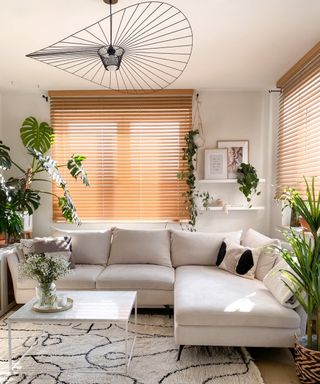 Modern living rooms are all about living simply and authentically. But your space should absolutely reflect your personality too – whether you're a full-blown maximalist lover of color and pattern clashing or a modernist advocate that loves a minimalist aesthetic. The key is balance. Embrace a Japandi approach to decor, and dress your space with items that are functional, beautiful, and meaningful. You can still invite the rainbow inside – just don't overfill your space with unnecessary 'things' for the sake of it. Less is more after all…
Small advises to group personal items together: 'Whether decorating for the holidays or showing off treasured moments and family members with framed photographs, creating a dedicated space to bundle those items instead of spreading them around the room amplifies a clean and minimal look. Modern doesn't mean sacrificing your personal items – it just means keeping a minimal look throughout as much square footage as possible. Bundling all of your items together also creates a focussed space to enjoy your photos without making the room seem crowded.'
If you're feeling overwhelmed, check out these fabulous living room storage ideas to hide away your clutter in style.
8. Refresh your space with the new neutrals – green and blue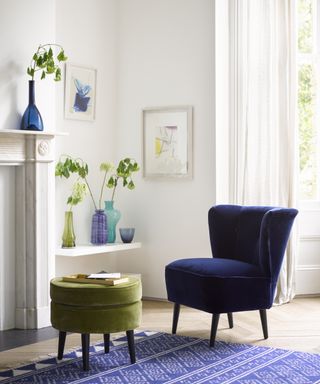 Both hero paint colors for a living room – green and blue is a winning combination, and make an effortless neutral base (bon voyage white!) They are closely connected on the color wheel, so it's easy to introduce the two tones to create the illusion of more color without overpowering a space. (We've got a whole gallery of green living room ideas to grow your curiosity further...)
Jen & Mar Co-founders of Interior Fox say: 'Fresh, earthy, and completely versatile, you can't go wrong with green and blue. The trick is to tone up or down depending on the desired outcome. For a calming effect opt for lighter colors offset by natural finishes, or for a more sumptuous scheme choose much darker shades. We find that darker hues add more shadow and different tones when the light hits and make the perfect backdrop for brass accents.'
9. Or invest in a blue sofa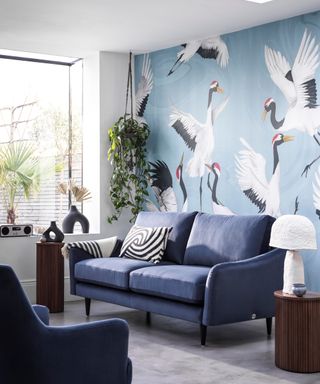 Sink into the big blue (quite literally) with a color pop sofa, like The Rebel 3 Seater Sofa in Blue Steel (from Snug) that brings a splash of relaxing blue therapy home…
Dani Burroughs, head of product, Snug, says: 'Whether it's a subtle splash, or something bolder, choosing a blue sofa can bring a pop of color and a state of calm and stability to your blue living space. Blue makes for a great sofa choice due to its versatility, it works well with a variety of tones and transitions well into different seasons. It could be a choice of a deeper, richer blue or a lighter, brighter version there are many variations to choose from to suit your home.'
10. Revamp your fireplace with a refined, minimal hearth and mantle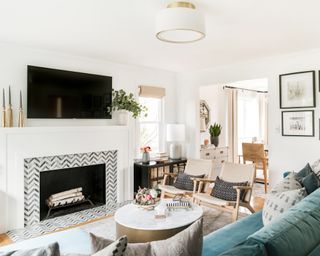 Think about how different fireplace ideas could resurrect a tired space – whether the fire is functional or not.
Small says: 'A fireplace and hearth renovation is a great way to make a room seem new. It's a focal point for not only the living room, but the home. Creating a modern look around your fireplace is simply a practice of minimizing traditional elements that may date a home, like mantles and hearth materials that are very 90s. Modern looks can incorporate stone, brick, or tile but most important is to keep the clutter low and zen the space out by choosing a minimalist palette.'
If you're feeling crafty, these DIY fireplace ideas will transform your fireplace into a fun and stylish centerpiece at very little cost.
11. Add a dimension to walls with on trend cladding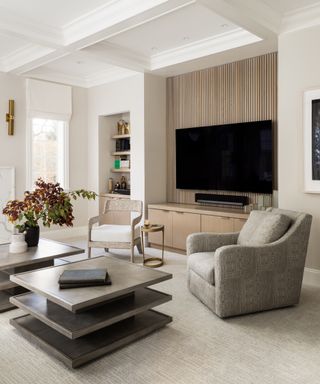 Living room walls ideas are getting extra touch-feely this season…
Jen & Mar say: 'Paneling is everywhere we look, and although it is showing no signs of slowing down it is evolving into a more modern style, with cladding becoming increasingly popular. It's great at adding texture and color to walls and works in almost any room; whether it's the kitchen, bathroom, hallway or outdoors.'
12. Storage is key for a tranquil modern living room look and feel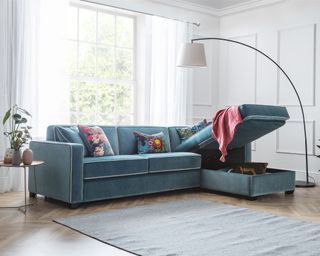 Small says: 'Provide storage ideas for small living rooms with options to nest blankets and textured throws. A ladder, baskets, and other chosen pieces around the room help to keep the living area clean and minimal while also stating that in this space, we're cozy and love to get comfortable.
'Modern is often mistaken to be sparse or uncomfortable, but the clean minimalist look can be very comfortable for any movie night or afternoon spent reading if you have a place to put all of your coziest possessions.'
If you double-up your lounge as a guest room for overnight visitors, consider investing in a space-saving, game-changer best sleeper sofa also.
13. Go bold with color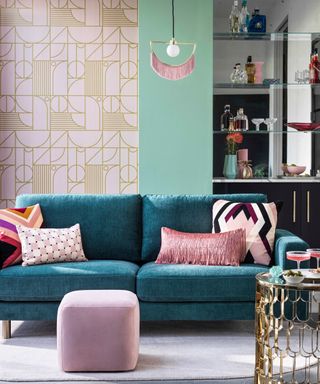 Modern doesn't have to mean cold and minimalist - completely the opposite actually – we're all up for nailing the maximalist trend in a living room!
Burroughs says: 'When creating a 'lived-in' space you don't need to always use minimalism and pair everything back. For that 'comfort factor' people want spaces to feel warm and cozy, so shouldn't be afraid to use bold colors. The best way to do this is to find a few common colors or patterns to repeat throughout the space. Using these bold colors and modern accents updates maximalism style to make it for a more modern colorful living room idea.'
14. And use pink in contemporary ways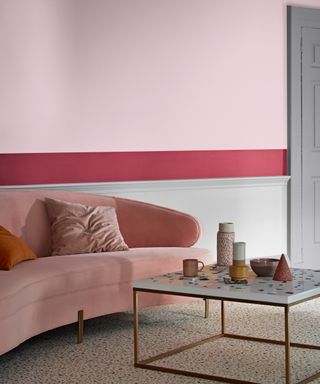 Pour your heart into your modern lounge, and learn how to decorate with blush pink to make your modern scheme blink with rose-tinted allure and calm.
Justyna Korczynska, senior designer, Crown, says: 'Pink is an extremely versatile color that is seen as 'pretty'. We are seeing a trend for people using pinks in a contemporary way, to make a room look more modern. This upbeat color also goes surprisingly well with other colors.'
15. Pick primary colors for a Bauhaus-inspired look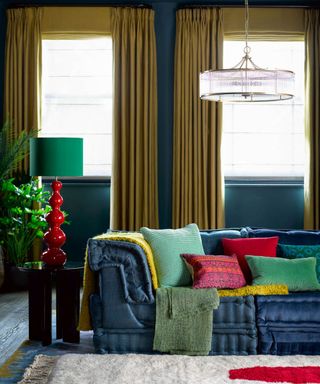 From engineering to interior design, German design has meticulous attention to detail. So if you're looking at ways to incorporate an artistic movement into a modern living room design – paying homage to Bauhaus design is easier than you may think.
Simply combine primary-colored furniture and soft furnishings to this space. We love the contrast between the red and green of the lamp and the mustard living room curtains which are a grown-up take on yellow.
16. Look to industrial chic interiors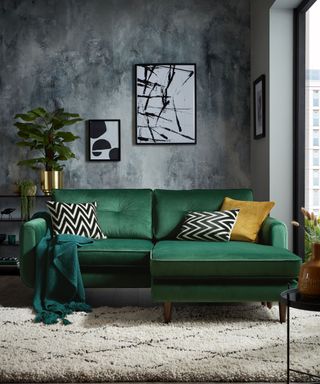 No matter how neat and tidy you are, industrializing your modern living room can give it the edge you've been looking for.
Concrete-textured living room wall ideas, abstract paint strokes, and an adjacent grey wall are a grungy contrast to the predominantly Art-Deco-like space centered around a green velvet sofa and gold plant pot.
And of course, no contemporary scheme would be complete without geometric details. So perhaps incorporate cushions with a decorative motif and a Berber-style rug with a striking pattern.
'Modern interiors are sometimes strikingly traditional, with designs remaining current decades after they were first created,' says Miller.
'This is particularly true with mid-century furniture. This modern living room features a contemporary sofa that takes its design notes from the Art Deco era. One of the benefits of buying a modern sofa rather than an original is that modern technology means they're often comfier.'
And if you love mid-century modern living rooms, give your space a vibing, optimistic update with curved designs, and functional pieces inspired by the iconic 50s and 60s.
17. Add an oversized lamp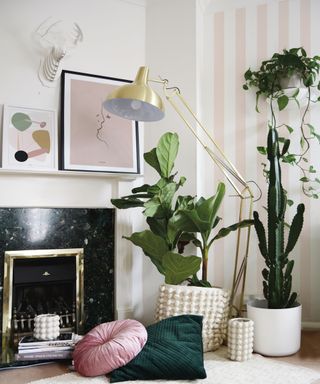 In modern design – bigger is always better. Where we have oversized sweaters and hoodies in autumn and winter fashion, think of statement floor lamps and living room lighting ideas in the same light.
Not just for stand-out looks in the sitting room, this larger-than-life retro Scout Angled Brass Metal Floor Lamp by Cult Furniture works with the vertical striped feature wall, shelves, and houseplants to elongate the appearance of the room, and draw the eye up.
18. Layer your rugs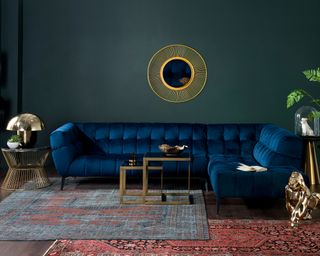 One way to upgrade a seventies-style boho living room is to add not one, but two (or more) living room rug ideas. Layering your rugs is a modern living room idea that shouldn't be overlooked.
Whether you're looking to add a cozy touch underfoot (but don't want to commit to the carpet), zone an open-plan living space, or soften a hard floor so that kids can play – there are so many benefits to this quick, easy and (generally) affordable idea.
Unless you want to splurge on an expensive vintage ethnic-inspired rug design. In which case, we'd recommend somewhere like Anthropologie or Soho Home.
19. Add a gallery wall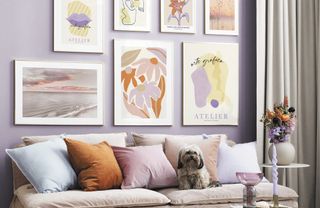 Pastel colors are proven to have an uplifting effect on your mood. Adding these colors to your gallery wall ideas is the perfect way to create a joyful, surprising, and playful vibe to your scheme.
Whether you love your modern living room ideas bursting with color at the seams, or prefer a calmer space with soft accents, there are so many ways to make this trend work for you.
If you're ready to embrace pastels in your home, using on-trend bold colors is a great place to start. Try selecting one key color as a feature, and bringing in other surprising shades as accents. Adding colorful frames and accessorizing with home decor will create a whimsical and playful feeling.
20. Bring the outside in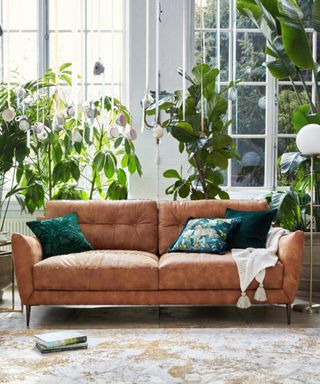 Leather sofas can often get a bad rap as being a bit outdated when compared to upholstered seats. But if you embrace the vintage and classic feel of this furniture – it can never go out of fashion.
This Cordelia 3 Seater in Texas Tan by Sofology gives us chic cowgirl vibes, and if you're feeling really out-there, we'd swap the rug for a cow print motif or faux hide. Or choose a timeless Persian-look rug for added vintage appeal. The benefits of houseplants can't go unmissed, freshening up the brown decor.
21. Rethink your living room's layout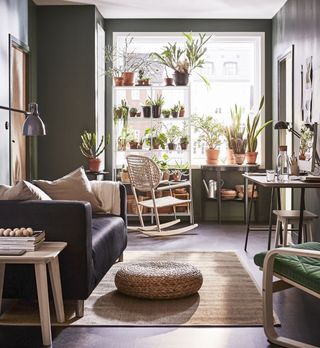 Before you begin your transformation, assess the current living room layout, thinking beyond the traditional way you might arrange your furniture.
Pulling pieces away from the wall, arranging to seat around a central coffee table, and paring down unnecessary or bulky pieces of furniture will all give your room a less cluttered, roomier feel.
If you're still stuck on how to choose living room furniture, we've got a pretty clear guide that puts things in perspective.
22. Hide away your living room's clutter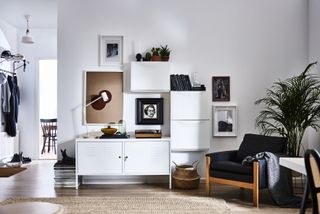 Next step to creating a more modern living room: organize your stuff. When we say 'stuff', we mean all that clutter that is messing with your clean and modern design aesthetic.
Hide as much as you can away in closed living room storage options. Then go through and pick out the treasured things that you want to put on display.
In this modern living room, wall cabinets and an industrial metal storage unit have been used to stash clutter, while a select few decorative items have made it on show.
23. Think quality of over quantity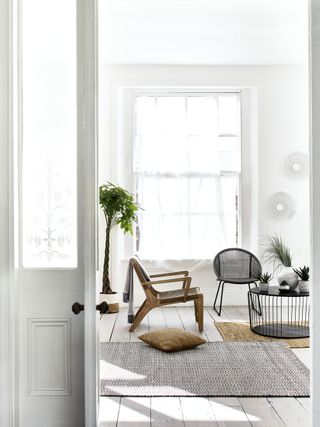 Modern design rules dictate that it's not the amount of stuff you can cram into a living room, but the quality of the pieces that make an impact.
So, why not invest in a couple of statement pieces (that needn't cost a fortune, just look like they do), then build your modern living room around them? Our round-up of the best sofas for style, comfort, and affordability could be a great place to start.
Don't go overboard on their proportions, as you still need to make sure there is plenty of breathing room between your pieces. Avoid over-accessorizing too: less is more.
24. Keep your modern living room furniture low-slung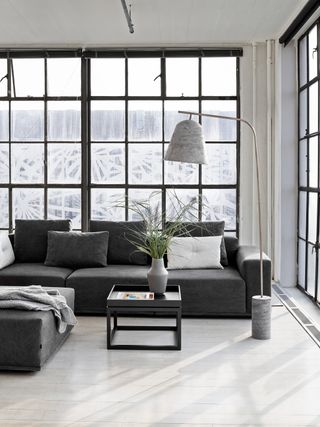 Not only is this a great trick to make a small living room look bigger, but it is also a key tenant of the modern living room.
Keeping all your seating – and associated coffee and side tables – at the same low level creates sharp lines within a room, instantly making the space feel cleaner and simpler.
What's more, low-profile furniture makes a room look more laid back and informal – just what you want in a modern living room.
Need some help choosing the right furniture for a small living room? From how to choose a sofa, to picking the perfect storage, we have you covered.
25. Create a hygge-filled, Scandinvian scheme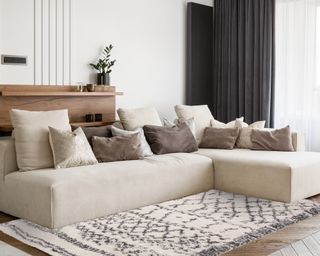 Modern living room ideas tend to be much less formal than the lounge spaces past generations used to entertain guests. The usual niceties have been switched out for a night of Netflix, and uber-fine dining subbed out for fast food.
Where beanbags and casual seating were exclusively a student's dream, legless sofas are now a viable furniture option for those that want to be cozy. But you shouldn't feel like a couch potato with this sophisticated design.
Complementary taupe and grey decor and an L-shaped sofa give this Scandi living room a laidback-luxe feel.
26. Mix and match old with new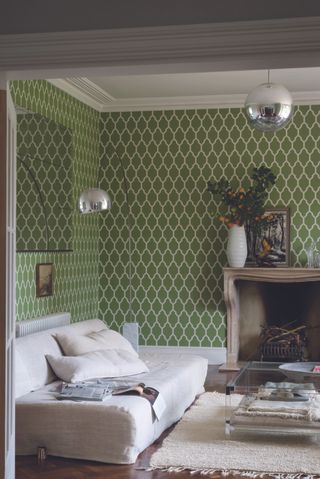 What we love about the latest approach to modern living rooms is that it's all about combining contemporary pieces with other styles.
So, you don't always need to opt for glass coffee tables and slimline sofas in a modern living room – try mixing in a few antique pieces or choose a wallpaper with a more traditional print.
This Farrow and Ball living room wallpaper idea nods towards the traditional architectural elements of the room and creates the perfect contrast with the ultra-modern light fittings and transparent coffee table.
27. Create a scheme full of wooden elements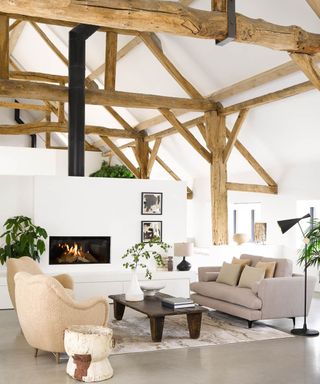 'Something old, and something new' isn't just a bridal tradition. This exercise of mixing rustic with contemporary has long been 'in' for interior designers.
So it's no surprise that this modern traditional living room with its overhead beams and fireplace insert works. With the off-white decor, it's a little Scandi and a touch farmhouse, but there's no doubt it has chic credentials.
28. Layer up on cool colors in a contemporary living room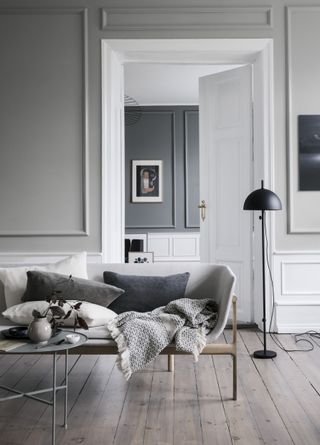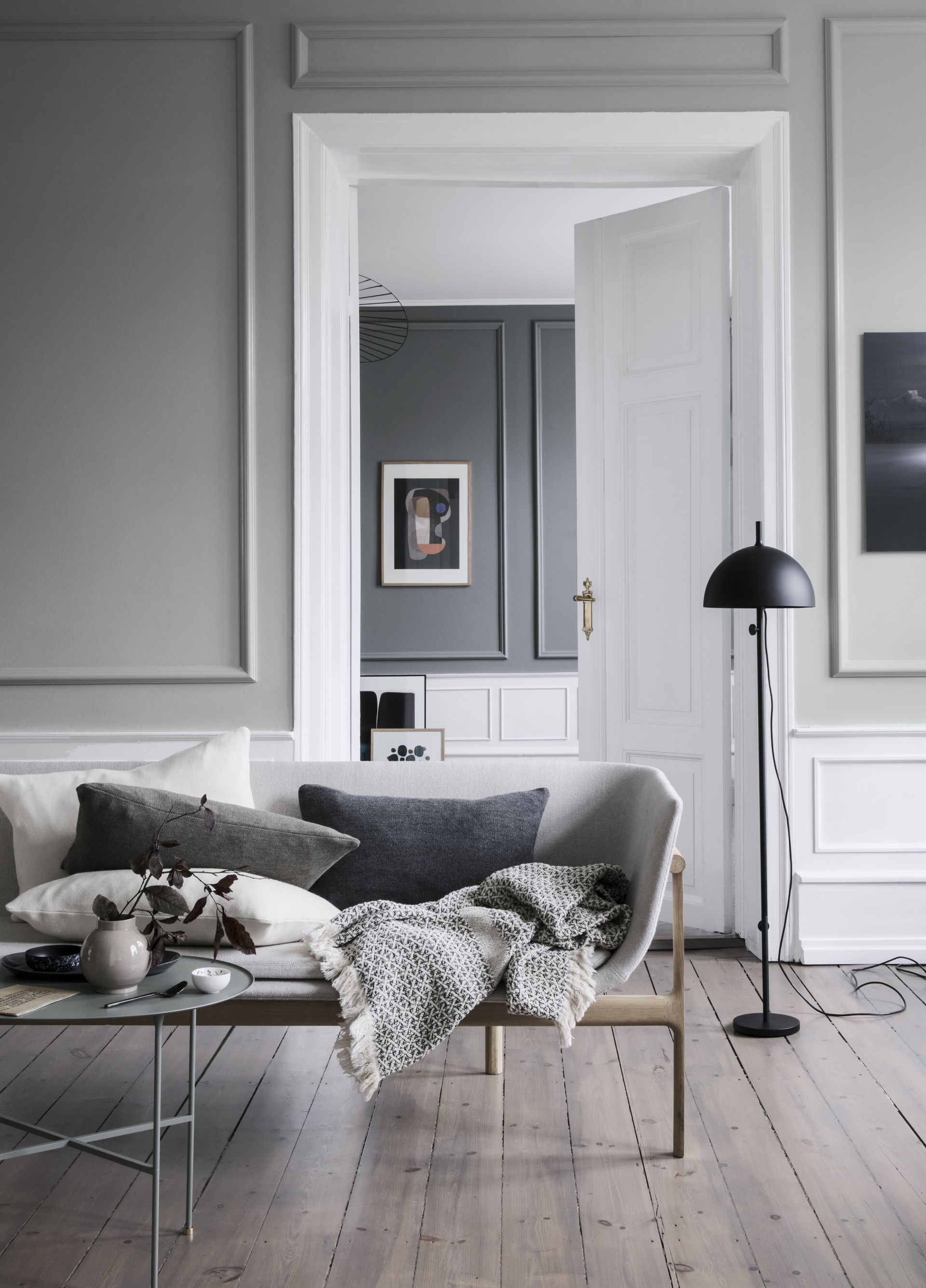 Think greys, teals, and steel blues. These cooler hues just speak to the modern living room design aesthetic and are so easy to live with and update.
We love how this grey living room idea uses so many different shades of grey to create a layered effect. And if you really can't let go of color, try adding a few splashes of contrasting shades in orange and yellow accessories to break it up.
29. Mix-and-match interior trends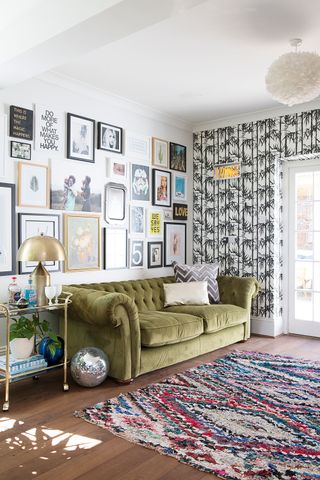 If you love a modern look, but also fancy yourself a bit of a maximalist, fear not: you can have both.
Mixing clean-lined pieces with vintage finds, traditional designs, and on-trend touches can create a look that has a modern sensibility but still feels eclectic and curated.
30. Go for an all white living room color scheme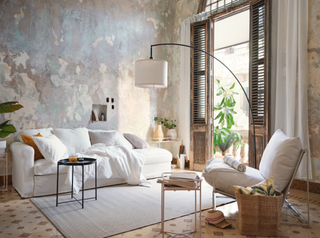 Since modern living room ideas are all about simplicity, it's hard to go wrong with an all white living room idea.
Interest in your living room can be added through the shapes and curves of the furniture or by highlighting the architectural elements of the room.
Alternatively, try adding just a few pops of color in accessories for value-added personality.
31. Or splash on the color in your living room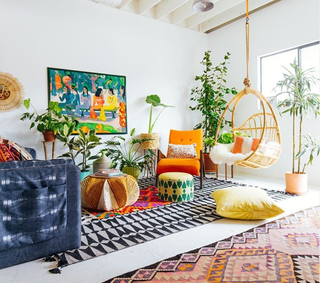 Got an all-white living room you want to update? Bold colors work just as well in a contemporary living space, and you can add them with accessories (cheaply), furniture (a bit more of an outlay), or interior paint color trends (small outlay, bigger effort).
Stick to one main accent shade, with a second color used in smaller proportions.
32. Test out the color blocking paint trend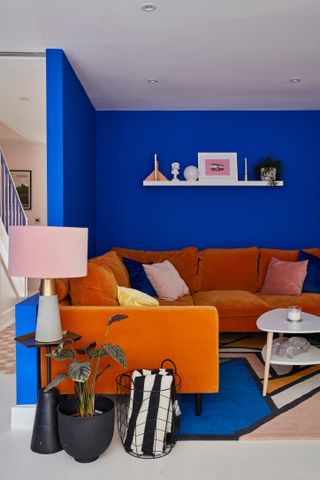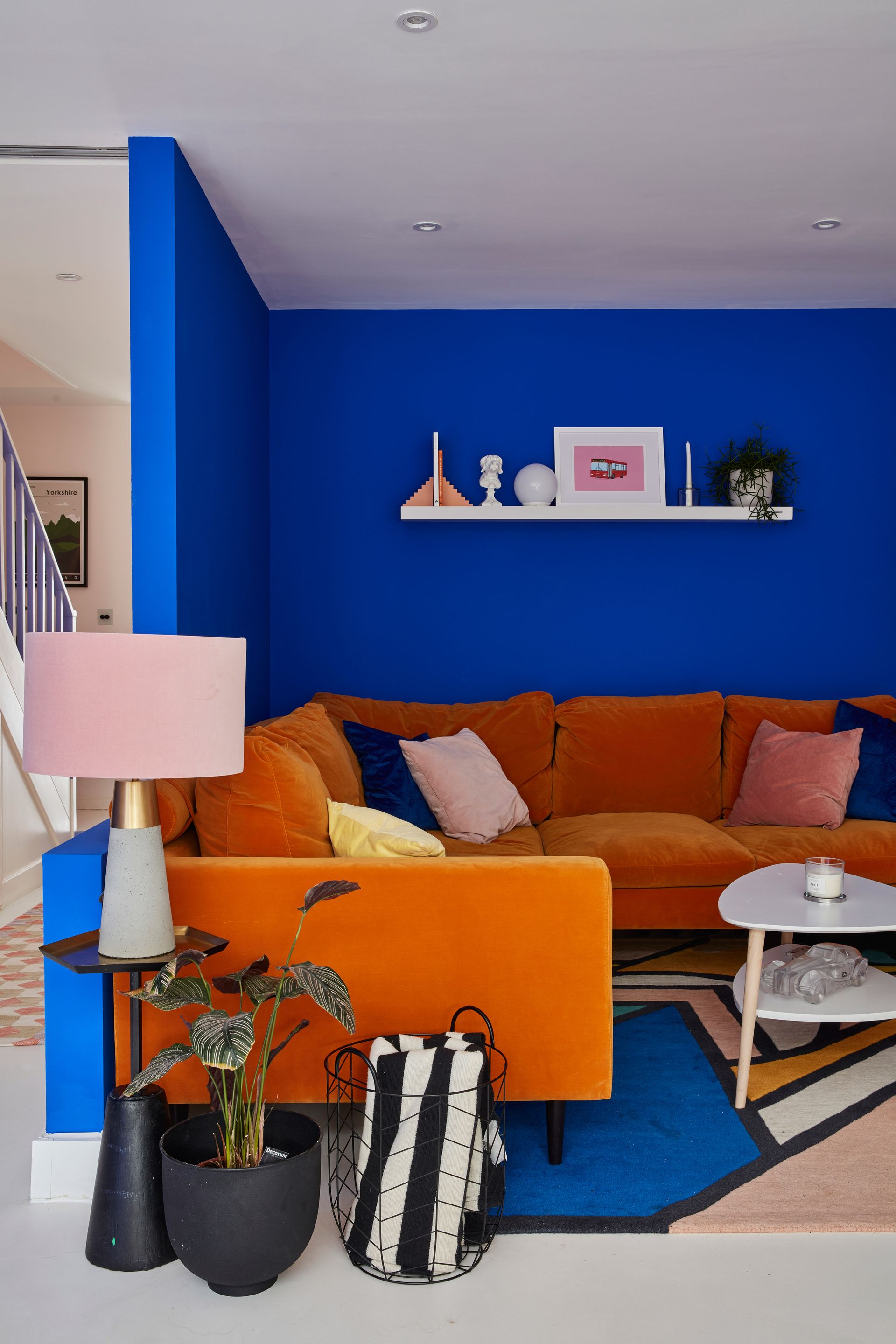 As we have hopefully established, you can go a little color-crazy when designing a simple, modern lounge. So why not take up the latest trend for color-blocking wall ideas?
Restraint has been key in this design. Though the colours are bold, they are unified by the rug underneath that pulls the scheme together. Choose one or two brights against some grounding neutrals to get it right.
33. Add natural materials and textures for warmth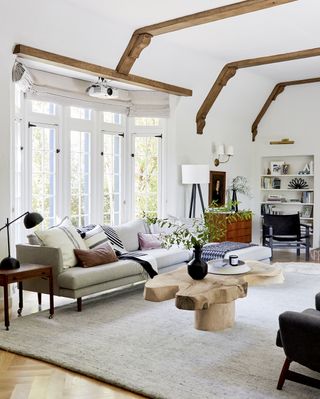 Layering up textures and adding accents of wood creates warmth in a sparse, modern living room.
The sleek lines and no thrills approach of this living room are definitely channeling some minimalist vibes, but the pale wooden coffee table and the cozy soft furnishings prevent the room from being cold and impersonal.
34. Add greenery to a contemporary living room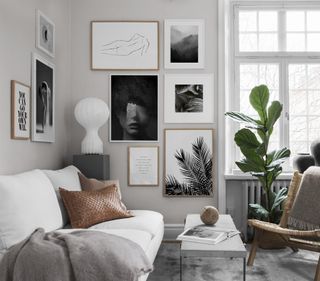 When in doubt, stick in a few house plants, a quick way to add a bit of modern style and color into your room. The large plant in this living room adds a splash of green to a very natural color palette and (literally) livens up the space.
Looking to find plants to suit your home? Check out our guide to the best indoor plants and for all the tips you need on looking after houseplants, head to our guide.
35. Hang statement prints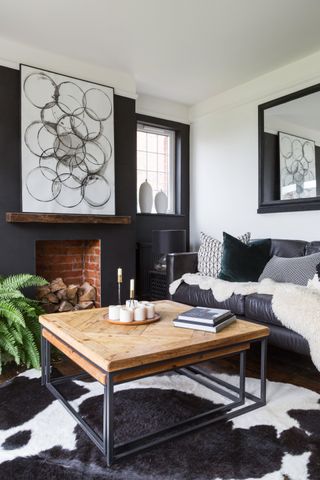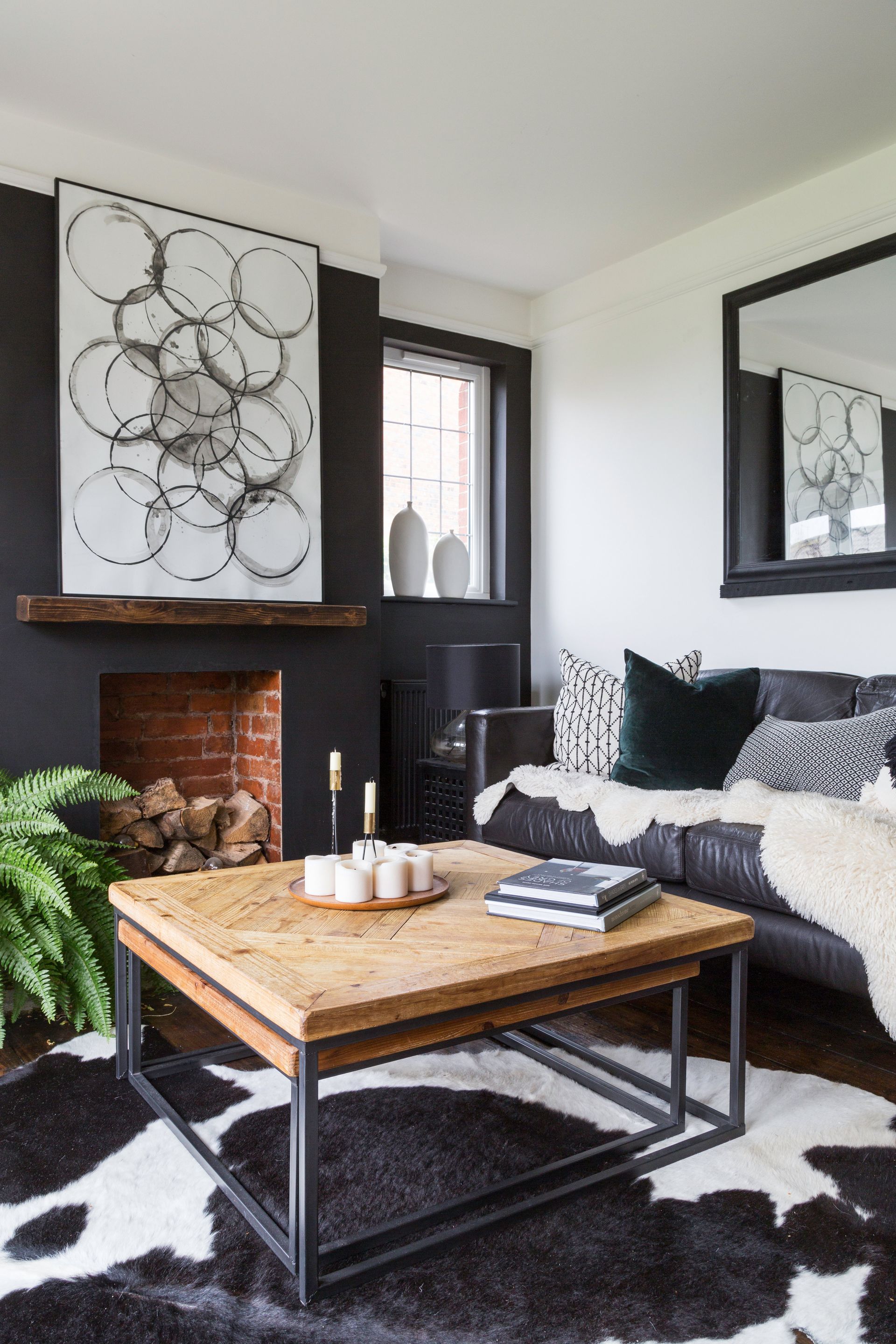 Nothing brings personality into a modern living room like a big piece of statement wall art that you love. A striking print or an interesting photograph or piece of artwork you felt drawn to, can add a focus to a space and can set the modern tone too.
Use a print to bring color into a neutral space, or pick something that has a cohesive feel and works with the scheme you have going on. We are loving this huge, monochrome print that breaks up a dark wall in this living room.
36. Mismatch your furniture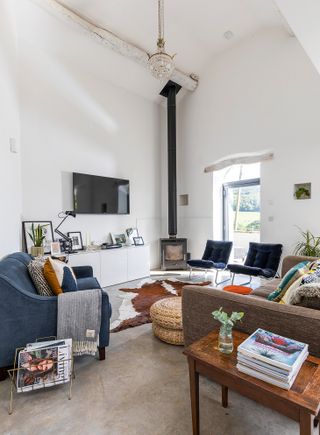 An eclectic living room can be modern too, so don't be afraid to mix and match furniture from all different eras and all different styles. Note how in this living room the statement Mid-century modern chairs and statement rug work with the more traditional sofas.
The all-white walls are the perfect minimalist backdrop for this look as it stops it from tipping over from modern to maximalist. Plus there's is a vague color scheme going on here with the blues and browns that makes the look feel more cohesive and contemporary.
37. Stick to simple decor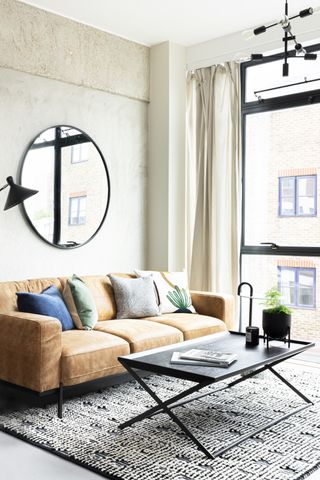 The easiest way to create a contemporary vibe in your living room is to keep it simple. Keep the walls fuss-free with just a single large print or an oversized mirror idea, and make sure all your surfaces are clutter-free with just a few curate displays to add some personality to the space.
Now, we know that minimalist living looks gorgeous in pictures, but in reality, how do you create a living room that looks like this? The answer is storage! Make sure you also pick out closed storage pieces like sideboards and TV cabinets so you can hide away all that un-aesthetically pleasing stuff you don't want ruining your minimalist vibe.
38. Choose statement lighting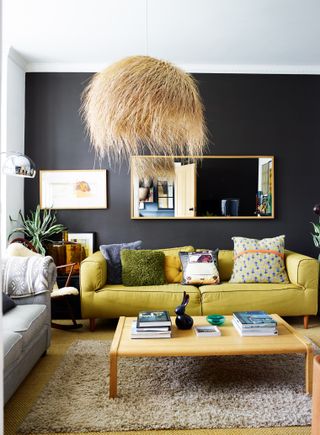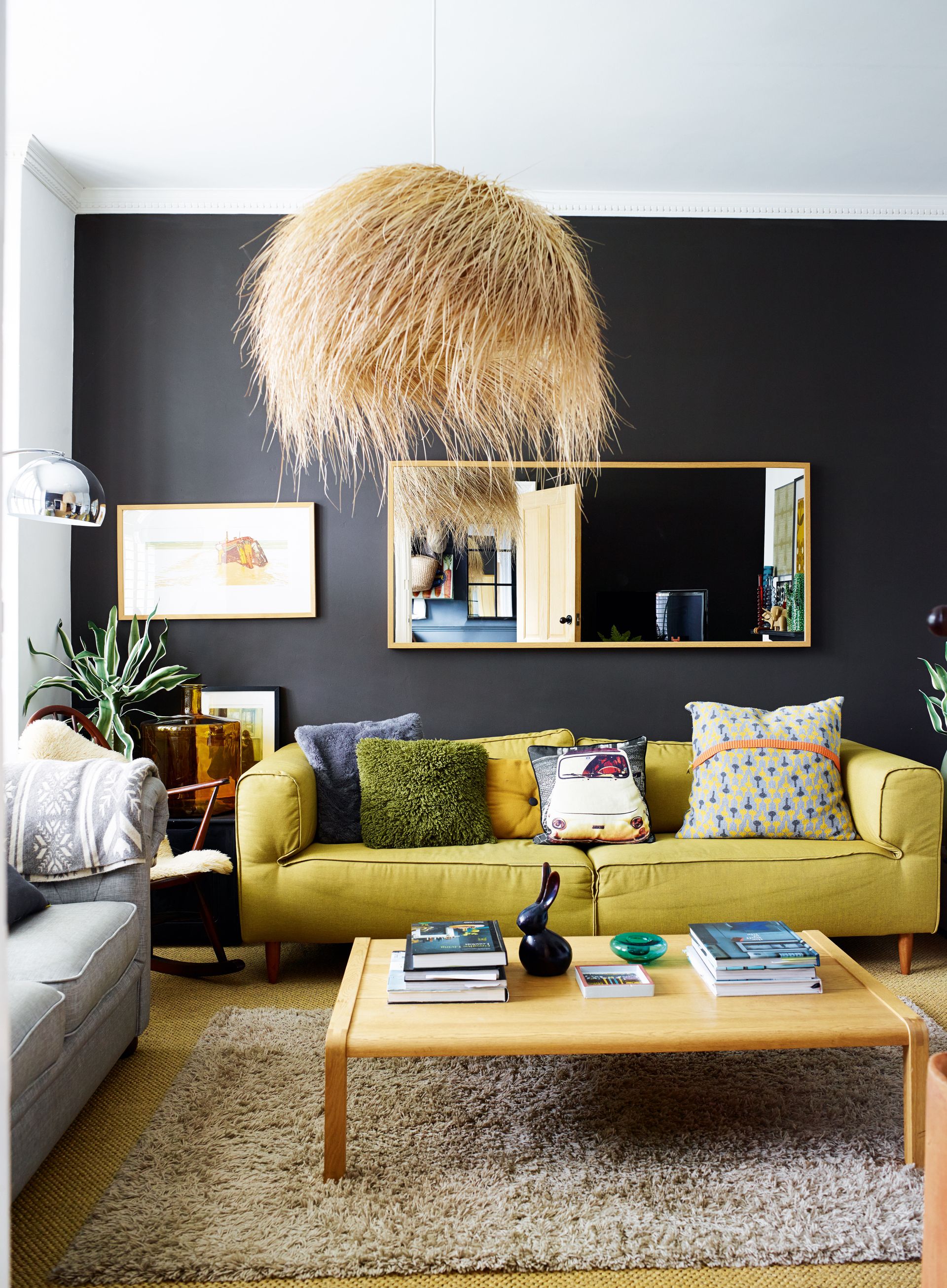 Is it really a modern living room if you don't have some kind of statement light going on? A funky pendant or quirky floor lamp can instantly change the tone of space –making it feel more on-trend and modern.
Look at how this amazing seagrass lampshade takes this living room from 'well that's nice to 'wow'. And it's made even more of a focal point thanks to the contrasting black wall behind which really makes it pop.
39. Warm up with woods and leather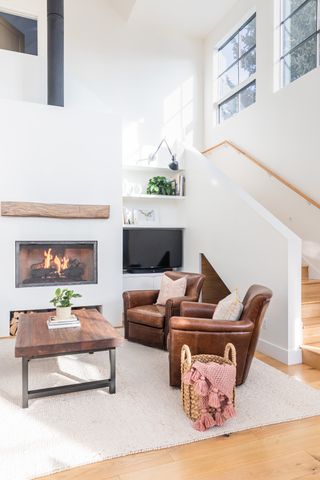 Modern living rooms don't always have to be sleek and minimalist. If you want a contemporary space that feels more... homey, adding in those warm materials like woods and leather is going to give a more rustic vibe while still feeling modern.
Pair leather furniture with very simple decor, white walls, and muted colors to recreate this lovely look. Add in a rustic wooden coffee table for texture, and if you are lucky enough to be blessed with a fireplace, a wooden beam mantle will really add to the look.
40. Create clean lines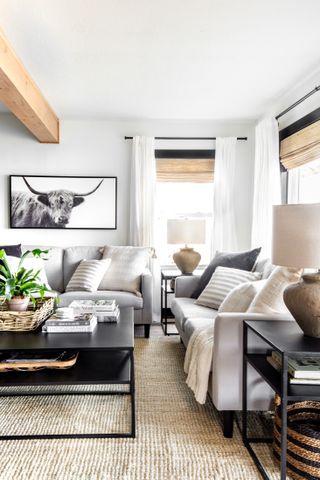 One thing we've noticed with a lot of 'modern' living rooms you see on Pinterest and Instagram is that they don't always have a lot of furniture in them.
We get that's the minimalist vibe, but what if you have a family of five, that all need a space on the sofa, plus a place to park their drinks, books, and technology? All of a sudden, a very chic, Mid-century, standalone two-seater sofa isn't looking like an overly realistic buy.
But, you can cram plenty of pieces of furniture into your living room and still have the modern minimalist feel. The key is to keep the visual lines in the room to a minimum.
See how in the living room the sofas match, as do all the tables and each sits at the right height so they don't visually break up the space. Very clever but easy to recreate in your home.
41. Go for a modern rustic vibe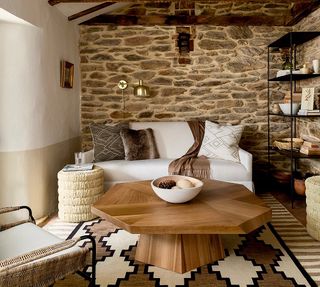 Exposed brick, wooden beams, layered up rugs, and swishy throw cushions – this modern rustic living room idea is so cozy and inviting and yet still really contemporary in feeling.
This kind of modern cabin look is bang on trend right now and is super simple to master, just pick a neutral color palette – browns, creams, maybe throw in some muted terracotta – and plenty of different textures like wool, fur and rattan. Easy! Who needs a stylish chalet in the mountains when you can create the look in your own living room?
42. Go for a minimalist look with dark colors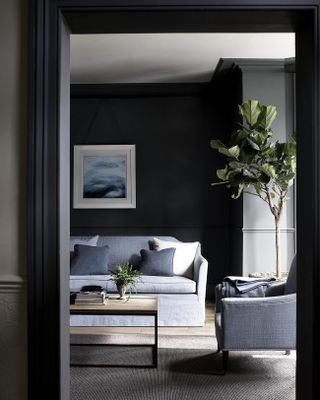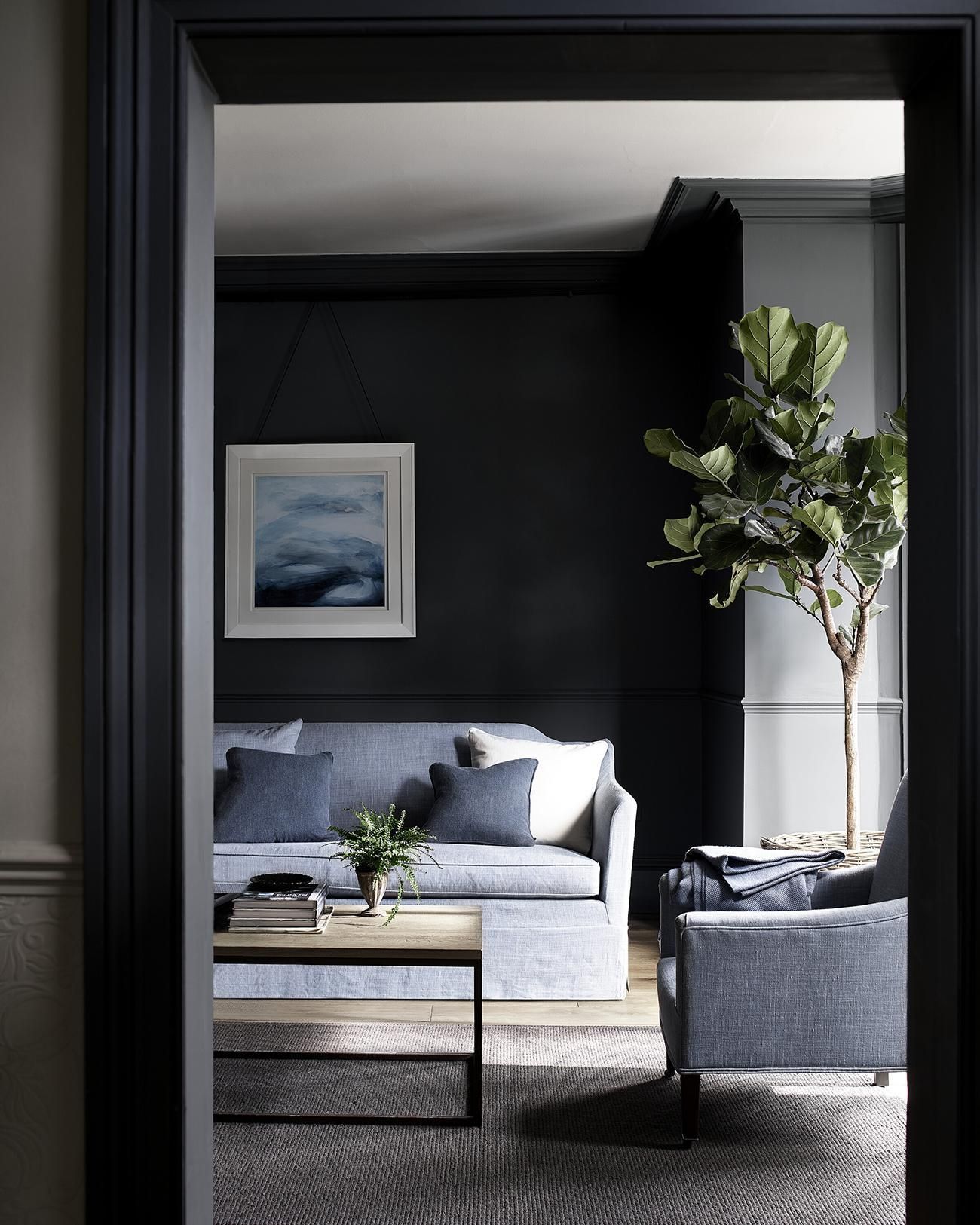 Because modern living rooms aren't all light and airy, they can be dark and dramatic too. Create a very chic, cocooning space by painting all four walls with very dark charcoal, or adopt a black living room scheme if you are after something softer.
Decorate with greys and blues to keep with the cooler tones, and add in some lighter woods for a bit of contrast. Of course, a massive statement houseplant wouldn't go amiss either.
43. Add texture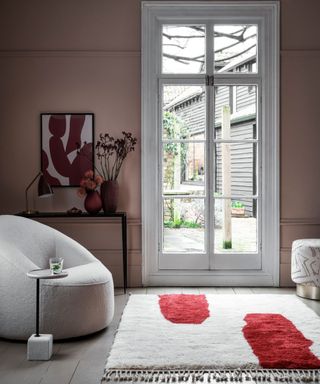 'Texture is one of the few laws of any room's decorating scheme, regardless of the style you're influenced by. Even if you were drawn to the less-is-more side of contemporary design, you'd still need to build layers of texture,' says Joanne Quinn, lead designer, LuxDeco.
'It can be as minimal or maximal as the rest of your decorating choices. Sleek and sophisticated metals, against supple leathers and matte, honed marble will give you three different but subtle textures to keep your mind interested and your eye active.'
'Texture isn't all about what's tactile either. You can achieve texture in your living room by combining color and lighting too – anything that adds a visual stimulus and anything that plays with light.'
44. Cue cocooning curves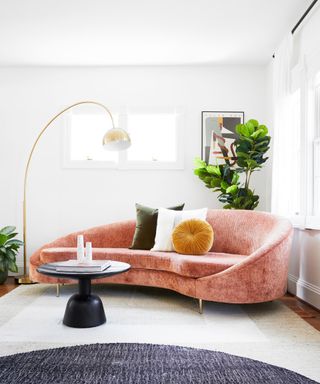 Reassuring curves are a key living room trend 2022. Envelop your lounge with cocooning silhouettes and wavy shapes that flow and soothe the soul. Think sculptural artwork, scalloped edges on accessories, round coffee tables, and sweeping sofas that 'cuddle' and promote sharing and socializing.
Styles comments on feminine curves: 'Furniture with curved corners and flowing design is taking over the straight-edged look of traditional living room furniture. Implementing just one piece like this can help soften the whole room. The sculptural chair from Hem is a splurge, but a great example.'
Jen & Mar, Co-founders of Interior Fox, say: 'Popular in the '60s, curves are having a resurgence and they're here to stay. We are moving away from harsh lines in favor of soft, sumptuous curves as a way of embracing a more relaxed feel. Seen across furniture, rugs, and lighting, rounded curves work well contrasted against materials such as brass or even concrete. Adding curves in a room whether big or small helps soften the feel of the place and it doesn't just stop at décor. Using arches in the doors, windows, or even the ceiling can elevate a room's architectural impact.'
45. Or flop into marshmallow-soft furnishings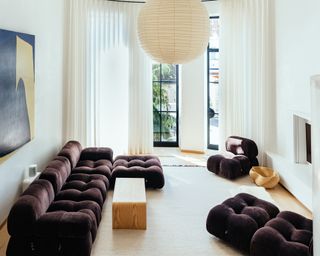 Shop, drop, and flop at the end of a hard working day into exaggerated dream puff designs that will melt all your worries and aches away...
Styles says: 'Think puffy, cloud-like, and dreamy furnishings that allow you to sink in and create a livable space that feels as inviting as it looks. Curved sofas in plush neutrals like this one from Article are a great example of how to get the look.'
You might like to also check out our round-up of the best sectional sofas; from versatile modular sofas to the best L-shaped couches and chaise sofa seating.
What colors should I include in a modern living room?
Quinn says: 'Color is one of the most important areas for contemporary lounge ideas. It's a common misconception that a contemporary scheme is all about bright white. Contemporary living rooms should actually have a stark contrast in the colors used, even if you've predominantly used white and there's one key piece of furniture in the room that purposefully sticks out,'
'Monochrome is a favorite because it lets you move from one extreme to the other. Keep your color choices confident and don't be nervous about moving across the color wheel. Contemporary color palettes are strong and love to create interesting contradictions. That's part of what makes them so dynamic.'
Korczynska says: 'You can make colors look more modern by adding strong and unusual accents and combining with the different materials. For example, a soft blush works really well with hard surfaces like concrete, pale grays can take anything from metals and shine to sun-bleached wood.'
'I love pastels used in a very modern way where they help to create a thoughtful and striking scheme, especially when balanced with abstract art and touches of strong color and shapes in furniture and furnishings. When choosing accessories and lighting, opt for a large scale rather than a small, one to give the space a modern take. Combining cool, light, airy pastels with the clean lines of modern furniture and furnishing creates a contemporary and thought-provoking mood.'
What materials can modernize my living room?
'Metal in contemporary-style living rooms isn't to be kept for tables and larger pieces of furniture alone,' adds Quinn.
'Use metallic accents like hammered, polished steel on everything from photo frames and metal-trimmed trays to the edging of a floor-length mirror or on oversized floor lamps. Glossy brass on an exposed armchair's frame, a gleaming gold vase, or a cuff around a wall or clock is all steps to giving your living room a contemporary edge.'