Looking for blue living room ideas? So many of us have changed our 'light and airy' ways recently and become more open to decorating with bolder colors, and one of the most popular hues has been blue.
'Blues have always played a significant role in the decorating color palette but now more than ever, they are resonating over neutrals and especially greys in our design choices for living rooms.' explains Patrick O'Donnell, Farrow & Ball Brand Ambassador.
'It is important to make a living room somewhere relaxing to retire in after a long day. As part of the process, we have considered color so much more to assist with the mood rather than just purely an aesthetic choice in the past. We want colors that lift the spirit, bring tranquillity and calm and to cocoon us where appropriate and blues help us do this.'
Blue is just such a versatile color. You've got your super pale, barely-there sky blues, bright zingy cobalts, and, everyone's favorite, the dark, moody navy blues that grace the grids of every interior Instagrammer.
But how can you bring this color into your current living room? What feeling do you want to evoke? Calming and coastal? Dark and dramatic? Modern and chic? Of course, blue can work with all these styles, it just about picking the right shades. But we have you covered there, we've brought together all our favorite spaces and ideas to provide you with all the inspiration and advice you need to make blue work in your living space.
1. Decide on the best blue for your space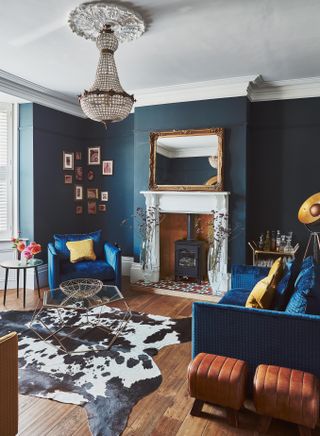 Before you go donning your dungarees and puling out the paintbrushes or ordering all the blue furniture on Wayfair, it's important to pick the right blue for your space. Obviously, it's totally down to taste and style, but there are a few general rules when it comes to choosing colors for rooms of a certain size or rooms that don't get any natural light etc.
For south-facing rooms, you can usually go with whatever colors you fancy because your space will be blessed with natural light all day. Do just check with swatches though because we have found some darker blues can look quite flat and gloomy in direct sunlight.
If you are dealing with a north-facing living room, choosing lighter, softer blues is the obvious choice. But darker blues can work too if you want to embrace the darkness of the room, just be sure to go with shades that have warmer more purple undertones.
2. Opt for moody dark blue walls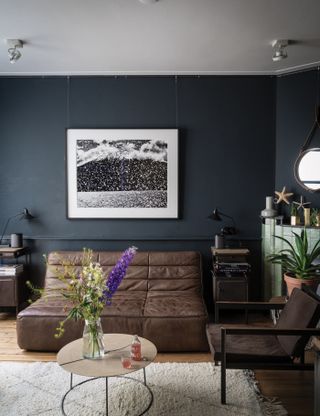 Can you even scroll through Instagram or Pinterest without seeing a dark blue wall? They are the way to do blue right now and we get it, a deep blue wall sounds bold but actually what they create are beautiful, soft cocooning spaces.
A rich midnight-blue is the way to go to recreate this look, something like the classic Hague Blue from Farrow & Ball. It works with loads of different color palettes but we love it as part of a rustic vibe with warm woods, dark leather and a creamy white to contrast.
3. Create a serene feel with sky blue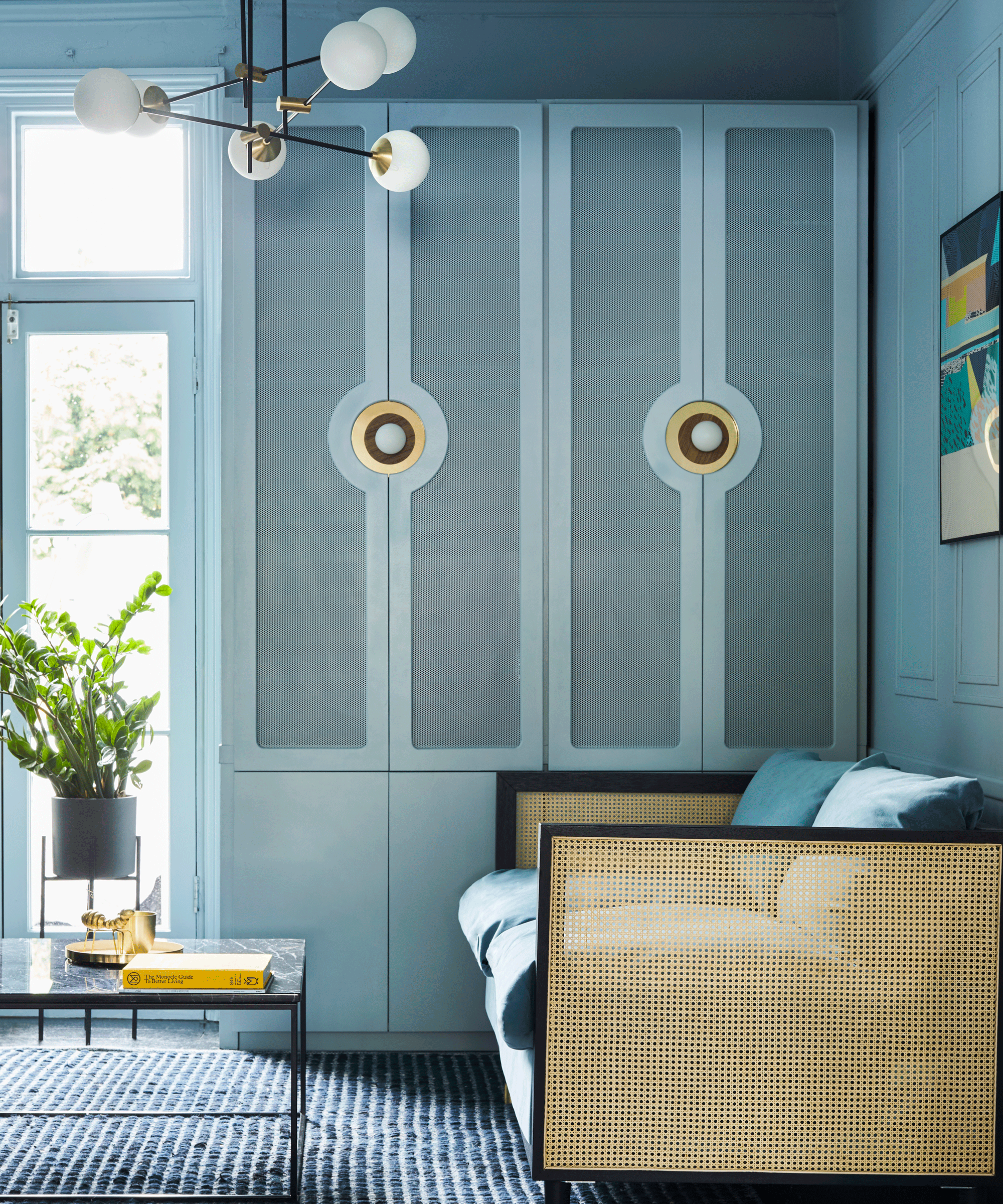 And if you want to create a more uplifting, pick a muted sky blue and go all over with it, even the ceiling. Ground the color with metallic accents and touches of something darker like you see here with the black lines of the furniture. Then, to give this simple shade more interest, pair it with a touch of pattern in the form of a rug or a large print with some darker blues mixed in there for added depth.
4. Go bold with the brightest of blues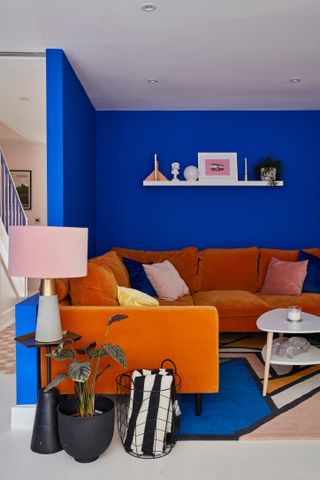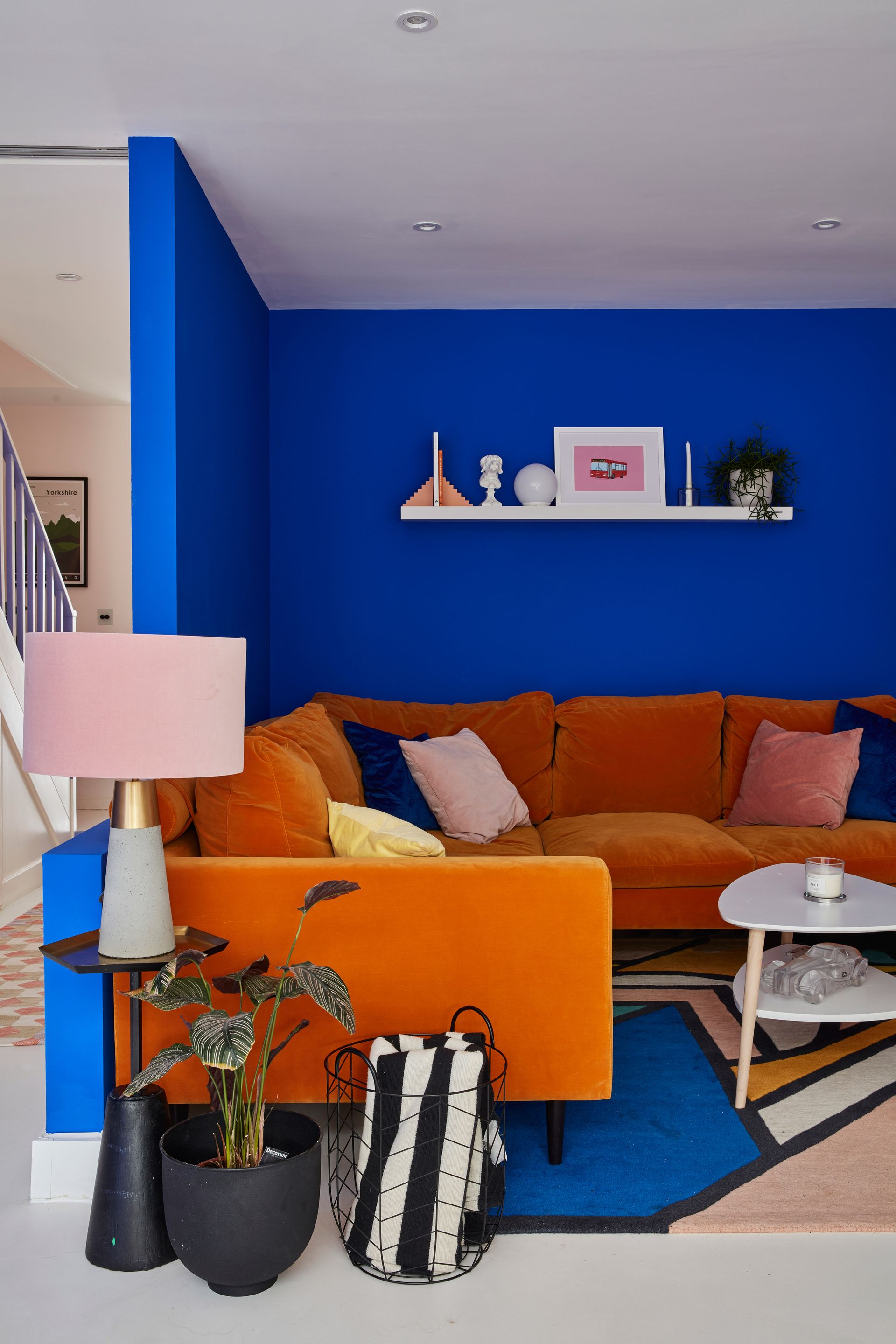 Now this is a look, and we know it won't be for everyone but we are obsessed! The colors are bold yes, but actually, because the space is kept so minimalist it doesn't feel overwhelming. Plus even though orange and blue are technically contrasting colors, the orange here actually softens the blue, making it feel less radical, and that touch of blush pink only adds to that. And the rug! The rug brings the whole color scheme together perfectly.
5. Create a beachy vibe with light blues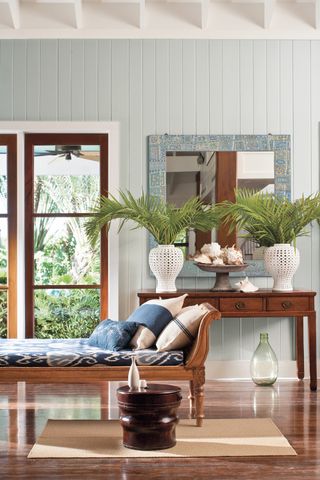 Blues do go hand in hand with the whole nautical style. We aren't talking 'Life is better at the beach' decor, we are talking gorgeous, chic, beach house style spaces that ooze laid-back vibes even if you happen to be miles from the sea.
Painted shiplap walls are always going to create that feel to a room, and they are so on-trend right now too. For this look pick a pale teal like Winter Ice by Benjamin Moore and pair that barely-there blue with deeper blues, greens and neutrals.
6. Warm up blue with soft neutrals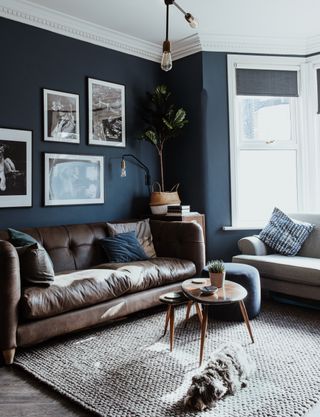 Speaking of neutrals, they can really work to make a dark blue less dramatic and a much more liveable color. By combining this very deep navy with greys, cream and brown this living room feels cozy and inviting and gives the room a much lighter feel. Breaking up walls of blue with prints is a top tip for making the color less intense too.
7. Add in blue details for a subtle look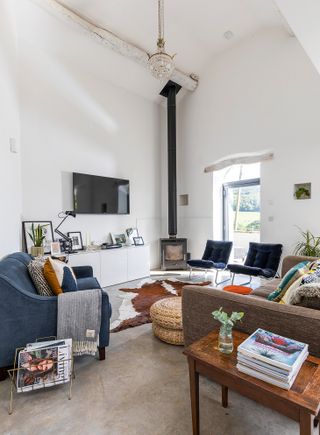 See, a blue living room doesn't have to mean using paint, furniture can bring in this trendy hue too. This room is actually pretty neutral, with white walls, light floors, so perfect if you are a colorphobe, but it's interesting how all the pops of blue come together to make the room feel much... bluer. But it's a subtle too look, the layers of different blues means none of them stand out as the main color, plus the brown of the sofa, rug and wood furniture tone down any color going on.
8. Go for a feature wall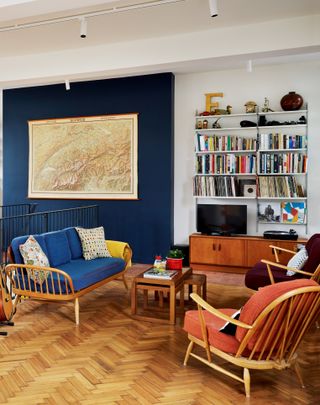 Another blue living room idea if you want to add a splash of color but not ready to go painting all four walls. A feature wall can bring in just the right amount without it becoming the main color in your space. It can act as an anchor for an otherwise quite simple space. You can make the look feel more cohesive by adding accents of similar blues – this could be in something as large as a sofa or as small as the spine of a book.
9. Contrast blue with crisp white wood work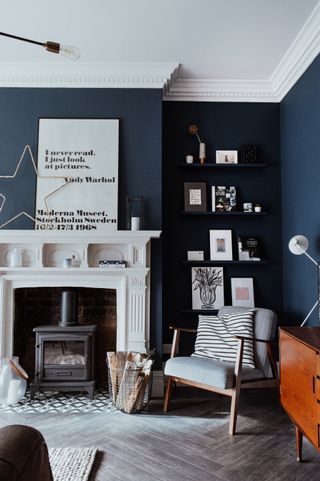 How fresh and crisp does this blue living room feel? And it's all thanks to that contrasting white woodwork. It really lifts the blue walls and balances out the darker colors. It also means you could introduce black accents to the room. We know traditionally navy and black should never mix, but with plenty of white thrown in there, it totally works. It feels so contemporary and fresh and gives even this traditional living room a modern twist. Definitely a color combo we will be testing out.
10. Go for a boho vibe with denim blues
Blues are known for their relaxing, zen-inducing properties which is why they lend themselves so well to more laid-back spaces. Deep navy might be the blue right now, but soft denim hues are still a classic and if you love boho style they are the shade to go for.
Layer up your cushions, pick different shades of faded blue and go for plenty of texture too. These cooler blues look great with greys too so add in those too, plus some natural elements to create a really chilled-out space.
11. Create a luxury feel with blue velvet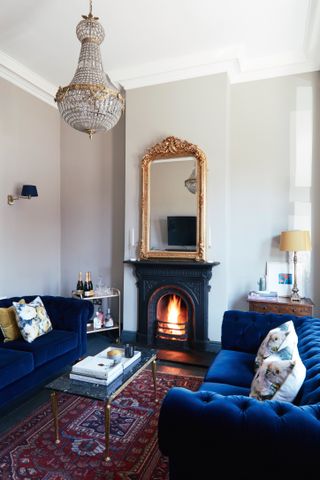 You just can't go wrong with blue velvet. It just brings a touch of luxury to any space, plus it's a material works with loads of different styles from a mid-century modern lung slung couch to a traditional button back, winged armchair.
Digging the symmetry going on in this living room, with the two sofas mirroring one another. . The jewel blue velvet works perfectly in this elegant space, mixing contemporary with slighting more traditional in such a perfect way.
What colors go with a blue living room?
The colors that go best with blue in a living room depends on the look you are going for. If you love the idea of adding blue but still want to keep your space feeling quite low key and neutral, mixing a dark blue with cream, white and grey will create a sophisticated vibe.
If you want to go bolder and have fun with your color scheme, mixing blues with contrasting colors like yellows and oranges is always going to make a statement. Pink looks lovely with blue too, if you like rosy hues but want them to feel more... grown up. Combining it with a rich navy will do just that.
Is blue a good color for a living room?
Yes, blue is an ideal color for a living room! It's classic, versatile and there's a shade to suit every style. If you are concerned about whether you'll love blue in your living room forevermore, experiment with paint first before you go investing in any furniture.