A new year brings new trends, and when it comes to upgrading our living rooms for 2023, that's where all the fun is at. Whether you have a dedicated room or a carved-out space in a sweet but tiny studio, there are a bunch of ways to bring yours up to date without going bankrupt.
Last year, it was all about bringing the outdoors in, tapping into brighter colors (like red and rust), and being super precise with maximalism in the form of rugs, accent walls, and paneling. This year, our living rooms will still serve as hybrid spaces, but they'll also incorporate a balance of functional and stylistic detail that's living room-specific.
I did a little spying on some cool names in the world of home interiors and got to speak to a few of my favorite designers who've highlighted a handful of key trends you'll see next year.
"I think we will see a lot of nostalgia in living room design, with people choosing key furniture styles that reflect a key decade in the past," says Steph Kaluza of @ohsorented. She also notes that there's going to be even more of a shift in how we source our home decor. "Thrifting seems to be becoming more and more popular, with people hunting down those vintage interior items on Facebook Marketplace and eBay." We like where this is going already.
Here are the living room trends to tap into for 2023.
1. Ambient lighting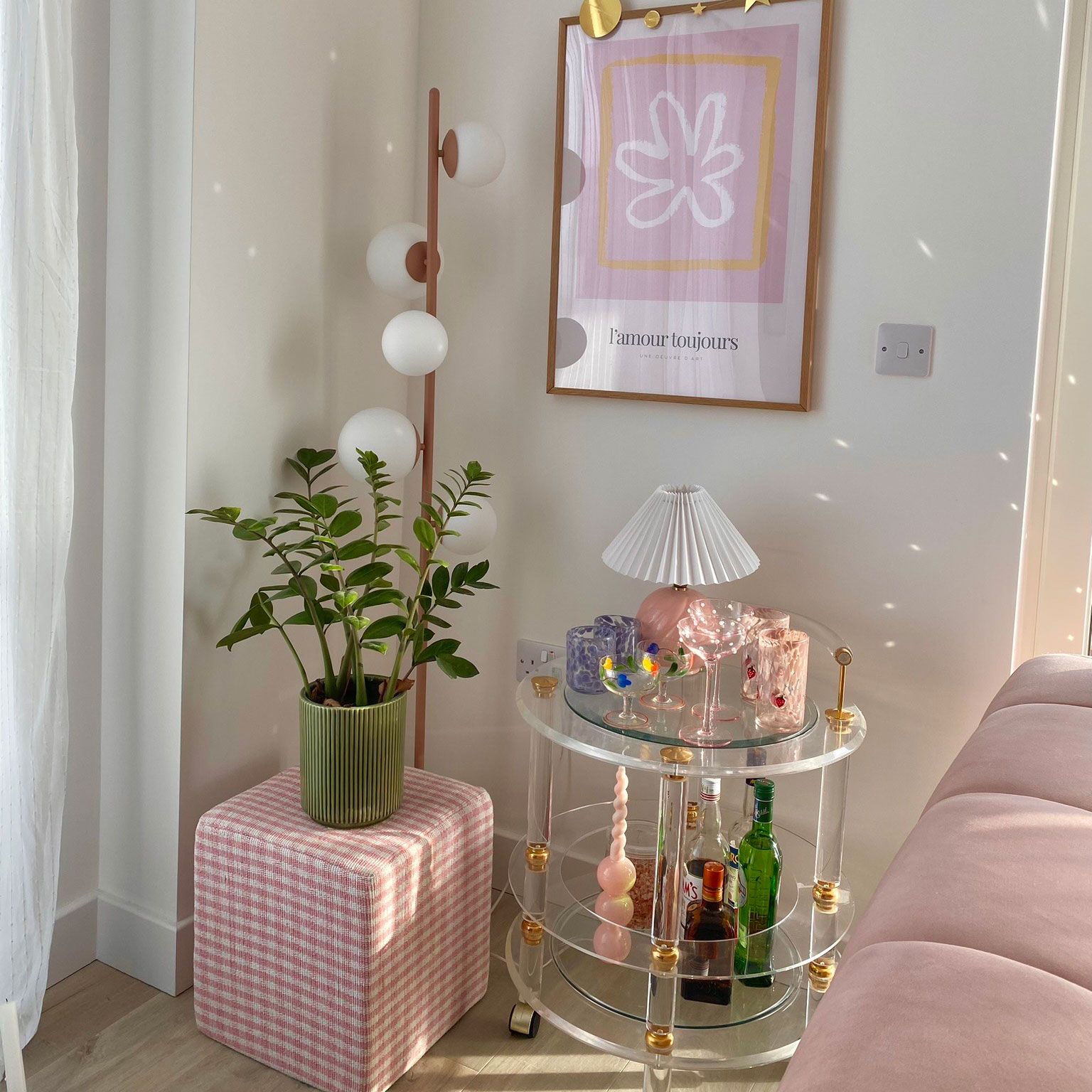 For 2023, turns out we just need to stop switching on the big light — and it's not because of the electric bill.
"Ambient lighting also seems to be gaining popularity, sparking the 'never use the big light' debate," says Kaluza. "People are realizing the importance and impact of lighting, from cozy floor lamps to statement wall lamps, it's not just about what hangs from the ceiling." Draw more attention to cute side table lighting and statement floor lamps, choosing warm bulbs over white to achieve that cozy glow.
2. Calming textures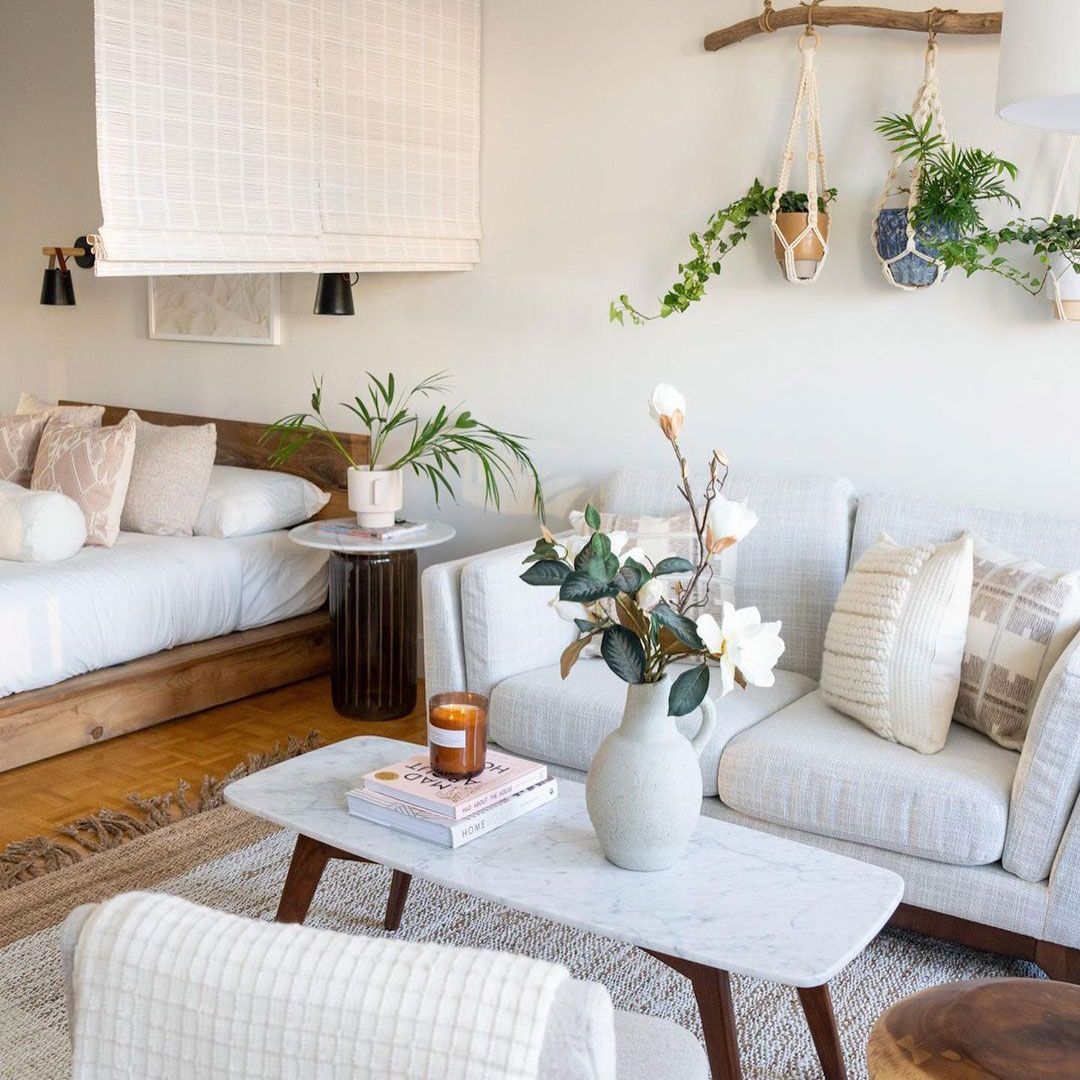 Creating relaxing spaces is a priority for 2023. To get there, you'll want to rely on both neutral tones and cozy textures.
"I am seeing people gravitate more and more to natural materials in their living spaces — tons of texture and warmth with an overall sense of calm and neutral palette," says Alexandra Gater, a home decor expert who knows how to beautify tiny rental apartments on a budget. Gater notes that the key to creating a relaxed space is to layer colors and materials with patterns.
Texture-wise, bouclé was everywhere last year and lots of designers agree that textures are back for 2023. In a TikTok video by Carrine Azulay, a New Jersey-based interior designer, she expresses that textured fabrics like microfleece and velvet are going to be seen everywhere in 2023, and we're here for it. But, we also feel like it's time to take textured fabrics to the next level, too.
Swap out bouclé for waffle fabrics, shag textures, and tufted accents instead, or try incorporating fleece and faux fur. We're seeing cute faux fur throws at Anthropologie and a ton of fleece pillows from Urban Outfitters, a surefire indicator that it's worth piling up these textures in the new year.
You can also use storage to incorporate new textures into a space. A living room basket is perfect for this — it's super practical as a place to keep your throws nearby, and it can fill an empty corner. Go for a rattan one for extra points.
3. Spaces that spark conversation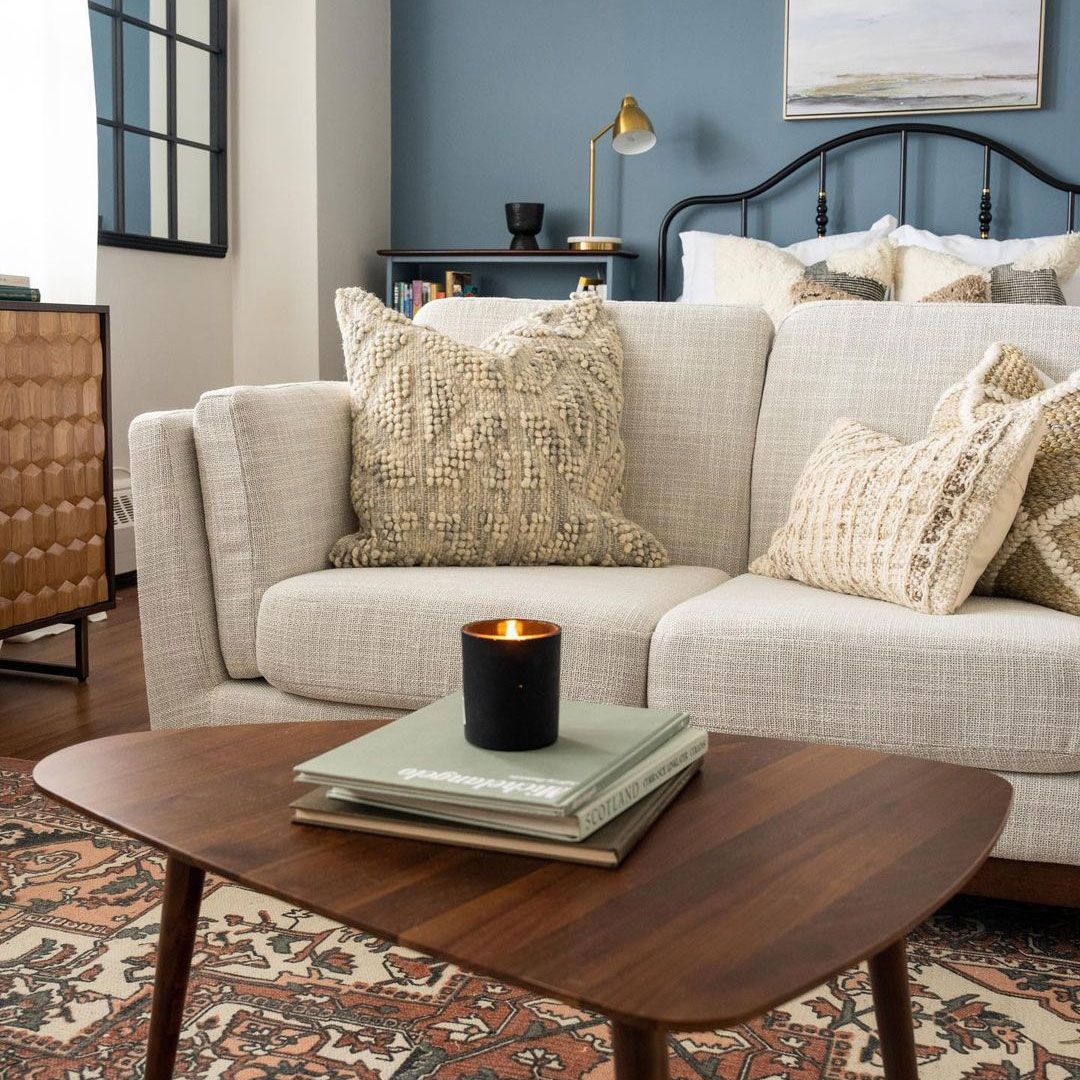 What is a living room if not a space to entertain and have all of THE best conversations (and lols) in? Enhancing your seating arrangement can be about finding the right couch or even just positioning your coffee table in the right spot to create the perfect aesthetic and feel-good vibe.
"As far as living rooms go, especially smaller living rooms, it seems to me that people are trying to maximize seating more than ever," says Anthony Immediato, an interior stylist based in San Diego, California and founder of Immediato Interiors. "I think 2023 will be all about function and the ability to host friends/loved ones, so we're going to see people getting creative with their living room layouts with an emphasis on making these spaces ideal to have long conversations in."
4. Functional decor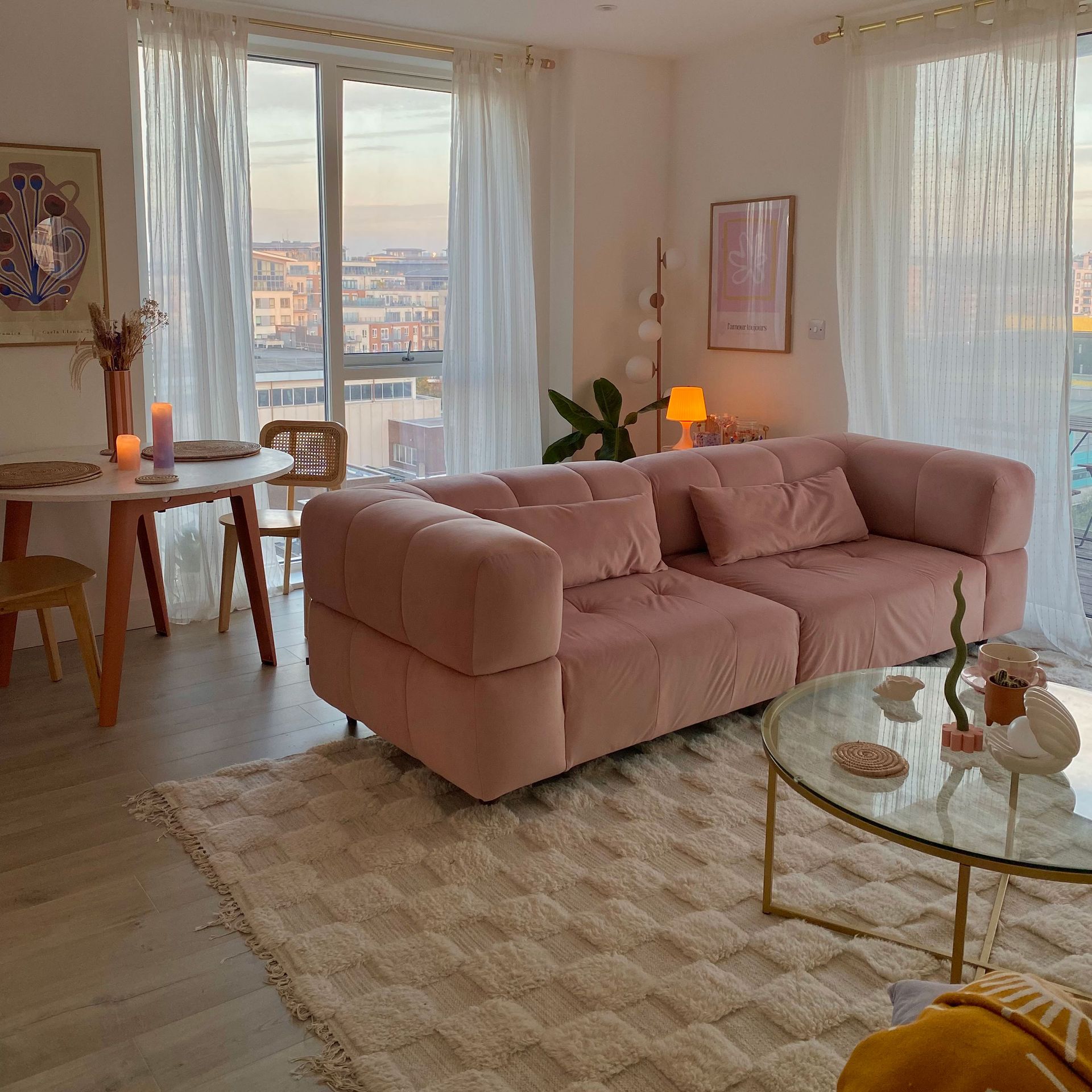 While style matters, we're also prioritizing function a little more this year. Whether it's choosing neat additions that can be cleaned easily or picking multifunctional furniture, utility is getting more consideration.
"We feel slipcover sofas and chairs will continue to be prevalent in the design world, they have such a chic yet effortless look to them while being super functional with their removable and typically washable features," says Lilli Morgan of San Diego-based LS Design Studio.
From slipcovers to washable (yet very stylish) rugs — Ruggable is a favorite of ours — there are a ton of ways to keep your living room space on trend in a way that won't feel too precious or unattainable.
5. '70s curves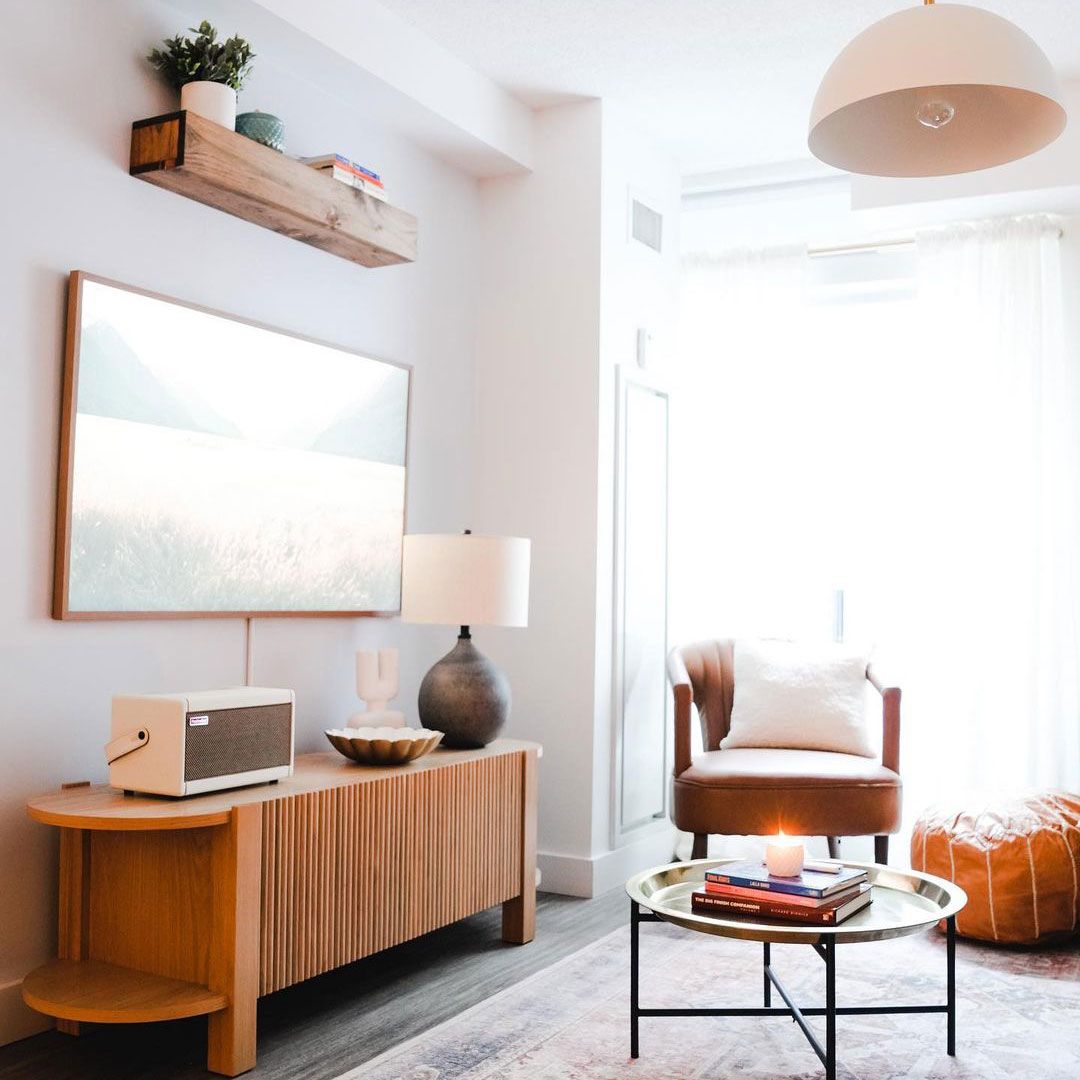 Curved edges aren't going anywhere when it comes to home decor 2023. Immediato adds that many brands are showing off retro-style furniture.
"When it comes to style it seems that the '70s are coming back," he says. "We are seeing all the major furniture retailers pushing more curved or organic-shaped furniture and fabrics that vary in textures and patterns."
A great way to create this look without spending a bunch on brand-new products is to try thrifting on eBay or in a local Facebook Marketplace group. Favor oaky woods and organic but polished lines.
6. "Lived-in" elements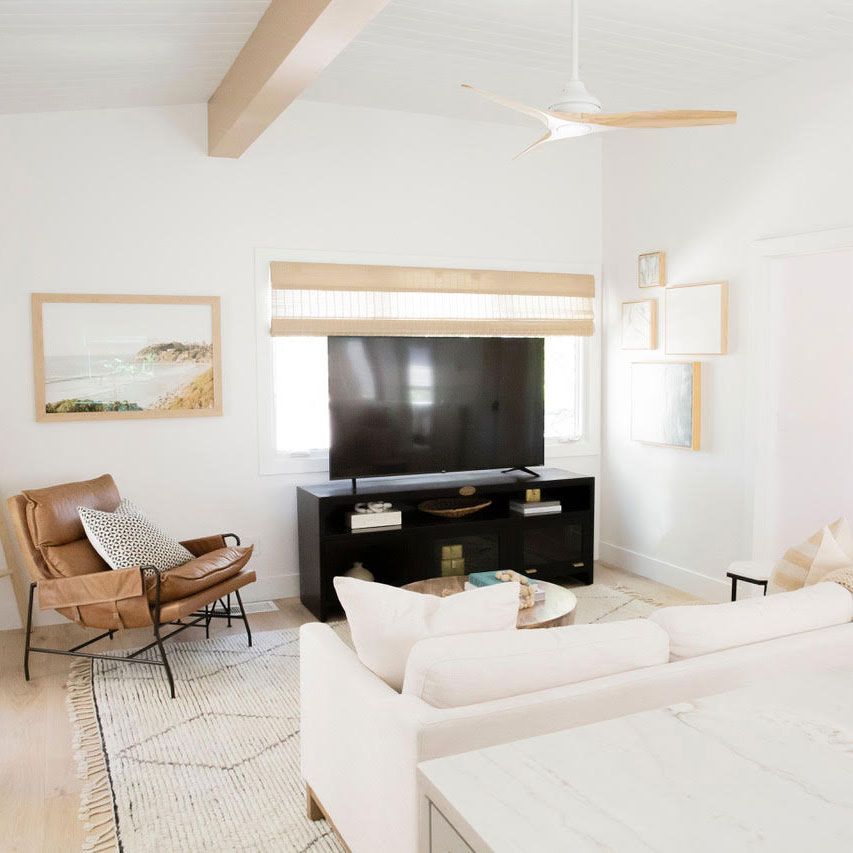 In a similar vein, if you're a hardcore thrifter or interested in picking up cute vintage and antique pieces for your home, your living room will be all set for 2023.
"Another trend we feel will be big in 2023, specifically for rentals and small spaces, will be the mixing in of vintage and antique pieces," says Morgan. "Even if it's just a frame on the wall or a one-of-a-kind Turkish rug, these little 'lived-in' elements can add so much character to your space and are rental-friendly, too!"
So favor those tiny, more eclectic pieces as Morgan suggests, and mixing them with bolder decor pieces for the perfect juxtaposition. This brings in a ton of interest but also helps add balance to this VIP spot in your home.
7. A fifth wall focus
Kaluza says that we might want to spark more interest in our living room spaces from above next year. "I think we will see a lot more of a focus on the ceiling in 2023," she says. "From oversized lampshades to boldly wallpapered/painted ceilings to intricate roses and borders. As a new build-owner, I am definitely keen to add more character to my ceiling!"
If you rent, look for oversized ceiling lamps. Or, if you're truly up for experimenting and not afraid of a little DIY, see where peel-and-stick wallpaper could take you.