The best sectional sofas offer spacious seating, flexibility, and multifunctional design, with modular sections or reversible chaise units allowing you to create a semi-bespoke seating layout for your home without the high price tag a bespoke piece of furniture would usually warrant.
As such, it's no wonder the sectional sofa is one of the most popular seating types out there, with a well-earnt place in our guide to the best couches you can buy.
However, tracking down sectional sofas that combine comfort, style and affordability can be a different matter, with options ranging from anywhere between $1000 to $10,000, or more, depending on the size, make, and model.
To help you find the best value sectional that still gives plenty of bang for your buck, we've rounded up the best sectional couches on the Real Homes team's radar, from L-shaped couches and chaise sofas to modular sofas that are big enough for the whole family, and guests!
12 best sectional sofas for stretching out on
Why you can trust Real Homes Our expert reviewers spend hours testing and comparing products and services so you can choose the best for you. Find out more about how we test.
Best chaise sofa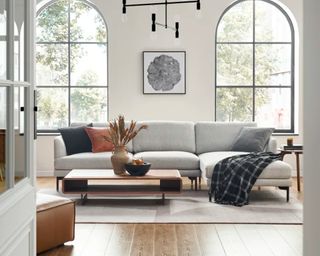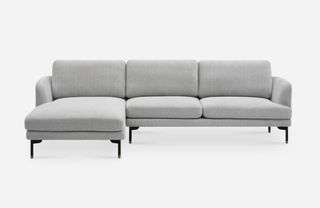 1. Castlery Pebble Chaise Sectional Sofa
Sofa: H32 x W104 x D66" | Upholstery options: 4
Stylish, contemporary, and very good value, there's a lot to love about the Pebble chaise sectional. The minimal design is raised on high black metal legs that work well to create spaciousness in a smaller living room, and it's curved back and armrests look good from all angles in an open plan layout.
---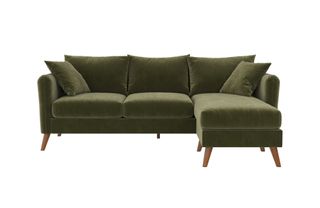 2. Novogratz Magnolia Sectional
Sofa: H33.5 x W83.5 x D60" | Upholstery options: 4
One of the most affordable chaise sofas we've come across, the Magnolia sectional looks far more luxe than the price tag suggests thanks to four on-trend velvet upholstery options. It's also a compact option that's great for a smaller home, and that chaise has the added bonus of being interchangeable from left to right if you move house or just want to switch up your layout.
---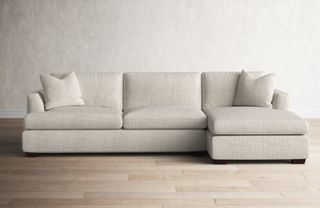 3. Birch Lane Lazar 128" Wide Right Hand Facing Sofa & Chaise
Sofa: H29 x W85 x D64" | Upholstery options: 5
This blocky sectional is great for a larger living room or open-plan layout, where its low-to-the-ground design will help to ground the seating area. There are only five upholstery options, but all are good colorways, with a mix of neutral oatmeal and ivory lights alongside darker charcoal gray and muted indigo options.
---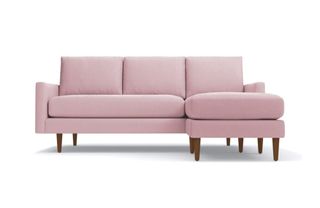 4. APT2B Scott Reversible Chaise Sofa
Sofa: H31 x W79 x D66" | Upholstery options: 60+
It's all very well finding a sectional shape you love, but delight can easily turn to frustration if the upholstery options don't match your vision. The Scott chaise sofa is available in over sixty shades, with a mix of woven and velvet fabrics to help you nail your look, alongside three different leg finishes. A reversible chaise section allows even more scope to tailor the look.
---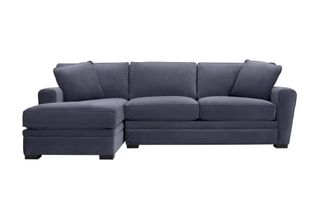 5. Raymour & Flanigan Artemis II 2-pc. Left Hand Facing Microfiber Sectional Sofa
Sofa: H35 x W96 x D67" | Upholstery options: 25+
If you're looking for a relaxed sectional to curl up and get cozy on, then the flared arms and chunky proportions of the Artemis sofa could make it the one. The family-friendly design is available in over twenty five stain-resistant microfiber upholstery options and comes with either coordinating or contrasting toss pillows included.
---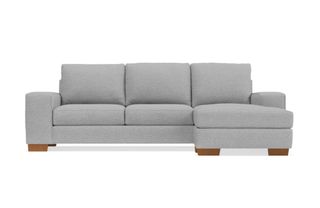 6. APT2B Melrose Reversible Chaise Sofa
Sofa: H39 x W93 x D66" | Upholstery options: 60+
One of APT2B's bestselling sofas, the Melrose sectional's wide track arms and low-rise silhouette create a timeless design that works well with either a contemporary or more classic decor scheme. There are over sixty upholstery options to choose from, plus a choice of three finishes for the squared feet, and that chaise ottoman can be swapped from left to right to suit your room.
Best L shaped couches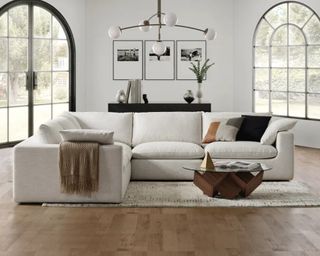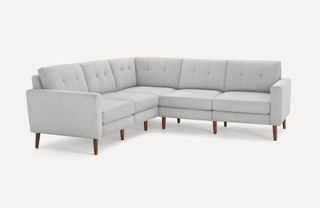 7. Burrow Block Nomad 5-Seat Corner Sectional
Sofa: H33 x L88 x W88 x D35" | Upholstery options: 5
Burrow's modular seating allows for the ultimate versatility in your seating set-up, which is great news for renters, house-movers, and those who want to invest in a couch that can grow with them. You can easily add or subtract sectional units, as well as swapping out the arms with three choices of style to switch up your look.
---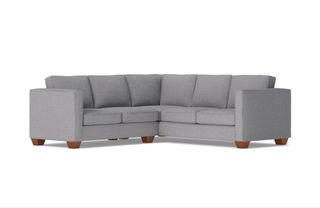 8. APT2B Catalina 2pc L-Sectional Sofa
Sofa: H27 x L86 x W86 x D35" | Upholstery options: 60+
If you want the sociability of an L-shaped couch but don't have much space to work with, then APT2B offers a good range of compact corner sofas for a smaller home, including the Catalina model. Track arms and wooden block feet keep styling simple, whilst the sixty-plus upholstery options offer plenty of choice to make this sectional your own, even down to the feet color.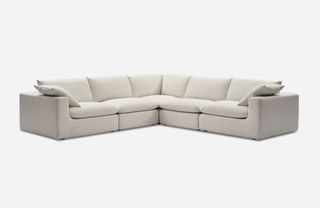 9. Castlery Dawson L-Shape Sectional Sofa
Sofa: H32 x L126.5 x W126.5 x D81.5" | Upholstery options: 1
If you have the space to work with (those sofa seats are deep) then this super generous L-shaped couch makes the ultimate place to sprawl out and get comfortable. The modular design means you can create a seating layout as large as you like, whether that's corner sofa or U-shaped, whilst the pale linen upholstery works to lighten the look and create an airy, cloud-inspired feel.
---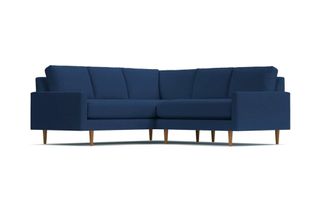 10. APT2B Scott 2pc L-Sectional Sofa
Sofa: H31 x L85 x W85 x D37" | Upholstery options: 60+
Think your home is too small for an L-shaped couch? The Scott sectional aims to make you think again. The two-piece sectional is designed to maxmize space, with compact seats, a straight back that fits neatly into a corner, and high legs that allow your eye to travel under the sofa to the back wall; magically increasing the visual floor space to add some extra square footage to your room.
---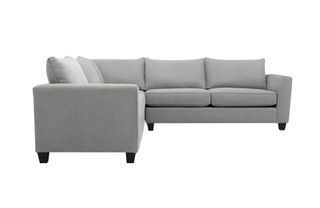 11. Raymour & Flanigan Pebble Gray Daine 3-pc. Sectional Sofa
Sofa: H37 x L113.5 x W113.5 x D37.5" | Upholstery options: 2
When you're investing in furniture with a high price tag, like a sectional, it can pay to play it safe and avoid opting for an of-the-moment trend that may see your seating looking dated in a few years. The Daine sofa hits that sweet spot of classic yet contemporary design, creating a timeless option that could form the center point of many changes in decor. And whilst there might only be two upholstery options, they too are guaranteed crowd-pleasers that will stand the test of time.
---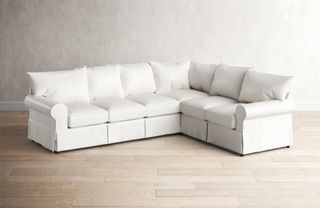 12. Birch Lane Jameson Slipcovered Symmetrical Sectional
Sofa: H31 x L94 x W94 x D67" | Upholstery options: 20
If you're looking for a farmhouse-style sectional, then this slip-covered option from Birch Lane makes a great value choice. Roll arms and a tailored skirt create a relaxed and homely feel, whilst the L-shaped design offers plenty of seating for laidback lounging.
---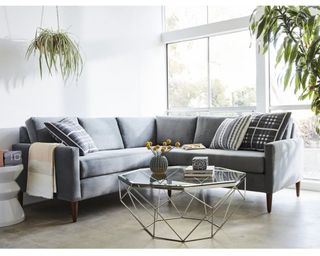 How to choose from the best sectional sofas
The best sectional for your home will depend on a range of factors, not least the size of your living room, your lifestyle, and of course, your budget. So what are the key things to consider when shopping for this living room essential?
How big should your sectional sofa be?
It may sound obvious, but size is one of the most important aspects to consider before falling in love with your dream couch.
Generally speaking, if you're shopping for a sectional it's because you want space to stretch out, so opting for the largest sectional sofa that your home (and budget) can accommodate might initially seem wise. However, it's important to make sure you measure carefully to ensure your sofa will be in proportion to your room size.
After all, it's easy to fall in love with a roomy U-shaped sectional in a spacious sofa showroom, but back home that family-friendly sofa might make your living room feel cramped and cluttered.
A top tip is to measure out where the sofa will stand in your room using tape or newsprint to mark out all dimensions. As well as width, make sure to consider the height of the sofa – especially if you want to place it under a window sill or beneath existing architecture – and its depth to ensure there is plenty of space to walk around it comfortably.
And don't just measure the room where your sofa will (hopefully) end up, unless you want a stressful few hours come delivery day! Ensure your chosen sofa will fit through doorways, around bending hallways, or up flights of stairs. Most retailers list packaging dimensions on their sites, so ensure these match the access you have.
And if your access is tricky? That's where sectionals and especially modular sofas really come into their own. Look for options that are delivered in sections that can be more easily squeezed through tight spaces, or self-assembly sectionals that have the advantage of being able to be constructed within the destination room.
You'll find more top tips for planning your living space in our round-up of the best living room layout ideas, as well as style inspiration in our modern living room ideas and small living room ideas sections.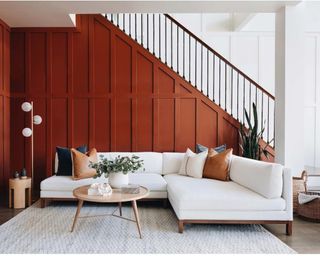 What's the most comfortable sectional sofa?
Just like finding the best mattress for you, finding the most comfortable sofa for you will depend a lot on personal preference, and there's nothing that can quite replace going into the showroom and sit-testing a few of your favorite styles if that's a viable option.
However, whether you're shopping online or in-store, we've rounded up some of the most important points to consider when shopping for a sofa that you and your family will love to curl up on.
Cushion padding
The fill of your sofa will impact not only how comfortable your sofa is, but also the way it looks. Down fill, for example, is super soft and cozy, but the cushions will also lose their shape faster than a sofa with foam cushions. If you don't want an imprint left on your sofa every time you stand up, then down may not be the fill for you. Foam cushions, on the other hand, tend to be firmer, but will also hold their shape better than down. You'll also find foam-down hybrid cushions, which can be a happy medium.
Frame support
If you're using a sofa to zone a room, then a low-to-the-ground model can offer a great way to create dedicated areas without breaking up the space too much, but, the flip side is that low seating can encourage you to sprawl more than sit, which, – depending on your back, and, let's face it, age – can make for a less comfortable seat.
Ergonomically, the recommended seating position is to have your thigh bones parallel to the floor, which for most of us means sofa seating that's a roundabout knee height when standing.
Opting for a sofa with enough back support is also going to make sitting more comfortable. Look for models that have a dedicated backrest, rather than sofas that offer a low back and then rely on the cushions to provide support.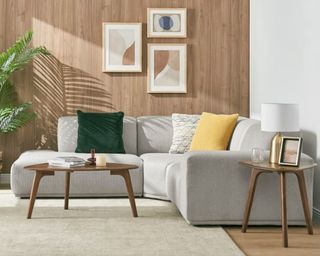 What type of sofa upholstery should you go for?
As well as color and style preferences, choosing the best upholstery option for your sectional has a lot to do with lifestyle. Especially if you have kids or pets, who are potentially going to give your couch a more rigorous workout than it might get in an adult-only home (although, of course, there are those coffee and red wine stains to think about too!).
That's why the fabric that your sofa is covered in is of particular importance.
A performance fabric will resist stains (liquid beads up on it before sinking in giving you more chance to sponge it off before it sinks in) and can stand up to a good scrub.
If you have pets, you'll also want to look for a fabric that won't trap hair and hold it in its grip for eternity. Fabrics with a large or chunky weave tend to be extra good at attracting pet hair, while materials like microfiber and velvet are easier to wipe hair away from.
How to clean your sofa
You've found the perfect couch for you, plumped the cushions and planned the Sofa-based Netflix marathon. But what happens when disaster strikes and your new sofa gets its first spillage? Never fear. Our guide to how to clean a sofa will have you sorted pronto, along with our round-up of the best upholstery cleaners for your sofa fabric type.
Want more living room inspiration?
Find out how best to use your space in our guide to how to design a living room, or stay on top of the latest trends and easy decor updates on our dedicated living room ideas page. And if you're struggling with how to make the most of a compact lounge, then find top tricks and tricks in our guide to how to choose furniture for a small living room.