Gallery walls are a design trend that have truly stood the test of time. A great way to fill a blank wall, especially if you are doing up a room on a budget, they will quickly make a room feel lived in and characterful and hanging a gallery wall is actually pretty easy to do.
And, like any longstanding trend, gallery walls have developed from just a few nicely arranged picture frames into a whole different beast – plates, mirrors, plants, Polaroids – stick em' on a wall and you've got yourself a gallery.
1. Decorate with ceramics
Hanging plates is an elegant way to introduce colour, pattern and texture to your scheme, so why hide away your beautiful tableware in a cupboard? Hang them using plate grips or line them up on a shelf for an easily updatable display.
Love this wall colour? Find more fab paint trend ideas to inspire your scheme.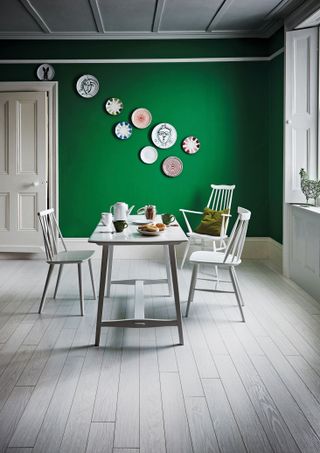 2. Mix up your artwork
If you have a collection of much-loved art, family photos or favourite postcards, grouping them together on a wall creates an authentic and bespoke display. If symmetry is your thing, measure them carefully before hanging to get even spacing. If you like a more laidback approach, this can still be worked out before hanging by arranging the group on the floor prior to picking up your hammer. Find more tips about displaying pictures to get the best results first time.
Desenio have a fab service on their website which helps you plan the layout of your gallery wall and choose frames and prints to suit your space.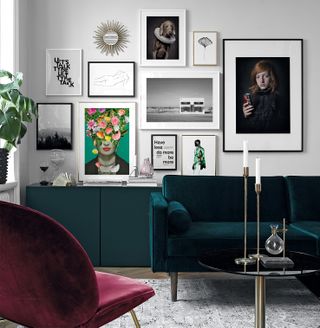 3. Use fairy lights to display your photos
Brighten up an area in your home for a party or just for a fun change by using festoon and string lights. These are a great way to add a glow to a dark wall space, and with options to clip on photos, and postcards, it's easy to update this pretty feature with a new display.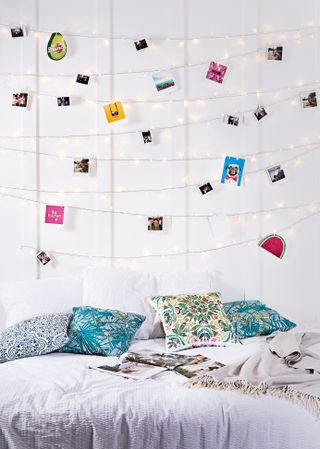 4. Layer up prints on a picture ledge
Practical and inexpensive, this type of shelving is a great base for creating your very own striking art displays. Use a single shelf or group two or more together, then dress with vases, pictures, books or candlesticks. The beauty of this look is that you can change your arrangement as the mood takes you.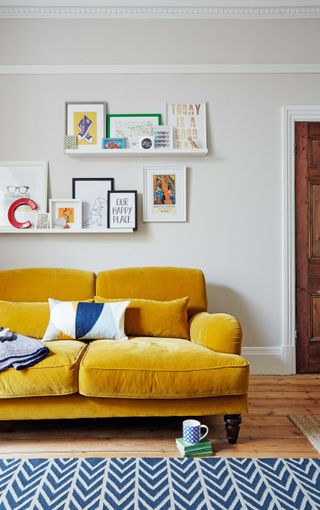 5. Create a living wall
Houseplants are back on trend, and not only do they look good, they can do wonders for your health and wellbeing, too. Adding some living, breathing greenery instantly gives a fresh feeling to any space, and provides a vibrant splash of colour. Just remember to water them though…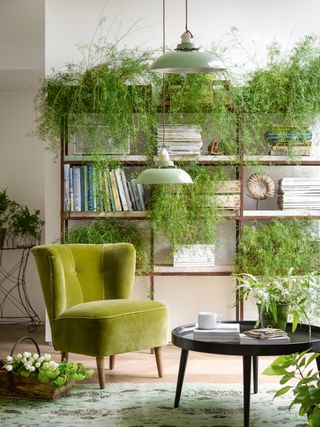 6. Add texture and interest with exotic finds
Texture isn't just for soft furnishings – as this scheme shows. Smooth walls can look great punctuated with tactile objects. Experiment with everything from quirky hats or feather placemats to African baskets or woven discs; grouped over a piece of furniture, they make a unique statement.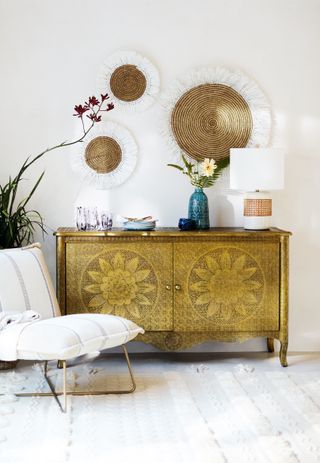 7. Create a quirky display for children's rooms
Keep your little ones engaged by hanging fun items in their bedrooms for them to look at, touch and feel. Add furry animal heads for a quirky display, or turn toys into art by nestling them in wall-hung baskets or on shelves.
Check out more gorgeous children's bedroom design ideas.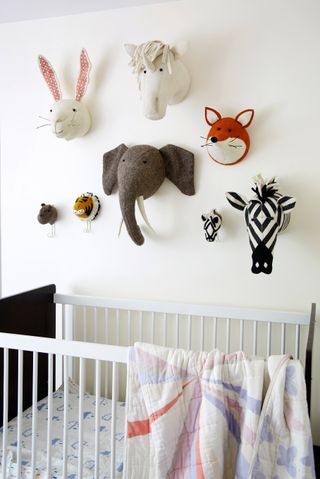 8. Enhance space with mirrors
A classic interior design trick for making a small room look bigger is to use mirrors as art. They bounce light around a room and give the impression of more space. Hang a single large one as a statement piece or mass several different shaped designs together for extra interest.
Need more ideas for your flat or small house? Check out our storage ideas for small homes.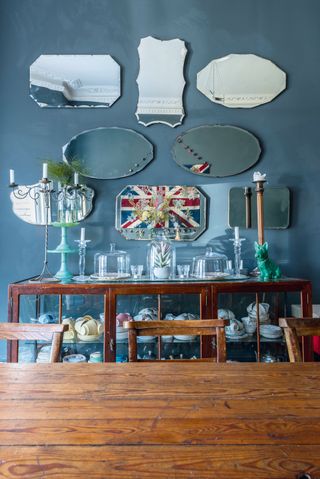 9. Go for a classic look with peg rails
Originally used for hanging chairs, Shaker-style peg rails are no longer just great kitchen storage ideas. Often found in kitchens, their effortless and classic look can blend into most schemes, so they're great for anywhere in the house. Choose natural wood or
a painted finish and adorn with anything from coats, bags, scarfs and hats to tools, ornaments or a string of fairy lights.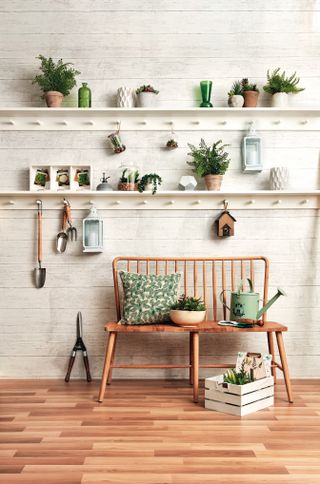 10. Get creative with lighting
For a really quirky take on a gallery wall, introduce some interesting wall lights. These wall lights from Curiousa & Curiousa make a bold statement but their resemblance to wall plates keeps the overall look from being too wacky.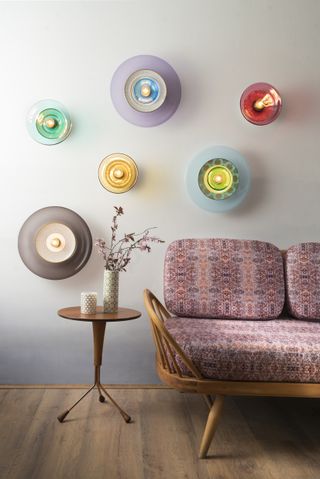 Want more design inspiration?