We know they say the kitchen is the heart of the home, but come on, we all know it's the living room! We spend so much time in our lounge, chilling out, watching tv, and now maybe even working from home – so our living room furniture has got to work hard. So how do you go about choosing furniture that looks stylish, suits your budget and is going to last? We cover it all in this guide, from how to choose a living room furniture style to more practical advice on what to look for when buying your pieces.
If you are after new living room ideas once to have got your living room furniture spot on, head to our gallery next.
Which living room furniture do you need?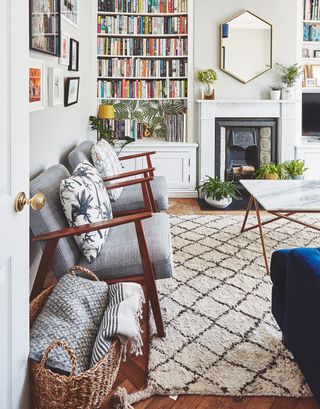 The furniture essentials for most living rooms? Seating has to be the biggest consideration - our guide to the best sofas of the year will help you track down stylish, comfortable, and affordable options - alongside storage, a place to put the TV and home tech, and occasional tables. Homes blessed with separate television rooms or even home cinemas can skip part of the list, but most need to accommodate all of these elements when creating the best living room layout.
What living room furniture style should you choose?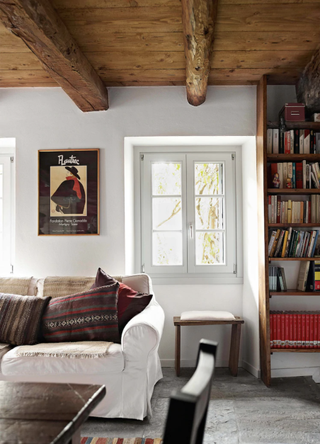 The rigid formula of three-piece suite and a set of matching wood cabinets and coffee tables has given way to a more relaxed approach to putting together a living room furniture combination. Contemporary furniture, Mid-century designs and older pieces can all work beautifully together, so rather than sticking to one era, think of the overall look.
Check out all our modern living room ideas if you think that might be the vibe for you.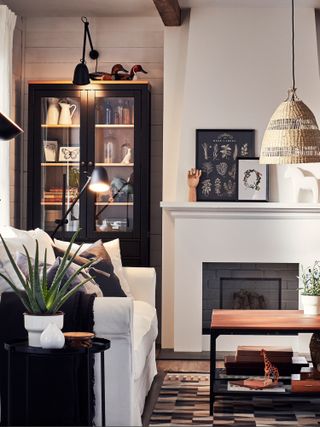 How to make it work? Consider opting for the same wood rather than furniture range throughout, with perhaps a hero piece in dark wood or a painted finish while the remainder is pale, for example. Think furniture outlines as well. Are curves the order of the day for sofa legs and overall outline, and for side tables and armchairs? Or perhaps the long, low shape of contemporary buys suit the room better. Repeated details of color or material can also help unite the selection.
How to choose living room sofas and armchairs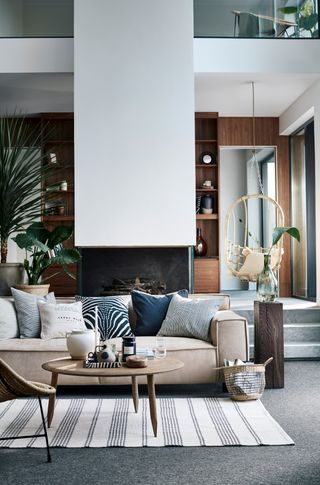 Decide on the sofa and armchair configuration that best suits the space when you're choosing upholstered pieces. A corner sofa can help zone the seating area of an open-plan living space and, if you incorporate a chaise end, create an in-demand relaxing spot.
More flexible might be a pair of sofas that can be placed at a right angle to form a sociable arrangement or give everyone a good angle on the TV. Arranging a matching pair of sofas facing one another, on the other hand, will create a formal feel that's perfect for rooms used for frequent entertaining.
Check out our full guide on how to choose a sofa for more advice.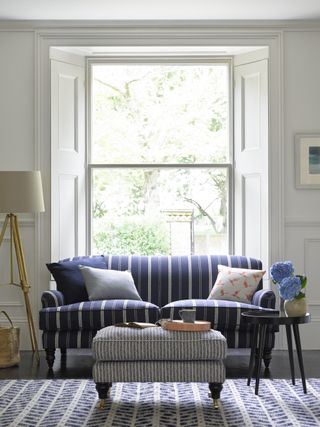 Armchairs are ideal as statement pieces as well as solo seating, and can be used in corner nooks as a quiet space within a space. Consider, as well, pairs of armchairs if there's room in a bay, or an unmatching pair to complete a seating formation around a coffee table.
How to choose upholstery for living room furniture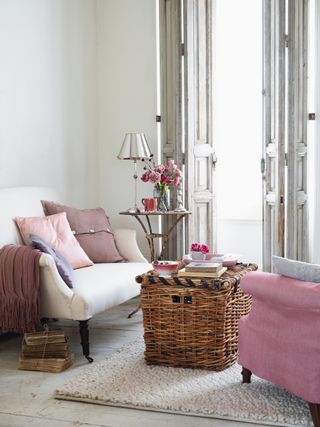 Whether it comes as standard or you're given a choice, the upholstery fabric of your living room furniture needs to suit your lifestyle as well as delight your eye. Kids, pets, level of use and whether it will be exposed to strong sunlight are all key to the selection.
Leather is durable but can stretch and crease. Pigmented versions resist soiling, but don't look as natural as semi-aniline, which is soft but has a protective finish; aniline is also soft but will show wear.
Good quality linen shouldn't fade, but it can wrinkle.
Cotton blends are hard wearing.
Wool is, contrary to what you might think, comfortable year-round and naturally dirt-repellant.
Silk is opulent but prone to sun damage and needs to be cleaned with care.
Check the rub count of your preferred fabric – a higher number means it's more durable. Note, too, that tight weaves, high thread counts and woven patterns rather than printed make for more hard-wearing furniture. Purchasing a protective treatment for the upholstery when you buy can be sensible, especially in homes with young kids and pets.
Delve into our comprehensive guide to how to choose upholstery for more advice.
How to choose the best fillings for living room furniture
If plump, sink-into seating is what you look forward to in your living room furniture, feather seat cushions should float your boat. Bear in mind that you'll need to plump them frequently to keep them in shape. Fiber cushions are generally less expensive than feathers and soft but with more support than feathers. Again, they need plumping as the air inside is expelled. Foam is best if you prefer a firm seat. Avoid very cheap versions which will flatten with use. Some cushions combine fillings to take advantage of the benefits of each.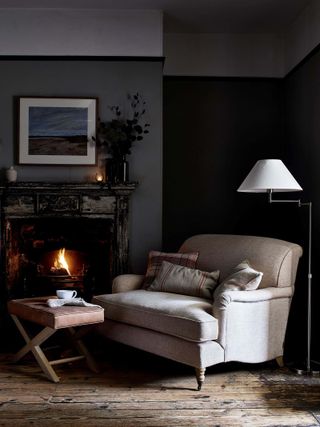 Think about your living room seating construction. You can't see the frame of a sofa or armchair but the way it's built will determine how your buy lasts.
A frame that's dowelled and screwed as well as glued is stronger, as are those made of hardwood.
If you're investing in top-end seating, look for hand-tied springs. Otherwise, S-shaped springs create a strong seat and flexible support behind. Webbing systems don't create strong support on their own but may be used with a tensioner that fastens them to the frame.
Top tip: New upholstered furniture has to comply with fire-safety regulations. Don't cut the label off, or you won't be able to donate it to charity when you buy new once again.
How to choose coffee tables and side tables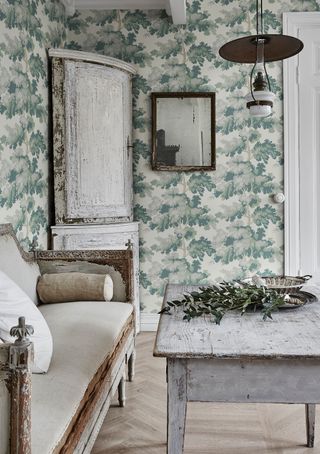 A coffee table can be an anchor to a group of living room seating. Think about the height of the table – low slung contemporary sofas need a nearer-to-the-floor design than more formal high seating. If it's going to be a clutter magnet in your household, a design with drawers might be preferable.
Don't just think single coffee table, though. A series of side tables is an on-trend alternative and can be more flexible, allowing you to move them alongside seating to put a cuppa or glass within easy reach.
An alternative if you'd like some softer contours and color or pattern is a footstool placed in front of seating. A tray ensures it doubles as coffee table without liquids threatening the fabric. Clutter to conceal? Invest in a storage version with space below the lift-up lid to clear magazines, remotes, DVDs, kids' toys etc into.
If living room seating is focused on a stove or fireplace, a coffee table or footstool in front might get in the way. In this case go for side tables sited alongside furniture all the time, or tuck them against the wall until required.
For our round up of the best coffee tables check out our buying guide.
How to incorporate living room storage furniture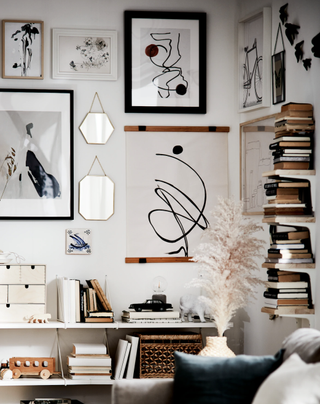 The best living room storage makes space for all you need to keep in the room, has room for the display of decorative accessories, and combines open and closed options so you can show off books, vinyl records or even paperwork cunningly concealed in colored or patterned box files while hiding all the things you don't want to show off.
Work with the room's architectural features by making use of alcoves either side of a chimney breast for off-the-shelf or made-to-measure storage. A floor-to-ceiling storage wall is also a space-efficient way to stow.
Modular shelving can create a bespoke-style arrangement without the cost of going bespoke, and can be added to later on if necessary.
Sideboards used to be a dining room staple, but consider one for a living space for its clutter-swallowing interior and top surface that's ideal for decorative accessories. It can be a pleasing focal point, too, if you opt for a Mid-century style version, for example.
How to add home office furniture to your living room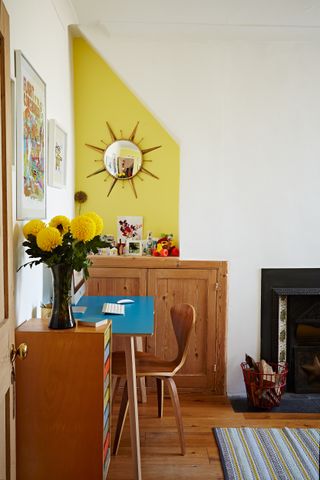 A living room may have to function as a home office, but how to do choose furniture that going to work in an office space and a living room? Start by picking a desk tha's design is sympathetic to the lines of the rest of the living room furniture rather than an office standard. Or, try an armoire-style desk with doors that transform it into a handsome piece of cabinet furniture when work's finished.
Other living room furniture you might want to include? A console table is handy for table lamps and display, and can function as a room divider in an open scheme.
Consider additionally a window seat – either built in or freestanding – to add an extra perch as well as storage inside.