Aside from ceiling and floor lights, living room wall lighting ideas can add instant impact and a fancy feel to your front room.
Living room lighting ideas can take a variety of forms. Some are purely decorative, others add warm ambience, and there are many that function as directional lighting to add a glow to your floors.
Whether you choose to go traditional with a lampshade, introduce a modern neon light for fun, or pay homage to an interior style or era – there are a plethora of different wall lighting ideas for living rooms at a variety of different price points to suit you.
Install plug and play models yourself, or employ the help of an electrician for more intricate fixtures.
Living room wall lighting ideas to brighten your lounge
'In a small home like mine, wall lights perfect for freeing up space on side tables obliterating the need for table lamps. You can use them to lighten up dark corners in dingy rooms,' explains interior stylist and designer Maxine Brady.

'In bigger homes, they can cosy up a space or highlight a particular feature – like a group of vases. They're a grown up finishing touch that gives your room serious game! Once up on your wall – you'll be a convert, trust me here.'
1. Celebrate cocktail hour with Art Deco-inspired lights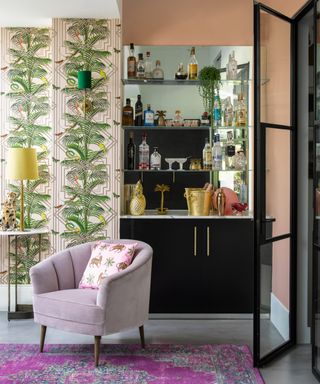 Home bars are the perfect hosting essential. You can drink what you want, when you want, and choose the company you sit with – with no wait times. So shine a light on your beverage corner with some living room wall lighting ideas.
Paying homage to the roaring twenties, this entertaining space is replete with geometric and palm print wallpaper (try saying THAT after a few too many) and a 18cm drum shade in emerald dupion silk which is perfect for picking out the green in the patterned wallcovering.
2. Get the job done in your home office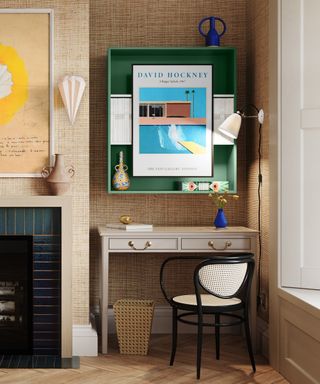 Whether you're working remotely, or the kids need a space to do their homework – you'll both need a place to concentrate on your formal duties and assignments. Rather than relying on a bedroom or kitchen – explore wall lighting ideas for a dedicated work space.
When setting up a home office in the living room, it's important that your eyes aren't under strain. The Hector Medium Pleat Wall Light and Hatton 3 Wall Light, both from Original BTC are the perfect study buddies. We particularly love the origami style of the latter which is perfect for the paperwork-based environment.
3. Be playful with a neon sign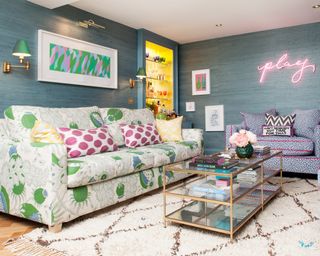 How about this gorgeous wall lighting idea in Emily Murray's (aka The Pink House) living room? As well as an electric green lampshade next to the horizontal abstract art, the 'Play' neon light gives a dynamic energy to the lounge space.
'Neon LEDs will give your room the perfect 'TikTok' aesthetic. Incorporating pieces that reflect your personal style is a priority and what a better way to do this than with color. Set the mood for any occasion by choosing any color you fancy,' says Michael Meiser, president at Lumilum.
LED strips are the best place to start to give your room a much-needed glow-up. Thanks to clever LED technology, they're more energy-efficient and long-lasting, helping you to slice your electricity bills – which as a student, is always a bonus.
Alternatively, make an artistic statement and invest in a quirky neon sign. Small, neon-style signs give an edgy touch by offering a striking design acting as the focal point of the room while providing a soft glow to the rest of the space.
4. Showcase a seasonal 'shelfie'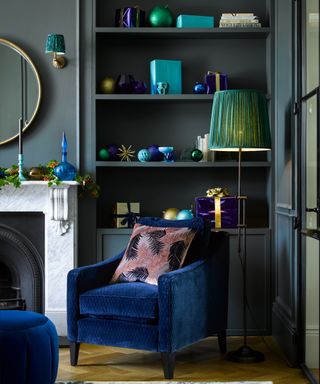 If you've taken the time and effort to curate a 'shelfie', then your hard work shouldn't go unnoticed. Put the spotlight on your travel trinkets and interior buys with specific wall lighting ideas for the living room, designated to this design-led space.
This specific example is obviously Christmas-themed with jewel-like tones, metallic baubles and shiny gift wrap, but you can totally follow the same principles for other holidays. How about a Halloween shelf with a few DIY decoration ideas; a pastel light shade for Easter; or an auburn and orange living room wall lighting idea for a fall or Thanksgiving scheme.
5. Light up a literary corner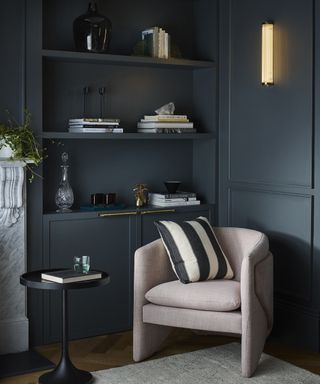 We spend so much time on our phones. Whether it's checking emails, answering calls, scrolling endlessly on social media... or reading an online article. So sometimes it's nice to pick up something tangible like a book or magazine.
This living room reading nook is the perfect spot is an idyllic spot to place a pillar wall light. And it certainly stands out from the inky blue walls.
The Narrow Pillar Light 60cm by Original BTC is available in either chrome, weathered brass or polished brass so versatile enough to fit into most lounge styles. Again, Art Deco-inspired designs pop up through the solid clear glass rods.
6. Create symmetry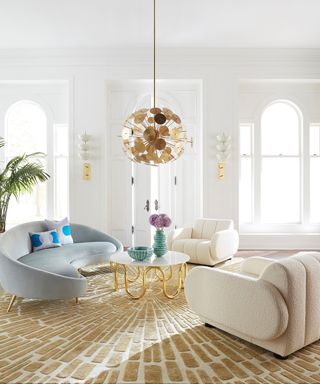 Large and in charge, the Lisbon Sconce by Jonathan Adler is a glamorous gesture that's just as elegant in a studio apartment as it is in an Italian palazzo.
A polished brass stem supports three half spheres of ivory enameled metal with subtle round perforations. With a soft ivory tone and gentle uplight, it is understated but still glamorous in this mostly white living room.
We love how doubling up on either side of the windows creates symmetry in the room. Soft textures of boucle and velvet create a luxury space to sit in style. To emulate this scheme, a good place to start would be to invest in one of the best sofas.
7. Complement the glowing embers of a fireplace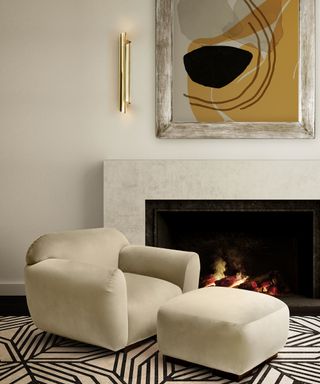 Create a warm and peaceful corner by placing your living room wall lighting ideas near a modern fireplace. This contemporary space with spicy mustard yellow abstract art, a concrete mantel and suede armchair and Ottoman combo and geometric Columbian-inspired CAUCA tencel rug design is an idyllic example of textures and tones.
The CYRUS living room wall lighting idea by Brabbu is made of gold plated brass and casts a soft golden glow both up to the ceiling and down to the floor.
8. Position your lights next to artwork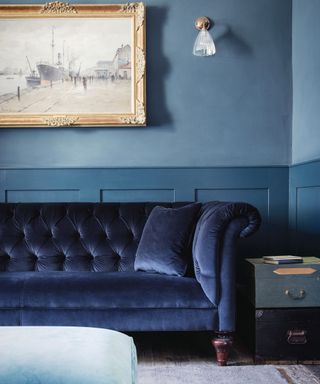 Portraits, pictures and other wall art ideas are the perfect example of how you can inject some personality into a living room without taking up any floor space – something that's particularly important if your living scheme is on the small side.
Placing your living room wall lights above a framed masterpiece – whether from a famous artist, or your kid's project – will help to highlight the handiwork.
Picture frames are just as important, and we love how this elaborate brass frame complements the Fritz Fryer Ledbury Contemporary Wall Light in this modern traditional sitting room.
9. Or use a dedicated picture light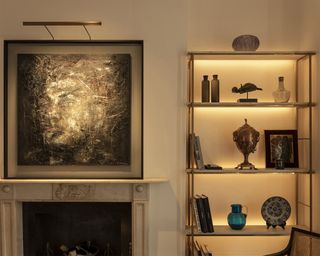 Another way to accentuate artwork is to invest in living room wall lighting that are literally made for art aficionados.
This Wallace Picture Light by John Cullen Lighting uses cutting-edge technology to provide an even distribution of light to precisely focus on your whole canvas.
Drilling into the specific technical details, it comes with an exceptionally high CRI of 97 (R9 value of 90), so you can be sure that the true colors of your art will be seen at night.
This low glare, easy-to-install wall light can be mounted both on the wall and frame. The uniquely discreet shape comes with six different head sizes and four arm lengths to fit your art more precisely.
The accompanying shelf, complete with backlighting, also shows off this homeowner's eclectic and well-traveled taste.
10. Add a pair of wall sconces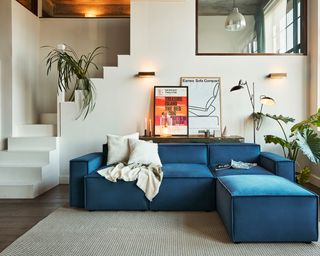 Just as with table lamps and floor lamps, there are living room wall lighting ideas to suit every style. Wall sconces act as decorative accents while providing additional mood or ambient lighting.
With a plethora of different wall sconce ideas to choose from including those with arms, flush mount fixtures, vintage candle-style sconces, swing arms, wallchieres, spotlights, there's a style out there for your space.
In this laid-back and relaxed scheme, a low-slung L-shaped sofa (the Model 03 by Swyft) is positioned below two wall sconces which highlight the framed, unhung art. In the evening these wall lights will make this space extra cozy.
'Low-level lighting is always more relaxing than ceiling' says Kelly Collins, head of creative, Swyft.
'That's why sconces, which are usually naturally placed lower, are great for bringing a more cosy feel to a living room. Some sconces have the option to angle the light, if they do, try pointing them towards objects or pieces of art to help draw the eye.'
11. Use a mirror as a wall lighting idea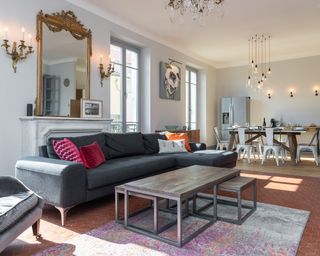 This idea is super easy-peasy. If you're looking for a clever wall lighting trick, look to this mirror idea.
This large ornate mirror helps to reflect light throughout the space, while wall-mounted candlestick holders frame the mirror to provide a welcome wall feature atop simple white walls.
12. Make a feature of your TV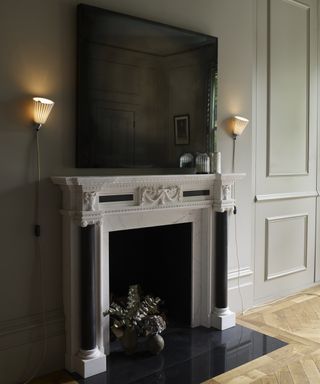 Netflix lovers and binge TV watchers – do not adjust your sets. If you want to create a cinematic experience, wall light fixtures can create a dramatic atmosphere.
Perfect for nail-biting thrillers or adding an intimate atmosphere for a rom-com evening, these portable large pleat wall lights can be adjusted to whatever angle you wish so you can really get stuck into the storyline.
And if this has prompted you to think about upgrading your television, our best TV guide can show you what's in store (and online).
13. Find a fit for a mid-century modern home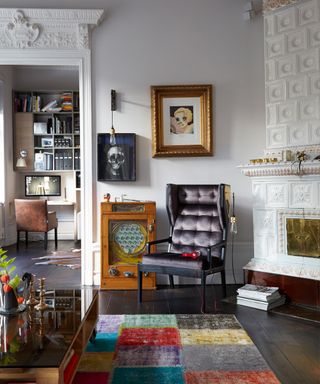 Here, retro and mid-century modern influences dominate a masculine space. Take for instance the seventies-style patchwork rug, vintage arcade game and velvet chesterfield-style black armchair with over-the-head headphones – a gamer's delight.
With a clear love for skull artwork, this miniature Gothic gallery wall idea is brightened up by a Buster & Punch Hooked Wall Light made from graphite powder-coated metal for an industrial edge.
And, if you look closer, you'll notice a perfectly poised cream wall light fixed above the computer screen in this tech enthusiast's home.
14. Scatter wall lights around a brutalist space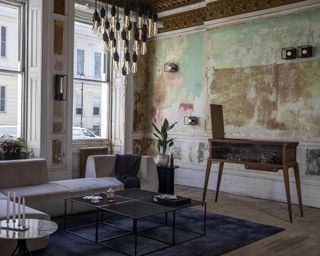 This Brutalist living room might not be for everyone with its distressed walls and raw, untreated floorboards. Although you have to appreciate how far the boundaries of 'shabby chic' interior design have gone here.
Here, black metal cages and an exposed bulb unite to form a striking wall light display. Positioned side-by-side and diagonally, these modern industrial fittings complement the scraped walls to reinforce the grungy 'underground-overground' look.
The other side of the room is a complete juxtaposition with a smooth L-shaped sofa, sapphire-colored rug and marble-effect round side table.
How to use wall lights in an open-plan living room
'If your living space is open-plan like mine, you might want wall lights that rise and fall,' says Brady.
'Pull them up when you want a brighter light during the day and then lower to create pools of light in the evenings. I've also been eying up lights that swing out into a room – great for reading and you can tuck them flush against the wall when not in use.'
Where should I place living room lighting?
The placement of living room wall lighting ideas is key as there are several things to consider prior to installation, as Tom Raffield, lighting designer explains:
'Height – it is best to avoid installing wall lights at a height where you are going to walk into them or be eye level with an exposed bulb. Mounting lights approximately six feet from floor level can be used as a rough guide - although the height of your family members, ceiling and the size of the fixture will come into play when determining this.'
'Spacing - one fixture every six to eight feet should be adequate, although you may want slightly more or less space between lights depending on the lumen output of the light bulb you are using, or size of the room. Open plan spaces may require more fixtures to create a similar impact and lighting effect.'
'It's also worth considering the line of the wall lights prior to fixing – sometimes staggering fittings so that they purposefully don't line up symmetrically or horizontally across a hallway leads to a more natural configuration, but equally, having a pair of wall lights in a small space that don't line up can look odd. It's all about personal preference and important to consider the fitting you've specifically chosen for your intended space.'
'Location - narrower rooms, halls and stairwells with heavy traffic are best lit by mounted fixtures that keep a low profile and don't protrude too far into the space – be sure to measure the depth of a fitting before purchasing to ensure it's going to work well.'