Looking to change up your paint colors for the living room? We all know the power of paint – we know what it can do to a room, how it can take a tired looking magnolia blah space and turn it into a gloriously stylish, fresh feeling room.
And what we love so much about painting walls is that you can grab a paintbrush this weekend and create that fresh space yourself. Okay, maybe it's not as easy as picking up a paintbrush and totally revamping your living room – but that's where we come in.
Whether you are a neutral living room ideas lover looking to adding a bit of color to your setup, or an avid trend follower who wants to know what color they should be painting their space this year, you'll walk away knowing exactly what to do.
Obviously, there is a practical element to whatever living room paint color ideas you choose – things like size and how much natural light your room gets may affect what living room paint you can go for – but we've covered all of that too. With our guide, you'll find a paint color to match your best sofa and the rest of your much-loved furniture, no problem...
Paint colors for the living room to be proud of
'The living room is the place we all look forward to retreating to after a long day, or lounging about in on a lazy weekend – add a well-chosen scheme, and you're assured of a space you can't wait to come home to,' says Joa Studholme, color curator, Farrow & Ball.
'Whether you're drawn to strong, grounding tones that invite and envelop, or powdery hues that soothe and soften, there's a scheme to suit your style.'
But before you pick up a brush, knowing how to paint a room properly will deliver professional-looking results.
1. Go floor-to-ceiling with pink decor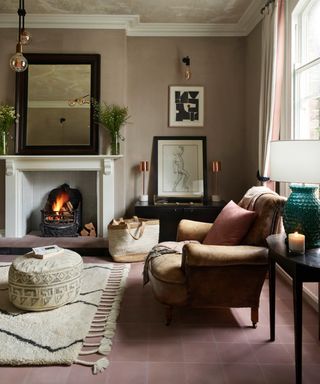 Fantastically feminine, pink room ideas will forever be popular, and as a living room paint color idea – it can put on all sorts of different hats. While pastel hues evoke a sense of playfulness, punchy magenta shades connote confidence.
But if you're looking for a grown-up emulsion that shows who's boss, choose a dusky pink with a black pigment. And go floor-to-ceiling with it.
The warm, earthy tones in this room above have been strongly influenced by the hues in traditional terracotta floor tiles. Get the exact leather brown plain tiles from Bert & May to add softness to your living room.
2. Bring the outside in with a sage green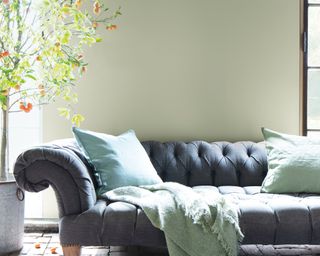 Need to take five from a stressful work or home life? Go for a green living room. October Mist is a fresh sage green that is a perfect option if you need paint colors for the living room. It's calming, relaxing and the perfect color to welcome guests into your home. It's also one of the best bedroom paint colors.
'October Mist adapts to different environments and styles incredibly well.' says Andrea Magno, director of color marketing and development, Benjamin Moore.
'In choosing a green, it really echoes what we're seeing in the world. We want to capture the spirit of what's in the air. Having a soft, gently-shaded sage felt really right. It's approachable, organic and grounded – yet there's still a dreamy, misty quality to it.'
3. Warm up wall paneling with a spicy palette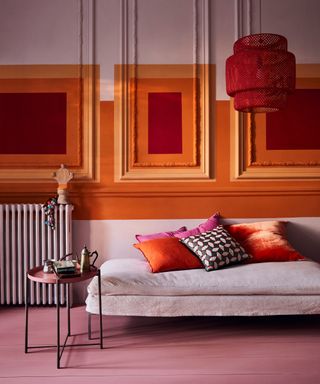 As decorative as it is, we don't often see wall paneling being used as a feature. But we are here to change that. In this living room paint idea by Annie Sloan, hot punchy oranges and reds are used in a bevelled-like execution with tempered mustard.
These paint colors for the living room are really a celebration of color. Magenta cushions are mixed with more muted shades of pink on the floorboards, walls and radiators to make this space feel liveable, and pare down the liveliness.
Get the look with Sloan's shades in: Antoinette, Barcelona Orange and Emperor's Silk.
4. Experiment with pale paint and decoupage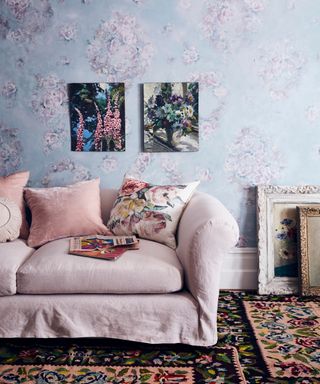 Can't decide between a living room paint color idea and a living room wallpaper idea? In a world of excess and maximalism – you can have both. In this grannycore scheme, pale blue-grey Svenska paint is combined with floral wallcovering cut-outs to create a feminine aesthetic.
This space is blooming full of flowery furniture and accessories including a heavily-printed carpet, wall art and cushions, so go full-on with the flower power when you shop for these pieces.
5. Look to natural materials colors to cocoon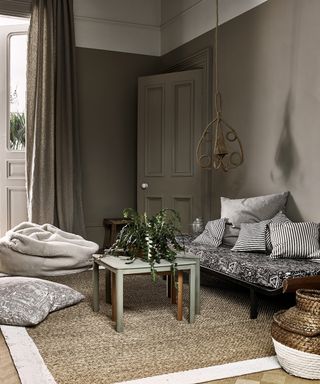 Our homes are our sanctuaries that we like to feel safe in and hibernate in, especially in the colder months. So, it only feels right to use a living room wall painting idea to feel cozy in.
Khaki-grey French linen works gorgeously with natural materials such as jute, cotton and linen for an organic-feeling scheme. Just as you dunk them in your hot tea, cookie-like shades compliment this lounge space too. And, when it comes to soft furnishings, pile 'em high. Think throws, cushions and beanbags galore.
And, while we're on the topic... the best living room rugs can transform any floor to make it a space you love being in.
6. Create a delicious feature wall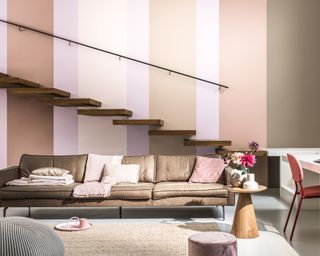 Many of us have exciting childhood memories of being treated to an ice cream or gelato (if you're European) at a dessert parlor or ice cream truck. And these paint colors for the living room definitely reminds us of all the different flavors presented side by side – or the infamous Neopolitan dessert where kid-friendly strawberry, vanilla and chocolate tastes are combined.
Fast forward a fair few years into adulthood, and color blocking is a palatable living room paint color idea that we're seeing in the world of interiors. Edible-sounding sweet shades such as Soda Pink and Caramel Fudge can be introduced into living areas to create an appetizing feature wall design.
7. 'Lengthen' your ceilings with paint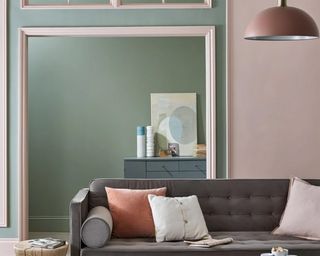 Aside from room lengthening mirrors and extending vertically via a remodel, you can also fake the look of a larger space with a living room paint color idea.
'Powdery pinks and dusky neutrals can create a calming and restorative living space. To add the illusion of height, or to keep things feeling soft, try carrying your wall color over chair rails and base boards, too.' says Studholme.
Copy this look by using a combination of Lichen No.19, Setting Plaster No.231 and Blue Gray No.91, from Farrow & Ball.
8. Think about the adjacent rooms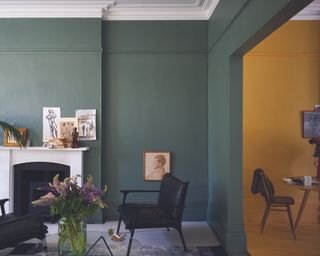 In open-plan living spaces, especially where you may be able to see your dining room from your living room, it's important that you choose paint colors for the living room that transition well into your eating space.
'Darker tones can give living rooms a magical quality, especially in the evening light. For interest no matter the time of day, try contrasting tones of equal intensity on walls and ceilings, or where one room flows into another.' says Patrick O'Donnell, brand ambassador, Farrow & Ball.
9. Don't forget about your walls and woodwork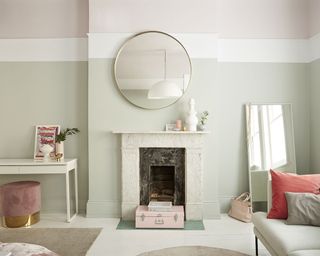 So you've mastered how to paint a wall, but if your surrounding skirtings and woodwork is looking a bit naff, then giving it a lick of paint too can resurrect the entire room.
'The choice of color for the woodwork and the ceiling is just as important as that of the walls,' says Studholme.
'You must think of the room as a whole. One of the best white paints on either ceiling or trim will make the walls look darker, as well as making you more aware of where the walls end and the ceiling begins; this causes the ceiling height to drop.'
'Either use a complementary white or if you are braver, use the same color on the walls, woodwork and ceiling – not nearly as frightening as it sounds!'
10. Add color at the windows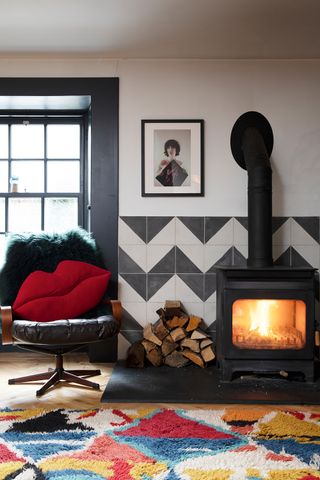 Painted window frames are a trend we have been seeing all over Pinterest for a while now. It's a cute way of adding some color to a living room without fully committing to a full wall – a new version of the feature wall if you will.
As a moody paint color for the living room, black works really well if your room is big enough to handle a dark color around the window, but experiment with brighter shades too and bring them into the rest of the space, with your soft furnishings and decor.
11. Bring in light with a soft grey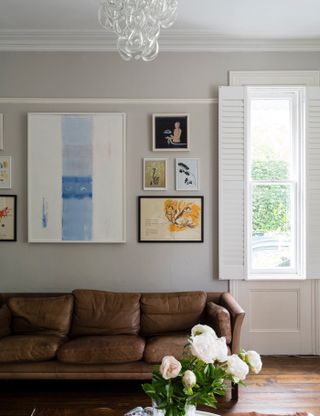 If you are looking for a living room paint color that works in all sized spaces, all levels of natural light, a pale warm toned gray is the way to go. This is our go to shade in fact. Gray living rooms are just so versatile and work with any style too – from elegant, traditional living rooms to more relaxed, rustic style.
12. Go for bold color clashes (that totally work)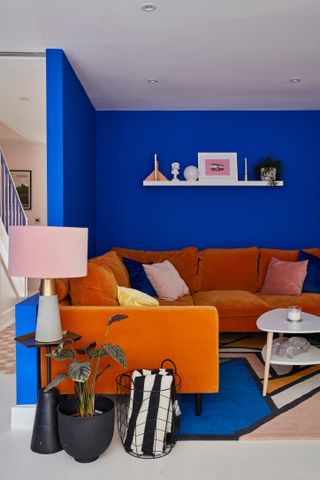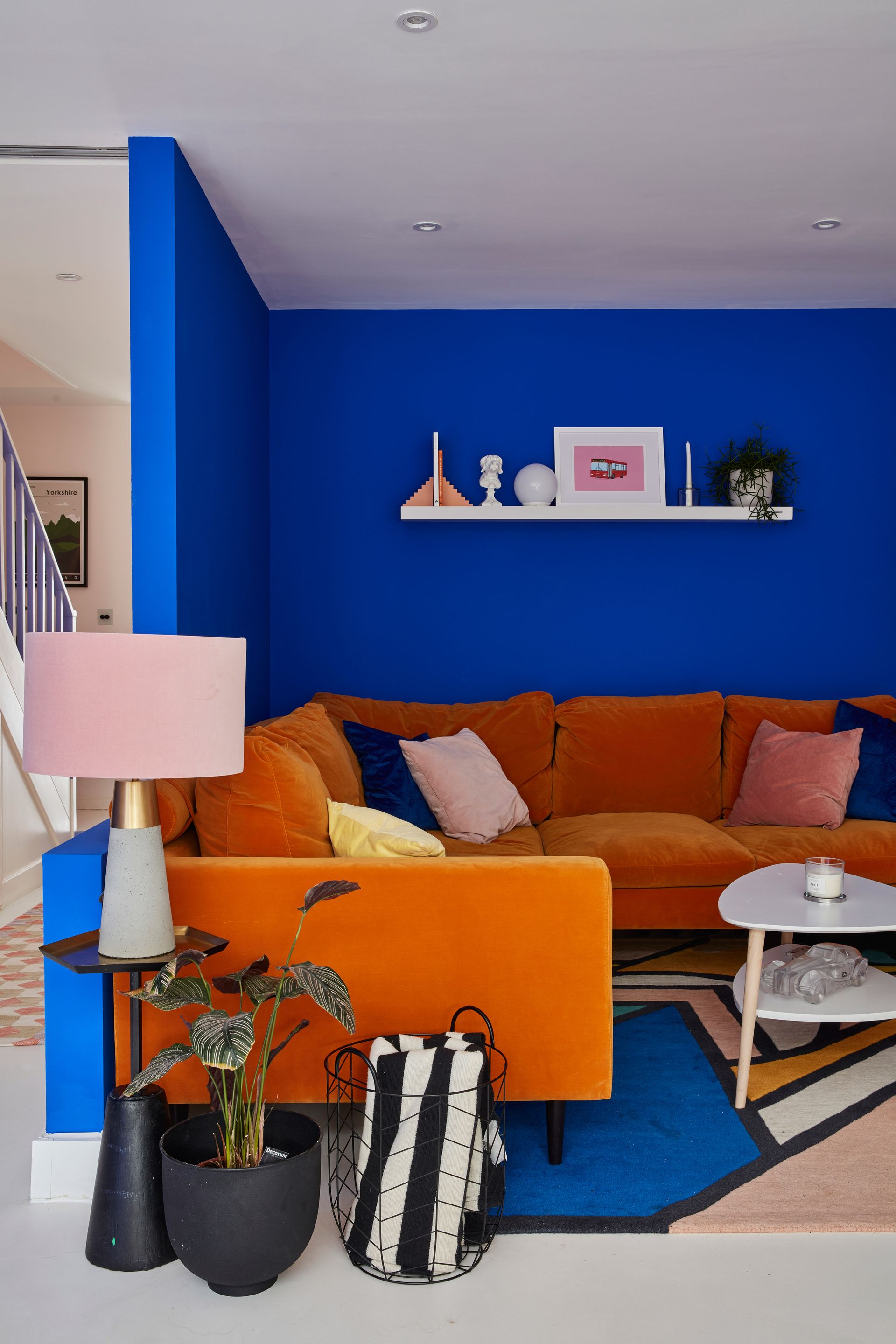 Now this is a look, and we know it won't be for everyone – but we are obsessed. The colors are bold yes, but actually, because the space is kept so minimalist it doesn't feel overwhelming.
Even though orange and blue are technically contrasting colors, the orange here actually softens the blue living room, making it feel less radical, and that touch of blush pink only adds to that.
And the rug! The rug brings the whole color scheme together perfectly. BRB while we go and order a pot of bright blue paint to experiment with this weekend.
13. Create a serene feel with green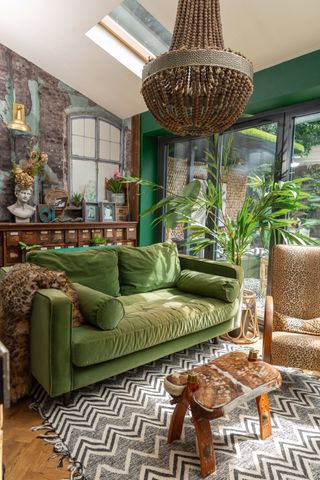 Green living rooms evoke calm, and who doesn't want to feel serene while watching Netflix?
Forest greens look gorgeous if your living room gets a lot of light. And don't be afraid to layer up the green too; a green wall looks fab with a green sofa and of course a few of the lush green leaves of the best indoor plants to add some welcome texture.
14. Paint exposed brick to add texture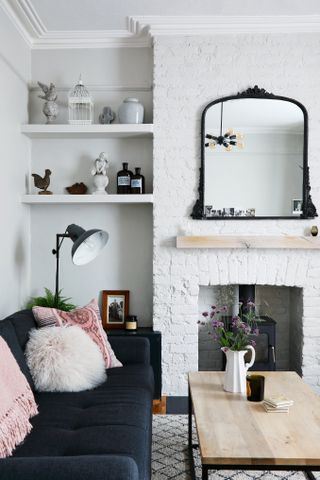 Everyone loves an exposed brick wall, but sometimes the orange hues just don't work with the vibe you are going for. But it would be a waste to cover up all that lovely rustic texture, no? So, why not paint it in a color that suits your scheme better – such as white, as in this living room?
15. Be bold and go multicolored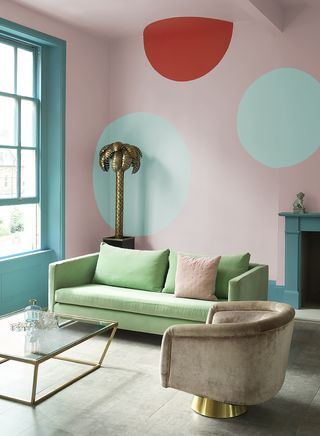 Okay, this look won't be for everyone, but we are loving this fun, whimsical but also chic and contemporary vibe. The color combos are just gorgeous and actually because they are quite muted and the space is big enough to handle all the color, it doesn't feel too overwhelming.
If you want to recreate this living room wall idea use a paler tone as an easy-to-live-with backdrop and paint different shapes in similar tones and a single, contrasting bolder color on one wall.
16. Create an accent wall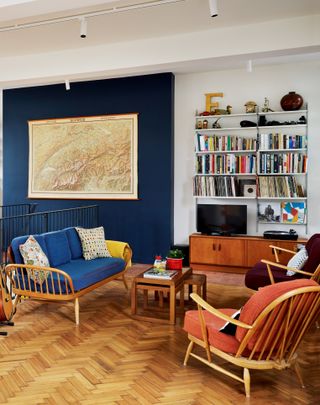 Accent wall paint ideas have gotten a bit of a bad rap as being a bit of a '90s trend that involved some kind of single purple wall in a sea of cream.
But alas, they have made a much cooler comeback in recent years and we think they are one of the best ways to bring some color into your living room if you aren't full on ready to commit, or if you want to add a focus to an otherwise neutral space.
17. Create depth with one bold shade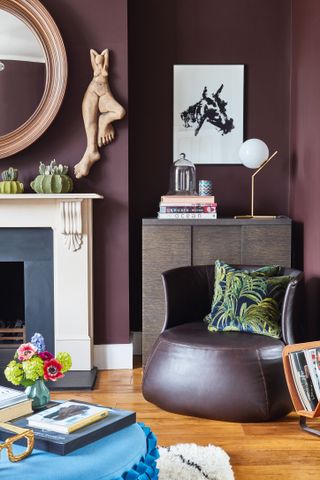 Painting a living room a deep color might look a tad too traditional for your taste, but this kind of color scheme can be given a contemporary twist if the paint shade is carried through to the woodwork – doors, skirting and picture rails – too.
Balance it with furnishings in paler colors, and add texture to the scheme with wooden flooring, for example.
18. Tackle the ceiling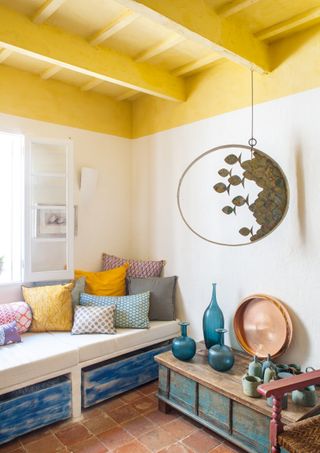 The hottest living room paint trend for the year ahead is to paint a color on your ceiling. Yes! So, swear off the white emulsion, and pick up a bold shade such as yellow, if you're looking for paint colors for the living room
Carry the shade down to picture rail level to create a cohesive feel, and pick a light but warmer tone for the walls. Team with accessories and soft furnishings that have touches of your chosen ceiling color, to complete the look.
We should probably mention too, you can easily learn how to paint a ceiling yourself, just check out our step-by-step guide.
19. Pick tonal pairings to enhance space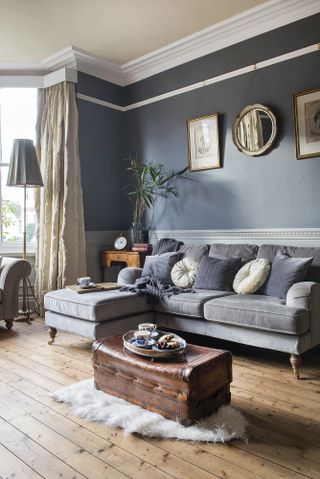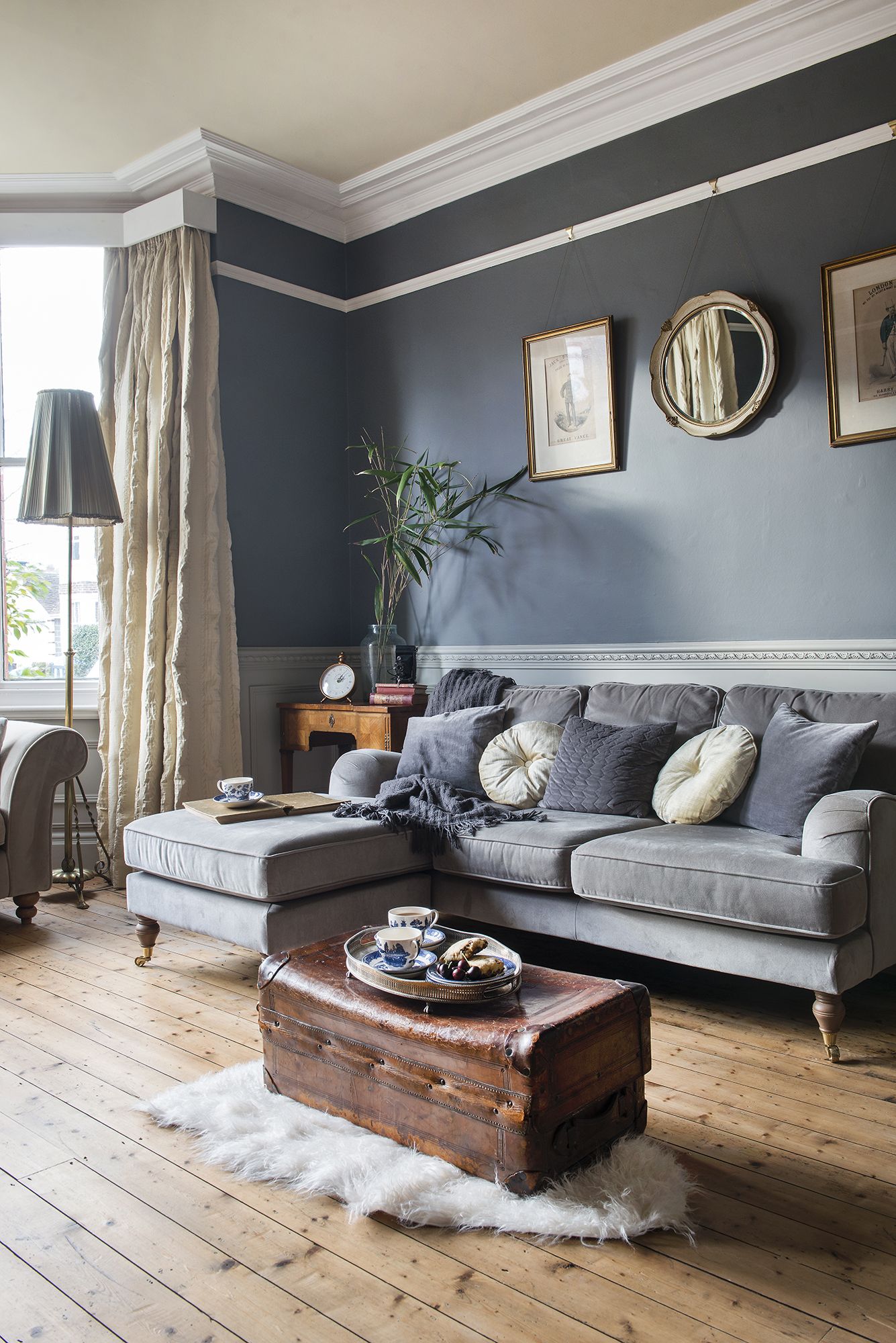 Painting a living room with two tones of the same color is an easy way to add interest while maintaining a feeling of space.
However, always use the darker shade on the lower part of the walls and the lighter one above if you want to make your ceiling feel higher than it is and your room seem larger.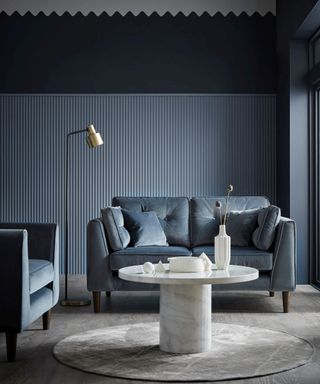 20. Go monochrome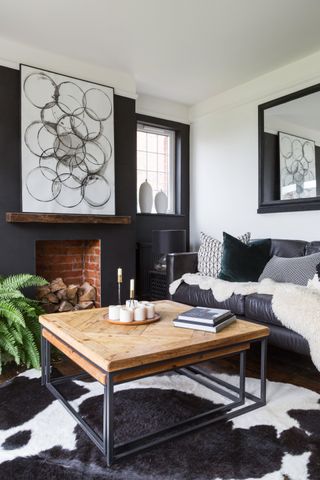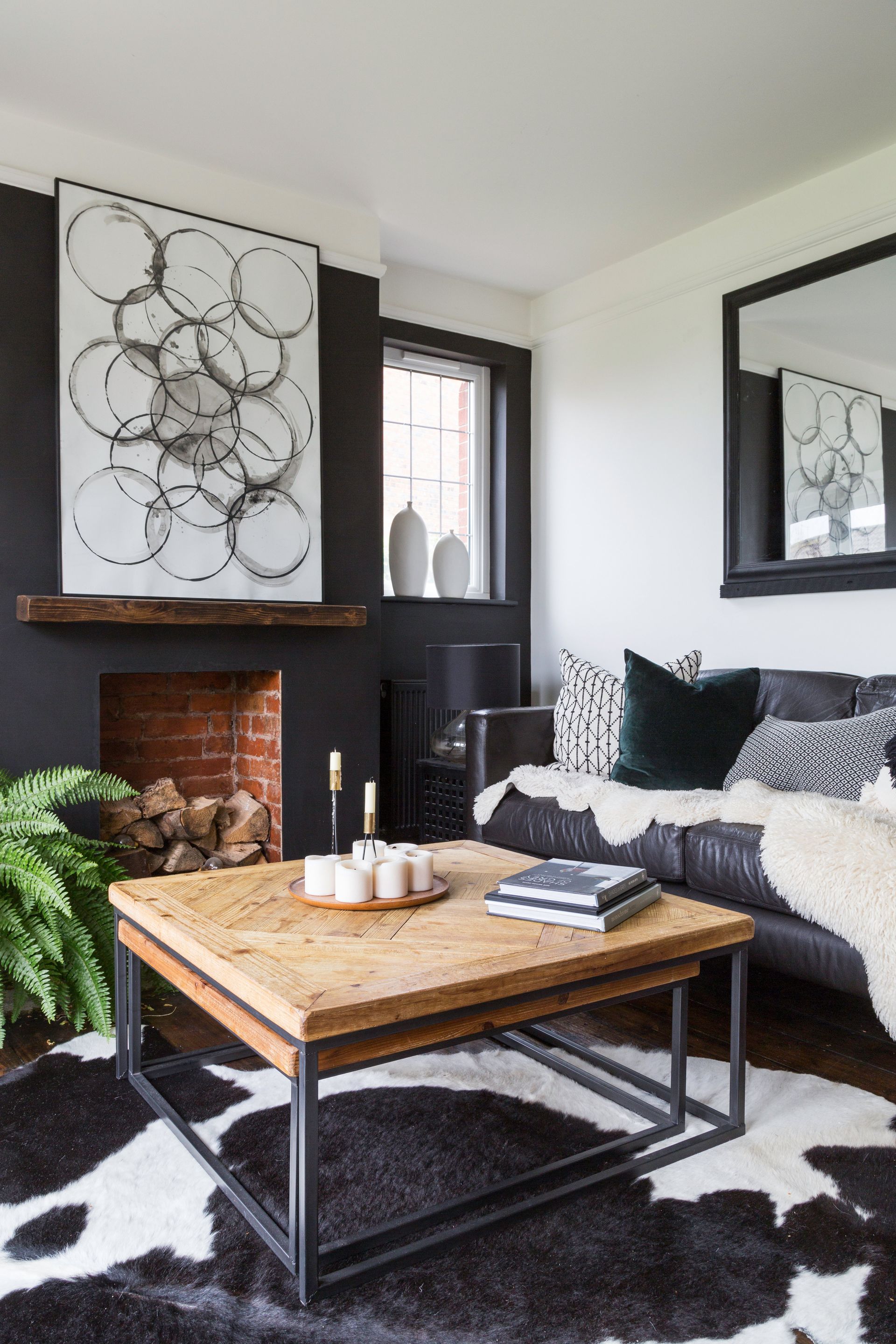 Black isn't often a color we consider as a living room color, but take a tip from the Scandinavians: it works.
Here, a black living room looks fabulous contrasted with crisp off-white paint, but bear in mind that the key to getting the finish right is balance. In other words, break up the black with plenty of white: on ceilings, flooring, and other walls.
Introduce texture and warmer tones, too, with accessories. In this living room, pendant lights, the artwork on the sideboard, and the white and wood tones of the sideboard itself all provide relief.
21. Experiment with darker shades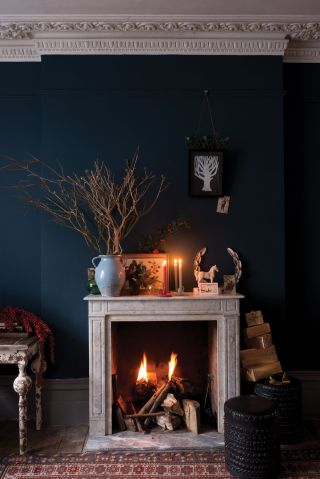 Dark and atmospheric decorating ideas are increasingly popular in living rooms, especially in spaces that are mainly used during the evening.
But, if you want your living room to feel warm, bright and welcoming during the daytime, too, use furnishings and flooring in lighter colors to contrast with the paint color on your walls.
22. Invoke a calming space with blue and white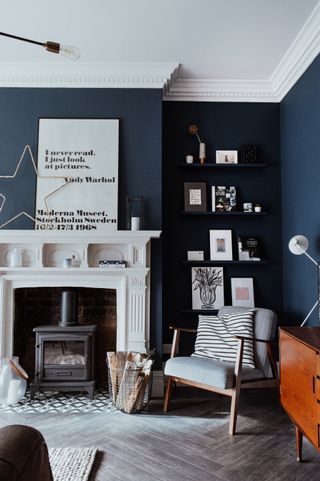 How fresh and crisp do these paint colors for the living room feel? And it's all thanks to that contrasting white woodwork. It really lifts the blue walls and balances out the darker colors.
It also means you could introduce black accents to the room. We know traditionally navy and black should never mix, but with plenty of white thrown in there, it totally works. It feels so contemporary and fresh, and gives even this traditional living room a modern twist. Definitely a color combination we will be testing out.
23. Choose on-trend grey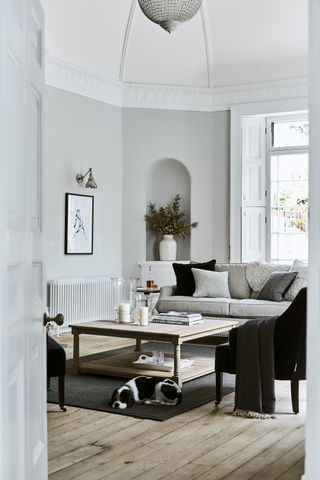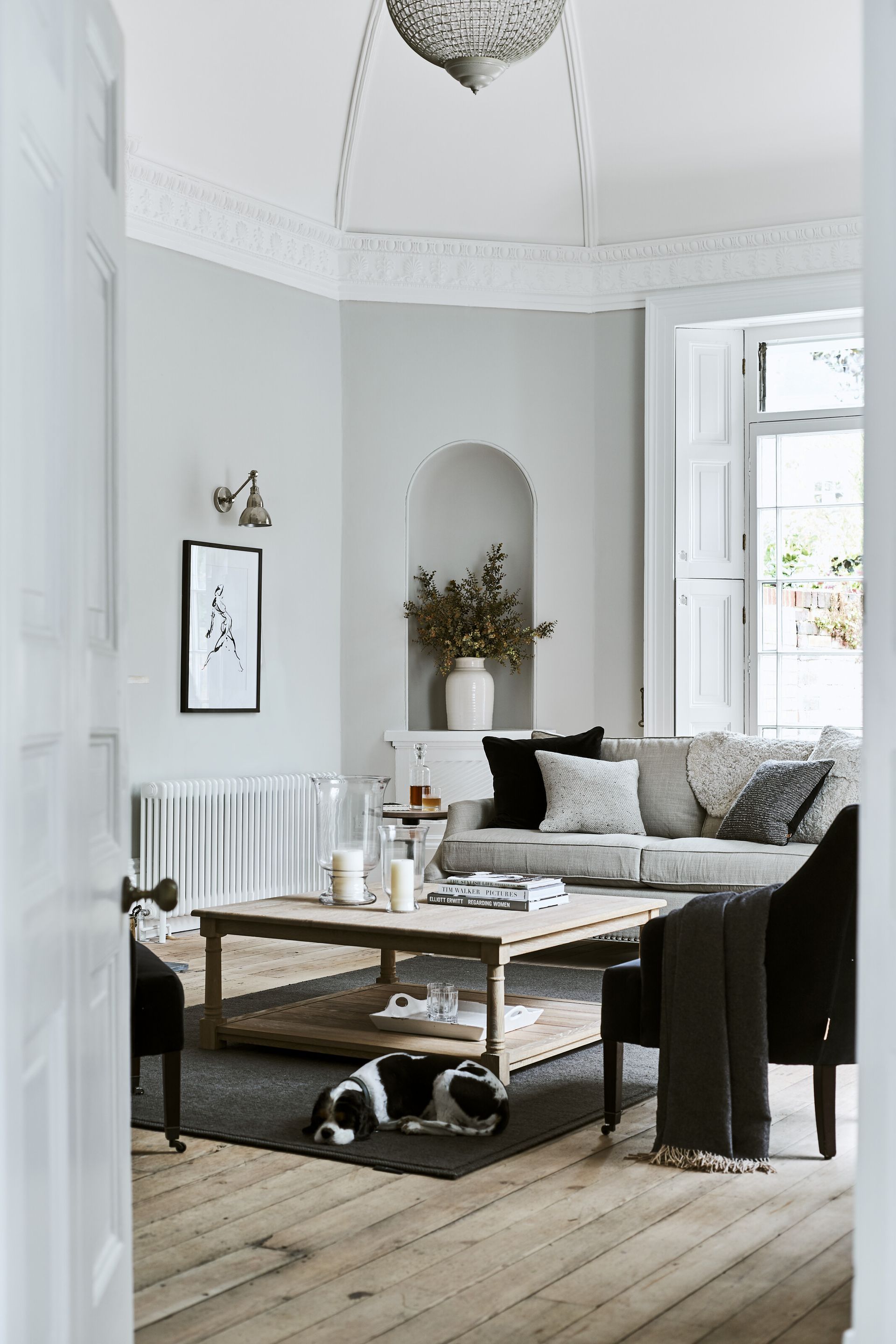 There's something very classic about gray and white living rooms and it's a color scheme that works brilliantly for both modern and traditional living room ideas.
There are many different shades of gray to choose from; some have blue tones, others are pinker. Not sure which living room paint to choose? Err on the side of caution with pinker tones, which will make your room feel warmer.
24. Add a splash of deep green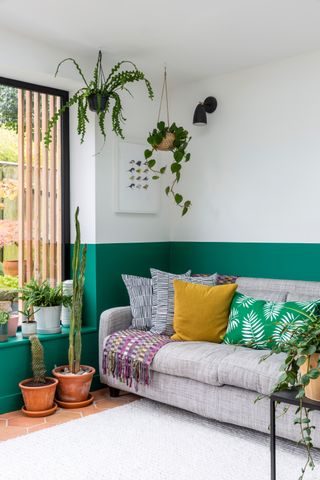 Green is a soothing color – the perfect living room paint shade – and one that's ideal for merging indoor and outdoor spaces, so a great choice if your living space overlooks the garden.
Yellow-greens will add warmth to east- or north-facing rooms, and greens with a hint of blue are great for rooms that get lots of sunlight as they will cool the room down.
25. Monochrome and pink? A dreamy combination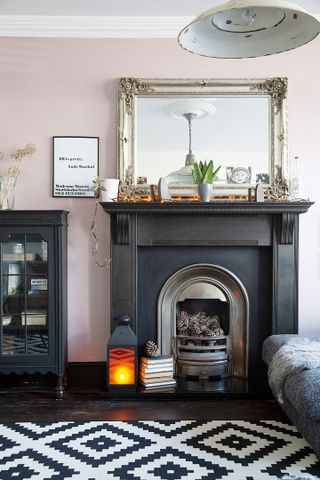 Pink living room paint color ideas don't always have to be super-girly. It needn't look like the inside of a Polly Pocket house. Pair these sugary hues with a simple monochrome scheme for a grown up take on the trend.
The bold print of the rug and the dark fireplace ideas really work to ground the room, stopping it becoming too... pink.
26. Or go for a dusky pink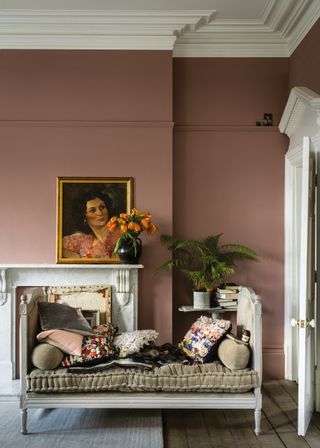 If pastel pink is a bit too saccharine for you, choose a more muted, plaster-toned pink for your living room color. If you are after a shade that's more... mature, pick a living room paint color idea that has a warmer, duskier undertone.
Try something like Farrow and Ball's Sulking Room Pink, which has been used in this living room. Keep the look fresh by pairing it with bright, crisp whites.
27. Go bold with coral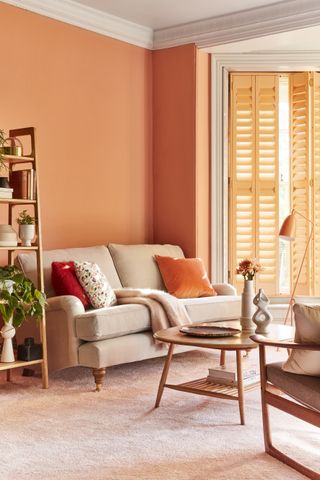 Since Living Coral was named at Pantone's Color of the Year back in 2019, there has been a surge in orangey-hued interiors. We admit that at first we were dubious, but now we can't get enough of this bright and versatile color.
You could be brave and paint all four walls or, for you commitment-phobes, try out just painting one feature wall. If you just want a pop of peach, pinch this living room paint idea and just paint your shutters or pick out a coral window treatment idea instead for a more subtle nod to the trend.
28. Don't be afraid of beige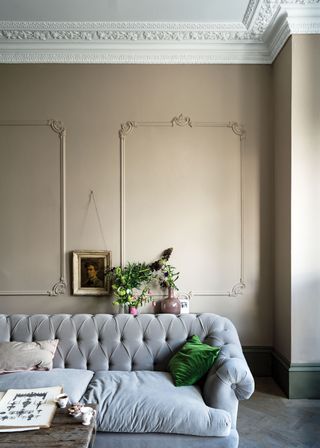 Beige room ideas might not seem like the most exciting of schemes but, take it from us, this once shunned color is making a comeback.
Beige is a comforting, inviting color to use in your home, making it the perfect hue if you're after paint colors for the living room. Give it more of a contemporary edge by pairing it with cool grays and crisp whites.
29. Paint the floorboards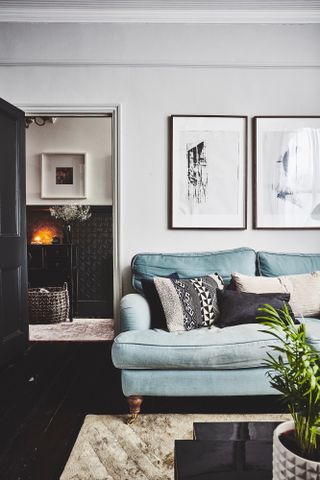 Much like the neglected ceiling, we often forget to look to the floor when it comes to paint colors for the living room.
Knowing how to paint floorboards is a great way to update a room on a budget – especially if you have the time to tackle the job as a DIY project. Ideally, you should use floor paints for a long-lasting finish, but most good quality paints suitable for woodwork will give you a surprisingly tough floor.
30. Add a pop of color to an alcove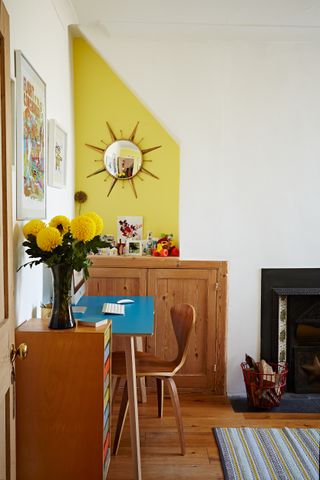 Go for a twist on the feature wall and add some interest to your living room by painting an alcove.
In this living room paint color idea, even just the small pop of yellow adds some sunny vibes to the space and gives the otherwise all white living room a lift. Also because you are only painting such a small section, you can afford to be pretty bold and brave with your color choice.
31. Go for an all white color scheme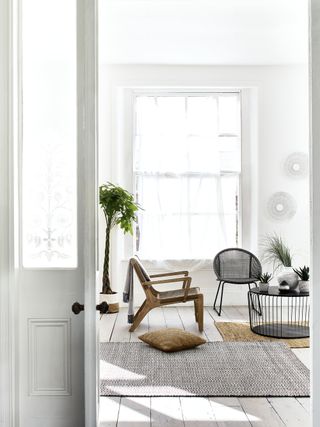 Can you believe we have got all the way to number 31 and not mentioned white paint?
White living rooms, while perhaps not the most practical, are really dreamy spaces, so if you've got a lifestyle that can hack it – go for it.
Paint the walls white, paint the floors white. Just give it a bit of a lift with some house plants, wooden accents and a few pieces of darker furniture.
32. Layer up neutral shades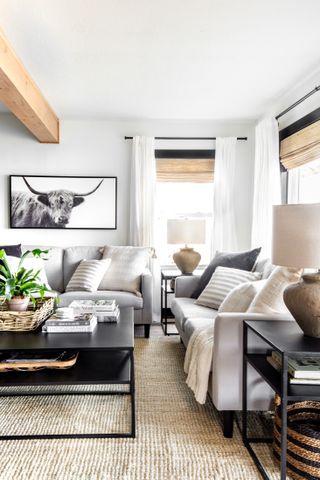 There's something so grounding about earthy tones, and this stunning living room paint color idea is no exception. The textures anchor this look – the coir rug, the slubby linen cushions and the rattan blinds.
Then, some contrast is added with the black-framed furniture and the monochrome print. All the colors are neutral yet each one has its place to provide this room with depth and a sense of peace.
33. Be brave and combine pink and yellow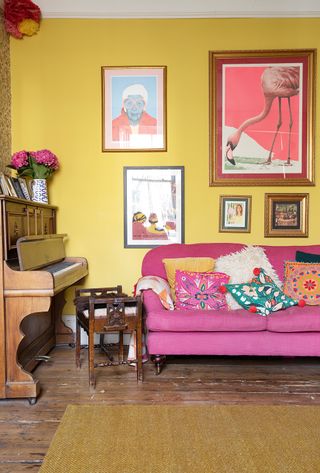 You just can't look at this room without feeling happier, right?
Pink and yellow are a bold combo yes, but styled right together they can look really chic, in a fun and creative way. This living room actually feels really classic and elegant, despite the bold colors.
The wooden accents and quirky gallery wall idea complete the look perfectly – they are eccentric but also liveable, and we love it.
35. Go full on Gothic with black paint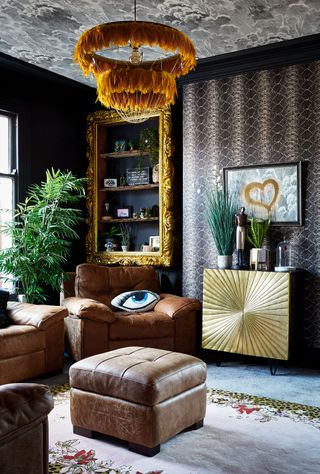 We really have saved up some of the best looks till last. Check out this fabulous black living room. The dark wall really make all the golds pop and creates such a statement space that still feels really cozy and inviting.
Note the wallpapered ceiling here too! A white ceiling would have looked too stark, and a black one potentially too gloomy, so this light grey wallpaper works perfectly.
The best peel-and-stick wallpapers are genius for switching out different ceilings seasonally.
Where can I find inspiration for living room paint colors?
Turning to Mother Nature can help you to find paint colors for the living room that'll feel tranquil, and will never go out of style.

'The really beautiful thing about botanicals is that they come in the earthy, to the muted, to the bright and almost other-worldly. And so they make for really good tools to explore color.' says Xayko.
Should I consider lighting when picking living room paint?
Lighting makes a huge difference when it comes to choosing paint colors for the living room. The location of your living room should be taken into account when picking up a pot of emulsion.

'North facing rooms tend to bring out the green in all colors while south facing rooms are often the easiest to decorate, as they are filled with warm light for most of the day,
'Choosing color for an east or west facing room is totally dependent on what time of day you use the space. Light in east facing rooms tends to be cooler in the evening and brighter in the morning - and in west facing rooms it is the other way round,' explains Studholme.
'So, if you are lucky enough to have a room that benefits from both east and west light, the color will change throughout the day – making the walls feel alive! East facing rooms tend to benefit from soft calming colors.'