If you're looking for one of the best armchairs for your space, we've rounded up our pick of the best, across all budgets – all of which can instantly improve and update your space, as well as providing an uber-comfy place to relax.
Armchairs are an excellent investment regardless of your budget, but you might have trouble successfully navigating through the endless array of options on the market. So, we've gone ahead and tested and trialed dozens of chairs on the market. Our team has considered everything from its size to its function, color, and so much more. Plus, we've considered the pricepoint to assess the armchair's value-for-money, too. After all of that extensive research? We've found these seven stylish picks, that are the best armchairs money can buy right now.
And, if you're looking for more seating options to complete your room, take a look at our tried-and-tested best sofas buying guide, for more seat selections.
The best armchairs – 7 options
Why you can trust Real Homes Our expert reviewers spend hours testing and comparing products and services so you can choose the best for you. Find out more about how we test.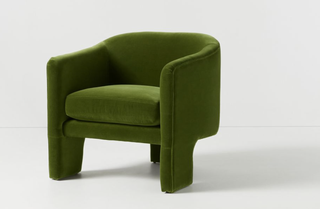 First on our list: the Anthropologie's Effie Tripod Chair. Sure, the steep price might alarm some but trust us, it's worth every penny.
Style
Our style might change over time, but when it comes to this chair? It's eternally classic. Available in dozens of filter fabrics, buyers can have the chance to customize this chair to their liking. Opt to use one of the current fabric swatches on hand, or go ahead and order a custom swatch (for an additional fee). Either way, it'll be both classic and chic for years to come.
Oh, and if that wasn't enough? Let's also factor in the leg colors! Shoppers have complete control over whether they have a darker or lighter base, too.
Suitable for small spaces
If you're looking for a chair that can easily transition in-and-out of any room, and fit into those smaller spaces, as well? You've met your match. This luxurious chair measures 29.75" x width: 30.25" x depth: 28.25" and is endlessly versatile. Add it to your bedroom or use it in your den or office.
Comfortable build
Last but not least, let's discuss comfort. This chair features a removable seat cushion built from a high-resiliency foam core cushion. It's wrapped in soft fiber padding and a hypoallergenic blend of down and feathers to ensure the plushest seat ever.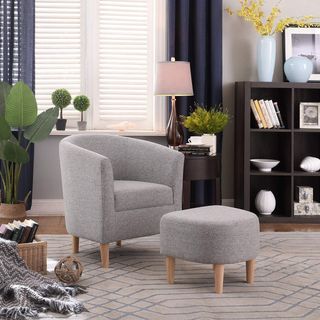 The DAZONE Modern Accent Chair is the 2-in-1 option you should not overlook when searching for one of the best armchairs.
Style
For anyone looking for comfort, this chair ranks high on our list. Coming with both an ottoman and a chair, this option will be the focal point of every room.
Coming in a yellow or a gray, this chair might bring a bold perspective to any room, but it'll do so without being distracting. In fact, most reviewers deemed it "beautiful" and the "perfect pop of color" in any room.
Features a matching storage bench
This chair measures 27"*25.5"*28.5"H and can fit in just about any space. Now, if you're wondering where the matching ottoman measures? Not to worry! That measures in at 18"*16.5"*14.5"H, and will cause no trouble space-wise. So many reviewers loved how it "fits into tight spaces" and was perfect for kicking their feet up after a long day (without having to buy a sofa!).
Comfortable build
If you're someone who's looking for affordable comfort? Look no further. This barrel chair is perfect for anyone in need of support from head to toe.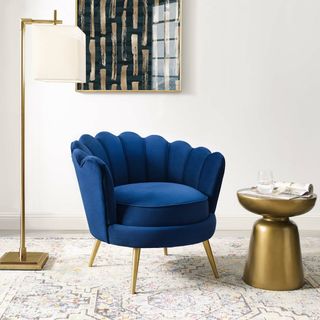 Are you someone who's looking for an oversized yet dramatic look? Then let us introduce you to the Mercer 41 Demers Barrel Chair that incorporates a stunning scalloped design.
Style:
This scalloped chair is the most stunning accent chair we've seen in a while. Available in four sensational shades – gray, pink, navy blue, and turquoise – the velvet-like, tufted material will make a real impact.
It's a statement piece
With vertical tufting and a wave-inspired design, this chair is not only stylish but impactful. It measures 18.5'' H x 21.5'' W x 23.5'' D and includes a soft, stain-resistant performance velvet upholstery, covering dense foam padding and an individually wrapped spring coil system.
Comfortable build
This near-perfectly reviewed armchair is clearly a popular choice. Many of the thousands of reviews have deemed this chair "posh, pretty and polished," whereas others go all-in on how "comfortable" it is. But if you're still on the fence? The padded inserts are so next-level you'll be wondering why you ever were debating it.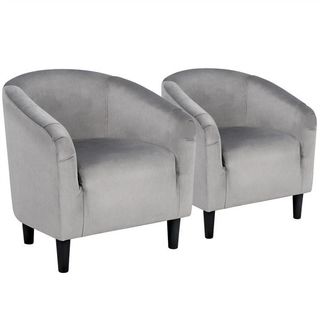 Take the untraditional route with this set of two Easyfashion Velvet Tub Club Accent Barrel Arm Chairs. It scored a near-perfect rating among reviewers, and the 2-for-1 price, can't be beaten.
Style
Want to make an impact on any section of your home? Within seconds these luxurious velour chairs will do just that. These chairs feature a soft-to-touch material that's so buttery-smooth you won't want to get up. Oh, and if you're worried that these chairs might be a tad too "ultra-glam" for you? Think again. Besides the super soft fabric, these chairs find balance courtesy of plywood legs. It's the modern detailing that makes these chairs ideal for any home or aesthetic.
Great price
If you're looking for the most bang for your budget, these chairs are the real deal. Straying from traditional accent chairs – which ballpark in the same price range – this option provides shoppers with two armchairs for the price of one.
Comfortable build
Both chairs within this set offer not only comfort, but supreme comfort. With a solid back and removable padded seat, these chairs will become an essential item in any room or breakfast nook – plus, with a weight limit of 300-pounds, they're perfect for any age (or weight!).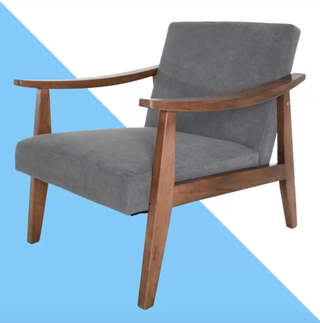 If you love an outdoor lounge chair, the Hashtag Home Fletcher Armchair will rank high on your list of the best armchairs.
Style
Much like your favorite outdoor recliner or chair, this choice also offers a "relaxed" vibe but goes that bit further; it's much more sophisticated and suitable for indoor use. It turns to velvet to incorporate an element of elegance while also incorporating solid wood legs to feature mid-century charm.
Factor in the dozens of sensational shades to chose from – with fan favorites being the azure blue and charcoal gray – this spectacular seat will rank high on many's lists.
What's special?
Aside from the fact that this iconic, modern style will instantly draw attention wherever it is? This chair will also be perfect for any room, thanks to its convenient size. Measuring in at 30'' H x 27.5'' W x 33'' D, and featuring an exposed frame that showcases curved arms, straight sides, and flared tapered legs.
Factor in the polyester upholstery and the detailed stitching on the backrest? It will be impossible not to love any of this chair's carefully tailored touches!
Comfortable build
Lastly, if you are left wondering just how comfortable this chair is, you are in for a treat. Designed with sinuous springs and foam, you will experience plenty of comfort and support.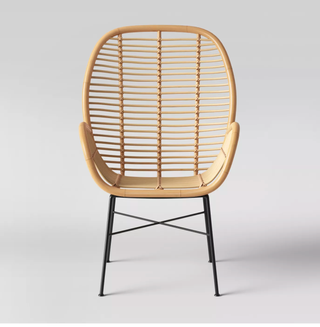 Now, are you someone who wants your armchair to be less big and bulky, and more elegant and streamlined? The Opalhouse Lily Rattan Arm Chair is perfect for you.
Style
We love how appropriate this see-through frame is when used in any room. It instantly adds an element of airy charm to any room, which is sure to be eye-catching and alluring, too. Plus, we love just how versatile this piece can be. Leave it bare for a minimalist look, or elevate it with accent pillows for a bolder approach.
Comfortable build
Last but not least, it's crucial to discuss the comfort level this rattan frame chair offers. Understandably, many of you might be a bit skeptical about just how comfortable this piece might be – and we're here to put your mind at ease. This exposed chair ranks high in the comfort level amongst many reviewers. With most deeming this "the percent accent chair," that they "couldn't stop sitting on,".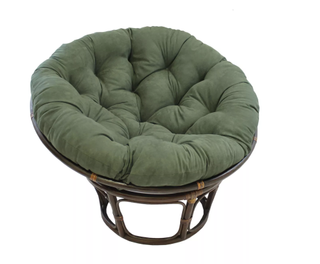 Rounding out our list of the best armchairs is the International Caravan 42" Rattan Papasan Chair with Micro Suede Cushion Chair.
Style:
We love how this chair takes the road less traveled and is far less traditional than the other options we've listed. Instead, this armchair has found the balance between out-of-the-box and easy-to-use. It's both modern and comfortable; and ideal for any young adult or teen moving into their dormitory for the first time. The micro-suede padded seat not only offers up a relaxed feel but is also easy-clean.
Comfortable build
Of all the chairs we've reviewed, this chair is by far the most comfortable (and versatile). It measures 35"x42"x21" and can not only work in any dorm or living room but due to its comfortable microsuede pad? You'll want to find a way to implement it everywhere and anywhere.
It's soft like our favorite chenille blanket, but thanks to the rustic rattan frame and walnut finish, it offers up the right amount of necessary support, too. It's ideal for someone looking to sit in this chair for long periods. You can do so without any fear or back or neck problems – from lack of support – later on.
How to select the best armchair
Consider what kind of use it will get
Even the best armchairs are prone to all kinds of wear and tear over time, which is why you should upgrade it when you notice yours has officially run its course.
It's imperative to understand your armchair's purpose if you're looking for a new one. If your main aim is longevity for example, you will need to opt for something with extra-seating pads, and those come at a steeper price. Or, you might be looking for your chair to be more of a decorative item, in which case, you won't mind if it's slightly less comfortable.
Other factors to consider? Do you have kids or pets that will use (or ruin) this investment? If either of those two things applies to you, you'll then need to consider the fabric, too.
How will it fit your living room layout?
Another aspect to consider is the size. No one wants to make an investment in a chair and then come to find out that it doesn't fit into your room. Our advice? Make sure to measure the intended area you're looking to store the chair. The room layout is an essential (yet often overlooked) factor.
How does it look?
Last but certainly not least, let's talk about how you want your chair to look. Chairs can pull a room together just as quickly as they can pull one apart, so finding one that goes with your intended color scheme or theme is important, too.
But perhaps you don't know what type of "look" you're going for here? Not an issue. Within our guide, you'll find a wide range of styles and pieces to see what aesthetic best serves you (and your room). From modern to glam, there's a piece for every preference.