Looking to liven up your living room ideas? From lounging about after a long day, to sharing nibbles and gossip with friendly faces, the front room is where it all goes down – usually sat down to be precise! What better space to treat to a stunning update, be that a total remodel or seasonal refresh, with the latest trends?
From speedy spring revamps with color pops from cushions and throws, to bigger transformations that impress with trendy furniture and cool layouts, there's a fashionable home fix for small living room ideas and large living room spaces alike, no matter what your budget or style preference.
These living room decor ideas are sure to inspire, and even if you don't replicate the room like-for-like, there's something you can pick out and play about with as part of your next project.
Living room ideas that'll make you want to stay in
Is your seating arrangement in need of a good old plump-up? Does your lighting design glare instead of glow? Get your living room design prowess on with simple changes that will elevate your space from being lived in, to being loved to be lived in.
Simon Morris, marketing manager at The Radiator Company, comments: 'Living rooms can sometimes have limited proportions but are some of the busiest places in our homes. We need the space to look great, but also ask a lot from them. A bit of thoughtful planning can help the space feel more elegant from a decorating standpoint, but it's also worth considering how we can also make our living rooms work harder from a practical perspective.'
Living rooms are by far the easiest rooms to redecorate. You can even do it yourself in just a weekend, making them by far the cheapest rooms to revamp too. Whether you're working with a small, big, or downright awkward living room, there are endless lounge decor tips and tricks to switch things up.
1. Make the most of sloping ceilings and alcoves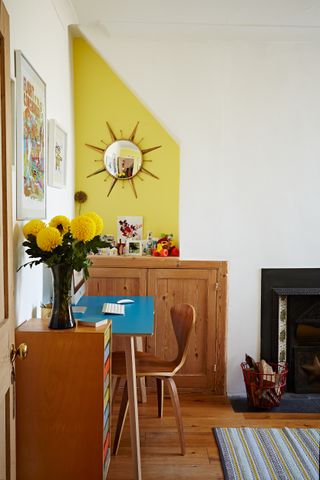 'If there's a part in your house that might look unusable because of the weird shape of the ceiling above it, don't give up hope, as these corners can still be used both practically and aesthetically,' says Josh Blackburn, renovation expert, Evolving Home
'You could add a small chest to improve even further your storage space, or you can use it as a decorative space, creating feature ornaments or beauty spots to tie the room together.'
Just like our own personalities and quirks, work with awkward living room layouts and not against them, to create a unique space that doesn't look like everyone else's blueprint build. And if you're looking to sell your property, make your alcove ideas and recesses really shine by making them a statement feature in your front room.
2. Unite your scheme with a hero rug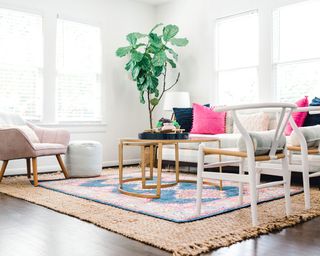 Add texture underfoot, whilst zoning a seating area or relaxation corner with one of the best rug designs that unites your scheme with an accent color. As shown here, try layering a smaller patterned design over a larger natural textured rug for an added layer (quite literally) of tactility.
Richard Petrie, home expert at Thomas Sanderson, comments: 'If you don't have the budget for whole new flooring, laying a new rug can add an extra layer of coziness and style to your living room without breaking the bank,'
'Choose a rug boasting a patterned design as when paired with a minimalistic style it will bring out accent colors and add a touch of playfulness.'
Jodie Hatton, residential design manager at British heritage carpet company Brintons, explains: 'Your carpet is the perfect place to start when creating a cozy living space. The texture of wool underfoot coupled with warm color or welcoming pattern makes it the perfect base upon which to shape a comfortable and inviting interior scheme.'
3. Upcycle a plain bookshelf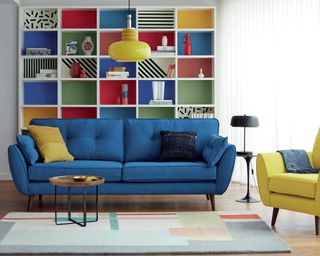 If neutral schemes make your creative side go to sleep, look to colorful living room ideas to awaken and energize the space. Paying homage to a Bauhaus-inspired palette we love this bold red, yellow and blue scheme made possible with a white bookshelf decorated with a bit of paint, stencils and stickers. Grab a cheap piece of furniture on eBay or acquire something on Facebook Marketplace for a super affordable and thrifty piece of furniture that looks designer.
4. Embrace the simplicity of Scandi living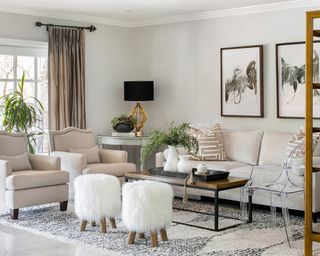 A key living room trend and firm favorite on Instagram, with a cucumber cool just under five million mentions (and counting), the Scandi aesthetic effortlessly fuses minimalism with coziness to create a functional yet nurturing home environment. To create a Scandilicious living space, think bright and breezy with natural materials, cozy textiles, and simplified shapes, like the delectable living room furniture collection at Design Within Reach.
Sam Baldry, head of design at Swoon, comments: 'We're seeing a huge rise in demand in Scandinavian style pieces at the moment. For me, the combination of light and airy, and warm and cozy is the perfect blend to create a homely yet chic interior. To modernize your Scandi living room design even further, adding small details of brass, such as lamps, door handles, and light switches really bring another layer of character to your space.'
She continues: 'On Instagram, users are currently enjoying the combination of crisp white walls, white marble, light wood, and muted greens. Creating an almost monochromatic, airy display in any space forms a peaceful atmosphere, which is a key marker of the Scandinavian style,'
'Incorporating white marble and muted greens into your living room interior creates a modified version of Scandinavian design, modernizing materials and trending tones yet still staying true to its core values.'
5. Mix-up textures to create an uber-tactile living space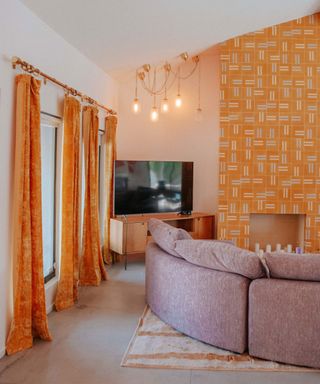 Elevate your space into a luxe sanctuary of comfort with a variety of different materials and textures across furniture, furnishings, textiles, and window treatment ideas. Add indulgent interest to the touch and eye with velvet drapes, the best sofa adorned with cushions and throws in mixed cotton, relaxed linens and velvets, and a gorgeously fluffy, handmade rug. Unite the textures in a shared hue or harmonized, tonal scheme.
Kick-start your living room update by creating your dream custom curtains and drapes with The Drape's gorgeous selection of textured designs.
Talking of this bright delight living room design, Angela Boswell, co-founder of The Drape, comments: 'We are LOVING the bright colors and textures in this living room. The curtains are in a lovely honey gold color. The textured velvet has the perfect combination of matte and luster to make everything look sunny and fresh.'
6. Invite nature indoors with biophilic designs that relax and revive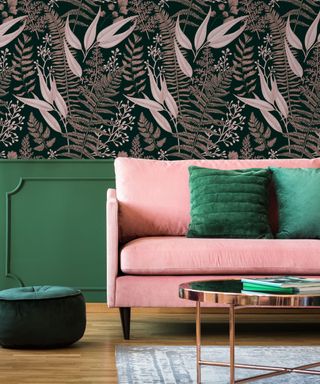 Let natural inspirations and raw materials coax your space into a mindful oasis, rooted in authenticity… Your indoor jungle of house plants will feel right at home!
Lust Home's brand manager, Chelsea Clark, comments: 'Nature plays a pivotal role in promoting relaxation, as well as reducing stress and anxiety. Bringing the outdoors in, introduce real or faux plants or choose a wallpaper print that focuses on botanicals, promoting a relaxing and mindful mood as soon as you enter the space.'
Tania Richardson, co-founder, and CEO of Tomas Pearce Interior Design, comments: 'Organic modern design, inspired by nature, has been linked with reducing stress, improving our cognitive well-being and creativity, and inducing a more harmonious living environment. With more time spent at home this past year, there has been a significant shift in the design world - especially in luxury - moving towards biophilic design.
She continues: 'By incorporating more organic materials and natural textures like wood, stone, and ceradd mic; as well earthy elements like plants, water, and fire; design can create spaces that are more thoughtful and relaxing and promote a more balanced mindset. To reconnect with nature, large windows are also becoming increasingly popular in design because they invite nature into a space and can be an extension of its interior design.'
And Blackburn concurs. He says: 'The connection to the garden we're suggesting is not a patio (although that's not a bad idea either), but rather the other way around, and have the garden reach into your home subtly,'
'Try placing plants, big or small, anywhere it might bring joy to create a sense of wilderness around you, at the same time improving your mental health and your daily mood.'
Try one of Milton & King's fresh botanical wallpaper designs as a backdrop for real plant life, creating depth and drama.
7. Unleash an artful personality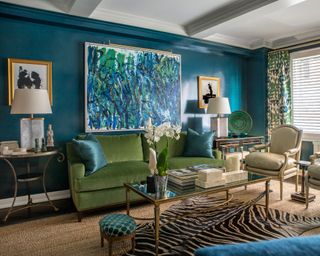 Create a living space bursting with personality with expressive artwork that transforms walls into a colorful narrative. Learn how to hang a picture and go large-scale with a single statement piece and centralize behind your sofa for dynamic impact, or try a gallery wall idea with an eye-catching display of curated works in different styles and sizes.
We love Society6's versatile and vast collection of affordable, design-led art prints, created by a community of indie artists. Mix and match until your heart's (or eyes') content.
'Art adds character and a sense of personality to a space that you can't always fully achieve through materials and colors in a room. A room without art is a room unfinished. Your wall should be the canvas for your art,' says Camilla Clarke, creative director at Albion Nord.
8. Turn on the ambiance with strategic lighting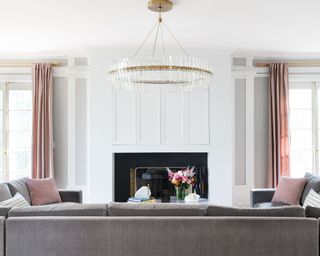 Multifunctional living rooms serve many purposes, but ultimately they should be escapist retreats in which to relax and spend quality time with loved ones. And your lighting design is paramount to creating the ideal atmosphere. Illuminate living room lighting ideas and combine task and ambient designs to affect the mood of your space as and when you need it, from dawn to dusk.
Richard Petrie, interior expert at Thomas Sanderson, comments: 'Clever lighting will leave your living room feeling transformed, turning the room into warm and cozy space. Likewise, your lighting choices can also add aesthetic appeal. Try adding pretty table lamps to brighten up gloomy corners. You can add character and modernize every room through smart lighting choices.'
Camilla Clarke, creative director at Albion Nord, comments: 'Keep the lighting as soft and warm as possible, use wall lights or table lamps where possible and avoid too many spotlights making it feel stark and imposing in a space that's purpose is for relaxation.'

While Blackburn says: 'An extremely simple way to create a magical atmosphere is to illuminate it with natural light.'
'Installing a window is as possible as the next project and by doing so you can elevate the environment, as sunlight peeking in in the morning, as well as during golden hour is one of the best feelings one can create.'
'Skylights can be a great addition too, and if none of this is possible, even artificial light placed in the right way can create the most welcoming atmosphere.'
9. Zone your multifunctional space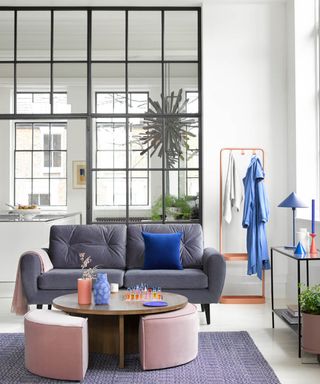 Modern living room ideas have become hives of activity for anything from relaxing, to socializing, Zoom workouts, mindful meditations, and home working. So that you can separate the 'task at hand,' try space zoning by creating dedicated areas for each activity.
Turn a corner into a tech-free spot to practice mindfulness; define a home working space with a color block 'border' on the wall, or use a room divider to anchor a social set-up.
Elaine Penhaul, interiors expert and owner of national home staging company, Lemon and Lime Interiors, comments: The space should always showcase the dynamic of the room, for instance, an open plan living room could have a cozy corner with a convertible shelving unit that is perfectly set up with functional foldable desk and seating set up for the user when working-from-home which is much more common these days.
Lust Home's brand manager, Chelsea Clark, comments on space zoning: 'You don't need to dedicate an entire room to mindfulness, perhaps it's a sunny corner in a living room or bedroom. It is important not to choose a space where you work, watch TV or do your life admin.'
'Consider creating zones for different activities, yoga, meditation, and reading for example. Decorate these areas only, with either a quick lick of paint or wallpaper panel so you can truly immerse yourself in these activities as soon as you enter the space.'
10. Create attractive displays with exposed shelving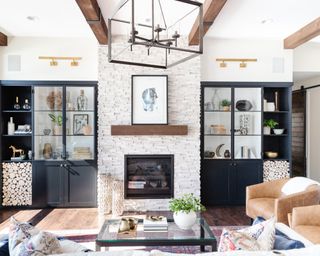 If you're in the mood for baring all, partner your open plan living room design with open shelving ideas. Add a captivating focal point or two, with cabinets of curated curiosities.
Shown here, combination dressers frame either side of the fireplace, making an undeniably impactful feature, showcasing styled shelfies and decorative logs. Open shelving gives smaller decorative objects a platform to dazzle, whilst adding mixed details, layered depth, and interest to the overall aesthetic.
11. Add spicy warmth with earthy accents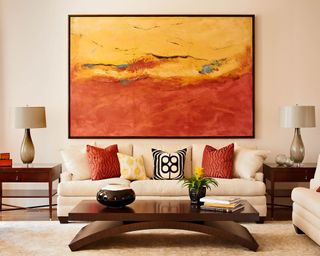 Inject energy into your scheme and get toasty with cosseting shades including sun-baked terracotta, on-trend orange, and toasted saffron. Go bold with saturated, ripe shades on walls and furniture, or for a gentler, simmering approach, pepper a neutral foundation with zesty accents across soft accessories, decorative homeware, and wall art.
Tania Richardson, co-founder, and CEO of Tomas Pearce Interior Design, comments: 'Shifting from monochromatic, cool tones to warm and earthy colors is also a trend that has emerged and will continue to grow this coming year. By adding a warmer color palette, designers can enhance the biophilic vibes and bring the natural colors of the outdoors to indoor spaces.'
12. Create a vivid visual experience with a projector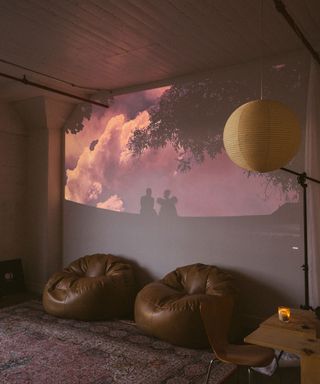 Transform your living area into an experiential space that maxes out all the senses with a projector screen in lieu of a bulky, domineering TV. A fantastic modern living room idea in small and open-plan interiors that love to entertain, whilst maintaining an uncluttered aesthetic, a discreet design, like the premium projectors from Projectorscreen.com, stays neatly out of sight until unraveled for movie marathons and must-see boxset binges.
Design studio, Metahaiku, run by video director Davy Greenberg and creative consultant Amy Mazius, advises: 'Consider a 4K projector rather than a traditional TV. It frees up more wall space and allows you to transform your space into a dreamscape while watching your favorite content.'
But, if you are still weighing up the decision, read our projector vs TV guide to gauge which'll be most suitable for your space. It's a great option to consider if you're wondering how to build a home cinema room.
13. Add diversity to a living room design with subtle pattern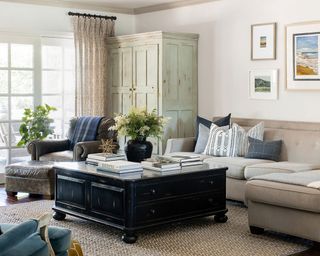 Add subtle layers of interest to a serene living room scheme with quiet patterns in neutrals that nurture without vying for attention.
Introduce another dimension to seating with H&M Home's multi-textured designs. The Tasseled cushion cover in light beige features a front section patterned with braided, tasselled-end decorations - chic yet snuggly!
Ottalie Stride, creative director at Albion Nord, comments: 'In our eyes, colors should always appear natural in order to attain a sense of calm and we tend to focus on neutral, earthy palettes which don't date. Often, we substitute texture for pattern as this is again a way of bringing diversity to a scheme in a more considered, understated manner.'
'When we do use pattern, we predominantly look to historical design houses that have stood the test of time such as Fortuny or in more contemporary instances use small scale, geometric patterns as accents to lift the scheme.'
14. Plan your living room layout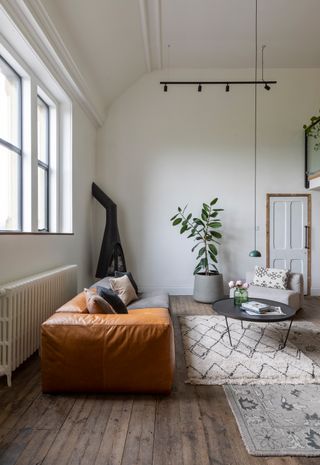 Before we get into all those lovely living room furnishings, let's just focus on the practical stuff quickly like living room layout ideas. Whether you are starting totally from scratch in a new room or want to update your existing space, deciding on a layout can dictate your decor choices.
There's this tendency when it comes to living rooms to push everything up against walls, stick a DIY coffee table in the middle and make sure everything is angled towards the TV. But we say get more creative than that, pull furniture away from walls, give it some breathing space and you'll usually find it makes the room feel airier.
15. Let your dream sofa decide the color scheme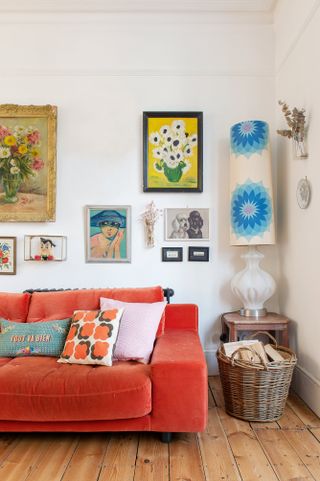 After the layout, you're going to want to start thinking colors. If you are unsure to start, we'd always say base a scheme around the largest piece of furniture in the room – a dream sofa.
If you've always wanted a colorful sofa, use that as the basis for the rest of the room. We love this velvet coral number, and despite it being a bold choice it doesn't overwhelm the room because the floors and walls have been kept fresh and neutral, with just pops of color from the room's accessories.
16. Turn on moody lighting with lamps and wall lights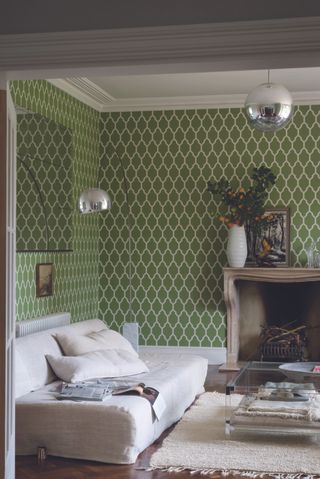 You might think lighting can come later with your living room decor, but in fact, you should be thinking about your lighting scheme early on. Good lighting can really make a living room so it's worth taking some time to plan what lighting you need in your space and where it's going to work in your layout.
'Living rooms, more than any other space within the home, are the place where you want to promote a sense of familiarity, relaxation, and coziness – all of which can be enhanced by how you use lighting.' explains Rohan Blacker, founder of Pooky.com.
'Rather than strong overhead lights, try using more localized lamps to highlight a particular part of the room, use a dimmer to give you options for different occasions. Living room wall lights are a great option in a living room as they are unobtrusive, pretty and very efficient with space if you aren't spoiled for it. The more sources of light you have, the more moods you can create. Clustering a few small lamps is a great way to add impact to an alcove or mantelpiece.'
Create a layered lighting scheme, to make your space feel extra inviting with Lightology's range of wall scones, adjustable reading lights, and display lights.
17. Disguise your TV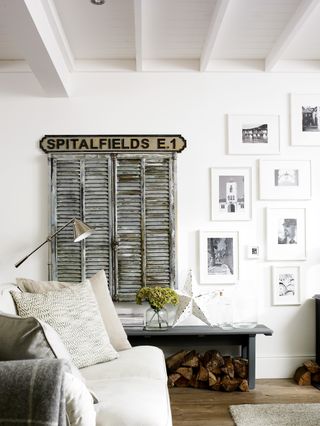 How to hide a TV is a question we get asked all the time. And we get it, you want a TV to binge-watch Bridgerton (yes, again) but you don't like the fact there is this big black hole in the middle of your living room. If tech kills the vibe. there are plenty of living room TV ideas to disguise it, ranging from painting the wall behind in dark color to doing something like this where you hide the TV behind shutters.
18. Pick multifunctional furniture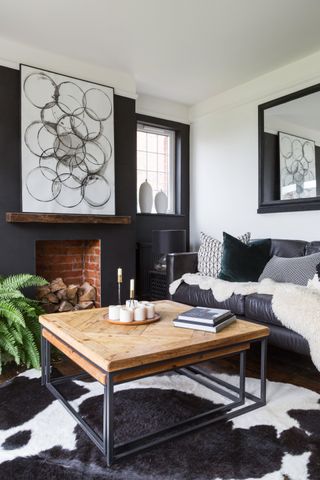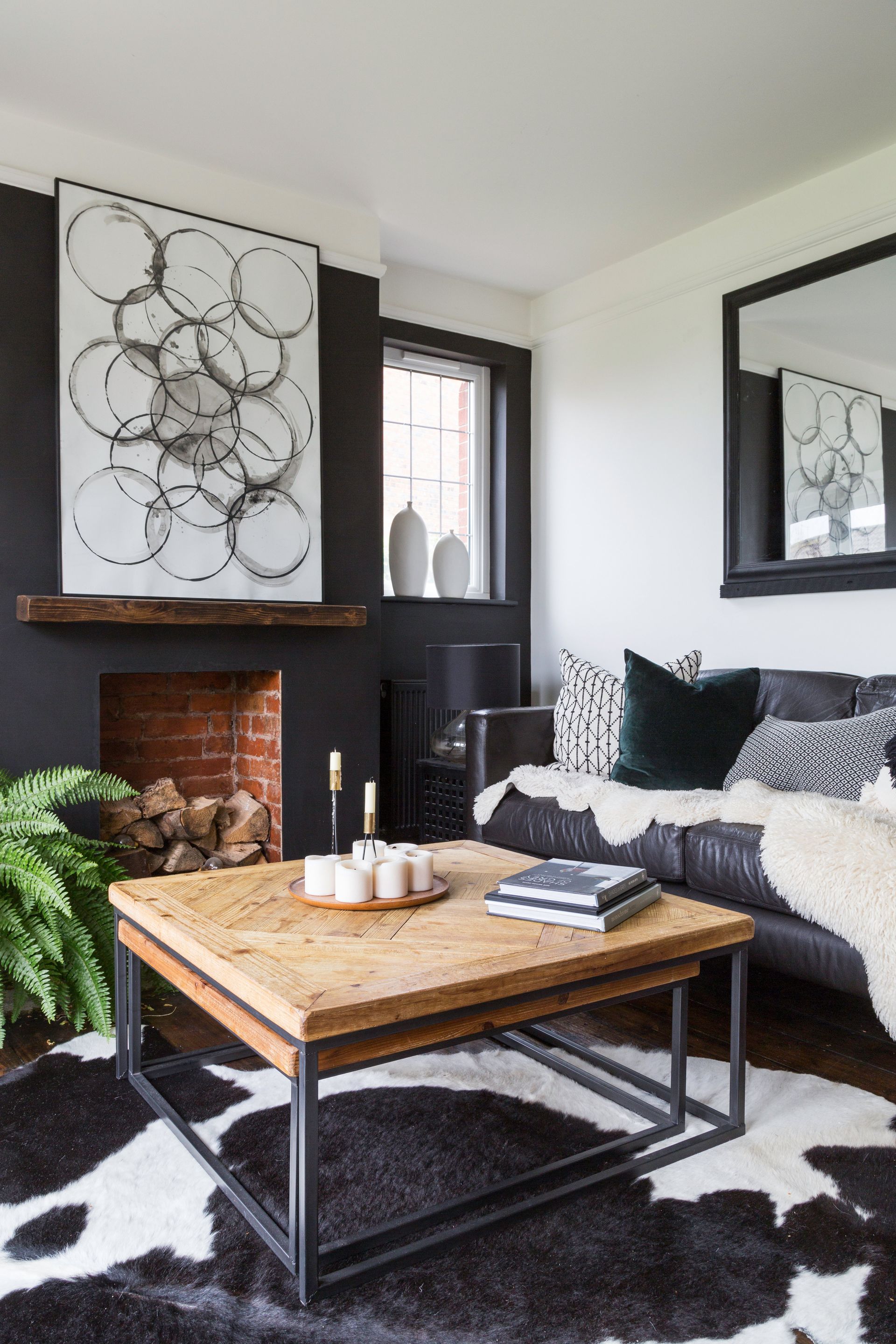 You never want a living room to feel too full of furniture, so it's important to know how to choose living room furniture to pick pieces that are really functional. Furniture that doubles up as something else like an ottoman or a stool is ideal as it will save you space.
Nested furniture too, like these lovely coffee tables in this living room, are great for adding extra surface space when you need it but don't take up the entire room.
19. Don't shy away from a sectional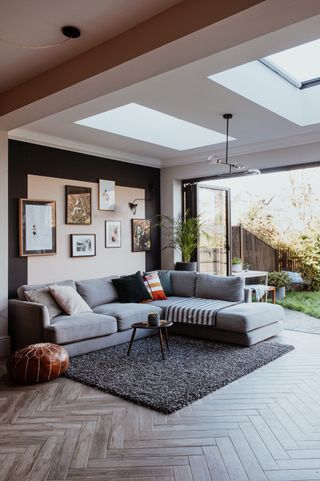 Thank goodness, large sofas are making a comeback. For a while, it felt like a sofa was only considered trendy if it had a slimline frame and a button back, neither of which lend themselves to lounging. But it would seem after almost a year spent in our homes, comfort rules all and sectional sofas are back.
'Having spent prolonged periods of time at home with the whole family, we've certainly seen a shift away from occasional seating, to much more expansive comfort. Large scale corner formats and softer fillings are taking center stage, now that we're lounging more than ever.' explains Ruth Wassermann, design director at MADE.COM.
'These larger, softer sofas are just one example of how people are looking to create more calming and cocooning spaces within their homes. We've also seen a rise in demand for natural materials like linen, or textural boucles and corduroys, all of which add to the sense of sanctuary that we're all craving.'
20. Choose beige for a fresh update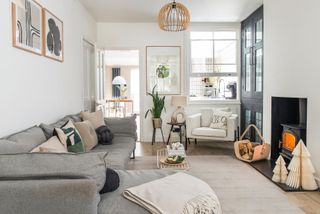 Yes, you read that right beige. It's everyone's favorite living room color at the moment and we are definitely up for giving this once-shunned hue a try. It's much warmer than white so creates a more inviting space but one that still feels fresh and bright.
Beige room ideas look lovely paired with white as a contrast and to bring in some cleaner tones, so try complementing beige soft furnishings with crisp white walls and a grey sofa for a soft but contemporary look.
21. Build in a window seat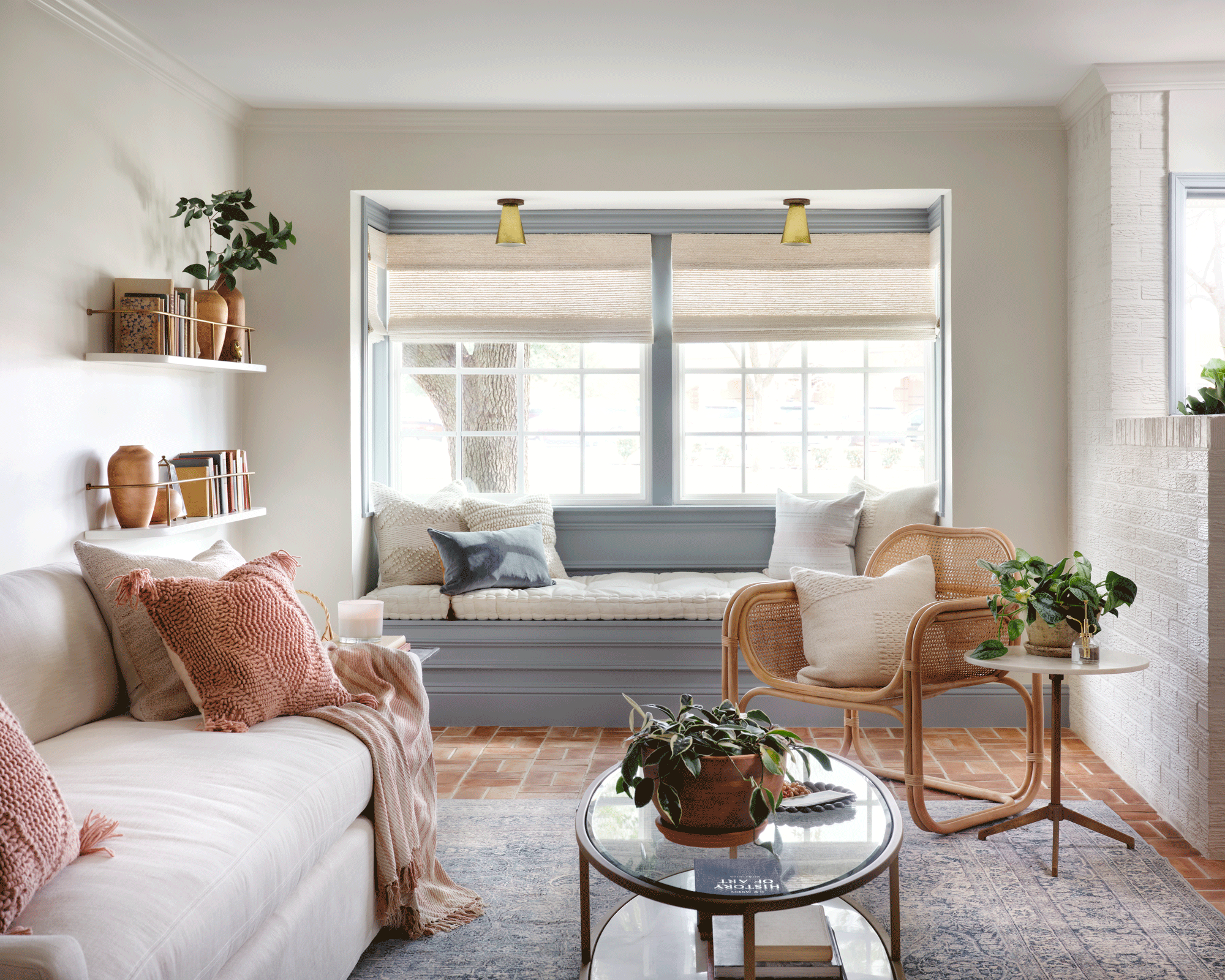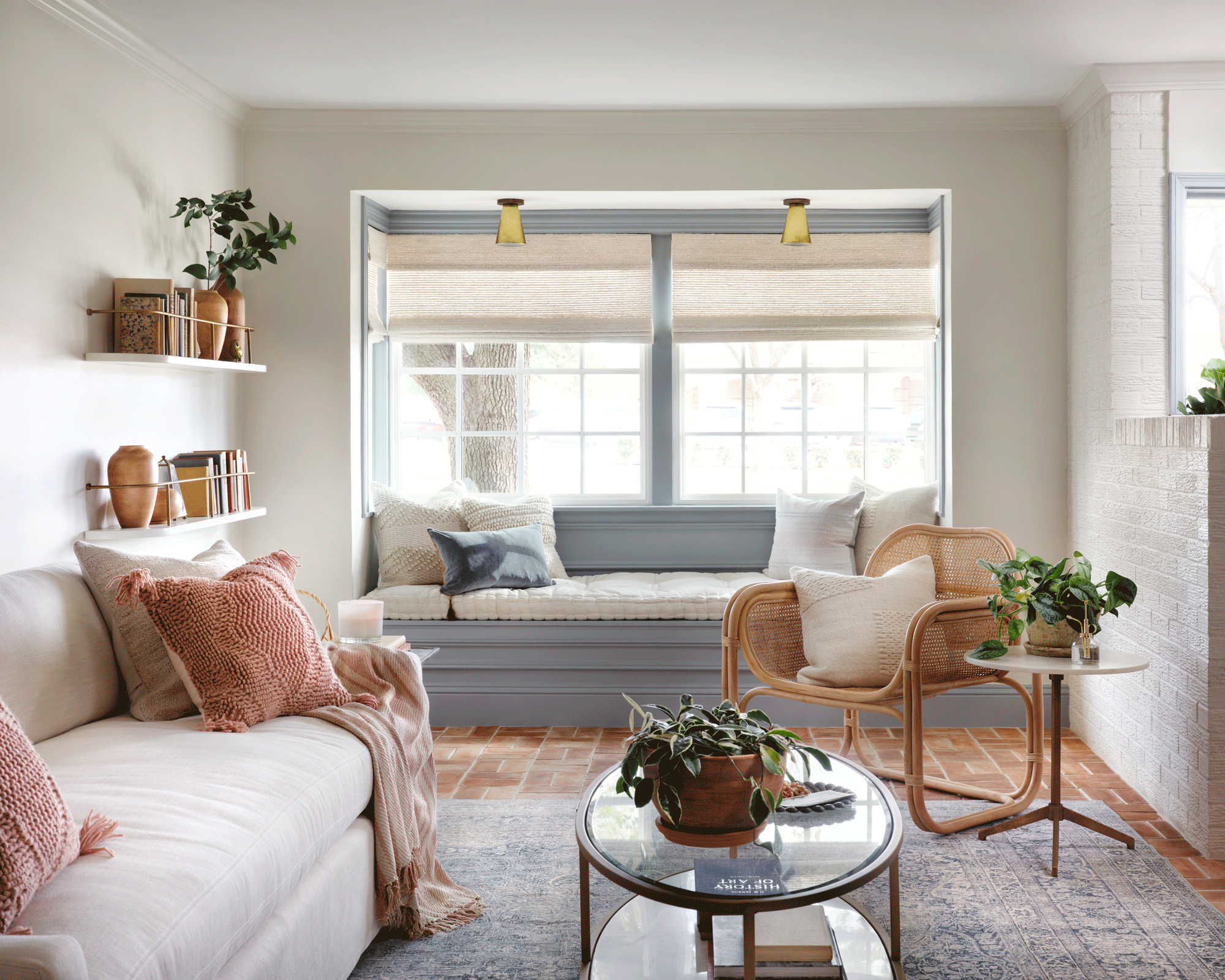 A window seat is a thing of beauty, so if you have the space to add one into your cozy living room, do so. Pop a cushion-covered bench into the nook of your window to create extra seating and storage too.
You could always fake the look if you don't want to invest in something built-in, a cleverly positioned armchair or love seat can create a really similar effect. If you're feeling extra creative, why not try a DIY bookshelf to complement the scene and create the ultimate tech-free, reading corner?
22. Pair modern interiors with a traditional space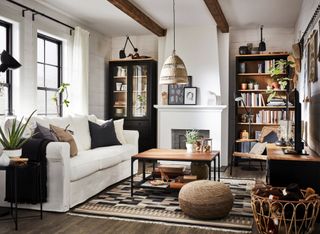 This rustic lounge, complete with gorgeous beams, is brought to life by modern living room additions. The white walls keep it bright, as does the choice of sofa, while the patterned rug alongside the mixture of textures and materials going on adds plenty of charisma for a contemporary mix.
23. Add character and calm with green walls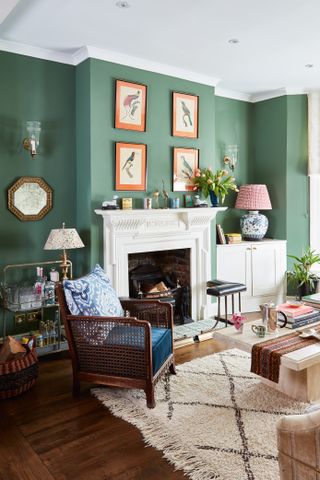 A really quick and easy way to decorate a living room is to get experimental with paint. And when we say 'experimental', we mean anything from painting the room a cleaner shade of white to creating a space-enhancing illusion with an imaginative ceiling idea. Whatever your style, paint can transform a room really quickly.
We love this green living room, it's such a cool, unusual color that looks fab with the pops of blue and orange. For a similar look, try Benjamin Moore's Dartsmouth Green – a timeless and elegant shade that will nurture your space in green serene.
'Often associated with health and rejuvenation, green paint is an uplifting choice for any room of the home. It's unmatched in its ability to bring life to any space, representing the balanced tones of nature and promoting a feeling of wellness and vigor.' says Patrick O'Donnell Farrow & Ball brand ambassador.
'If you're using green paint in your living room, pinks (another supremely popular shade) respond beautifully to green for accessories and accent choices, as do mid-tone brown-based neutrals, yellow-based neutrals, and blues.'
24. Nod to dark living room trends to add drama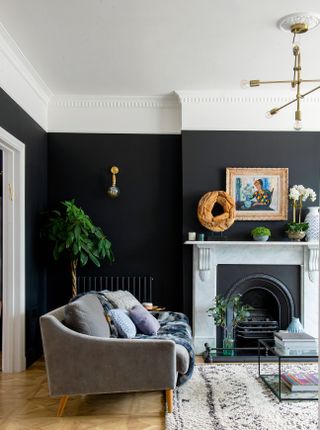 'The living room is a space for socializing and relaxing with family and friends and so it's important to opt for a color scheme that fits with the mood or atmosphere you're looking to create as well as establishing your signature style.' explains Helen Shaw, director at Benjamin Moore.
'Over the last year, we've seen homeowners opting for dark and moody colors in their living rooms to add ambiance and character to the room.'
You can always use a paint color trend to live out your dark living room dreams. And we love this black living room because, yes, the walls are very dark, but the room itself, doesn't feel dark at all – the light floors and bright high ceilings (made to look even higher because the dark color only goes up to the picture rail), keep the space light and airy.
25. Or keep things light with a Scandi-style living room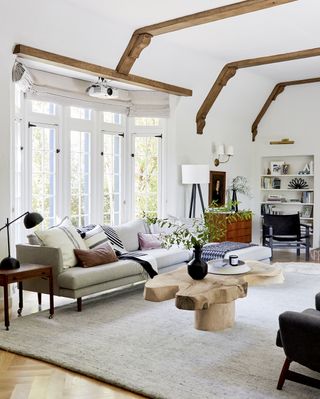 Not tempted by the dark side just yet? Keep things really light in your lounge with a white living room. You can add interest with textures rather than colors and different neutral hues. Obviously, this color palette is an especially great small living room idea as choosing lighter and brighter colors is only going to expand the space.
26. Mix and match contrasting colors alongside texture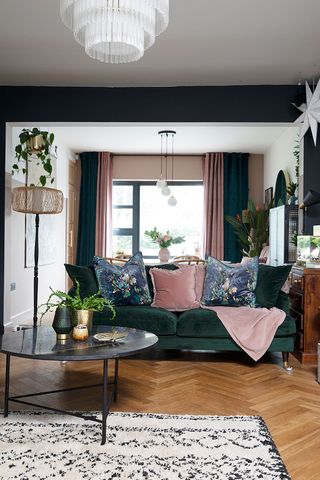 If you're after living room ideas that are instantly going to add something different to your space, choosing a couple of colors to repeat together is a great place to start.
We love the repetition of green and pink in this lounge decor as it draws the eye across the room, and, the colors work perfectly together, dispelling the myth that pink and green should never be seen.
27. Go for a soothing neutral scheme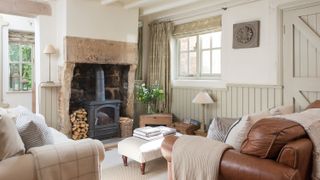 How lovely and cozy does this traditional living room look? It's an easy style to copy too, just keep everything very muted and soft. Eyeing up that wall paneling too? It is a nice way to add another pale color to the room and add to that rustic feel. You can actually DIY paneling if your home hasn't got any originals – next weekend project sorted.
28. Add texture with an exposed brick wall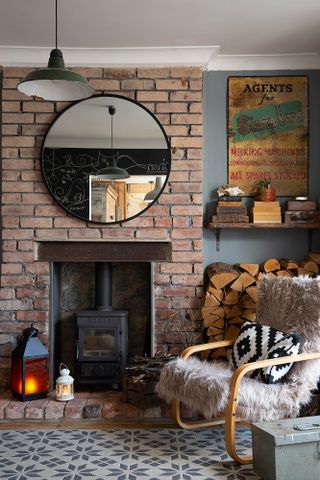 Now if you are lucky, you will find beautiful bricks under your plaster and it can be a straightforward, if not slightly messy, DIY project to expose them.
We love this living room look as it's cozy and nods a little to the industrial trend too. Check out how to create an exposed brick wall if you want a step-by-step.
29. Go for a simple, Mid-century modern living room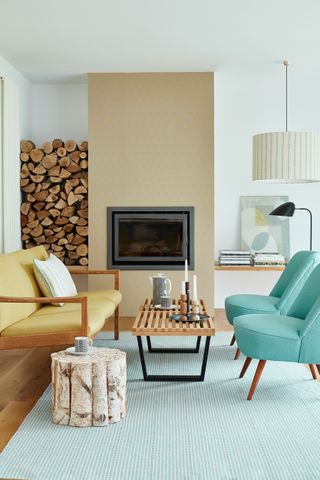 Another simple lounge look, what could be more inviting than mid-century modern living room ideas? From low-key furniture to clean-cut storage, muted colors, and really subtle decor, this is a trend that isn't going away in a hurry, and it is the perfect way to create a sophisticated space. In the mood for some shopping? Find your perfect fit for modern life with uncompromising furniture lovelies at Burrow.
30. Embrace the comeback of shabby chic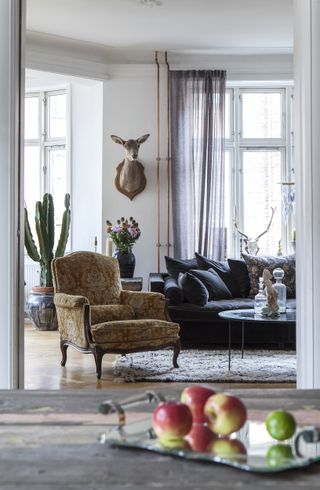 The old version of shabby chic living rooms was all about a very cluttered look with plenty of colors and patterns all crammed into one space. The new more contemporary version still has plenty of patterns and there's well-curated clutter too, it's just more simple and pared back. The big difference is the colors, which are lighter, brighter, and more neutral.
31. Add personality and color with a bookcase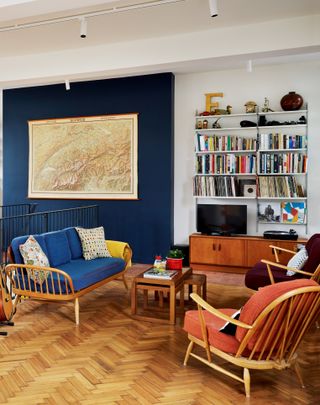 Most of us have books in our living rooms, but your bookcases can always be more than just a storage space if styled right. You don't need to pack every single book in because gaps are good.
And, if you make space for trinkets to be interwoven amongst the books, such as small pictures in decorative frames, boxes, plants, statues, and whatever other aesthetic pieces you may have tucked away, you'll add much more personality.
32. Decorate with houseplants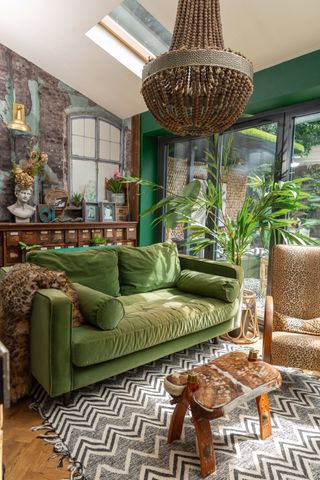 A quick and cheap living room idea to add life (literally) and greenery to your space is to add plenty of house plants. Invest in a mixture of small and large indoor plants and pop them in pretty DIY plant stands and then dot them around the room over shelves, sideboards, and mantlepieces.
The plants you choose will add to the style of your living room too – a palm will add an exotic boho feel, while a bonsai will add a polished and more structured look.
33. Create a coastal feel with shiplap paneling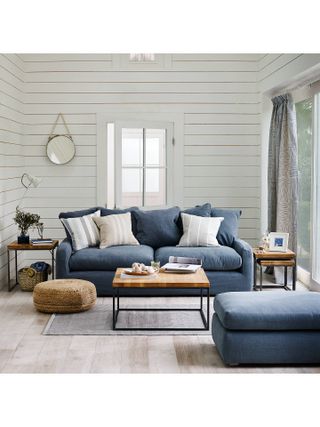 Make waves in your living space with the seacore trend, to create a subtle, nautical feel. Coastal interiors are such a classic, and the beachy look works so well in living room decor because it's clean and bright, but really inviting and cozy, too.
To get this look, start with a blank canvas, paint the whole room white, cream, or a lovely pale blue. Then you can add the details and accessories; soft muted colored furnishing, and add the occasional striped throw in for a proper coastal look.
34. Or DIY your own lounge wall paneling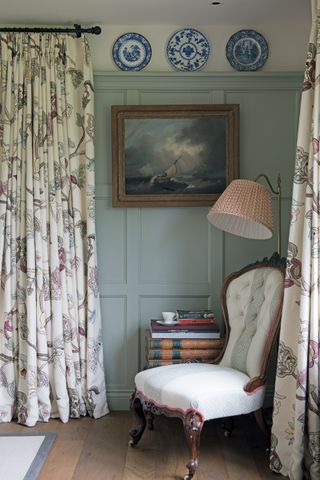 And if shiplap is a bit too beach house vibes for you, try DIY wall paneling using beading. This living room might have original paneling but you can achieve a very similar look, and give yourself a pat on the back for your carpentry prowess.
35. Mix modern furniture with vintage finds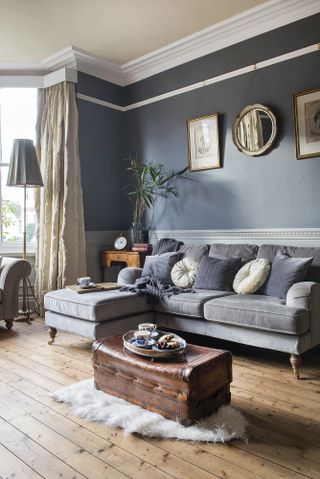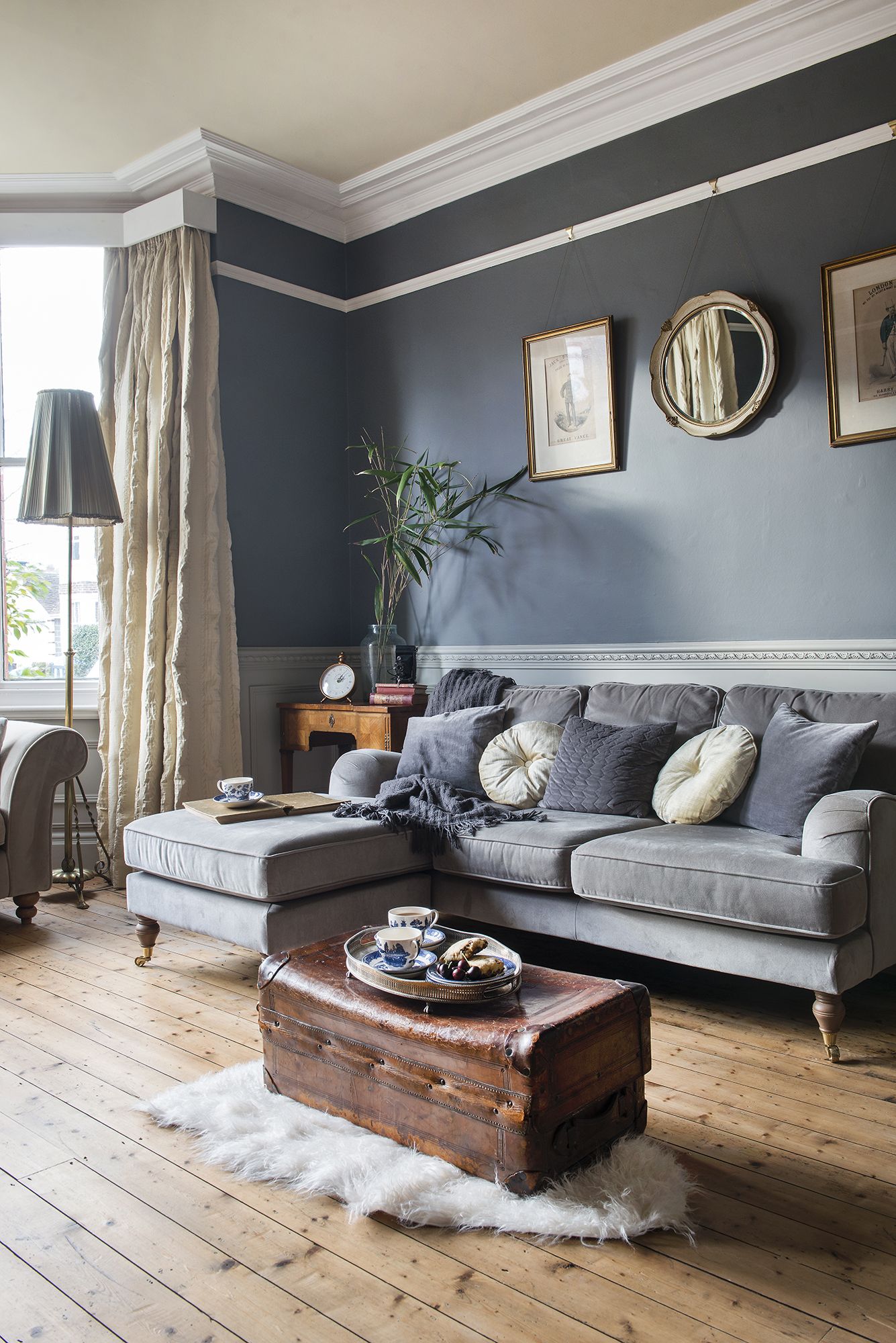 We love living room designs that mix old and new, it just makes them so much more... liveable. A velvet-upholstered 18th-century French chaise longue might look wonderful but you can't get comfy on that to binge watch Netflix, now can you?
So choosing new pieces, like a sofa, and mixing them with your original vintage finds, not only looks fab but is practical, too. (P.S. put the chaise longue in the hallway...).
36. Add color and pattern with a gallery wall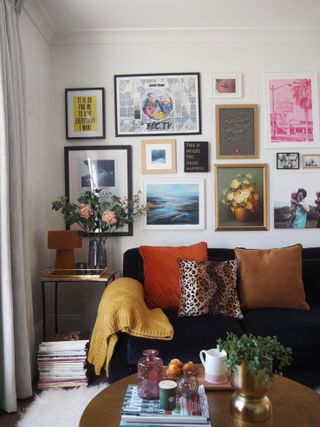 Framed wall decor ideas are a brilliant way to add personality, via color, pattern, and memories to your living room setting. Choose photo frames that complement the surrounding soft furnishings – especially if you're working on a white wall – and you'll really make this backdrop pop.
You don't need to spend hundreds on the best wall art either – Desenio and Amazon are two great online outlets where you can buy prints for cheap.
37. Or lean your pictures for a more laid-back look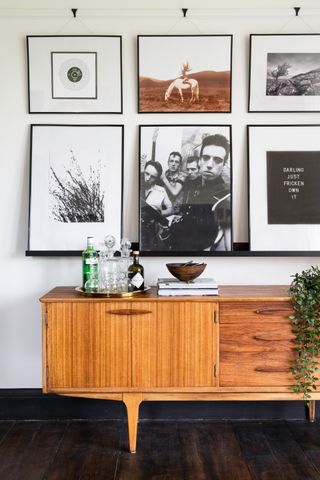 Decorating a living room needn't be hard work, especially if you're renting or really really stuck for time. And, leaning a combination of prints, paintings, and frames against a wall can have just as much impact.
Choose a color theme that's not too chaotic, pick frames of different sizes and leave some space between the pieces. Here, we like the combo of sepia and monochrome images which come to life with pops of green with the gin bottle and verdant foliage.
38. Add gilded touches for a luxury living room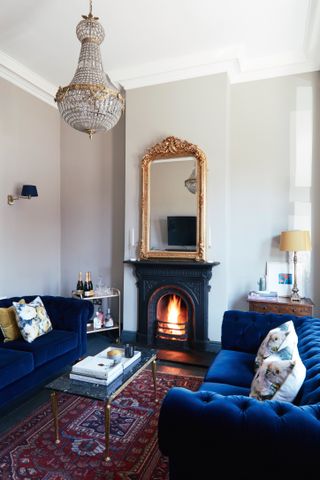 A luxury living room is always a joy to be in. The gilded mirror above the fireplace, similar in style to the Aireana Traditional Wall Mirror, from Wayfair; and the chandelier, make this lounge space feel elegant and sophisticated. Yes, you can go far with just a touch of gold or max out with a gold drinks trolley in the corner for a glam 1920s touch.
39. Hang a mirror to create the illusion of space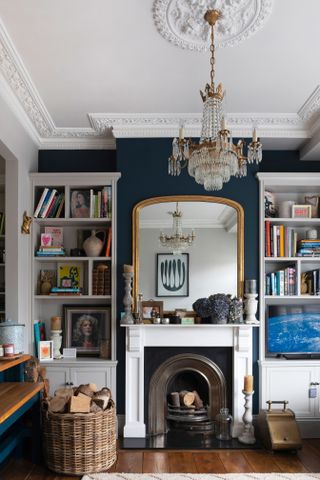 For a living room design that is going to add light and space, mirror ideas are always going to work. It may be interior design 101, but if you're looking for small living room ideas, or have a dark living room, adding a reflective surface is only going to help things by expanding the space and bringing in more light. Magic, we know.
40. Go big with beautiful living room storage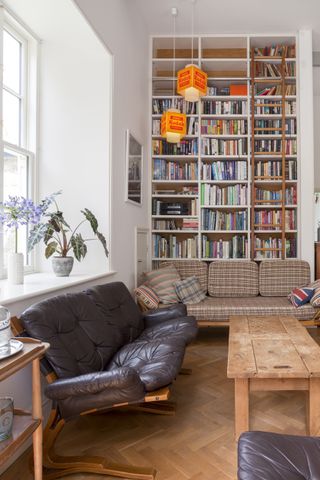 It might not be as fun as painting your living room, but getting your living room storage sorted can be just as effective. Totally decluttering your room will not only give you more space to get decorating, but it will also obviously make your living room feel bigger too as there won't be stuff covering every surface.
You can also make storage a key feature of your living room design. Floating shelves, bookcases, sideboards, all of these can be decorated beautifully. See, storage isn't so boring...
41. Layer texture to emphasize coziness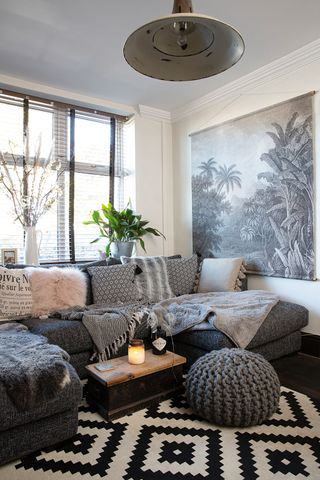 Before we go on to talk about the many amazing cozy living room ideas going on in this space, can we just appreciate the artful layering in this living room? This is how it's done, people.
Along with the masterful layering that adds so much coziness to this small living room, the mural also works towards adding texture. Murals are also a fab option if you are decorating a rented home because you can choose to hang a mural rather than paste it permanently to your wall. The use of a mural also expands the space as it stops an expanse of the white wall making the room feel boxy.
42. Create interest with a feature wall or mural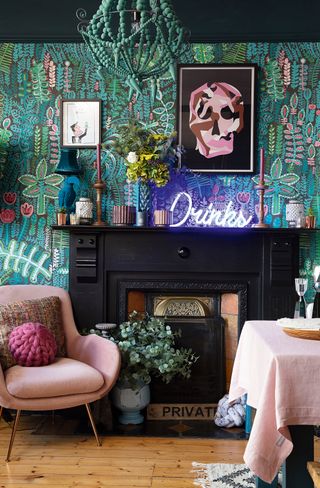 One up from wallpaper, a mural will create even more of a living room feature wall idea. Yes we know, murals don't always get the best rap but you can find some really cool ones that will add style to your room rather than a wall of snowy mountains or a New York skyline.
Renting? No problem! Ease every renter's commitment phobias with the best peel-and-stick wallpapers and add some neon lighting for a modern party house vibe.
43. Go chic with your living room window treatments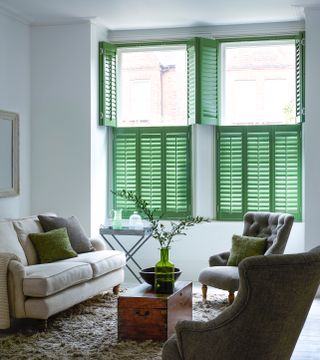 Choosing the best living room window dressing can be tricky because you want both the softness of curtains and the privacy of blinds – especially if your living room is at the front of the house. We have found what works best is a combination of the two. Layering a curtain over a blind. And fear not - learning how to measure for curtains is a doddle - we promise.
But, of course, we can never resist the look of shutters and if you are after a clean, simple look, cafe shutters like the ones above, are a great option for living rooms too. You can either go for a neutral shade so that it blends into the rest of the room, or go bold and make it a feature in its own right – these green ones from Shutterly Fabulous certain add some pizzazz to the place.
44. Use an area rug to lift a tired floor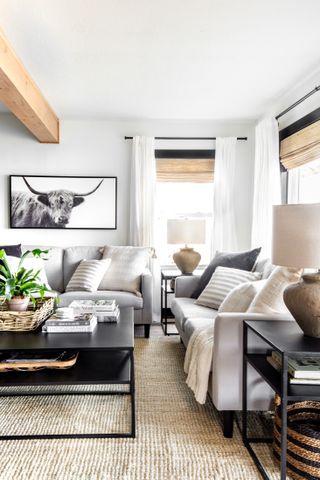 If your current carpet is looking a bit worse for wear, a super easy rectify is to cover it up with a space-changing living room rug idea. And we mean massive – pick an area rug that's going to go at least slightly under your furniture too so it looks almost like the rug is the carpet.
'A rug can add the perfect finishing touch to your living room,' says Jen and Mar from Interior Fox.
'It pulls the scheme together and helps to zone a space when working with a larger room. And don't be afraid to maximize: the bigger the rug, the better in our opinion. A large rug will create maximum comfort underfoot while adding warmth and texture to wooden floors.'
'Our best design tip: make sure to place the rug underneath the front of the sofa; this will bring your key furniture pieces together. To avoid the room feeling overcrowded, give the rug enough space from the wall, ensuring the sides of the floor are exposed.'
We think jute rugs look best as area rugs and they are great for layering too, so you can pop a patterned rug over the top to add some texture.
45. Pick versatile seating options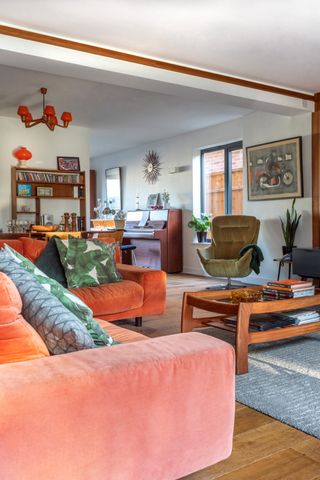 Investing in new furniture is always going to give your living room a bit of lift and if you are on the lookout for a new sofa or a new armchair, it's a great opportunity to find something funkier.
Pick a piece you can move around the room, too, for practicality more than anything else, but also because moving furniture around can be an easy way to keep a space feeling fresh.
46. Create interest with patterned wallpaper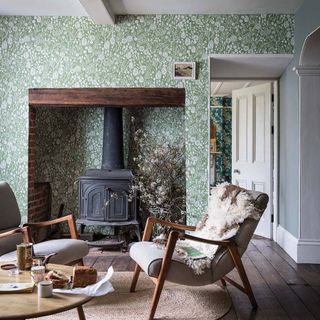 Second only to paint, we think wallpaper is one of the easiest living room ideas out there. Try one roll, quick wallpaper projects for an easy and budget-friendly refresh in under two hours.
Wallpaper can look great on every wall, but we love it as just a feature wall – stops the space from being too busy and gives the room a focus. That means you could just add a feature wall, treat yourself to a couple of rolls of your dream wallpaper and hang it yourself. An update for under $100, and this emerald green Atacama wallpaper from Farrow & Ball is just exquisite.
47. Embrace maximalism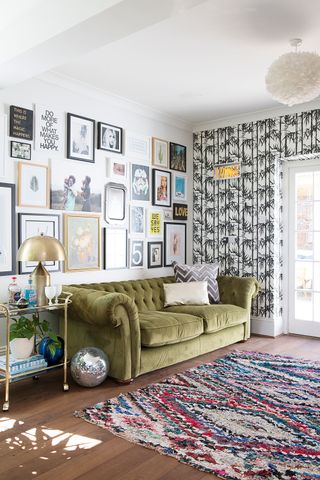 Start with one roll of wallpaper, and it might lead to something bigger... We love this maximalist space: color on every wall, including the floor! But it really doesn't look too much, the white walls and relatively neutral sofa color keep the room looking fresh and not too full.
48. Use lighting to create impact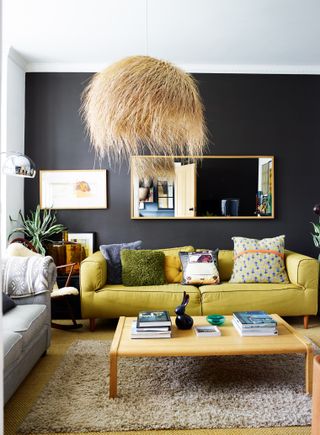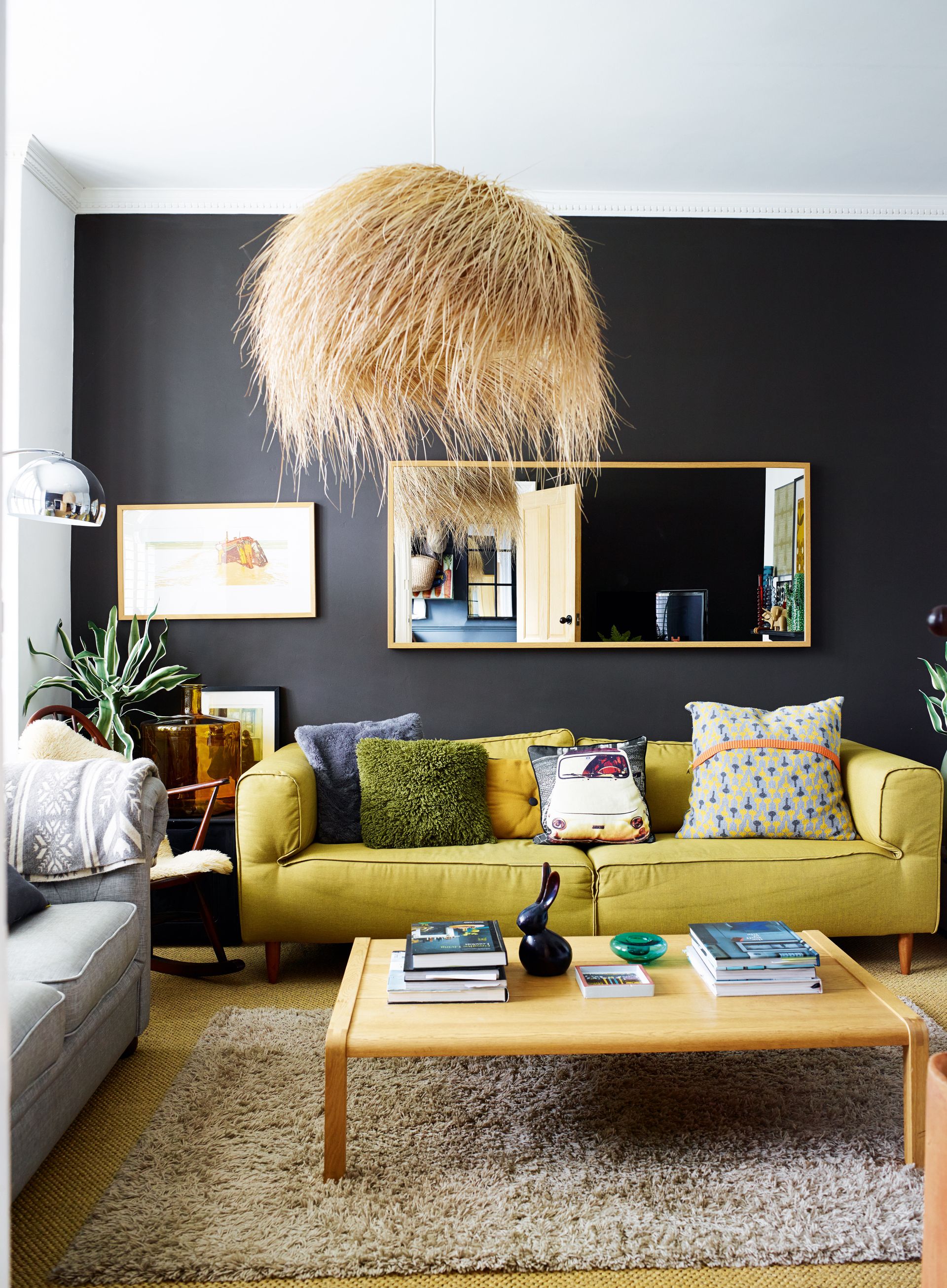 Living room lighting isn't just about the ambient, the task, and the accent lighting (although that's a must to sort when designing a living room lighting scheme), it's also about the impact of the fittings.
While pendant lighting in a living room should be used with caution (overhead fittings used alone will make the space feel soulless and bland), they should definitely be chosen and positioned for maximum effect.
Loving how this seagrass pendant is positioned over a coffee table to create a real focal point around the social zone of the space. And the lit glass cabinets are a real bonus...
49. Switch out your cushions for a quick update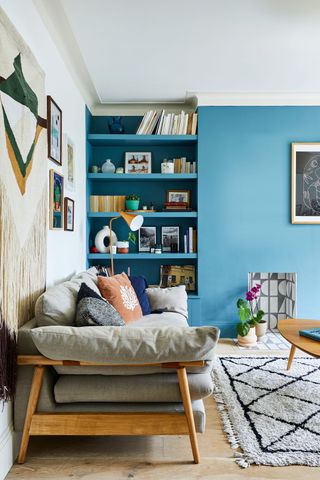 Cushions are king. You've heard us say this before – never underestimate the power of changing your cushions and throws. These small changes can make a huge difference to the look of your living room. A new print – we like the polka – a bold color or simply a new texture can instantly update your sofa and chairs.
50. Be bang on trend with living room floor tiles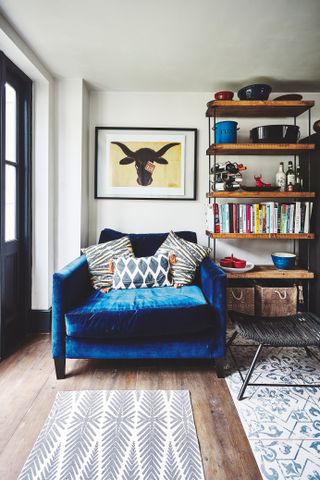 An option you might not normally consider for living room flooring is decorative floor tiles – yes, they are beginning to be seen in rooms other than bathrooms, hallways, and kitchens. Practical, easy to clean, and great in modern spaces, you can pull out the colors in them to accessorize the rest of your scheme.
'For years floor tiles have been the go-to floor option for consumers in kitchens, bathrooms, and traffic-heavy hallways. We are now seeing a rise in tiles being used in living rooms as well - as they can be an incredibly convincing alternative to wood and natural stone, as well as kinder to budgets.' says Kamila Chalfin, marketing and brand manager at Tile Giant.
There's something very Mediterranean feeling about a tiled living room floor, but if you are worried about it feeling cold just throw down a large rug, you can always take it back up again in the warmer months.
51. Bring a second color into your living room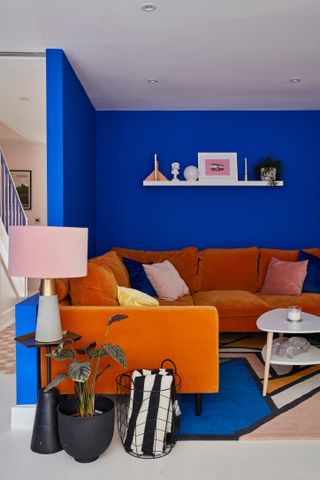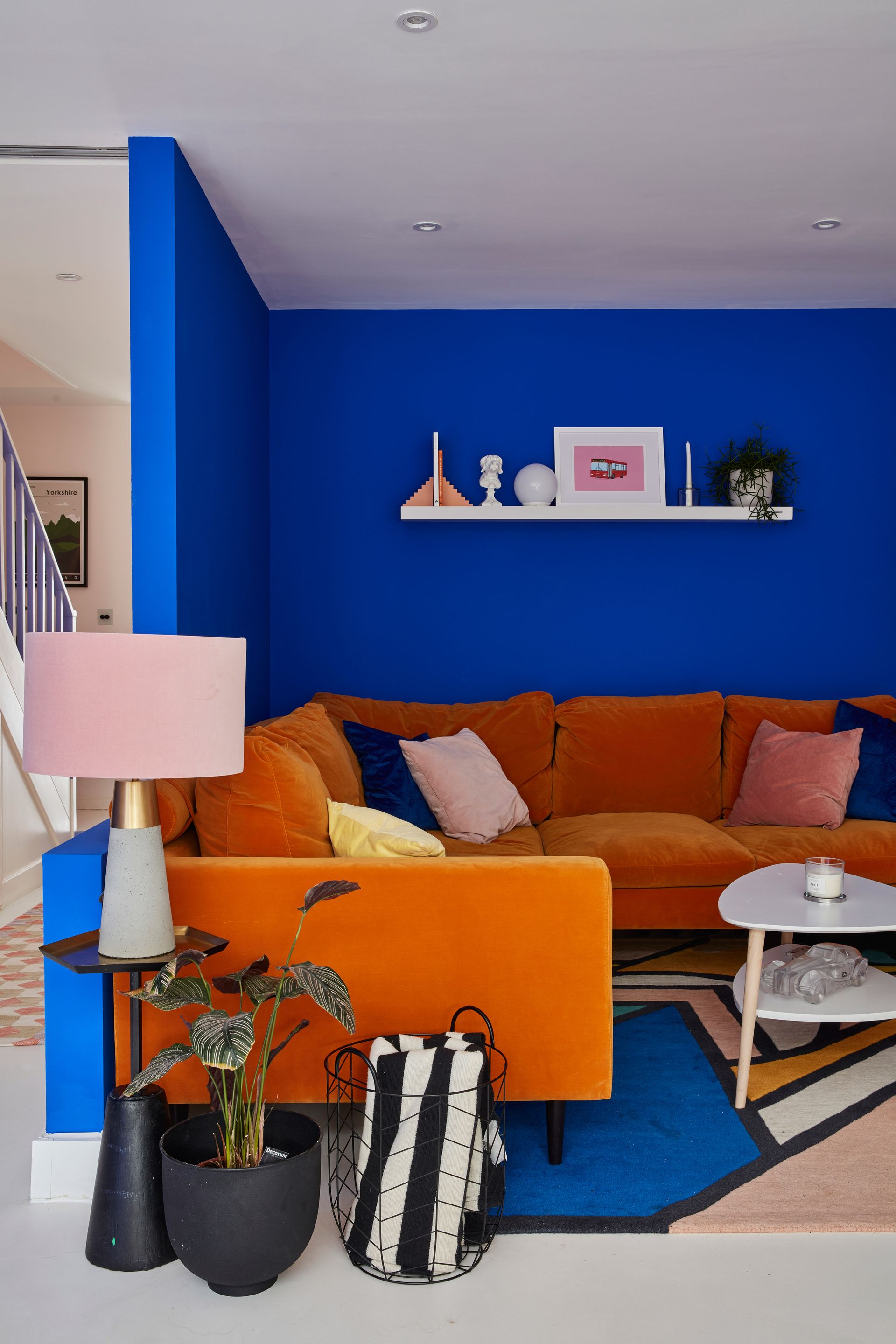 If you're tired of your living room's look but love the main color you've used, why not just add a new accent color to the scheme to pep it up?
You could paint your walls in a color that contrasts your sofa as you can see in this amazing living room, or if you are after something a tad more subtle, just introduce a second color by painting a portion of your walls. This cobalt blue living room packs a punch of vivid color for an electric look full of attitude.
52. Go for a modern rustic living room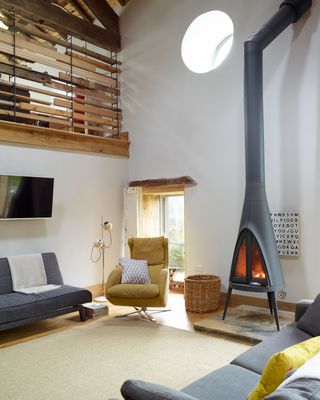 Modern rustic living rooms are everywhere at the moment. Clean lines, trendy furniture, contemporary shapes, but then somewhere a nod to a more country, rustic style. The simplest way to get the look is to mix some natural textures with all those design-led pieces and to add plenty of throw pillows and blankets to your seating to soften up the space.
Oh, and a cute log burner wouldn't go amiss either. We are loving this super chic modern fireplace idea with its curvy silhouette.
53. Create a cozy vibe with low slung furniture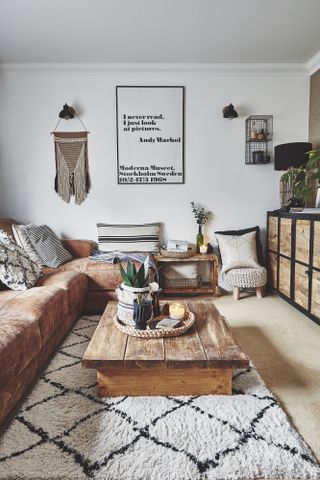 This is the perfect farmhouse living room idea for smaller spaces – choose furniture that's close to the ground to not only create a lovely laid-back cozy feeling but also to create the allusion the space is bigger and taller. All the different textures and warm colors turn this small living room in a modern home, into a gorgeous cozy snug.
How do you design a living room?
When it comes to designing a living room from scratch, we think the best place to start is by drawing up a plan for your living room. There are loads of great apps and websites that can help you do this, or just could just go old school with some graph paper and a pencil.
Then make a list of everything you need/want in the space – seating, living room storage, decor, lighting. And start planning where it will go in the room, test out different layouts on your plan.
When it comes to decor, if you aren't sure about a style, start by creating a mood board. Use Pinterest and rip pages out of magazines of living rooms you like the look of and you will start to see trends/colors/shapes pop up more frequently. Do think about the style of your home too and what decor will work with the period of your home.
What colors are best for a living room?
The best paint colors for the living room will of course depend on your style and the look you want to create. But there are a few general rules if you are struggling to decide on a color scheme.
The rule of thumb is if your living room is on the smaller side, keep your colors light and bright – stick to white or something close to white on the walls and ceiling. Of course, if space is tight you don't have to rule out dark colors altogether, going for darker walls in say navy or deep green will enhance the coziness of a smaller room and can make it feel really inviting.
As well as size, a winning living room lighting idea is something to think about when choosing colors for your living room. If your space gets lots of natural light then lucky you, most colors will work. However, if your living room is North facing and therefore might lack natural light you will want to warm up the space with warmer tones and avoid anything too cool-toned.
Just make sure to always order swatches (either small pots of paint or adhesive stickers) so you can see what your choice looks like in your exact space.