Great laundry room ideas can make all the difference to what can be a loathsome task. Whether it's professional attire, school uniforms or a sports kit, we all have to wash clothes daily or weekly, depending on our work and social schedules.
It's a tough nut to crack, but staying on top of those never-ceasing wash pile mountains is easier done when you've got a stylish set up to keep your space in check.
Stacks of ironing just aren't a good look, and since most of us have to dedicate a fair amount of time to doing laundry, it makes sense to keep your utility area looking as fresh as your washing loads, right?
If you have a separate laundry room, complete with the best washing machine around, there are lots of things you can do in the way of adding design interest and organized functionality. But fear not if you don't. Even a small scheme can work hard at looking good and staying true to its purpose, helping you to keep those cotton-fresh scents coming and your laundry room decor ideas styled and as beautiful as ever.
Laundry room ideas for seamless style and function
Create a, dare we say, blissful environment replete with laundry room storage ideas and clever decor tricks. Keeping the workspace looking good and shipshape will make doing laundry much more enjoyable, and who doesn't want that?
Experts at Persilconcur: 'Regular laundry is essential for your household, and a clean, well-organized laundry room will make the task a whole lot easier.'
Transform your lackluster laundry room from messy to immaculate with easy laundry room organization ideas, clever configurations and pro styling tips that will scrub up and refresh how you use and see your space. Yep, you'll be able to tackle the mud, without the sweat and tears!
1. Make use of every last inch of space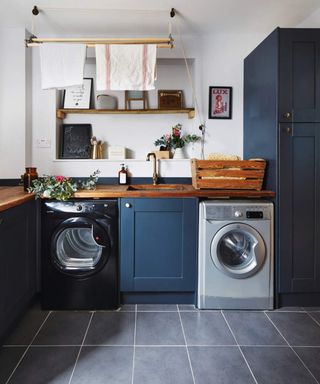 Let your laundry room reach new heights (quite literally) by optimizing the space you have to store clothes, detergents, pegs and more by making the most of recessed walls and tall ceilings.
The shelves within this alcove idea allow for framed art and other home accessories to create a cozy atmosphere. Because let's face it, no one really enjoys cleaning, so you'll want to make the environment feel as hospitable as possible. The airer suspended from the ceiling, will make your room feel taller and is a great place to hang tea towels too.
2. Highlight your wash day assets with LED strip lights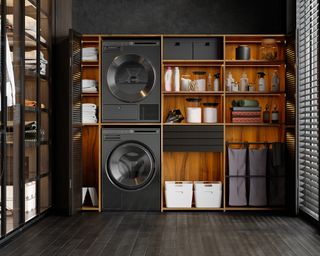 Laundry rooms aren't known for being the most fashionable of rooms, but if you want to remove the frumpy feel of this room – modernize your laundromat with a sultry lighting idea to create an ambient mood.

Though it looks super expensive, you can DIY the job by buying strip lighting on Amazon and fitting it yourself. Choose warm bulbs and dark decor (we love the walnut wood and matt black wall paint) to create a beautiful contrast that has a midcentury modern touch. With its chic and sophisticated, gender neutral look, this is bound to break the boundaries of 'blue and pink' household chores.
Show off your best eco-friendly laundry detergents and display the best bath towels for a spa-like space you'll want to show off to guests.
And, if you've got the room to play with, the adjacent walk-in closet idea is a must for fashionistas who like functionality.
3. Squeeze a comprehensive setup into cupboards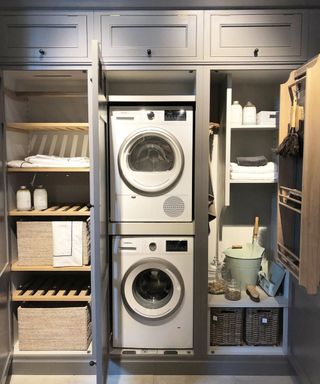 Ideas for small laundry rooms don't have to be sub-par, so if you've got an itsy-bitsy space – think outside the box. Contrary to what you might think, laundry rooms aren't just for lavish houses with wealthy inhabitants in the sticks. So if you're looking for a laundry room idea that'll look good in urban dwellings, make use of your cupboard space.
'Our client wanted to hide all the appliances in their compact city kitchen. The cleaning cupboard has been designed with every detail in mind.' says Emma Sims-Hilditch, founder of Sims Hilditch.
By utilizing the broom cupboard, and strategically stacking a washing machine and tumble dryer, everything is tucked away tidily in the resident's cooking space. A recipe for success, we think you'll agree?
4. Go wild with wallpaper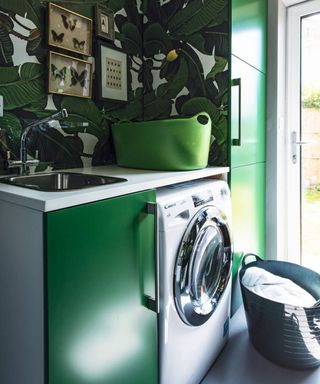 It might sound counter-intuative to introduce a wallpaper idea in a place where water and wet objects are present, but done carefully it can add atmosphere and interest to your laundry room.
If you are concerned that your beautiful wall covered will get ruined, considering using products designed for the bathroom or areas with high humidity. A peel and stick wallpaper is a renter-friendly choice should you be blessed to have a designated laundry room in your rental.

We particularly love this on-trend, biophillic idea with palms and a pop of green. A budget way to refresh a tired laundry room quickly and cheaply. If the Entomological framed wall art bugs you out a bit, get the Miami beach look with this Tempaper adhesive wallpaper, available on Amazon. It'll look great with some pastel pink cabinets.
5. Create a calming coastal feel with nautical decor
Oh we do like to be beside the seaside, and we can bet you'd rather be by the coast than drowning in a sea of socks, pants and underwear. But if you can't go to the beach, bring the beach to you.

Wall paneling ideas are an instant way to bring coastal character to your clothes cleaning cabin, and when paired with a dark teal hue, is a 'shore' way to harbor that at-sea aesthetic.
The Harbor Small Sideboard by Dunelm is the an idyllic place to store clothes, and reinforces the nautical theme without going overboard with cheese. The Louvre doors had that beach hut/cabin vibe, while also adding an ayr of rustic charm with distressed edge detail.
6. Introduce Shaker-style details into the mix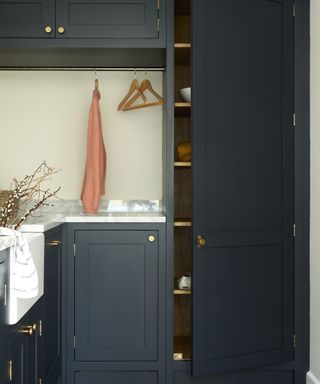 Shaker-style decor isn't exclusively reserved for the kitchen. So if you want to add a sophisticated touch to your space, this is one laundry room idea that washes with us.

When thinking about laundry room paint color ideas, navy can add a dramatic atmosphere to your laundry, while brass fixtures are bound to make it feel classic and expensive too. Elevate the look by introducing faux marble counter to create a – dare we say it – glamorous feel!
7. Go shabby-chic with clashing prints, colors and textures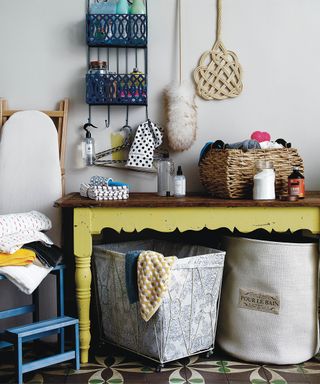 Bring your laundry room to life with a lived-in feel that feels authentic. Because if we're being realistic, a proper cleaning space isn't spic and span all the time, so by embracing clashing hues, different textures and motifs, you don't have to stress about a perfectly matching ensemble of coordinating items.
This modern traditional setup is a beautiful example of a laundry room that has organically evolved. The floral and French laundry baskets add a classic feel, while painting a wooden table is super easy to DIY, if you know how to paint furniture.
8. Separate lights and darks with a unique system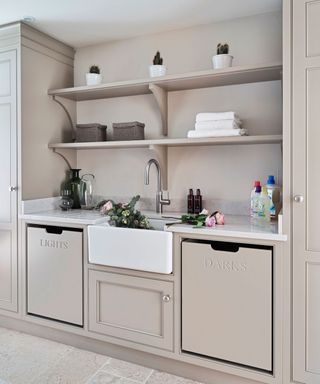 Everyone has their preferred laundry ritual – we're certainly not going to dispute! But to get the most out of this dedicated space, you need to group and order with ease.
To do this, incorporate a mix of drawers, cupboards, and open shelves to store laundry essentials at all levels, maximizing functionality whilst making the same look seamless.
Shown here, are dedicated pull-out bins to separate washing colors, not only getting garments ready for action (avoiding 'accidental' color dyes) but lending a charming accent feature with a nod of country charm.
9. Elevate your utilitarian space with decorative tiles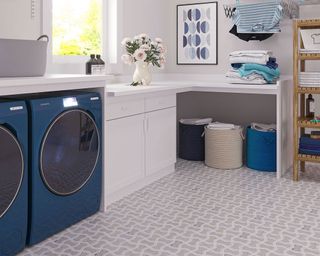 Turn basic into beautiful with a hardworking floor and wall tiles to give your laundry space a creative update. From eye-catching patterns on glossy tiled splashback features to meandering pathways with splash-resistant floor tiles, pave the way to your dream aesthetic with a tile shape, material, and finish to suit all.
If you rent or are looking for a quick, budget-friendly update that requires minimal effort, try a creative peel and stick tile from the likes of Tileclub wall in a dry area for a fun new look!
Going for conventional concrete tile? Learn how to tile a wall so you can splash out a bit more on your favorite design and save on labor costs.
10. Luxe up laundry days with contemporary details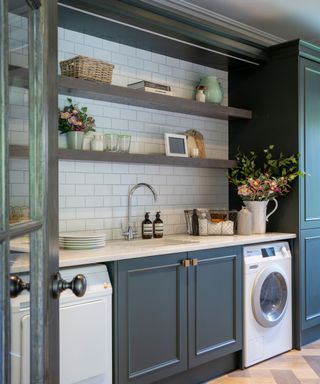 Spin your laundry space into a sophisticated haven with designer-inspired touches. Nod to the coolest kitchen backsplash ideas with smart subway tiles that tick all the boxes for style and practicality also.
Keep things airy and bright with open-shelving to make a functional yet attractive display of sustainable small storage solutions, like glass storage jars for washing powders and woven baskets for folded linens. And for a final touch that helps define the space, frame white goods with contrasting cabinets.
11. Incorporate a pet bed for a dose of puppy therapy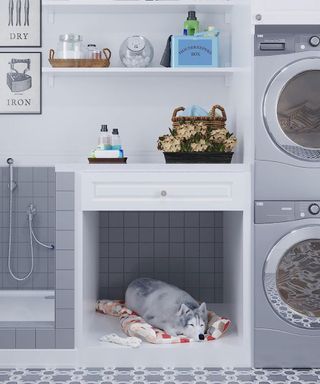 It's no fun doing the laundry alone. Why not enlist the company of your favorite four-legged friend whilst boosting your laundry room's efficiency by converting a cupboard into a cozy nook for furballs to curl up in? You never know, you might even be able to prevent muddy paws from marking their territory throughout the main home! Note that you may want to opt for a quiet washing machine to not disturb their zzzs!
Simon Bodsworth, MD at Daval says: 'Given that pet ownership is higher than ever before, taking a more considered approach with dedicated storage space, integrated pet stations and durable materials that can withstand heavy use, yet remain beautiful is going to be essential.'
He continues: 'Fresh design concepts like the 'bootility room' and perfect combo mudroom laundry ideas are helping to retain the social aspects of open living by minimizing noise from laundry appliances and preventing dirt and debris coming into the main areas of the home.'
12. Install white goods above ground level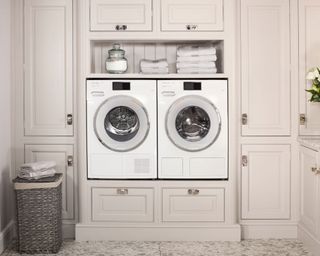 Washing machines and dryers are big and bulky by nature, so consider the best integrated washing machines and opt for other laundry room appliances that can be into built-in cupboards to free up precious floor space, making room for more useful additions like a portable ironing station and clothes dryers. It's all about getting clever with what you do have.
Julia Steadman, commercial director, Brandt Design comments: 'Creating space is essential in the home these days with the kitchen becoming all rooms to all people. Having to accommodate both practical and social aspects of modern life is key and so finding new ways to maintain high functionality yet keep noise levels to a minimum has given the laundry and utility room new focus.'
She continues: 'Taking the time to do a 'laundry audit' is highly recommended, as this will give you a better idea of how much laundry is being done each week and how it is currently managed to ensure your new utility room can fully support your needs.'
13. Work out the best location for your laundry room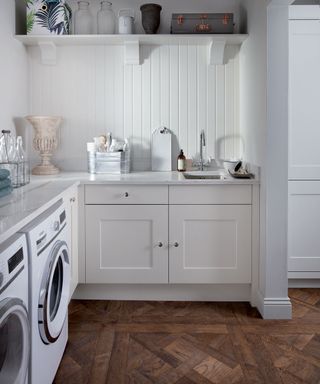 Laundry rooms are the workhorse of the home and a noisy one at that! The size of the household will ultimately determine the weekly laundry mountains, so it's important to establish what's going to be the most time-efficient scenario.
'Graeme Smith, head of retail and commercial design at Life Kitchens comments: 'To work out the best location for a utility room think of what function you are going to use the space for,'
'A utility room could be located towards the center of the house and not too far from the bedrooms as most of your washing will come from these. With the acoustics of appliances running in mind, you may alternatively wish to locate it away from a room where you entertain and socialize.
'On the other hand, a utility room often contains many items that we need at hand on a daily basis, so having this close to your cooking and food preparation area is handy as you'll be able to easily access things you'll need quickly.'
14. Create hanging space for air drying and ironed clothes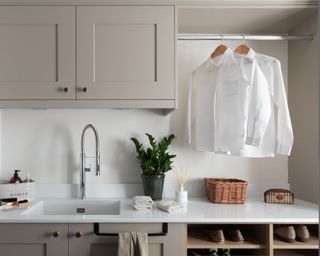 One of the most practical laundry room ideas is creating hanging space to keep newly pressed threads crease-free as you iron or to air-dry freshly laundered pieces.
All you need are simple tension rods easily found at Amazon et voila! Create a flexible shelving system that serves all of your requirements. Learning how to dry clothes without a dryer will help you to save energy at home, lower energy bills and enjoy longer-lasting clothes, as well as being kinder to the planet – win-win!
15. Get crafty with DIY counter space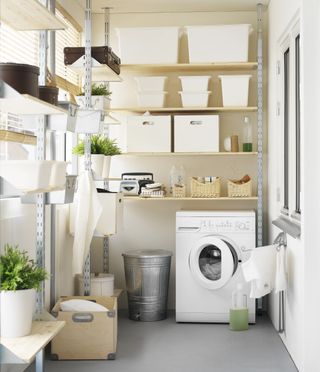 Fancy dabbling in a spot of DIY? Add extra workspace by creating a tabletop for your washer and dryer using simple plywood sheets which can be bought online at Amazon.
Alternatively, learn how to put up a shelf with brackets. Or, if you don't fancy all the work involved, you could introduce a deep shelving idea to make extra workspace.
16. Hang a clothes airer on the wall or ceiling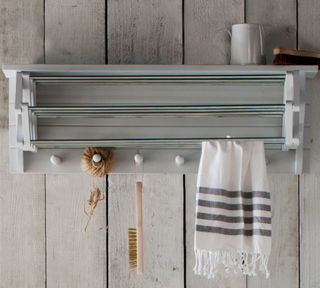 Clothes racks are beyond useful additions to bedrooms and laundry rooms alike, but if you don't have so much space available, choose a wall-mounted drying or hanging version to make the most of that precious square footage. Check out this clothes airer from UK brand Garden Trading which has a nifty shelf for even more storage and hooks for must-have laundry accessories – think lint rollers and the like.
17. Stick to a storage theme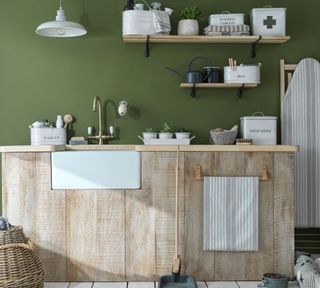 Sticking with a particular style for your laundry room will make it look and feel tidier, which, in turn, will probably make laundry chores much more enjoyable.
Mix utilitarian laundry staples boasting nostalgic appeal (yes that's you tin canisters, glass storage jars, and wire mesh caddies), with natural materials on cabinets for a country-inspired scheme, full of character and texture.
18. Label stackable storage baskets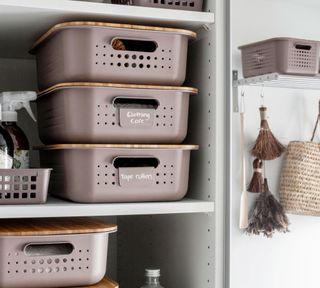 Restore order in your laundry space with baskets and storage with labels. Stackable baskets with in-built, wipe-clean labels look really neat in any space, big or small; plus, they will make a daily laundry room sweep far easier if you know which compartment to add items to.
Create labels by using the Scotch thermal laminator (available on Amazon) with card to make the tickets waterproof, or invest in a label machine, like a Cricut Joy, which is occasionally on offer on Amazon, for uber professional results.
19. Store products in glass containers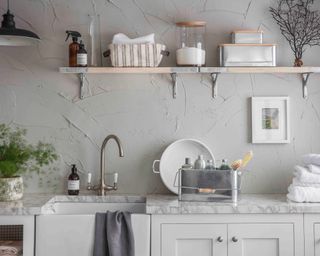 There's nothing worse than feeling like you're trapped in a laundry room, rummaging through messy cupboards to find what you're looking for. So save the washing powder spills and stresses by displaying your products proudly in glass and acrylic vessels. Here, we love how the clear containers look against the textured grey walls.
Blending functionality with style, you'll be able to access the best cleaning products with ease and efficiency. Cinderella who? When you're not housing flowers, fill your fishbowls with pegs, and use kitchen canisters (like these on Amazon) with a scoop to display laundry detergent and washing pods. Always keep them out of reach of your little ones on a top-shelf.
See-through accessories will also make the room appear bigger and airier. You could go one step further and buy eco-friendly detergent loose from a bulk store. You'll be making an eco-friendly choice, save on all that recycling and reduce your carbon footprint.
Or why not look into investing in eco-friendly detergents (that also come in pretty packaging we may add) like KINN Living's laundry collection?
Sophie Barrow, Co-Owner of KINN, explains, 'When you switch to using a natural laundry product that doesn't use these ingredients you're already not only improving the quality of your own home environment by not breathing in those chemicals but you're also stopping these harsher ingredients from washing down our drains and into our waters.'
20. Add a console or bookshelf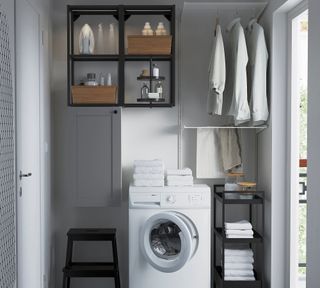 Add extra storage by simply bringing in a bookcase, cabinet or console table if the laundry room space permits.
Or if floor space is at a premium, you could hang a wall cabinet or try a shelf to store the laundry clutter and feature your most Pinterest-perfect laundry accessories.
21. Make space for a laundry sink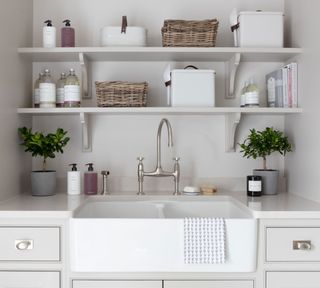 If your space permits, a laundry room sink is a really useful addition to dedicate to washing delicate items by hand or pre-soaking stains or soiled items. If space is at a premium, a corner sink might be just the ticket.
22. Opt for an industrial look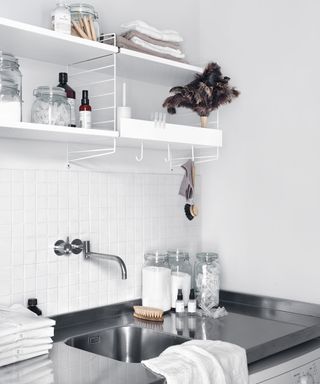 Using open shelving such as String Furniture's shelving system, can create an industrial look with stainless steel surfaces, shelving hooks for hanging accessories, and clean white accents such as tiles and appliances.
The modular nature of this furniture means that you can add or take away shelves to suit the growth or minimalism of your space.
23. Use wall hooks to hang laundry bags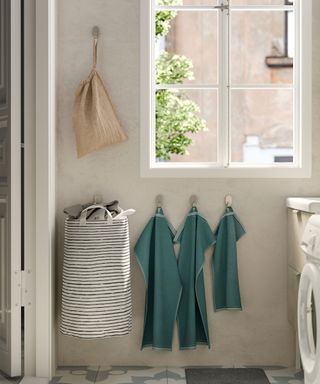 Nowhere to hang clutter like laundry bags and accessories like towels? Follow IKEA's lead and add wall hooks that will fit in even the smallest area of wall space.
Create a regimented line of hooks or make more of a feature with an irregular positioning and an odd number of hooks.
24. Add laundry bins with wheels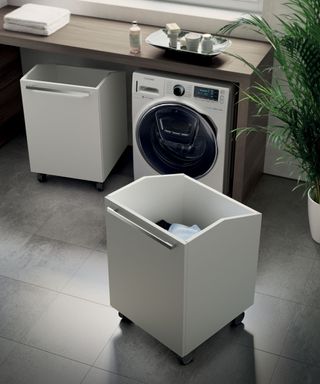 Create built-in spaces beside your washer for laundry bins with wheels – making lugging heavy laundry baskets a thing of the past. Bins will also hide a multitude of sins because they take a large quantity of washing, so there'll be no messy laundry overspill coming up to laundry day.
25. Keep things clean with white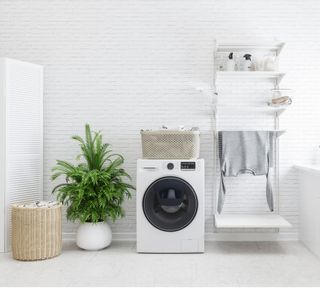 Keeping your laundry room decor pared back will give the illusion of a larger space and it'll feel tidier too.
Whitewash the walls, use white subway tiling and add to the simplicity with natural basics and accessories.
Peter Erlandsson, co-owner of String Furniture explains, 'To make your utility feel larger, there is an age-old doctrine of using light colors on walls to make your home look bigger.'
26. Create laundry space in a kitchen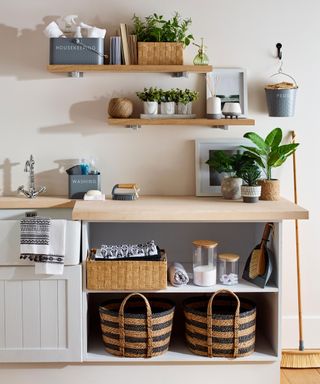 No room for a laundry room? Dedicate a space in your kitchen for your laundry baskets and accessories, either by clearing out a cupboard or adding a kitchen trolley solution on wheels.
A cart can be wheeled over to your washer when needed and stored away the rest of the time. Add in some of the best indoor houseplants to get it a familiar vibe that fits in with the rest of the kitchen scheme.
27. Create a feature wall to add interest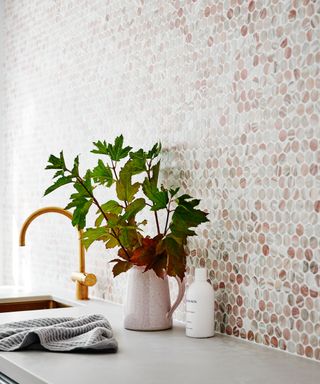 Thinking of redecorating your laundry room? Add extra interest by creating a feature wall with a dramatic paint color or for a more practical option go for stylish tiles as a backsplash.
28. Paint a simple wall design with tape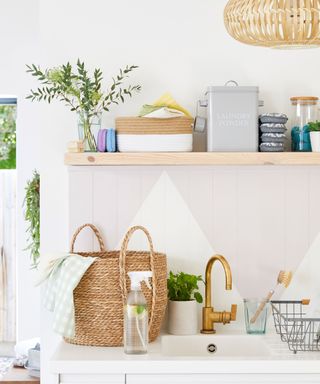 If you're going to redecorate your laundry room, why not be brave and adopt a creative approach to your repainting? Give painting with tape a whirl, in a bold design to zhuzh up a dull backdrop, or try out this washi tape idea.
29. Store laundry room clutter behind a sliding door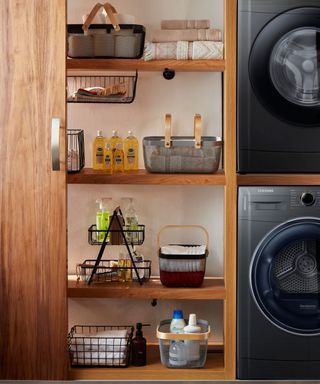 If you don't have a laundry room, why not use sleek fitted sliding storage in your bathroom or kitchen to store laundry clutter and stack a washer and your tumble dryer?
The shelving will be useful for folding and will also hide stress mess – all you need to do is slide the door closed...
30. Create a laundry station in a powder room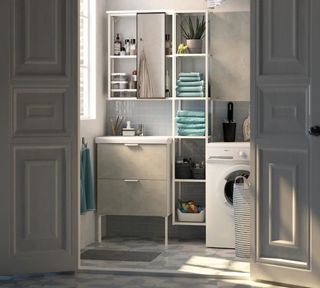 With careful planning, the best washer dryer can be accommodated without giving up too much floor space. You could incorporate a small laundry space in a powder room, closet or even an en-suite bathroom. We also like the tall shelves that draw the eye upwards, while making use of vertical space.
What should every laundry room have?
Laundry room essentials include: Detergent; bleach; dryer sheets; clothes dryers; small storage solution; stain and odor removers; sewing and mending supplies; an iron station; towels; cleaning supplies - go eco wherever possible for a mindful approach that's kinder to you, your home, and the planet.
Kim Emery aka @clippercityhouse, advises: 'The best ideas for a laundry room in addition to the obvious washer and dryer are upper and lower cabinets for storage, a stylish utility sink, and space for hanging. You'll love a laundry room that is functional as well as beautiful!'
How do you set up a laundry room?
Create a functional space with a space-saving, stackable washer and dryer; open shelves for storing wash day essentials; laundry bins to separate colors; an ironing station; drying racks - either standing or wall or ceiling mounted; a utility sink; and task lighting.
Matt Phillips, head of UK operations, Rotpunkt, comments: 'New and exciting design concepts, which are driving trends towards hardworking utility furniture like wall systems, multipurpose workstations and display cabinetry through to asymmetrical layouts and wall-hung solutions have a more 'lifestyle' vibe and design aesthetic,'
'For me, I find the ability to integrate appliances with the furniture is still an unexpected design concept for the typical homeowner: especially when you're able to include multiple appliances in one tall housing unit.'
'Not only does this style of utility storage create a reactive laundry room able to conceal noise pollution and/or conflicting styles, but it also leaves more space to add-value through coordinated accessories and practical floor and wall storage.'