Outdoor living spaces are all the rage. And, it's clear why. Creating an outdoor lounge area is a clever way to enhance both your indoor and outdoor garden space. Whether you have a large patio to play with, a tiny balcony or even just a courtyard garden, there is so much you can do to blend a little of the indoors, out! 
Making whatever space you do have as stylish, comfortable and inviting as your living room doesn't need to be complicated or expensive. You just need to be selective, a little creative and in no time at all, you'll have merged your indoor living room with your outdoor room perfectly. Connecting your space will amplify your lifestyle, keep reading for all of our ideas and advice. Soon you'll wonder why you'd never thought about doing it before...
We spoke to Dani Taylor, Creative Director of Cox and Cox about how to create a dreamy outdoor living room. 'At Cox & Cox, we think in order to create the perfect outdoor living space, you have to blur the lines on what is indoor and what is outdoor. If you love an interiors trend or follow a certain style, this should definitely lead out into your garden, to make the outdoor space a true extension of the inside.'  
Every detail counts and you want this area to match and complement your household's lifestyle, 'We love to create pieces that you would be happy to have in your garden year round, making the outdoor space a pleasure to be in, not just in the day but at night time too.' 
1. Choose the best indoor outdoor furniture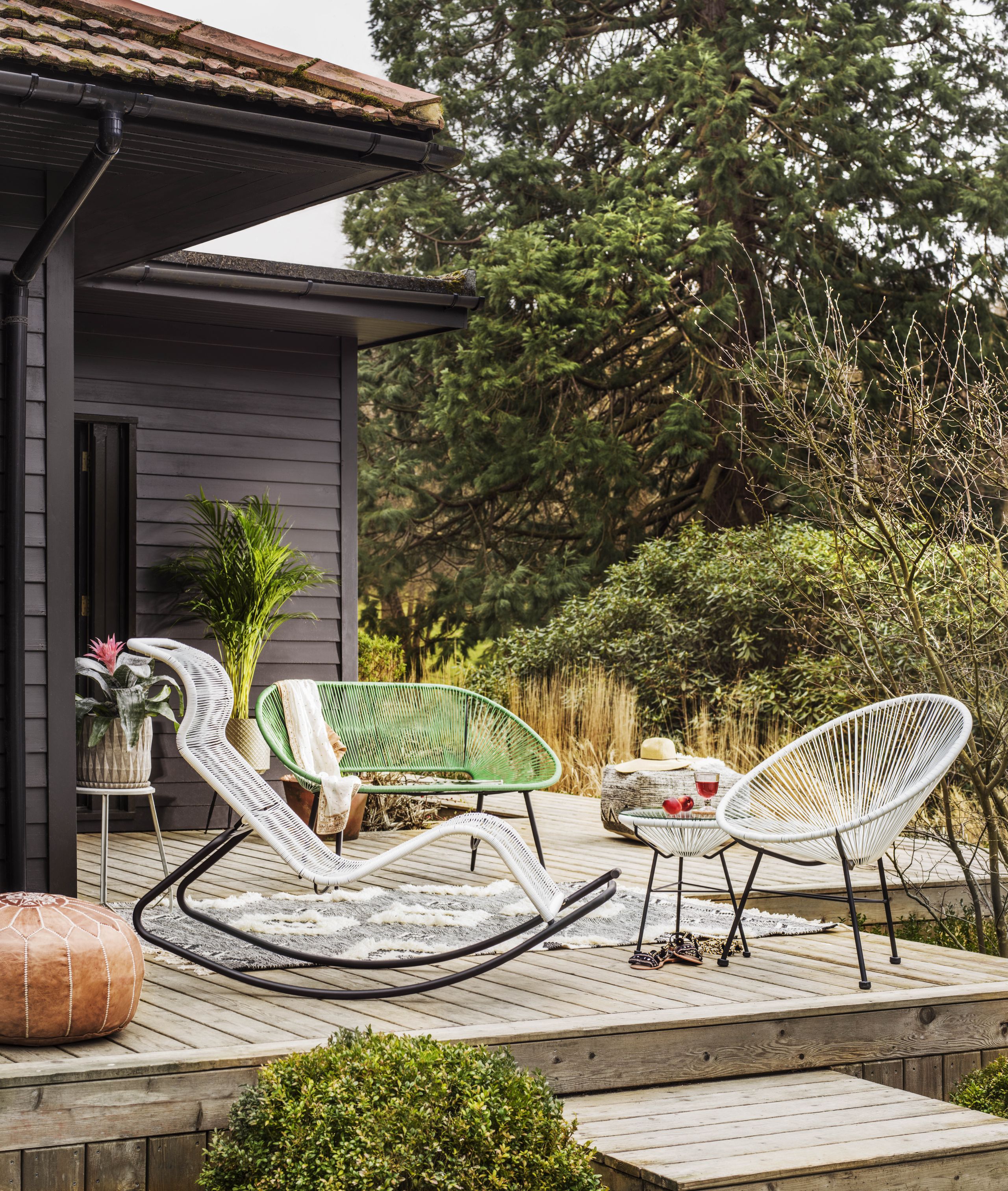 To create the perfect outdoor living patio area, start by choosing lovely and sturdy garden chairs. Choose stylish pieces for outside living that aren't overly bulky and wouldn't be out of place in a conservatory or living room. Group them around an outdoor rug, add a side table, and you've got the perfect, sociable living room set-up, just outdoors. For a similar chair, try John Lewis. 
2. Design a covered outdoor living space
If you want to create a chill out zone where you'll be protected from the sun's rays or  the occasional drizzle, designing a covered indoor outdoor living area really is the way to go. You could even build a pergola – DIY store options are the most affordable – or use trail fast-growing climbers such as clematis or wisteria across taut wires supported on a basic frame. For comfort and quality, lie back and enjoy on a padded sun lounger. 
3. Up the cozy factor
Whether in a casual outdoor lounging or dining area, paying attention to detail with soft furnishings, lighting and accessories will make the space feel just as inviting as if it were on the inside. Taylor says, 'Lighting & textiles can transform your outdoor area and shouldn't be overlooked, especially when working with a smaller space. We are a huge fan of festoon lights which can be left out all year round and require minimum effort for maximum impact . Solar lights are an especially great idea, you can add them to any space without worrying about plugs or wires.' Plus, this means your evenings can last even longer.
4. Pick indoor outdoor plants
Link living rooms and kitchens to balconies and patios with plants that look and feel as good outdoors as they do indoors. Place large-leafed house plants by French doors or windows overlooking gardens and put garden plants in complementing pots just outside to create a seamless connection between indoors and out.  
This small balcony has been visually linked to the living room with the help of a plant stand from Ikea.
4. Create a focal point in an indoor outdoor living space
An indoor outdoor living space is all about the pose. In other words, it has to look good to cut the mustard. One easy way to achieve this is to introduce one statement piece – in this case an eye-catching (to say the least) garden daybed. A love seat, arbour or garden bench could have just as much impact. 
The very sumptuous Chevron 2-Seat Double Garden Sofa Pod is from John Lewis. It comes with comfortable padded seating, and is weatherproof.
5. Find outdoor planters that could be indoor sculptures
Swap run-of-the-mill pots and planters for more decorative ones that would look just as at home in an indoor living space to effortlessly blend the lines between your living room and outdoor living areas. Display them on the ground and on tables to add interest at different levels.
We love these elegant and unusual Serenity Swan Planters from Graham & Green. They have a realistic stone finish, but are actually made from lightweight resin and will not damage your furniture or decking.
6. Keep playful garden features close by
Up the ambiance with a little white garden noise and consider a lovely water feature close to your outdoor living room space. Taylor suggests 'A water feature never goes amiss in a garden, however big or small. With our range you simply plug them in, fill the water compartment and you're ready to go. The sound of gently trickling water is so lovely to hear through an open window or whilst dining alfresco and makes any space, however compact, feel relaxing and zen.' 
We are loving the Cox and Cox Roma Water Feature this year. The classic shape and solid grey color gets full marks for suiting both classic or contemporary patio looks.
7. Elevate your space and layer finishes
If you have quite a small area to transform into an outdoor living room then you want to add more layers to your design. Create a connection with the outdoors by incorporating greenery, from top to bottom, and choose natural woods as a contrast to a smooth patio floor for added interest. Want to go the extra mile? Perhaps even add a faux outdoor fireplace to create that instant room you're after. We like the Duhrer Extending Dining Table from John Lewis.
8. Create a dedicated chill zone
Not all hanging seats are created equal. Choose a garden chair that is good enough to use indoors during colder weather, paying attention to quality, shape, and finish, or one that can be left outside all year round without it suffering. Think something that will be inviting enough to spend hours curled up in reading or napping, and layer up with lots of stylish (if supermarket bought) soft furnishings – from cushions to throws. 
Our pick is the stunning Double Indoor/Outdoor Hanging Seat from Cox & Cox. It comes with a soft cream seat cushion and matching headrest cushions. 
9. No outside fireplace? Warm up with a fire pit
There is nothing like a fire for conjuring up a convivial atmosphere in your outdoor living area and a little warmth will mean that your outside space is fit for use in all seasons too. Fire pits are a popular garden feature that help create a cozy space to rival your living room. Choosing one that will double up as a coffee table when not in use will make it handier still...
10. Play with levels and seating
Secluded or covered garden areas will particularly benefit from having lots of different types of seating and levels. Shelving with added plants and more decor will draw the eye up, making the area feel more spacious and luxe, adding more interest and character too (not to mention places to sit!). If your outdoor living room isn't covered, be sure to choose shower-resistant fabrics or put them away in a garden storage bench. Mix and match cushions, padded seats, and outdoor rugs. And, of course, accessorise with plenty of planters and vases. Try the Dante sofa from John Lewis for a similar look.
11. Layer lighting in an outdoor living room space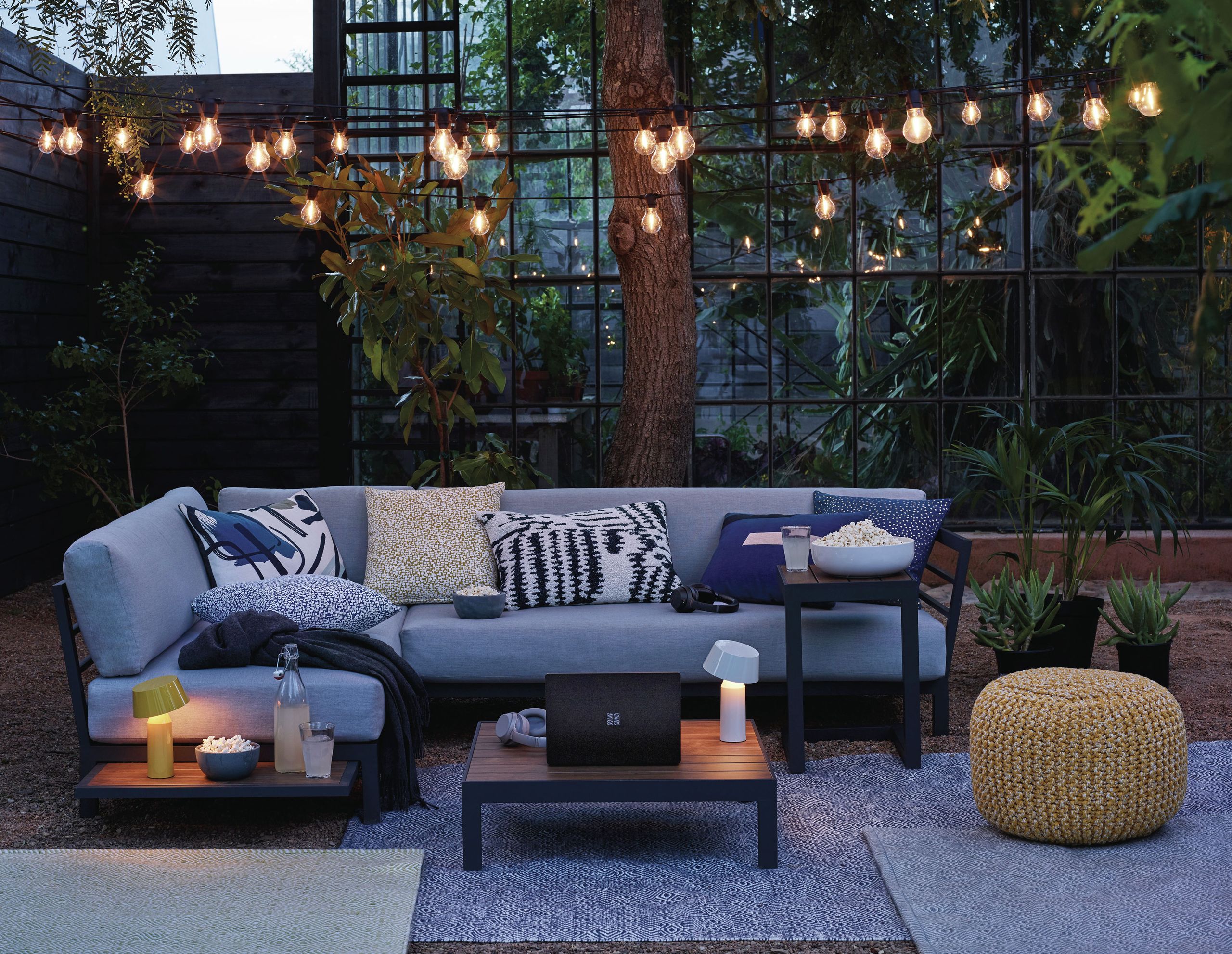 Creating a successful outdoor area is about more than just having a place to sit... It is a lot about that too! But, if you get creative you can design a much more atmospheric, stylish and inviting area. Pick a variety of garden lighting (think festoon, candles and fairy lights), a boho lamp perhaps, then try layering them in a few different ways to see which look best suits your space and needs too.
12. Create a streamlined look with indoor/outdoor flooring 
Make stepping out into the sunshine effortless – and not requiring outdoor shoes – by laying the same flooring outdoors as the one indoors. Floor tiles are best, since they can withstand fluctuations in temperature and are easy to clean. Artificial grass is another solution to indoor outdoor flooring – forget cutting and mowing, while enjoying the outdoorsy vibe of greenery underfoot. 
The Windermere Artificial Grass by Carpetright is realistic and very soft, thanks to its tufted construction. 
13. Choose furniture that doubles up indoors too 
Creating an outdoor living space on a budget? An outdoor living area that isn't covered will realistically need to be seasonal, with furniture stored indoors during winter. So why not choose pieces that you would happily keep in your conservatory or even lounge anyway? This is easier to do if it's made from a lightweight material and luckily for all of us, rattan garden furniture is not going out of fashion anytime soon... 
14. Choose brights for positive vibes
Make your outdoor living space pop will bright azur blues and other lovely colors. If your outdoor living space is decked, including the seating, you will want to soften it up with padded seating and some scatter cushions which is the perfect opportunity to layer up on color. 
15. Add an outdoor area rug
This is the perfect example of going all out. From the gorgeous parasol to the focal coffee table sat upon that dreamy rug (from Maisons du Monde) – both of which centre the area like a dream. You would have everything on display here indoors too, meaning that the whole family will be beyond cozy and entertained in this outdoor living room space.
Time to enjoy more of the outdoors too 🙌