These small garden ideas will help you rethink your tiny plot and get so much more out of it. Even small urban courtyards and balconies have the potential to become luscious and productive gardens – you just need to be a bit creative about how you use the space and what you grow.
From planting and landscaping tips, to innovative layouts that will suit a small garden design perfectly, we've rounded up clever garden ideas to help you perfect your outdoor space with even the smallest square footage.
1. Create a coherent garden design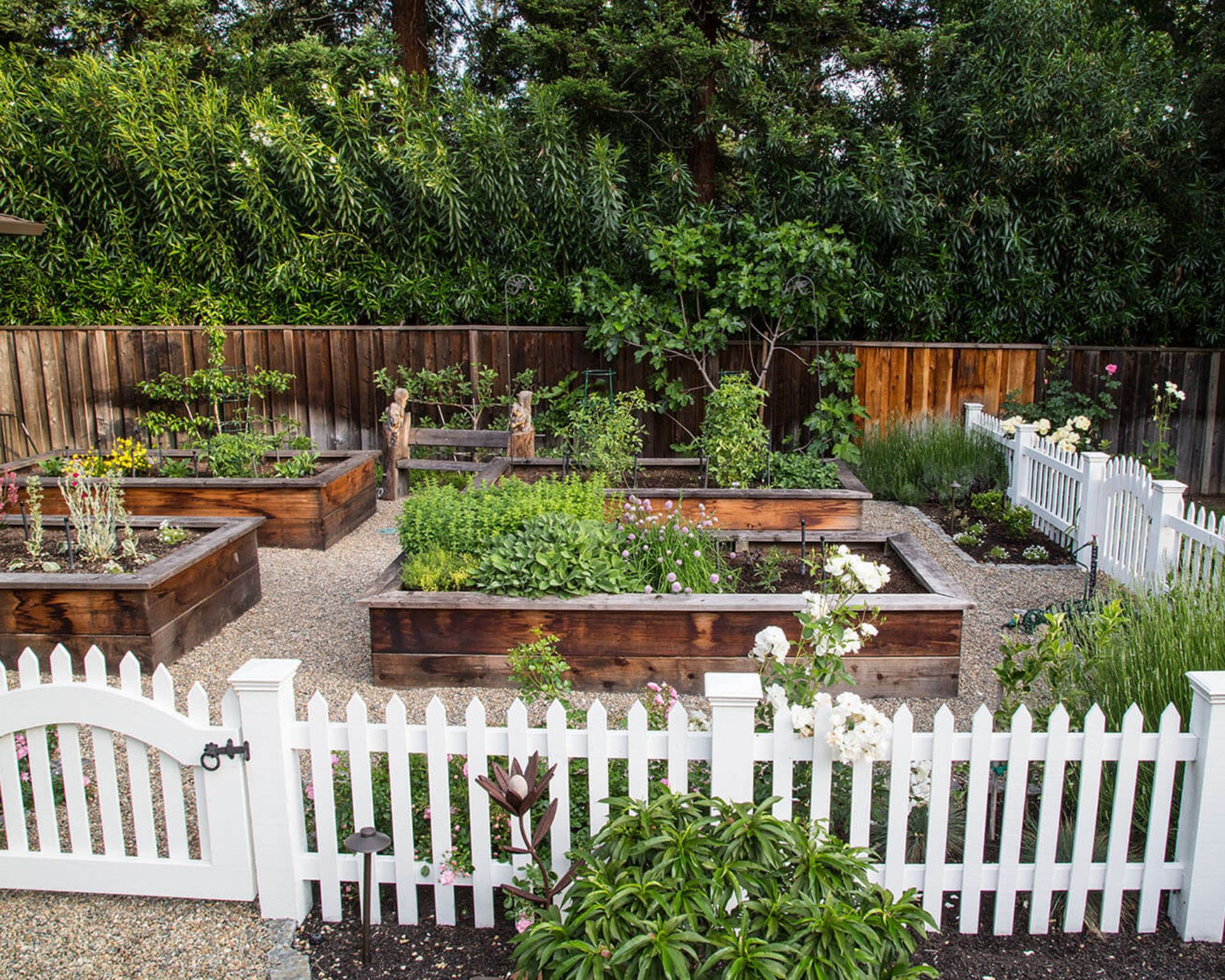 The first rule for any small garden is that even if it's tiny it should have a coherent design. Gardens that are unkempt or haphazard look even smaller than they are. Start with a simple geometric layout for your garden beds, with a neat fence around the perimeter, and you'll see the difference immediately. This neat small garden was created by J Montgomery Designs (opens in new tab).
2. Tiny space? Grow things in raised beds on wheels
Too little room for a permanent raised bed in your garden? You can make yours mobile – by fitting wheels at the bottom. This is a really good solution for plots that are so small that you'd be able to access a fixed raised bed only on one side – which is not good for your back and is just a bit awkward. Caster wheels can be bought on Amazon (opens in new tab) and fitted to a container of your choice on a DIY basis.
3. Make a raised bed a centerpiece in a small yard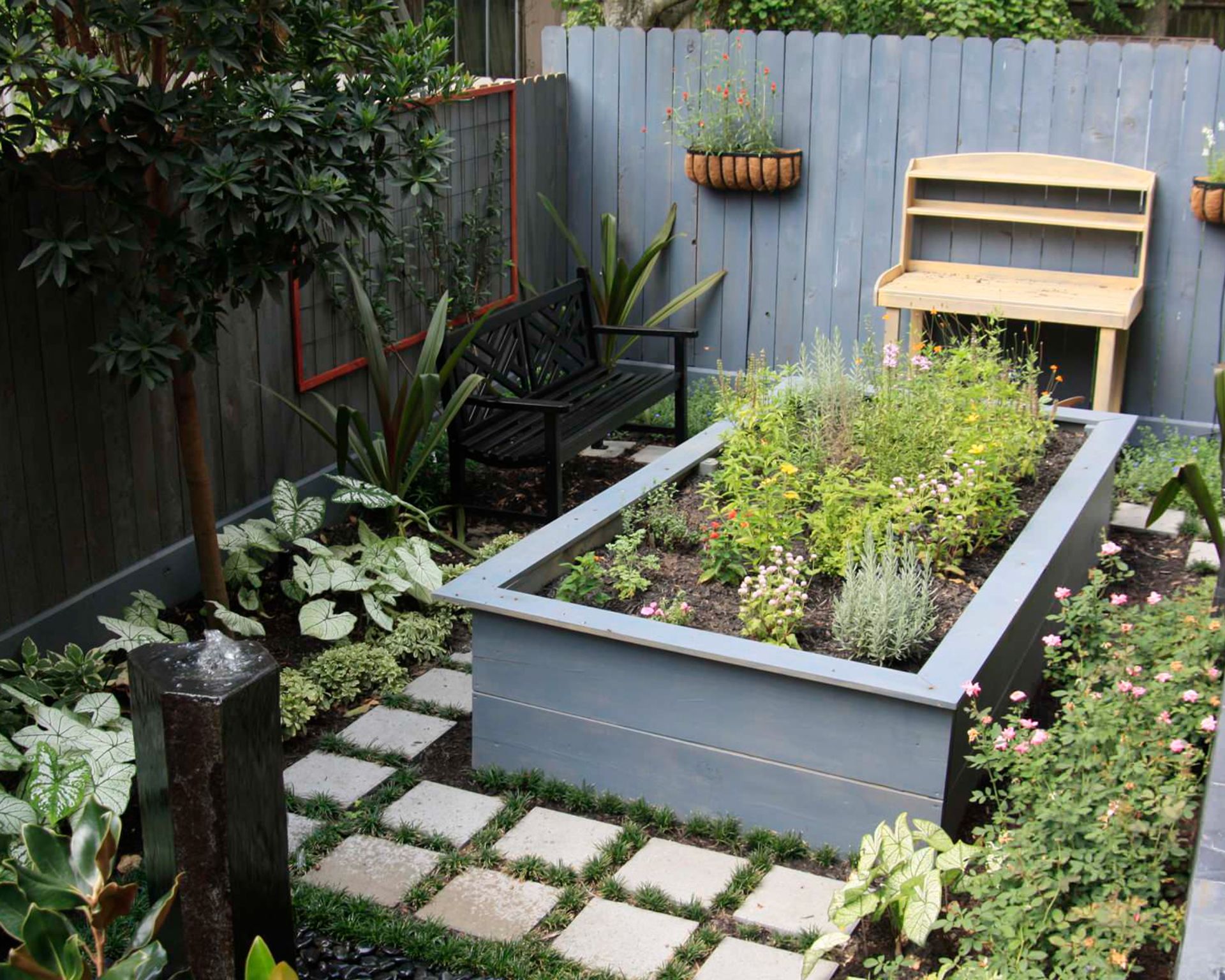 Yes, you can still have a vegetable garden in a small backyard, but you'll have to be clever about how you design it. This clever small garden design by Houston-based Nature's Realm (opens in new tab) turns a painted raised bed into the garden centerpiece, giving the space a distinctive look. Learning how to make raised beds is very easy and gives you complete control over growing vegetables, herbs, and even flowers. We also really like the paved path that goes around the bed, which makes the whole design look smarter.
4. Clad your raised beds to add more interest
Not everyone likes the look of traditional wooden raised beds. If you want something a bit different, you can clad yours. There are many different materials and looks to choose from, including metal, stone, and wicker for an easy-going, rustic look.
5. Grow veg in temporary containers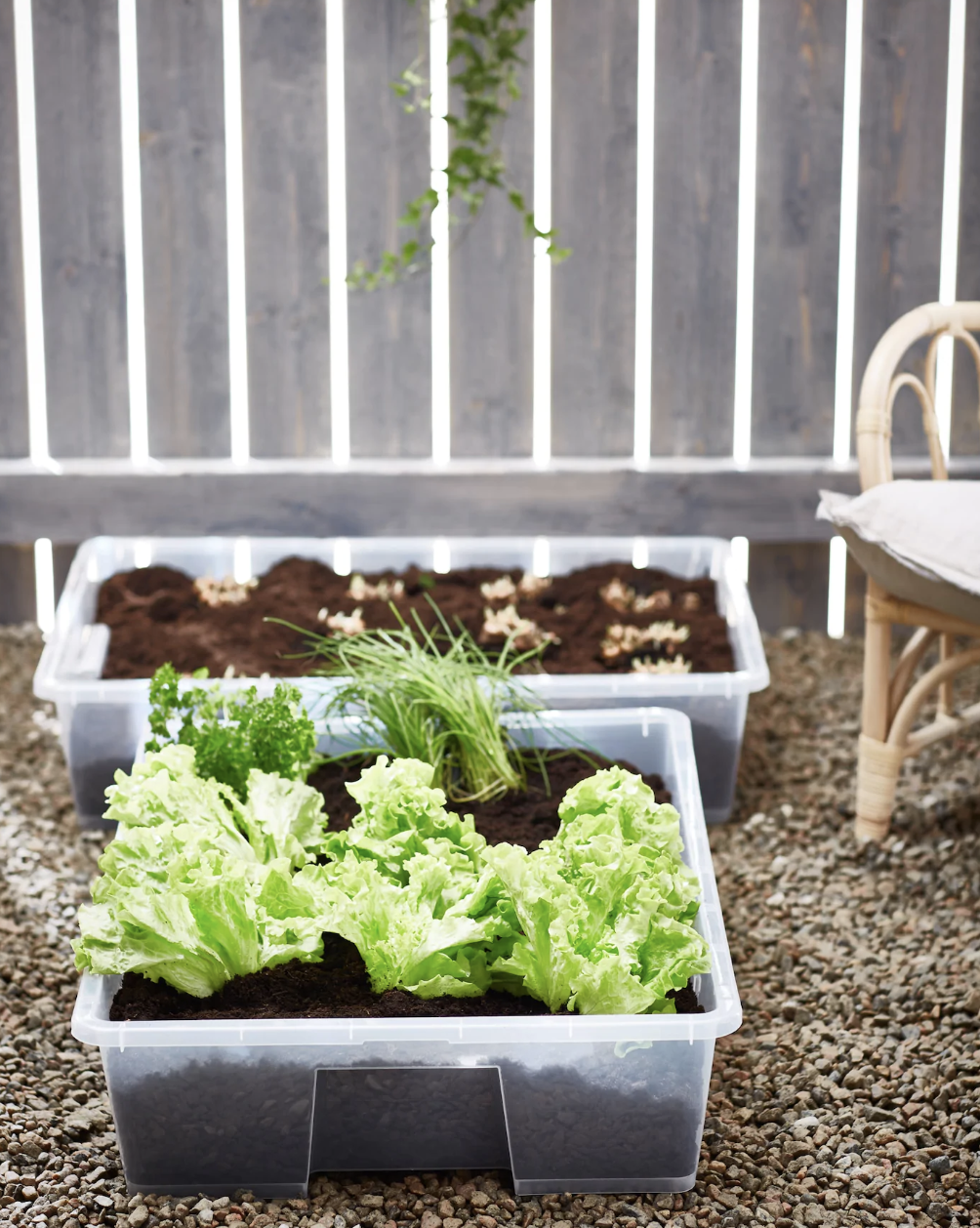 Growing veg isn't limited to greenhouses, allotments and extensive gardens – almost everyone can have a go at creating a kitchen garden. Whether you have space on your window sill to grow a few herbs, or a spot on your balcony for a tomato plant or two, there are always options for growing (a bit) of your own.
And you don't have to invest in expensive planters either. Here the Samla Box from IKEA (opens in new tab), has been used, and it starts at $1.49 But, you could just as easily upcycle something you already have at home.
6. Create an edible border
A garden doesn't have to use all of your outdoor space. If you want more of a backyard setup where you can relax, you can still grow veg as well – just allocate a sunny border for your edibles. If your plot doesn't have any soil, build a corner raised bed to make one.
7. Include a herb stop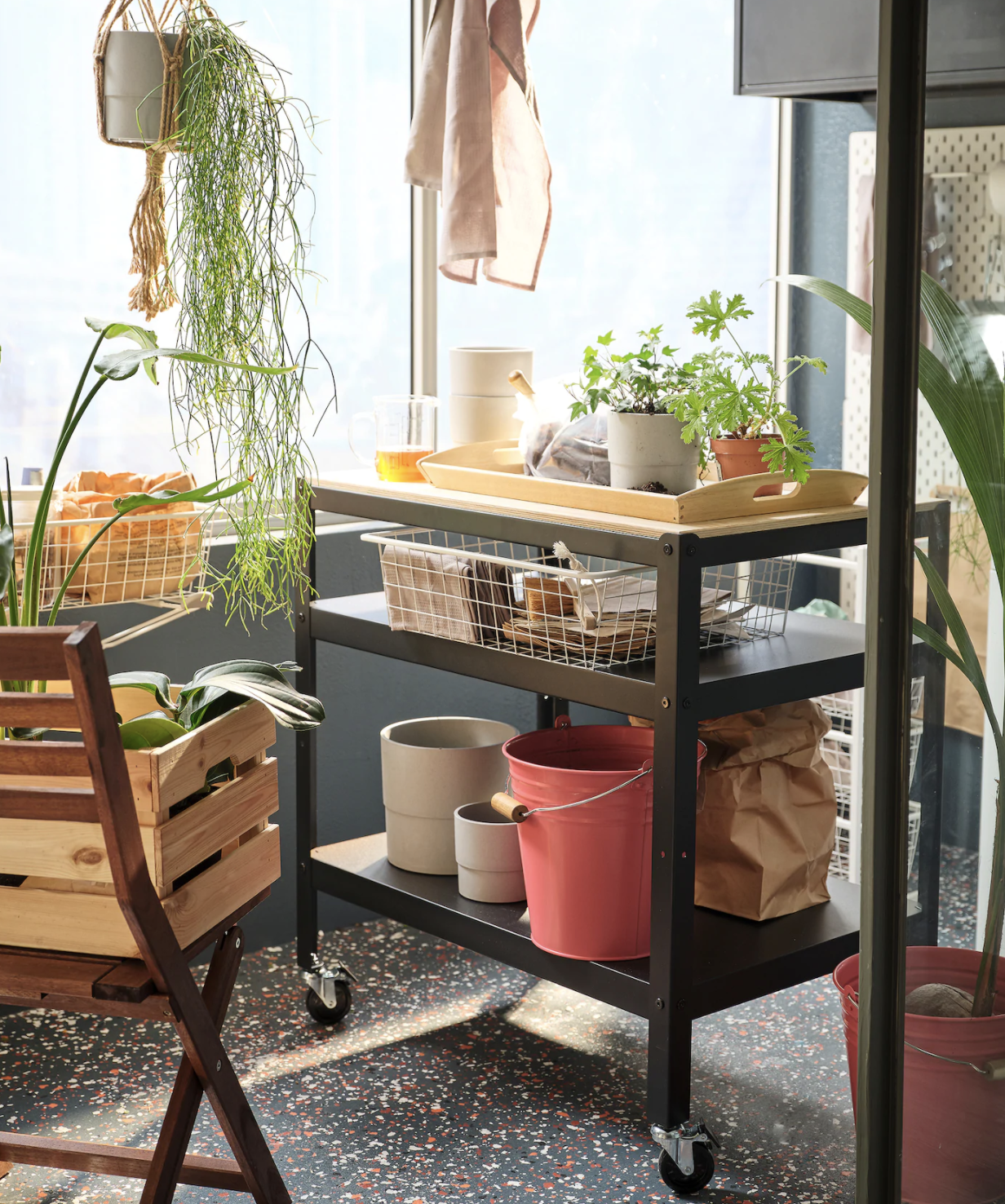 Cute, fragrant and tasty, squeeze in a herb garden station on a covered patio or balcony space and you'll be so distracted by the loveliness of it that you'll forget how mini it is.
8. Keep garden paths neat and defined
A small garden should still have all of the things are large garden has – that includes garden paths, fencing, and even outbuildings. Never sacrifice paths in any garden, even if it's tiny – you need to be able to move around freely, so choose garden path ideas that are functional as well as pretty.
9. Keep veg within reach of the kitchen door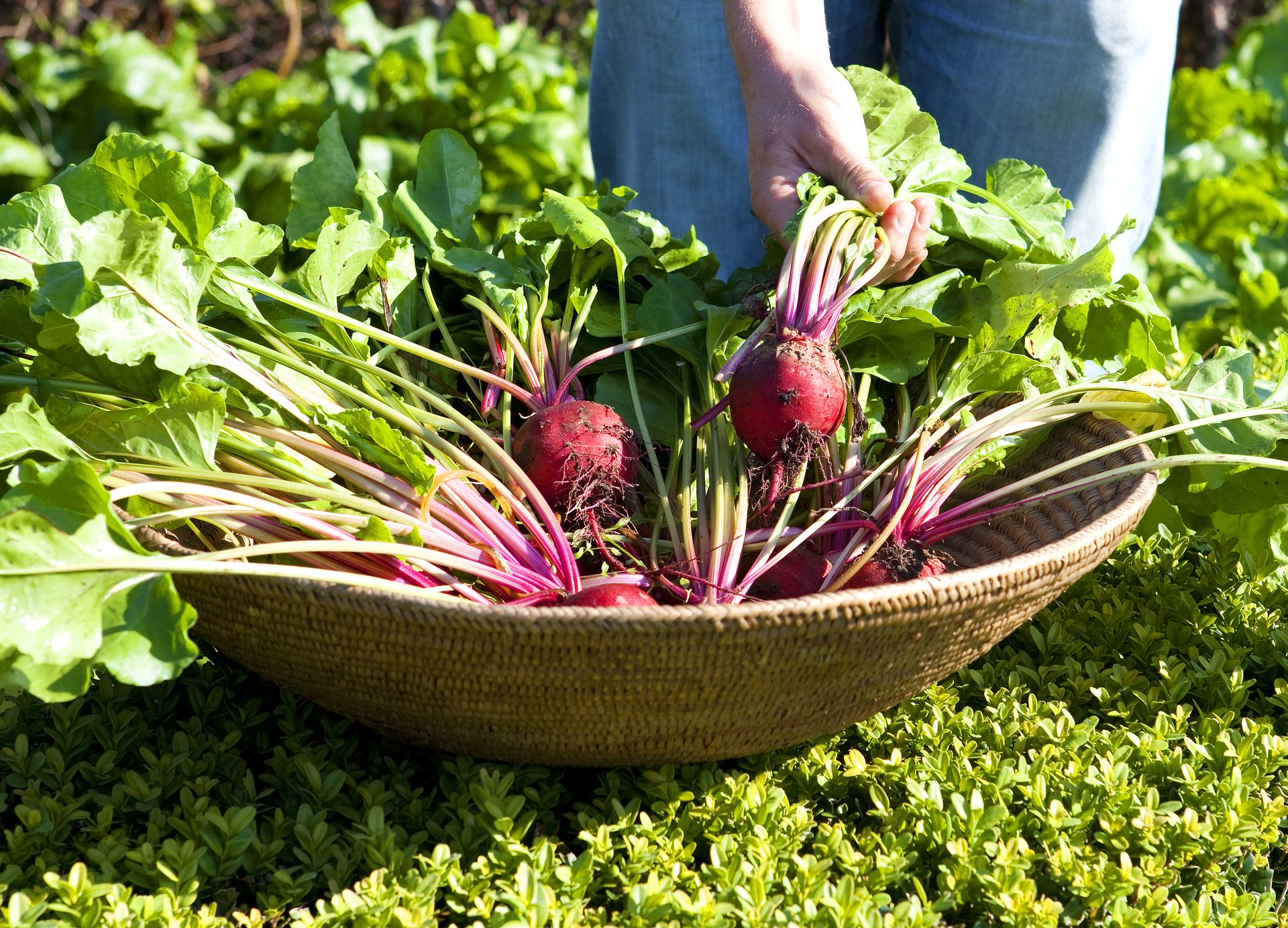 Growing fruit, veg and herbs near the kitchen door means that when tomatoes, zucchini and the like are ripe and ready for eating, you can access them easily, without sacrificing any of the loveliness from your garden design.
10. Enhance a small garden design with formal elements
There's great news for those who want to grow their own but don't necessarily like a rustic garden style: you can have a more formal-looking garden and still grow plenty of veg. Choose more upmarket paving and dot your garden with a few sculptural plants like cypress or box hedge, and you'll have a space that is both smart-looking and functional.
11. Fill your entire small garden with raised beds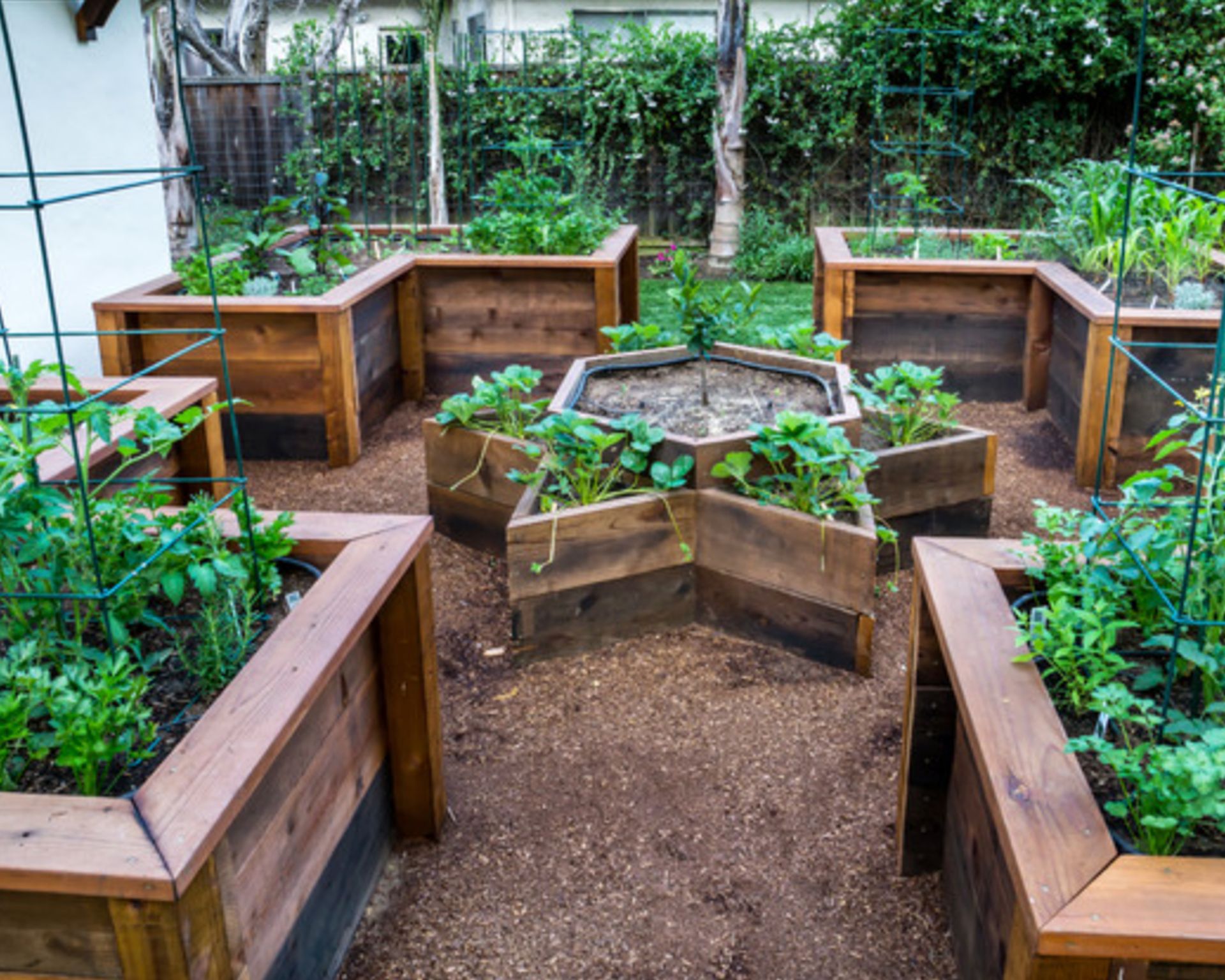 If you're serious about growing your own food, you may choose to dedicate your entire garden to doing just that. Raised beds provide by far the easiest method for doing this in a smaller space, and you can still make the garden look nice by carefully planning the layout of your beds.
We really like this striking garden design by Casa Smith Designs (opens in new tab), with the central star-shaped bed adding design interest as well as making the garden easier to walk around.
12. Contain invasive crops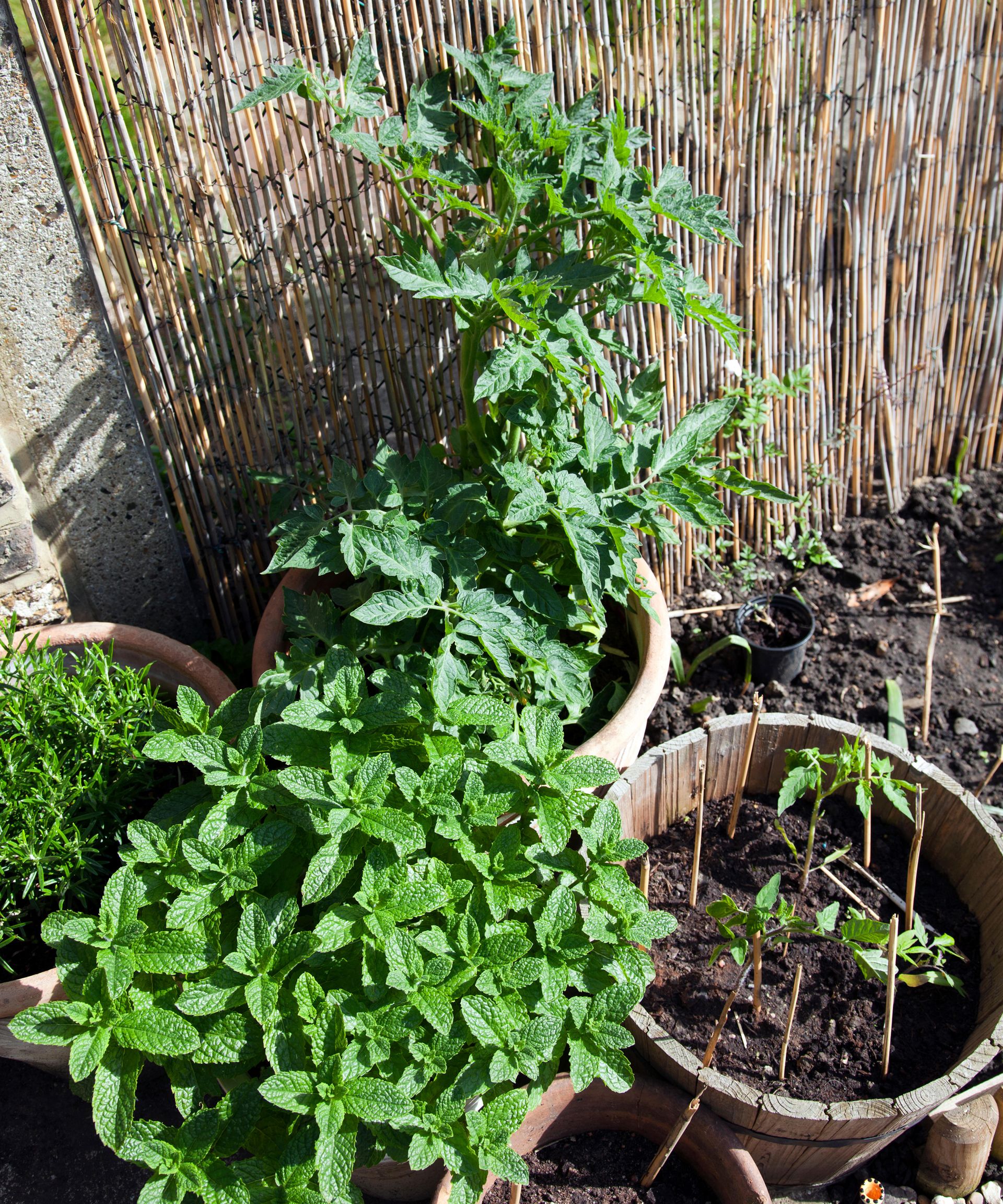 If you've ever tried to learn how to grow mint, you'll know that it will take over your whole garden if you don't contain it. Avoid your small garden becoming a monoculture – know your invasive crops and plant them in pots.
13. Maximize vertical space with a DIY shelving unit
Narrow garden? Look to vertical garden ideas. You can use old pallets or wood planks to build a shelving unit that will house several tiers of pot-grown herbs and veg. Add a few hooks at the top and hang some hanging baskets for more variety. Making use of vertical space is one of the best options if you're figuring out how to make a small garden look bigger.
You can also buy a plant stand from Amazon (opens in new tab) and use that if you don't feel like DIYing this idea.
14. Create a container display with herbs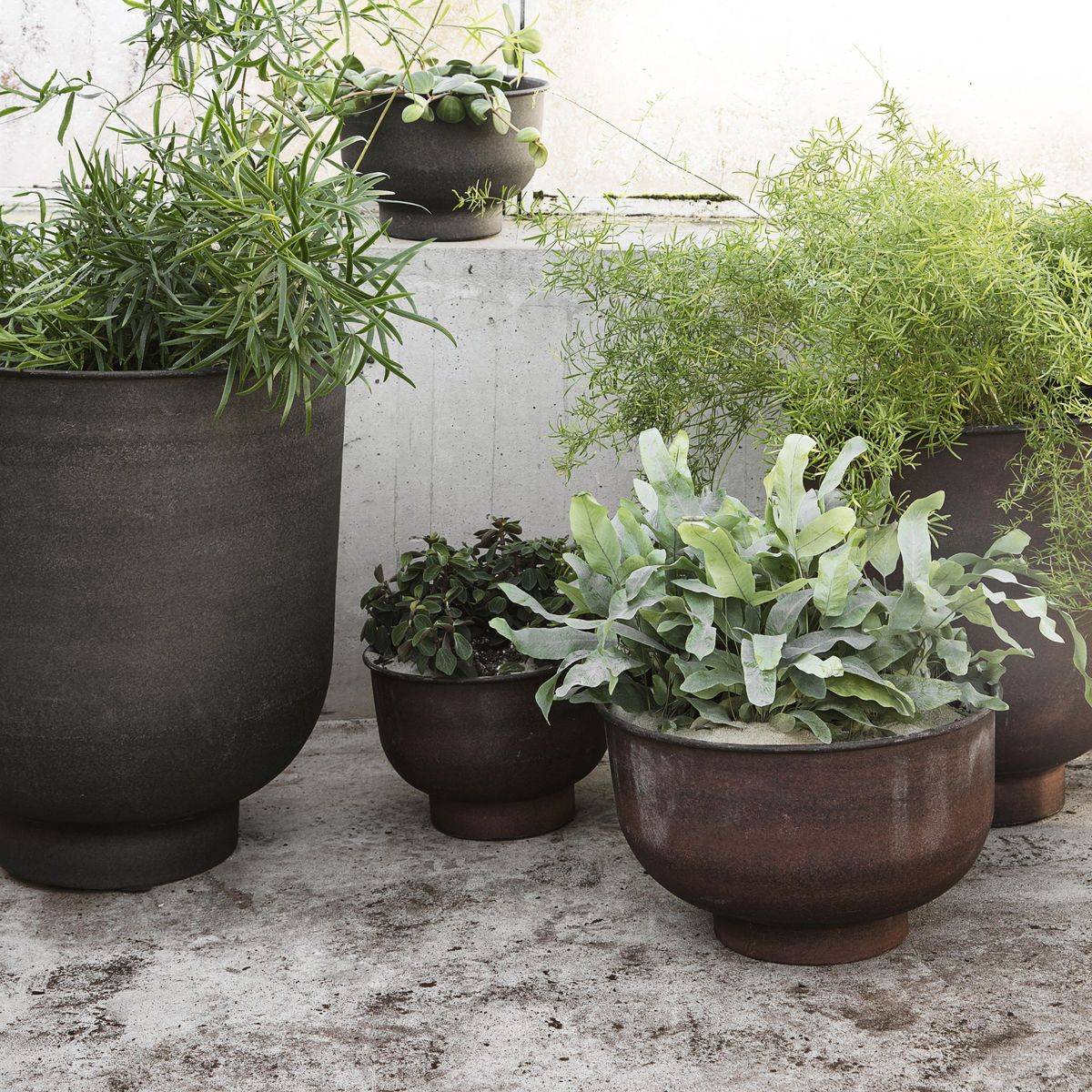 'In a small space, a few large features are better than many small ones. Two or three big pots will have much more impact and look far more stylish than a dozen ill-assorted smaller ones,' says gardening expert and TV personality Alan Titchmarsh. Potting your herbs in a few large, beautiful pots will always look nicer than using lots of tiny ones.
15. Note that greenhouses are not just for large gardens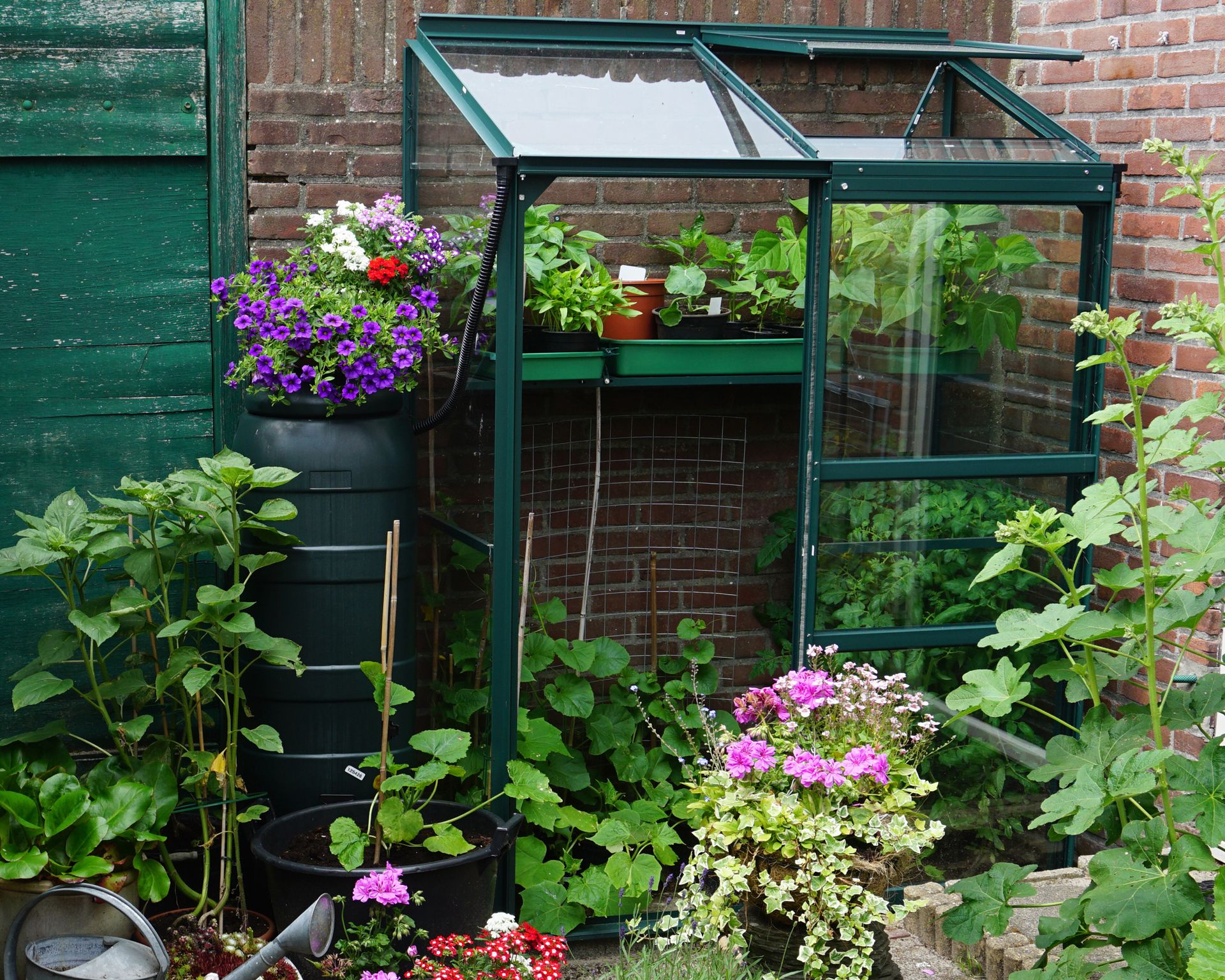 Think that greenhouses are for large gardens only? Think again. There are plenty of DIY greenhouse ideas that are perfect for small spaces, some suitable for even the tiniest of spaces. And even the smallest greenhouse will make a huge difference to what you can grow if you live in an area with cold winters.
16. Use old guttering to create a tiered herb garden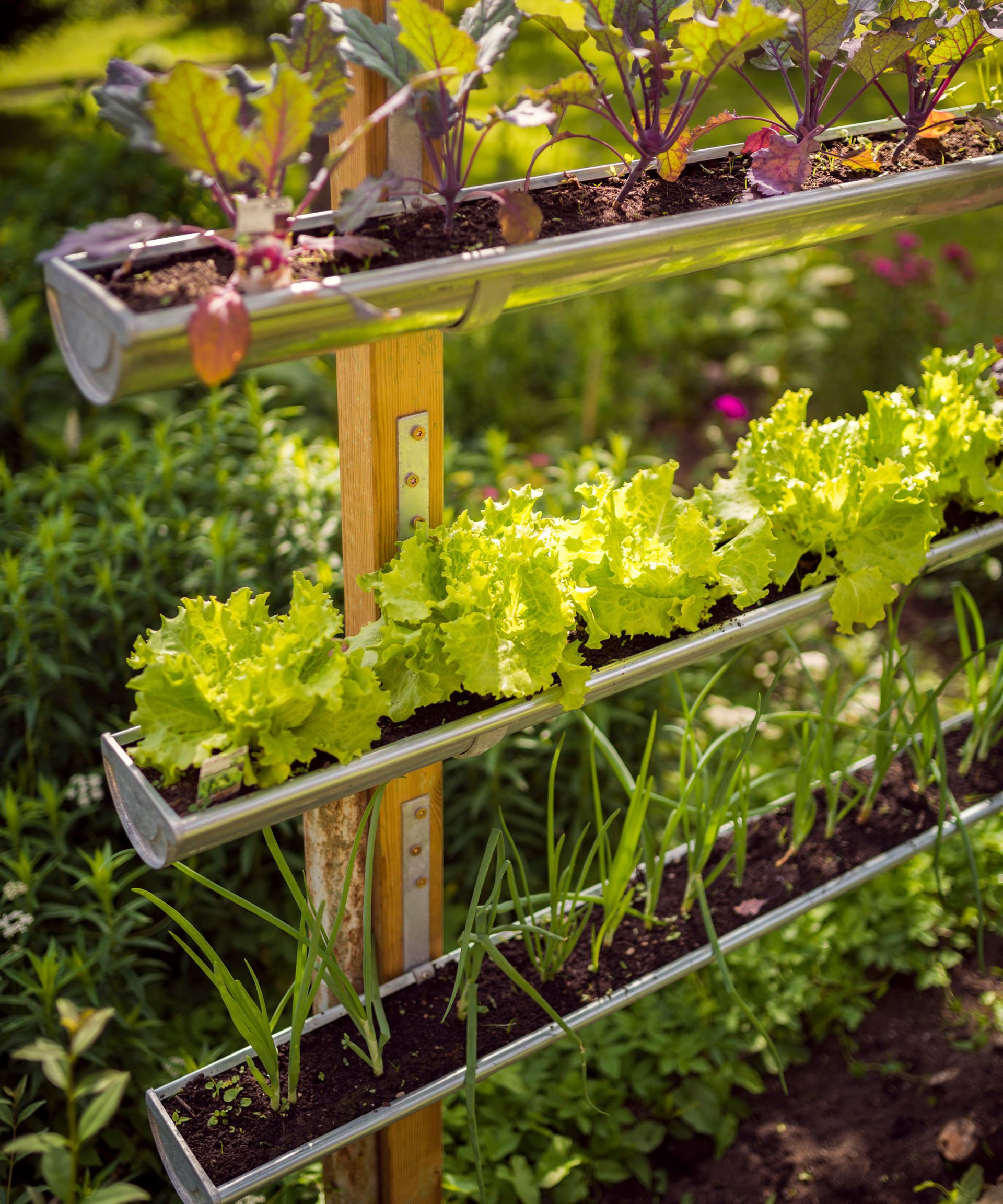 Not all crops need lots of soil in order to survive and thrive. Many herbs and even lettuces will grow perfectly well in narrow and shallow troughs. We really like this DIY idea where old guttering has been repurposed as an ultra-slim vertical garden. You can also use old plastic bottles or even tree bark.
17. Be clever with your choice of containers
If, on the other hand, you are set on crops that need a lot of root space – potatoes, looking at you – you'll need to be flexible with what you use, even if it's not the best-looking container. Grow bags are invaluable in smaller spaces – they give your root veggies the space they need to grow while taking up minimal floor space – and they look great weaved in with other container garden ideas.
18. Create a living display with climbing vegetables
Breaking news: many vegetables are also beautiful plants that you can use to create a living wall. Tomatoes and cucumbers, but also zucchini, beans, and peas all make for lovely climbers that look beautiful grown on a trellis or frame.
19. Grow your veg next to your outdoor kitchen
Many outdoor kitchen ideas are suitable for small spaces – and there's no reason why you can't have a veggie or herb patch right next to yours. Just imagine the joy of preparing a fresh salad you've grown outside. Just avoid placing your grill too close to your plants, especially if yours runs on gas.
20. Don't forget the flowers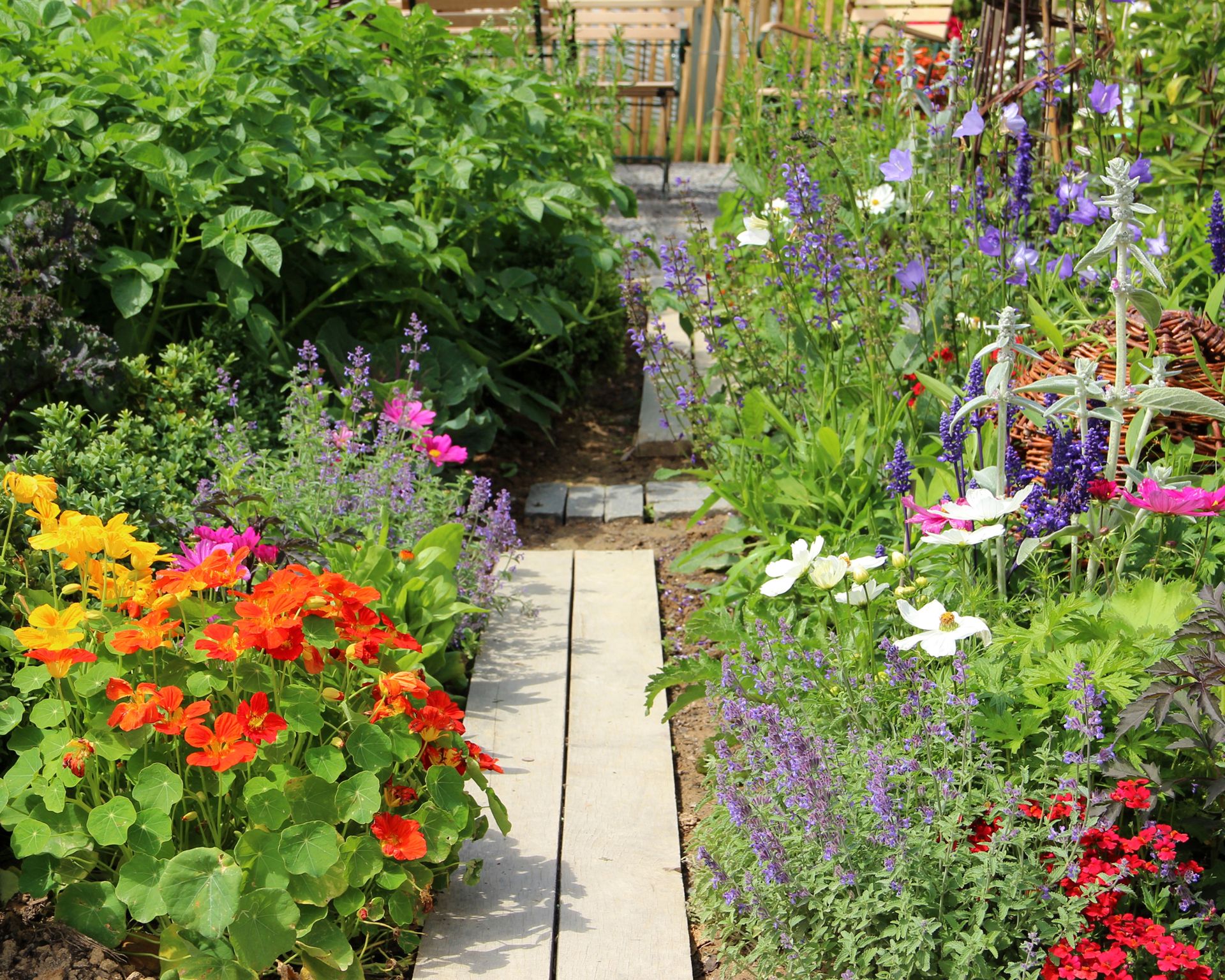 Finally, a garden can – and should – include flowers and all manner of colorful garden plants – they're not just for decorative backyard spaces. Get some wildflower seeds for a wildflower patch or just dot some of your favorite flowers in between the veggie beds. They'll add color and attractive pollinators.
How do you layout a small garden?
The best way to layout your small garden mostly depends on how small your outdoor space is, and what you're growing in it. Planting vertically is your friend, even if it's a vegetable garden. And, although it's a small area you're working with, you shouldn't be afraid of filling it with a variety of decorative touches and different areas as a busy space looks and feels more spacious than an empty one. Consider water features and more to add interest for the whole family but also for wildlife to keep your space biodiverse.
Then you need to be clever with how you fit it out, furniture-wise. If a convivial atmosphere is important for you, choose furniture that can work flexibly – much like your space will. David Hough from home improvement specialists, SMART Balustrades (opens in new tab) recommends that 'Where possible, choose non-fixed outdoor seating – so it can be moved at leisure to create different spaces, and packed away when not in use for those with smaller outdoor spaces such as balconies.'
How do you brighten up a small garden?
Brilliant planting will without a doubt add color and life to your small garden space. Bright plants will not only add vibrancy to your garden, but will also encourage wildlife in, making for a more dynamic and wholesome area to enjoy too.
In a study mentioned by UK-Rowse Honey (opens in new tab) apparently, gardens in urban areas take the top spot in producing the most nectar per unit area for bees... Proving that you can keep bees happy even in a tiny garden.
'Did you know that simply planting a few bee-friendly flowers in a window ledge container or hanging basket can help keep our buzzing buddies happy and healthy?' says Rowse Gardening Experts. 'Any outdoor space, no matter the size, can be transformed into a foraging wonderland for pollinating insects. Every space has potential, and a mini makeover will help to brighten up the place while giving bees the food they really need!' Lavender, Catmint, Valley Valentines, Sunflowers, Chives, Cosmos and Wildflowers are some of the favorite flowers as recommended by Rowse to transform your small space, using a window box placement or small ground container. 'Wonderful wildflowers don't just grow in fields and grass verges – they're perfectly happy sitting in a pot, too! Planting wildflower seeds will bring natural wonder to your outdoor space, no matter how big, and they really are the blooms that bees love best. A bee-autiful display of blossoms will brighten up your day, and help feed our buzzing friends at the same time – it really is a win-win.'
Tiny but lovely.