Looking for gorgeous but achievable small kitchen extension ideas? Well good, you are in the right place because we are all about gorgeous but achievable. We have brought together all our fave small extensions just to prove what you can do even when you don't have a ton of space.
A kitchen extension is a the top of most homeowners' wish lists. They add space, light and value to your home, plus they are the perfect way to create that open-plan space that's become such an essential to modern living. And don't go thinking just because your kitchen is on the smaller side, or you don't have acres of land to expand into you can't add an extension.
'There are three main types of kitchen extension which have different suitabilities to different properties.' explains Robert Wood, Managing Director Simply Construction Group. 'A rear extension extends backward into garden space, a side-return uses the dead space down the side of the property, and a wrap -around extension combines these together connecting in the corner. A side return is most likely the best option for a small kitchen extension, as this adds width to your kitchen, making it seem a lot more spacious. A rear extension is less popular if you are already lacking garden space, but they suit almost all properties.'
Whether you want to add a side return to create a more open plan feel, or looking to create a glass box extension to bring in lots of lovely light, you can create your dream space whatever the size. Just check out these spaces, none of which are huge, all of which are beautiful...
1. Decide where you will place your kitchen extension
The key to creating a kitchen extension of any size is plenty of planning. So the first step is to plan where your extension will actually go. In a smaller space you might be limited to your options, but don't let that put you off something like a side return (we will cover those here) could be all the space you need to expand your kitchen.
If you have enough space in the garden you could extend to the rear to your property – adding a small extension that brings in plenty of light can make a huge difference to your existing kitchen.
A small conservatory could be an option too, either at the back of your kitchen or as a lean-to at the side. We promise they can look chicer than you think and can be a more affordable choice too.
'Side return extensions are still the best design for small kitchen extensions. However, if you do not have space available at the side of your home, then you can always extend outwards into your garden.' explains Robert Wood.
'Glass extensions have a beautiful look to them and let lots of light into a small extension. The downside is that they lack good insulation properties so may feel cold in winter and too warm in summer. The most practical extensions would be block and brick-based, however why not opt for skylights on the roof and or fixed glazed paneling to flood the area with light. There are also plenty of great door options for extensions that can help make a small extension feel bigger, I.e. Bi-folding or sliding doors.'
A good architect can advise you on all your options for your exact space, and tell what's worth doing and want isn't. Check out our guide to how to work with an architect for all you need to know.
2. Choose a shape and design of your kitchen
You'll also want to be constantly thinking of the layout of your actual kitchen while planning your extension. If you have your heart set on a certain layout this could dictate the whole design.
'Assuming you have no space to accommodate an island unit (which typically needs 600mm for the worktop area + 1100mm gap to the island unit + 600/900mm for the island unit + maybe 800mm from the edge of the island unit to the wall opposite) then you need to think of shapes.' explains George Omalianakis from GOAStudio London Residential Architecture Limited.
We'll give you a quick low down of your potential options but check out our guide to how to plan a kitchen for loads more help planning your kitchen layout.
U-shaped kitchen layouts: U-shaped kitchens work so well in open-plan spaces, especially if you can't squeeze in an island because you can create a similar effect by using one side of your U-shape as a breakfast bar. They are also a good shape for small spaces too as they max out storage and work surface space. 'Find a long blank wall to form the spine of this shape, orientate the open part towards the rest of the room, and start imagining where the cooker goes, where the sink goes and where the fridge goes. This is always a good starting point. Once you have anchored these three things in the layout the rest of your fittings and appliances will naturally gravitate to the right place.' explains George.
L-shaped kitchen layouts: another great choice for creating that open plan feel in your small kitchen extension. Plus this shape lends itself well to adding an island or a dining table in the center of the space.'Look to create a sense of openness and an informal connection with the dining area. This layout is not as efficient as the U-shape but done property it will offer the perfect balance between defined boundaries between the kitchen / dining areas and an open plan layout.' advises George.
Galley kitchen layouts: a less obvious choice if you are adding a kitchen extension, but if you are planning on extended backward rather than outwards this would be the most efficient layout in a narrow space. 'Accessorize a galley kitchen with a skylight along the middle between the cabinets. Introduce full height French doors and full height glazed side panels to the garden. Allow min. 1100mm between the two rows of cabinet units and invest in lots of high level cupboard space.'


3. Extend your space with a side return
Side return extensions work so well in small space, because they aren't huge but can turn your current kitchen into that open plan space you have been dreaming of. They the most popular option with terraced houses, where you might find a small outdoor space down the side of your house. Filling this unused space means you can expand your kitchen, plus you won't be eating into any of your garden space either.
Oh, and if you go with a design that has plenty of roof lights, you can bring in so much more natural light to your kitchen. This is only going to add to that open, airy feel everyone wants to achieve.
Just bear in mind that planning permission for side returns can be a bit tricker if you building out close to neighbor's houses.
4. Add a glass box extension to bring in light
Glass box extensions are exactly what they sound like. A glass box stuck on your kitchen – and they can look so gorgeous, and obviously bring in a ton of light. Their striking designs are best suited to a contemporary kitchen style, but would suit any style of house, period or modern. They look particularly chic on older buildings to contrast materials.
You can add a glass box extension as a side return like the one you see here, or you can extend out of the back of your space. But you will have to just make sure you double-check your building regulations because there are limits to how much glass is allowed in one single structure.
5. Add a small lean-to conservatory
If you are after a slightly cheaper option that will still add space and light to your kitchen, why not add a small lean-to conservatory? Before you go thinking they are best suited by more traditional style homes, just check out this design – modern, chic and totally achievable if you have a small space.
Conservatories that are connected to a kitchen lend themselves to becoming an open plan, dining space or a laid back living room area. Or you could turn the space into your kitchen with a row of cabinetry along one wall and a small island in the middle.
6. Use a roof lantern to zone a space
You want a kitchen extension to be bringing in as much light as possible, especially in your space is small, as this is only going to help your room feel more spacious. A roof lantern is an ideal addition to a small flat roof extension as it will bring in light no matter what why your property faces.
Plus they look beautiful and add such a focal point to your space – we especially love when they are situated above a dining table, as seen here, or a kitchen island. You can hang pendant lighting from space too, to make it even more of a feature.
For a more stylish, contemporary look, pick a minimal design that has slim framed that won't block any light. If you are adding doors to your extension, think about how it will look with those and pick designs that are going to complement one another.
7. Or open an extension up with roof lights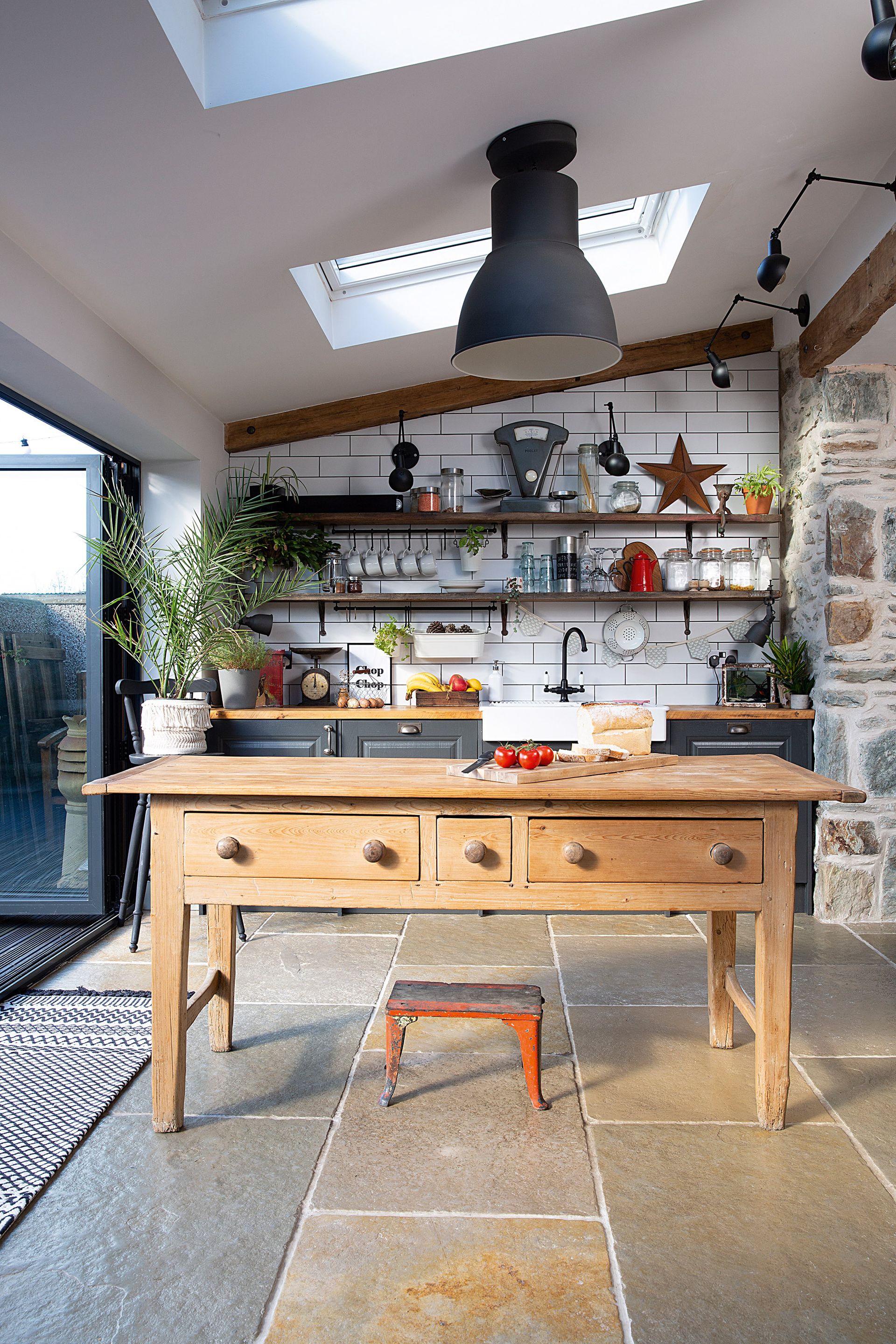 And if you are adding a side return extension or if you want to add more natural light into your original kitchen space, roof lights will always flood a room with natural light. Plus they are guaranteed to make the smallest of kitchen extensions feel bigger and are great for highlighting certain aspects of your kitchen like an island or a dining space.
8. Go for a pitched roof design to add height
You might not have miles of space to expand out, but if you have the room to go up, do so. Going for a pitched roof rather than a flat one, is only going to make your space feel bigger.
Just carefully consider where your roof lights are going to go, if you want to add any. Placing them on both sides is sure to bring in plenty of light, but it might be too much, especially if your space is south-facing. We'd recommend picking one side to add your windows so it doesn't turn into a greenhouse when the sun is out.
You could make it a feature too, like in this kitchen extension, the wooden beams give this space modern cabin vibes and warm up the monochrome kitchen. A
9. Connect with the outdoors
Blending your kitchen extension with your outdoor space is an easy way to make your space feel bigger. Choose minimalist bi-fold doors and flooring that's suitable for both the kitchen and the patio or flooring that's similar in tone, to create a seamless flow between both spaces.
It's so lovely in the warmer months to keep the doors open, and using the outdoor almost like an extra dining room or living room. Plus in the winter you still get plenty of light flowing through the space and your can position your furniture so that it still oversees the garden.
10. Add Crittall doors to your kitchen extension
Who hasn't got Crittall-style doors on their lust list? They make a gorgeous addition to a small kitchen extension, bring in a cool industrial vibe that everyone wants right now. You can create different looks too, depending on the size and shape of your design – horizontal rectangles will create a more retro feel, whereas smaller squares are more traditional.
The metal framing isn't too bulky so you'll still get plenty of light coming in and they can frame your outside space beautifully. If you have windows on the same wall as your Crittal doors, we would recommend going for a similar design to complete the look.
11. Open up a galley kitchen
Galley kitchens can be tricky spaces, but if you want to extend there are a few ways to do so depending on your surrounding space. Expanding out the side is the most obvious option and into any dead space you might have in your garden.
But if that isn't an option for you, you could also add space to the end of your galley kitchen and add doors and skylights to create a lovely, light-filled dining area. This will give the space more of an open plan feel despite the narrow dimensions.
'For most kitchen extensions, you will refit your kitchen to fit the new space. However, if you want to keep your old kitchen space and extend into your garden to create a new living space, you can easily do this by keeping an open-plan layout and combining it with a living and/or dining area.' explains Robert Wood Managing Director Simply Construction Group.
'Instead of sectioning off your extension, keep it light and airy by having bright skylights in your roof that light up both your kitchen and living area, to blend them together effectively. Alternatively, opt for a roof lantern to really brighten up the new extension.'
12. Make a feature of architectural details
Supporting beams, that often come with adding kitchen extensions, can be something you feel like you have to awkwardly work around and disguise. But why not make it a feature of your space instead? Rather than blur them into the walls make them a feature of your space.
We love the idea of painting structural beams in a color that contrasts the walls and ceiling, and then linking this color to the rest of the space.
13. Zone areas in a small kitchen extension
It's really important in the planning stages of your small kitchen extension to think about how you want to use the space. What 'areas' will go where. This will help you envision the extension but by creating these zones you can also make the space feel larger.
See how this quite small (still lovely) galley kitchen leads out into a wider, brighter dining space that's filled with natural light. The eye is natural drawn to that area which visually expands the space.
14. Create an open plan feel with kitchen island
If the aim of adding a small kitchen extension is to give your space that open plan feel, a kitchen island is a must. The island is likely going to become the heart of the kitchen, and that basically means it's going to become the heart of your home. A place to cook and eat yes, but also a place to socialise, to work and relax too.
So think about it's positioning – you are going to want to be near enough to the main kitchen for it to have a practical use but also this the area you want to have the nicest views and the best natural light.
15. Leave a brick wall bare for an industrial edge
Kitchen extensions usually mean you gain a few new walls, giving you the perfect opportunity to add a bare brick wall to your kitchen space. It's a classic look that's not going to date any time soon, plus is a really easy way to ensure there is plenty of warmth and texture in your space.
Just be sure to make your decision early on so you can pick a brick that's going to look lovely on the inside as well as the outside. We love the pale color and distressed look of this wall – it still feels contemporary, so matches the style of the space, but still brings in some character.
Is a small extension worth it?
Small house extension ideas can be intricate to plan, but they're often well worth it.
'The benefits to family life are huge.' says Robert Wood. 'Whilst we are currently spending so much time at home, a kitchen extension can function in many different ways. Having more family space for meals, working from home or home schooling make the extra space more worthwhile!'
Always take the advice of your architect, they will be able to tell you exactly what's going to work in your space and whether extending is worth it.
How much does a small kitchen extension cost?
'A small kitchen extension I.e. side return extension (I.5m x 4.5m) would on average be £45,000 ($63K,000) upwards. Prices always vary due to specifications such as windows, doors, flooring kitchen fitting etc.' continues Robert Wood.
Obviously, the cost of your project will totally depend on the size and style of extension you are going for. Plus whether or not you are having a totally kitchen remodel inside too, but if you want more a breakdown of costs, head to our single storey extension guide.