An orangery is typically more substantial in its proportions than a conservatory, and, at the very least, has a partially solid roof with more brickwork and full-height brick pillars.
A conservatory continues to be seen as more of a garden room, with large amounts of glass, and is often separated from the rest of the house by external-grade doors – although contemporary constructions are thermally efficient enough to be open to the rest of the house, just as glazed extensions would be.
How much will an orangery cost?
Costs for projects of this kind depend on the complexity of the design and materials used, but as a general rule, conservatories cost from £10,000 upwards, while simple orangeries cost from £20,000 upwards.
Expect to pay an average of £40,000 for an orangery. This is because the construction work is more substantial than that of a conservatory and the labour is similar to that required of a single storey extension. As with any home improvement project, you could spend even more than this depending on the size, materials used and the complexity of the design. For a particularly large orangery, something high-spec, or an orangery with a kitchen or bathroom, you could pay upwards of £70,000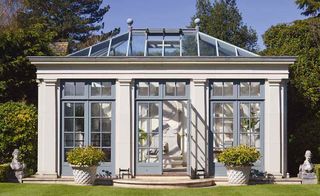 Will an orangery need planning permission?
Planning permission is not usually required for an orangery, and can be considered as permitted development.
As they cover no more than half the area of land around the original house.
Are no higher than the highest part of the roof.
Don't extend beyond the rear wall of the original house by more than four metres for an attached house or six for a detached
If you're unsure as to whether your orangery, conservatory or extension will require planning permission or is it can be completed under permitted development, take a look at our free-to-use planning permission tool.
Within designated areas – including Conservation Areas – you may need to apply for planning permission for your orangery even though you wouldn't have this obligation elsewhere. Local authorities can also remove some permitted development rights with Article 4 directions. For more information, visit the Planning Portal and contact your local authority to check the specific details of your project before you start work.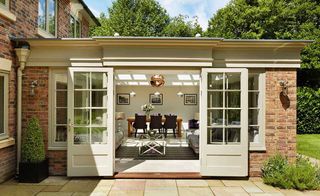 Linking indoor and outdoor spaces
Linking the new orangery to the rest of the house is important, too. You can do this by giving it a real purpose, perhaps as a dining or living space, and by ensuring the flow from the original house into the addition is as natural as possible.
Unite the space to your garden with clever landscaping and lighting. Planting around the building can soften its edges from outside. As for outdoor lighting, 'Illuminate something beyond the room itself – such as the garden – as this takes one's eye out beyond the glass. Ideally, light some planting close to the glazing and then something beyond,' advises Sally Storey, creative director at John Cullen Lighting.
'To get the most out of lighting the garden, it is important that the conservatory lighting is lit to a lower level to minimise reflections. Another simple tip is to put the interior lighting on a dimmer switch to ensure that you can change the mood to suit the occasion.'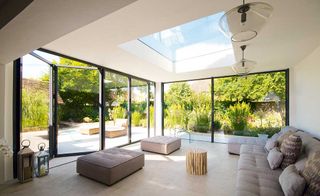 Designing an orangery to suit your home
If your orangery is part of bigger renovation project, a conversion, or self-build, it is advisable to find an architect that has some experience designing properties that incorporate orangeries in your area. They should be able to advise on what the local planning office is likely to allow and help with any planning applications.
The latest frame solutions for conservatory and orangery doors include much narrower timber, aluminium and uPVC frames, which allow for more glass and better views of the outside, and can include bi-fold or sliding styles.
Glazing innovations include double-glazing with a low emissivity coating that reflects internal heat back into the room, reducing heat loss, while a solar control coating will stop the space from overheating – both of which will allow you to use the room year-round. Self-cleaning coatings make it easier to maintain overhead glazing. The right ventilation and heating system can make the room comfortable in summer and winter.